TubeBuddy Review: Will It Help You Grow Your YouTube Channel?
When you buy something through one of the links on our site, we may earn an affiliate commission.
In this TubeBuddy review, we'll discuss how TubeBuddy's features can help you with your YouTube channel.
Suppose you are spending far too much time managing your YouTube channel, struggling to optimize your YouTube video for search, and trying to grab the attention of channel subscribers. In that case, TubeBuddy may be the answer.
To help you make an informed choice, this TubeBuddy review includes the following:
An Overview
TubeBuddy's Key Features
Pricing
Pros and Cons
TubeBuddy Alternatives
Tubebuddy Review
Features

Ease of Use

Price

Customer Support
Summary
TubeBuddy is a powerful Google Chrome extension for YouTube video producers. It analyzes competitors, optimizes videos for YouTube, and saves time. This YouTube tool can help you choose the right keywords and tags for your videos to increase channel traffic, subscriber numbers, and more. Try TubeBuddy now!
Pros
YouTube certified
Very easy to use
Offers a 100% free version
A free 30-day trial of the paid version
Time-saving productivity tool
Tools for analyzing competitors
Channels with fewer than 1000 members get a 50% discount on the Pro Plan
Cons
Must subscribe to paid plans to access the best tools
Customer support and knowledge base need improvement
TubeBuddy Review TL;DR
Tube Buddy is a YouTube channel management application. This YouTube tool:
Helps analyze your channel
Assists with video SEO
Streamlines YouTube processes
Offers bulk processing
Provides enhanced analytics
TubeBuddy's built-in keyword research tool can assist in getting your videos to the top of search results pages by finding the most effective search terms.
Adding the optimization and analysis tools mentioned above to your YouTube account is easy by installing the TubeBuddy YouTube free browser extension for Google Chrome and Firefox.
TubeBuddy offers several paid subscriptions, each of which gives the extension access to more advanced capabilities.
In a hurry? Get TubeBuddy right here!
Best TubeBuddy Features
The features below are not organized in any particular way. The features discussed here are just the best TubeBuddy offers; there are plenty more. Some must be paid for, some are free to use, and some are free to access but with limited results.
Our TubeBuddy review will discuss the top features.
Keyword Explorer
Use TubeBuddy's Keyword Explorer tool to examine any keyword or search phrase which may help rank your YouTube videos.
The keyword will be sent to TubeBuddy's YouTube database, and five success scores will be calculated using the YouTube data. An overall grade based on these components will also be supplied.
Search Volume
Competition *(weighted)
Optimization Strength
The number of videos in Search Results
You vs. Top Ranked Videos
*The weighted competition video scorecard takes into account the channel's size and average views per YouTube video.
When doing keyword research, you don't need to switch between Keyword search explorer and the YouTube search bar because the search bar auto-suggest uses the same terms as the YouTube auto-suggest.
TubeBuddy SEO Studio
The SEO Studio is one of TubeBuddy's newest tools. It enables you to optimize each of your YouTube videos' titles, descriptions, and tags for high search engine rankings on both Google and YouTube.
Videolytics
Spy on the opposition using yet another excellent tool. You'll get a range of rapid channel and video insights on any YouTube video with TubeBuddy Videolytics.
The option to see the tags that other YouTube creators have added to their films is Videolytics' most helpful feature. The free TubeBuddy browser plugin shows precisely which tags the video creator has used in their YouTube video, which is usually impossible.
This can be a helpful approach to getting suggestions for tags to put on a related video and can serve as inspiration for creating other videos. It's also a good strategy to use YouTube analytics to view demographics-based insights about viewers, such as gender, geography, age, etc.
Channelytics
Channelytics provides helpful information about a channel at a glance, much like Videolytics does. It may help evaluate the rival channels since you can see how many videos they've uploaded recently. Plus, check the tags they've assigned to their YouTube channel.
One of the ways of creating channel tags is to make them pertinent to the topics of your videos (this offers a critical YouTube algorithm context). Also, limit them to no more than 7–10 tags (one tag can be a phrase, for example, "YouTube SEO tools ").
Video A/B Tests
Use this feature to run A/B testing on your videos' tags, thumbnails, and titles to see which performs better.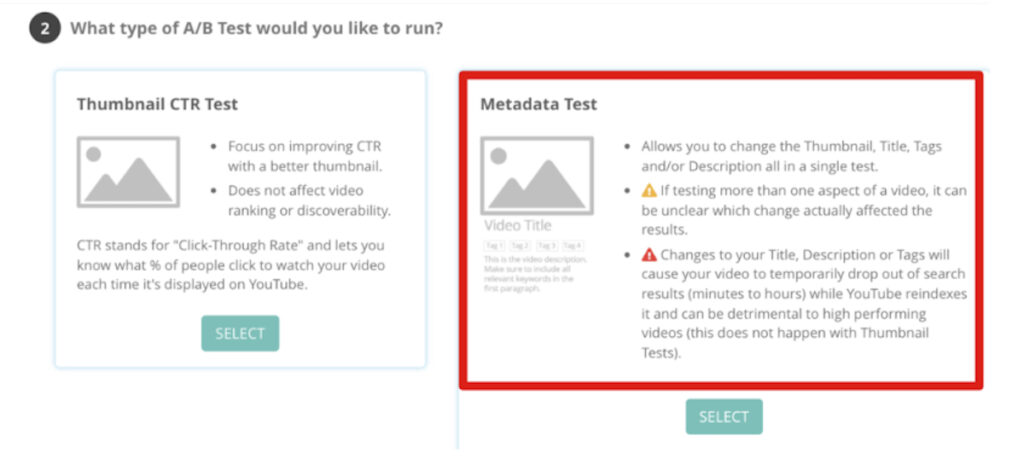 If you have a YouTube channel (or have some faceless YouTube channel ideas), you probably know how much a strong thumbnail can increase the click-through rate.
You can add several thumbnails to the movie using A/B testing, and those will run for a day.
Once the tests are done, comprehensive reports detail the following.
Views
View length
Daily views
Click rates
Traffic sources, etc.
This feature helps analyze what aspects of your YouTube channel are effective and which are ineffective.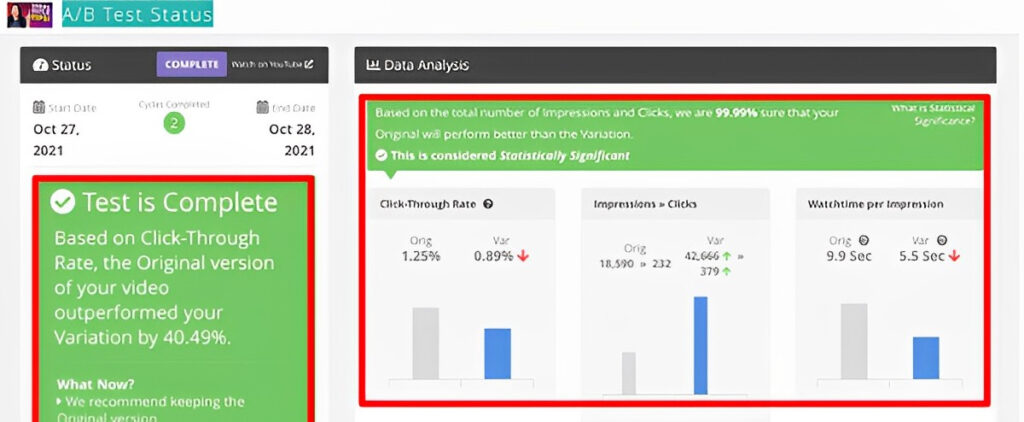 Best Time to Publish
Another excellent TubeBuddy feature is the ability to check the optimal time for your channel to publish.
You'll be able to see when your audience is most active so you can upload your films to maximize the prime engagement time for new content.

Opportunity Finder
The Opportunity finder is an automation tool that offers advice on how to make your videos better. These can include relevant search terms to include in the tags to help viewers find your videos.
It provides actionable insights to aid in increasing audience reach. You won't have to spend as much time looking into various promotional opportunities.
Bulk Processing
This feature can help save a ton of time. Using the bulk processing tool, you can add and remove sections of all (or some) of the YouTube descriptions at once. Descriptions for multiple videos can be edited, saving hours and hours.
Bulk processing is excellent for advertising a particular video or promoting your most recent video. All (or some) can have a particular text added, or you can choose to replace a specific text in all (or some) of your films.
Then, when viewers of those videos click the description, they can see the relevant link and, if there is a solid call to action, may be persuaded to watch your most recent upload. Or whichever you are promoting. This is crucial in the first 24 hours after a video has been uploaded to optimize its initial exposure.
The tool is also beneficial for affiliates and referral marketers to promote specific links and limited-time sales (but don't miss our list of the best referral software for extra help). For instance, they might quickly add a special discount link to relevant films during Black Friday with a strong CTA and then quickly remove it once the sale has ended.
Use the Bulk Copy, Delete, and Upload tools for Cards and End Screens. The tools are handy for updating a Card or End Screen that points to a video you may have made private or unlisted.
Comments Feature
TubeBuddy improves the current YouTube comments feature by enabling you to categorize comments into a wider variety of categories, such as the following:
Comments not yet replied to
New subscriber comments
From your followers
With links and questions
Positive or negative
Containing specific terms or keywords, etc.
It allows you to effectively manage interactions with your subscribers. You can prioritize and engage with the audience. You can also design canned responses to save time while responding to messages.
Tag Translator and Language Analyzer
The tag translator is an additional feature that enables you to reach a global audience. It allows quick translation of YouTube video tags and raises the visibility of your videos in those additional languages.
Use the translator with the language analyzer to determine the most pertinent languages before translating key phrases. You still only have 500 characters for your video's tag box, so be careful to only translate the most crucial words.
Default Upload Profiles
You can create a single set of upload defaults on YouTube, which saves effort and promotes consistency in your descriptions. Also, use it to mention your social media handles, gear, disclaimers, subscription CTAs, and quick links to specific playlists.
However, you can go one step further with TubeBuddy and create multiple default upload profiles. This might be useful if you have several different series on your channel.
You can rapidly add videos to a playlist while uploading them using template cards (great for uploading an entire series). And also include pertinent links to videos, playlists related to that series or topic, and social media platforms.
TubeBuddy Monthly Pricing
Free Version. Limited features for beginners.
TubeBuddy Pro plan costs $3/month. Get a 50% discount on channels with fewer than 1000 subscribers.
TubeBuddy Star plan costs $9.49/month. Offers all the pro tools plus advanced monetization, productivity, and scheduling.
The TubeBuddy Legend plan costs $24.49/month. This is the highest tier and comes with all the features and productivity tools TubeBuddy offers. Perform competitor analysis, track search ranks, A/B test your videos, and more.
Enterprise plan for those who manage multiple YouTube channels (more than 20). Contact Sales for a quote.
TubeBuddy Support
TubeBuddy does a good job of giving an overview and a "how-to" video for some of its features. You also get some excellent tips on how to use the tool to get your video content noticed.

If you need to contact the TubeBuddy support team, raise a support ticket from the help center. You usually get a speedy reply.
TubeBuddy Review: Pros and Cons
An extensive tool with a large feature set

Easy to use

Suggested Tags in the cheapest plan

A free option 

Excellent A/B Testing

TubeBuddy YouTube certified
One license per YouTube channel

Advanced features (such as bulk editing) aren't available in basic plans

Customer support and knowledge base aren't the best 
TubeBuddy Alternatives
For this TubeBuddy review, we'll take a look at three of the best alternatives.
VidIQ
The video marketing platform, VidIQ, assists content creators in learning the skills necessary to enhance video production. It also increases productivity and boosts views and subscribers to their YouTube channel (get more tips to increase your YouTube subscribers here).
Pricing
Basic – Get started for free
Pro costs $7.50/month
Boost costs $39/month
Max costs $79/month
Wondering how VidIQ stacks up against TubeBuddy? Read this: VidIQ vs TubeBuddy.
---
TuBeast
TuBeast is an extension and web platform which offers an advanced set of tools and features. The tools can help optimize your channel and video, create relevant content, do unfair market research, and get insights about your own and others' channels.
Pricing
Starter plan – free
Standard costs $47/month
Premium costs $97/month
Boost costs $247/month
---
tubics
tubics is a YouTube video SEO tool for businesses. It provides analysis and suggestions to optimize YouTube video views and traffic. The tool is cloud-based and offers keyword monitoring and SEO recommendations. It also offers tag generation, analytics on video performance, channel analysis, and more.
Pricing (USD amount varies depending on exchange rate)
Startup costs €99/month - $105.41
Standard costs €390/month - $415.23
Growth costs €790/month - $841.11
Enterprise costs €1990/month - $2118.75
---
Final Thoughts on TubeBuddy Review
There's a very good reason why TubeBuddy is one of the most popular YouTube tools. It offers plenty of powerful features to assist in growing and managing your channel.
It's also highly user-friendly because everything is integrated with your YouTube dashboard. TubeBuddy is definitely worth testing.
Interested in other tools? Read about 25 YouTube tools to make your life easier and your channel better.
Want to learn step-by-step how I built my Niche Site Empire up to a full-time income?
Yes! I Love to Learn
Learn How I Built My Niche Site Empire to a Full-time Income
How to Pick the Right Keywords at the START, and avoid the losers
How to Scale and Outsource 90% of the Work, Allowing Your Empire to GROW Without You
How to Build a Site That Gets REAL TRAFFIC FROM GOOGLE (every. single. day.)
Subscribe to the Niche Pursuits Newsletter delivered with value 3X per week