Is VidIQ or TubeBuddy Best at Helping You Grow Your YouTube Channel?
When you buy something through one of the links on our site, we may earn an affiliate commission.
VidIQ vs TubeBuddy: how do you choose? Because the analytical capabilities of TubeBuddy's basic and intermediate tier price levels are better, I prefer TubeBuddy. The best setup, in my opinion, is combining TubeBuddy Legend and VidIQ Pro (around $60/month) if you have the budget. Otherwise, accounts with fewer than 1000 subscribers should use TubeBuddy Pro.
And...
Read our detailed VidIQ vs TubeBuddy comparison to make your best decision.
Firstly though, who should be using one or both of these tools? Let's say you've been working hard to create brilliant videos; you're doing all you can. But your YouTube channel just isn't going anywhere. And you know your material is better than your competitors, but it's not ranking higher than theirs. You can still outperform your rivals and gain a higher ranking! You need a sound strategy, careful planning, top-notch content, and the right tools like VidIQ or TubeBuddy to help you improve your video performance amongst the YouTube community.
YouTube Studio (previously Creator Studio) is quite good at managing your channel. And keeping an eye on and monetizing your video content. It's also quite good at interacting with the audience. Think about the challenging qualifying requirements for monetization and frequent algorithm upgrades. You can't do it with YouTube Studio. And you can't perform keyword research or anticipate any sort of optimization. YouTube Studio is just not enough anymore.
Ranking on YouTube is more difficult now than it ever was. VidIQ and TubeBuddy are two YouTube management tools that can help. Tools like these are a must-have for any YouTuber to be successful and outrank competitors.
However, before making your choice, you should do some serious research to ensure it's the right one for you. So, in this article, we'll go through VidIQ vs TubeBuddy key features, pros and cons, etc. By the end, you'll have the info to be able to make your decision between both these tools based on the features you prefer.
VidIQ vs TubeBuddy: A Brief Overview
VidIQ is a potent tool for accelerating YouTube audience growth. You can check your niche's top competitors' VPH (Views Per Hour) and popular videos. Use VidIQ to learn more and get the resources you need to expand your audience more quickly. VidIq handles YouTube analytics, data backup, comment management, digital marketing, social media, thumbnail production, etc. And it's a Google Chrome extension.
TubeBuddy aims to make your video marketing more efficient. It achieves this using features for increased efficiency and bulk processing. Besides, TubeBuddy delivers improved statistics and helps in YouTube video SEO. This all-inclusive application serves as a one-stop shop for all of your YouTube marketing requirements. It is also a Google Chrome extension.
VidIQ vs TubeBuddy: Pros and Cons
VidIQ Pros and Cons
Offers a forever free plan

The training (VidIQ Academy) is very good

Has a mobile app

Offered as an Extension on both Chrome and Firefox Browsers
No way to Export Keywords direct to CSV/excel sheet

Not so easy to learn how to use
TubeBuddy Pros and Cons
Offers a forever-free plan 

Inexpensive

Has a Mobile App

Offered as a Chrome, Firefox, Edge, and Opera Browser extension
Doesn't offer a training course

There is quite a steep learning curve getting into the program
VidIQ vs Tubebuddy: Pricing Plans
TubeBuddy and VidIQ provide free versions and premium plans. Each offers various alternatives for different users depending on their needs. Let's examine the costs associated with each plan, check out which has the best pricing, and what each of the free versions offers.
VidIQ Pricing
The free plan features are significantly less extensive than those provided by TubeBuddy. It only gives users access to the Video Scorecard, Live Stats bar, and basic video analytics compared to TubeBuddy's many free services.
VidIQ pricing offers two premium packages and an enterprise-level plan.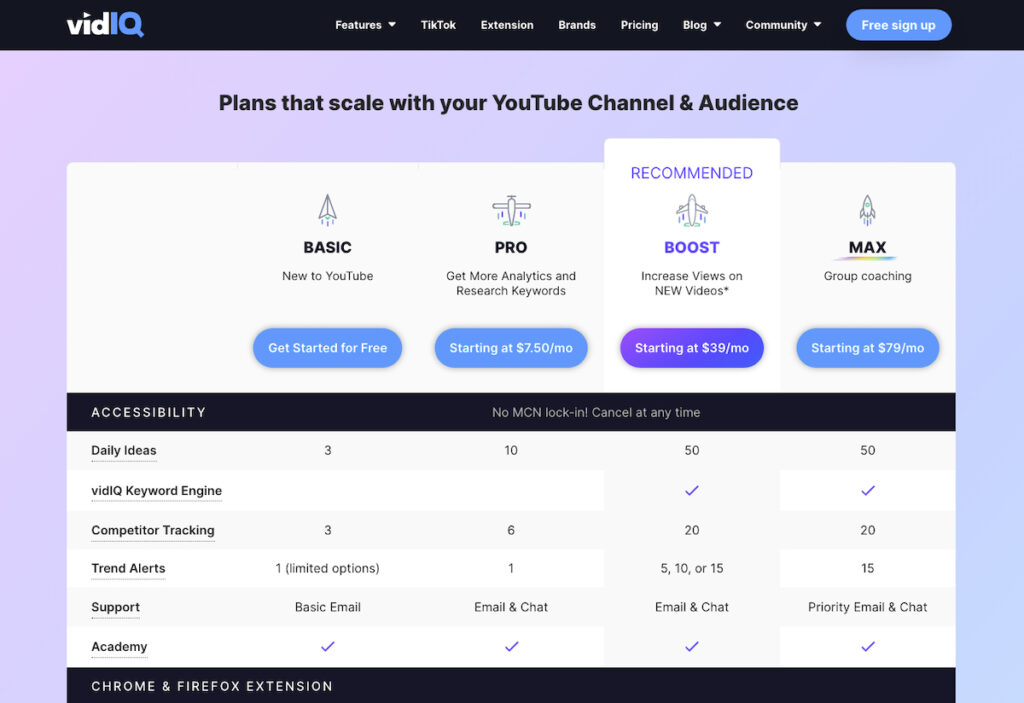 VidIQ Pro Plan
The VidIQ Pro Plan gives you more access to its features, allowing you to use a few Web suite tools. These include video analytics and keyword research. Most of its Chrome and Firefox extension features will also be available. This one starts at $7.50/month.
VidIQ Boost Plan
The VidIQ Boost Plan unlocks all of VidIQ's services (minus its Max capabilities.) Features, such as keyword research, bulk YouTube SEO optimization, and thumbnail preview, are exclusive to this package. Boost starts at $39/month.
VidIQ Max
You get all VidIq tools plus My Coach. This gives you Live Group Coaching and unrestricted access to earlier recorded sessions. And if you're a YouTube creator, Community access is exclusive. VidIQ Max starts at $79/month.
TubeBuddy Pricing
TubeBuddy's free plan is excellent if you have a tight budget or if you're just starting out. And it's a wonderful way to get a feel for the service. Once you're comfortable with it, you might consider upgrading to a premium subscription.
The free version only offers a few capabilities and restricted access to many tools. These include the thumbnail generator, keyword research explorer, videolytics, etc.
You can't publish YouTube videos to Facebook as Facebook videos. But, it does allow users access to tools for research, 'channelytics', and low-level productivity. You can also access the Best Time to Publish YouTube tool.
And, TubeBuddy provides three premium packages. If you're focused on getting traffic to your channel, these offer a longer list of services that are definitely worth the money.
You should select a premium subscription if you know enough about YouTube channels and have plenty of followers. It will absolutely help your channel. We've listed what each TubeBuddy plan entails below.
TubeBuddy Pro Plan
The TubeBuddy Pro Plan is pretty basic and best suited for novices. The pro plan offers extra access to most of the Productivity and Video SEO features. It just costs $3/month. But you can get a 50% discount if you have fewer than 1000 members.
TubeBuddy Star
The most popular plan, TubeBuddy Star, provides access to all the bulk processing and promotion capabilities. This plan is available for $9.49/month.
TubeBuddy Legend Plan
The best and highest-tier plan is the TubeBuddy Legend Plan. This one gives you access to all the service's features. It is mostly suggested for top YouTubers. The monthly cost is $24.49/month.
Enterprise Plan
Finally, TubeBuddy offers an Enterprise Plan for users who manage more than 20 channels. You'll need to negotiate a rate for this package.
VidIQ vs Tubebuddy: Features
YouTube SEO and Keywords
VidIQ
VidIQ has several tools for YouTube SEO, including a video optimization checklist and SEO score. These tools check different issues like keyword usage in video tags and descriptions etc.
VidIQ's keyword tool collection lets you know the user's search intention. This helps you understand what content to create. The VidIQ boost tool identifies several relevant search terms for you. And displays trending videos for the keyword you entered.
VidIQ displays the keyword score of the searched term, segmenting it into competition and search volume when you conduct a YouTube search. Other statistics include the highest views, average subscribers, and average views.
TubeBuddy
For video SEO, TubeBuddy provides a special section with over 15 tools. The Keyword Explorer is a component of TubeBuddy's upload suite. It's a crucial tool for expanding your YouTube channels and increasing YouTube views. And it will be pretty helpful to you in determining what keywords to use for your output.
Insta-suggest and tag lists are additional essential tools for keyword research for video titles and monitoring your YouTube SEO efforts, giving you a visual search volume score. Plus, its Keyword Ranking Tracker lets you keep tabs on your videos' YouTube and Google search rankings.
You can also connect with a larger community using the auto translator to translate your titles and descriptions into other languages. You can use SEO Studio to choose the ideal keyword after using Keyword Explorer. You will be able to write titles, video tags, and descriptions optimized for your chosen keyword with the help of this specific tool.
Video Analytics and Data
VidIQ
VidIQ's YouTube analytics displays your own and your competitor's video stats. Stats include views, likes, YouTube ranking, and subscribers. This VidIQ feature also focuses on the historical progression of the video's performance and gives an SEO score. You can see how it did from the moment it was uploaded and if your videos are trending. This is perfect because it helps to give you an idea of how the audience reacts to your video.
TubeBuddy
The 'channelytics' feature of Tubebuddy shows the typical performance statistics. It also displays social media stats, channel tags for various videos, and retention analysis so you can monitor video performance.
To get a sense of the value of your brand and content, you can connect your channel to Social Bluebook. The main goal of Social Bluebook is to assist you in expanding your business. Track your development and learn from some of the most prosperous game changers by calculating your worth as a creator.
Bulk Processing Tools
VidIQ
VidIQ's Productivity Tools only offer a few options for bulk processing. It supports bulk editing and copying of cards and end screens. Additionally, you can export all of your metadata to a spreadsheet and choose to download it all as a backup. But, VidIQ doesn't allow you to perform bulk modifications to metadata, playlists, thumbnails, and descriptions.
TubeBuddy
Besides pointing viewers to URLs, YouTube cards can help make videos more interactive. You can add those cards all at once with the help TubeBuddy's Bulk Copy Cards feature.
When you need to delete video descriptions and titles from, for example, your previous event and add them to a new one, Bulk Find, Replace and Append is a fantastic tool. With it, you can quickly add or replace all titles, tags, and descriptions across a large handful of movies. You can also use this application to mass change those outdated hyperlinks. And at the same time, erase any current references if you have a new website to which you'd like to link the videos.
Comment Management
VidIQ
VidIQ makes YouTube comment moderation less tedious by enabling you to examine all of the most recent comments from your videos in one handy area. You can save plenty of time instead of visiting each video's pages. You can limit your YouTube comments to a specific time with VidIQ's advanced comment-sorting features.
Although YouTube now enables threaded and nested comments, you can't quickly search through a viewer's previous YouTube comments or find all of their comments (and don't miss our list of YouTube comment finder tools which can also help). VidIQ can do this. It is important to understand the context of a viewer's comment and whether you have previously interacted with that individual, particularly if you have more than one community manager.
TubeBuddy
You'll start seeing more and more comments as your viewership and subscriber base increase. Moderating all the comments may seem easy at first, but moderating large youtube accounts can quickly become a burden if you receive hundreds of comments daily.
To find the comments you actually want to read, use TubeBuddy's comment filter. The dropdown menu will draw your attention to the following categories of comments:
Specific questions in comments
Positive and negative feedback
Ones you haven't replied to yet
Comments you can't reply to
Remarks that use foul language
Those are just a few ways to promote your YouTube channel. This feature is a huge time-saver and a requirement for anyone trying to increase audience engagement or establish a rapport with their following.
The notification bar on your dashboard allows you to respond to comments on your videos. Sadly, YouTube disabled this function. With TubeBuddy, a "Reply" button is under each comment alert.
Competitor Research
Competitive analysis is extremely useful when you're doing keyword research to learn which keywords your competitors are ranking for. VidIQ and Tubebuddy's competitive analysis capabilities are mostly similar to one another.
The primary distinction between the two is that VidIQ incorporates historical information about your competition. And TubeBuddy's service displays recent video search volume results.
So VidIQ won't alert you if someone else recently posted a video with the same title as yours, but Tubebuddy will.
Demonetization Alerts
Getting your work demonetized is a killer! No matter how many tools you use to optimize and get your video to be the best, if you can't monetize it, you're wasting your time.
Over the past few years, YouTube's algorithm and community rules have been updated due to pressure from advertisers. They have been the subject of numerous brand safety alarms, contributing to the 'YouTube Adpocalypse.'
Advertisers reduced their spending on the media platform during this time and even threatened to boycott popular artists like Logan Paul and PewDiePie. Why?
Because marketers saw that their adverts were displayed alongside content like:
Pornography, nudity & adult content
Hate speech
Inappropriate language
Terrorist messages
Crime videos
Firearms-related videos
Radical political opinions
Controversial issues and sensitive events
As a result of the Adpocalypse, anyone in the YouTube Partner Program who wants to receive ad revenue must adhere to YouTube's more strict advertiser-friendly content standards.
VidIQ
Demonetization prevention is a major burden for many YouTubers. Thus the contentious keywords function of VidIQ is handy. It can identify unsuitable words or phrases used in the metadata or may be penalized for being problematic.
TubeBuddy
The demonetization audit tool from Tubebuddy makes sure you are sticking to YouTube's guidelines. It can automatically assess which videos might be taken down or blacklisted. It can also help you identify phrases in your material that might penalize your videos, preventing a significant loss.
Metadata Backup
You can download all of your YouTube video metadata for storage from VidIQ and TubeBuddy. And manage the data in Google Docs and Excel.
Mobile Application
You can download and use the VidIQ mobile app for free. The majority of the features concentrate on keywords and tags. And the YouTube SEO tool is brilliant.
The mobile app for TubeBuddy can also be downloaded and used without cost. But, to get access to all the app features, you have to pay for TubeBuddy Mobile Unlimited. It will cost you $2.99 on its own or as part of any subscription plan at no additional cost. The majority of the functions are devoted to managing tags and comments.
Social Media Marketing
Social media marketing and promoting your YouTube channel and videos is a constructive approach to increasing views and subscribers. Through digital marketing and promotion, social media is ideal for grabbing people's attention and getting them to visit your YouTube channel.
Your videos can be promoted on Facebook using either platform. With billions of active users, the Facebook network is hugely well-liked and can be advantageous for your page.
VidIQ and TubeBuddy monitor engagement stats on Twitter, Facebook, and Reddit. TubeBuddy also supports social sharing on Twitter.
YouTube Tag Management
Both VidIQ and TubeBuddy suggest and rank tags for your video as soon as you upload it. Most of the recommendations are well-researched and optimized for search engines. And the tag suggestions are practical and excellent. The ranks can be re-ordered through dragging and dropping.
Productivity Tools
VidIQ
Thumbnail Generator: YouTube will automatically make a thumbnail for you, but it will not be any good. Not many folks will click through from a dodgy thumbnail to a video. With the VidIQ Thumbnail Generator and Editor, you can make custom thumbnails right in the VidIQ extension. Let your viewers take a quick look at the material before they continue. You'll see - your Click Through Rate will go up a lot!
TubeBuddy
Thumbnail Generator: A video's thumbnail is the first thing YouTube browsers see. And it either makes a solid first impression or falls flat. The traffic to your channel will increase with a professionally made thumbnail. It's never been easy to create them using conventional tools like Photoshop software, which is why TubeBuddy's awesome thumbnail tool for creating a compelling YouTube featured image upload is so popular.
Emoji picker: According to research, emoji usage for marketing information has increased by up to 775% annually. Emojis are search-friendly on YouTube and can be used to look up specific videos as long as they are pertinent. You can use them in your descriptions and titles now that YouTube accepts these little expressive pieces of information. You may add emojicons to your material with the Emoji Picker to make it stand out in a swarm of similar videos.
Member Benefits
VidIQ Rewards offers discounts for apps that are audio, graphic, video, etc. The customer's plan will determine the deals and offers.
TubeBuddy's paying subscribers can get ten offers and discounts from companies that provide video, music, and graphics. For example, the video editing software Filmora from Wondershare is 30% cheaper and includes a free 30-day trial period.
Customer Support
VidIQ vs TubeBuddy: which is better when it comes to support?
VidIQ's help center offers any video tutorial you can think of and up-to-date articles. TubeBuddy has a comprehensive support page and an official TubeBuddy YouTube channel.
Monetization and Sponsorship
Both products, VidIQ and Tubebuddy, offer monetization and sponsorship options. The 'monetize' page on VidIQ provides information on your expected profits, the channels you are linked with, etc.
In contrast, the 'monetize' option on TubeBuddy is pretty basic. It only displays your revenue from ads on your videos and sponsorships.
Affiliate Programs
Affiliate marketing is another excellent way to earn money online. And VidIQ and TubeBuddy have excellent affiliate programs. You can earn up to 25% as a VidIQ affiliate. And up to 30% as a TubeBuddy affiliate. They both run their programs in-house using specific affiliate marketing software, and you get your commissions paid via PayPal.
VidIQ
By default, you will receive 15% of purchases, but as more sales are made, that percentage will increase to 20% and 25%.
TubeBuddy
You earn up to 30% recurring from TubeBuddy as long the people you refer remain paying customers.
Alternatives To TubeBuddy and VidlQ
We looked at VidIQ vs TubeBuddy, but there are other tools you could consider.
TuBeast
First on our list of other tools, TuBeast is a Chrome extension and web platform that offers advanced tools and features. You can optimize your channel and video and create relevant and niche-targeted content.
Key features allow you to analyze unfair market practices, get in-depth insights about yours and other channels, and much more.
---
Vudini
The video SEO and video commerce platform Vudini helps businesses create a profitable customer acquisition channel. It does so through smarter AI-driven video publishing and keyword targeting across YouTube, Google, and Social media. And it's approved by Google.
---
Social Blade
Social Blade offers information on the development and performance of content producers, including data from platforms other than YouTube. You can access its public database to check out how well-liked someone is on Facebook, Instagram, Twitch, and other social media platforms.
---
Some Quick Stats Around YouTube
YouTube has about 2.6 billion users.
In 2021, YouTube's global advertising revenues were around $28.84 billion.
YouTube has over 51 million active channels as of 2022.
YouTube comes second as the most popular platform for influencer marketing.
There are 1 billion hours of videos watched per day. That's about 5 billion YouTube videos.
Conclusion: VidIQ vs TubeBuddy - Which One Is Better?
Before we move on to our conclusion, here's an important point. If your material isn't good enough, no amount of video optimization and SEO techniques will be able to rank your videos. If your content is low quality, your videos won't go anywhere in the YouTube search results.
Tools like VidIQ and TubeBuddy can help you optimize your material and get your search volume right up among the best. But they can't help you produce powerful content! So, it's best to start by producing video content that offers your audience more value. And then decide on SEO technologies for better results.
VidIQ and TubeBuddy provide significant functionalities to help in your YouTube beginnings. Going it alone won't be enough if your goal is to get 4,000 view hours on YouTube and get access to YouTube's monetization capabilities. To access the YouTube Partner Program (YPP), you must have 4,000 watch hours in the last 12 months and 1,000 subscribers. You can apply for the YPP as soon as you cross that barrier. Once you've been given the go-ahead, you can start running ads on your videos.
VidIQ vs TubeBuddy
You have clever tools to help you expand your channel, make it a success story, and make you some money online. VidIQ vs TubeBuddy - which one to choose?
Finally, when it comes to SEO tools and features, TubeBuddy wins. It offers a variety of tools that can improve your video's position in YouTube recommendations and search results while directing you toward improvement. Although VidIQ offers several remarkable tools for researching keywords and tags, it still lacks many essential SEO functions that Tubebuddy offers at a lower price tag. The reviews on the net are inconclusive; some vote for VidIQ, and others swear by TubeBuddy. The good news is that both VidIQ and TubeBuddy offer a free version with enough free features to be able to test them both out. But your choice will be based on which features you value most.
And...
Whichever tool you choose, we wish you the best of luck with your YouTube money-making adventures.
Looking for more help to grow your YouTube channel? Check out our list of YouTube tools covering everything from productivity to keyword research to videos and music.
And here are a few more articles you may enjoy.
Want to learn step-by-step how I built my Niche Site Empire up to a full-time income?
Yes! I Love to Learn
Learn How I Built My Niche Site Empire to a Full-time Income
How to Pick the Right Keywords at the START, and avoid the losers
How to Scale and Outsource 90% of the Work, Allowing Your Empire to GROW Without You
How to Build a Site That Gets REAL TRAFFIC FROM GOOGLE (every. single. day.)
Subscribe to the Niche Pursuits Newsletter delivered with value 3X per week