How Stacy Ling's Gardening and DIY Blog Earns 6-Figures a Year From SEO
When you buy something through one of the links on our site, we may earn an affiliate commission.
Stacy Ling is a self-proclaimed flower addict who needs as much blooming around her as possible, both indoors and outdoors, all year long.
As her friends and neighbors constantly asked her for gardening advice, she started a small garden design business to help them. However, it took time away from her family and her own garden, and it was hard to scale, so she let it die out.
The next obvious step was to create a blog and a brand. She went live with Bricks 'n Blooms in 2018, and her hard work and tenacity have paid off.
This month, the blog has already received +500k pageviews and will earn $20k. She has a book coming out early next year, and she is regularly featured in gardening and DIY publications, podcasts, and even on TV.
And she's just getting started.
Keep reading to find out:
Her gardening background
How she built up her authority
Why she created her blog
Where her income comes from
The strategies she uses to grow her brand
Her thoughts on SEO
The tools she uses
Her thoughts on keyword research and link building
Her approach to content creation
How she manages her email list
The resources and tools she uses
Her main challenge
Her greatest accomplishment
Her biggest mistake
Her advice for other entrepreneurs
Meet Stacy Ling
I'm an author, blogger, and master gardener who has been growing flowers and plants for more than 25 years in New Jersey, zone 6a. I discovered the joy of gardening while pursuing a law degree at Seton Hall University, School of Law.
After passing the bar exam and working in tax for a few years, my husband and I moved to our family home in the suburbs where I developed a deep passion for all things plants and flowers.
We started our family, I became a master gardener through the Rutgers Cooperative Extension, and began my own garden design business where I helped friends and neighbors plant and grow their gardens.
In December 2018, I launched my garden and home blog and grew my brand, Bricks 'n Blooms, on Instagram, TikTok, Pinterest, YouTube, and Facebook. I regularly share gardening, DIY, and home decor content, as well as easy recipes and entertaining ideas.
My first book The Bricks 'n Blooms Guide to a Beautiful and Easy-Care Garden, will be published on February 6, 2024 with Harvest House Publishers and is currently available for preorder on Amazon, Barnes and Noble, Walmart, etc. 
My gardens will be featured in Horticulture Magazine, and I was also featured in Wine Enthusiast Magazine, where I shared how to create a cozy holiday table. I was also a finalist in the 2022 Cottages and Bungalows Curb Appeal Contest.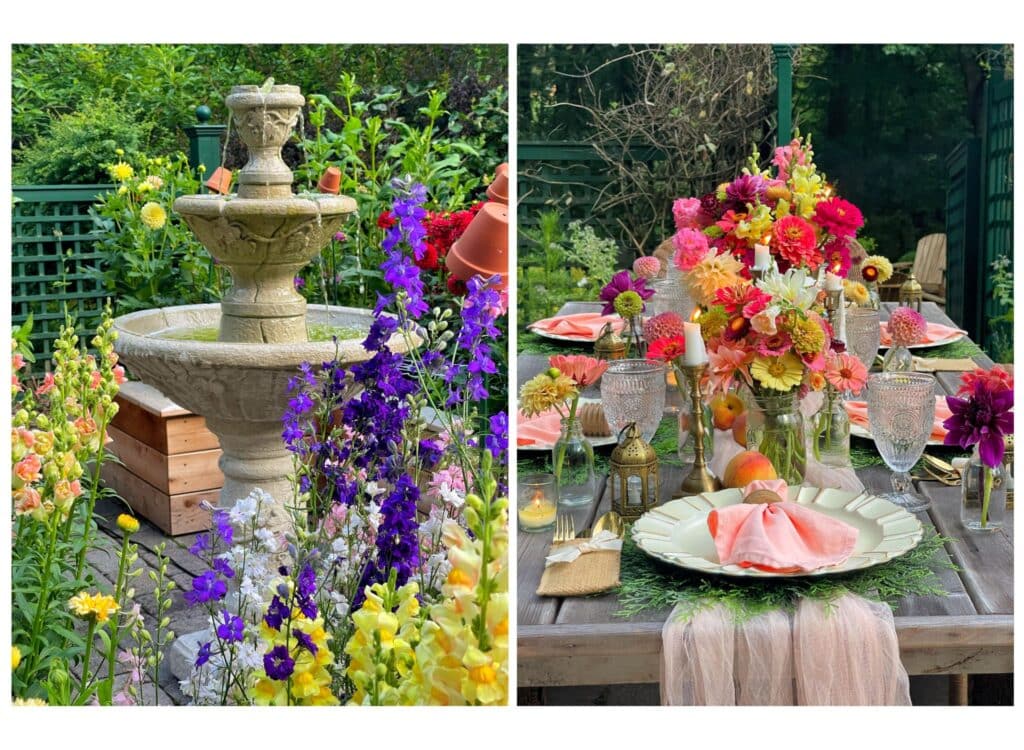 My family and I appeared on an episode of HGTV's Househunters called "Ski Condo or Lake House in Vermont," in January 2019.
I've also appeared on The Life and Style Podcast discussing "Gardening for the Total Beginner," and Living Large in a Small House podcast discussing my "New Home with 10 Acres."
In fall 2021, we purchased the home of their dreams in north central New Jersey. We sold our family home of 23 years and moved with our 3 daughters and two dogs to an 1850 farmhouse situated on 10 acres with expansive gardens, tree sculptures, and statues.
Our property boasts two koi ponds, potager and cottage gardens, a zen garden, a formal garden, a pool garden, and a few small gardens in between.
Why She Created Her Website
I had aspirations to start a blog for several years but was so busy raising my kids and running around with them that I just didn't have the time to devote to it.
While my kids were growing up, many of my friends, neighbors, and acquaintances wanted help with their gardens or believed they couldn't grow things. I can't tell you how many people would tell me how bad they were with plants and flowers!
So, I started a small garden design business to help them with it, but after a few years, found it took too much time away from my own gardens so I stopped taking on clients and let the business die out.
Since I still wanted to help others learn to enjoy gardening as much as I do, I wanted to start a blog to reach a larger audience. I figured it was a great way to continue helping my friends, neighbors, and others like them, grow their gardening confidence with an easy-care, low-maintenance approach to growing flowers and plants.
We were also living on a budget, so I sought budget-friendly ways to decorate my home and garden. My husband and I did a lot of DIY projects both in and out of the garden to make our home look and feel cozier. So I wanted to document and share that type of content too.
When my oldest was leaving for college in fall of 2018, I just went for it and started my blog and brand. I've grown exponentially in the last few years where my monthly pageviews now exceed 500k per month and continue to grow.
While I've had some blips along the way, my blog has been steadily growing since the summer of 2019. And each month I keep thinking I topped out, but then I reach another milestone. So it's been really exciting!
How Much She's Earning
In 2022, my blog earned $63k. The year before that, 2021, was $20k. But this year, I am on track for earning over $130k. I anticipate that to grow more in 2024 as I am paid 3 months behind for revenue earned with my ad network.
Last month, I had my highest earnings from Mediavine at $17,993. In August of 2023, I'm going to break $20k, so it's still growing!
That said, because I had a huge jump in pageviews and revenue in 2023 I anticipate 2024 to be significantly higher with earnings.
I attribute that growth to really niching down on my content, creating new content more centered on that niche, updating old content, SEO, and doing web stories consistently.
In addition to ad revenue, I anticipate my overall income to increase when my first book is published in early 2024.
As for the book deal, I attended the Haven Conference last year and met the publisher there. We briefly chatted, I gave her my card in case she wanted to chat more.
I heard back from her the next morning and we connected after the conference. I drafted my proposal, sent it in, was offered a deal for a 2024 publication date, and started working on it in October.
I wrote this book in 3 months. It was a lot of work while keeping my blog going at the same time, but has been a great experience and really helped me niche down my content.
In addition to my book and blog revenue, I earn income through affiliate sales and brand sponsorships. Affiliate income per month is about $1.2k. And brand work fluctuates depending on the work I do.
I have earned income from socials however, they have been all over the place with their revenue programs so I don't really count on that anymore. For example, last year, Pinterest was my top earning platform. This year, it's nothing.
Since my YouTube channel is still new and growing the revenue there is minimal earning about $50-$100 per month.
In terms of traffic, in 2022 my site had 884,909 pageviews for the year. I finished July 2023 with 537k pageviews.
On average, I work 10-12 hours per day during the week on my computer blogging, creating content, and doing socials from my phone.
On weekends I work about 2-3 hours per day, pretty early in the morning before the rest of the family is up. The time I spend on weekends really depends on what I'm doing. If we have plans, I work much less.
But I love what I do so much that it doesn't feel like I'm working! It's truly the best job ever.
Stacy's Top Marketing Strategy
My main strategies are SEO, updating old posts, not focusing on just one channel to grow, and working with brands that are in my niche.
In the blogging and influencing business, we are bound to the whims of algorithms and searches. SEO should come first in everything, but it's also important to leverage yourself and be on every platform that you can because you don't know what will be successful for your blog.
As one platform does well, another one doesn't do as well, so I focus on the ones that are growing me and helping me earn money. And I then focus less on the ones that aren't.
For example, I post on Twitter and LinkedIn (although it's just my personal page; I didn't make a blog page there) but it doesn't do much.
That landscape changes every few months, so my approach is more of a "ride the wave" and watch the trends for me and my business.
For example, last year Pinterest was paying creators to make idea pins. So I focused more on that and less on other socials. Then they stopped paying creators, so I focused more on the ones that were paying. Then those socials stopped paying creators so I focused more on creating content for my blog, YouTube, and growing my email list.
I had a few videos go viral on TikTok that helped grow my Instagram from a major plateau, so I focus a little more on that platform together with Instagram right now.
Every blog and brand is different, but if you watch how you do on each of the platforms, one can grow the other.
Aside from that, I have worked with major gardening brands like Proven Winners, Garden Design, and Gardener's Supply. Partnering with them and getting shared in their content helps grow my blog and brand too.
I reached out to Gardeners Supply and Proven Winners but there are other brands that have reached out to me. And I started working with Garden Design through Proven Winners.
Her Thoughts on SEO
SEO is very important for my business and I use it on the blog, YouTube, Pinterest, and socials. Each platform has its own algorithm, so the keywords may be different depending on what platform you use.
But particularly for the blog, I do keyword research using the search bar and use tools like Ubersuggest, RankIQ, KeySearch, and VidIQ.
I regularly update old posts and add alt-image text on all my photos in every blog, so those photos are optimized for SEO, too.
I thought I knew SEO when I started my blog, but I really didn't. There was so much that I did not know and learned through my blogging coach, other bloggers, and conferences.
Keyword Research
I look at Google trends and often use the search bar in Google, Pinterest, YouTube, and other social platforms to get ideas to see what people are searching for in my niche.
In addition, I check out the competition for those keyword ideas. And then drill down on the keywords I want to go after, which are usually low-competition, high-search volume keywords.
Link Building
I tried using HARO but felt it took too much time away from my blog and other things I needed to do with little result, so I stopped doing that.
I regularly work with other bloggers where we do monthly things together or special holiday events on the blog and socials that keep me connected with them while building backlinks and referrals.
Her Content Creation Process
Because I'm a gardener, I produce content that is seasonal, but more importantly, happening in my own garden. If there's a problem and I'm trying to solve it, I'll write a blog on it. Because chances are, someone else is struggling with the same thing I am.
So essentially, I write about everything that I'm growing, enjoying, and actually doing in my gardens. All of my photos and videos are my own that I produced myself in my gardens.
As a home decor enthusiast and one who loves to entertain, I also decorate my home seasonally, set gorgeous tables, make pretty centerpieces, and cook quick and easy meals, so I share them in my content too.
But I'm more in the gardening niche and everything that I share touches on plants and flowers in one way or another, so I'm always sharing my niche.
And since my content is seasonally driven, I generally work about a season ahead.
As of today, I have 688 published blog posts. I publish every Tuesday, Saturday, and Sunday. Sometimes Thursdays with some other days sprinkled in too, but that's not the norm.
However, I send emails about 5 times per week to my list that have new and updated content. Since my content is seasonal, I send out all related content when the timing is right.
Because my content is evergreen, things I wrote about two years ago still apply today. Before I send them though, they are updated with new pictures, information, and formatting.
And I send out updated content because some of my subs may not have seen it before or forgot about it and it's relevant now. So I keep sending out my content to get it in front of my audience.
Her Email List
I have an email list that's just under 10k. I have a few great opt-ins that have done really well for me so those are how I capture emails to consistently grow my list.
I also use Mediavine's Grow.
Since achieving some success using web stories, they have generated lots of email sign-ups. So, I include a sign-up page at the end of every web story.
Her Favorite Resources
I learn and get inspired by the following to name a few:
The Blogging Millionaire
Niche Pursuits (of course!)
Influencer Entrepreneur
Think Media
Anything Martha Stewart! I adore her
Anything Joanna Gaines
Garden Answer
Wyse Guide
Epic Gardening
Gardeners World
Liz Marie Blog, and
Thistlewood Farms
Her Go-To Tools
My favorite tools as an entrepreneur are:
SEO Research Tools - They are a must-have in this business. And it's important to use the tools that work for you and your budget. I use Ubersuggest, RankIQ, VidIQ (for YouTube), Google, YouTube, Pinterest, Instagram, and TikTok Search, too. I also have Yoast in my WordPress dashboard.
Good Video/Photographing Equipment - I do all of my content on my cell phone (iPhone Pro12 Max) and MacBook computer. I'd love to purchase higher-end photography and videography equipment and software, but I've been using what works for me. If you've got old outdated equipment, you need to upgrade. Also, you need a good microphone and lighting, too.
Thistlewood Farms - Until I started working with my blogging coach, Karianne from Thistlewood Farms, I was slow growing and teaching myself how to blog and run my content-creating business.
Through her advice and business acumen, I was able to go from 9k pageviews per month to over 535k per month now. Investing in a good blog/business coach to help navigate you through the ins and outs of things you don't know is invaluable and will save you a lot of time spinning your wheels.
Even if you aren't making that much income, it is worth investing in yourself as a blogger with a business coach who has achieved where you want to be.
Stacy's Biggest Challenge
The biggest challenge I've faced is balancing my personal life with my business. I've got three kids, a husband, and two lovable black labs that have needed me throughout the day since starting my blog.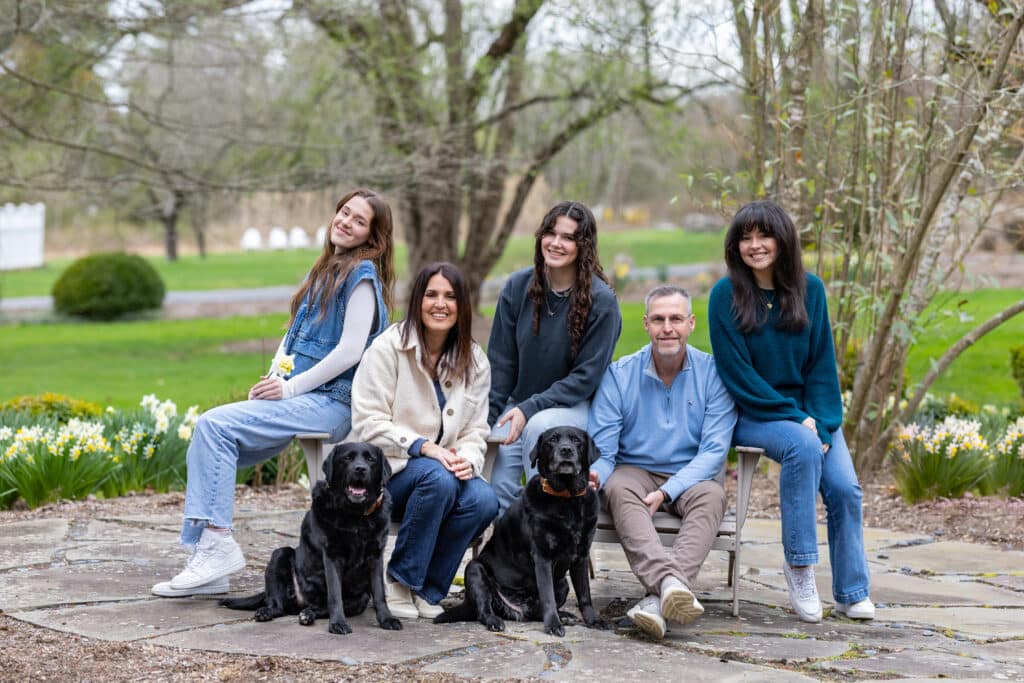 From making dinners, picking up the house, driving the kids around, helping out with their needs, doing the laundry, and all the other things we parents do, it was a lot to balance. Not to mention, I enjoy working in my gardens and going running, too. So I needed to find time for that as well.
At the time when I started my blog, my husband was growing his architectural consulting business. I have been heavily involved with his digital marketing aspirations and website management, so I guess you can say, I wear a lot of hats.
As my children head off to college (my youngest leaves in a few weeks), they need me a bit less so I've been able to balance it all a little bit easier.
Her Greatest Accomplishment
My most important accomplishment as an entrepreneur is my resilience, tenacity, and the ability to just keep going, even when things are not going my way.
I kept going when I was making no money and working 12 hours a day for a few years.
You have to keep creating and publishing content.
What She Wishes She Knew When She Started
I wish I had known about the importance of naming my digital photos before uploading them into the backend of my blog and adding alt-image text. I'm still updating my library from not doing this.
So, label your photos well before uploading them to your blog, and add the alt-image text when you do.
Also, I should have found a good blogging coach much earlier on so I wouldn't have been spinning my wheels for almost two years. I thought I could get by teaching myself, but in hindsight, it took me much longer to learn the ropes.
Her Main Mistake
My biggest mistake is not finding a blogging coach sooner. I spent so much teaching myself things I didn't know that I learned in one day with KariAnne.
I joined her mastermind in late summer 2019 and it propelled my blog in so many ways.
The knowledge gained from this mastermind group fast-tracked my learning and got me on pace with growing a business and a brand.
Her Advice for Other Entrepreneurs
Sure, there are some that grow really fast and find success early. But most of us just put our heads down, do the right things, and keep creating content.
Want to learn step-by-step how I built my Niche Site Empire up to a full-time income?
Yes! I Love to Learn
Learn How I Built My Niche Site Empire to a Full-time Income
How to Pick the Right Keywords at the START, and avoid the losers
How to Scale and Outsource 90% of the Work, Allowing Your Empire to GROW Without You
How to Build a Site That Gets REAL TRAFFIC FROM GOOGLE (every. single. day.)
Subscribe to the Niche Pursuits Newsletter delivered with value 3X per week