11 Reddit Alternatives You Can Use For A Refreshing Change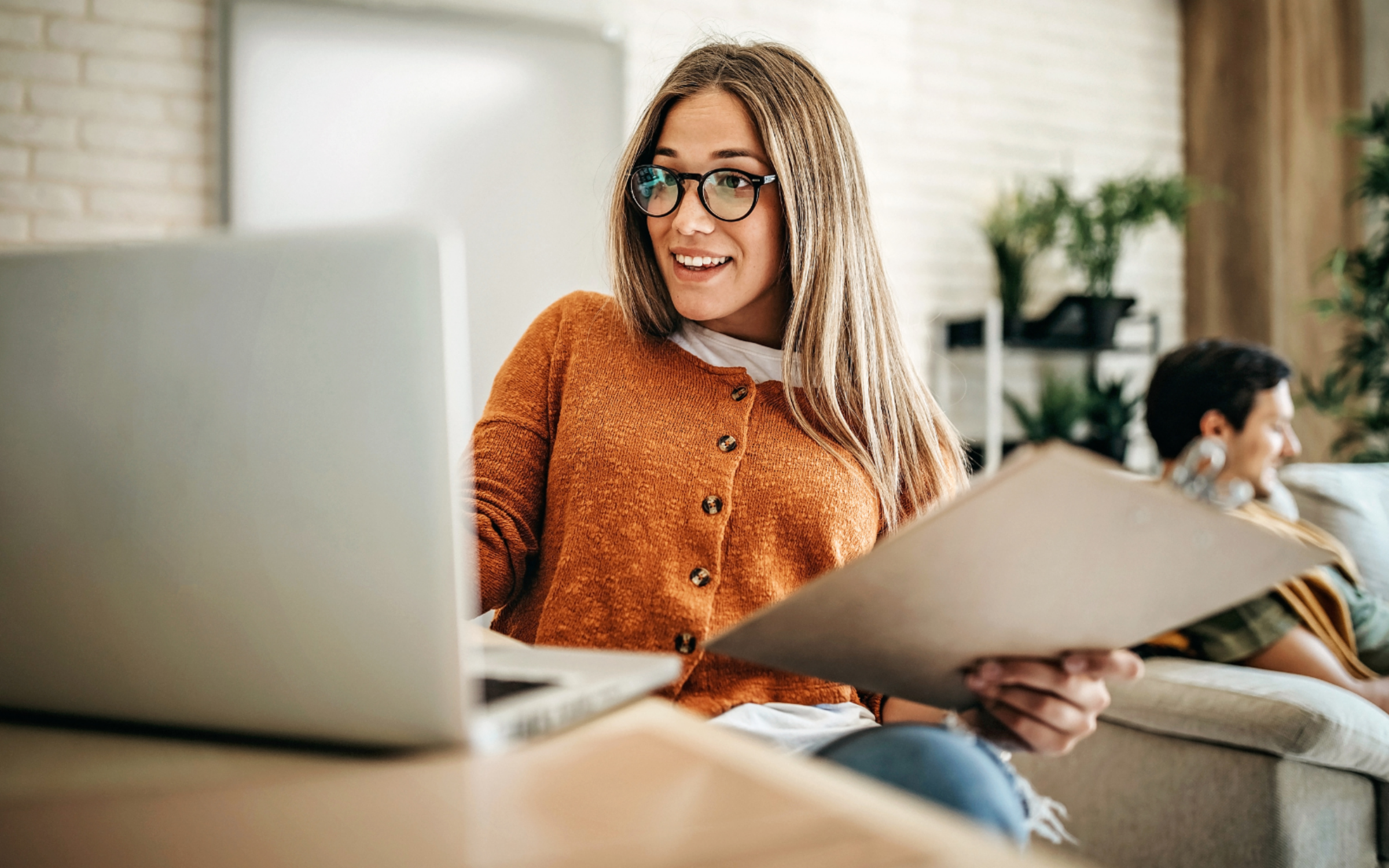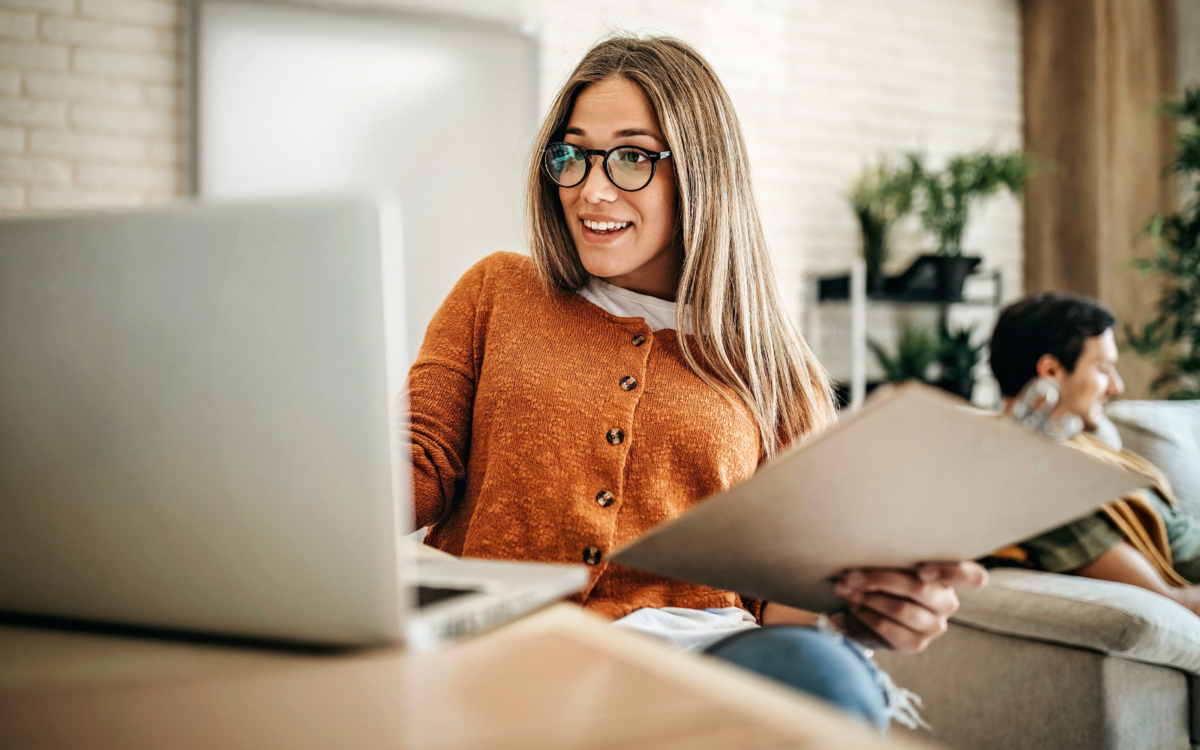 When you buy something through one of the links on our site, we may earn an affiliate commission.
Without a doubt, Reddit has established itself as a powerhouse in the realm of online discussions, content dissemination, and fostering community interaction. But its array of topics may not meet everyone's tastes, which is where Reddit alternatives come in.
If you're searching for new digital communities where you can engage, share, and debate, you've come to the right place. Let's dive into the rich features of some alternatives to Reddit so you can find the right fit for your needs.
11 Best Reddit Alternatives For Social News Feeds
These Reddit alternatives offer many topics, from politics to tech to DIY home projects. You can even find subsections dedicated to specific interests. Plus, these alternatives are easy to join and use, and most are completely free.
1. Lemmy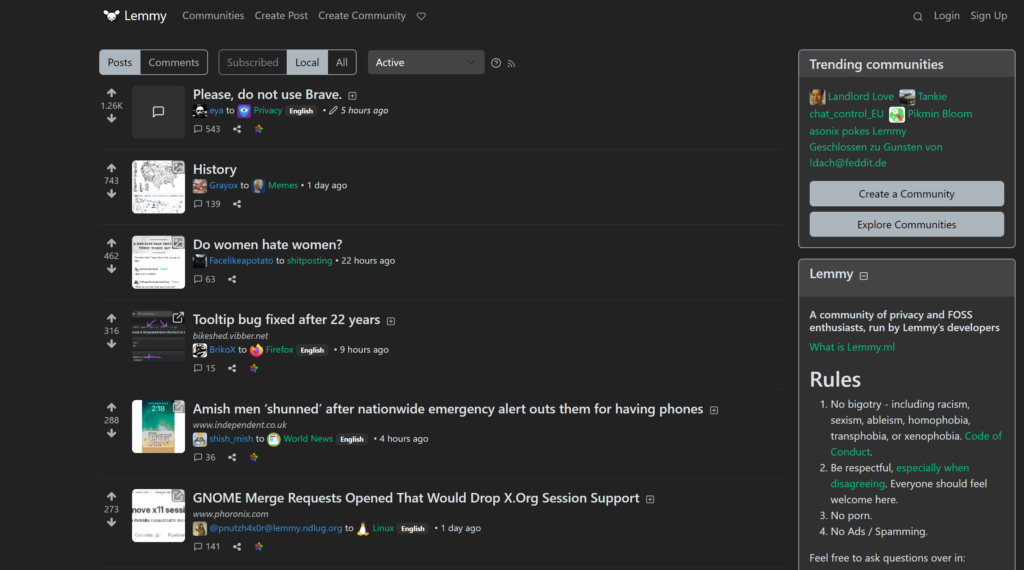 Lemmy is a popular forum alternative to Reddit for those searching for a decentralized platform. This innovative social media site allows users to create their own discussion forums, similar to Reddit communities, focusing on privacy and open-source development.
The website operates on a federated network model, enabling the independent creation of numerous communities.
Users can share links and engage in discussions like they would on Reddit. The user interface may be daunting to newcomers with its scrolling list of posts and endless threads. But the good news is that the learning curve is quite small.
It boasts a lightweight and mobile-friendly design that works quickly and smoothly, complete with a dark mode for added comfort.
2. Quora
The well-known forum Quora offers an intellectual community where you can share knowledge and engage in insightful discussions. Unlike most users' experience on different servers, here you can:
Verify your identity for credibility
Follow intriguing questions
Upvote insightful comments
Create focused communities in Quora Spaces
Monetize your expertise through the Partner Program
Quora is a good alternative to your favorite subreddit, fostering healthy debates and allowing you to learn from other users. Topics ranging from tech, legal matters, business, and personal hobbies can be discussed here.
If you're already a Quora user and want to learn about sites similar to this one, check out our list of Quora alternatives.
3. Flipboard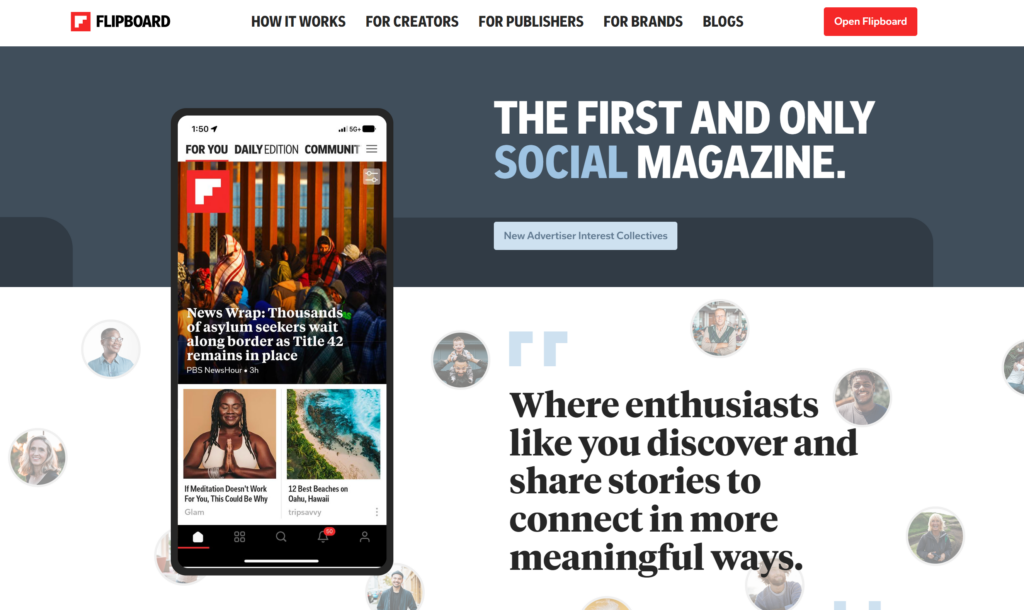 Flipboard, a news aggregator and social network platform, is a great Reddit alternative. It's friendly and intuitive, with a sleekly designed app. Flipboard is your personalized digital magazine where you can:
Curate content from diverse sources into a single feed
Receive a daily digest of stories relevant to you through "Briefing"
Discover new topics via the "Explore" feature
What is Flipboard's edge over many Reddit communities? It offers a tailored experience to its many users, giving them control over their content. It's the best Reddit alternative to fine-tune your interests for a personalized content feed.
Regular usage of Flipboard enhances its understanding of your interests, delivering more aligned content. Add new topics on the fly when an article piques your interest. Expand your content horizon by following other users or magazines with similar tastes. And don't forget to use the 'Save for Later' feature to earmark articles when you're short on time.
If you want to monetize Reddit alternatives, you can learn how to use Flipboard to grow traffic on your blog.
4. Kbin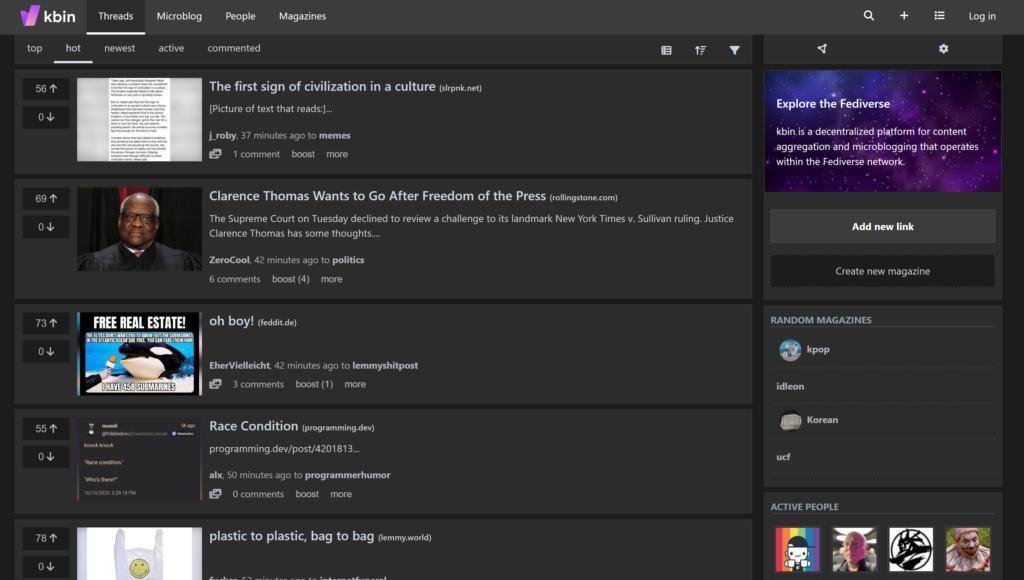 If you like Reddit, you'll also enjoy Kbin, a great Reddit alternative that brings you:
Specialized knowledge boards
High-quality content
Personalized feeds
Live discussions and updates
Easy-on-the-eyes dark mode
An ad-free experience
Unlike many Reddit communities, Kbin propels focused discussions and curated sharing on dedicated boards. It's a good Reddit alternative for those who value shared interests and expertise.
While it doesn't have a dedicated app, its user-friendly dark mode ensures a smooth browsing experience.
5. Steemit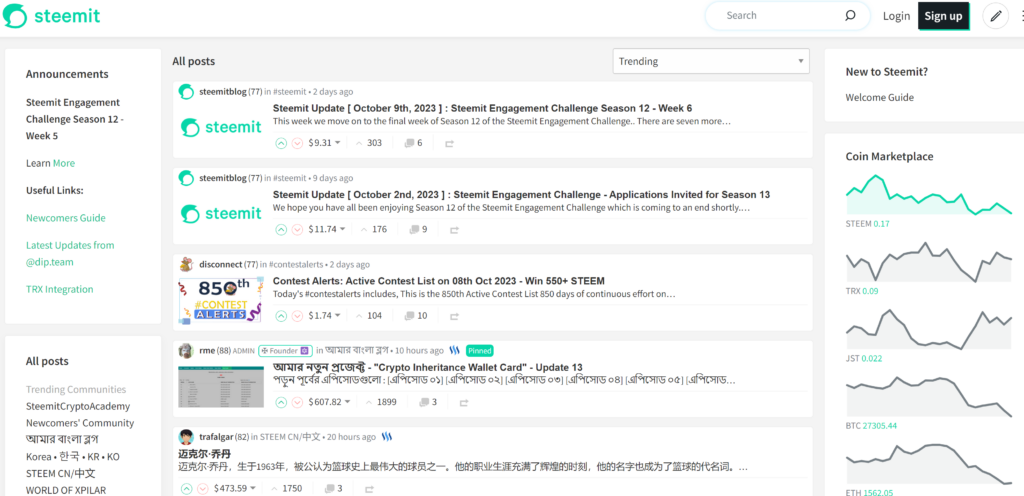 Steemit is a powerful Reddit-like platform that's a haven for cryptocurrency enthusiasts, offering a way to earn STEEM coins. This Blockchain-based site is an attractive Digg and Medium alternative due to its decentralized forum and blogging model, allowing you to express yourself without censorship.
Important highlights:
Earn STEEM by creating, commenting, or upvoting content
Uncensored discussions and comments
Engage with vibrant communities
Monetization may seem complex at first, but it quickly becomes intuitive. Creating an account, sharing posts, and joining lively discussions with other Steemit users is easy and fun.
6. Saidit.Net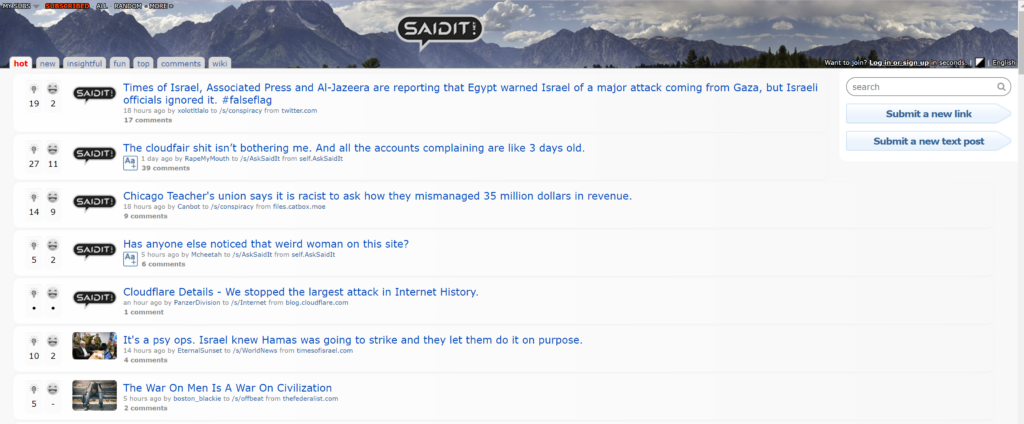 If you've run out of interesting topics on Reddit, consider SaidIt.net. This platform fosters open dialogue and various discussions, all under the umbrella of free speech.
Important features include:
Supports free speech and open discussions
User ability to upvote or downvote posts and comments
Active communities empowered to self-moderate
Emphasizes transparency
Offers an ad-free experience
SaidIt.net comes with a minimalist UI, albeit based on an older model. As a competitor to Reddit, it presents a compelling alternative for those seeking new avenues to browse and engage in discussions.
Unlike Reddit, there are no mod elections or Reddit blackouts here, paving the way for a more consistent user experience.
7. Matrix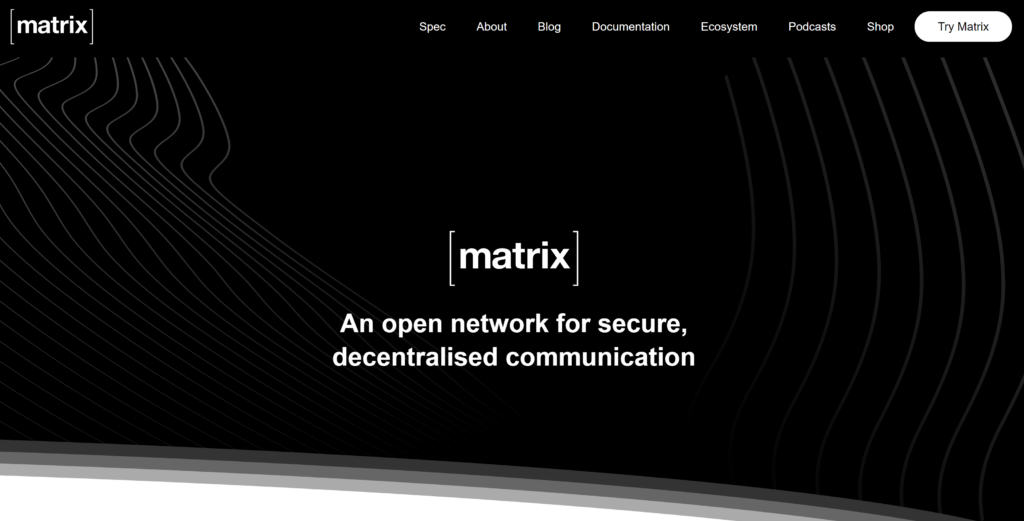 Venture into the vibrant world of Matrix, a dynamic platform that reimagines online communication. Overseen by The Matrix.org Foundation, Matrix offers an open, decentralized environment for real-time discussions.
At its core, Matrix:
Connects different servers through a federation model
Upholds user security with end-to-end encryption
Supports one identity across various servers
Handles multiple media types - images, voice files, etc.
Links different chat platforms for smooth interaction
Despite its professional UX and dedicated apps, Matrix may require some time to learn. But once you're in, it's an excellent alternative to Reddit, offering an exciting hub for top comments, interesting ideas, and interactions across servers.
8. Digg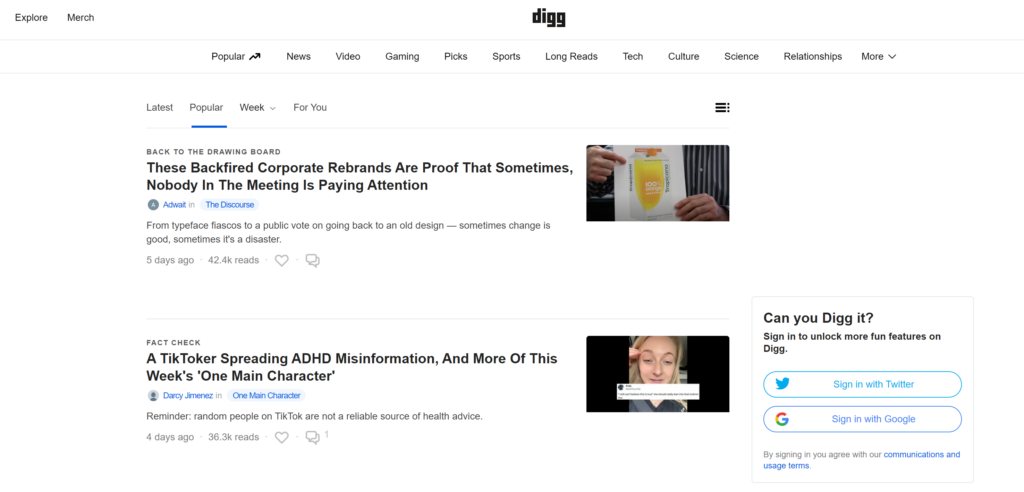 Digg is a longstanding and unique Reddit competitor that curates content for the discerning internet audience. Emphasizing topics like science, political trends, and viral issues, it offers an engaging browsing experience.
Digg's highlights:
"Hearting" content determines content visibility
Feed personalization based on interests
Integrated RSS reader for following favorite websites
Easy content sharing across social media platforms
This site is fairly simple in design and very easy to navigate compared to other Reddit mods. So, it's a great Reddit alternative for those who appreciate a clean, clutter-free design.
9. Slashdot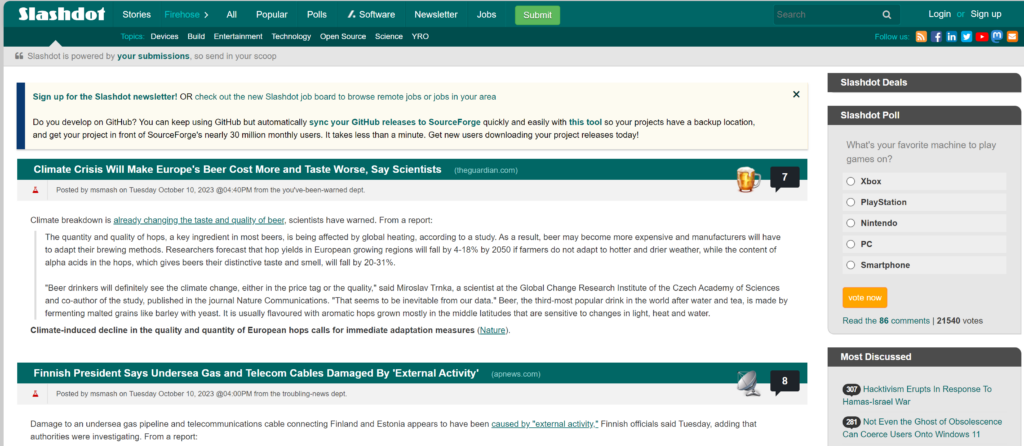 Those looking for one of the more academic Reddit alternatives will love Slashdot, a go-to Reddit competitor for all things tech. This user-driven platform also centers on science and world news, with a unique twist of crowd-sourced content selection that the entire community votes on.
Slashdot offers:
In-depth comment threads
Open-source principles
Platform to ask questions and seek advice
While its UI shines, the UX could use some improvement, as it can be challenging to navigate with walls of text. But with a bit of getting used to the site's structure, those on the edge of technology and science will find it a fantastic Reddit alternative.
You can post links, engage in discussions, or simply browse the front page for an easy feed. You'll find a dynamic community welcoming new users. It's not a Reddit clone but a worthy alternative for those seeking a fresh perspective.
10. Raddle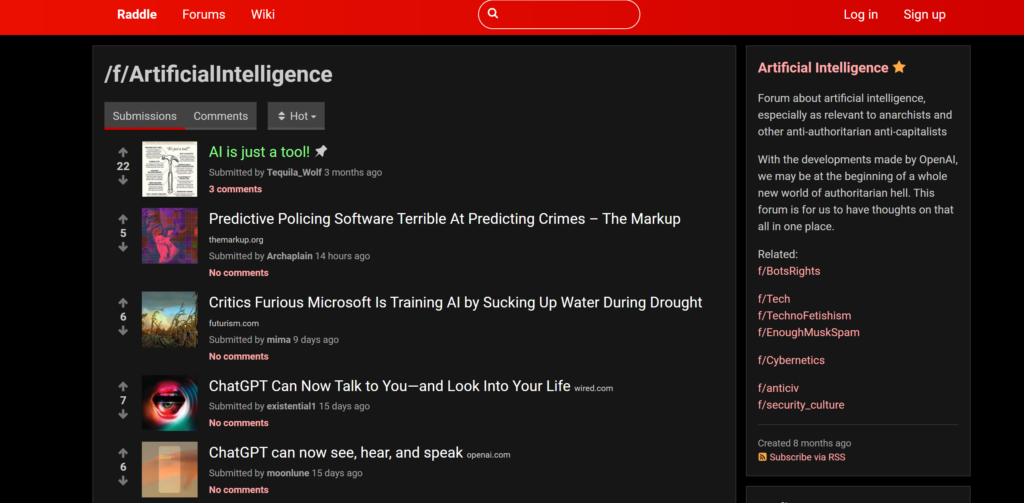 Raddle is a community-focused Reddit alternative that champions open discussion and privacy. This platform encourages diverse viewpoints and unrestricted conversations.
Here are some key features of Raddle:
Community-decided rules and enforcement
Anonymous user engagement
Flexible interface options
Accessible and adaptable platform code
No ads and a clean UI
Raddle prioritizes user experience over profits, offering an open-source platform with minimal content moderation. While this freedom fosters diversity, it's not for everyone.
Engage in unrestrained discussions, modify the platform to your liking, or simply enjoy the ad-free, clean user interface.
11. Discord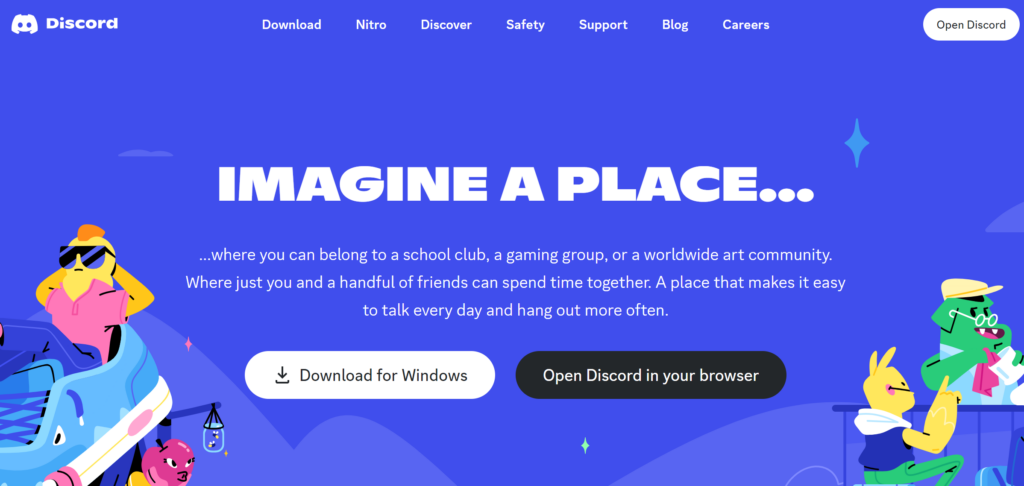 Discord, a dynamic Reddit competitor originally designed for gamers, now caters to diverse interests and communities, including AI art generators like Midjourney. It's home to popular server channels that function similarly to subreddits.
These days, popular Discord servers typically belong to one of the following categories:
Gaming
Music
Lifestyle
Entertainment
Anime
Tech
Finance
Study groups
Discord boasts a user-friendly interface that supports voice and text communication, allowing users to easily create or join public or private servers and share media files. It includes server-based organizations for creating specialized communities.
It also offers role management for precise control, displaying real-time activities, custom bots for task automation, and availability across desktop, web, and mobile devices.
Discord's amazing UI and dedicated apps make it a good alternative for all audiences despite the high gamer population. The platform allows you to post links, add comments, and browse Reddit-like active communities.
Final Thoughts: 11 Reddit Alternatives to Try
Now that you have a few Reddit alternatives in mind, you'll need to weigh the pros and cons of each one to figure out which suits your interests.
Whether you're looking for a more open community, better content curation, enhanced privacy options, or simply want to explore new platforms - there's something for everyone.
So why not branch out from Reddit and try one of these alternatives? Who knows, you might find other servers that better suit your discussion needs and give you a better idea of what is out there online.
Want to learn step-by-step how I built my Niche Site Empire up to a full-time income?
Yes! I Love to Learn
Learn How I Built My Niche Site Empire to a Full-time Income
How to Pick the Right Keywords at the START, and avoid the losers
How to Scale and Outsource 90% of the Work, Allowing Your Empire to GROW Without You
How to Build a Site That Gets REAL TRAFFIC FROM GOOGLE (every. single. day.)
Subscribe to the Niche Pursuits Newsletter delivered with value 3X per week