What Is Flipboard? Including 6 Tips For How To Use The Social News App
When you buy something through one of the links on our site, we may earn an affiliate commission.
Information overload is a real and growing problem in today's society. We're constantly inundated with news and information, most of which we don't have time to read or process.
According to a Statista study, the average American spends over 7 hours each day interacting with technology - and that number is only increasing.
How can we cope with this information overload? The solution, of course, is not to stop trying to find information. Instead, we must be more selective in what we consume and focus on quality over quantity.
Enter Flipboard. Flipboard is changing the way we consume news, and it's also changing the way news is created.
So what is Flipboard? How can you become an expert user? And what are the best Flipboard alternatives? Keep reading to find out.
What Is Flipboard?
Flipboard is a social media news platform that allows users to curate content from various sources into a single, easily-digestible feed. It's been described as a "personalized magazine" for the digital age, and it's easy to see why. Flipboard gives users complete control over the content they see, meaning they can create a bespoke experience tailored to their specific interests.
So whether you're interested in tech news, celebrity gossip, or current events, you can find what you're looking for on the Flipboard app.
In addition, Flipboard provides a much-needed respite from the constant negative news stream dominating many social media platforms.
I'm a daily user consuming content from over 12 topics and magazines and constantly adding new ones and deleting old ones. After all, very few things are more important than staying up-to-date on the latest news.
How Does Flipboard Work?
As you open the app, you will be greeted with a few topic suggestions based on your interests. For example, I am interested in technology, so Flipboard suggests tech-related topics.
You can also search for specific topics that you want to follow. Type in a keyword or phrase, and Flipboard's powerful search function will show you a list of related issues.
Once you've found some topics that interest you, it's time to start curating your personalized newsfeed. For each keyword topic, you can see the latest stories, the most popular stories, or a mix of both.
Flipboard Briefing: Your Daily Digest
Flipboard also has a rollout called "Briefing." The briefing is essentially a daily digest of the stories you care about directly at your fingertips.
The app comes pre-installed on Samsung smartphones
If you're anything like me, you probably get a ton of emails every day. So why would you want another one? Well, the Briefing email is one of the most valuable emails you will receive! It's concise and includes links to all the stories so you can easily read them later.
The Power of Personalization
So what makes Flipboard great? The answer is simple: it gives users what they want. You can choose topics from "Technology" to "Email Marketing."
Once you've selected your interests, Flipboard pulls articles from all over the internet related to those topics. You can also follow specific publications, like Washington Post or Harper's Bazaar.
Unlike most news apps, which show you a general feed of headlines from different categories, Flipboard builds a unique experience for each user based on their interests. Instead of seeing random articles on a website, you'll be able to focus solely on relevant and exciting content!
In addition to articles, Flipboard allows users to follow other users and create their magazines filled with articles, photos, and videos on any topic they choose.
If you spot something interesting online and want to share it with others, all of your sharing options are available. You can email or post directly on social media from the app!
Flipboard Helps You Discover New Things
Flipboard's "Explore" capability helps expand your horizons by suggesting new topics and sources relevant to you.
For example, let's say you've been reading many articles about paid advertising. Flipboard might suggest you follow a specific blog or check out some articles about native ads.
This is because Flipboard looks at the topics you're interested in and uses that information to suggest new content you might like. Of course, you're not limited to just following blogs - you can also explore magazines, channels, and even individual articles.
Not only does this help you find new things that you didn't even know existed, but it also allows you to explore different points of view on topics. That way, you can get a well-rounded understanding of the topics that matter most to you.
How to Use Flipboard Like a Pro
While the app is straightforward, there are a few tips and tricks that can help you use Flipboard like a pro.
Get Hyper-Specific With Your Interests
If you want to get the most out of Flipboard, it pays to be hyper-specific with your interests. By customizing your feed to reflect your specific interests, you'll ensure that you only see the content that's most relevant to you. This, in turn, will help the Flipboard algorithm serve up more targeted content, making your experience even better.
Of course, it can be tempting to just select broad interests like "Technology." But if you want to power up your Flipboard usage, it's worth digging into more specific topics. For example, if you follow "Elon Musk," you can specify that you're interested in articles about "SpaceX" or "Tesla."
By doing so, you'll end up with a feed chock-full of the information you want to see.
Use the Flipboard Social App Every Day
The more often you use Flipboard, the better it gets at understanding your interests and delivering relevant content to your feed. Remember to check in every day (or multiple times a day!) to see what's new.
Add Topics When You See Content That Interests You
If you ever come across an article on Flipboard that covers a topic you're not currently following, don't worry! It's easy to add new topics on the fly. Click the plus sign (+) of the article or type in the name of the topic you want to follow. That's it! All future articles on that topic will appear in your "For You" tab.
Follow Other People (or Magazines)
In addition to topics, you can follow other people (or magazines) on Flipboard whose tastes align with yours. To do so, tap the "Explore" tab and search for the person or magazine you want to follow. Once you find them, tap "Follow." All their articles will appear in your newsfeed whenever they publish something new.
Use The "Save For Later" Function
If there's an article you're interested in but need more time to read, then the save-for-later function is your new best friend! Click the "+" icon, then select "Save."
You can find this article in your "Read Later" folder, where it will stay until you delete it or mark it as read. To access your "Read Later" folder, go to your magazine section and locate it!
Leverage the Editor's Picks
If you're looking to become a power user on Flipboard, one of the best tips is to check out the Editor's Picks section. This section is divided into two parts: the Daily Edition and Today's Picks.
The Daily Edition drops new information every day on a variety of topics, ranging from current events to pop culture. This is a great way to stay up-to-date on what's happening in the world, and it's also a great way to learn about new topics that you may be interested in.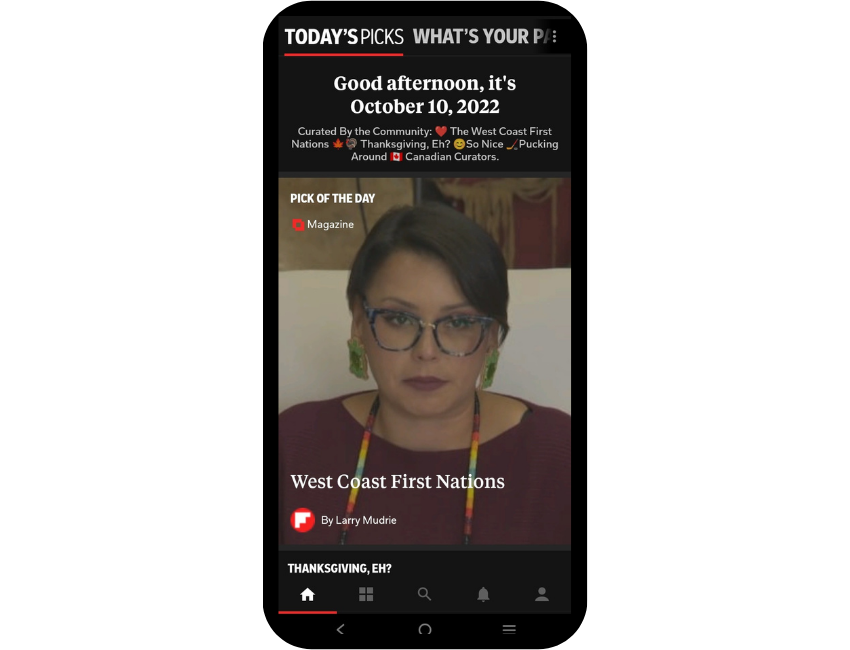 Today's Picks hand-curates the best Magazines and Storyboards from across Flipboard. Use this to discover new and interesting content as well as find new people to follow on Flipboard. If you're looking for some great content to read, be sure to check out Today's Picks.
Flipboard Alternatives
If you're looking for an alternative to Flipboard, there are a few other options worth considering:
Inoreader
Inoreader is a great Flipboard alternative for users looking for a more traditional news reading experience.
Unlike Flipboard, Inoreader is an RSS (really simple syndication) reader, which means it pulls in content from your favorite websites and blogs and displays it in its own easy-to-read interface.
Inoreader's interface looks a lot like Google Reader (RIP), and it helps you stay up to date with all the news without having to open your browser and navigate design-heavy sites.
Inoreader offers a variety of powerful features for users who upgrade to its paid subscription. These features include the ability to follow websites without an RSS feed, track visual changes on websites with Web feeds, and monitor keyword activity with Active Searches.
Additionally, Inoreader offers article translation for users who want to read content in other languages.
It's available on a web browser, Android, or iOS.
---
Feedly
Feedly is a popular alternative to Flipboard that allows users to follow specific topics, sources, or blogs. Like Inoreader, it functions mainly from an RSS reader perspective, which means that users can add any RSS feed to their Feedly account and read the content in one central location.
An RSS reader is an excellent way to keep up with your favorite websites, but it can take time to discover new content.
Feedly can get the job done as a powerful RSS reader. It has many features for users to customize their reading experience and make it work for their needs. It also pulls in a lot of content from sources beyond RSS feeds, which is a nice perk.
In comparison to Inoreader, Feedly's free version is quite limiting. You can only see a certain number of articles per feed, and you can't search through your subscriptions or utilize other powerful features like Google News Alerts or Reddit Feeds. For these reasons, many users are making the switch to Inoreader.
---
Google News
Google News is a free news aggregator app that curates news stories from over 20,000 publications. With the ability to customize your news feed, read full articles offline, and receive breaking news alerts through this app, you'll always be in tune with what's going on around the world.
Google News also has a handy "Fact Check" label next to articles that third-party fact-checking organizations have fact-checked.

Like Flipboard, The Google News App is divided into sections: For You, Headlines, Following, and Newsstand. The "For You" section contains articles tailored to your specific interests based on your past reading behavior.
The "Headlines" section provides a broad overview of the day's biggest stories, each receiving its card. The "Following" section allows you to keep track of specific topics or sources that you want to stay up-to-date on.
Lastly, the "Newsstand" section gives you access to various magazines and newspapers that you can browse at your leisure.
Whether looking for a deep dive into the day's top stories or a casual read, the Google News App has something for everyone.
---
Conclusion
The internet offers a seemingly endless supply of information and connection. However, the convenience of the internet can also be a double-edged sword. Too often, we mindlessly scroll through social media or surf the web without any real purpose or direction. This can leave us feeling angry, sad, or drained.
To make the most of the internet, it's vital to use it mindfully and with purpose. Flipboard's intentional approach to content consumption and curation means that users can harness the power of the internet for good and avoid its potential negative effects.
And because Flipboard App is geared towards helping you become a well-rounded expert, you can feel good about spending time on the platform. And who knows? You may even discover a new passion or interest along the way.
For related reading, check out:
Want to learn step-by-step how I built my Niche Site Empire up to a full-time income?
Yes! I Love to Learn
Learn How I Built My Niche Site Empire to a Full-time Income
How to Pick the Right Keywords at the START, and avoid the losers
How to Scale and Outsource 90% of the Work, Allowing Your Empire to GROW Without You
How to Build a Site That Gets REAL TRAFFIC FROM GOOGLE (every. single. day.)
Subscribe to the Niche Pursuits Newsletter delivered with value 3X per week