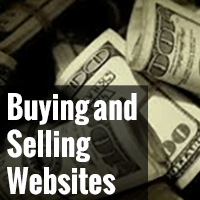 In 2014, I decided to buy 2 websites and then publicly share how I go about improving the earnings, and potentially prepare for re-sale.  One website is an SEO based based website and gets most of its earnings from Google Adsense, the other one gets most of its traffic from Pinterest and earns from Media.net primarily.
In total, I've now purchased 4 sites in 2014, and plan to buy more in the future.  I'll continue to give update posts and they will be included on this page.
Below are all the posts related to my buying and selling websites project.
---