Is PrizeRebel Legit? Find Out in Our Review of the Popular Survey Site
When you buy something through one of the links on our site, we may earn an affiliate commission.
Are you looking for an easy way to make some extra cash? Have you ever heard of PrizeRebel and wondered if it's legit or just another scam?
PrizeRebel has been popping up all over the online world lately, so we thought it was time to take a closer look at this platform.
In this blog post, I'll be exploring what PrizeRebel is all about and how it works, as well as answering that big question – is PrizeRebel legit or not?
So come along on our journey – like Alice stepping through the looking glass – into the strange world of earning survey site rewards from home!
---
PrizeRebel Review
Is it legit?

Ease of use

Money making potential
Summary
PrizeRebel is the perfect platform for those who want to make supplemental income from home. With generous rewards and referral bonuses, you can earn small sums in no time – although don't expect to hit the jackpot overnight!! Check out PrizeRebel here.
Pros
Easy to join
No risk
No upfront costs
Uncomplicated tasks
Cons
Low potential for making life-changing sums of cash!
About PrizeRebel
PrizeRebel is a survey site where you can earn money by completing easy tasks, such as filling out surveys or participating in polls. Through the survey platform, complete tasks at your leisure and redeem earned points for instant rewards.
It's possible to earn free money in the form of a gift card or Paypal cash. Just set up an account and answer a few questions about yourself, then you will be eligible to start taking new surveys and earning money.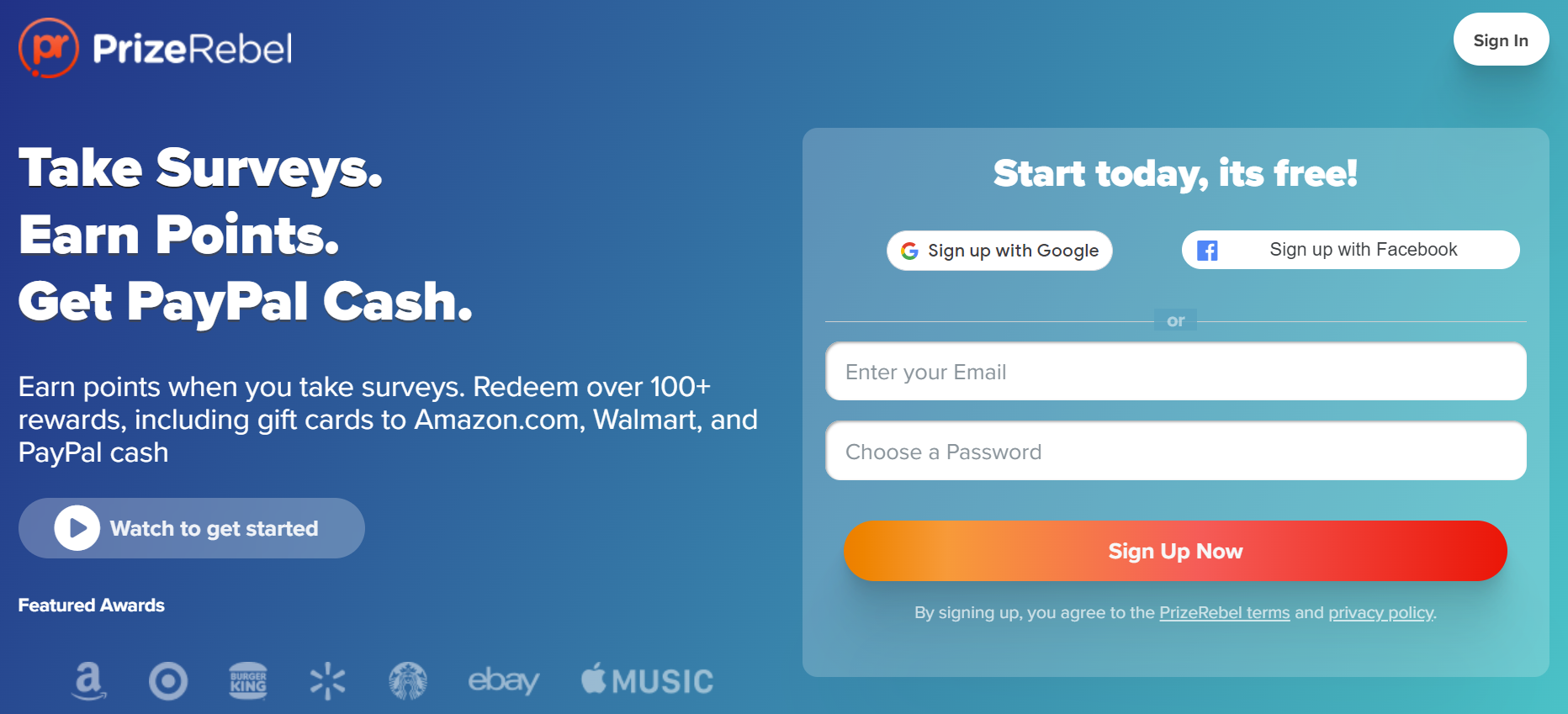 How Does PrizeRebel Work?
PrizeRebel offers members points when they answer surveys. You can also earn points for watching videos, playing games, completing offers and referring friends.
The points earned can be used to redeem rewards such as gift cards from major retailers or Paypal cash!
To earn points with PrizeRebel you'll need to sign up for a free account on the website.
This is an easy process that only takes a few minutes and requires you to provide your email account and complete a profile questionnaire containing some basic demographic information.
Once your account is set up, you can earn points by completing surveys and tasks.
Is PrizeRebel Legit?
Yes, PrizeRebel is absolutely legitimate! They are headquartered in San Clarita and have been operational since 2007. Prizerebel has paid out over $25 million to its members worldwide.
They have a good reputation among their members, and no hidden fees or other kinds of scams associated with this program.
Overall, PrizeRebel is a good survey site and an excellent choice if you're looking for a legitimate way to make some extra cash from home.
With its various surveys and other tasks, anyone can find something that fits their skill set and interests to earn PrizeRebel points.
If you only have a few hours to spare per week and are looking for an easy way to make extra money, then PrizeRebel is definitely worth trying.
How To Make Money with PrizeRebel
The best way to make money with PrizeRebel is to complete surveys. Paid surveys are an excellent way to earn points quickly and the rewards can be quite generous. On average, most surveys pay anywhere from 100-200 points depending on their complexity.
Aside from survey opportunities, you can also complete offers (such as signing up for a free trial or downloading an app) and watch videos to earn points. Remember that the points for most tasks will usually be less than for completing surveys.
Finally, you can also refer your friends and family to PrizeRebel, which will give you referral bonus points whenever they complete tasks and surveys through the platform. Referral sign-ups are a great way to earn more points and boost your earnings - and get your friends involved in the points program as well!
Overall, PrizeRebel is a great survey platform and easy to earn cash from home. With its variety of tasks, generous points system, and referral bonuses, it's an excellent way to supplement your income or just have some fun earning free stuff!
How Much Money Can You Make With PrizeRebel?
The amount of money you can make on PrizeRebel will depend on the tasks you complete and how much time you put into it.
On average, a survey pays anywhere from 1-2 dollars in points. This means that if you were to complete 10 surveys per day, you could earn up to $20 a day or $600 a month.
You can maximize your earnings by referring others to the site via your personalized link or promo code. Earn up to an extra 30% of what they earn each time they complete a survey - so when one of your referrals earns 1,000 points ($10), it means that you'll be rewarded with up to 300 additional points ($3).
There's no limit to how much money you can make! These additional points can add up quickly and help boost your earnings even further.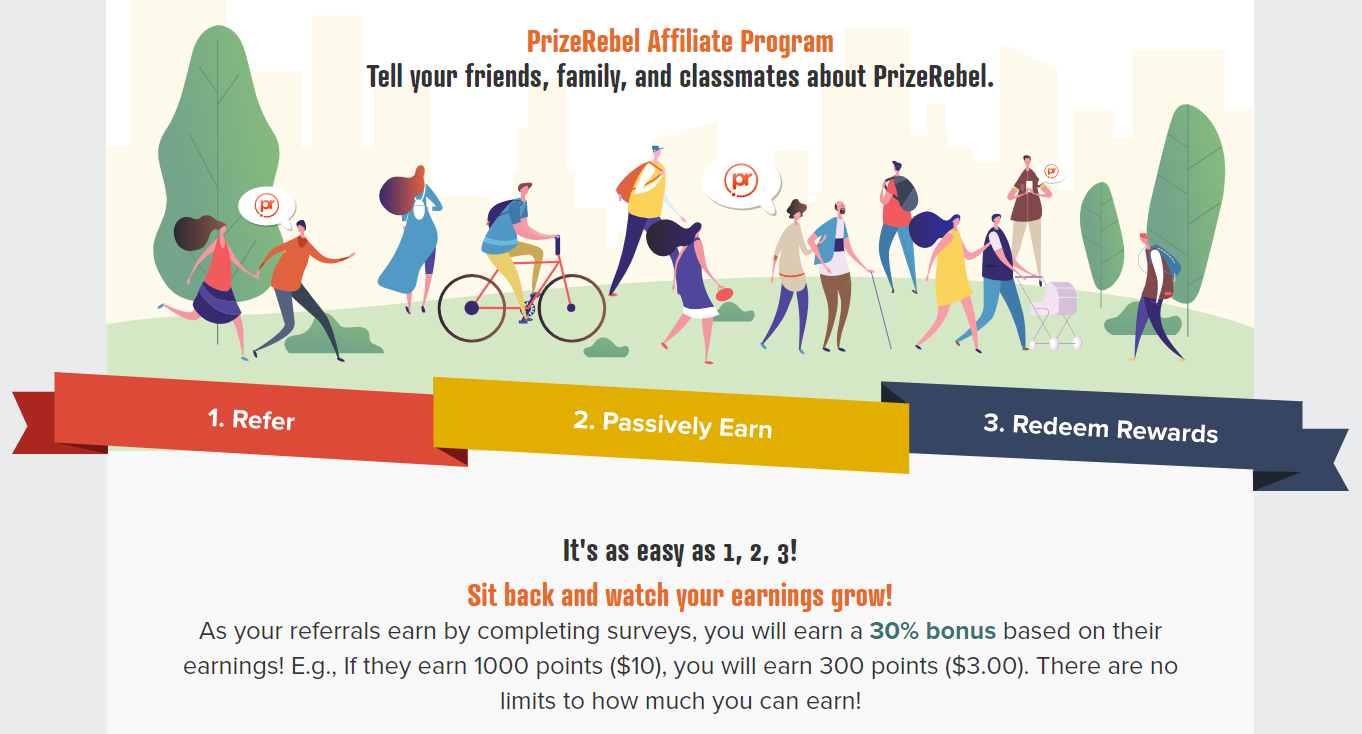 Prizerebel points can be converted to gift cards or Paypal cash.
The minimum cash-out amount is $2 for a gift card. Still, with new daily survey opportunities and other offers, you can easily reach this amount quickly just by completing several surveys.
The most popular reward users choose is Amazon gift cards, which can be redeemed for nearly anything.
As with most things, the amount of cash you can make on PrizeRebel depends on how much effort you put into it.
How Do I Earn Points on PrizeRebel?
Filling out surveys, signing up for free trials, watching videos, gaming, downloading apps, and referring people you know are all ways to earn points with Prizerebel.
The number of points you receive for each task will vary, so you must visit the "Earn Points" page on the PrizeRebel website to understand how many points each task is worth before you start.
Also, remember that some tasks may take longer than others and require more effort.
Who Can Join PrizeRebel?
Anyone aged 18 and over is eligible to join PrizeRebel. Over 16's can join with permission and authority from a parent or legal guardian.
There are no membership fees or commitments, so anyone can join and earn from surveys immediately!
What Are PrizeRebel Levels?
You can reach different membership levels as you complete certain goals on PrizeRebel.
Everyone starts as a Bronze member but as you accumulate more points, you can rise through the ranks and become a Gold member, Platinum member, and eventually reach the highest level of Diamond member.
With each level, you will unlock more benefits and higher referral rates!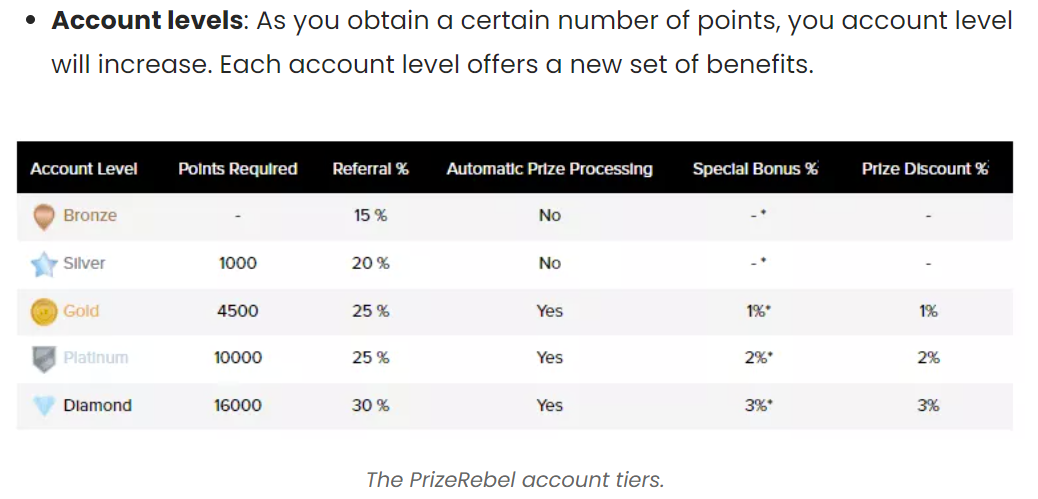 What Are People Saying About PrizeRebel?
PrizeRebel is a trusted survey site with mostly positive user reviews. Many people leaving a Prizerebel review report that the rewards from the survey provider are generous, and they have had no problems with getting their gift cards.
Others appreciate the variety of tasks and range of gift cards available, as well as the ability to refer friends to join and earn bonus points when they take surveys.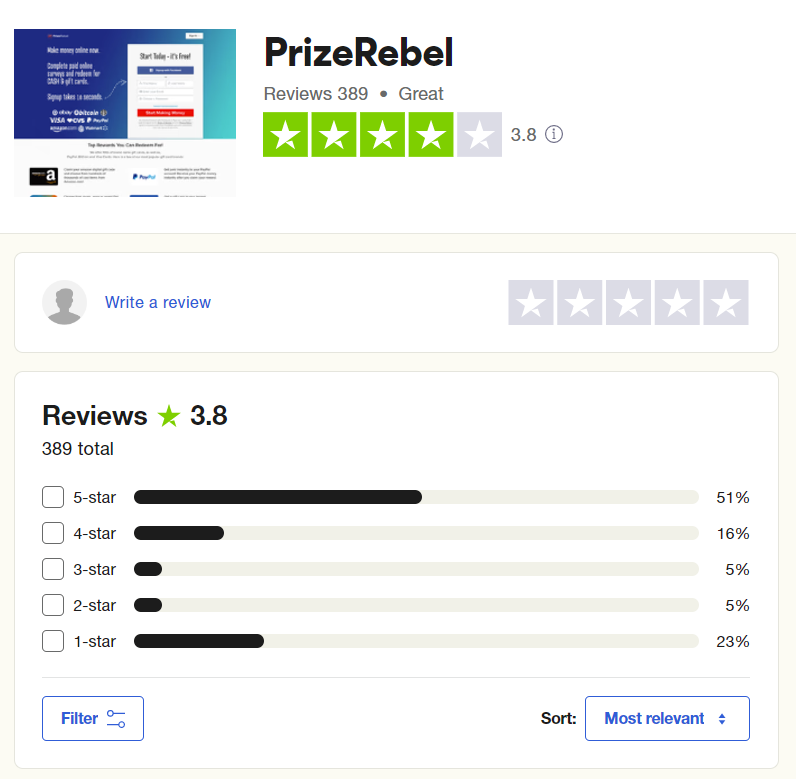 A few negative reviews mention being screened out from surveys on the site.
This is often due to quotas involving demographics, usage of a particular product, and other factors, but it's important to keep in mind that this is a totally normal part of taking surveys.

Some complaints mention surveys that don't load properly or that they haven't earned enough points to hit the minimum cashout amount, so they haven't seen a single cent, despite investing an amount of time doing a Prize Rebel survey and other online activities on the site.

This positive PrizeRebel review is from a member who saves all the points they accumulate by watching videos and taking surveys on the site to cash them out to fund gift cards towards Christmas. Smart tactic!
PrizeRebel Alternatives
Looking for other survey sites just like PrizeRebel?
There are plenty of other sites that can help you earn rewards simply by responding to survey questions! Many survey sites will pay you cash via Paypal or points that can be exchanged for gift cards, coupons, and more (don't miss our list of the highest paying survey sites).
Swagbucks
Swagbucks is one of the other platforms that springs to mind when we think of survey sites. But it's not just for taking surveys - you can also get cash back for shopping online via the site, which is always a bonus.
They use a points-based system that you can exchange for gift cards, coupons, and more, so your rewards will always be useful.
Swagbucks has a Trustpilot rating of 4.3, a better score than PrizeRebel, which is 3.8, so in the battle of these two big survey sites, Swagbucks comes out slightly ahead.
We put the survey site under the microscope in our article Is Swagbucks Legit?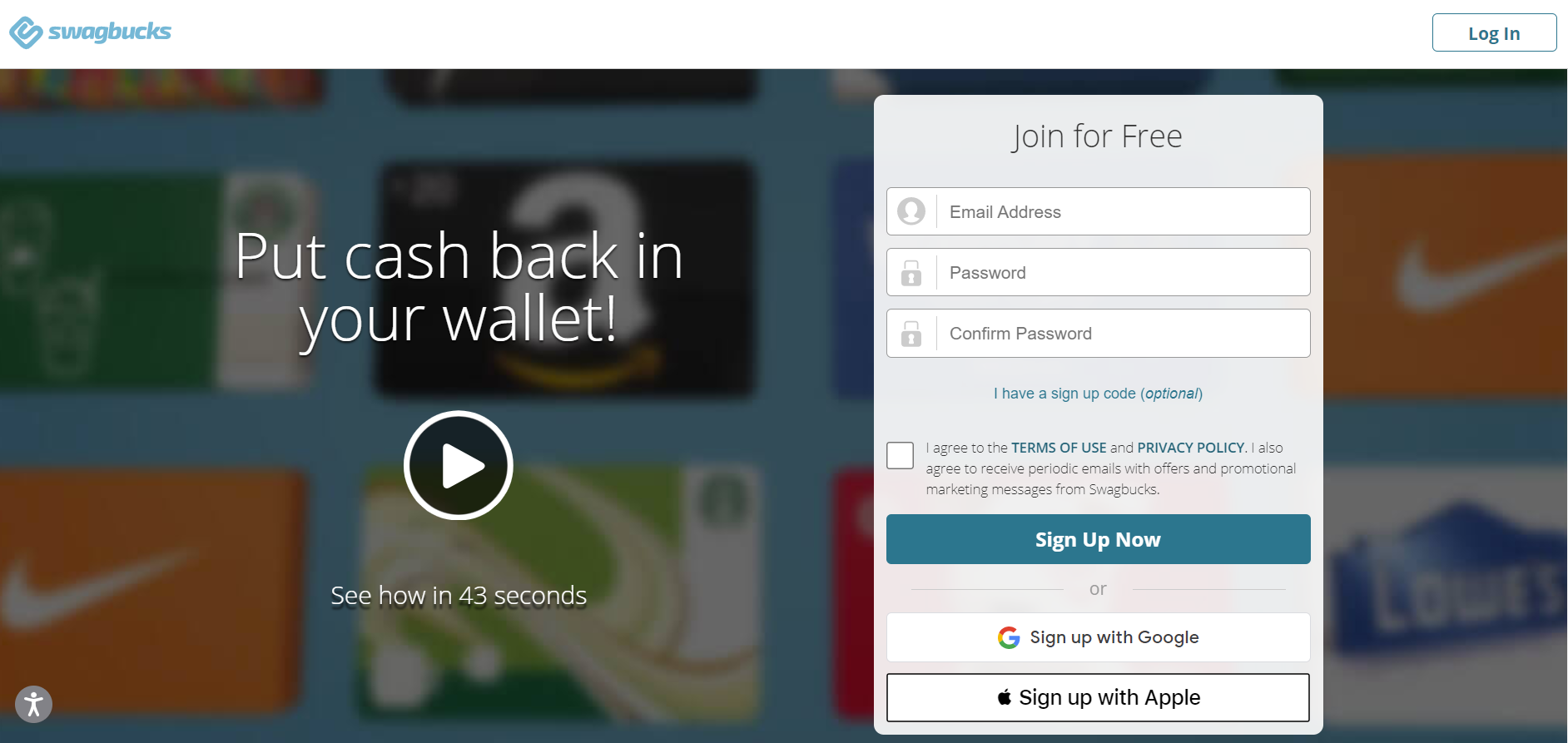 ---
InboxDollars
InboxDollars is another great alternative to PrizeRebel and is one of the most popular sites out there for answering surveys.
With InboxDollars, you can collect cash rewards for completing surveys, watching videos, signing up for special offers on the site, and more.
Plus, they also have daily activities that you can participate in just to add a bit of variety in your quest for rewards.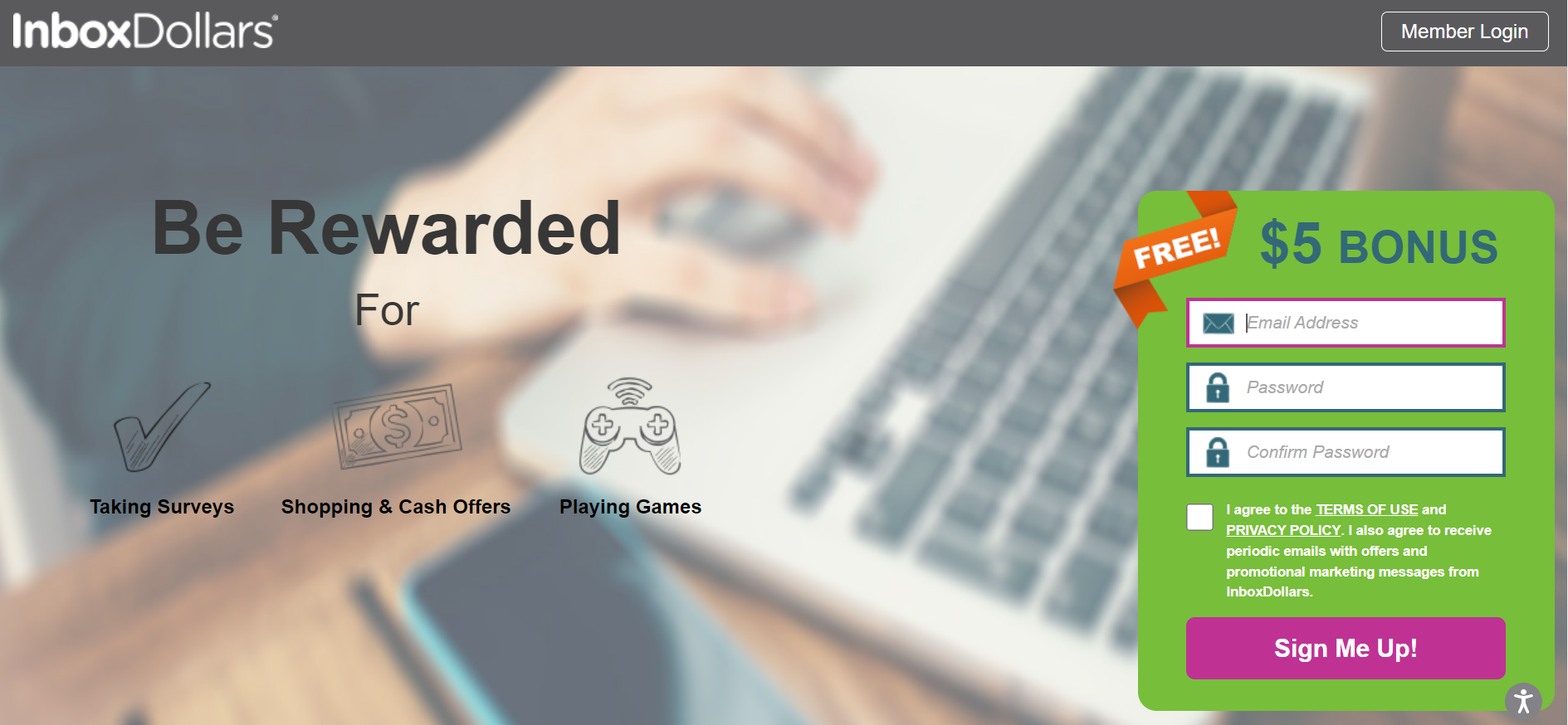 ---
MyPoints
MyPoints is another popular survey site.
They make it really easy to track your points and what rewards are available, so you're always aware of what you've earned.
This is another of the many sites offering gift card rewards as a payout method.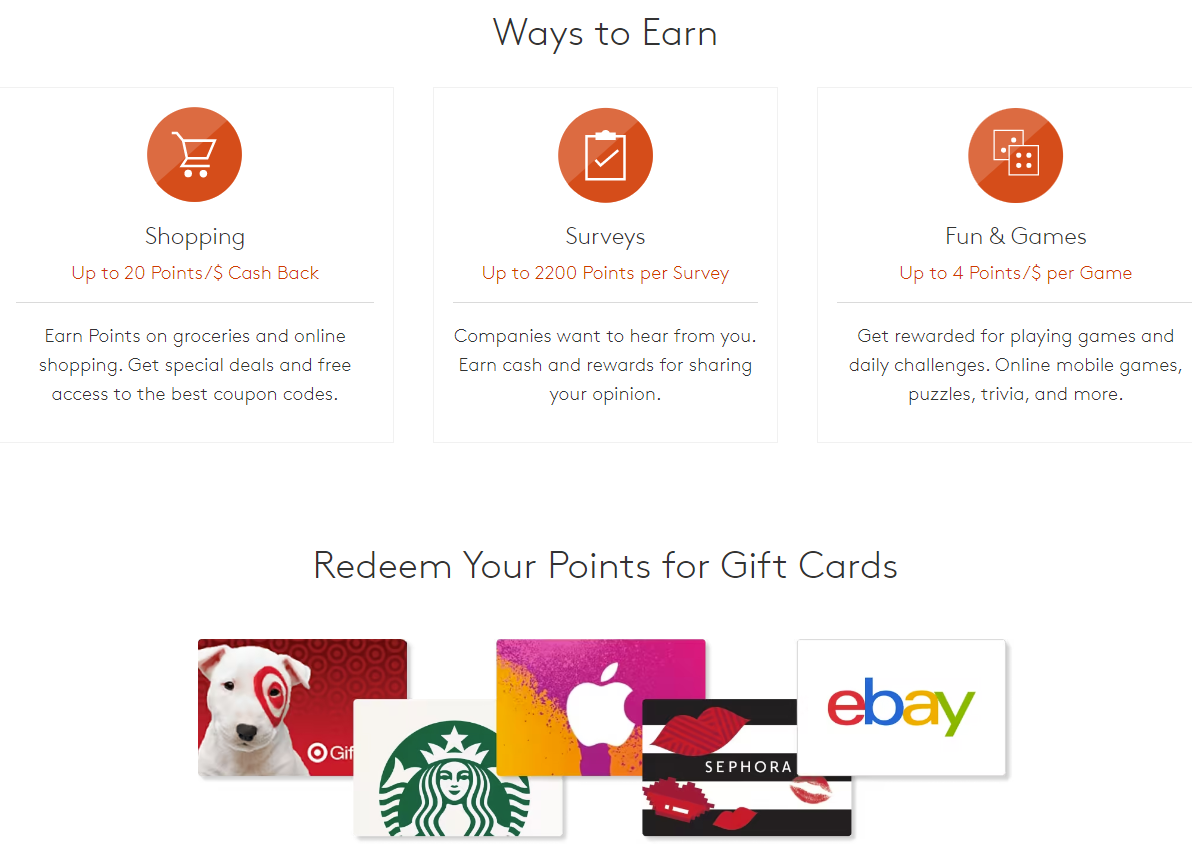 ---
Survey Junkie
Survey Junkie is also a good website. Their surveys are short and sweet, which is ideal for people who don't have a lot of time to spare for surveys or watching videos.
Each survey on the site could earn you anywhere from 50-2,000 points, which you can use towards a gift card or PayPal cash.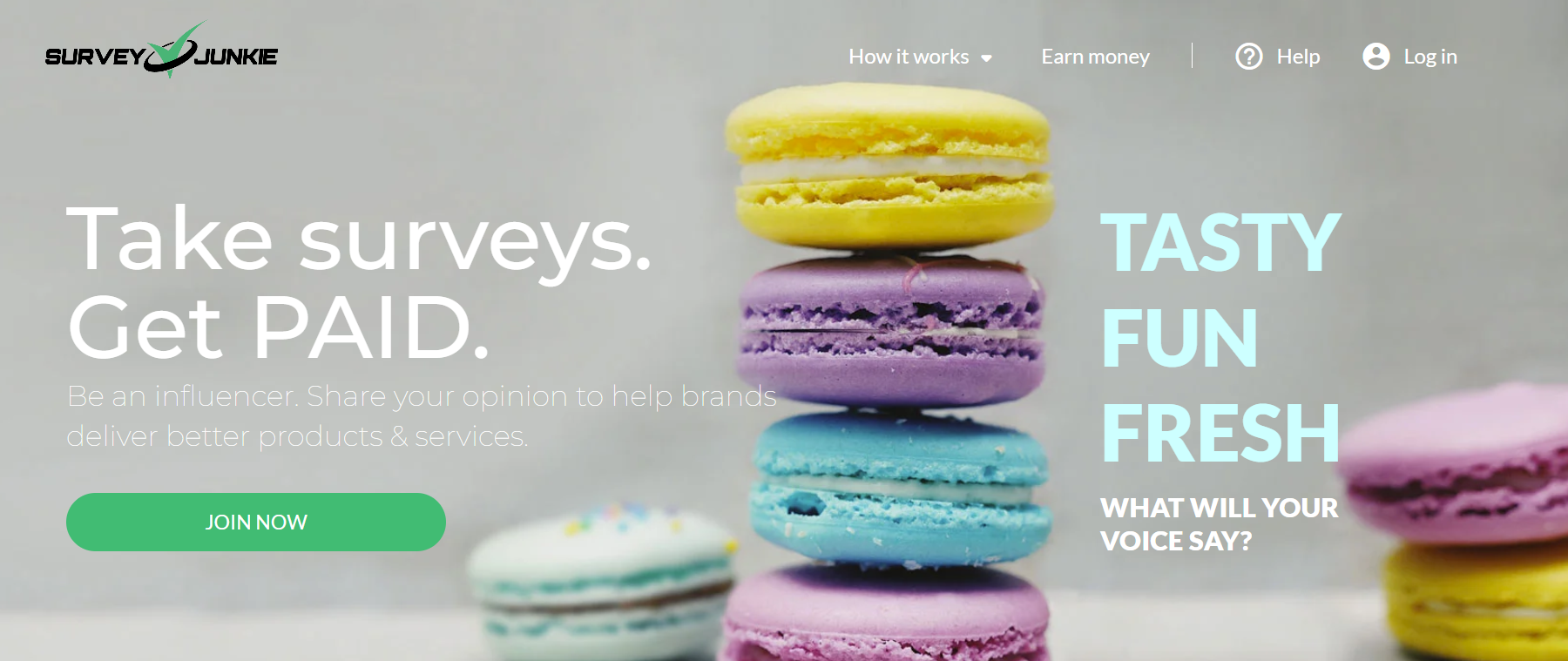 For an in-depth look, check out our article that answers the question Is Survey Junkie Legit?
---
PrizeRebel - Final Thoughts...
Whether you're looking to make some extra money or just want to have fun earning free stuff, survey sites like Prize Rebel are a safe choice.
With the variety of tasks, generous points, and referral bonuses, the site is an easy way to supplement your income from home.
You won't get rich quickly by taking surveys, but it all adds up over time. There are also plenty of alternative sites available if you're looking for a change of pace.
Regardless of which survey site you choose, always remember to read the terms and conditions before signing up, so you know exactly what you're getting into!
So why not give the PrizeRebel site a try and start earning gift card rewards from surveys today!
Want to learn step-by-step how I built my Niche Site Empire up to a full-time income?
Yes! I Love to Learn
Learn How I Built My Niche Site Empire to a Full-time Income
How to Pick the Right Keywords at the START, and avoid the losers
How to Scale and Outsource 90% of the Work, Allowing Your Empire to GROW Without You
How to Build a Site That Gets REAL TRAFFIC FROM GOOGLE (every. single. day.)
Subscribe to the Niche Pursuits Newsletter delivered with value 3X per week