Is Swagbucks Legit? Here's a Fair & Honest Review
When you buy something through one of the links on our site, we may earn an affiliate commission.
Websites that promise easy, fast, and fun ways to make money online can be hit or miss. It's hard to know which will give you a return on your effort and leave you hanging with empty pockets. Because of this, many people looking to make money online ask, Is Swagbucks legit?
Swagbucks has caught a lot of attention as a way to earn cash by performing simple tasks. But is Swagbucks worth your time, and does the company really pay out?
In this Swagbucks review, we'll answer your questions to help you decide if the rewards site is worth pursuing.
In a hurry?
Swagbucks won't make you rich, but it will earn you money and gift cards for things you probably do online already. And it has an excellent rating on Trustpilot (4.3 out of 5 from over 30,000 users), so why not sign up and try it yourself?
What Exactly Is Swagbucks? 
Swagbucks is an online platform launched in Southern California in 2008. It offers its users rewards to earn money for completing day-to-day tasks that involve answering surveys, shopping online, watching videos, and playing games.
It is accessible to anyone with access to a desktop computer or smartphone via the Swagbucks app. Swagbucks has gained immense popularity among its users for providing an easy and reliable way of making extra money at home.
According to Swagbucks, it had paid its members over $481 million in cash back as of November 2022, and more than 7,000 gift cards are redeemed by Swagbucks members daily.
Its users approve of its legitimacy, with one Swagbucks member describing it as the 'most rewarding survey site' on the internet. The Swagbucks review states,
"After a google search and an attempt at a different site, I found Swagbucks! It was said to be the "most rewarding" survey site on the internet. Almost a year later, I can definitely vouch for that... It has been an awesome ride!"
How Does Swagbucks Work?
Swagbucks works by assigning reward points, known as Swagbucks points or SBs. 100 SBs are equivalent to $1. For every task you finish, you get varying amounts of SB points, depending on the type of task you perform.
These SBs accumulate in your Swagbucks account and can later be redeemed in the form of gift cards. You can also safely transfer it to your bank account through PayPal Cash if you want to cash out your Swagbucks directly. You can choose your gift card from a selection of more than 1,500 retailers including Amazon, Target, and Starbucks, just to name a few.
Now one might wonder what benefit Swagbucks is getting for being so generous. Through this process, the companies offering deals and gift cards are gaining insights into their consumer behavior. These insights help them to know what products and services to offer to increase their customer base. For this assistance, they provide the Swagbucks portal with a commission, part of which they pass on to you.
11 Ways to Earn Money on Swagbucks
Many Swagbucks members can earn anywhere from $50 to $250 in a month.
Here are 11 legit ways to make money on Swagbucks:
Fill Out Surveys
Surveys are an easy and exciting way to earn money on Swagbucks. They pay anywhere from 40 to 200 SBs per survey and are around 5 to 30 minutes long. For answering more detailed surveys, Swagbucks pays around $20, while some online surveys related to home product occasionally pays its respondents $100 or more. This is equivalent to 10,000 SB points.
If you start to answer surveys and aren't deemed applicable for it, or if the survey sites close due to a sufficient response limit, you would still get a bonus amount of Swagbucks for spending time taking surveys.
There are a wide variety of online surveys to choose from on Swagbucks. They range from paid surveys and advertising effectiveness surveys to product recognition surveys. These help marketers know whether consumers can retain their campaign and plan marketing strategies accordingly to increase potential sales.
Strategically Sign Up for Offers

Swagbucks partners with exclusive brands to provide its users with amazing worthwhile deals. It is an impeccable way for its members to try new products and services by signing up for free trials.
These offers are a great technique to save money as you can later claim cash back on your online shopping. Through Swagbucks Discover, members can find offers that earn up to 2000 SBs and an additional 1500 SBs if one doesn't cancel the subscription for one month.
However, with many offers, you can cancel your subscription before any charges are made and keep your SBs without paying a dime.
Join The SWAGBUCKS Email List
Swagbucks offers its members 5 SB points for signing up and verifying their email addresses. By being a part of the Swagbucks email list, you'll be able to see many of the new offers from the company without even needing to go to the site. You'll also be able to earn additional points each time you open a new email.
Play Games on Your Computer or Phone

Swagbucks offers a library of games to its members, where they can choose between paid and free games. Paid games can be played on the phone via the Swagbucks app or directly on the computer. Members earn Swagbucks for downloading games and reaching new levels in them.
Swagbucks members can play games and automatically earn points online. One of the most popular high-dollar games on Swagbucks is Star Trek Fleet Command, which earns as many as 5000 SBs. Family Island is a close second, and you can earn up to 3000 SBs.
Some additional games offering the highest SB points on Swagbucks include Club Vegas Slots at 6020 SB points and Gin Rummy Stars at 55 SB points.
Perform Daily Actions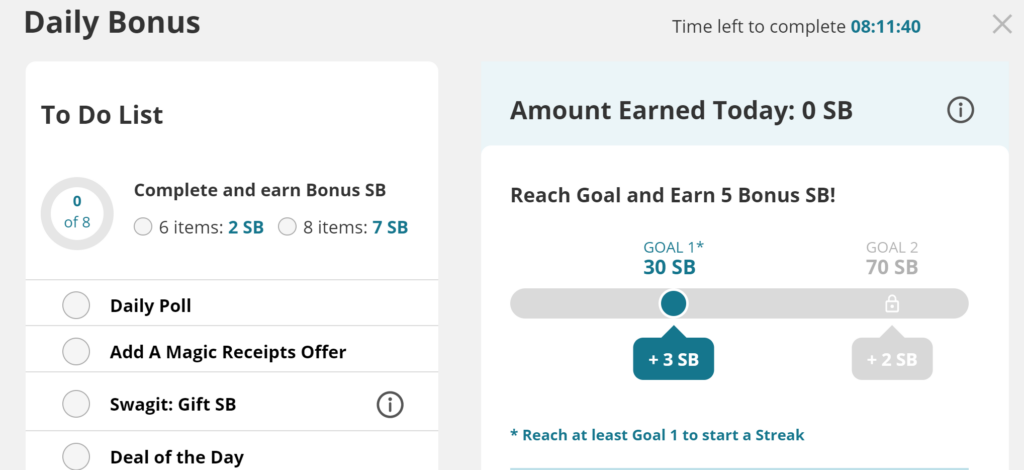 Swagbucks has an 8-point task list that refreshes its members every day. These lists are easy ways to earn a few Swagbucks daily in a minute or two.
By completing these daily tasks, the members are provided with reward points. For every 6 and 8 items completed, you'll receive 2 SBs and 7 SBs respectively. These are in addition to the task's reward and are a legit and quick way for Swagbucks to provide its members with greater benefits.
Watch Online Content
If you like streaming online media, the video-watching feature is a great way to earn points through Swagbucks Watch using the Swagbucks app. It's one of the most passive ways to earn Swagbucks on the platform, and you can even multitask while keeping an eye on the different videos the company shows you.
The site has partnered with Hulu, Food Network, and other platforms to provide high-quality video content to its users. So there is always something for its viewers to watch. You can watch videos from a playlist with various food categories, music, movies, and comedy clips.
Refer New Users
One of the easiest ways to increase your chances of earning consistent reward points on Swagbucks is to refer friends to this platform.
This works by providing the referee with 10% of the earnings generated by the new member. So the more users you bring into this platform, the higher the chances of increasing your lifetime earnings via Swagbucks.
The Swagbucks referral program also gives you and your referral a bonus of 300 SB points, provided the new user generates 300 SBs in the first month of signing up. This is easily achievable with the many activities available in a day or two.
Make a Donation
Even doing some good for the world can be a source of Swagbucks. Charities like American Red Cross and Save the Children are available on the Swagbucks website to donate to. You can donate as small as 5 SBs or as many as 5,000 SBs to each charity on their donation page.
Print Coupons

Swagbucks has partnered with Coupons.com to allow its members to earn points by printing coupons. These coupons are available for supermarkets, drug stores, and other big chains.
You can print up to 50 coupons per day, with every coupon adding 2 SB points to your reward balance. You might only use some of them, but it is an easy way to gain additional points. Also, for every coupon redeemed, Swagbucks gives 25 SB points.
Use the Swagbucks Search Engine
For every search you make, Swagbucks rewards you with SBs, provided you are using the Swagbucks search engine. By making it your default search engine you are increasing your chances of automatically earning points that can be redeemed as cash or gift cards.
The total points accumulated depend on the number of search queries made using Swagbucks' search engine, but it is easy to gain reward points for doing something you'd already be doing on Google.
Redeem Swag Codes
Swag Codes are special bonus codes that you can redeem for extra SBs. They consist of text strings that are case sensitive, and they reward their claimer with instant reward points when entered into the Swagbucks website.
You need to install the Swagbucks browser extension on Chrome to get alerts whenever a new code is released. These Swag Codes are also available on the website's social media channels like Facebook, Twitter, and Instagram. With the help of a free browser extension, you can find them easily throughout the day.
Swag Codes are time-sensitive and should be redeemed as soon as possible to earn quick rewards.
Pros & Cons of Using Swagbucks
Easy to join: It takes a few minutes to sign up for this website. It doesn't require any personal details like name and address, just sign up using an email address and password.

In-store Cashback: Swagbucks provides its members with the benefit of cash back when shopping in-store by connecting their card to a Swagbucks account. It rewards shopping online as well as physically.

Multiple ways to earn Swagbucks points: Unlike other websites, Swagbucks has something for everyone. With a wide variety of activities to choose from, you can choose which task interests you to earn points and make money online.

Many options to redeem: Swagbucks gives the choice to its users to redeem points in the form of gift cards, PayPal cash, and even choose to transfer to a charity.

Low threshold for cash out: One of the significant ways by which Swagbucks differs from its competitors is that it hasn't specified a minimum value to redeem rewards.

Contrary to other websites where you need to reach rewards worth $20 or $50, here you can claim rewards worth as low as $1.

Easy extra money: Swagbucks rewards users for completing everyday general tasks. So it is an effortless way of making more money or extra cash out of tasks which we would have done either way.

Earn through referrals: Swagbucks offers its users a great opportunity to earn points for a lifetime through the Swagbucks referral program. Thus by recruiting more people to join using your referral link, you can earn SB points easily.
Many tasks are time-consuming: Even if the tasks are simple to follow, it takes a lot of time and effort to earn enough SB points to redeem something of greater value.
It won't replace your full-time job: If one is thinking of making Swagbucks membership their full-time job, it, unfortunately, isn't possible. It is good for earning extra spending money on the side, or for getting gift cards to your favorite outlets on occasion.
Uncertainty of reward points for some activities: Some tasks like searching the web using the Swagbucks' search engine don't specify the total of SBs per search. This can go down negatively for some users who want a clear report on how much they'll earn in a certain time.
Hard-to-qualify surveys: Survey sites design surveys for particular participants and thus may not apply to everyone. This can lead to hours spent attempting to take surveys you may not qualify for.
Is Swagbucks Legit for Earning Money?
Many people wonder, is Swagbucks legit or a scam? It provides money to users with minimal effort, so it may seem too good to be true. However, Swagbucks is a highly trustworthy side that has proven to pay out to its users over the years.
It has an average rating of the following on major review sites, signifying Swagbucks' worth;
Swagbucks has affiliated with major retailers, who reward it with a commission for bringing new consumers via this platform. In return, Swagbucks passes some of this commission to its users in the form of SB points to later redeem as cash or gift cards.
The credibility of the affiliated retailers, providing multiple activities to earn rewards, a strong customer base, and over a decade of experience as a market leader reinstates the fact that Swagbucks is legit for earning money in your spare time.
How to Make the Most Out of Your Time on Swagbucks
There are several ways to multiply your earnings without increasing the time spent on Swagbucks:
Focus on tasks that genuinely interest you. This will make using the platform more worth your time and a form of entertainment in addition to earnings.
Be quick in responding to new surveys on the platform, as they may close or have reduced availability if enough responses have been received.
Shop online for offers and deals by activating cash-back alerts on the browser extension. This will save you time because the offers will auto-populate while browsing.
Set a reminder to cancel free trials before you're charged for them.
Sign up for Swagbucks emails for easy and automatic SB-earning opportunities
Refer your friends to the Swagbucks platform so that you can earn a portion of their SBs.
Swagbucks Alternatives
Since Swagbucks doesn't provide job-replacing income, you may want to sign up for similar sites to maximize your earnings. Here are 5 websites that are legit and have a similar earning structure:
Survey Junkie
Survey Junkie is a marketing research platform that unlike Swagbucks focuses solely on giving rewards to its members for taking surveys. It matches the user's data with the appropriate surveys to avoid disqualification. And we have a similar guide on whether Survey Junkie is legit which you may want to check out.
InboxDollars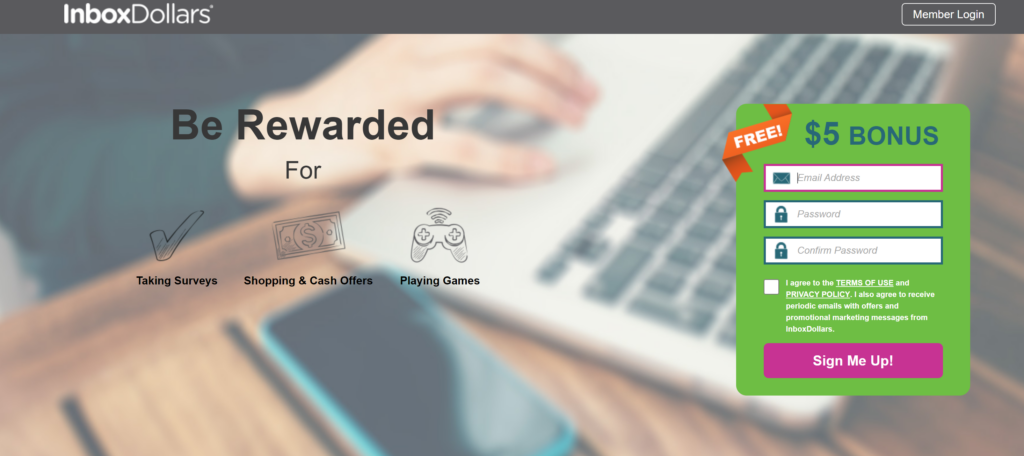 InboxDollars is a subsidiary of Swagbucks's parent company Prodege. It is very similar to Swagbucks as it provides its users multiple ways to earn rewards. However, it has a minimum cash out of $15 for the first payout and $30 for any subsequent redemption.
MyPoints
MyPoints is another subsidiary of Prodege and, according to Similarweb, has a similarity score of 100% to Swagbucks, so it's a great option if you're used to Swagbucks and want to try something equally as lucrative. Both these platforms provide similar ways to make money and redeem reward points through Paypal or gift cards.
LifePoints
LifePoints is similar to Survey Junkie and rewards consumers for completing surveys. Unlike Swagbucks, it doesn't have other points-earning activities, and even though the minimum cash redemption is $5, Swagbucks has an even lower payout.
Rakuten

Rakuten is a shopping portal that provides cash back with every purchase. Like Swagbucks, it has partnered with major retailers to give its members a commission on every purchase which they can later redeem. However, this is the only way to earn money on this platform.
The Bottom Line: Is Swagbucks Legit?
In summary, building Swagbucks points is a legit way to earn cash and rewards. Its longevity and large customer base prove that it is a reliable platform.
So, is Swagbucks legit? Even though the income generated is quite minimal, there are several ways to maximize your earnings on Swagbucks such as focusing on tasks that interest you, responding quickly to surveys, activating cash-back alerts when shopping online, signing up for emails, and referring friends.
So go ahead and give Swagbucks a try for yourself and see if it is the right fit for you!
Want to learn step-by-step how I built my Niche Site Empire up to a full-time income?
Yes! I Love to Learn
Learn How I Built My Niche Site Empire to a Full-time Income
How to Pick the Right Keywords at the START, and avoid the losers
How to Scale and Outsource 90% of the Work, Allowing Your Empire to GROW Without You
How to Build a Site That Gets REAL TRAFFIC FROM GOOGLE (every. single. day.)
Subscribe to the Niche Pursuits Newsletter delivered with value 3X per week