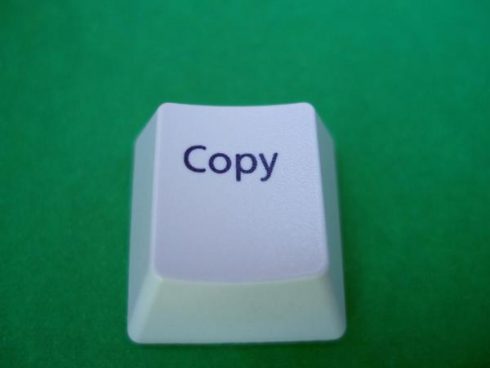 I have been hearing some "whispers", that I have an up and coming competitor for my niche site!  So, I took a look at the results for "best survival knife", and I do indeed see that another niche site is sitting at the number 1 spot in Google…oh no!
And what's even worse, is that this "competitor" has obviously copied my site.  They are targeting the same keywords, and they even basically "borrowed" my exact comparison chart of survival knives.
Should I freak out?  Should I cry myself a river?
Nah, I have bigger things to worry about. Quite frankly, I'm not too worried…and as I'll show, I think this will have a very miniscule impact on the earnings of my niche site.
However, I actually think this situation brings with it some good educational opportunities that I'd like to dig into.  In my post today, I'm going to cover what you should do when someone copies your site, how moving to #2 on Google has affected my traffic, and what I should do differently with my site.
Is it Really a Copy Cat?
I actually find it a little funny how obvious it is that this site is copying mine.  Here's just some of the quick evidence that this person is copying my site: bestsurvivalknifeguide.com
1. They are targeting the same keyword.  Now, obviously others can target the same keywords without being a copy cat – so this is not very convincing evidence; but it is part of the puzzle.
2. The site copied my Survival Knife Comparison Chart!  Now this starts to get personal :).  I put a lot of time into this chart, and they took the exact same data and slapped it onto their site.  The only difference is that they only include 6 knives instead of the full 50.  I guess they didn't feel good about swiping ALL my work.
3.  The chart uses the exact same plugin.  Okay, this could still be point 2, but the chart was created using the TablePress plugin, which is what I used and widely discussed on my blog here.  Convinced yet that they copied me?
4.  They copied my domain!  This one makes me laugh actually.  Now you will see that their domain is survivalknifeguide dot net rather than bestsurvivalknifeguide.com – so they didn't copy right?  Well, what's funny is that I actually own the domain SurvivalKnifeGuide.COM!  I purchased survivalknifeguide.com and bestsurvivalknifeguide.com at the same time before I knew which one I would use.  So rather than come up with an original Dot Com domain, they simply copied me and got the .net.  Does anyone else find that funny?  They couldn't even be original enough to come up with their own .com domain.
5. My site existed first.  And finally, I should point out that my site existed first, and then his site came along second.  (Just in case anyone was wondering if it was the other way around).  I registered survivalknifeguide.COM and BestSurvivalKnifeGuide.com on Feb. 7th, 2013.  The copied domain was purchased on March 5th, 2013.  Almost a month after mine.
So, I think this establishes pretty well that I'm dealing with a copy-cat here.
How Did The Copied Site Out Rank My Site?
Currently the copied site is ranking above mine for the keyword "best survival knife".  (But as I'll point out later, this may not be such a huge deal).
The content on both sites is similar; so I don't think the on-page factors are playing a huge role in determining which site is #1.   And in fact the content on the competing site is of lower quality (in my opinion).
The primary article sounds like it was written by a non-native English speaker – it has some weird sentences.  I only skimmed the article, but here is one of my favorite sentences from the competing site, "Therefore, you should be smeared with a thin layer of oil if not used for a long time." 🙂
Okay, back to my point.
So why is lower quality content and copied data outranking my site?
I am seeing more social activity for one on the competitors site.  They have a Google+ page set up that is showing their author profile picture.  I also see several Facebook shares and Twitter mentions.  Obviously these are most likely purchased shares and tweets, but appear to be working nonetheless.
In addition, they did just publish a new post, and its been a couple of weeks since I published anything on the site.  So, perhaps they are just getting a short term freshness bonus.  That could be part of it as well.
What About Links?
I want to spend some time talking about the amount of links pointing to their site vs. pointing to my site.  Obviously I don't like having competitors, but I am actually happy to see that someone can rank for this keyword with MUCH less links than I have.
This is a GREAT educational point that I can make with this public niche site.
I've said all along that the MOST important part of building a niche site by FAR is choosing the correct keyword…NOT links.  I think this copy cat proves my point.
You see, my site was a target early on from someone trying to perform Negative SEO on my site (same person as the copy-cat??).  I caught a lot of flak, because some people actually believed that my site ranked higher because of all these spammy links.  I tried to say otherwise, but how I could I prove them wrong?
I truly believe that the links I personally built helped more than the thousands of Negative SEO links that I didn't want.
Well, now I can kind-of prove it.  My competitor has ranked for my exact keyword WITHOUT all these links.  Having a relevant website that targets a low competition keyword, even with less than stellar content, is ranking #1 in Google…and it has very few links!
Want To Build Smart & Relevant Internal Links...Quickly?
Link Whisper is a revolutionary tool that makes internal linking much faster, easier, and more effective.  It makes it simple to boost your site's authority in the eyes of Google. You can use Link Whisper to:
Bring out your orphaned content that isn't ranking

Create smart, relevant, and fast internal links

Simple yet effective internal links reporting: what has lots of links and what pages need more links? 
Click here to revolutionize your site's way of doing internal links
Let's take a quick look at the metrics for the sites:
You will notice that the #1 site (competitor) has only 4 Juice Page Links vs. the 4,819 Juice Page Links that I have.  If this isn't proof that you don't need a lot links to rank, then I don't know what is.  Most of my links are from the Negative SEO that I mentioned, and are links that I don't want – I wish they would go away.
The Link Building plan that I laid out for niche sites works.  Its what I've used many times.
But looking at this image, most of the metrics would indicate that I should be outranking the site.  That's why I feel like this will likely be very temporary – OR it is due to the Google+ or other social metrics or the short term freshness of content that my competitor has.
However, I want to use this opportunity to drive the point home that links is only part of ranking sites.  If you are able to pick a low competition keyword like my copier did (wonder where he got the idea?), then you can rank a site at the top of Google with just a little bit of effort.
Has My Traffic Tanked?
I have not seen any significant change in traffic.  You see, the amount of traffic I get from the keyword, "best survival knife"; now only accounts for approximately 9% of the total traffic to my site.  So, 91% of my traffic comes from other keywords or other sources.
According to this study, the difference in traffic from ranking #2 vs. #1 in Google is about 65% less traffic for that keyword.
So, at #1 I was getting around 70 visits per day from the keyword, "best survival knife".  If the percentages hold up from the study, then I would get 65% less each day or 25 visits a day.  So, this is 45 less people per day.
However, my site is also averaging around 750 visitors per day.  So, this will only drop my traffic by about 6% (45 divided by 750).
Overall Traffic and Earnings Change
So, dropping traffic by 6% is no fun, but keeping 94% of my traffic is real nice.  So, if my site was earning $500 per month, the new earnings might be $470.  I hate to see $30 or more get lost every month, but really the impact will likely be pretty small overall on the earnings for the site.
I should also point out, that its possible that my ranking has been affected for other search queries as well.  However, you also have to realize that I got traffic from over 1200 DIFFERENT keywords in the month of May.  I rank highly for many of these "long tail" keywords, and my competitor is no where on those pages with me.  (I checked on several of these – my copy cat is no where to be found).
So, based on the fact that I have at least twice as much content on my site, I would suspect that I am still getting close to twice as much traffic as my copier, even though they rank higher than my site for my primary keyword.
My Plan of Action
Now, I could easily find contact information for the site owner and send them an email asking them to remove copied content (my comparison chart).  And if the person is reading this, I would ask you to please just try to come up with something original.
But overall, I'm not going to waste my energy worrying about what the site owner does or waste time contacting them over and over again.  I would also ask YOU my readers to not go out and find this person and send them nasty emails or anything.  Just let it be.
However, if the copying was more severe, such as entire articles, I probably would take a more active approach in contacting them and perhaps even reporting them.
My plan of action is not to change what is on their site; my plan of action is to continue to make my site better.
I have a content strategy to add another 20 knife review articles or so in the next little while.
I also may look into adding more social signals and perhaps even attaching my own Google+ account to the niche site.  I've never added a Google+ account to a niche site, but this situation is a bit different in that I have publicly already shared this site with everyone.  Its already publicly known that I created the site, so I suppose I could just attach the 2.  (I won't be creating a "fake" Google+ account for this site – as my competitor has).
I could also easily go out and acquire many of the links that my competitor has.  Many of them are simple blog comments that I could get as well.
However, I'm actually not going to do anything for a week or 2 other than just add new content.  I'm not going to get all anxious about a change in ranking – I'm going to focus on what I can do content wise on my site right now.
Then after a few weeks, if I need to look at building more links, I can look into that.  But I have no plans to at this point in time.
Your Thoughts
I've laid out pretty well how I think having a copied site outrank me has affected my traffic and earnings.  I've also laid out what my plan of action will be to continue to improve my site.
And stay tuned for my full earnings and traffic report for the month of May.  That will be published early next week…and its going to be a good one!
I would love to hear your thoughts and comments on the matter.  Its another fascinating development in the public niche site project!  If you have something to add or ask about, please leave me a comment.
Update: At the time of publishing this, I can see that a YouTube video has leapfrogged to the #1 position in Google.  Google results are very fluid, and positions change many times each day – so this could be very different tomorrow.
---