After 191 Years of Defining Words, Merriam-Webster Starts Cashing In on Affiliate Marketing with Product Reviews
When you buy something through one of the links on our site, we may earn an affiliate commission.
Back in 1831, Merriam-Webster started defining words and selling dictionaries.  Now, they are writing product reviews in hopes of earning an affiliate commission from Amazon.
They used to just give you the definition of "Crock Pot", now they will sell you one.
According to Archive.org, Merriam-Webster launched the Reviews section of their website just over 2 months ago on March 4th.  However, they actually started writing product reviews in July of 2021 on a different section of their site (/theusage), which they've now redirected to the Reviews section.
Either way, they have clearly joined the affiliate marketing business in a big way.
They appear to have a large staff dedicated to the task of writing these reviews as indicated by their Staff page.
With over 26 contributors and hundreds of review articles, they have already invested heavily into staff and content to amplify this pivot in their business to affiliate marketing.
As you can see from this example article of Instant Pots, Merriam-Webster has affiliate buttons and links all over the review article.  When a reader clicks those links, they make a commission from Amazon, Wal-mart, Home Depot, or other vendors when a customer buys those products.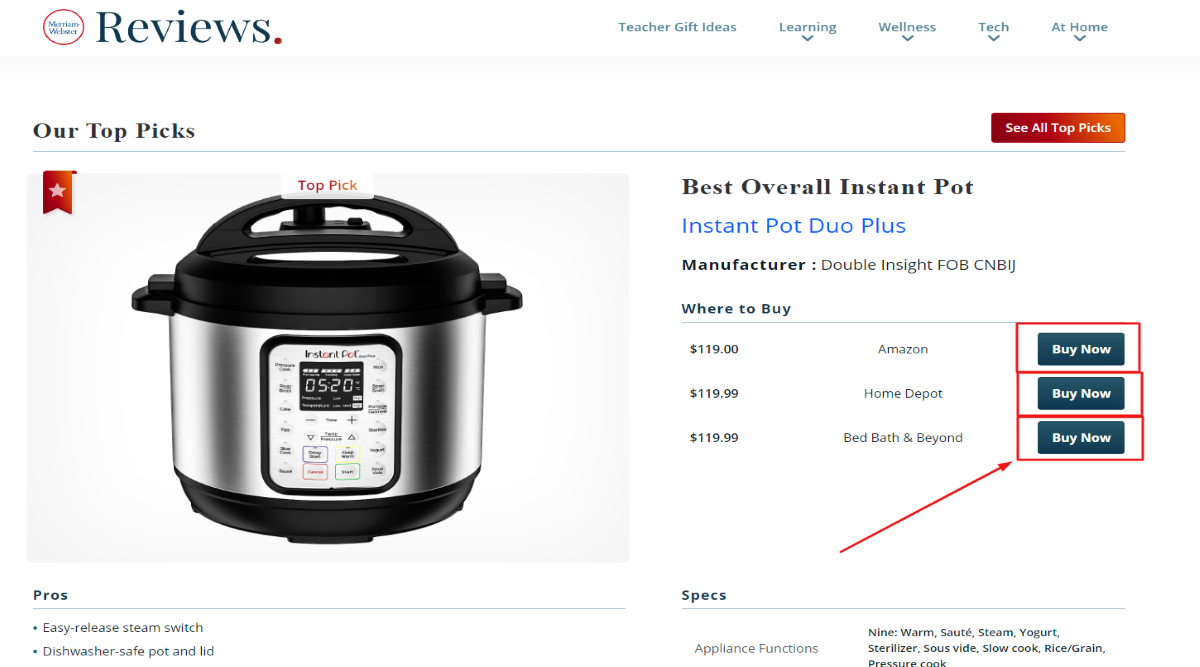 They also clearly indicate on the Merriam-Webster Reviews homepage that they are making commissions should you buy a product based on their recommendations.
How is Merriam-Webster Making Money with Affiliate Marketing?
The primary goal of these review articles is to rank in Google search for specific keywords, have customers read the review, and then buy one of the products based on the recommendation.  
Affiliate commissions can range anywhere from a few cents to a few hundred or even thousands of dollars, depending on the size and quantity of the purchases made.
So, if you do a Google search for "Instant Pot Reviews", you might eventually find the result in Google from Merriam-Webster.  Should you click on the affiliate links in the article, you will be "cookied" and Merriam-Webster will earn a commission when you purchase.
Why is Merriam-Webster Trying to Cash In?
A few factors appear to have led them to make a decision to go into affiliate marketing.  First, it's an additional revenue stream…so why not?
However, the bigger push likely has to do with trends and authority.
The reality is that over the past few years, many other large publications that were historically information or news-only websites, have started to shift to affiliate marketing as an additional revenue model.
The New York Times, CNN, CNET, and many others have all entered the world of product reviews and affiliate marketing.  
Is it a case of jumping on the bandwagon?  Probably.
In addition, Merriam-Webster has a very authoritative website.  According to Ahrefs, they have a Domain Rating of 91.  With the highest possible DR of 100, this is extremely high.
In layman's terms, a higher DR means the chances of Google ranking a website for any given term is increased.  With so much authority, they must be thinking…why NOT try to cash in?
What Does the Community of Affiliate Marketers Think About This Move?
Most affiliate marketers are either individuals or have very small teams.  They are not a large corporation.  Generally, they own "niche websites" that focus on one particular area, such are hiking, cooking, or horses for example.
As a result, they are generally more expert in the area than a business full of journalists.  
However, these small affiliate marketers are obviously upset that larger players are essentially gaming their authority in order to outrank these smaller competitors in Google and snag those sweet commissions.
Here's some of the feedback from the affiliate marketing community when they found out that Merriam-Webster was entering the affiliate marketing business.
Only thing I can think of is they want to take advantage of their existing authority, aka they think they can easily rank and make money.
They're leaving a lot of money on the table, that's what they and I think. If they've got such authority over the years and not want to make extra bucks, then it's theirs to lose. For everyone now, it's all about the money. LOL
$$$. That's why. The real question is, will Google take action to not let big brands push out all of the little guys simply because of domain authority.
If we added news sections to our sites (even higher authority ones), they probably wouldn't rank. Same but opposite should be true for these sites who are tacking on affiliate product reviews that are outside their core.
This is somewhat bad news for mid-tire affiliate websites.
They hired a consultant that looked at their DR90+ sites and said – let's monetize!
$1M in affiliate sales later, that consultant is a hero.
Wall Street Journal, CNN, U.S. News & World Report, Wired, Business Insider, Cnet, Daily Beast, Forbes… at this point it's rarer if a major publication *doesn't* do it.
You can join the discussion with other affiliate marketers on this subject either on Facebook or Twitter.
Want to learn step-by-step how I built my Niche Site Empire up to a full-time income?
Yes! I Love to Learn
Learn How I Built My Niche Site Empire to a Full-time Income
How to Pick the Right Keywords at the START, and avoid the losers
How to Scale and Outsource 90% of the Work, Allowing Your Empire to GROW Without You
How to Build a Site That Gets REAL TRAFFIC FROM GOOGLE (every. single. day.)
Subscribe to the Niche Pursuits Newsletter delivered with value 3X per week