The Secret to Longevity in Online Business: Diversification
When you buy something through one of the links on our site, we may earn an affiliate commission.
In order to succeed, it's vitally important for online entrepreneurs to diversify their businesses both in terms of business models and revenue sources. 
Diversification is a vital factor for growing a business in any industry. You may have a product that is selling well right now, but if you aren't actively looking for ways to sell more products more efficiently, then you run the risk of losing everything. 
Even high-volume e-commerce sellers who have been very successful in this business understand the truth of this and they make significant efforts to ensure their longevity by diversifying their business models and sources of income. 
Even Amazon, which had an impressive revenue of $280 billion in 2019 has diversified its business model. 
In this article, we take a look at the different ways you can replicate this in your own business so you can be confident of driving growth and success even in the face of such uncertainty.
Always Start With One Success
When you begin the process of diversification, you should always get one successful site first before moving onto the next one. 
Once you've built a successful and profitable website, it then becomes a lot easier for you to gradually add different income-generating tactics as well as make adjustments to your business model.
Examples of companies that have done this successfully include General Electric and Walt Disney. They started with one core business before diversifying into several different segments that they operate in today. 
Walt Disney, for example, started with the core animation business and later diversified to theme parks, resorts, cruise lines, live entertainment, TV broadcasting, and much more. 
General Electric is another successful diversification story that began when two electrical companies merged in 1892. Today, GE operates in many different segments, including aviation, healthcare, energy connections, lighting, power oil and gas, renewable energy, transportation, and many more.
The Risks Never Stop in Online Business
Many people wonder if diversification is really necessary, particularly if your business is doing extremely well. 
The truth is, you don't necessarily have to diversify, there are many companies that found their specialties early on and stuck to it. They built their markets around specific products and made them their focus. 
One such example is Croc's all-purpose footwear which focuses singularly on their flagship product.
(Source)
But, one thing that all marketers can agree on is that the risk never stops in online business. 
This has never been more true than during these times when we are all facing various issues brought on by the pandemic, such as the Amazon affiliate commission cuts, Google algorithm changes, social media platforms limiting reach, and so on. 
Changes are happening everywhere we look and it's important for businesses to remain agile and be able to adapt on the fly otherwise they risk being left behind. 
One of the best ways to limit risk in such a situation is to implement various product diversification strategies. To do this successfully, there are three main techniques to consider: 
Horizontal Diversification
This type of diversification involves providing brand-new, unrelated products, and services to your existing customers. 
An example of a company pursuing horizontal diversification in its strategy would be a computer company that begins to produce video game consoles. 
With this type of strategy, you keep the focus on your core business while, at the same time, innovating and introducing brand-new products and services to your target market.
Concentric Diversification
This involves adding products and services that are similar to the ones that already exist in your business. 
For instance, if a computer company primarily produces laptop computers, they can start manufacturing desktop computers as part of their concentric diversification strategy.
Conglomerate Diversification
This type of diversification involves adding new products and services which are completely unrelated and have no commercial or technological similarities to the business's existing products. 
Continuing with the example above, the computer company may decide to produce notebooks as part of their conglomerate diversification strategy. 
This is a risky strategy as it requires the business to enter a totally new market and sell their products and services to a brand-new consumer base. There are higher costs incurred with research and development as well as advertising. Furthermore, the probability of failure with this type of diversification strategy is much greater.
Stick to What Works
As you can see, diversifying your online business can be done through different methods, but you should stick to the business model that you find success in. This is the secret behind the companies that manage to survive and thrive for decades while countless others fail after a few years or are taken over. 
While many may argue that their secret lies in strategy formulation, execution, and so on, the truth is that most of these businesses managed to maintain their success over the years due to their ability to diversify effectively and then focus on the different diversification segments that work best. 
Whether you decide to expand into a new segment of the industry where your company is already operating, or if you choose to expand into a totally new industry beyond the scope of your company's current business unit, make sure that you stick to what works. 
Monitor and track your performance and results, and then focus all your attention and effort on the business model that brings in the best results.
The Importance of Income Stacking
There are many reasons why businesses choose to diversify, but income stacking is definitely at the top of the list for most. 
Businesses can use diversification as a means of defense. By having a wide range of products and services, they are essentially protecting themselves from competing companies. 
This is the primary reason why I really focused on YouTube this year.  Not only does YouTube generate more revenue for my business every month, but it also helps me grow my brand and influence, which protects me from folks who are just blogging.
You may have also noticed, Spencer has done the same thing with his YouTube channel.  Like me, he was inactive for years, but now he's begun focusing on this because it's a great way to diversify a brand like Niche Pursuits.  
Yet another reason for your business to diversify is that it allows for more options and a variety of products and services. If you do it correctly, diversification can provide your business with a massive boost to your brand image and profitability.  
All of these reasons are important, but none quite as important as income stacking to help mitigate risks and ensure the survival of your business in case of a downturn in your industry. 
This is something that many small businesses recently experienced after the changes in Amazon's affiliate rates and reduced traffic levels due to the recent Google algorithm update.
Income stacking is all about diversifying your income and it's a great way to help you find true success with your online business.  When you pair it with strategies to increase your conversions, that's when you really start to crush it as a business.  
The concept behind successful income stacking is to have one website that you grow to profitability before adding another income-generating tactic, such as display ads, affiliate marketing, lead generation, and so on.
How I've Done It
I have managed to use the tactic in this article to diversify my own businesses online. I have a portfolio of websites and display ad revenue is the primary source of income on each of them. 
But, as you can see from the screenshots below, I have since ventured into affiliate marketing, Amazon Associates, Amazon FBA, selling leads, YouTube, I've created an online school to sell courses, and have used various other income-generating tactics. 
This is my proof of income from Google Adsense:
And Amazon associates: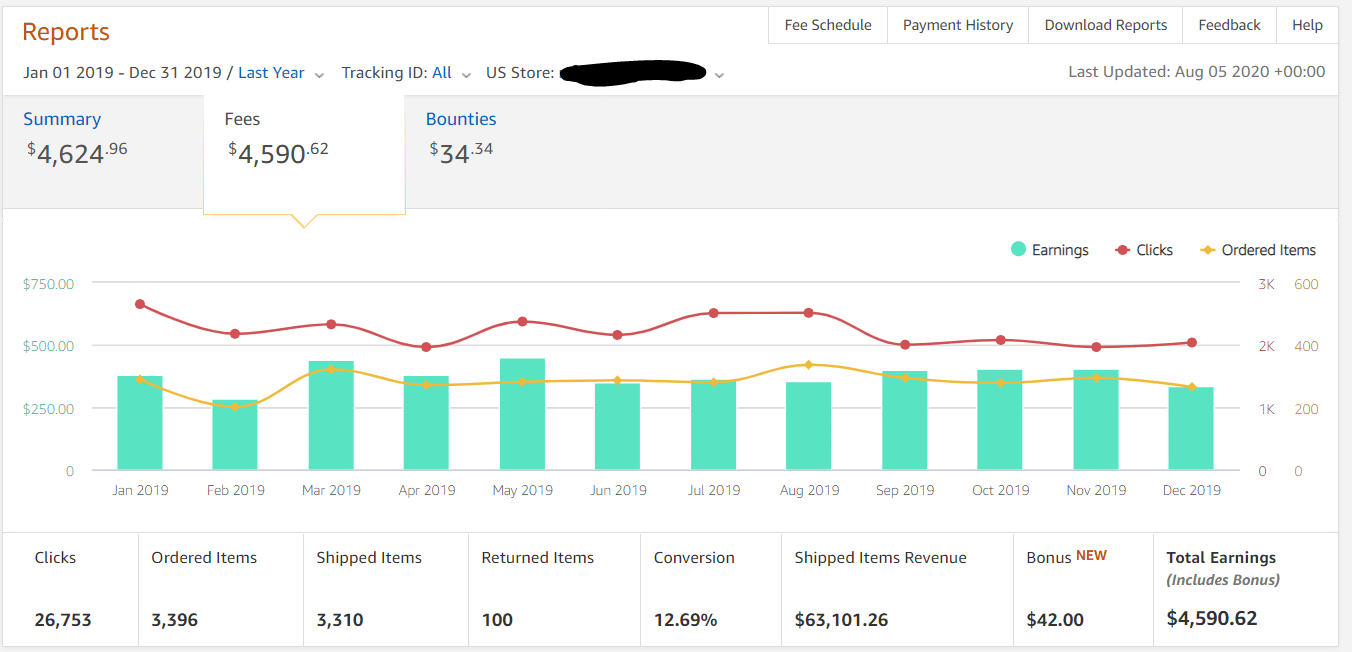 Income from various Partnerships: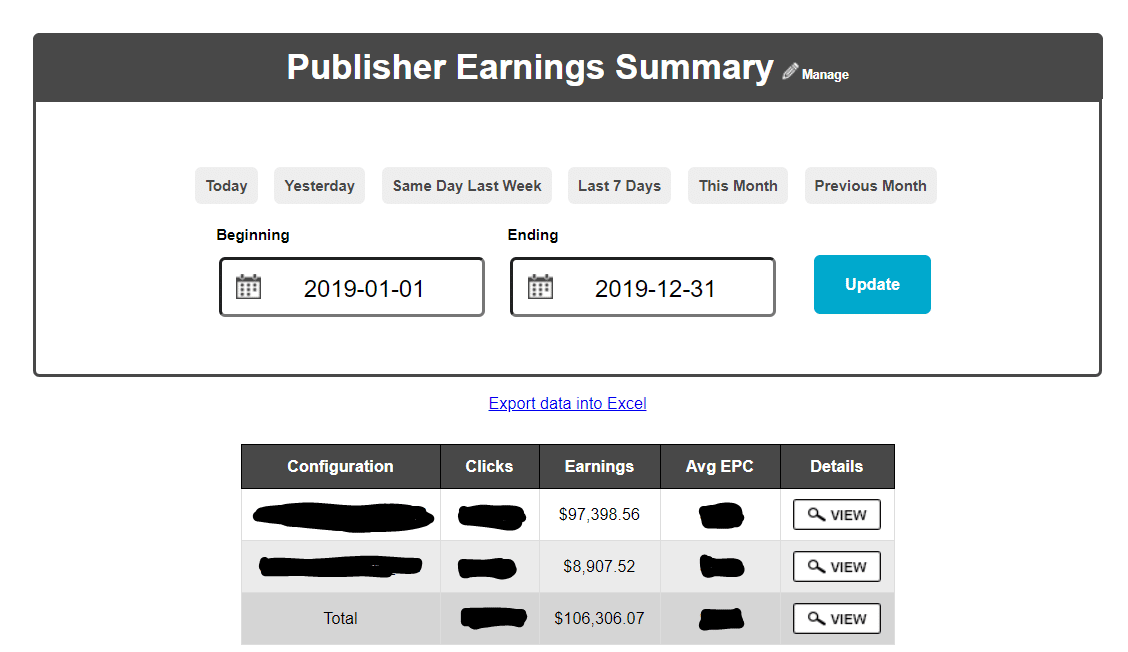 And finally, income from Affiliate programs
By now, it's pretty evident that diversification is the way to go if you want to ensure a consistent stream of revenue in your online business.
There are many ways you can go about implementing diversification as part of your overall strategy. 
For instance, you can use other online marketplaces or develop your own store to diversify your business, and boost the growth of your brand significantly while growing profit margins. 
Use Other Online Marketplaces
By diversifying the places where you sell your products and services, you expand your reach and get your products in front of a much larger potential market. 
Amazon is one place where businesses can sell their products online. However, it's far from being the only place. And in fact, you don't want to be at the mercy of that one company because it defeats the purpose of diversifying in the first place. 
So, rather than being at the mercy of Amazon's strict rules, you can operate in various other spaces in order to lessen such concerns.
Develop Your Own Online Store
This is yet another effective way to diversify sales options in your business. One major advantage of developing your own store is that you don't have to play by the rules of a marketplace like Amazon. 
Those rules exist in order to level the playing field for all businesses, but they are sometimes difficult to navigate. In fact, for the most part, some of the rules can feel counterproductive. 
With your own store, you will have total control and you won't have to worry about facing the consequences of failing to adhere to the rules. 
However, creating your own store is a lot of responsibility and it involves paying attention to many details including shipping, distribution, and accounting. If anything goes wrong, such as your website going down, it's on you to fix it. 
But, since your own store allows you to define your brand and market better, the benefits greatly outweigh the drawbacks for most businesses.
Create Additional Websites 
Myself and Spencer have created other websites before and that's for good reason, diversification.  
While it's absolutely essential to have one successful website first, I feel that after you've done so, it's a good idea to take the skills that you've learned and create something else.
This will help you mitigate risk from Google, which is always a good idea.  The search engine is known for having some pretty wild algorithm changes at certain times and if you ever get caught up in one of them, it could crush your business overnight.  
As an example, one of the newest websites I created is making me right around $1000/month in display ad revenue and affiliate earnings.  While that amount of money isn't life-changing, it's definitely not bad!
Create Courses 
I still remember about a year ago when Spencer said publicly that he was going to stop creating courses.  I also remember at the same time when I said I would too.
He told the truth, I did not.  But it wasn't on purpose…
The truth is, courses are tough.  
First, you spend a lot of time figuring out the right course platform.  Once you've done that, you have to create a course, publish it, and then you spend a lot more time supporting students.  While this is pretty difficult and can be challenging at times, I'm diving back into the course pool and I can't seem to get away from it.
Maybe it's the professor in me, but I love the idea of developing and running courses.  While it can be a bit challenging, it's a great income stream to compliment an already successful website and can increase revenue significantly if done correctly.
I didn't include it above because it isn't a huge revenue stream for me, but my courses earn me between $200-300 per month, which isn't too bad.  
Conclusion
Use the tips listed above to diversify your business and grow your brand so you can ensure your longevity in today's shifting marketplace.  As you can see, there is no shortage of ideas in this post or all throughout the Niche Pursuits website.  
Ron Stefanski is a professor and a successful web entrepreneur who has a passion for helping people create and grow online businesses.  Visit his website to learn more: OneHourProfessor.com
Want to learn step-by-step how I built my Niche Site Empire up to a full-time income?
Yes! I Love to Learn
Learn How I Built My Niche Site Empire to a Full-time Income
How to Pick the Right Keywords at the START, and avoid the losers
How to Scale and Outsource 90% of the Work, Allowing Your Empire to GROW Without You
How to Build a Site That Gets REAL TRAFFIC FROM GOOGLE (every. single. day.)
Subscribe to the Niche Pursuits Newsletter delivered with value 3X per week