How Israel Gaudette Makes $30k/Month Using His Own Tools and Metrics
When you buy something through one of the links on our site, we may earn an affiliate commission.
The path to success is never a straight line, and Israel Gaudette is a great example of this. Unsatisfied at his day job, this entrepreneur dove headfirst into affiliate marketing when he discovered it in 2015 and never looked back.
A firm believer in the importance of success and failure, Israel embarked on an adventure to learn about SEO and test out as many strategies as possible. From building affiliate sites and dabbling with PBNs to developing his own specific methodology for keyword research and link building and his own tools and metrics, Israel has an insatiable thirst for learning and experimenting.
In this interview, he shares actionable advice and insider tips that you can use in your businesses.
Keep reading to learn about:
How he got into affiliate marketing
His first successful site and what happened to it
How he views learning about SEO
His thoughts on website flipping
Why he created his SEO agency
His thoughts on personal branding
How much he's making
His marketing strategies
How he approaches SEO and link building
His content creation process
The tools and resources he recommends
His biggest challenge
His greatest accomplishment
The advice he would give to other entrepreneurs
Meet Israel Gaudette
My name is Israel, and I've been a full-time affiliate marketer since 2017. I'm a Canadian, and I live in the French state of Quebec. I have a superb wife and 2 lovely sons.
I'm also a fan of camping. I spend almost every weekend in my RV with my family. As I work over 50 hours a week in front of my computer, I try to go outdoors whenever possible. I also own 2 ATVs, another of my favorite activities.
Israel's Area of Expertise
I've built my reputation most likely due to my expertise in link building and my metric called Traffic Authority, which helps you measure any domain's strengths and tell you if the site is trustworthy. This metric has been a game changer for me and has helped me to find the best backlinks opportunities for my websites since.
I haven't always been an affiliate marketer…
It all started in 2015 when I started to look for opportunities to make money online and discovered affiliate marketing. I was, at that time, a computer tech worker, and my salary was around 70k/year.
I hated handling customer service and was tired of having a boss. It's important to mention that I've always been an entrepreneur at heart!
I started my first business at the age of 20, which was a doors/windows installation service. This, however, ended with bankruptcy due to my ex-business partner (I won't say the details here, but it has been a great life lesson for me).
Anyway, because I had good expertise in the tech niche, I started an affiliate site in the VPN niche, and this site was Top VPN Canada.
Israel Gaudette Learns SEO
I didn't have prior SEO knowledge then, so I started with an India-based SEO agency. They handled my link-building campaigns, which worked fine for the first year. But when I look back on this today, it was all spammy backlinks like directories and web 2.0 sites!
One day I woke up and realized that if I wanted to step up my game with affiliate marketing, I needed to learn SEO and handle everything myself.
So, I started learning SEO from reading guides online and made many mistakes like everyone else. But it's how we learn - from our mistakes!
This may sound weird, but the truth is that I started making money when I stopped listening to others.
The problem many of us may have felt when trying to learn SEO is that there's too much information available.
One day you try something, and a few weeks later, you read another article that says the opposite, so you stop working on what you had started and try something else, and so on. You just end up running in circles.
When I read an article about SEO now, I know if it's good or not, but when you start, you don't have the knowledge. This is where it becomes very challenging, and it's probably why many people fail: because they don't have a trustworthy source to learn from.
When I decided to learn SEO, my website made around $500-750/month. Two years later, I was making around $10k/month.
Having great success in this niche, I decided to scale with more sites. But only one of the 3 new VPN sites I created has been successful. It reached an all-time high of $15k for one month.
Two of my VPN sites had a combined value of $500k at one point. The biggest mistake I made was not planning an exit. I believe now that flipping websites is the smartest strategy to leverage your finances and grow your portfolio. I'm now a flipper. I grow sites, and I flip them when they are worth in the 6 figures.
Sometimes I buy sites, but I prefer starting from scratch because I have a specific method to build sites now which uses the power of entities, and it's really hard to convert an existing site to this specific structure. It takes a lot of work.
To find buyers for sites under $100k, I use Facebook or Flippa. For sites over $100k, I use Empire Flippers.
I know when it's time to flip when the site reaches a 6-figure value, and I feel I can profit from it. I can easily spend $30-40k on a site, so I need to make at least 150-200% profit for the investment to be worthwhile.
I've learned 2 things from this experience:
Never expose yourself to just one niche.
Don't fall in love with your website. Prepare an exit, and follow the plan!
Why He Created Flawless SEO
The #1 rule for affiliate marketers is to diversify their income sources. That's exactly what I did creating Flawless SEO, my SEO agency. I created a new source of income that was less volatile than my affiliate marketing business.
The truth is, the affiliate marketer life is far from being stable!
One year you can make $300k and the next year $60k. We can't control Google algorithms, so it's really hard to have financial stability.
When you start a new business and want to succeed, you must choose what you're the best with and offer it as a service. That's why I also decided originally to create IG Publishing, a link building agency.
Because I already had a good audience on Facebook that was aware of my skills as a link builder, it didn't take long to reach 6 figures. It took less than 6 months.

Over time, I rebranded to Flawless SEO, offering more services like keyword research and content writing.
I started in 2020, and two years later, I reached $1 million in revenue. All without spending a penny on advertising.
My best advice would be to work on your personal branding… It's the best form of advertising you can have for your services. Do not underestimate the power of social media. It's a strong marketing channel.
How Much Israel Gaudette is Making
I'm a very discreet person. I don't like to brag about my finances, but I can tell you that I'm in a comfortable position. Even if everything crashes tomorrow, I will be fine for the next 5 years.
It's part of my money management system. Since my living costs are roughly $10k/month, I have the equivalent of that money in the bank as a safety net.
When you're an affiliate marketer, it's important always to have enough money in the bank to survive in case one of your main websites or your entire portfolio crashes. That has been the case for many affiliate marketers with the 2020 December core algorithm update.
This happened to me in the past. One of my main sites got hit by a core algorithm update, and I couldn't take money out of the business for almost 7-months. But thankfully, I had money in the bank to continue paying for my business and personal expenses.
This is also why I recommend taking the website-flipping route. When you flip your website, you take roughly 30x its monthly revenue. You get a lot of money right in that moment of sale and can reinvest and save. In 30 months, a lot of things can happen. Your website could crash, and you could lose everything.
I sold all of my websites in 2020 and 2021, 8 in total, and took some quality time for me and my family. I disconnected from Facebook for almost 9 months. At that moment, my main income was from my agency, but since then, I've started 3 new affiliate projects that are growing fast.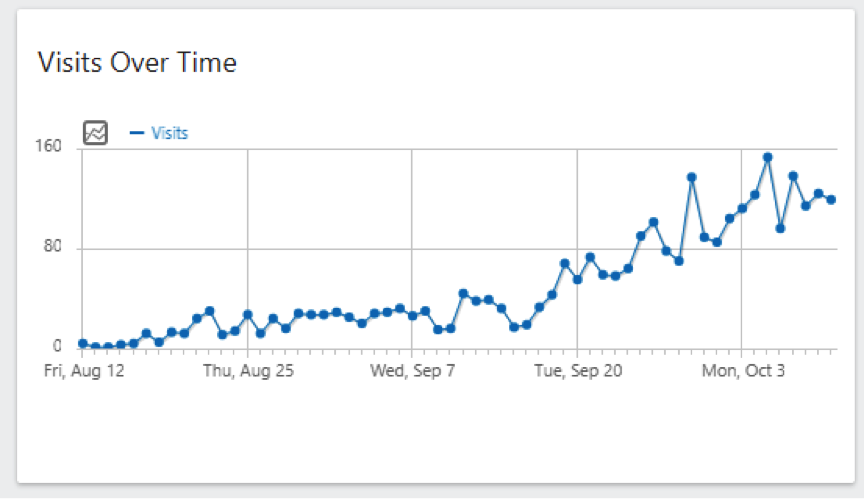 One of my new projects is already at 150 daily visitors after just 3 months. I started it on a fresh domain!
I expect to sell them for 6 figures in the next 18 to 24 months. That's the time I hold my projects on average, about 2 years.
His Top Marketing Strategy
For my SEO agency, my main and only strategy is personal branding. I do this by publishing consistently on Facebook and writing in-depth guides.
That is important for me to bring value to my followers, and I expose my strategies without filtering as I'm not afraid of the competition.
I'm against courses. We should be able to learn for free, and it's what I'm trying to achieve, helping others without charging them for my knowledge.
For my affiliate projects, it's through SEO. I don't do any ads for any projects.
Israel's Unique Marketing Strategy
I think my strength is that I'm offering services that are truly unique and nobody is offering. I've created my own metric and am offering it to my clients. It's a free SEO tool called traffic authority (TA) checker. And because I'm the creator, nobody else is offering it!
Also, I'm offering entity injection in backlinks, something that I have never seen offered by a competitor, and believe me, it leads to a HUGE difference in ranking! Which I'll get into a bit later.
The Importance of SEO for Israel
I don't care about SEO for my agency because all my clients find me through word of mouth and my Facebook audience. However, for my affiliate sites, all my traffic is organic, so SEO is extremely important!
My main strategy is to build a topical content map of my project before starting. It's important to show Google that my website has topical authority and that I am the reference for this topic. I want to show Google that I am an expert in this field.
Let's say that I own an affiliate site in the camping niche. I will find all relevant entities using Wikipedia. I also use my tool Entities Checker (built in collaboration with Max Geraci) for generating my schemas and doing an entity gap analysis on the SERP.
Understanding Entities
You may not know, but since BERT, Google uses the Google Knowledge Graph. This technology associates every keyword (or query on the search engine) to a Google Topic (also called an entity). The Google Topics database is based on Wikipedia and Wikidata, so all entities you can find on Wikipedia are also part of Google Topics.
So if you look at the main entity "camping" on Wikipedia, you'll be able to find all your sub-topics, all based on entities:
Glamping: https://en.wikipedia.org/wiki/Glamping
Recreational vehicle: https://en.wikipedia.org/wiki/Recreational_vehicle
State park: https://en.wikipedia.org/wiki/State_park
Tent: https://en.wikipedia.org/wiki/Tent
Sleeping bag: https://en.wikipedia.org/wiki/Sleeping_bag
Folding chairs: https://en.wikipedia.org/wiki/Folding_chair
Canoe camping: https://en.wikipedia.org/wiki/Canoe_camping
The list can go on… Right here, I probably have 150-200 potential articles easily.
So I list all relevant entities (topics) for my website, and then I build my silos (post categories) by topics.
For example, I could create a parent post category, "Camping Equipment," and create a post category under my parent category for all entities related to equipment like tents, sleeping bags, folding chairs, etc… And put all my content well-organized by subtopics.
I would also create a post category for important sub-topics like state parks, recreational vehicles, etc…
Here is a mindmap illustration for people that prefer visuals:
Link Building
Backlinks are still very important in SEO. They're a sign of trust for Google. You can imagine a backlink like a referral or a word-of-mouth recommendation from one website to another.
However, not all backlinks are good for your website. They need to be trustworthy and relevant. That's why I always inject important entities into my guest post titles to boost my backlink relevance.
My theory is that Google only takes data from the title and URL for calculating backlinks relevancy between 2 URLs. This is because it would take too many computation resources to analyze the entire content every time it detects a new backlink.
I inject the entity in the title (also H1 for guest posts), and because I chose my title, my entity is also part of the URL (the URL is generated from the title).
Years ago, I was using PBNs, but then I stopped as their effectiveness had dropped, and it wasn't worth it anymore. I was heavy on black hat strategies years ago, but now I can call myself a white hat guy (even though we all know that even white hat is black hat for Google).
I'm not a fan of niche edit links because I cannot control the title of articles, and for me, it's the most powerful factor for a backlink. And another thing I dislike about niche edit links is that most webmasters that accept them will dilute their pages with more and more links, making them even less effective.
Israel Guadette's Email List
I started one a few months ago on my blog and agency, but I'm still new to email marketing. It's something I want to improve, though. I think email marketing, when managed correctly, can drive great results!
His Content Creation Process
I take a list of all my topics (entities), then proceed with keyword research, and send this to my writers.
I use a specific methodology to find keywords that I know I'll be able to rank based on my domain authority. That way, I can rank faster and start monetizing my websites earlier. I ignore the keyword difficulty metric.
Once my content is ready, I assign it to my topics (silos). I scan them all for their entities and assign them to the most relevant topic silo. I use my tool Entities Checker for this.
Once the content is added to my site, I generate the schema for entities and import them using my WordPress plugin.
I set to index my site only when I have 30-40 articles ready. That way, I can prepare the site structure and have my internal links and schemas in place.
Normally, it takes just a few weeks to start having visitors. I used this exact strategy on a new project 3 months ago, and I'm now at 150 daily visitors on average, so already 4k visitors per month. Not bad for a 3-month-old website built on a fresh domain!
Achieving Current Revenue Levels
It took me 2 years to be able to quit my job and become a full-time affiliate marketer (get inspired with some great affiliate marketing jobs you can pursue yourself).
However, it was only in 2019 that my finances jumped, and I started earning $15-20k/month. In 2020, my average was $25-30k/month, but some months I made $45k/month (excluding my agency revenue).
I did record revenue in 2020 (mostly because of my flips), which is why I decided to take 2021 off and take some time for myself.
At the beginning of this year (2022), I took some time to revise some of my SOPs and improve a lot of my existing methodologies.
My new projects are built based on my updated methodologies, and I could not be happier with the results!
Right now, I'm making between $20 and $30k/month with my agency and barely anything with my affiliate projects, as I just started them.
I've invested a lot in new SAAS projects (3 SAAS in development right now), new affiliate projects, and in improving my agency structure.
Israel Gaudette's Favorite Resources
Wow, that's a tough question because I'm not the typical guy that spends his time learning from others. Like I said, I'm learning on my own.
However, I like what you are doing, your interviews are inspiring! Especially for new people who are starting and need motivation!
For those starting, I could not recommend the on-page SEO guide by MOZ. A must-read as it's the core foundation of SEO.
The Ahrefs blog is also one of the rare resources where you can find really valuable content, especially their section on technical SEO.
For advanced users, a way to step up their game would be to learn python and execute some automated tasks. JC Chouinard has an excellent blog on the topic.
His Top Tools
My tools stack is very large, but if I have to select only 3, I would say:
Ahrefs for keyword research, backlinks, and traffic analysis
Screaming Frog for technical audits
Trello for task management
His Biggest Challenge
My biggest challenge has been with scalability.
When you own a portfolio of over 5 sites, having a good team is extremely important.
One of my biggest challenges has been finding good writers. Sometimes, out of 20 interviews, only one was good. And let's talk about reliability. That's another problem. A lot of writers are good, but they are not reliable. So finding good and reliable writers is extremely difficult!
Many people don't care about content quality and are looking for cheap writers, but they forget that once you're ranking in the top 5, links and content optimization don't do much. What helps is how the users react to your content. Google checks these things, and your bounce rate will be terrible if your content is bad. This will affect your ranking.
You need good user metrics to beat your competitors; for this, you need high-quality content.
Another point from an affiliate marketer's point of view: we make our money by convincing our readers to buy our recommendations. Keeping readers on our site as long as possible is crucial for our conversion rate.
To have the best conversion rate possible, the users must pass the entire sales funnel illustrated below.
His Most Important Accomplishment
My greatest accomplishment is being successful in making money online.
When I started, everyone in my entourage was negative. They were saying that it was impossible and all advertisements for making money online were a scam.
When I was 15 years old, I dropped out of school and spent all my time on the internet. I will always remember when my dad said, "You waste your time on computers. You will never do anything good in your life being on a computer!"
My dad thought at that time I would be a complete loser. You have no idea how proud I was the first time I received a big deposit in my bank account. I drove to my dad's home and showed him my bank account.
He was speechless. I was showing 5 years' worth of his salary in just a single deposit.
This has been my biggest accomplishment, showing my dad that he was wrong all those years.
What He Wishes He Knew When He Started
Don't fall in love with your sites. Plan an exit and stick to your plan. Don't be greedy… It will burn you in the long run.
Another important thing that I don't see entrepreneurs speaking about often is taxation. You have every reason in the world to have a corporate company. Don't let taxes eat all your profits. Hire a tax advisor as soon as you can. Every penny you save on taxes is an opportunity to reinvest somewhere else.
Israel Gaudette's Biggest Mistake
My main mistake has been trying to scale too fast. A few years ago, I had money in the bank and wanted to make 7 figures in revenue per year, so I decided to scale my portfolio to a crazy level. At one time in my affiliate marketer life, I had 23 sites.
Looking back, I realize that it was a stupid move. I was greedy. I wanted more money, but wanting to grow too fast had the complete opposite effect.
In reality, I didn't have the team to handle that size of portfolio; as a result, all my projects were neglected.
Now I don't exceed 5 projects. It's better to have just a few projects but give them a lot of love rather than having a lot of projects and making just the minimum.
His Advice for Other Entrepreneurs
Believe in your dreams, and don't let others influence your decisions. Never give up, even when you feel you've reached the bottom. Rome was not built in a day.
I've built probably 30 affiliate projects in my career, and to be honest, maybe just 10 have been profitable. The good projects pay for the bad ones.
One day I was watching an episode of Dragons' Den (the Canadian version of Shark Tank), and one of the entrepreneurs, who is a multi-millionaire, told another entrepreneur that was just starting out:
"I filed for bankruptcy twice, and look at me now. I'm a multi-millionaire. You need to fail to make money!"
This quote speaks to me and has helped me stay motivated in the worst moments of my life.
Making money with your sites is the most satisfying thing that can happen to you. You have the total freedom to do whatever you want and still make money. I think it's worth struggling a bit if it offers you this great lifestyle in the end.
Want to learn step-by-step how I built my Niche Site Empire up to a full-time income?
Yes! I Love to Learn
Learn How I Built My Niche Site Empire to a Full-time Income
How to Pick the Right Keywords at the START, and avoid the losers
How to Scale and Outsource 90% of the Work, Allowing Your Empire to GROW Without You
How to Build a Site That Gets REAL TRAFFIC FROM GOOGLE (every. single. day.)
Subscribe to the Niche Pursuits Newsletter delivered with value 3X per week