7 Interesting Ways to Make Money on Snapchat
When you buy something through one of the links on our site, we may earn an affiliate commission.
With over 300 million active users, Snapchat is a huge social media platform and there are tons of ways to monetize it and learn how to make money on Snapchat.
Snapchat is a social network designed for users to share their lives through short-form videos called snaps and disappearing messages.
It has become very popular for its trendy filters that can turn you into a vampire, a container of Mcdonald's french fries, a DJ, duck, Shrek, or other characters which you can apply over your selfie in your videos.
Their filters are one of the most popular features of the social app and it make it fun for users to create videos to share with friends, family, and the public.
Like most social networks, there's definitely an opportunity to monetize your online presence on Snapchat. Keep reading for more on how to make money on Snapchat!
Can you make money on Snapchat?
Yes, you can make money on Snapchat. When you're looking into how to make extra money online, Snapchat presents lots of opportunities.
In this article, you'll discover 7 different ways to make money using Snapchat, including:
Running ads, for yourself and other companies
Selling products organically
Joining the Snapchat Spotlight program
Doing Snapchat sponsored content campaigns
Creating Snapchat sponsored lenses
Using Snapchat geofilters to create awareness for your company
Let's go!
How to Make Money on Snapchat: 7 Interesting Ways
1. Run Snapchat Ads 
Running Snapchat advertising to sell your products through social media ads is one of the ways to make money with Snapchat. This is ideal if you sell products or services as a part of your business.
How does it work?
To get started, you'll visit Snapchat's self-serve advertising platform to create and run Snap ads for your products. You can create and manage ads, set a budget, monitor the results, reporting and metrics.
Launching a full ad campaign with as little as $5/day is possible with Snapchat ads.
You'll go through the process of setting up a public profile for your business, installing the Snapchat pixel, and running ads.
This is a great solution to increase revenue for:
E-commerce stores
App and game developers
Local businesses
You can learn more about Snapchat Ads here.
2. Run Snapchat Ads for Other Businesses
Another way to make money with Snapchat is by running ads for other businesses.
Many marketers do both. They run ads for their business and then help other companies manage their Snapchat ads as well. If you already have the skills to run Snapchat ads, this is a smart way to add an extra income stream for yourself.
You can help local and global companies reach their goals through social media advertising on Snapchat.
Where to find advertising clients
You can attract your target customers in the places they hang out online. For example, if your target customer is on Google, you can create SEO-optimized content that ranks in Google to draw in your customer or you can run Google ads.
You can also find clients from social media, social media groups, online communities, your email list, freelance marketplaces like Upwork, and other places.
Check Out Upwork
3. Sell products on Snapchat
Aside from running paid ads on Snapchat, you can attract your customers organically by posting your content on Snapchat. You will want to create a public profile page for your business and then post content consistently to showcase your products on the network.
Many businesses pursue this method of advertising if they have a limited marketing budget or want to get customers organically without paying for ads.
Social selling is another way to take advantage of getting product sales using Snapchat. It's a relationship-building sales strategy that helps you zero in on your target customers on Snapchat.
Companies like Everlane have been successful in attracting customers organically by showing behind-the-scenes content and building a relationship with their consumers on Snapchat.
4. Snapchat Spotlight
The Snapchat Spotlight program is Snapchat's content creator program that pays Snapchat users for their views on their Snapchat Spotlight videos.
The feature was similar to the TikTok Discover page or Instagram's For You page. The most popular Spotlight snap videos get a lot of visibility on Spotlight and videos with the most views make money for their Spotlight video.
If you get paid by Spotlight, you'll make at least $250.
Snapchat wanted to encourage users to try their Spotlight feature so when the program first launched, they paid out $1 million per day to creators for their videos.
Today, while they're no longer paying $1 million a day, they are still paying millions per month to the top creators in the Spotlight program.
Teenagers are making millions of dollars with Snapchat Spotlight. Content creators like this teen made 3 million dollars in just a few months with viral Snapchat Spotlight videos.
Snapchat Spotlight grew attention from users worldwide, and many creators made (and continue to make) a lot of money for their Snapchat Spotlight snap videos.
How does it work?
Snapchat Spotlight is free to use. Make your Snapchat videos like normal and submit them to Spotlight when you publish. You'll be prompted to accept the terms of service before your submission.
Wait for your video to get approved and once it is, if you receive a high number of views, you may be eligible to get paid. If this happens, Snapchat will contact you on the app, giving you instructions for claiming your earnings.
According to past winners, the process from start to finish takes about 2-3 months, after Snapchat notifies you that you claimed a spot for the day in the Spotlight program.
5. Snapchat Sponsored Content
Making money through Snapchat-sponsored content is for creators that have a large footprint on the app.
If you have an audience on Snapchat then working with sponsors is a way to monetize your social presence on the app.
If you're not already a Snapchat influencer, you can learn how to become an influencer and then take advantage of this to make money using Snapchat.
There are three ways this works:
Sponsored networks
The brand contacts you
You contact the brand
How can you make money with sponsored networks?
Sponsored networks are websites that work with brands and influencers to bring them together for collaboration on a sponsored campaign. You can join the sponsored network for free, set up your profile, and then get matched with brands that want to work with you.
Some examples of sponsored networks are:
There are dozens of sponsored networks online that you can join.
Some will publicly display the campaigns that brands are looking to work with influencers on. Then, you can just apply to the campaigns of interest to you and get contacted if the brand agrees to work with you.
Other networks collect your information from your profile and contact you when a brand expresses interest in partnering on a sponsored campaign.
Either option is a good way to start making money with brands through Snapchat-sponsored content. You can do this with other social networks where you have an audience as well, like Instagram affiliate marketing or TikTok.
Getting contacted by brands
Another way to make money through sponsored content is from brands contacting you to partner on a campaign. They will reach out by email usually and talk to you about promoting their content on your Snapchat account.
From there you can negotiate the terms of the campaign, talking about compensation, deliverables, timeline, and other factors.
Then, you get paid to post the brand's products on your Snapchat account.
Pitching to the brand
You can also cold pitch brands to work together, by email. Consider your favorite brands that would align with your audience and account, contact them and pitch a partnership.
This is a low conversion task so you may only get two or three replies out of 100 emails. However, it's a way to take this into your own hands to form partnerships with your favorite companies and get paid to post on Snapchat!
6. Sponsored lenses
You can make money creating sponsored Snapchat lenses for brands, like Ben Knutson who quit his IT job to make sponsored lenses for brands. He charges as much as $30,000 for a sponsored lens!
Check out some of his Snapchat lenses.
Here's an example from Fiverr: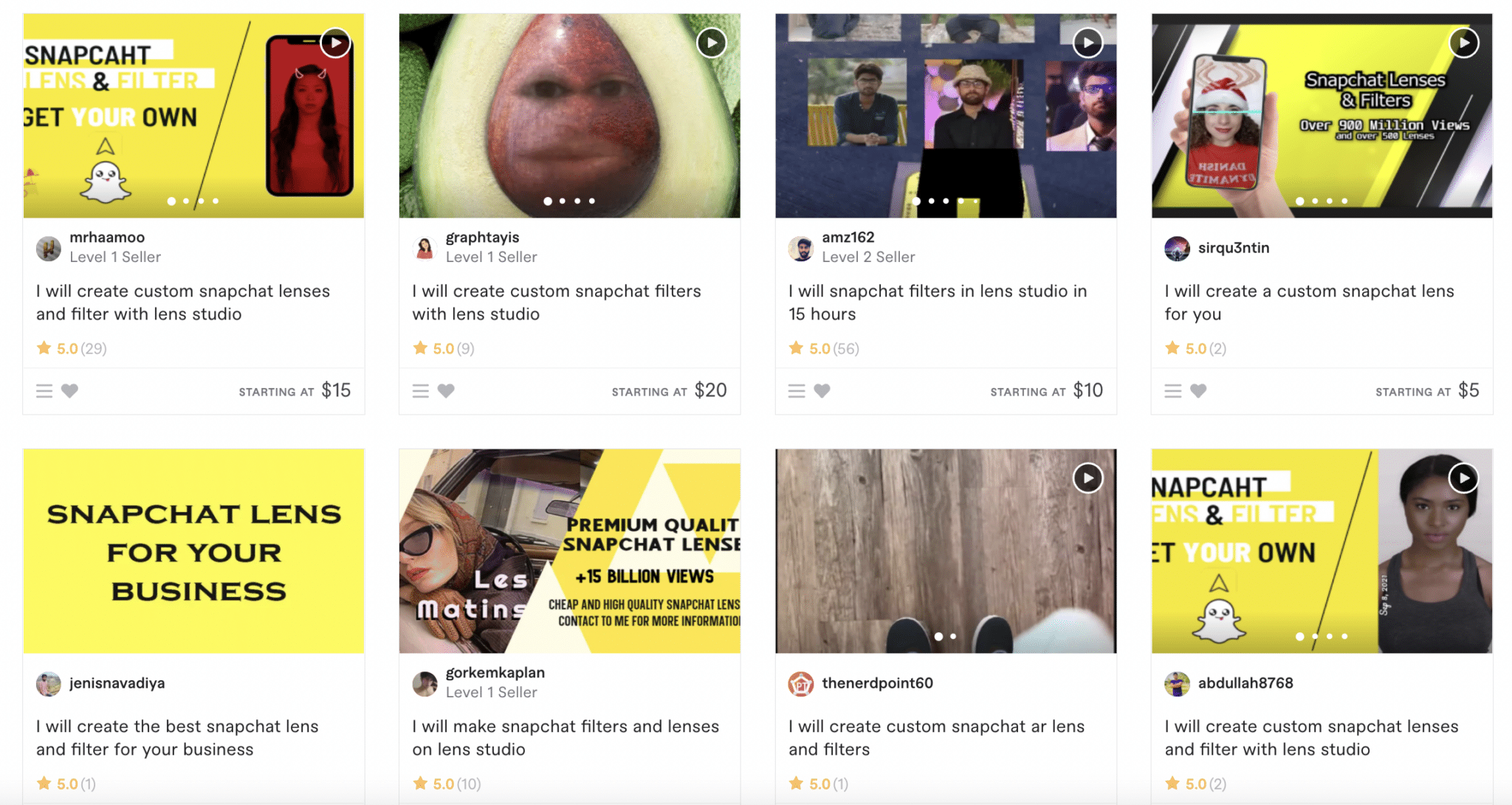 There are under 100 of these services posted on Fiverr which makes it very low in supply, which means you can charge a higher price and enjoy less competition.
Check Out Fiverr
7. Use geofilters
Through geofilters, you can promote a place on Snapchat, driving tons of traffic and Snapchat users to a destination, like your place of business.
There are many creative ways to use geofilters to make money. You can promote an event or location in the same area as your business, drawing attention to your company. People use them for attending weddings and other special events.
While geofilters can't show a website URL or phone number, you can map it to a time and location, which can be to your benefit. They're kind of like the modern "birthday card" on Snapchat.
Read this article for more ideas on how to use Snapchat geofilters.
Common Questions
1. How many followers do I need to make money on Snapchat?
You don't need any followers to make money on Snapchat. While some ways to make money on Snapchat may require a larger audience like booking sponsored content campaigns, other opportunities like Snapchat Spotlight don't require you to have any followers at all.
2. Do you get paid for Snapchat views?
Yes, you can get paid for Snapchat views through the Snapchat Spotlight program. Once you submit your video to Spotlight, if you receive a high number of views, you may be eligible to get paid through the program.
Here are some examples of Snapchat users that have made money based on the high number of views their Snapchat Spotlight videos received:
Snapchatter Sarati gets paid $1 million in 3 months
A teenager makes a life-changing $1 million using Snapchat Spotlight
3. How much money can you make on Snapchat?
You can make a lot of money on Snapchat.
Snapchat's Spotlight program pays out millions per month to its users. You can also earn unlimited money selling products, managing ads for your company and clients, and through Snapchat sponsored content.
There are so many ways to make money with Snapchat. The sky's the limit!
Final Word
The bottom line is, there's definitely money in using Snapchat, regardless of the business model you choose to pursue.
Whether you're using the social media platform to drive traffic to your own business or you help clients with Snapchat ads or use Snapchat Spotlight, there are many ways to utilize the app to make money online without paying.
If you're thinking about using Snapchat for a side hustle, I hope you got some good ideas from this article.
Which option would you pursue on Snapchat as a way to make money online?
Want to learn step-by-step how I built my Niche Site Empire up to a full-time income?
Yes! I Love to Learn
Learn How I Built My Niche Site Empire to a Full-time Income
How to Pick the Right Keywords at the START, and avoid the losers
How to Scale and Outsource 90% of the Work, Allowing Your Empire to GROW Without You
How to Build a Site That Gets REAL TRAFFIC FROM GOOGLE (every. single. day.)
Subscribe to the Niche Pursuits Newsletter delivered with value 3X per week