How To Get More Pages Indexed By Google (19 Easy Tips & Techniques)
When you buy something through one of the links on our site, we may earn an affiliate commission.
Learning how to get more pages indexed by Google is a wise decision because it helps your website rank in the search engines and gets people to visit your website.
More traffic means more sales, subscribers, and a better chance of building a successful website.
If your pages don't get indexed by Google (or any search engine), you're effectively invisible, and no one will get to see your content. That's why getting organic traffic from search engines is one of the most important things you can do as a website owner.
In this article, you're about to learn how to get your pages indexed by Google and other search engines to reap the benefits it brings.
Let's get to it.
What Exactly Is The Google Index?
The Google index is a database of information and webpages that Google uses to store information about other websites. It's almost like a library or an index to a book — it's a list of information constantly changing with new data and updates.
If Google crawls your entire site and discovers high-quality content, there's a good chance that the search engine bots will list the webpage in the Google index.
When you search Google with a query or request, you get a list of pages to choose from; this has come from the Google index (data) and is what they deem the most relevant to your search query.
Why Do You Need Google To Index Your Website?
You need to have indexed pages if you want more traffic.
Having more pages on your site indexed will result in more of your new pages showing up in the search results on Google when people search for keywords related to your content.
Asa mentioned above, organic traffic is free and one of the best ways to drive visitors to your website. It also encourages inbound links from other sites, raises your domain authority, and increases your website's popularity.
19 Techniques To Get More Pages Indexed By Google
Now that you know what Google's index is and how it helps your website show up in the search engine results, let's look at some techniques and strategies that you can use to get Google to index more of your pages.
The 19 tips and techniques below will help the search engine spiders crawl all your pages and tell Google that you have authoritative pages worth indexing.
Here they are.
1. Submit An XML Sitemap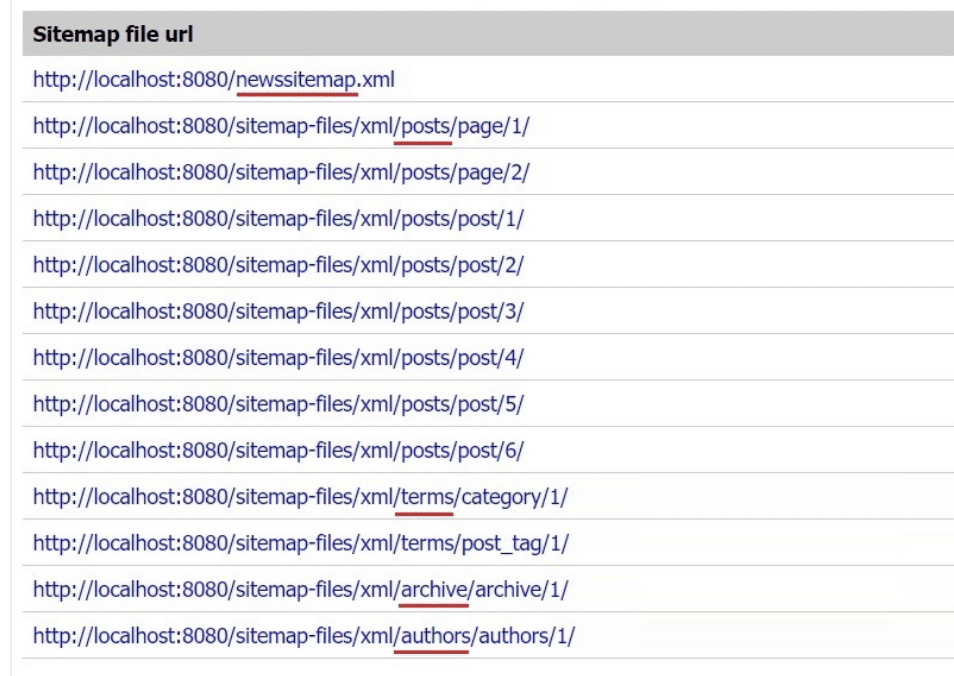 An XML sitemap is a file that tells Google about your website's pages and how they are all connected. It makes it easier for the search engine spiders to crawl through your site without solely relying on your internal links.
XML (eXtensible Markup Language) is a readable file for bots and humans and provides a list of the content on your site.
It's updatable and helps search engines to index your site.
It's pretty easy to add them, and if you use WordPress, you can use a plugin to simplify it even further.
Here are 3 plugins that will submit a site map. 
Sitemap by BestWebSoft: This plugin makes it easy for site owners to automatically get new pages indexed by adding an XML sitemap to your WordPress blog. It works with pages, posts, and custom URLs.

Yoast SEO Plugin: One of the most popular SEO plugins. You definitely should be using it for submitting your site map and its many other SEO features.

All In One SEO: Another great SEO plugin with many features to help rank your important pages. Adding a sitemap using the plugin is easy and done automatically.
Side tip: Once you have an XML sitemap created, you can submit it to the Google Search Console (see technique below).
2. Use Google Search Console

Google Search Console (once called Google webmaster tools) is a free tool provided by Google that lets you monitor your website's SEO and site health performance.
For example, you can monitor your Google search results, indexed pages, various site metrics, etc.
However, some of the primary purposes of using the Google Search Console (GSC) are submitting and testing XML sitemaps and checking for broken links and errors that could be stopping your relevant pages from being indexed.
The Google Search Console is a must-have tool if you want all the pages on your blog indexed, or at least most of them.
Google Search console also sends notifications of crawl errors to your email address and enables you to request indexing for any new pages you have created or updated.
You can also have multiple websites on the same Google account.
3. Using The Robots.txt File To Remove Crawling Blocks
Google indexing is typically a straightforward process as long as your site isn't blocking any crawl attempts of your internal links, files, or main web pages.
One popular setting that blocks the search engine from indexing your pages is the Robots.txt file.
Your web host may default the user-agent Googlebot to 'disallow' in some cases. However, doing so will block Google search from indexing your site.
To check if your site is doing this, you can run a search in the browser search bar for the following:
Yourdomain.com/robots.txt
If it displays something like the following, it's okay:

However, if you get the following or something similar back for your site, you should contact your WebHost and ask them to change this:

As you can see from the image above, the user agent (Googlebot) is set to disallow.
Run the search and see if this is what's blocking your valid pages from showing in the Google search results.
You can also find out if your Robots.txt is blocking the search engine from inside the Google Search Console.
The URL inspection tool inside the search console area will flag any errors preventing your pages from showing in the Google index.
4. Internal Links
Internal links are crucial for user experience and SEO. Google will follow your internal links looking for a good site structure and evidence of link value to your important pages.
When adding internal links, you should make sure they link to the most relevant pages on your site and that you haven't added too many internal links on the page. Doing this will help to index your site and inform the search engine about the most authoritative pages on your website.
Check out our post answering "How Many Internal Links Per Page Are Best?" for more information on this.
When you internally link with topical relevancy to the topic of the blog post you're linking from, it makes it easier for Google to index, trust and show your webpages in the search results for specific keywords.
5. Remove NoIndex Tags
Not every page on your website is needed to be indexed. For example, your download, category, and thank you pages are often set as NoIndex.
However, sometimes you may have NoIndex tags for posts you're unaware of. As a result, this will be stopping the search engine from displaying the blog post in the search results.
You can run website audits, use a plugin, or use the Google Search Console to check for webpages with NoIndex tags. When you find them, remove them and request indexing again from within the search console.
6. Build High-Quality Backlinks
Having high-quality backlinks from authority websites will also help get your pages listed in the Google index. In addition, backlinks from trusted sites will have your pages ranking higher and improve the DA score of your site over time.
With a higher DA score and trusted authority, your new blog posts will feature a lot faster in the Google index and provide more substantial link value to your internal links.
7. Remove Nofollow Tags
If you have any Nofollow internal links or some inbound external links with the Nofollow tag, it could be affecting the content from showing in the search results.
Nofollow tags are helpful for affiliate links, but typically you want to remove the Nofollow tags, especially for your internal linking.
Go through your links using the search console and remove the Nofollow tag for those that don't need it. You can also view the links on your website by visiting the page, right-clicking, and selecting View Source.
8. Create a Content Sitemap
An XML site map is excellent for SEO, but did you know that a content sitemap is also beneficial for getting Google to index your site faster?
A content site map is typically an HTML list of pages displayed for the reader to find content on your site. Plugins can make adding them a simple process, and they are updated every time you create a new page or blog post.
The content sitemap typically links from the footer of your website and gives Google another route to crawl your website, hopefully resulting in your webpages being listed in the Google index.
It's like a map of all your internal links.
9. Check Canonical Tags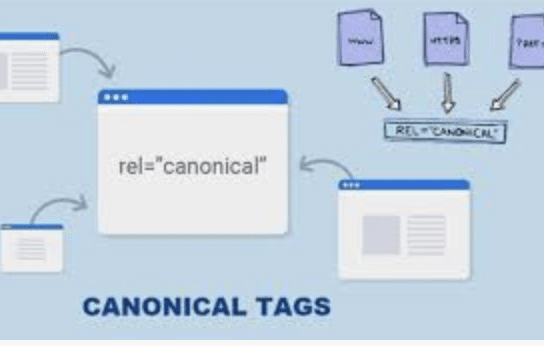 A canonical tag informs the Google Index that there's another important page that should be indexed instead of this one.
So even if the search engine can't locate the alternative page, it still won't index the website page with the canonical tag.
You can check for canonical tags using the Google Search Console's URL inspection tool. The URL inspection tool will show how many pages on your site have a canonical tag.
Enter your site URL inside the tool, press enter, and it starts to search the Google index. The URL inspection tool will display a warning message informing you of any canonical tags.
10. Create Quality Content
Creating quality content is another way to get Google to index your website faster. The pages Google wants to display in the search results are those with the highest quality and informative content for the readers.
If you produce quality content, you will naturally receive better quality backlinks, shares, and comments, and as a result, you will see your page showing higher up on the search engine results.
Pro Tip: Check that you have no duplicate content on your website because this can also stop the search engines from indexing your website. Use the search bar on your website to check for duplicate titles or keywords you're targeting; if you find any, update the post, and request indexing again for the URL.
11. Use Stats In Content (Use HARO)
Adding stats to your content is a great way to get more people to share and link to your site.
HARO (Help a Reporter Out) is a free platform to help reporters (journalists) find useful stats for their articles. If they select your stat, they will link back to the source, often from a high authority website.
More backlinks from these types of sites will tell Google that you're a trusted source, resulting in them indexing your pages faster.
Encourage your readers to share your content on social media. Although there's no direct ranking factor, social media does help with SEO.
For starters, it can help boost the content on your site and even give a traffic spike to an entirely new site.
In addition, it can add more backlinks and build trust, which can have a good effect on the trust of your website, which Google will recognize over time, and index pages faster on your site.
13. Use Low Competition Keywords
The next tip is a simple but powerful way to index your webpages.
Instead of targeting high competition keywords to create content, you should consider targeting low competition words.
You'll stand a much better chance of being indexed for a keyword with little or no site ranking than going after a colossal keyword with many authority sites already ranking for it.
Use tools like RankIQ (check out our RankIQ review), Ahrefs, and Ubersuggest to find low-targeted keywords.
All you do then is create content, and you should notice your webpages are indexed much easier and quicker.
14. Submit To Web Directories For Faster Indexing Of Pages
You can get your website pages indexed quicker by submitting your site to trusted web directories. The key is only to use the directories with high rankings and authority.
For example, the list below displays a few trusted directories to consider:
BOTW (Best Of The Web)

Blogarama

Bing Places

Google Business Profile

Yelp

Spoke

Alltop
If you add your RSS feed and website to the sites above, your content will be updated automatically, and because you're only using high DA and trusted sites, it should help you get your pages indexed.
15. Guest Blog On Authority Sites
I mentioned above how high-quality backlinks to your own website can improve your trust, DA score, and rankings on Google. When your rankings are improved, Google will typically index your site faster.
A great way of getting more high-authority backlinks and valuable link juice to your site is to guest post on other authority websites.
Pitch your post ideas to high DA score sites related to your niche. If you can get a post on one of these trusted sites, you will have a powerful backlink that can help you get your pages indexed.
16. Use RSS Feeds (They Still Work)
RSS Feeds are still worth using, even though their popularity has decreased. With an RSS feed, you can update your readers with your content when they subscribe to your feed through a feed reader.
There are still plenty of people who don't like social media and don't want to give away their email addresses to website owners, so for them, subscribing to an RSS (Really Simple Syndication) feed is a great way to stay updated without worrying about privacy or spam concerns.
You can add your feed to Feedburner (Google-owned), and whenever you have updated content on your blog, Feedburner will notify Google that your content is ready to be crawled by the bots and indexed.
17. Use Content Pyramids
Siloing content is still effective, but did you know that many savvy marketers and SEO experts are now using content pyramids instead?
It's similar to siloing in that you create keyword hubs containing content; however, the difference is that you can link to another cluster of keywords if it's semi-related.
For example, suppose a blogger used a silo approach to create content for a kitchen appliance blog. In that case, the silo structure will only include a cluster of, say 'silver toasters.'
However, if they use pyramid clusters, they can link off to 'silver kettles' in another cluster.
How does this help with indexing?
It helps with indexing because it provides an easy path for the search bots to interlink through your content. While siloing content is still helpful for getting your content indexed, pyramids offer a better solution because they interlink to other topics when relevant.
A pyramid structure provides a better user experience, more link paths for the search bots, and an overall better chance of getting your pages indexed.
The pyramid starts with your top pages (important ones) and links down to related pages like a pyramid.
18. Improve Your Page Load Time
Google will index more of your pages if the load time is within a specific range. If you have a lot of resources, CSS, Javascript, and un-optimized images, your website will be slow and sluggish, affecting SEO rankings and indexing.
Minimize resources using a plugin like WP Total Cache and optimize your images before posting them on your blog.
You can also add a few other tweaks using optimization plugins, which will help the search engine bots to go through your website.
If you don't do the above, you will use up your crawl budget before Google has time to crawl all your pages, and this will result in your site not getting crawled as much as you would like.
Below are a few tips to speed up your site:
If you're using WordPress, make sure your theme is SEO-ready, fast loading, and mobile-responsive

Optimize images with a plugin or image optimization tools online

Use an optimization plugin like WP Rocket, WP Total Cache, or ask your web host about any available optimization features and caching included with your hosting

Regularly check your page speed score using Pingdom, GT Metrix, and Google Insights.

Don't use too many plugins
19. Ping Your Site For an Index Boost

You should still ping your site (especially if using RSS and web directories). This will notify the directories and feed sites that you have updated content.
It's a simple process:
Visit Pingomatic.com, enter the site name, the home page, and RSS feed, and press the Send Pings button.
That's it; you have just pinged your site, which will help with indexing.
How To Check If Your Pages Are Indexed
There are a few methods for how to check which pages are indexed by Google.
Two of them require a simple site search on Google using 2 commands, while the others use Google Search Console's coverage report and Google Analytics.
Let's start with the most straightforward methods.
Go to Google and search the following (one at a time):
site:yourwebsite.com

site:yourwebsite.com/slug
For example, if your website were CNN, you would search 'site:cnn.com' or 'site:cnn.com/ecommerce site.'
Doing this will display a list of pages indexed in the Google search engine like below: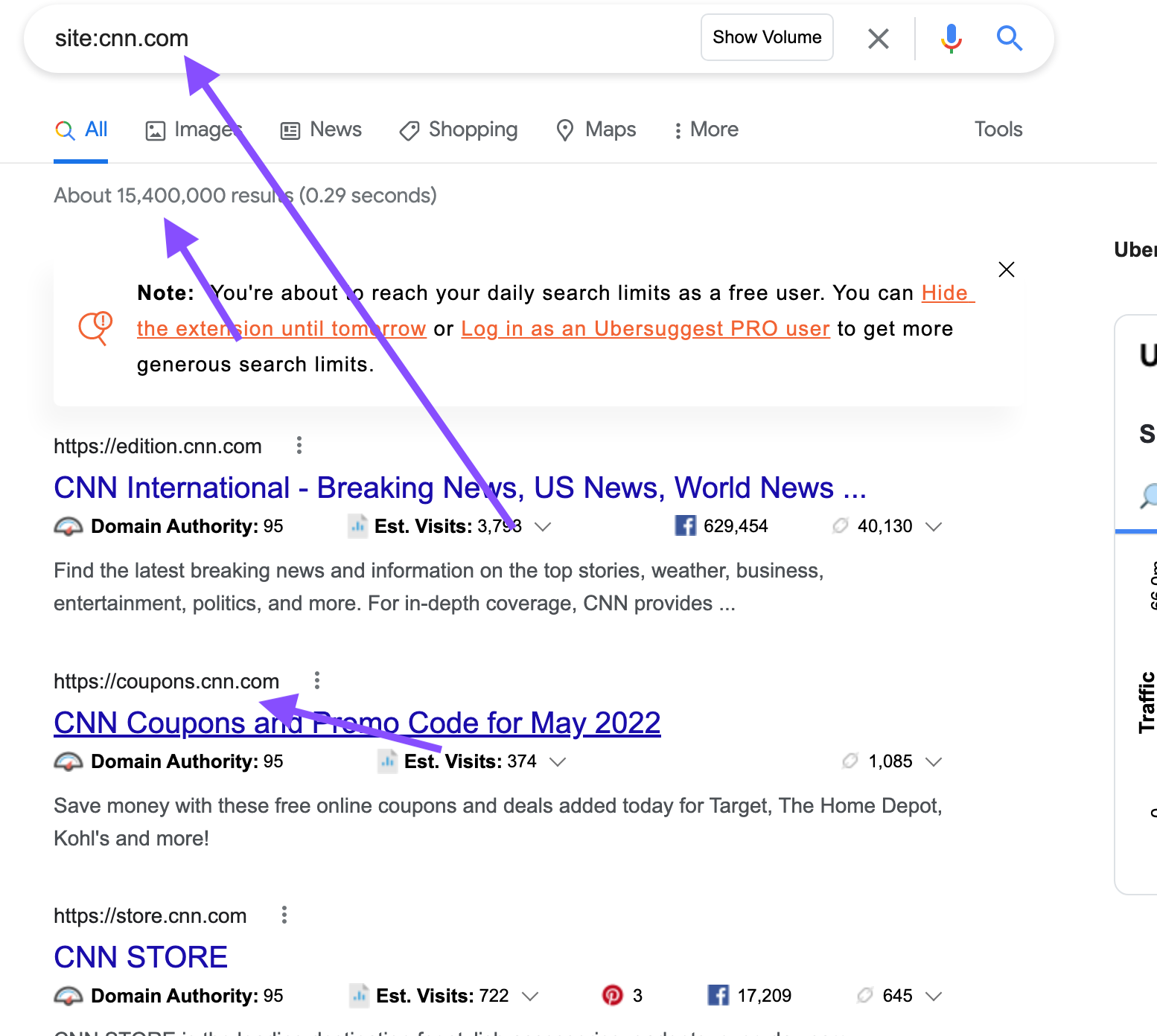 Another way to check is to use Google Analytics.
Add your site to the web performance tracking tool, and when you sign in, you will see data related to your website's traffic.
If you notice significant traffic to any pages from Google, you'll know that the page must be indexed.
However, you can also use the Google Search Console coverage report to be sure.
Sign in to GSC (Search Console) and select Coverage in the index section of the tool. The Coverage section will display a box telling you how many indexed pages are on your site.
How Do I Get Google To Index My New Website?
To get a new website indexed on Google requires the following:
Patience

Quality content

Backlinks

Good internal linking site structure

No SEO errors

XML sitemaps

Google Search Console
How Do I Force Google To Recrawl My Site?
You can request indexing for your updated or new content inside Google Search Console. Locate the URL inspection tool, paste the full URL into the search bar, and press enter.
After a minute or 2, you should receive a message similar to the one below: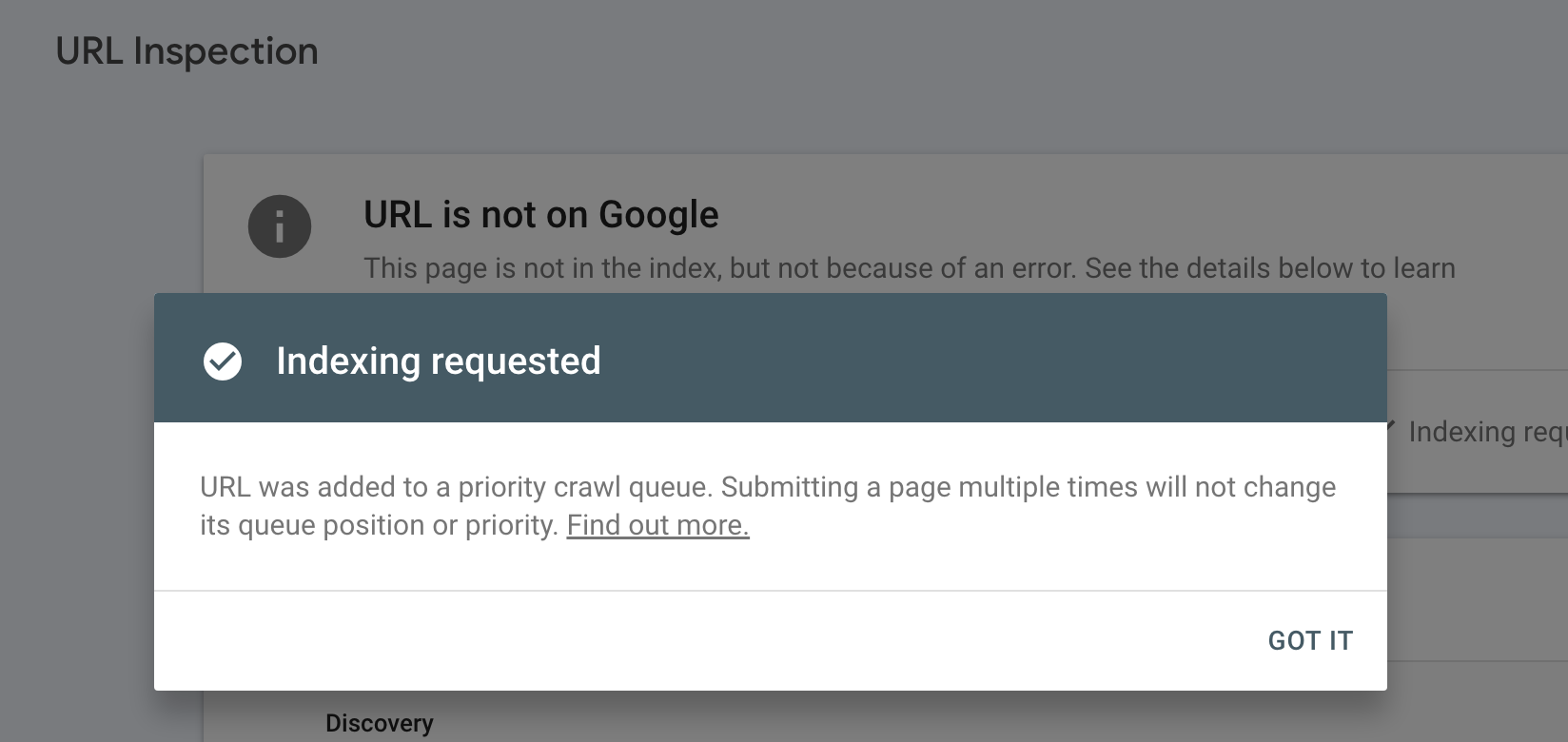 Again, if you use an XML sitemap, you can do this for your pages, posts, or an entire website.
Another way to get Google to recrawl your site is to focus on external and internal backlinks.
How To Avoid Getting Deindexed
Getting indexed by Google is crucial for website owners, but sometimes people overdo it or use black hat tactics that will get you deindexed.
Below is a list of things to avoid if you don't want to get deindexed:
Broken links

Duplicate content

Keyword stuffing

Spam links

Low-quality pages with little or no content

Too many internal links on a page

External links from PBN sites

Too many errors
Final Thoughts On Getting Indexed By The Search Engines
Getting your website indexed is essential for many reasons, and hopefully, the advice, techniques, and tips mentioned here will help you out.
The most important thing to get your pages indexed is to sign up and claim your site (property) in the Google Search Console.
After that, it's all about making sure you have no technical errors, spam links, or poor-quality content.
As long as you stick to the rules, listen to Google's suggestions inside the Search Console, and apply the advice in this article, your website pages should start to get indexed pretty fast.
Use as many techniques and tips as possible, and don't rule out using RSS feeds or web directories because these are still useful for indexing.
Want to learn step-by-step how I built my Niche Site Empire up to a full-time income?
Yes! I Love to Learn
Learn How I Built My Niche Site Empire to a Full-time Income
How to Pick the Right Keywords at the START, and avoid the losers
How to Scale and Outsource 90% of the Work, Allowing Your Empire to GROW Without You
How to Build a Site That Gets REAL TRAFFIC FROM GOOGLE (every. single. day.)
Subscribe to the Niche Pursuits Newsletter delivered with value 3X per week