How to Contact Amazon Sellers: An Easy 5-Step Guide For Buyers
When you buy something through one of the links on our site, we may earn an affiliate commission.
It's important to know how to contact Amazon sellers in case you have a question or issue with your order. Whether you need to ask about shipping times, inquire about the product itself, or resolve an issue with your purchase, being able to contact sellers directly can save you time and frustration.
So, let's get your burning questions answered and your issues resolved with seller support on Amazon.
Learn How to Contact Amazon Sellers in 5 Simple Steps
There's no big red "Contact Seller" button on Amazon. So, how do you go about reaching out to the seller? Don't worry; it's quite simple to get Amazon seller support.
Just follow these five easy steps:
1. Find the Seller on the Product Page
First, you'll want to find and click on the Third-party seller's name. This can be found on the product details page. This will be located below the "Buy Now" and "Add To Cart" buttons on the right side of the product page.
2. Click the "Ask a Question" Button
This will bring you to the "About Seller" page. In the top right corner, it will say, "Have a question for this company?"
Click the "Ask a Question" button below this text to reach seller support.
3. Follow the Prompts In the Chatbox
Now you've opened the Seller Messaging Assistant. You'll be prompted with automated questions about the product listings to further clarify what you're reaching out about. Go ahead and follow the chatbot prompts.
4. Select "Something Else" If You Don't See Your Issue
If the chatbot options don't apply to your question or issue, select "Something else."
5. Send Your Message to the Seller
Once you've finished sharing your details in the message center, you'll be able to enter your message in the text box. Make sure to include as much detail as possible and click "Send."
How Will I Know If the Seller Responds?
Once you've reached out to Amazon seller support, you will receive an email notification when the seller responds. You can also check for responses in your Amazon account by navigating to the buyer-seller messaging service.
The Buyer-Seller Messaging Service on Amazon.com allows you to view past interactions, reply to seller messages, and send attachments.
With your Amazon account, you can smoothly communicate with sellers, discuss product details, or address issues. You can send text, PDF, images (.jpg, .gif, .png), and Word (.doc, .docx) files as attachments, provided the total message size doesn't exceed 10 MB.
This is helpful if your item is damaged or if you notice a broken piece or something missing that was supposed to be included.
This service makes contacting Amazon seller support efficient and straightforward and allows you to send your message to the seller at any time of the day.
How to Access Buyer-Seller Messaging Service
The Buyer-Seller messaging service is where you manage all of your communications over time. So, in addition to learning how to contact Amazon sellers, it's important to learn how to navigate this page.
Here's how:
1. Select "Account" From "Accounts & Lists" Dropdown
First, start on the Amazon homepage. In the top right side panel, click "Account & Lists" to open your customer page.
2. Select "Your Messages"
Now, look for the "Your Messages" button on the lower-right side of the menu and click it.
3. Select "Buyer/Seller Messages"
This will take you to the Message Center. You'll notice 2 tabs at the top of your inbox. Click the tab labeled "Buyer/Seller Messages". This message box will take you to any correspondence you have between you and an Amazon seller.
Note that you can also access sent messages in this section of your Amazon account.
How Long Will It Take for the Seller to Respond?
When you send a message to a seller on Amazon, you can typically expect a response within 2 days. This timeline may vary depending on the seller's responsiveness and their Amazon business operations.
The timezone of the Amazon seller account may also play a factor in response time, as they could be located in a different country. Keep this in mind when waiting for a seller to respond.
How to Contact Amazon Sellers After Placing an Order
If you've already purchased a product through your Amazon Account, you may want to communicate about your order with the seller. This is a bit different from general inquiries about products.
Follow these steps:
1. Go to Returns and Orders in Your Account
Navigate to the upper-right-hand of the Amazon home page. Select the "Returns & Orders" button.
2. Click the "Problem with Order" or "Help" Button
Look for the specific product you have an issue with and need to contact the seller. Click either the "Problem with Order" or "Help" button that can be found next to other product information.
It's helpful to note that this is also where you can leave feedback for the seller by clicking the "Write a product review" button.
3. Select the Item You Need Seller Support For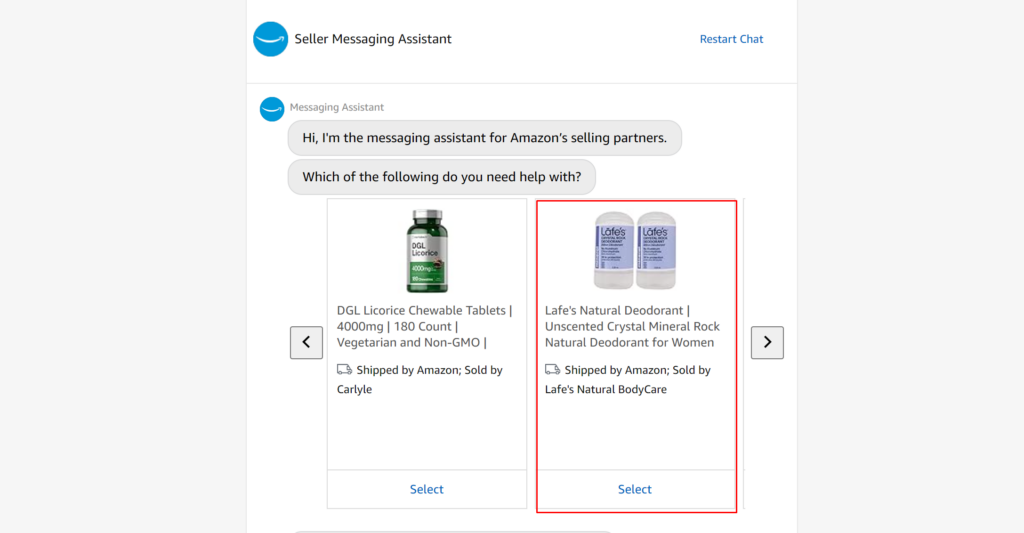 Now, you'll be brought to the Seller Messaging Assistant. Choose the product listing that you want to send a message to the seller about.
The chatbot will then ask: "Which of the following do you need help with?" and provide a drop-down menu of items. Select the one most appropriate to your inquiry.
4. Send Your Message
After clicking a few prompts to clarify your request to Amazon customer support, you'll be able to send your message to the seller via the chatbox.
Guidelines For Contacting Amazon Sellers
When you contact Amazon seller support, it's important to keep a few guidelines in mind to ensure smooth communication and resolution of your issue:
Be polite and respectful in your messages.
Clearly state your issue or inquiry with as much detail as possible.
Avoid using all caps, excessive exclamation points, or emojis.
Use proper grammar and spelling.
Do not use foul language or make personal attacks against the seller.
Be patient and understanding, as sellers may have different response times and may need time to address your issue.
Refrain from giving personal contact details such as your phone number, direct email, or home address, other than what's been included in your shipping and billing information.
Keep all communication within the Amazon platform to ensure buyer and seller protection.
Following these guidelines will help ensure a positive experience when contacting Amazon seller support and increase the chances of resolving your issue efficiently.
Reasons You May Need To Contact an Amazon Seller
The seller support team at Amazon is available to assist with various inquiries and issues that may arise during your shopping experience. Some common reasons you may need to contact an Amazon seller include:
Requesting more details about a product, such as measurements or materials used.
Asking if a sold-out item will be restocked in the near future for customers
Inquiring about the shipping process and delivery details.
Addressing issues with the condition of the item upon arrival.
Asking a specific question about the company's team and selling practices.
If you have more questions about warranty coverage or want to activate a warranty.
You can contact Amazon customer support directly if you need to make any changes to your order, such as canceling or changing the shipping address.
It's also a good idea to contact Amazon directly if you feel the Amazon seller has violated any of Amazon's policies or if you have concerns about fraud or suspicious activity. In these cases, it's best to report the issue directly to Amazon for investigation.
Fake review checkers can further help you navigate the seller's reputation and product quality if you feel that there's any behavior that's not up to Amazon standards.
The Bottom Line: How to Contact Amazon Sellers in 5 Simple Steps
It's easy to figure out how to contact Amazon sellers with the steps outlined in this guide. Through these five simple steps, you can communicate effectively with sellers, resolve issues, request refunds, or get additional information about a product.
Your hard-earned money is valuable, and Amazon wants to ensure that you have a positive experience with their sellers. So, if you ever encounter an issue with an Amazon seller, don't hesitate to reach out for support through your Amazon account.
Want to learn step-by-step how I built my Niche Site Empire up to a full-time income?
Yes! I Love to Learn
Learn How I Built My Niche Site Empire to a Full-time Income
How to Pick the Right Keywords at the START, and avoid the losers
How to Scale and Outsource 90% of the Work, Allowing Your Empire to GROW Without You
How to Build a Site That Gets REAL TRAFFIC FROM GOOGLE (every. single. day.)
Subscribe to the Niche Pursuits Newsletter delivered with value 3X per week