How Healthline Reaches 218M Visitors A Month With Laser-Focused User Intent
When you buy something through one of the links on our site, we may earn an affiliate commission.
If you are one of the millions of people looking for health and wellness tips, there is a great chance you've come across healthline.com.
Founded in 2006, the website has seen sustained growth securing authority and the top spot on the Internet in the health niche. 
So let's dive in to learn more.
How Much Traffic Does It Get
Today, Healthline attracts 218M visitors per month. 
Source: Ahrefs
From the very beginning the website has focused its efforts on building a team of medical professionals working tirelessly to provide high quality information on healthcare and medicine topics. 
Today, this mammoth of a website is among the most renowned and respected online businesses that set the benchmark for top quality healthcare content.
Main Competitors
The main competitor of Healthline is webmd.com which it has surpassed by millions in traffic.
Source: Ahrefs
How Healthline Gets Their Traffic
A quick look at SimilarWeb tells us that the site gets 88,47% traffic from organic search (although you may want to compare data with these Similarweb alternatives).
Source: Similarweb
What Keywords Does Healthline Rank For
According to Semrush, Healthline goes after non-branded keywords related to diet, such as "keto diet."
Source: Semrush
Based on Ahrefs we can see top keywords related to diet such as "mediterranean diet." Not only that, the site also ranks no.1 for "cbd oil" – a controversial topic widely talked about across the web.
Source: Ahrefs
Moving even further, it's no wonder that Healthline captures the attention of millions as it also ranks no. 1 for "chest workouts" which goes into the very popular sports and training territory.
The non-branded terms are focused on user intent and solving their problems with nutrition as well.
What Are Their Top Rankers
Their top 4 ranking pages are all "how to" articles targeting people who need quick and easy to follow instructions on how to solve their health issues.
Source: Ahrefs
What Keyword Ranks No. 1
Interestingly, their top ranking page is for "rashes" – a very painful and difficult topic to talk about.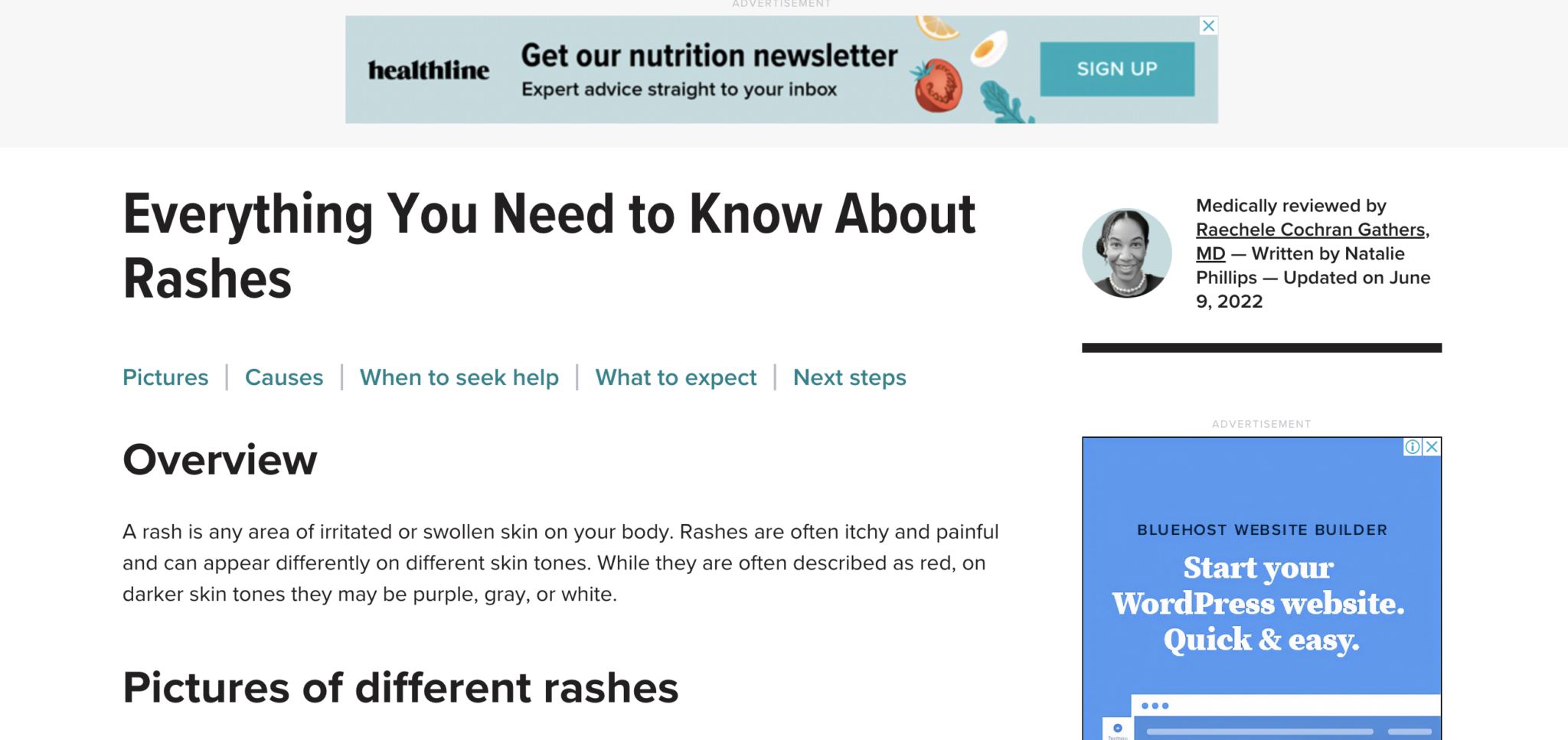 Yet, they have covered it very well giving a long list of all types of rashes with bullet points summarizing each one. 
On top of that, they talk about things that might cause rashes and how to possibly treat them. 
The reason this works so well is that they provide a lot of actionable information that is highly relevant to the topic of rashes. They also answer the burning questions people might have solving real problems in the process.
Social Statistics
With over 300,000 followers on Facebook, Healthline gets nearly 40% of their visitors from the Meta giant.
Source: Similarweb
Does Healthline Go Viral?
Yes! Wondering what is it about?
Well, to no surprise, it's about weight loss! The most shared post across Twitter and Pinterest from Healthline is about weight loss.
Source: Ahrefs
What Are Their Most Powerful Links
Apart from numerous links from wikipedia (DR86) and websites with the highest DR in the world (all the way up to 98 from Google), Healthline receives a ton of backlinks from medicalnewstoday (DR91) – its top media partner which already ranks in the top SERPs. 
A truly unbeatable setup here.
What Is It Built With
Healthline.com runs on WordPress. If you want to expand or migrate the website it's quite easy to do with this tried and tested Content Management System.
How Much Does It Make
This health giant makes money from ad placements on their website, editorial content as well as affiliate partners.
Based on Similarweb, the website makes $100-$200M per year.
Words Of Wisdom From The Owner
David Kopp, the owner of Healthline.com believes that "The device really does matter. Almost half of our traffic comes from mobile devices,"
The outtake? Make sure you do everything you can do to deliver the best possible experience across all mobile devices.
Source: Youtube
Want to learn step-by-step how I built my Niche Site Empire up to a full-time income?
Yes! I Love to Learn
Learn How I Built My Niche Site Empire to a Full-time Income
How to Pick the Right Keywords at the START, and avoid the losers
How to Scale and Outsource 90% of the Work, Allowing Your Empire to GROW Without You
How to Build a Site That Gets REAL TRAFFIC FROM GOOGLE (every. single. day.)
Subscribe to the Niche Pursuits Newsletter delivered with value 3X per week