8 Similarweb Alternatives With More Effective Data For Your Digital Marketing Needs
When you buy something through one of the links on our site, we may earn an affiliate commission.
If you like what Similarweb offers but have reservations about the tool, you should check out the best Similarweb alternatives in the market.
For starters, the tool is the premier market intelligence platform out there. It provides insightful data regarding your competitors' online traffic strategy to help you launch better online marketing campaigns.
At the same time, there's nothing wrong if Similarweb doesn't do it for you.
The beauty of digital marketing tools is that there are lots for you to choose from. And it's all about selecting software that provides you with all the information you need.
This post will tackle different tools that can do what Similarweb does. And by looking at each of their pricing and pros and cons, you can decide which of the Similarweb alternatives below suits your needs better.
The Best Similarweb Alternatives
We've compiled a list of the closest and best Similarweb alternatives for you here - have a look.
Semrush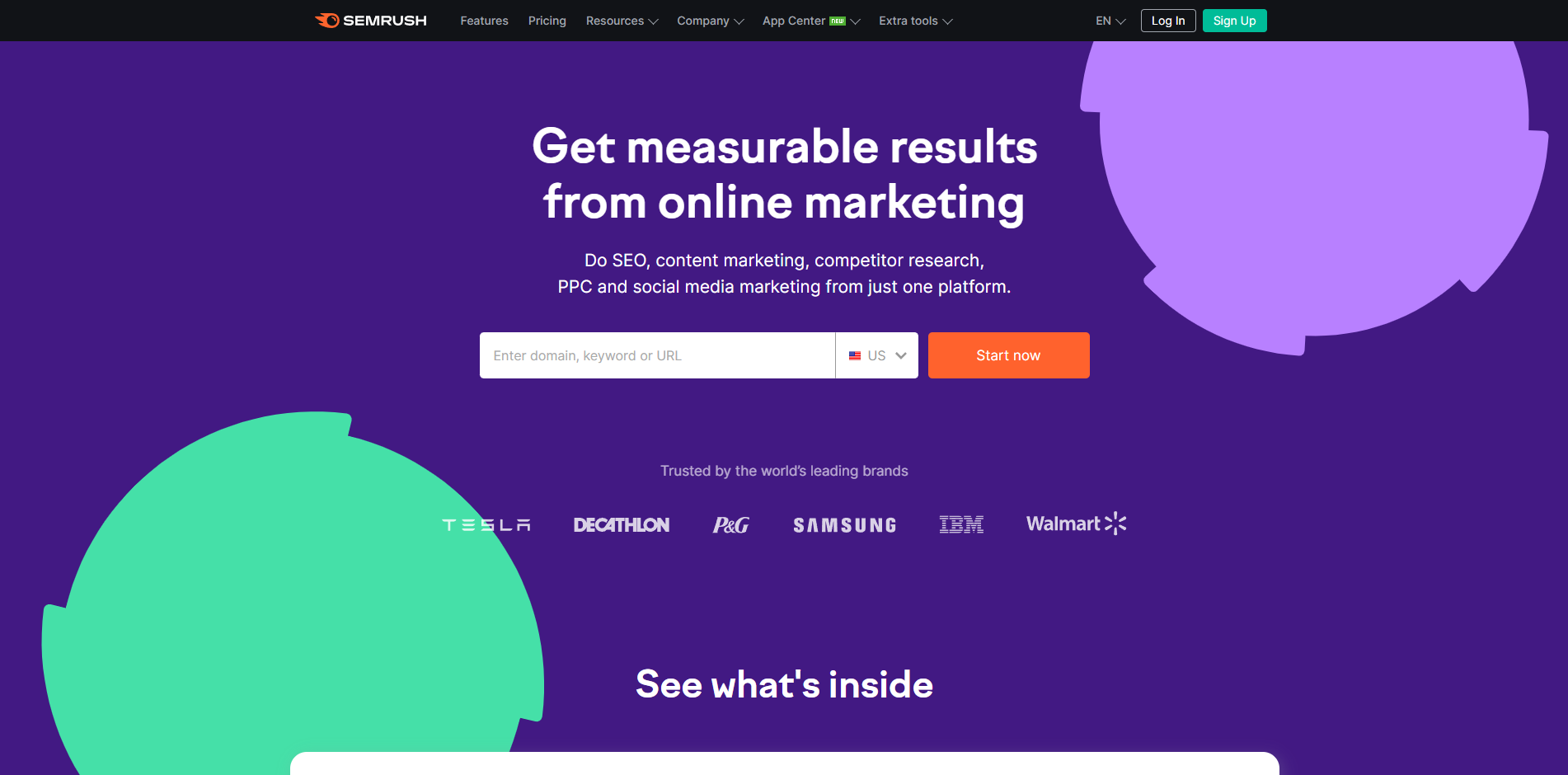 Semrush is one of the best Similarweb alternatives in this list. It's a competitive intelligence tool to help users develop a better SEO and digital marketing strategy.
The Domain Overview shows you a site's organic traffic, keywords (and the distribution of keyword intent), and link profile, among others.
If you want to get deeper insights about your competitors, use the Traffic Analytics feature.
It lets you compare and analyze up to five (5) sites simultaneously according to audience demographics, traffic channels, top pages, and more. The wealth of data you can get from this feature is comparable to Google Analytics.
Let's say you want a bird's eye view of your industry and market. Semrush's Market Explorer provides data about your industry's benchmarks, trends, and demographics.
You can also analyze your competitor's market share. It gives you ideas on how they get traffic from various acquisition channels so you can emulate them.
Pricing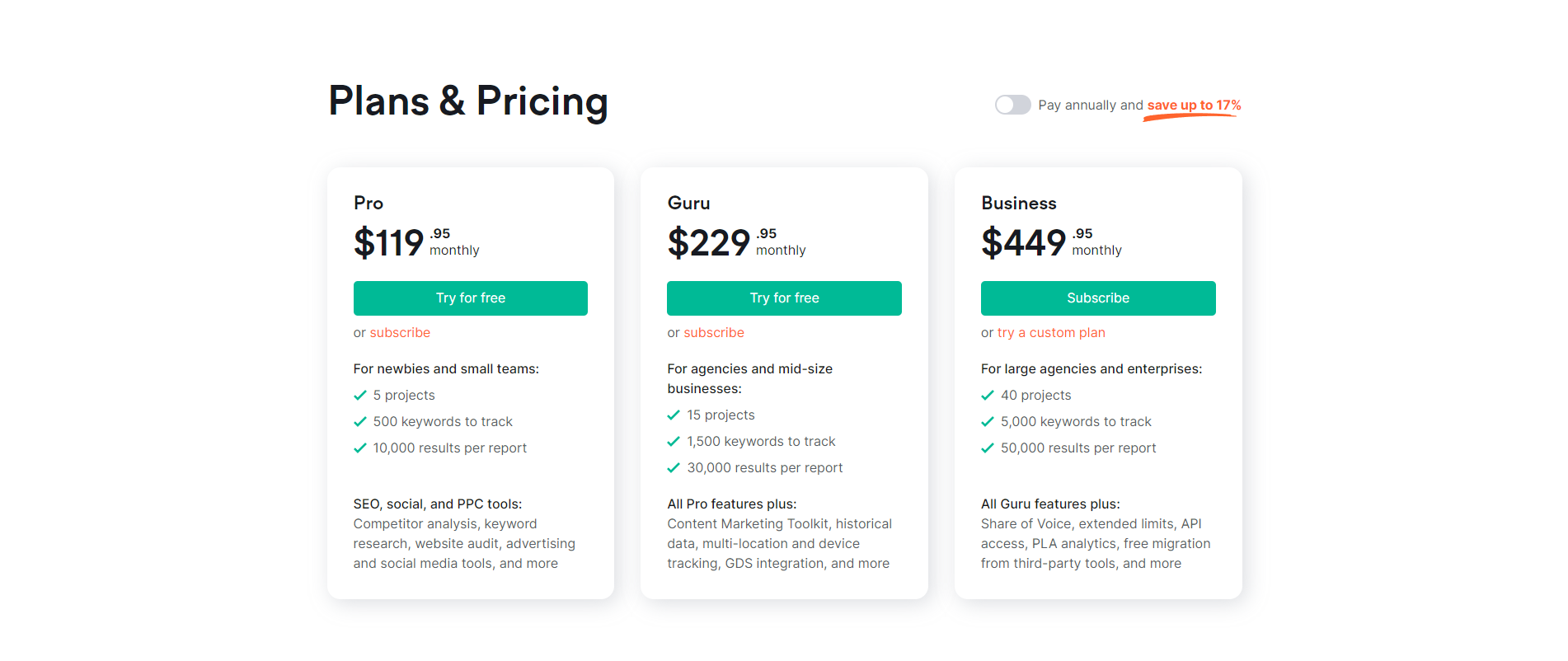 The basic Semrush plan starts at $119.95/month. It includes the Domain Overview, among other SEO features such as its Keyword Magic Tool, link building, and site analysis.
Higher plans, starting at $229.95/month, gives you access to its Content Marketing platform to help you develop a content strategy for generating tons of website traffic. It also lets you access historical data from 2012 for more insightful information.
If you want to use its Traffic Analytics and Market Explorer features, you must pay an additional $200/month per user on top of your chosen plan.
Pros and Cons
Pros
A robust tool with many features and use cases for website owners, agencies, and enterprises.
Cons
UI needs work as the volume of features available in this tool makes navigating the website difficult for beginners.
Find out more about content strategy in our Semrush review.
---
Ahrefs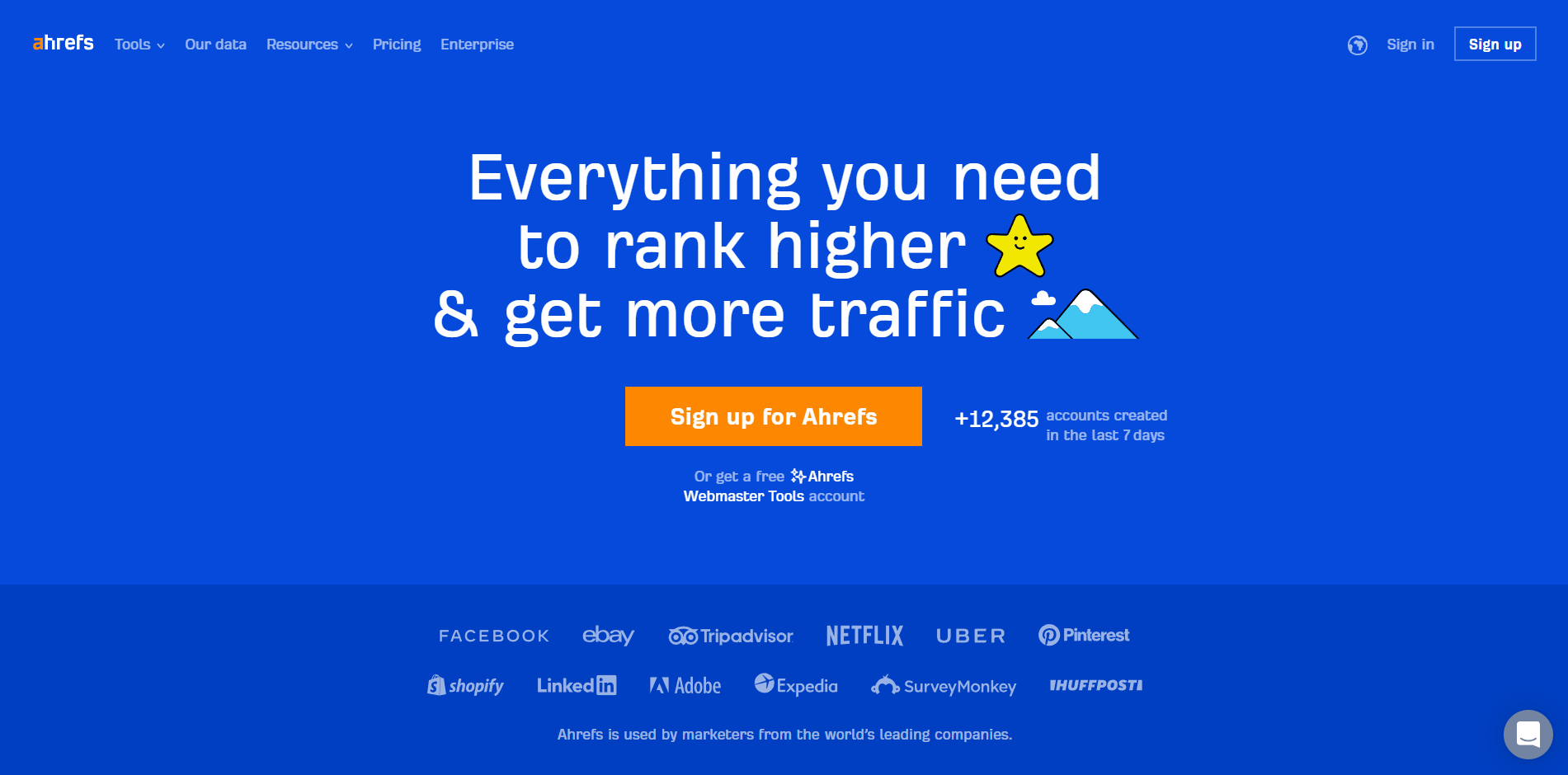 As one of the Similarweb alternatives, Ahrefs, similar to Semrush, remains at the top of the SEO heap.
It started as a backlink analysis tool to help site owners analyze their link profiles and find link building opportunities to improve their organic rankings.
Through the years, Ahrefs has become the complete SEO software in the market.
The tool's Site Explorer gives you a 360° view of your competitor's referral traffic performance by looking at its link profile.
From here, you can identify which links your competitors have your site doesn't. This allows you to build a campaign for acquiring these backlinks and grow your search rankings.
Its Content Explorer lets you analyze the top-ranking pages for your desired keyword and filter them according to SEO and social metrics.
Use the information to find low-competition topics to rank on your site and guest blogging opportunities for link building.
Read our Ahrefs review that covers the toolset in greater detail.
Pricing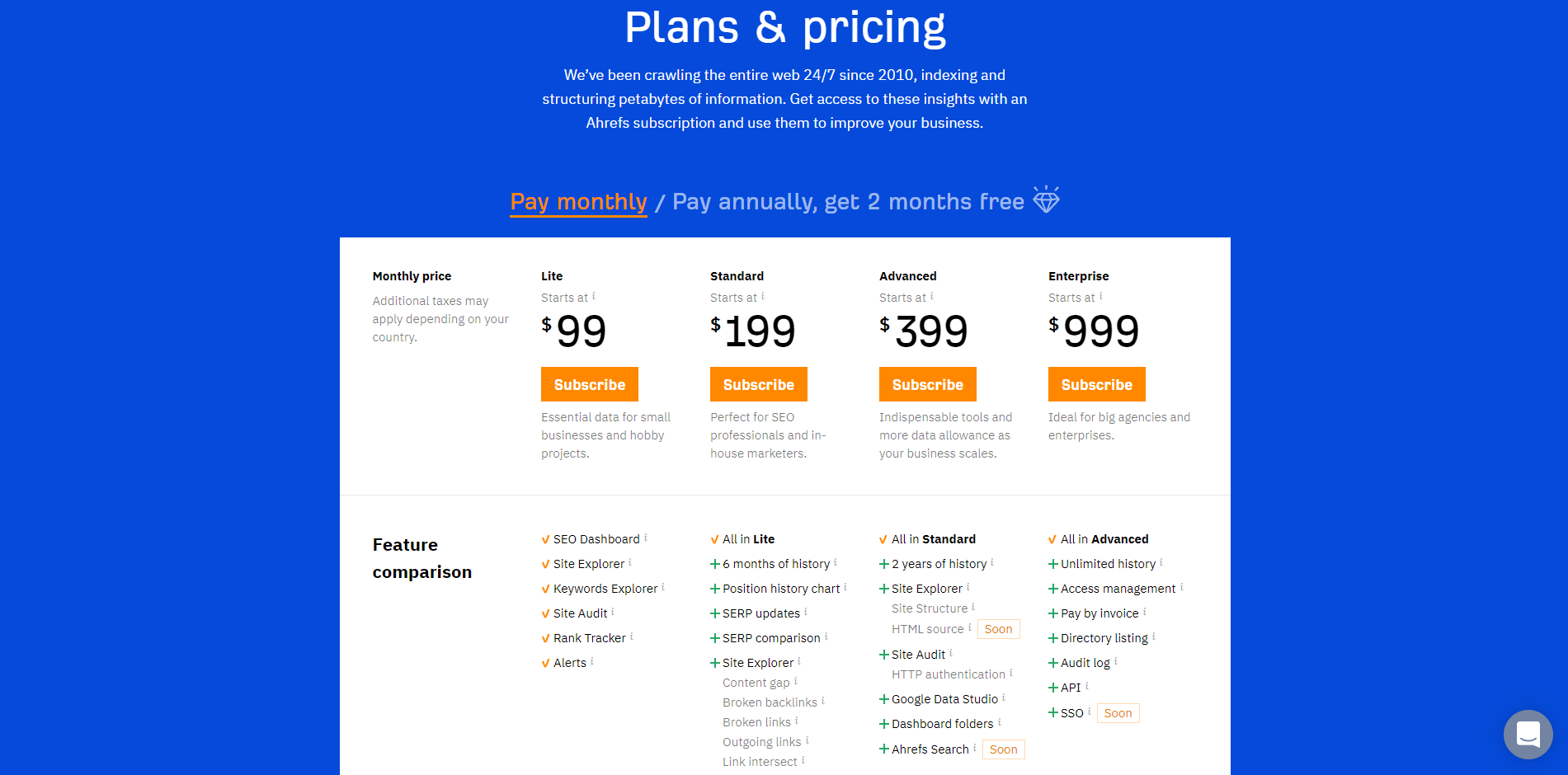 Ahrefs' plans start at $99/month ($999/month paid annually). You get access to its basic Site Explorer plus the following:
Keyword research tool - Unearth low-competition keywords.
Site audit - Analyze your site's technical SEO factors.
Rank tracking - Monitor your website's keyword rankings.
Higher plans starting at $199/month provide you with much better Site Explorer features such as:
Content gap - Identify keywords your competitors are ranking for, but your site isn't.
Broken links - Check websites for broken external links. Use this to replace broken links on your site and find broken links on your target sites for link building.
Link Intersect - Find links your competitors have but your site doesn't.
These plans also let you use the tool's Content Explorer features for better competitor analysis.
Pros and Cons
Pros
Provides extensive and up-to-date information for each website, which is vital for competitive research.
Its filtering options help speed up research and provide you with the information you need on the go.
Historical data that goes as far back as two years provides context regarding your competitors' performance for better research data.
Cons
Its credit limit hampers your experience with the tool. You must keep track of how you use the tool not to waste your credits and incur additional charges.
---
Moz Pro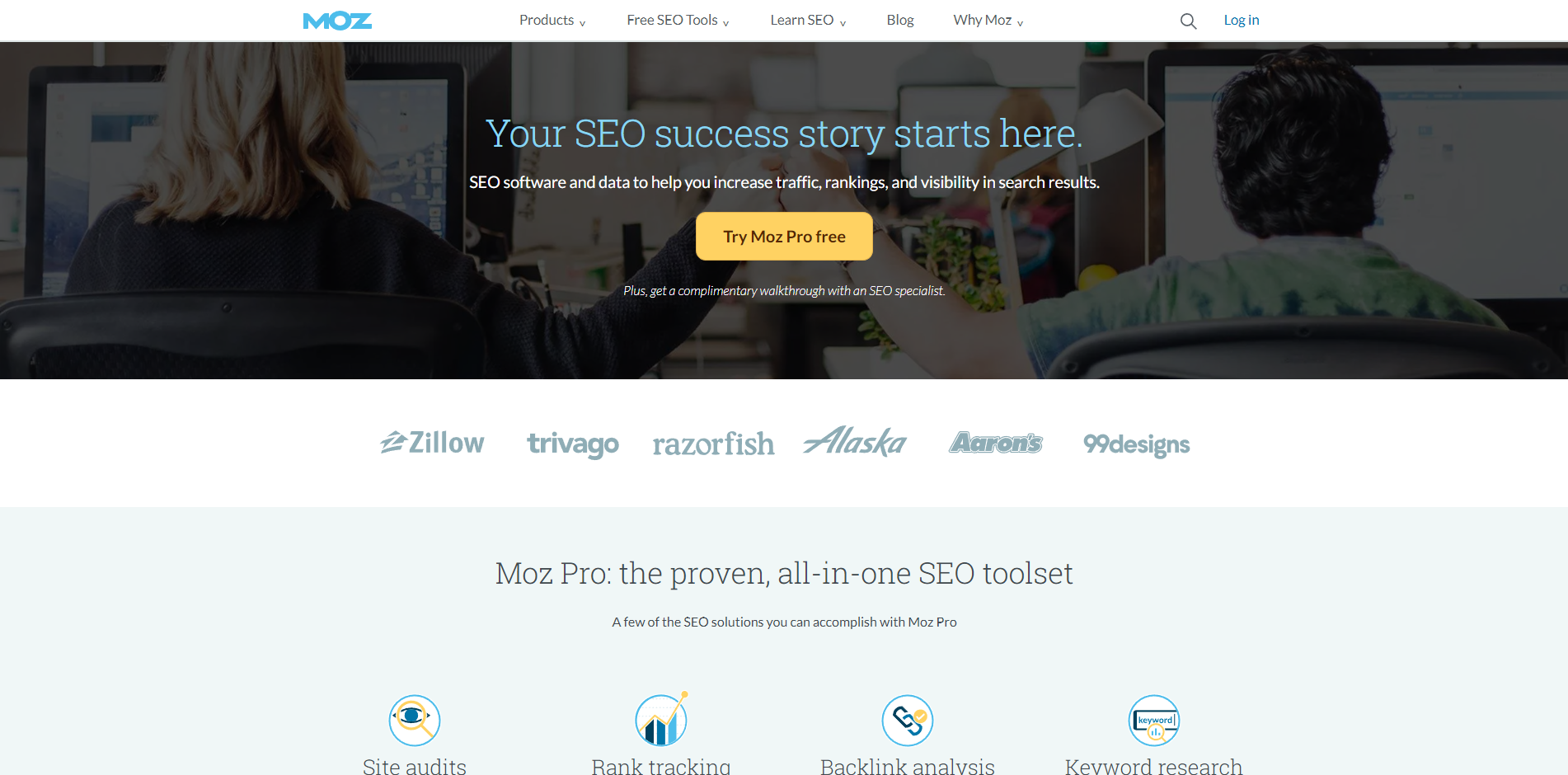 Moz Pro has been around for years and remains one of the best SEO tools in the market.
It provides online marketers with the Doman Authority (DA). It is a PageRank alternative that identifies the most authoritative websites based on their link profile.
Using this metric, you can filter websites with high DA to acquire backlinks and increase your organic traffic and rankings.
Moz's competitive research lets you type your domain URL to find your biggest rivals according to your keyword overlap, DA, and other factors.
Once you've identified your competitors, you can perform a keyword analysis gap. This lets you see search terms you can rank for that your competitors are at the top of SERPs.
Its link research feature gives you the lowdown of your competitor's backlink data. The tool lets you know which of their links is the best based on characteristics like anchor text, dofollow, and others.
Using this information, you can build similar links as your competitors pointing to authoritative sites. If you're analyzing your site's links, clean up toxic links to improve your site's ranking.
Pricing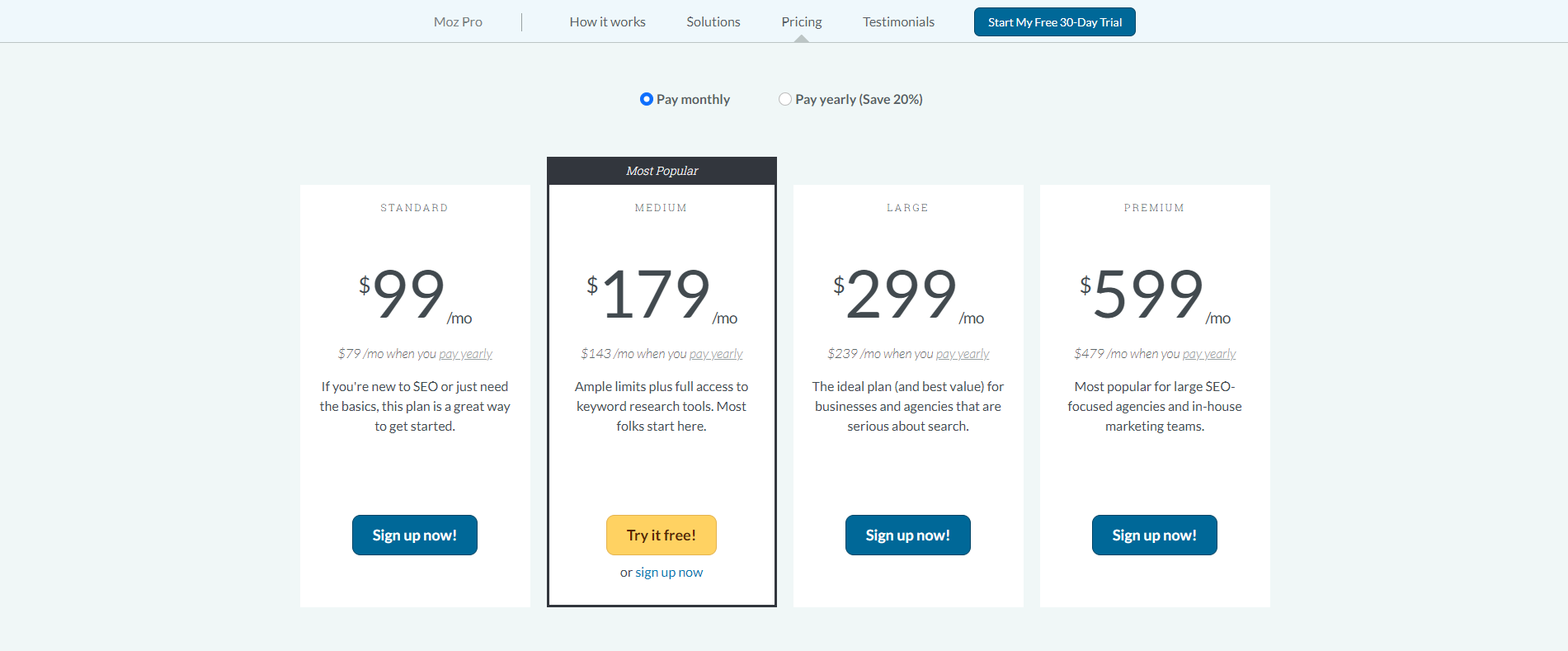 The lowest Moz Pro plan costs $99/month. It gives you access to all its features, including:
Keyword rankings - track website rankings of SERPs across various search engines and devices.
Keyword research -Identify keywords based on monthly searches and difficulty.
Branded reports - Create unlimited reports from templates to clients.
There's also Moz Local, a tool to help you improve your site's local SEO efforts. Prices start at $14/month for the US.
Pros and Cons
Pros
Generous limits on all its features. Also, users get access to all features without subscribing to a higher plan.
Cons
Only focuses on SEO.
Not enough features to perform competitor traffic analysis. For instance, there's no way to analyze a site's paid traffic strategy using the tool.
---
SE Ranking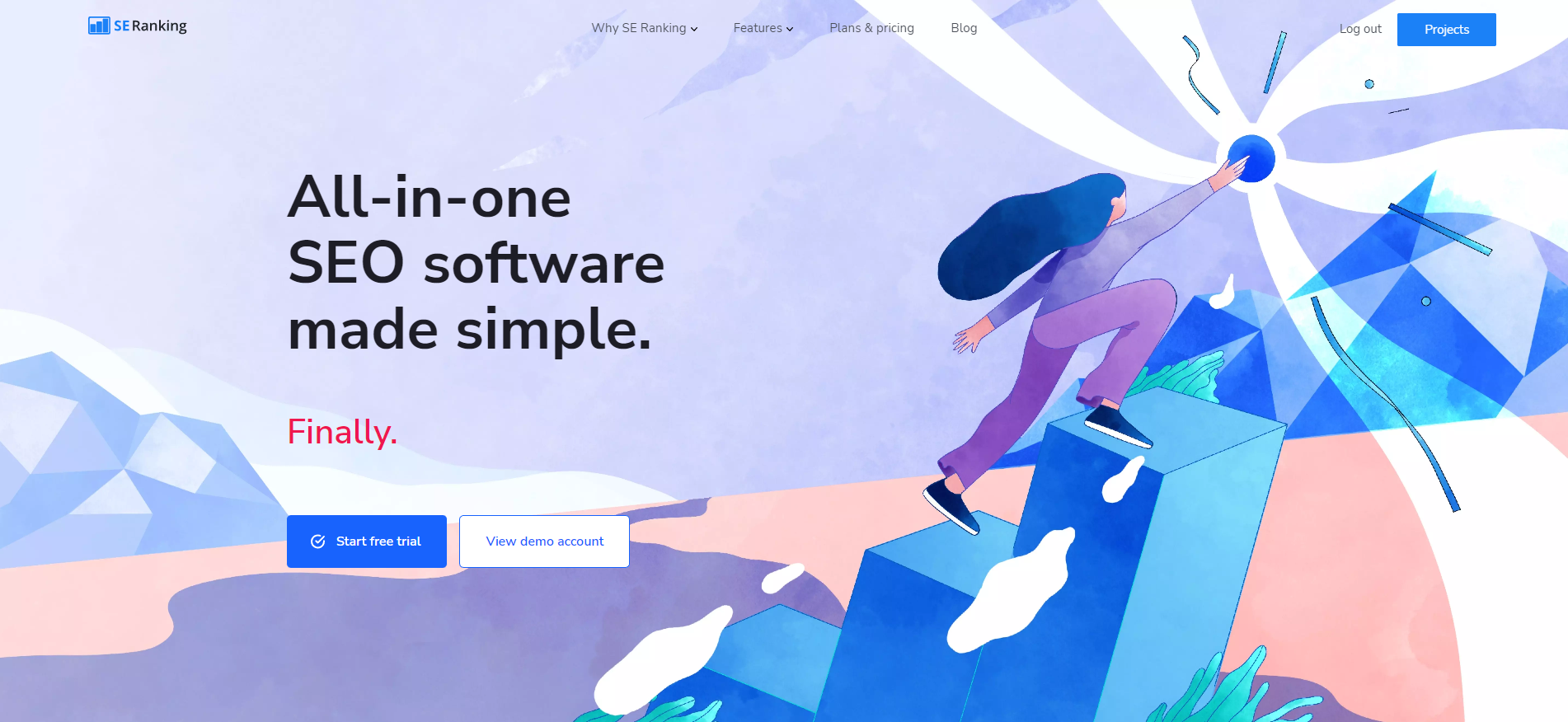 SE Ranking is a Similarweb alternative with a strong focus on keyword ranking and tracking. But it has competitor analysis features to help you understand how other sites get their traffic.
Enter your competitor's domain URL to see the following information:
Traffic distribution by country - Check the top countries referring the most organic traffic to the site.
Organic keywords - See the keywords that the site is ranking for at the top of SERPs. You can also view keyword changes over time to see which keyword positions increased or dropped.
SERP features - Identify the number of SERP features the site appears in.
Organic competitors - Find its top competitors based on their keyword overlap. There's also a visual semantics comparison of its competitors to help you see how competitive the site is compared to its contemporaries.
Paid ads campaign - View the keywords for which the site is paying ads and its top competitors. The Ads History shows you the ad count and traffic shares the paid keyword gets from its campaign.
Pricing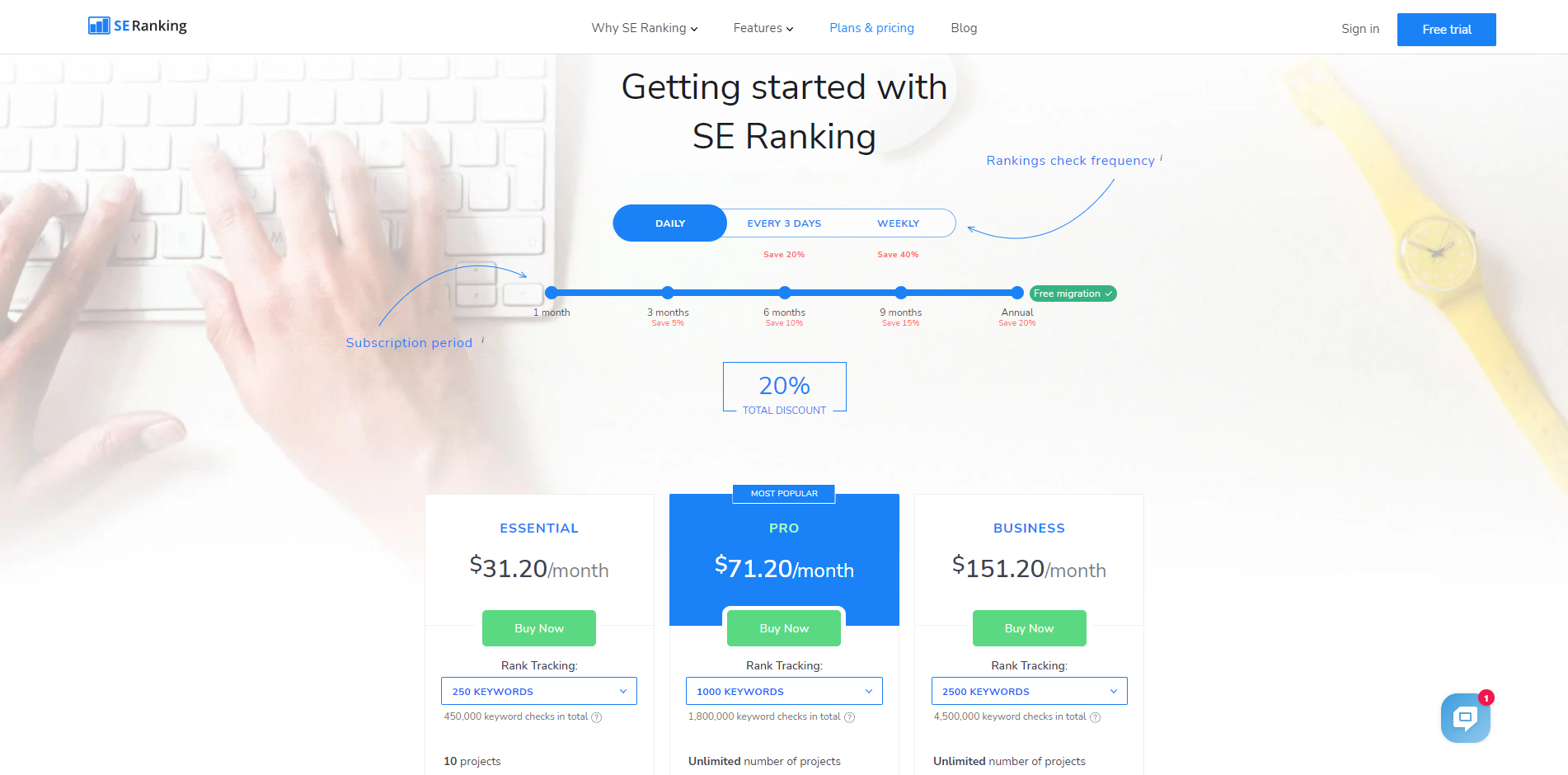 SE Ranking starts at $39/month for daily rankings to check 250 keywords. You can change the frequency of checks and the number of keywords to increase or decrease prices across different plans.
All features include the following:
Keyword research - Conduct traditional and competitor-based keyword research.
On-page SEO checker - Check how optimized your site page is for its target keyword.
Report builder - Create client reports that show SEO results and metrics to them.
Backlinks -Analyze your link profile or monitor your backlinks to ensure that you don't lose your best backlinks.
Pros and Cons
Pros
Affordable and flexible pricing that caters to online marketers at all levels.
Constantly improving with new features added regularly and a growing database.
Cons
Data isn't as comprehensive and detailed as other tools in this list.
Find out more about the tool in our SE Ranking review.
---
Serpstat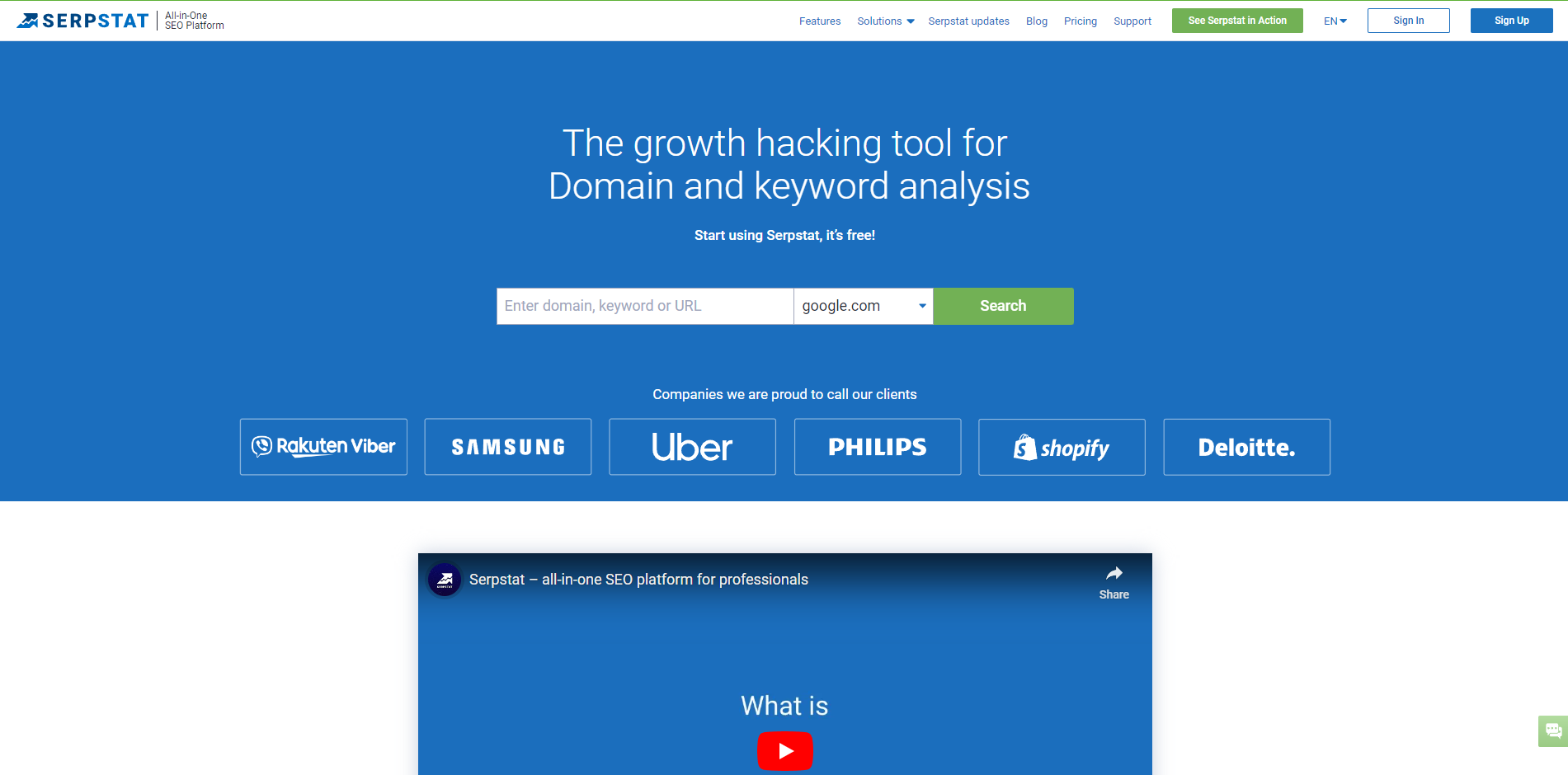 Serpstat is another one of those Similarweb alternatives that's a solid SEO and content marketing tool with competitive intelligence features.
Its basic traffic analytics shows you paid and organic keywords your competitor is using. It also determines a site's visibility trend based on its keyword ranking distribution.
You can further analyze a site based on its top URLs. It shows you the organic keywords driving the most traffic to the page.
Another competitor analysis feature you should use is Serpstat's backlink analysis tool - have a look at our Serpstat review. It looks at a domain's link profile and identifies links based on its type, Domain rank, and others.
Pricing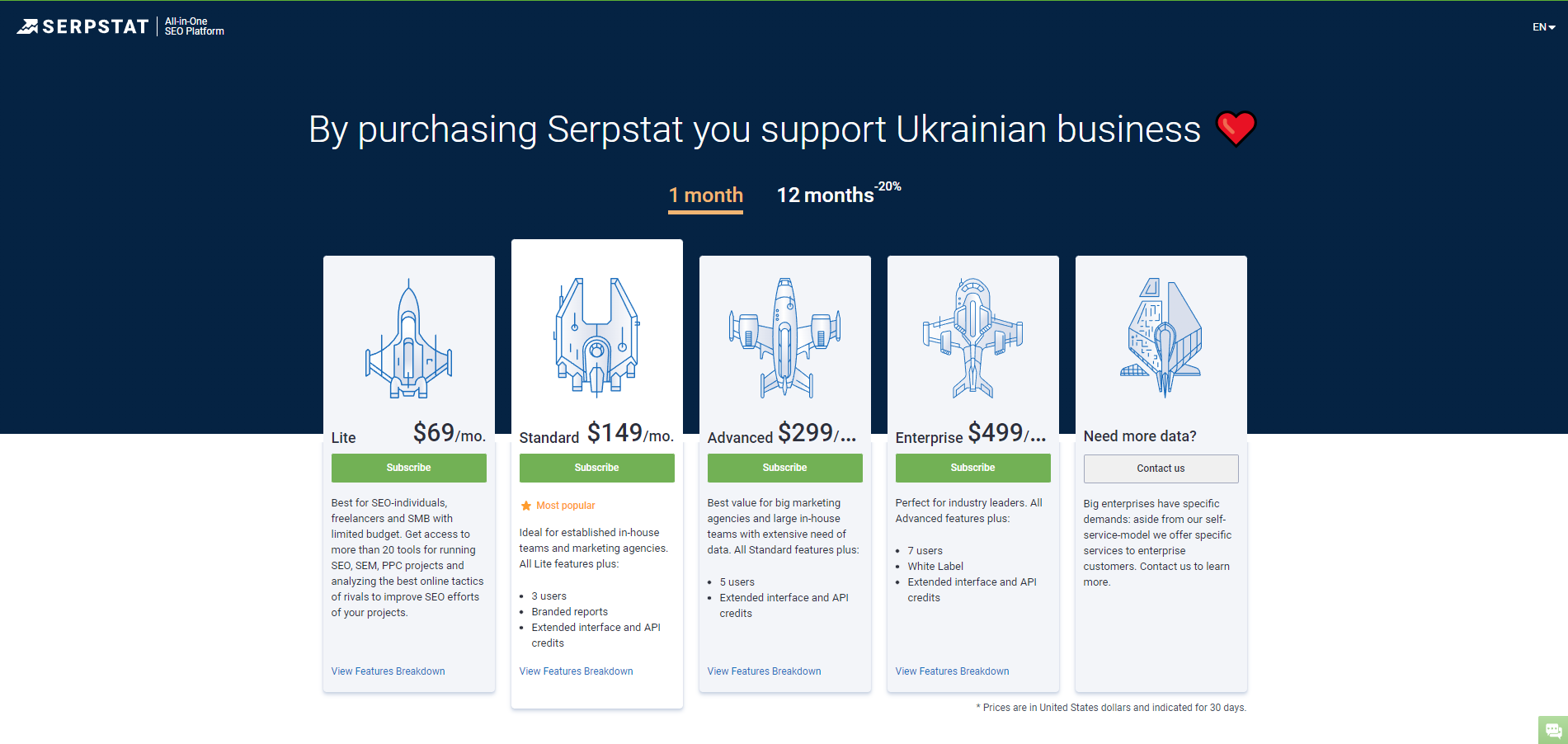 Pricing starts at $69/month ($55/month paid annually). It gives you all features above plus the following:
Rank tracker - Monitor how your keyword positions move over time after launching an SEO campaign.
Site audit - Analyze your website and unearth issues that are preventing your website from ranking properly on search engines.
Keyword research - Get suggestions from a seed keyword or look at keywords your competitors are ranking for. Then organize the list based on search volume and competitiveness.
Higher plans starting at $149/month give you access to its rank tracker API, branded reports, and greater limits on all features.
Pros and Cons
Pros
A very good tool comparable to Ahrefs and SEMrush but at lower prices and more generous limits.
AI content generator feature on the works that site owners can leverage on their websites.
Cons
Only provides SEO competitor data and not market or industry in general.
---
Searchmetrics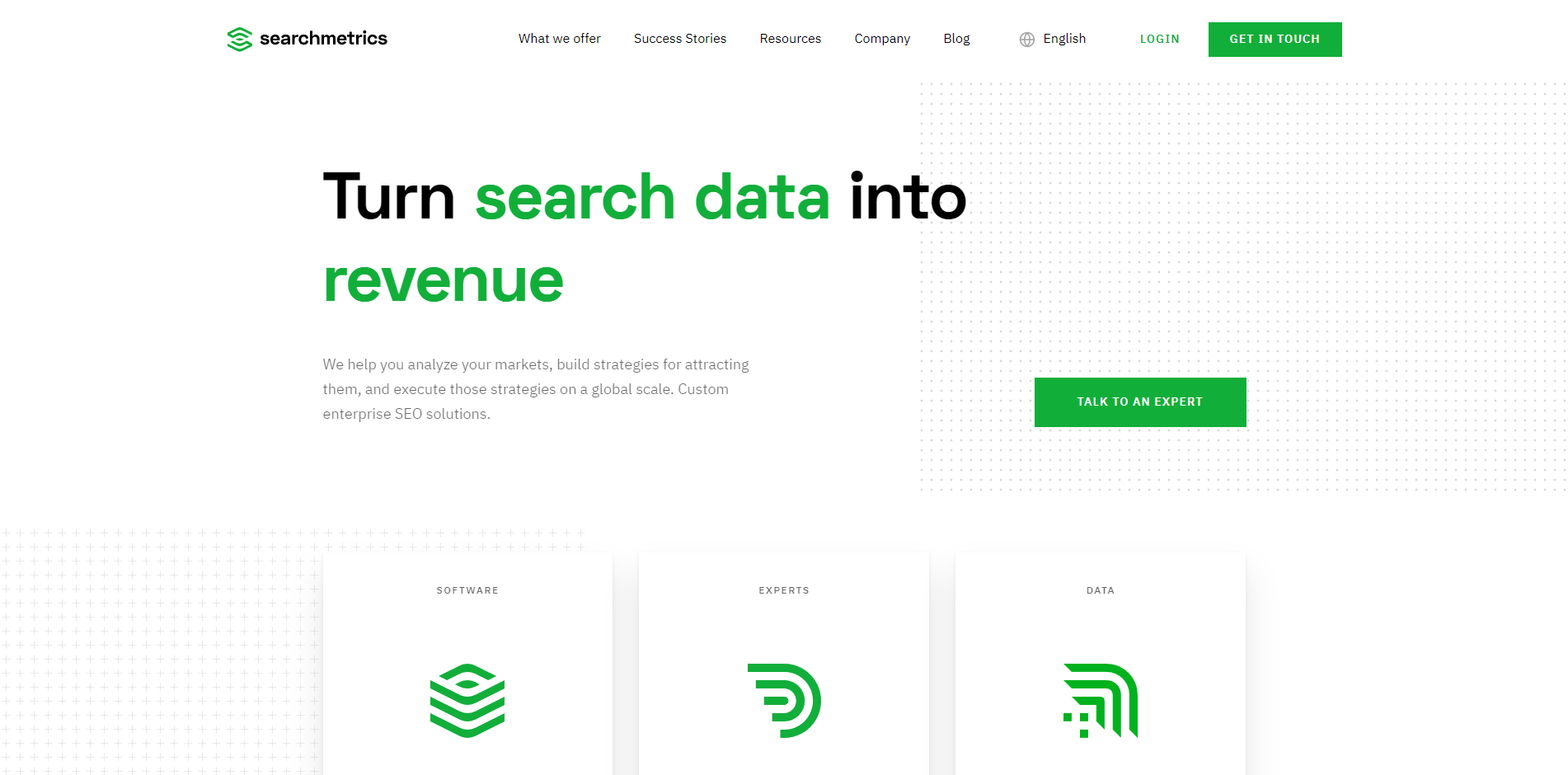 Searchmetrics offers three services to its users, two of which are relevant if you're looking for actual Similarweb alternatives.
Suite is the company's enterprise SEO software akin to Conductor. It offers four features to help you perform competitor analysis:
Research Cloud - Gather global and market insights, your competitors' SEO campaigns, and your search visibility. These provide a full-blown historical and current market overview to help you make informed decisions.
Content Experience - Create content using a predictable, measurable process that leverages competitor data. Also, its machine-learning technology helps optimize your articles by identifying relevant topics and keywords to include and discuss.
Search Experience - Gather valuable insights to improve your website's traffic and conversions. You can also monitor keyword positions across different countries and devices to identify market share. Lastly, help the target audience find your content easier by optimizing them according to their keyword's intent.
Site Experience - Identify opportunities to improve your website's performance.
The second tool is Insights. It lets you conduct accurate, comprehensive market research without limits with just a few clicks.
Choose your industry from the list of product categories containing up-to-date market data. Then add your data concerning your website performance, competitors, and customers.
The tool will then combine information from both data sources to deliver insights and actionable items for dominating the market.
Pricing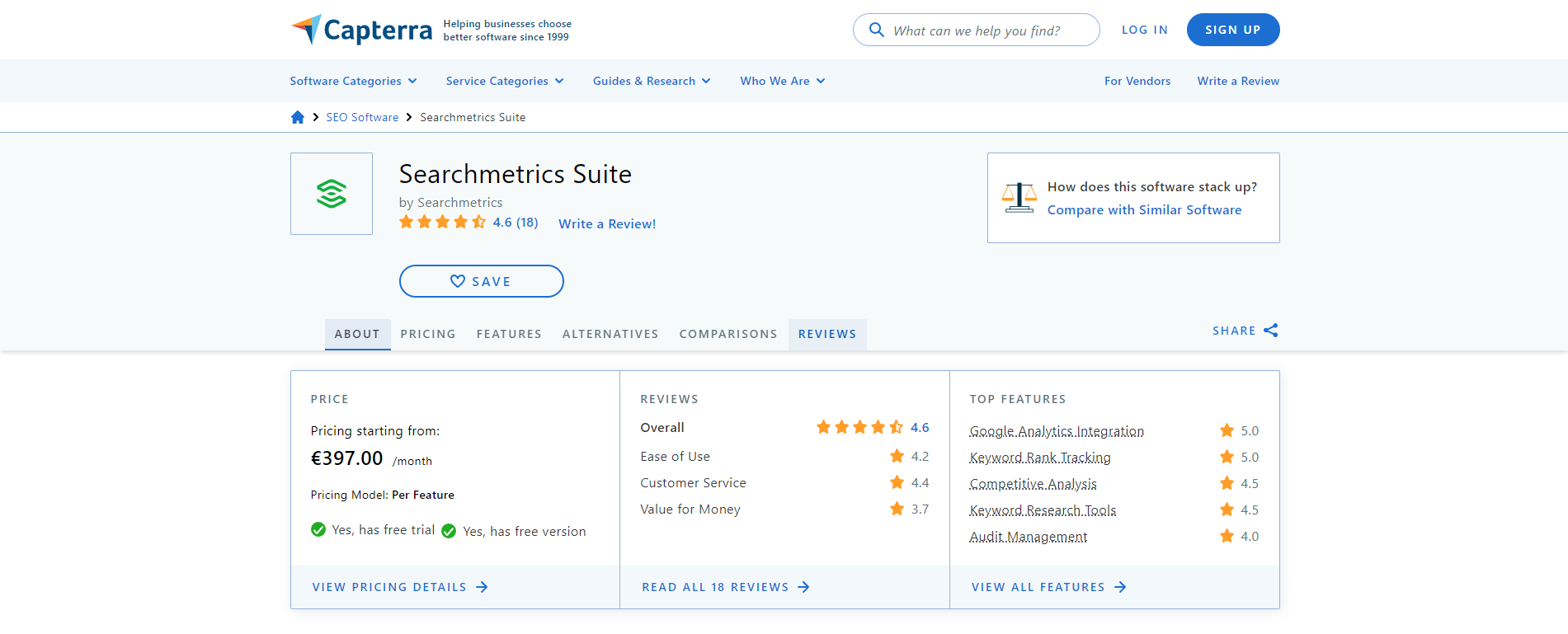 Searchmetrics does not have the price for its tools listed on the site. So, you must contact its representatives to share the cost with you based on your needs.
According to our research, Searchmetrics Suite ranges between €397 and several thousand dollars per month.
Users outside the U.S. can unbundle Searchmetrics Suite and subscribe to one of the four tools at lower costs. For instance, the Research Cloud costs €89/month targeting one (1) country and €159/month for different countries.
Pros and Cons
Pros
Search data compliments market research to give users a full view of their industry and how they can dominate it.
Cons
Complicated pricing and access structure.
---
SEO Powersuite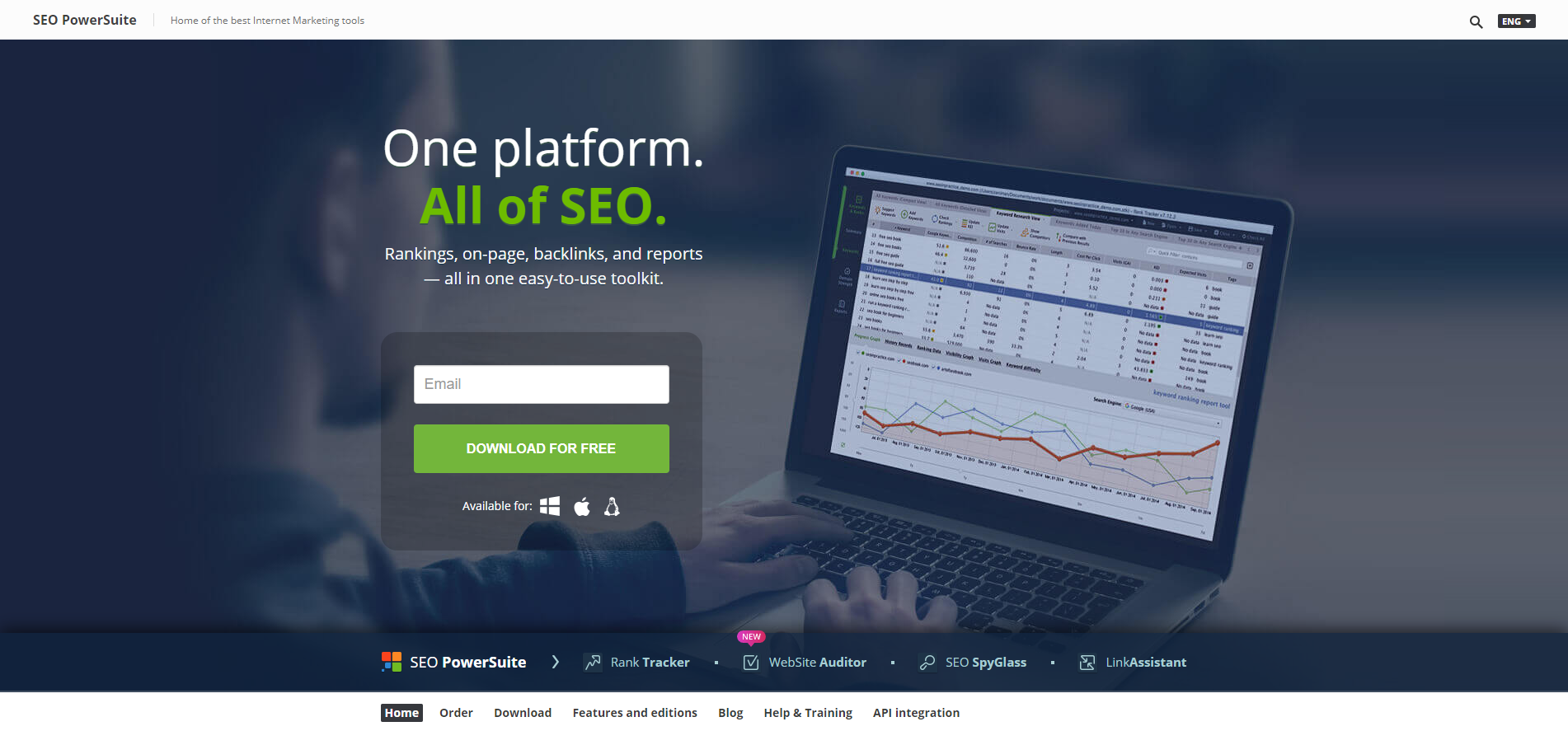 SEO Powersuite lets you conduct competitor research to develop and run campaigns designed to grow your website's organic traffic, making it one of the possible Similarweb alternatives.
The software is divided into four tools:
Website Auditor - Run a technical and on-page website audit report to identify areas that need improvement in your upcoming SEO campaign.
Rank Tracker - Monitor and track your site's keyword positions across various search engines and devices. The results help you understand if your campaign worked over time. It also contains keyword research features. This is where you can brainstorm topic ideas and find keywords your competitors are ranking for.
SEO Spyglass - Check your competitor's link profile and identify backlinks that bring in the most referral traffic. It also shows a site's anchor text distribution, penalty risk based on the volume of toxic backlinks, and other factors.
LinkAssistant - Scrape link prospect emails and send them an outreach campaign to acquire a backlink from their site. Choose from email templates to edit and send to your prospects.
Pricing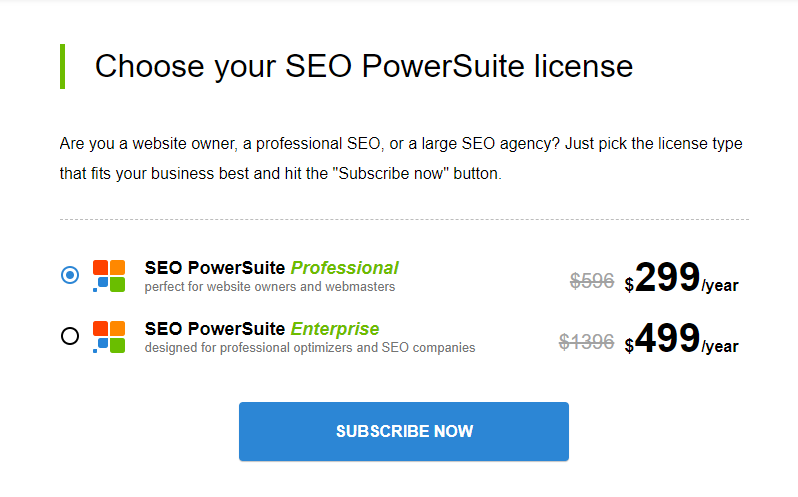 SEO Powersuite as a whole is available in two plans: Professional; ($299/year) and Enterprise ($499).
The former is perfect for website owners, while the latter is for agencies working for clients. This is because the Enterprise plan gives users greater feature limits and allows them to send one-click reports to clients.
If you're interested in just one of the tools above, you can purchase them individually. Each could cost between $99-149 (Professional) and $199-249 (Enterprise).
Pros and Cons
Pros
Friendly pricing with even friendlier limits.
Cons
License-based pricing model. That means you can only access the software on the device you installed and activated.
You can only access a limited number of projects online. You must save all of the rest locally.
The focus is on SEO; market and industry data aren't available.
---
Conductor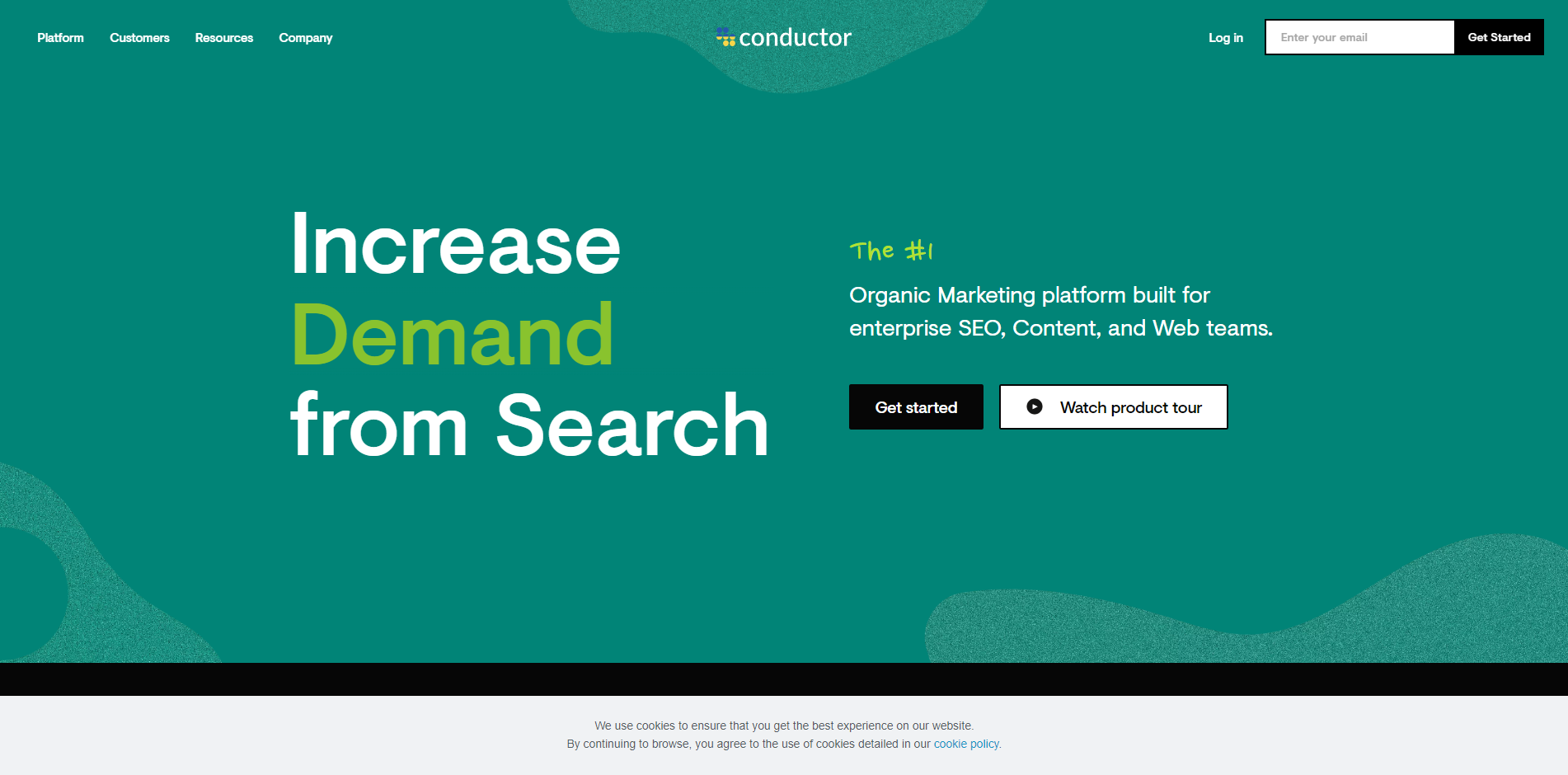 Conductor is an enterprise SEO tool with clients like Verizon, Comcast, Philips, and others. It offers features that make it appropriate as one of the Similarweb alternatives.
Its platform enables you to perform the steps necessary for a winning SEO strategy:
Research keywords - The tool's Search Insights feature provides insights to gain a deeper understanding of your audience. Then use the insights to unearth keywords you can use as topics for your content using Conductor's Keyword Index.
Analyze competitors - Compare similar sites to yours and understand each based on their strengths, weaknesses, and paid traffic analysis capabilities. Zero in on competitor insights that provide opportunities for your site to increase its online visibility.
Create content your audience loves - Receive AI-driven recommendations on what to write about and include in your content. You can also implement SEO suggestions while writing content in real-time to improve your workflow.
Monitor keyword rankings - Track your website visibility based on your keywords' SERP positions. Also, compare your rankings with your competitors and keep abreast of their performance. Finally, filter and segment SERPs to find the information you're looking for.
Make changes on the fly - Run a technical website audit to identify issues that need your immediate attention. Then make the necessary changes on your site to resolve issues in real-time and achieve better SEO results moving forward.
Measure results and create an action plan - See which pages attracted the most traffic or those that dropped traffic over time. Then create custom and dynamic value-oriented reports to convince stakeholders regarding your upcoming campaign.
Pricing

You must contact Conductor for a free demo to get the platform's custom price. According to reports, pricing can go up to $1,995/month.
Pros and Cons
Pros
Excellent customer onboarding and resources to help you get started with the platform.
Cons
Can get even more expensive if you don't know how to use it properly. For example, you may incur additional charges if you track your keyword ranking on unnecessary devices or geo-locations.
---
What Market Intelligence Platform Should You Get That's Like Similarweb?
From the Similarweb alternatives listed above, almost all the tools emphasize SEO as a big part of their features. To be fair, it's a great way to understand your competitors and find ways to leapfrog over them in search rankings.
However, Similarweb isn't an SEO tool in the most literal sense. As a market research software, it enables you to research different market segments like your audience, other companies, and consumers.
Using the gathered information, you can stack up your site and competitors to see how well you're all performing compared to market and industry standards.
With this use case for Similarweb, therefore, the closest Similarweb alternatives above are:
Searchmetrics - Both the Suite and Insights tools provide users with actionable market data using up-to-date information and machine-learning technology.
Semrush - The tool's market data integrates well with its SEO and content marketing features. This gives you an edge when developing digital marketing campaigns for your sites and clients.
Using any of the tools above, you'll get the same quality of market data available from Similarweb and then some!
Want to learn step-by-step how I built my Niche Site Empire up to a full-time income?
Yes! I Love to Learn
Learn How I Built My Niche Site Empire to a Full-time Income
How to Pick the Right Keywords at the START, and avoid the losers
How to Scale and Outsource 90% of the Work, Allowing Your Empire to GROW Without You
How to Build a Site That Gets REAL TRAFFIC FROM GOOGLE (every. single. day.)
Subscribe to the Niche Pursuits Newsletter delivered with value 3X per week