How GoodReads.com Attracts 50 Million Google Visitors a Month from Long Tail Keywords and User Generated Content
When you buy something through one of the links on our site, we may earn an affiliate commission.
In 2005, Otis Chandler simply wanted to create a digital "bookshelf" for everyone to see and get book ideas from.
He had recently visited a friend's house and browsed his bookshelf.  He walked away with 10 books that he wanted to read.
So, Otis and his wife Elizabeth Khuri started GoodReads.com, with the idea that people could create and share their own digital bookshelf.
As it turns out, lots of people want a faster and easier way to find great books to read!  In fact, Good Reads now has over 500 million backlinks, gets 50 million Google organic visitors a month, and approximately 116 million visits every month.
Oh, and its the 303rd most visited website in the WORLD!
And it all just came down to a great idea…right? 
Well, there's actually WAY more to the story than just a great idea.  
Good Reads experienced its most significant growth from:
Google
long-tail keywords
Widgets that provided backlinks
Viral feedback loops
and a way for authors to pay for placement.
Good Reads sold to Amazon.com 2013 for approximately $150 million. Let's dig into some of the keys to success for one of the most successful websites in the world.
How Does Good Reads Get Traffic?
According to SimilarWeb, GoodReads.com get 116 million visitors a month. And 50% of that traffic comes from Search/Google, by far the largest source of their traffic.
So, Good Reads likely gets over 50 million organic visitors a month from search engines.  This lines up pretty close with what Ahref's estimates at 34 million organics a month.  (Ahref's is often slightly under actual).
When you look at some of their top keywords, they clearly get a lot of brand traffic now. They are well-known!  And people just search "good reads".
However, this was not always the case.  When they started out and definitely still now, long tail keywords were critical to their success.
In fact, when they first started, their founder Otis Chandler didn't even have analytics on the site.  When he finally got around to installing analytics, he was absolutely FLOORED that Google was sending them most of their traffic!
They were "piggybacking" on Google search and they didn't even realize it.
They had never tried to rank in Google and it wasn't on their radar UNTIL he installed analytics and saw where their traffic was coming from.
As a result, they made some tweaks so they could rank better for these long tail keywords.
The Power of Long Tail Keywords and User-Generated Content
Long Tail Keywords have been so critical to Good Reads success, that Otis Chandler now says, "We are a long tail content site."
Users add books and write reviews.  These book titles and reviews now generate a significant portion of their overall traffic.
Here's some of the top keywords that GoodReads.com currently ranks in Google for:
As one example, they rank #1 in Google for the book title, "It Ends With Us". 
When you go to Google, you can start to get a sense of how much search "real estate" Good Reads is given from Google for many of these books.
Sure, Good Reads ranks number 1 as you can see.  But they also get a nice placement in the side knowledge pannel with a link to read reviews.
In addition, even above the #1 results is a link to "Reviews" which takes you to a page with Good Reads listed at the top when clicked.
To say that Good Reads is crushing it in Google is an understatement.
And the best part?
All of the content is user generated!
Good Reads just provides the technology and tools to organize and review books.  The users generate all the reviews.
Endless Growth?
What's crazy to think about is the sheer number of books that currently exist in the world.  Then you realize that many thousands of new books are written every year.  Good Reads has a business model based on long-tail content that will only continue to grow in quantity forever.
So, Good Reads currently ranks for nearly 10 million keywords in Google.  That number will only increase as more books are written and released in the future.
Now that's a business model that is an entrepreneur's dream.
How Good Reads Got So Many Links
As the user base of Good Reads has increased to nearly 90 million, so has the number of backlinks. Naturally.
However, the link building had to start at some point.  And it turns out it was not just a "build a great business and let the backlinks come" type of approach.
In a presentation at HustleCon a few years ago, Otis Chandler shares exactly how they actively started building links which led to significant growth during their early years.
The key was bloggers and widgets.
Old school link building.
I think it's important to point out that Good Reads invested a ton into a great product, so the product and technology are absolutely critical.  However, once bloggers saw a way they could easily organize and share their book reviews, they talked about it!
Bloggers were already talking about the books they were reading, now they had a more accessible way to share that information.
A big part of this was a Good Reads widget that they could put in their sidebar or other locations on their site.  Good Reads intentionally created this widget so that it would create a live backlink to their site.
This led to millions of links in the early days that absolutely helped GoodReads.com rank better in Google.
Good Reads Viral Feedback Loops
Writing and sharing book reviews has a viral component built-in.
However, in the early days Good Reads invested heavily in a team to build out better viral feedback loops.
According to Otis Chandler, email address importers worked really well.  After you would join Good Reads, they would ask you to share your email address contacts with Google Reads, which would eventually lead to invitations for others to read your book reviews!
So, your friends would see your book reviews and would be enticed to join and write book reviews, invite friends, and the viral loop would continue.
Good Reads continues to implement viral feedback loops as shown on their "invite friends" page.  They've made it extremely easy to find and invite friends to join Good Reads via email, Facebook, text, in the mobile app, and more.
How Does Good Reads Make Money?
In 2011, Otis Chandler answered the question of "how does Good Reads make money".  Here's his response,
We are a media business, and make money primarily on advertising and affiliate revenue (a cut of book sales from major booksellers such as Amazon). We work with all major book publishers and many mid-majors to help them launch their books to our audience of book readers. We are really focused on the problem of helping authors http://www.goodreads.com/author/program connect to readers – which is super important, especially as self-publishing and the internet are stripping away tradition book filters and ways people find books.
As you can clearly see on their website, Good Reads uses display ads to make money.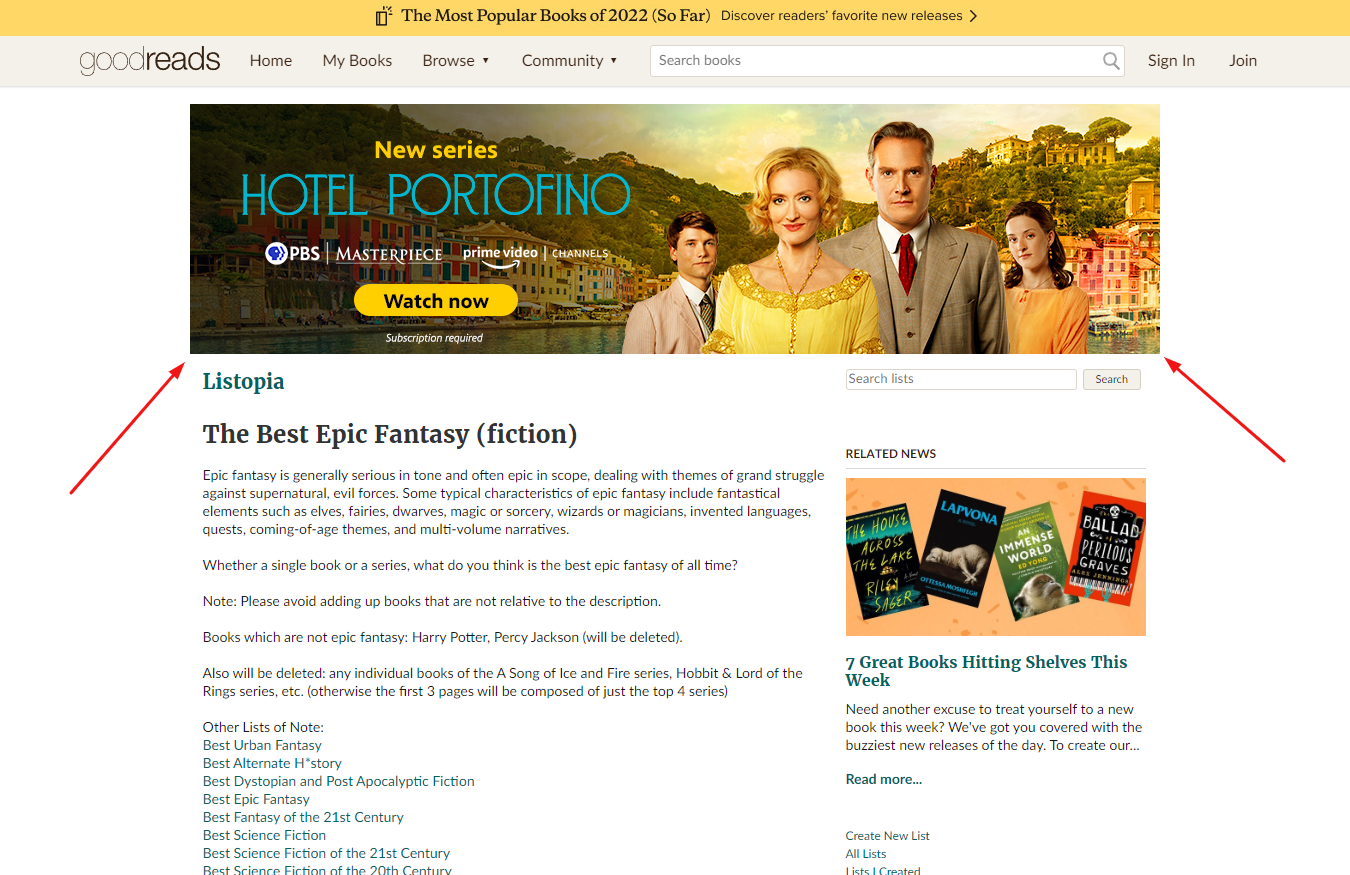 Affiliate Links…
Good Reads is definitely using affiliate links to Amazon.  Now that Amazon has acquired GoodReads, I don't know how the math all works out in terms of how much money they make from those affiliate links, but they are definitely there.
They also have affiliate links to Audible, Barns & Noble, Walmart, AbeBooks, and just about any other place that sells books online.
Authors and Publishers
Authors and Publishers can work with (i.e. pay) Good Reads to help them get more exposure for their books.
How books are recommended, ranked, and how their rating system can be gamed COMBINED with the fact that they take money from authors and publishers has led to lots of criticism for Good Reads.
With so much traffic each month, getting a little extra exposure on Good Reads can really improve sales of a book.  What if you could pay a little extra for positioning?
And it's not far-fetched to think that authors have gamed the system to get more negative reviews on competitors and positive reviews on their own books.
However, in general, they do have a legitimate advertising business for authors here.
In addition, authors can pay $599 to Good Reads to run a book giveaway.  You can see all the details on book giveaways here.  You can also see some of the current book giveaways here.
3 Reasons Why Good Reads is So Successful
While GoodReads.com is not without controversy, it clearly has built a massive business and is one of the highest-trafficked websites in the world!  Google has been a vital part of their traffic since the beginning, but there's more to it than just SEO.
When Jeff Bezos met Otis Chandler, the first thing he said was, "We like mission-driven people!"
Jeff Bezos and Amazon were impressed with the mission that Good Reads was trying to accomplish.
According to Otis Chandler, his tenets for building a company are:
Solve a problem!  Work backwards from solving a problem that people have.
Look for how people are solving it manually and see how you can improve that with technology.
Be mission driven. Keeps you focused and attracts the right people.
When I look at GoodReads.com, it's clear that they have 3 keys to success:
Great idea. They took an idea that people were doing manually (spreadsheets, written lists of books, etc), and created a way for people to do it easier, better, and faster.
They created a better book recommendation engine. Their technology is absolutely critical to success.
Taping into SEO. They almost stumbled into SEO. But once they realized how much traffic was coming from Google, they doubled down on their long tail keyword strategy and link building.
I hope you enjoyed reading this incredible growth story on GoodReads.com.  What principles will you apply in your own business?
Want to learn step-by-step how I built my Niche Site Empire up to a full-time income?
Yes! I Love to Learn
Learn How I Built My Niche Site Empire to a Full-time Income
How to Pick the Right Keywords at the START, and avoid the losers
How to Scale and Outsource 90% of the Work, Allowing Your Empire to GROW Without You
How to Build a Site That Gets REAL TRAFFIC FROM GOOGLE (every. single. day.)
Subscribe to the Niche Pursuits Newsletter delivered with value 3X per week