7 Free Link-Building Tools To Help Boost Your SEO Success
When you buy something through one of the links on our site, we may earn an affiliate commission.
If you have an online business, you know that using free link-building tools is a great way to save money while getting more eyes on your website.
And it's true - instead of spending thousands or even tens of thousands of dollars on premium link-building tools or services, you can get the same results (or better!) with free tools.
But what are the best free link-building tools? Which ones should you use to boost your SEO game? Let's take a look at seven of the top free link-building tools available.
7 Best Free Link-Building Tools For Building Authority
Here are 7 options that provide functional and free tools that produce real results:
1. HARO
HARO (Help A Reporter Out) stands as one of the most robust free link-building tools available. It's a platform that serves as a bridge between journalists or bloggers and expert sources like you. This unique connection provides a win-win situation: writers get the information they need for their stories, and you gain exposure and potential backlinks to your site.
First, sign up as a HARO source. You will receive regular emails containing media opportunities in various fields. These types of backlinks are from real journalists and bloggers from reputable outlets looking for experts to quote in their articles. If your expertise matches their needs, you can respond directly with your insights.
The beauty of this process lies in its organic nature. By offering valuable knowledge, you're not just inserting a link artificially into content but providing genuine value to the readers. This could lead to high-quality backlinks from authoritative news sites.
The key to success with HARO is patience and persistence. Not every pitch will get picked, but with consistent effort, the benefits can be substantial. Want to grow even faster? Sign up for this HARO course to accelerate your link-building efforts.
Pricing: The basic HARO plan is free.
The standard plan is $19 per month, the advanced plan is $49 per month, and the premium plan is $149 per month. These subscriptions give you extra features such as keyword alerts, profiles, text alerts and an online search function.
2. Hunter.io
Hunter.io is a robust free link-building tool that aids in your PR efforts by:
Quickly finding email addresses associated with any website.
Verifying the validity and usage of these email addresses, ensuring your outreach emails reach active inboxes.
Providing additional features like search filters and CSV downloads to refine your search.
Hunter.io plays a crucial role in ensuring effective outreach by helping you reach the right contacts. It offers a free account that provides 50 searches per month, making it an ideal tool for those just starting with their outreach efforts.
For more comprehensive outreach campaigns, there are premium plans available. With its user-friendly interface and reliable results, Hunter.io proves to be an invaluable asset for efficient link building.
Pricing: Free plan is available.
For more robust link-building campaigns, premium plans range from $49 per month to $499 per month, giving you extra monthly searches and verifications.
Here's our full Hunter.io review.
3. Whitespark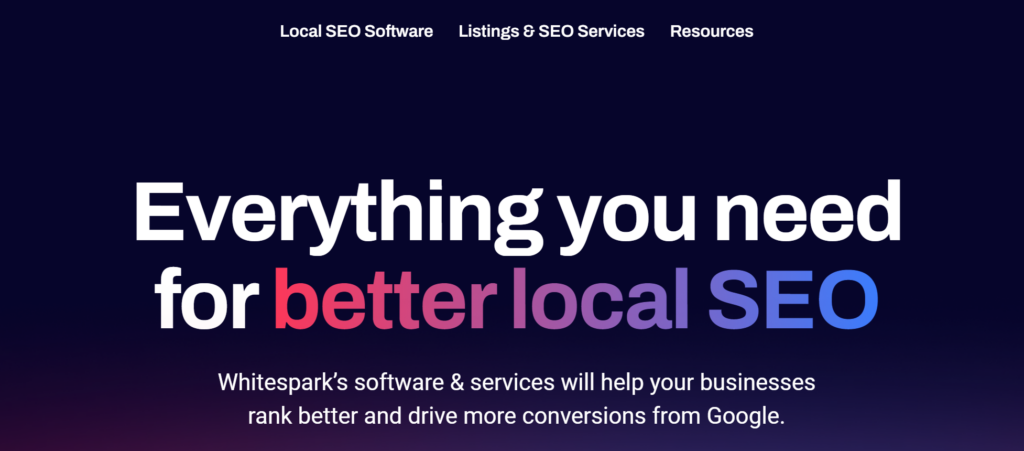 Whitespark is a powerful tool that offers a local citation finder, which is essential for enhancing your local SEO. This program can boost SEO for restaurants, hotels, doctors, lawyers, and other local businesses.
Local citations and mentions of your business name, address, and phone number on the web are crucial to rank well for local search queries. These citations could come from business directories like Yelp or Foursquare.
With the help of Whitespark's local citation finder, you can discover new local directories to submit your site to. This process begins with creating an account and setting up a new campaign, where you'd input relevant details about your business.
Based on the information provided, Whitespark will generate a list of potential citation sources. It's vital to ensure that your NAP (name, address, and phone number) remains consistent across all sources you submit to for optimal local SEO results.
As far as pricing goes, the free version of Whitespark has limitations - it allows only one campaign and restricts you to three searches per day. Additionally, access to many of the citation sources it identifies is restricted. However, these limitations can be overcome by opting for their paid plans, depending on your needs.
Pricing: A limited free plan is available.
There are also premium plans ranging from $39 to $149 each month.
4. Ahrefs Free Tools
Ahrefs is a renowned SEO analysis tool that offers plenty of free tools to help improve link building. It's an industry standard when it comes to digital marketing, but it's quite cost prohibitive.
Luckily, the company also offers a suite of free webmaster tools that allow you to track your website's performance while also looking at other people's sites.
The following trio of tools are pivotal for effective, cost-free link building:
Backlink Analyzer: This tool allows you to view the top 100 backlinks directed toward any website or specific webpage.
Ahrefs Broken Link Checker: With this tool, you can quickly discover any broken links leading to or from any webpage or entire website. Broken link building is a great way to add value to an article, while also gaining a powerful backlink.
Website Domain Authority Evaluator: This tool enables you to assess the Domain Rating (DR) of any website or link prospects, providing insight into the potency of its backlink profile.
Pricing: These tools are completely free and offered as part of the Ahrefs free account.
For more info on this tool, take a look at our full Ahrefs review.
5. Ubersuggest
Ubersuggest is a comprehensive link-building tool that offers abundant keyword suggestions along with valuable SEO metrics such as search volume, CPC (cost per click), and ranking difficulty. In addition to its keyword research capabilities, it also includes a free backlink checker, providing insights into who is linking to you and your competitors.
Here's how it works:
Link Analysis: Before you begin your link-building journey, it's crucial to analyze the links of sites that rank on the first page. This gives you an understanding of what it takes to surpass these web pages in rankings.
Backlink Checker: Ubersuggest's backlink checker helps you perform a detailed backlink analysis of competitor sites, revealing their link sources.
Keyword Search: Simply input a keyword you aim to rank for. Note the sites that rank on the first page and input those URLs into the backlink tool. For instance, if we consider a site that ranks for "build a home gym," a thorough analysis can reveal a strategy to potentially outrank it with high-quality backlinks.
Competitor Link Sources: A useful feature of Ubersuggest is the ability to see where your competitors are sourcing their links from. Armed with this knowledge, you can approach these sites to request a link, thereby enhancing your link profile and boosting your rankings.
Pricing: In addition to Ubersuggest's free link-building tools, there is an individual, business, and enterprise plan priced at $29, $49, and $99 per month respectively.
Check out our in-depth Ubersuggest review for more info.
6. Snov.io
Snov.io stands out among free link-building tools, offering a host of features that enhance your link-building efforts. With zero cost, you get 150 credits and the capacity to reach 100 email recipients, making it an ideal tool for initiating link-building campaigns.
Key Features include:
Email Finder & Verifier: Find link prospects and verify their addresses to ensure successful outreach.
Email Warm-up: Improve your email deliverability, reducing the risk of your messages being flagged as spam.
Drip Campaigns & Sales CRM: Automate your email marketing and manage customer relationships efficiently.
Database Lead Search: Identify link-building opportunities within Snov.io's database.
Unlimited Campaigns & Follow-ups: Scale your link-building strategy with no limitations on campaign or follow-up creation.
Chrome Extensions: Access Snov.io's features directly from your browser.
Custom Tracking Domain & HubSpot Integration: Monitor your campaign performance and integrate seamlessly with HubSpot.
Whether you're looking to build high-quality links, find broken links, or conduct a backlink analysis, Snov.io caters to all these needs. Its free version is a great starting point for anyone eager to enhance their link profile and improve their domain authority.
Pricing: While there are plenty of useful free tools in the trial version of Snov.io, you can start a premium plan for $30 or $70 per month. Managed plans start at $2,999 per month.
7. Google Disavow Links Tool
Maintaining a healthy backlink profile is a crucial aspect of SEO, and the Google Disavow Links Tool plays an essential role in this process. This tool allows webmasters to inform Google about certain links they don't want to be considered when assessing ranking on their own site.
Backlinks from low-quality or spammy websites can negatively impact your site's search engine ranking. Google's algorithm may interpret these links as an attempt to manipulate your site's ranking, leading to penalties that can significantly harm your SEO performance.
Here's where the Google Disavow Links Tool comes in:
Removing Harmful Links: If you've attempted to remove unwanted links by contacting the website owner but have been unsuccessful, you can use the Google Disavow Links Tool to request Google not to take these links into account when assessing your site.
Preventing Penalties: By disavowing low-quality or spammy backlinks, you can prevent potential Google penalties associated with such links. This helps maintain your site's credibility and search engine ranking.
Cleaning Up Your Backlink Profile: Regularly reviewing and cleaning up your backlink profile can enhance your SEO efforts. The Disavow Links Tool makes it easier to manage your backlink profile and ensure it positively contributes to your SEO with just a few clicks.
Recovering from Negative SEO Attacks: In rare cases, your site might be the target of a negative SEO attack, where someone deliberately points a large number of low-quality links toward your site. The Disavow Links Tool can help you recover from such an attack.
It's important to note that Google advises using this link building tool with caution. Incorrect use can potentially harm your site's performance in Google's search results. Therefore, it's recommended that this tool be used by advanced users who are sure about the links they need to disavow.
Pricing: This tool is a part of Google Search Console and is completely free to use.
So What's the Best Free Link-Building Tool?
Analyzing the features and capabilities of the various free link-building tools discussed, it's clear that each has its unique strengths. However, if we were to choose one as the most beneficial, Ubersuggest emerges as a strong contender.
The Ubersuggest link-building tool excels in offering a comprehensive suite of features that are integral to a successful link-building strategy. Its backlink analysis tool provides a robust backlink checker, allowing for detailed backlink analysis that can help identify high-quality links and improve your backlink profile.
The tool's ability to analyze domain authority and provide insights into how other sites link to you and your competitors is another reason it stands out from other backlink analysis tools. This data can be used to improve your site's domain authority by targeting relevant link prospects and conducting outreach campaigns.
Ubersuggest's comprehensive capabilities make it an invaluable asset for link builders seeking to enhance their link profiles, boost their search engine rankings and, ultimately, achieve their SEO goals.
The Bottom Line Free Link Building Tools
From identifying potential link opportunities to managing your backlink profile and mitigating the impact of harmful links, these tools provide comprehensive solutions for your link-building needs.
They not only simplify the process but also enhance the effectiveness of your efforts, enabling you to boost your site's visibility, credibility, and ranking in search engine results.
So, harness the power of these free link-building tools and set your website on the path to SEO success.
Want to learn step-by-step how I built my Niche Site Empire up to a full-time income?
Yes! I Love to Learn
Learn How I Built My Niche Site Empire to a Full-time Income
How to Pick the Right Keywords at the START, and avoid the losers
How to Scale and Outsource 90% of the Work, Allowing Your Empire to GROW Without You
How to Build a Site That Gets REAL TRAFFIC FROM GOOGLE (every. single. day.)
Subscribe to the Niche Pursuits Newsletter delivered with value 3X per week