13 Best Email Verifier Tools to Keep Your Email List Filled with Active Subscribers
When you buy something through one of the links on our site, we may earn an affiliate commission.
Marketers and business owners know that an email list is a goldmine. That is if the email addresses you're mailing to are active. This is where email verifier tools can help, ensuring your emails actually get to your customer's inboxes.
Email verification or email list scrubbing is the process of scanning your email list to check the authentic email addresses a real person uses.
Spam or invalid emails can be removed, resulting in a higher deliverability rate, lower bounce rates, and a better sender reputation.
If you want to increase your deliverability rates and make more money from your email list, read on to learn about the best email verification tools worth your time.
Best Email Verifier Tools
By using an email verification service, you save time by not having to manually search through your email list to remove inactive subscribers.
With this massive amount of time saved, you save money by automating the process and reducing manual labor costs.
Let's dive in.
Emailable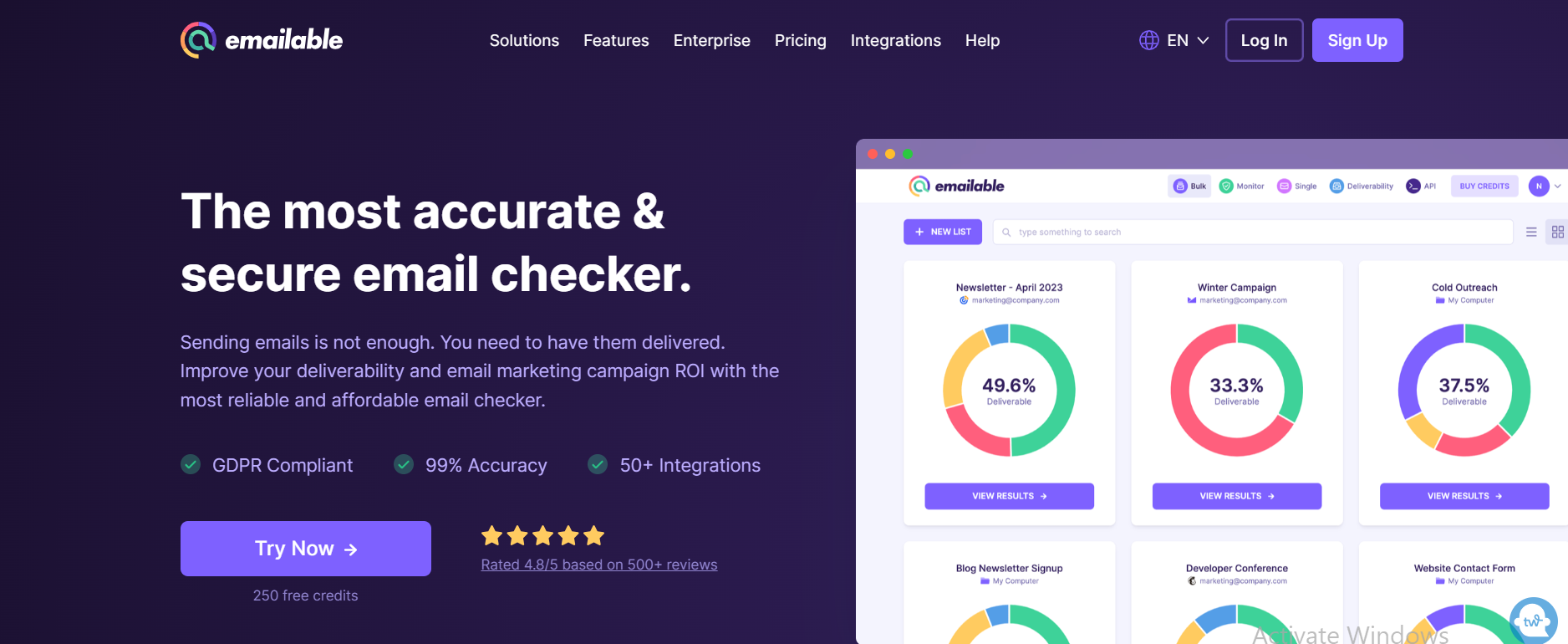 Emailable is an accurate and reliable email verification service that will remove invalid email addresses and improve email deliverability by up to 99%.
It allows you to put list cleaning on autopilot, so you can sit back and relax while your lists are synced and verified daily.
The main Emailable solutions offered include:
Bulk email list verification
List cleaning automation
Single email verification
Email verification for developers
Inbox placement and insights
The disposable email detection feature checks your emails against a known list of temporary email addresses.
And, the email verification API can be used directly on your platform to remove useless data seamlessly.
Plus, its user-friendliness needs a mention! Import your email lists with the easy drag-and-drop interface from your computer.
It cleans email lists fast, offers 24/7 customer support by email and chat, and has excellent customer reviews on the main review sites, making this one of the top email verifier tools worth using.
Pricing: 250 free account credits available. Pay as you go $30 for 5,000 credits, Monthly plan $25.50/month for 5,000 credits.
Start using Emailable for FREE today.
ZeroBounce
ZeroBounce is an email verification service and finder tool with a 99% accuracy rate.
This tool cleans up your email list by removing:
Email typos
Non-existent email accounts
Email accounts that may match your email as ''spam''
Spam traps
Any other risky or invalid email addresses
It offers safe email validation, is GDPR, SOC 2 Type 2, and PCI compliant, and has strong data encryption to protect all files.
Integrate ZeroBounce with many other popular tools such as Mailchimp, Constant Contact, Zoho, Shopify, LinkedIn, and more to stop bad emails from ever even reaching your email list.
Another great feature of ZeroBounce is ''Active Score'' which lets you identify and target your most active leads.
With a great reputation and many positive reviews on all the main review sites, ZeroBounce is a top tool to get your email lists healthy again.
Pricing: Pay-as-you-go 2,000 credits $0.008/credit. Up to 2,000 $0.0075 monthly/email.
Test out ZeroBounce right now.
Clearout

Clearout is an email verification tool that helps to lower hard bounces, improve email deliverability rates and boost marketing efforts.
Trusted by over 40,000 businesses worldwide, Clearout offers a range of features, such as:
Prospecting. Use the Clearout LinkedIn Chrome extension to identify potential prospects and capture verified business email addresses.
Email finder. This feature lets you capture email addresses with just a name, individually or in bulk.
Email validation. Use the Clearout email verifier tool to bulk verify email addresses on your list and receive detailed statistics on your list accuracy.
Data security. All data is protected with data encryption, flexible data retention options, and data compliance to the highest standards with GDPR, SOC 2 Type 2, and ISO norms.
Clearout has excellent accuracy rates and a speedy turnaround for cleanups, so you're not left waiting around for results.
Plus, they offer guaranteed delivery rates and have many positive reviews praising the tool for its ease of use and accuracy.
Pricing: Free 100 credits. 3,000 credits $21/month, 10,000 credits $58/month, 100,000 credits $350/ month. Save 20% by paying annually.
Try our Clearout for FREE today.
Hunter
Hunter is an email verification and email finder tool that integrates with all the most popular apps and email service providers.
It offers an accurate and speedy-fast email checker with validation at multiple levels such as format, domain information, and email server response.
Use the bulk email checker if you have a large list to verify or the Google Sheets add-on for verifying email addresses directly in Google Sheets.
This is a nice feature that not all tools have and is especially handy for sales teams working with large contact lists.
Alongside the email validation service, you can:
Find the email addresses of any professional
Send cold emails and follow-ups from your Gmail or Outlook
Connect Hunter to your favorite apps to grow your outreach
Pricing: Get free access for up to 50 monthly verifications. Starter $49/month 1,000 verifications, Growth $149/month 10,000 verifications, Business $499/month 100,000 verifications.
Learn more details in this Hunter.io review and discover the best Hunter.io alternatives.
Test out Hunter right now for FREE.
MailerCheck
MailerCheck is another top email verification service created by the people behind MailerLite.
It offers a 98% email deliverability rate and a range of tools to test and optimize email content and inbox placement.
By testing email content, you can protect your sender reputation, avoid looking like spam, deliver a great brand experience and maximize your email marketing ROI.
MailerCheck validates your emails by:
Verifying email quality and finding out which emails are safe for sending
Detecting errors such as emails with typos, syntax errors, or other abnormalities
Discover catch-all emails which are not always guaranteed to reach a real person
Avoiding full inboxes that won't accept new messages
MailerCheck integrates with Mailerlite, Get Response, ConvertKit, Zapier, AcriveCampaign, and many other popular apps.
Pricing: Email verification pay as you go $10 for 1,000 credits, $25 for 2,500 credits, $45 for 5,000 credits.
Bouncer

Bouncer offers powerful email verification services designed to increase email marketing ROI.
It's easy to use and implement and offers top-grade security that's SOC 2 and GDPR compliant.
The Bouncer main features include:
Email verification. Use the bulk email verification tool to check lists of up to 250,000 email addresses simultaneously, saving you time, energy, and money.
Email verification API. Validate email addresses and verify their deliverability. This works well on registrations and sign-up forms to stop mistyped emails and spam emails getting through.
Toxicity check. Find out if your email list contains any toxic email addresses, such as spam traps or widely circulated breached ones.
Deliverability kit. Use this tool to test your deliverability and verify your email server setup.
This tool integrates with Aweber, Constant Contact, ConvertKit, Get Response, Hubspot, Integrately, MailChimp and many other popular apps.
Sign up to Bouncer with your email address and get 100 free email verifications.
Pricing: Pay as you go 1,000-4,000 email addresses/$0.0080/email, 5,000-9,000 email addresses/$0.0070/email, 10,000-49,000 email addresses/$0.0060/email.
DeBounce
DeBounce is a fast and accurate email verification tool that minimizes bounce rates by detecting invalid, spammy or non-operational email boxes.
The main DeBounce tools include:
Bulk email verification service
Email list monitoring
Anti greylisting technology
Real-time validation widget
Data enrichment
Lead finder
Using the bulk email checker, you can detect email addresses with syntax errors and any duplicate emails, which will be automatically removed.
DeBounce is very easy to use and set up, has many positive user reviews, and has responsive customer support, making this tool an ideal choice for marketers and business owners with less experience.
Pricing: Free 100 credits. 5,000 verifications $10, 10,000 verifications $15, 25,000 $30.
NeverBounce
NeverBounce is one of the best email verifier tools trusted by over 125,000 users to keep their email lists healthy.
Its three main solutions include:
Bulk email list cleaning
Real-time email verification service
Automated list cleaning
What stands out about NeverBounce is their testing for new users and awesome customer support.
Plus, they have an excellent refund policy that states:
''Should your bounce rate exceed 3% after sending valid-only emails, we'll refund the difference back to you.''
Pricing: $8/1,000 emails, $40/5,000 emails, $50/10,000 emails.
EmailListVerify
EmaiListVerify is a popular email verification tool that's checked over 9 billion emails in its time.
They ensure a 99% deliverability rate and promise to rid your list of spam traps, hard bounces, and disposable or catch-all emails.
The main features this tool offers include:
Email verification API. Add their API to forms to block invalid email addresses from being entered.
Bulk email verifier. Upload your dirty list in multiple formats and receive a clean list in minutes.
Seamless integrations. Integrate with many popular tools such as Mailchimp, Aweber, Mailerlite, SendLoop, and more.
EmailListVerify also offers a range of FREE tools that will be handy when you're starting out, such as an Email Health Checker, BlackList Checker, Email Extractor, and MX record lookup.
Pricing: Opt for pay-as-you-go or monthly subscriptions. $139/month for 5,000 emails a day, $289/month for 15,000 emails a day, $389/month for 35,000 emails a day.
Email List Validation

EmailListValidation is one of the best email verifier tools used by a range of organizations around the globe.
It offers four main tools to solve mailing problems:
Email list cleaning service
Real-time email list verify
Block temporary/disposable email addresses
Blacklist monitoring
The bulk email cleaning service helps you to avoid hard bounces, spam traps and fake email sign-ups and you can turn on automated list cleaning, so the process runs daily without you having to do anything else.
Pricing: Choose pay-as-you-go or monthly pricing. $14/2,500 emails a month, $29/5,000 emails a month, $49/10,000 emails a month.
Captain Verify
Captain Verify is a tool used for verifying email addresses and mobile numbers quickly and easily.
It offers a range of different solutions to clean up your email list, such as:
Removing invalid/misspelled email addresses
Finding emails that are invalid or inactive
Finding and removing duplicate emails
Detect email boxes that are full
Identify temporary emails
To get started, you just need to import your email list into Captain Verify, launch the verification, and you can download your results organized by status.
A downside of this tool is that the verification is reportedly slow. But it has an affordable pricing model and plenty of features to keep your email list healthy.
Pricing: On-demand email verifications: $7/1,000, $30/5,000, $60/10,000. An annual subscription gets you 2 months free.
Reoon
Reoon is a platform that provides a range of tools to help you run your business more efficiently.
They have a simple email verification tool that's easy to use and can check large amounts of emails accurately and quickly.
Its powerful software can detect temporary emails in seconds and offers a 99% accuracy rate.
Results can be downloaded and categorized with full details to save you a lot of time.
They offer a generous free plan that includes all features and the ability to verify up to 600 emails a month.
It has many positive reviews on Trustpilot, Capterra, and the other main review sites, with many highlighting how impressed they were with its speed.
Plus, you can take advantage of a large suite of different helpful lead generation and data extraction tools on the site,
Pricing: $9/month 500 credits a day, $12/lifetime credits.
MailFloss
Mailfloss is another top email verification service that automatically removes fake email addresses before they hurt your business.
It works with 35 of the most popular email service providers and can be set up in UNDER 60 seconds. No need to spend hours trawling through your list manually.
After set up, MailFloss works without you having to lift a finger. Daily cleanups will remove spam and inactive email addresses, and you can set your preferences, such as what to do with invalid ones.
A few options include:
Fix typos automatically
Auto-delete invalid email addresses
Auto-unsubscribe invalid email addresses
Automatically tag invalid addresses or update their custom fields
With lightning-speed set-up, fully automated workflow, a 7-day free trial, and a money-back guarantee, Mailfloss is a great option to verify emails.
Pricing: Free for 7 days. Lite $25/month 10,000 credits, Business $57/month 25,000 credits, Pro $200/month 125,000 credits.
Final Thoughts on the Best Email Verifier Tools for Your Business
By using one of the email verifier tools described in this article, you'll be able to enjoy all the benefits of keeping a clean email list.
Your bounce rate will lower, your deliverability rate will increase, and ultimately, you'll get a better ROI for your email campaigns.
And, if you're new to email marketing, check out the best time to send cold emails to beat the inbox crowd!
Want to learn step-by-step how I built my Niche Site Empire up to a full-time income?
Yes! I Love to Learn
Learn How I Built My Niche Site Empire to a Full-time Income
How to Pick the Right Keywords at the START, and avoid the losers
How to Scale and Outsource 90% of the Work, Allowing Your Empire to GROW Without You
How to Build a Site That Gets REAL TRAFFIC FROM GOOGLE (every. single. day.)
Subscribe to the Niche Pursuits Newsletter delivered with value 3X per week