Remote Working Best Practices: 7 Highly Effective Tips To Try Out
When transitioning to working from home, being mindful of remote working best practices is important.
Being aware of this will help you perform your work better, be more productive, and develop a solid routine for yourself.
In this article, we're going over 7 best practices you can adopt to be a better remote worker.
Learn about what each best practice entails, how it works, and how you can integrate it into your routine.
Let's go!
7 Remote Working Best Practices To Try
These remote working best practices can feel like second nature in time. Give yourself some grace when adopting these and remember the big picture.
1. Choosing The Right Equipment
Choosing the right equipment is one of the top work remote working best practices.
Having the right equipment to work remotely makes up the foundation for a solid work-from-home space. Nothing is worse than remotely working with inadequate equipment, like balancing your laptop on your lap while lying in bed uncomfortably with all your office supplies scattered across your bedroom.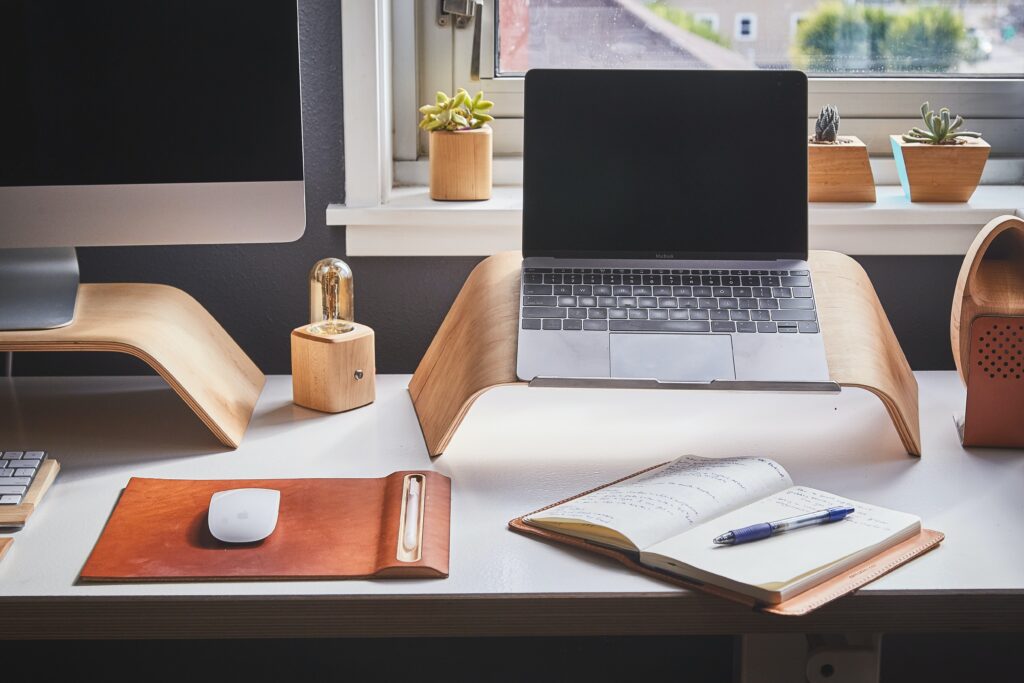 Without the right equipment, your productivity can suffer big time.
When choosing the right equipment for your work-from-home setup, think about:
Ergonomics: Choose ergonomic-friendly equipment, especially if you suffer from ergo-related ailments like carpel tunnel syndrome, back pain, or other health issues. Spend time searching for ergonomic office furniture, equipment, and supplies to make your workspace work well.
Comfort: Keep comfort in mind when designing your remote office workspace. You are at home, after all. You want to work in a comfortable setting, wherever you work, honestly. Your office space should accommodate potentially long hours of work.
Security: Ensure your equipment and software is up-to-date to reduce cybersecurity risks. Use firewalls, antivirus software, and other security tools and software to keep your work safe and secure.
Adaptability: Build your workspace to be adaptable to the changing tasks and projects you may work on.
Professionalism: A professional work environment means you're always ready to connect via remote access, hop on a Zoom video call, and share your uncluttered, professional workspace with your virtual team and leadership. Make sure your work area reflects this.
Ensure you set up a dedicated workspace with the right equipment, keeping these things in mind.
2. Setting Up Your Space
Creating a comfortable, well-organized, and ergo-friendly virtual work workspace is about choosing the right equipment, as covered above.
Investing in the right kind of equipment to help you do your best work is crucial here.
Remote workers have to take care in setting up their space for working from home.
If you're stuck on this, get inspired by looking online at interior design blogs or social media to see how other people work remotely. This can give you ideas for how to set up your own space to motivate you, work comfortably and efficiently, and produce your best work.
Check out the best work from home desk setup, including 10 must-haves for an efficient home office!
3. Taking Regular Breaks
Regular breaks are crucial for performing quality work, especially when working from home. It can be easy to keep working through your break times since you're so comfortable at home, but breaks are important.
You need time to reset, take some personal time, and take a breather.
Did you know that taking a break can actually help you work better?
According to this source, 94% of respondents said that stepping away from a task helps them get a fresh perspective on it, and over 90% of respondents shared that taking a break helps them maintain mental focus.
Taking a break can help you maintain your mental focus.
This tells us that the remote workforce benefits greatly from breaks.
Breaking can also lead to benefits like:
Improved productivity
Energy management
Stress reduction
Maintaining physical and mental well-being
Avoiding decision fatigue
So, make sure you build breaks into your remote work routine.
4. Setting Boundaries
Create boundaries that separate work life and personal life.
Work-life balance is about having those clear barriers in place so you don't become overworked, stressed out, and burned out.
This can be one of the most challenging remote work best practices to maintain, but it is super important.
Here are some key tips:
Designate a part of your home for work only.
Take breaks on time.
And don't work during your free time.
Also, be sure to take the time to fully detach yourself from work so that you can mentally unwind and leave work in the office.
5. Keeping Lines Of Communication Open
Having an open-door policy and being an active communicator can get you far in a remote workplace.
Effective communication can be challenging in a telework or remote work environment. You aren't working face-to-face or side-by-side with others.
There's no reading body language, there can be fewer social opportunities, and there's no stopping team members in the hallway to ask a quick question.
So try your best to maintain open communication and be professional.
Embrace video conferencing - use communication tools like Microsoft Teams and instant messaging with your virtual team.
Keeping that social interaction alive can be very important for remote work.
6. Request Feedback Often
Requesting feedback plays a role in communication and is a critical remote working best practice.
Asking for feedback reminds your team and remote managers that you're there. I
It helps with visibility and shows others that you care about your performance.
It's also helpful to management to have you approach them for feedback requests rather than try to chase you down over the web to schedule remote meetings.
7. Make Yourself Visible In Your Team
Making yourself visible is something you'll probably have to work harder at in a remote work environment, but it's one of the most important remote working best practices.
It's easy to be lost behind a computer screen and forgotten about as a remote worker. That's why you have to make yourself visible to your team.
Do this with check-ins with your team members and management. Interact and network with coworkers. Keep an open-door policy and do "water cooler" talks virtually. Keeping and maintaining these connections is important.
What Are 3 Things Critical For Remote Working Success?
Three things critical for an employee to have remote working success are:
Routine
Environment and,
Strong communication
First, having a solid routine and schedule while working remotely can help you go very far. It creates structure for you, which aids in work-life balance and can contribute to greater productivity, improved mental focus, and overall happiness.
This goes hand in hand with the remote working best practice of setting boundaries.
Next, the environment plays a major role in the success of remote working. Your work environment aligns with remote working best practices: choosing the right equipment and setting up your space.
Your work environment should be comfortable, professional, and ergo-friendly.
Since you're working at home, you have a lot more freedom than you might have working in-office to decorate your space how you wish.
Some ideas include:
Putting a cozy rug under your desk that you can rest your feet on
Opening your window to get fresh air
Running an essential oil diffuser or candle for a lovely scent
There are so many things you can do to make your workspace truly yours. Take advantage of the freedom and flexibility you have working from home and turn your space into your own. It'll make you happier and you'll probably perform better at work.
The last thing one is communication. You'll probably have to put more effort into "showing up" while working remotely compared to working in-office but there are far more benefits to remote work life that offset this potential drawback.
Keep an open-door policy. Converse with peers, coworkers, and leadership. Make your presence known. This can help with employee engagement and team building, too.
What Is The Etiquette For Working Remotely From Home?
Work-from-home etiquette refers to the rules and guidelines you work by that is expected of you as a remote employee.
Here's how you follow proper work-from-home etiquette in a remote environment:
Be on time: Show up on time to work, meetings, and other work engagements and events.
Dress professionally: Keeping your appearance up and maintaining professional dress is expected, whether it's stated or not. Your professional appearance is noticed, believe me.
Maintain a schedule: Take breaks and lunches on time; create a routine for yourself and stick to it.
Respect others' time: Schedule meetings during work hours. Don't contact peers and coworkers outside of work hours for work-related issues.
Check-in: "Show up" and make yourself seen at work. Check in with your supervisor and update them on challenges you're experiencing at work, things, and/or support you need.
Following these tips will help you maintain good work-from-home etiquette, contributing to your success in your remote work role.
What Makes A Good Remote Work Culture?
A good remote work culture is important to consider regarding remote working best practices. This is about creating an environment that is positive and productive.
Employees feel comfortable and secure in the workplace. Employees are given space, time, and flexibility to work in the best way for them, and companies support that.
There's no micromanagement, and workers feel comfortable approaching others for questions, advice, and feedback. There is trust, respect, and flexibility. Employees are happy, enjoy work, and feel valuable.
The Bottom Line on Remote Working Best PRactices
Remote work is a new prospect for many companies. People talk about flexibility and no longer needing to brave a heavy commute to the workplace, but it's not without its challenges, too.
There can be major issues with work-life balance, sometimes productivity can slip, and it can be difficult to manage remote teams and nail down employees.
Employees figuring out how to work from home is a big piece of the puzzle.
Whether you're remotely working from home locally or living a digital nomad lifestyle, putting these remote working best practices into play can make working from home easier and provide a ton of rewards for you and your career.
Are you practicing any of these ideas regularly?
Want to learn step-by-step how I built my Niche Site Empire up to a full-time income?
Yes! I Love to Learn
Learn How I Built My Niche Site Empire to a Full-time Income
How to Pick the Right Keywords at the START, and avoid the losers
How to Scale and Outsource 90% of the Work, Allowing Your Empire to GROW Without You
How to Build a Site That Gets REAL TRAFFIC FROM GOOGLE (every. single. day.)
Subscribe to the Niche Pursuits Newsletter delivered with value 3X per week