AWeber vs Mailchimp: Which is Better for Your Email Marketing Needs?
When you buy something through one of the links on our site, we may earn an affiliate commission.
In the dynamic and competitive world of email marketing, two names often stand out: AWeber and Mailchimp. Both have established themselves as leading tools in this space, each boasting a range of features and capabilities that cater to businesses of all sizes. In this AWeber vs Mailchimp review, we'll be taking an in-depth look at these two powerhouses, comparing their strengths and weaknesses to determine which one comes out on top.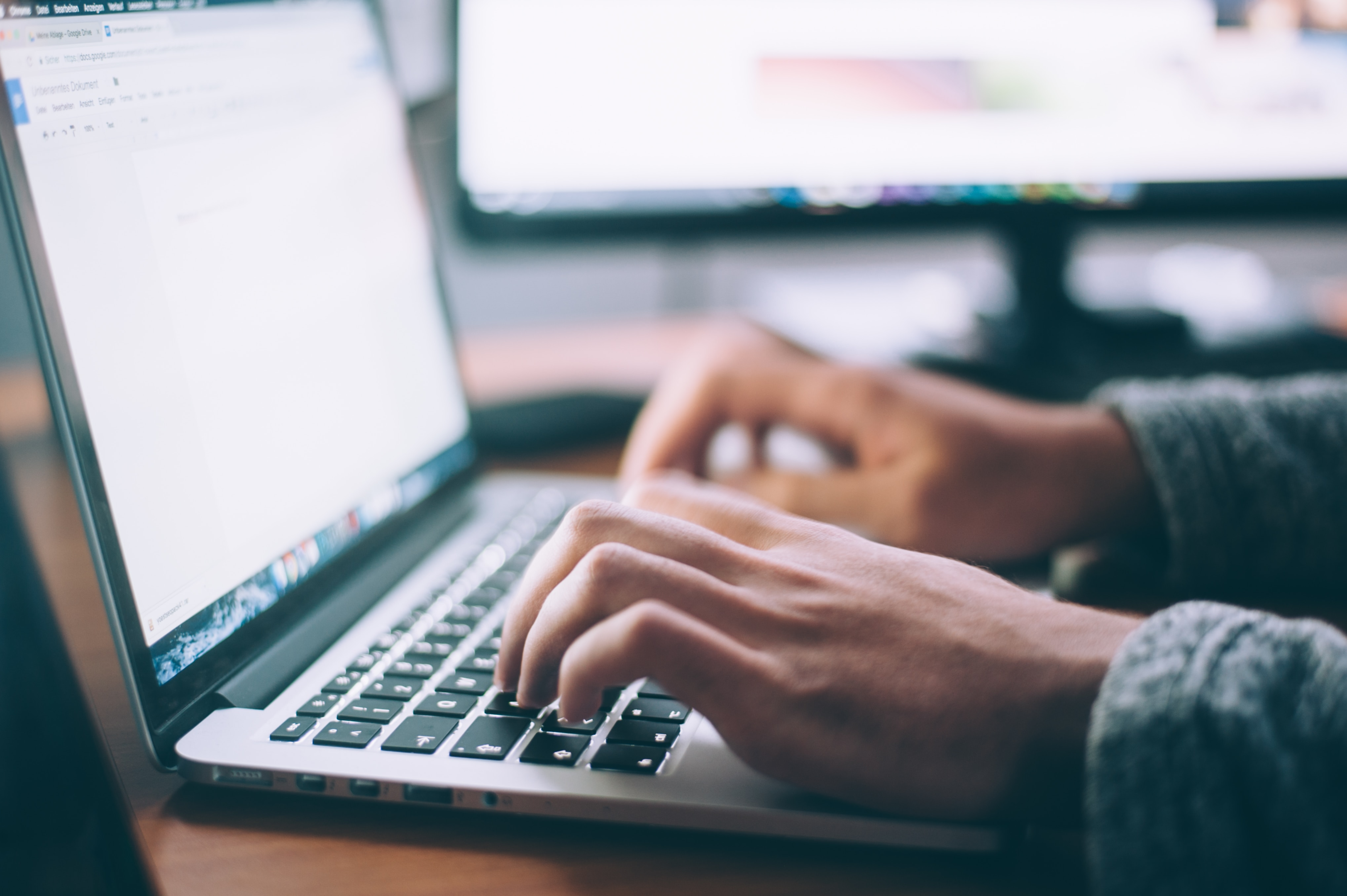 Key Features Comparison
A comparison of AWeber vs Mailchimp reveals unique strengths in both email marketing tools.
AWeber is often hailed for its simpler and more intuitive list management, making it easier for users to view lists and segment by open rates.
AWeber provides a larger variety of templates, offering around 600+ compared to Mailchimp's 100+.
Regarding user experience, some find Mailchimp stands out for its ease of integrating apps, especially with some of the most common social platforms like Facebook & Google Ads.
Both platforms have a good reputation for their high deliverability rate.

If you're short on time, AWeber outshines Mailchimp in various categories.
Email Templates
Email templates are incredible tools when it comes to efficiency. They provide a pre-configured layout that can be filled with your unique content, saving you time and energy.
AWeber's Template Selections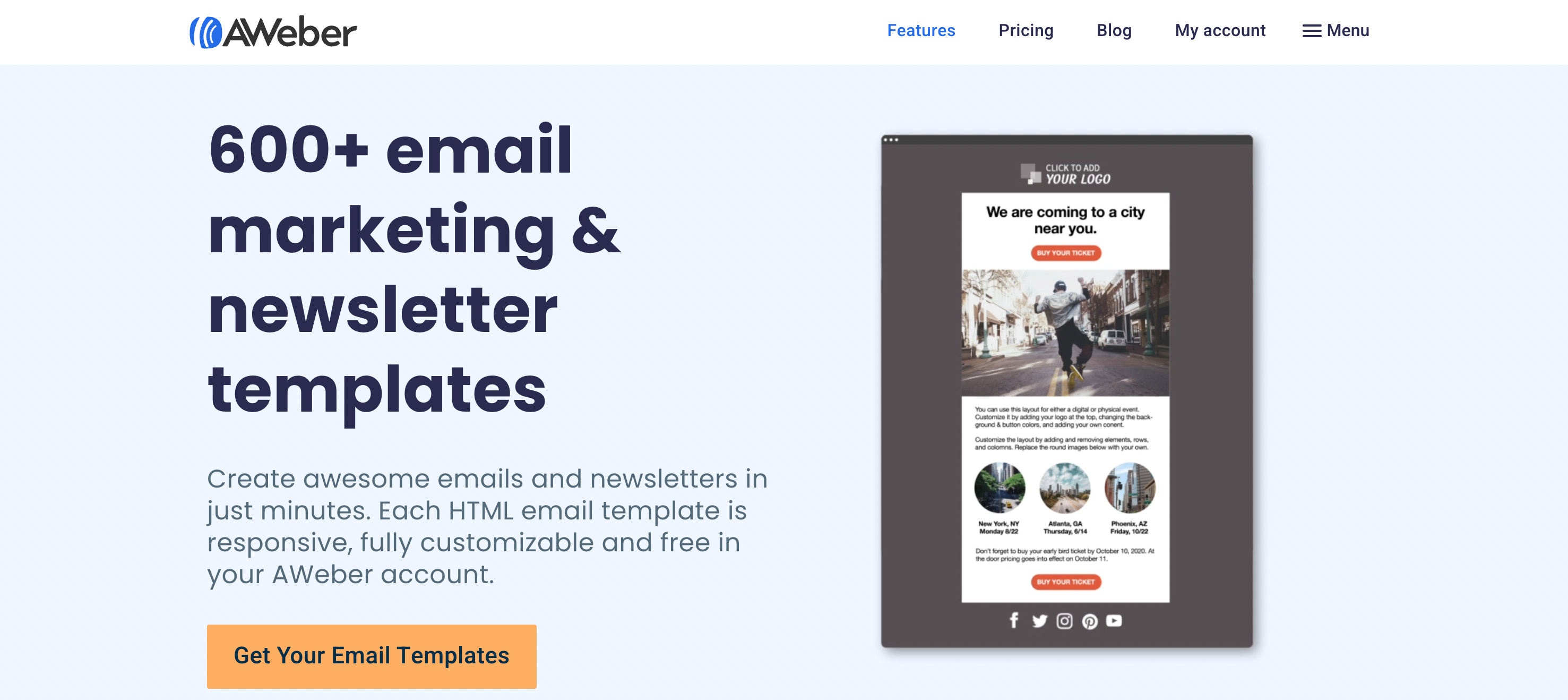 AWeber boasts a broad selection of over 600 customizable and responsive email and newsletter templates. These fully responsive templates cater to various needs, including professional email marketing, landing page builder capabilities, and more.
If you're satisfied with the appearance and style of an existing AWeber template but wish to modify the color scheme or layout, they can accommodate that. Their talented team can also create a custom template just for you if you have a particular design in mind.
Mailchimp's Template Options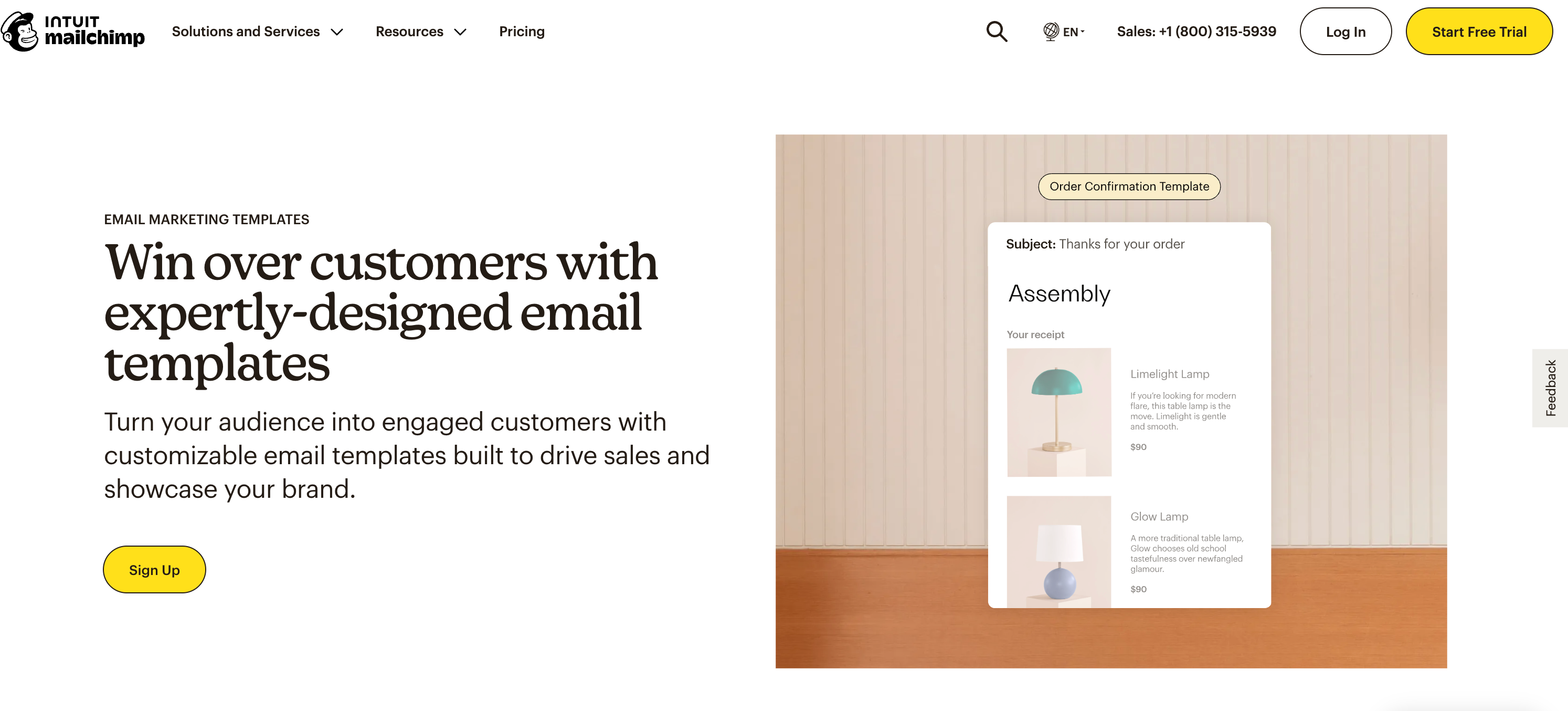 Mailchimp provides over 100 industry-specific templates for digital marketing campaigns. These can be customized to fit your brand and are fully responsive. Mailchimp also provides a powerful AI tool that generates compelling body copy, subject lines, headlines, and more tailored to your unique ideas.
While both platforms offer a range of templates, AWeber's extensive selection and custom design options make it a strong choice for businesses seeking flexibility and personalization in their email marketing campaigns.
Automation Capabilities
As any online marketer will tell you, the automation capabilities of your email marketing software can be a serious game-changer. So, it's important to explore what AWeber and Mailchimp bring to the table in this regard.
AWeber's Automation Capabilities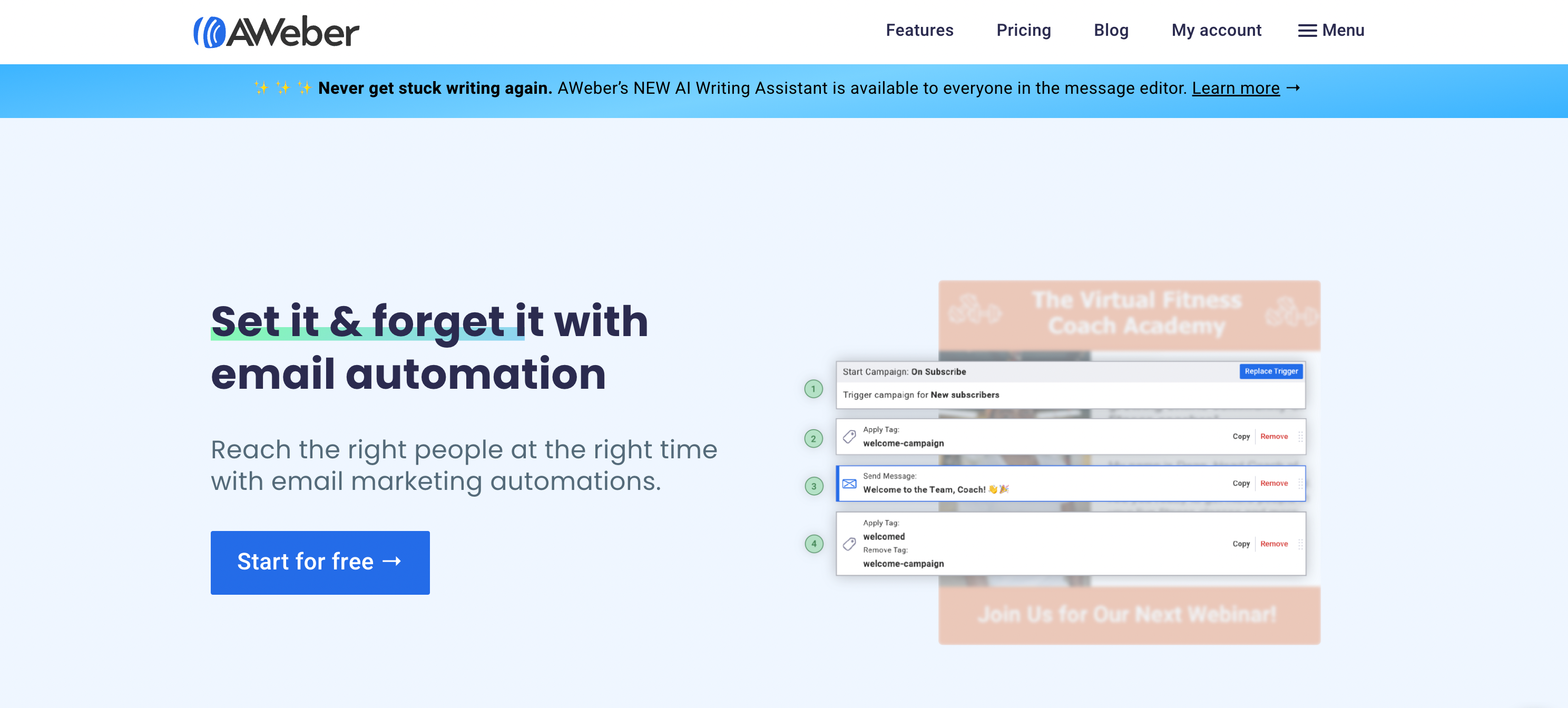 With AWeber, setting up automated email sequences is incredibly simple. Its intuitive drag-and-drop campaign builder is like having an extra pair of hands ready to send out perfectly timed emails.
AWeber's tag-based autoresponders are fantastic for segmenting your audience based on their interests. This helps you get to know your subscribers on a more personal level. You can create simple yet effective customer flows with AWeber's campaigns tool.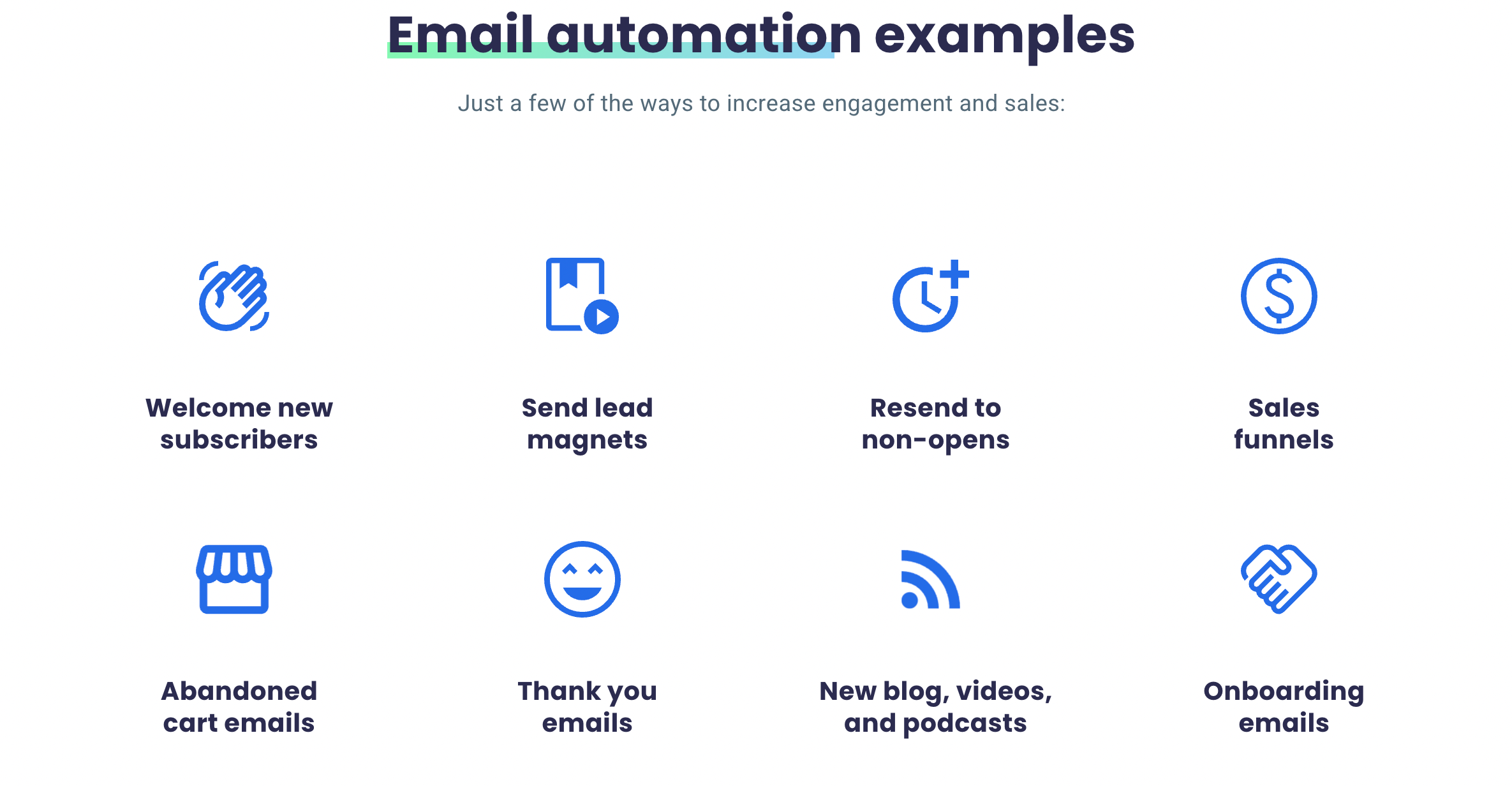 AWeber integrates smoothly with various business tools, making your marketing efforts even more streamlined.
Mailchimp's Automation Capabilities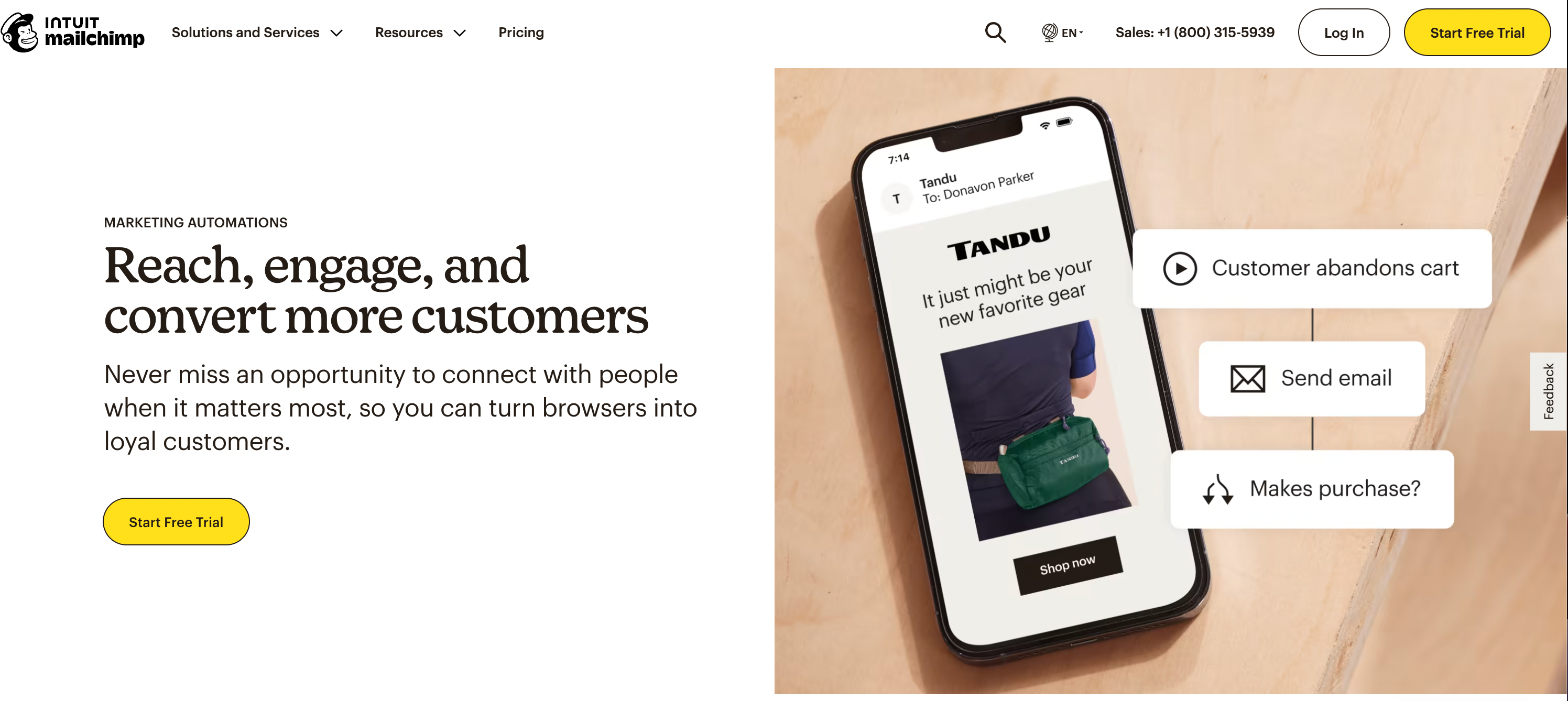 Mailchimp also has unique automation features. Its 'Customer Journey' tool allows you to create complex email sequences based on subscriber behavior - a powerful tool for any marketer looking to maximize conversions.
Mailchimp's time-based autoresponders and single-step automation, such as welcome emails and order notifications, are handy tools.

If you're looking for even more control over your email marketing, Mailchimp's higher-tier plans offer advanced custom workflows. However, these advanced features might be complicated if you're new to email marketing.
So, while AWeber offers simplicity and user-friendliness, Mailchimp provides advanced automation capabilities.
The choice here would depend on your specific needs, comfort level with these tools, and the complexity of your email marketing strategy. In my experience with both platforms, I found AWeber's automation capabilities more user-friendly.
AWeber vs Mailchimp Reporting and Analytics
Both AWeber and Mailchimp equip users with extensive reporting and analytics insights, enabling them to understand and optimize their marketing campaigns.
AWeber's Reporting and Analytics Insights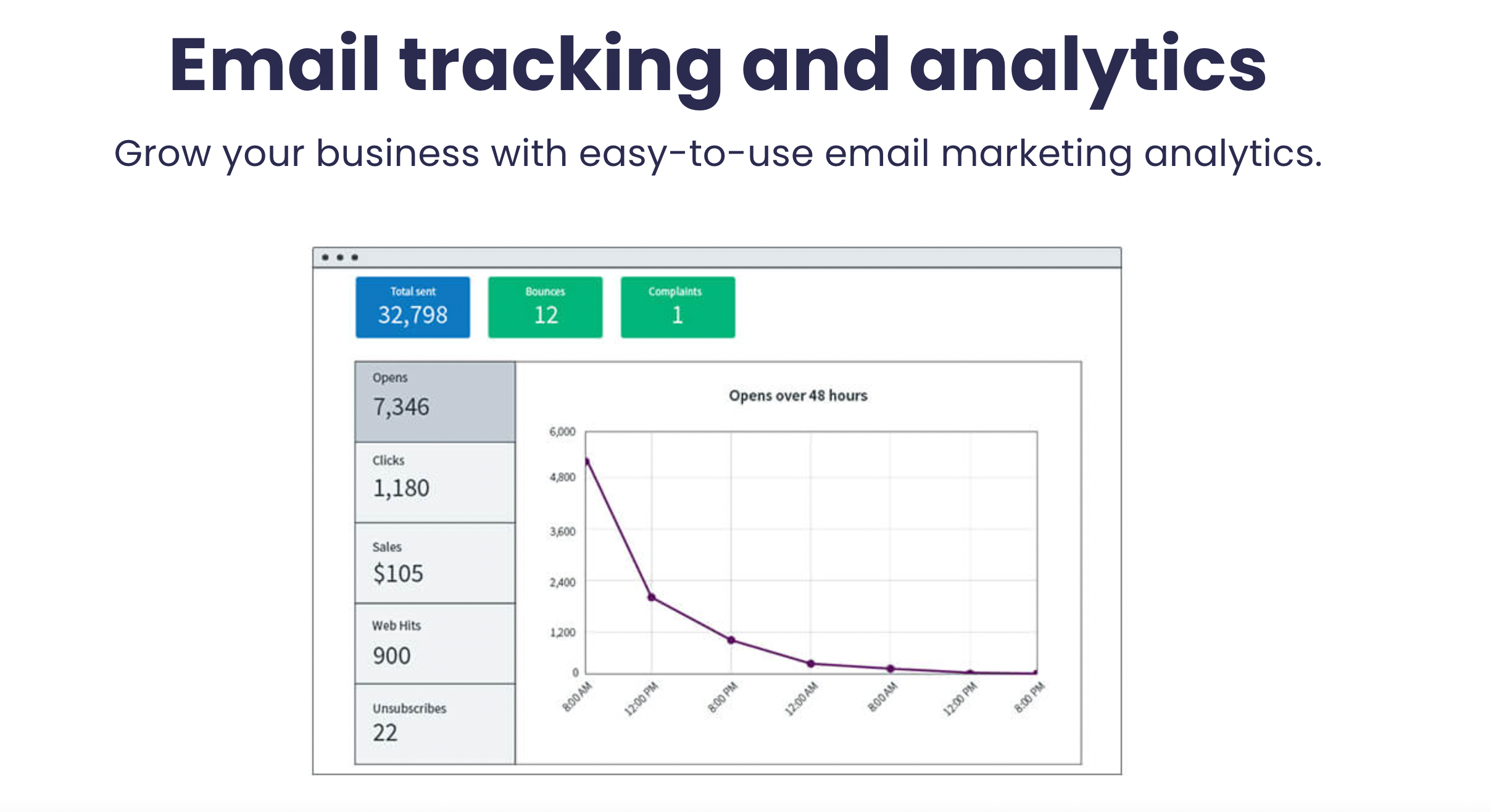 AWeber provides various analytics capabilities for serious marketers. Users can track various metrics, from open rates to sales, gaining valuable insights into their email performance.
A unique feature of AWeber is its Email Web Analytics, which enables you to monitor your subscribers' activity on your website. This gives you insights into page views and subscriber purchases from your domain.
As a result, you can automatically categorize them based on their specific behaviors, facilitating more targeted segmentation and the ability to measure the direct impact of emails on sales figures.
Mailchimp's Reporting and Analytics Insights

Mailchimp also boasts robust analytics, reporting, and AI-assisted optimization tools. Real-time statistics for all marketing campaigns allow users to make timely, informed decisions.
The platform's AI and analytics tools offer a comprehensive overview of marketing data, using comparisons against vast data points to generate effective recommendations.
Mailchimp supports A/B testing, facilitating the optimization of email campaigns through data-driven insights.
AWeber shines again with its user-friendly interface and ability to go beyond email, providing extensive reporting and analytics tools. It excels in capturing additional website data, making it a standout choice among these platforms.
List Management
Effective email list management is crucial for successful email marketing. Both AWeber and Mailchimp offer strong capabilities in this regard.
AWeber's Approach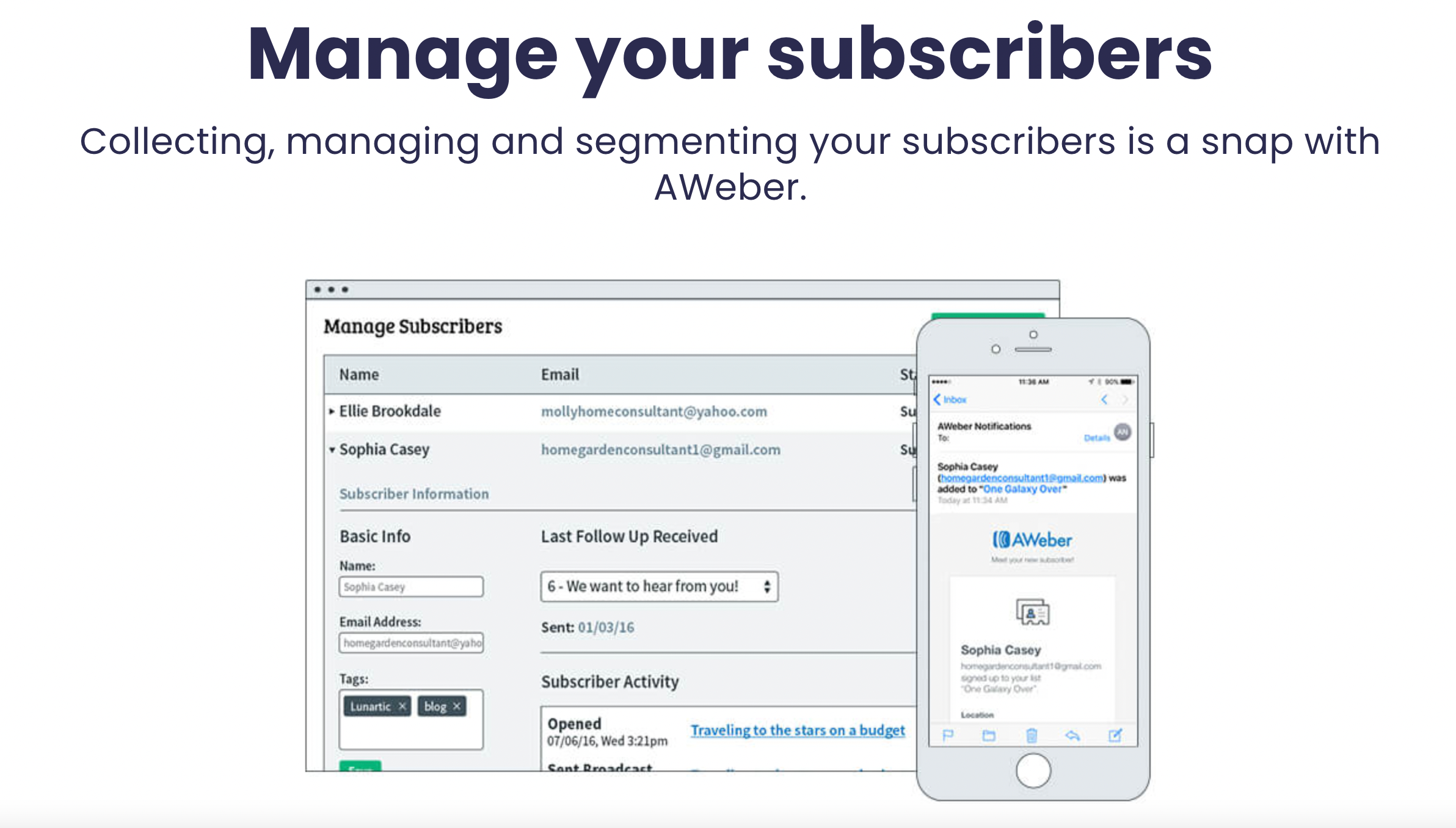 AWeber offers robust tools for easy collection, segmentation, and management of email lists. You can create unlimited emails & lists from one account and segment them based on different criteria. Automated tagging further simplifies list management, ensuring your campaigns reach the most relevant audience.
Mailchimp's Strategy

Mailchimp allows you to organize and track contact data using segments and tags. For personalized campaigns, you can import customer behavioral data from integrations like Salesforce and Shopify.
Predictive segmentation and e-commerce features help you understand your audience and build customer relationships.
While both platforms offer strong list management capabilities, AWeber provides unlimited lists, subscribers, and advanced segmentation features. This makes it a compelling choice for marketers looking to optimize email performance without limitations or caps.
Customer Support
Reliable customer support can make all the difference in enhancing user experience and ensuring seamless service. Here's a breakdown of the options offered by both companies.
AWeber's Customer Support Options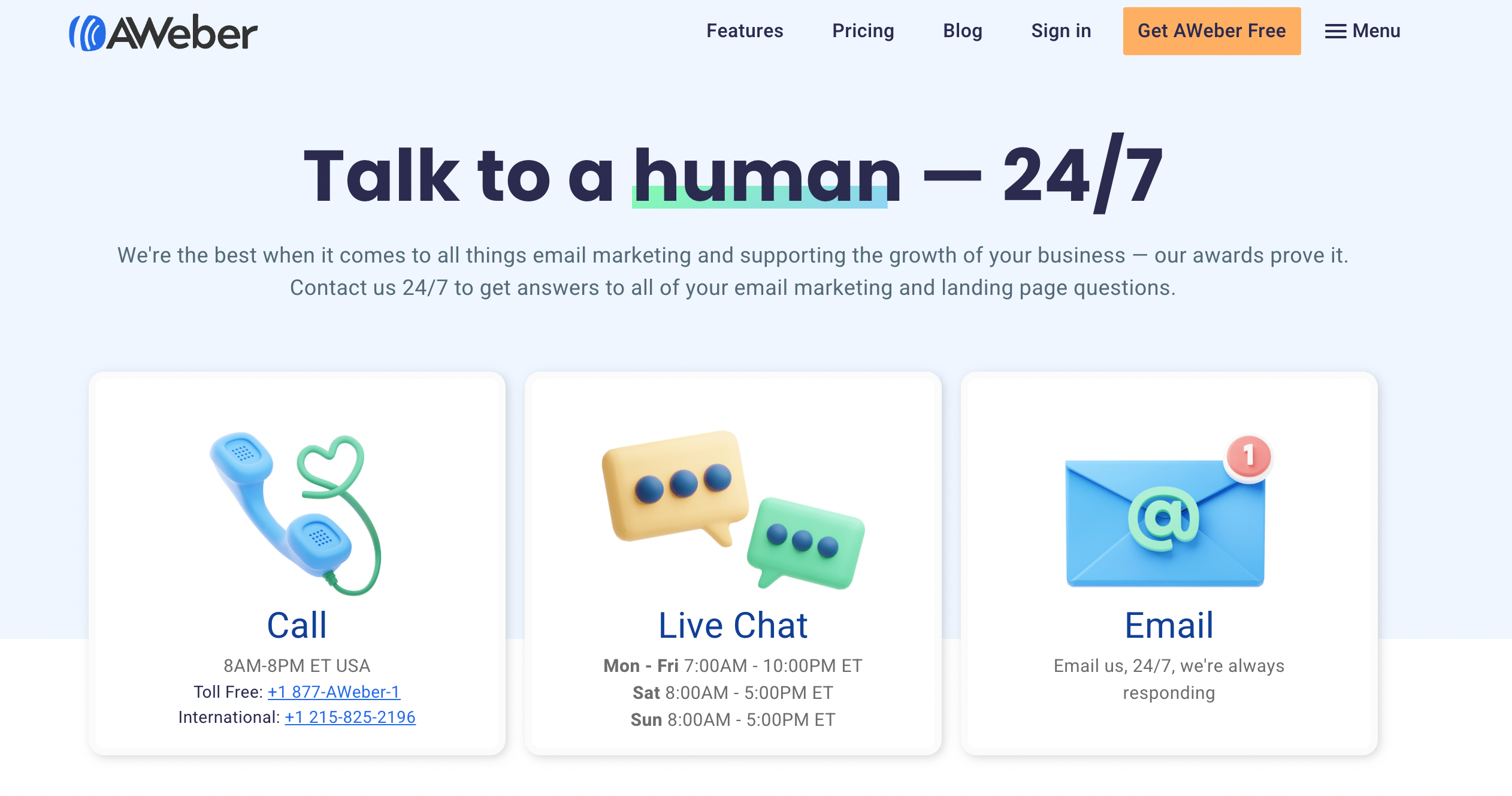 AWeber excels in customer support and has won numerous awards for its personalized service. The company offers phone, live chat, and round-the-clock email assistance.

They're flexible with their service hours, catering to users across different time zones. They've always been quick to help me with any issue via live chat support.
Numerous marketers also praise their phone service for its exceptional assistance, especially during technological difficulties, which inevitably happen in email marketing.
AWeber also provides a comprehensive knowledge base for quick solutions. One thing that especially stood out for me was their hassle-free account migration service. This made my switch from Mailchimp quick and easy.
Mailchimp's Customer Support Options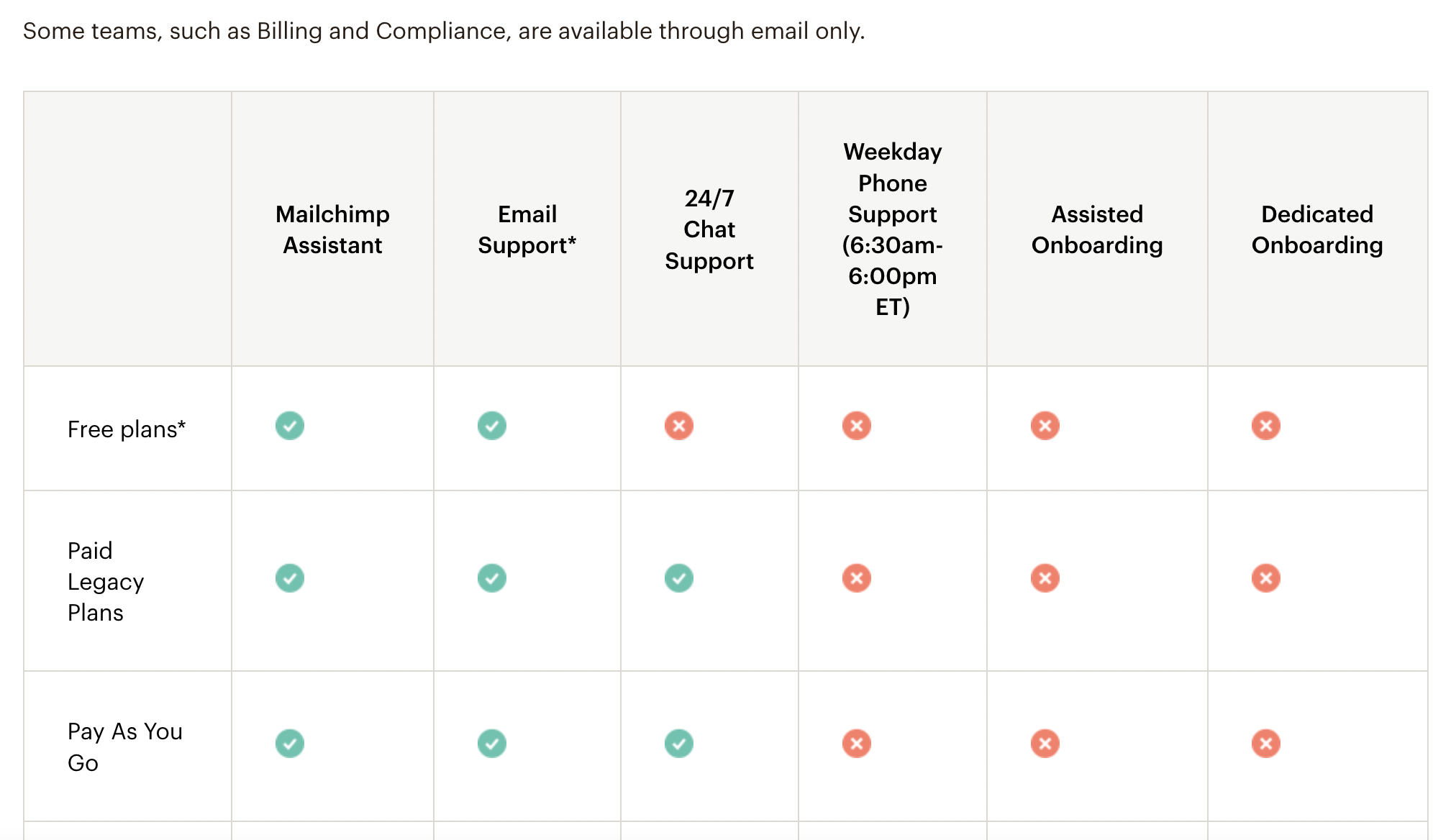 Mailchimp offers varying support options based on your plan, including an AI chatbot, email support, chat, phone support, and screen sharing for premium users. Mailchimp also offers guides and tutorials for self-help.
Before switching over to AWeber, I was a paid Mailchimp customer. One instance in particular stood out to me regarding their support; they have a genuinely unique appreciation for their loyal customers. The company once surprised me with a rare, cozy Mailchimp Monkey Hat.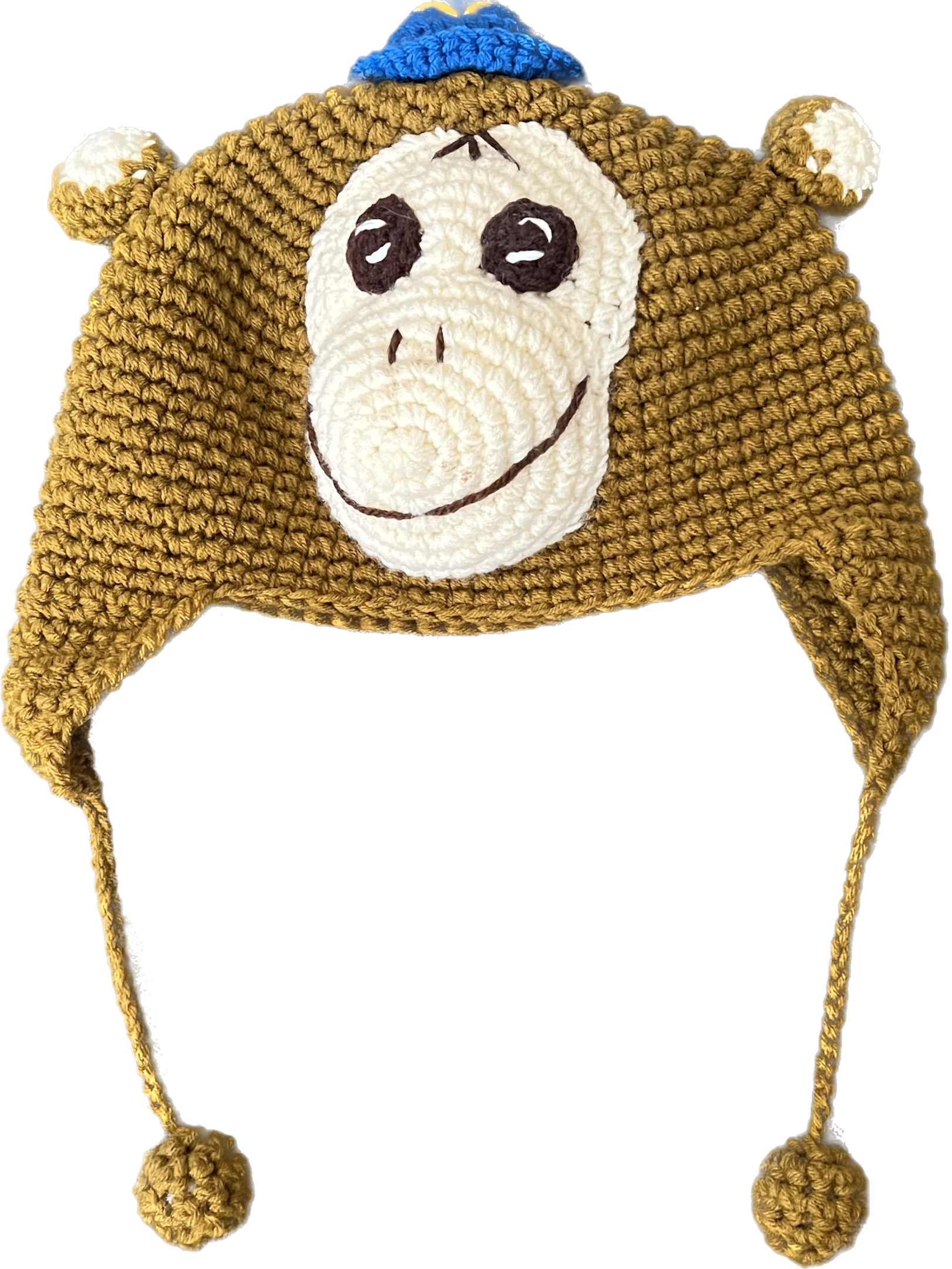 This thing looked and felt like it had been knitted by a loving grandma sitting by her fireplace. It felt warm and snug and wasn't for sale anywhere online or through Mailchimp's website.
I even asked the team if I could purchase the dog hat version for my pup – but nope. It was simply a gift - a token of appreciation from Mailchimp.
Although Mailchimp and AWeber both provide unique customer service options, I believe that AWeber stands out because of its incredibly personalized care and willingness to assist customers with any issues they have at any hour.
AWeber vs Mailchimp Pricing Structure
Understanding the pricing plans of email marketing platforms is crucial when choosing the best tool for your business. Here's a breakdown of the structure for both AWeber and Mailchimp.
AWeber Pricing Structure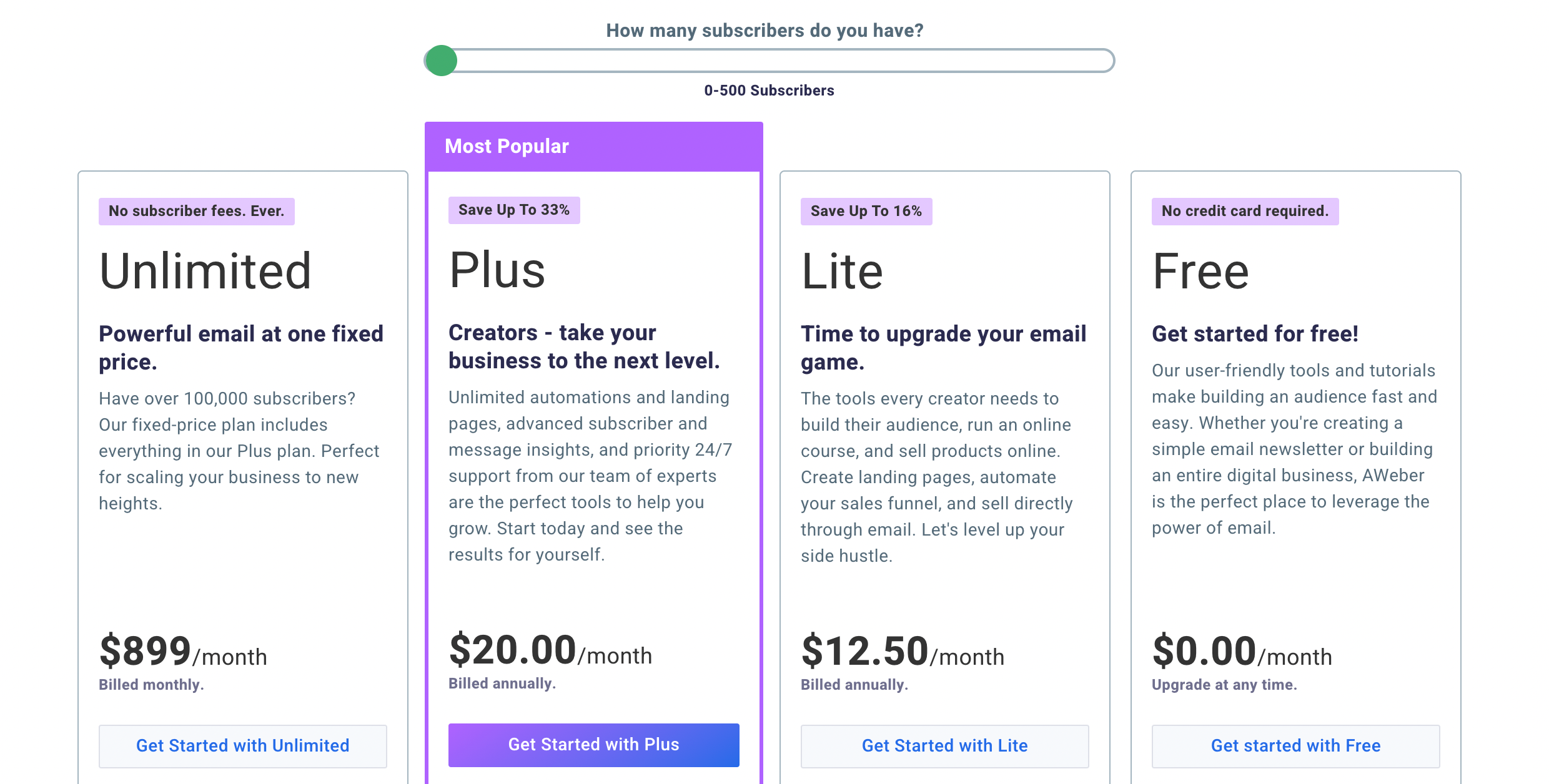 AWeber offers four pricing plans:
Free Plan: Ideal for beginners, with up to 500 subscribers and basic features.
Lite Plan: Costs $12.50/mo, providing advanced features like landing pages and advanced message analytics. This tier also removes AWeber branding.
Plus Plan: Priced at $20.00/mo, includes unlimited email lists and advanced reporting & analytics.
Unlimited Plan: At $899/mo, suitable for large businesses with over 100,000 subscribers ready to scale to new heights.
Each plan comes with advanced reporting, analytics, and sales tracking. However, additional subscriber fees apply for the Lite and Plus plans.
Mailchimp Pricing Structure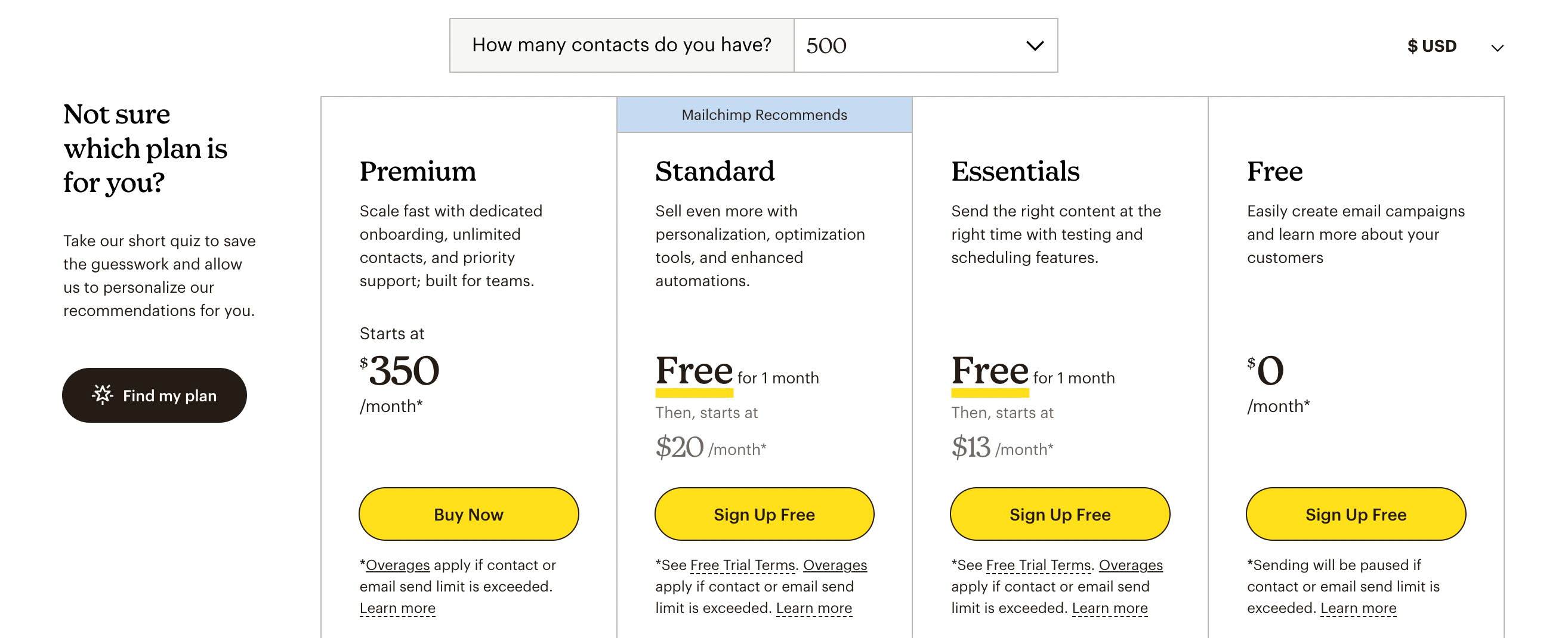 Mailchimp presents four pricing plans:
Mailchimp's Free Plan: Suitable for up to 500 contacts, offering basic features.
Essentials Plan: Starting at $13/mo for 500 contacts, includes testing and scheduling features and 3 audiences.
Standard Plan: From $20/mo for 500 contacts, provides personalization and optimization tools and 5 audiences.
Premium Plan: Starting at $350/mo for 10,000 contacts, includes dedicated onboarding and unlimited contacts. It also includes phone and priority support.
Each plan has varying features and limitations, with the Premium Plan offering the most extensive features.
I found AWeber's pricing to be more affordable and easier to understand. The value for money and range of features AWeber provided led me to switch from Mailchimp (despite that awesome monkey hat).
And their incredible subscriber migration service, which would have been a nightmare without their help, sealed the deal for me.
Ease Of Use & Integration Capabilities
When selecting an email marketing tool, the simplicity of the user interface and the system's ability to integrate with other platforms is key.
AWeber's User Interface & Integrations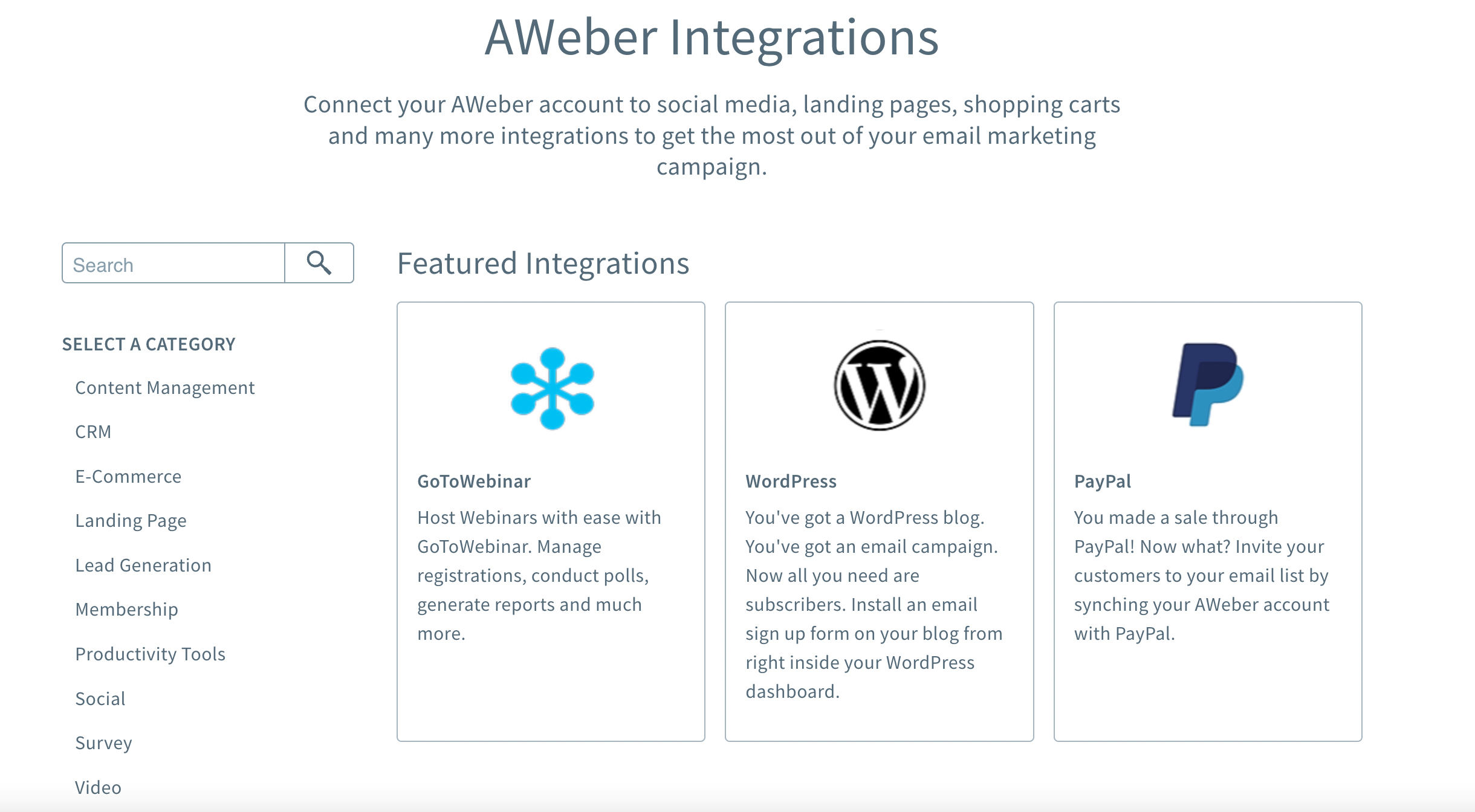 AWeber's user interface is intuitively designed for easy navigation, regardless of the user's experience level. It offers a straightforward sign-up process and a welcome video to guide new users.
The dashboard comprises four sections for system components, resources, subscriber stats, and message updates. As for integrations, AWeber boasts hundreds of connections with major e-commerce and social platforms, enabling a wide range of tools to enhance your email marketing.
Mailchimp's User Interface & Integrations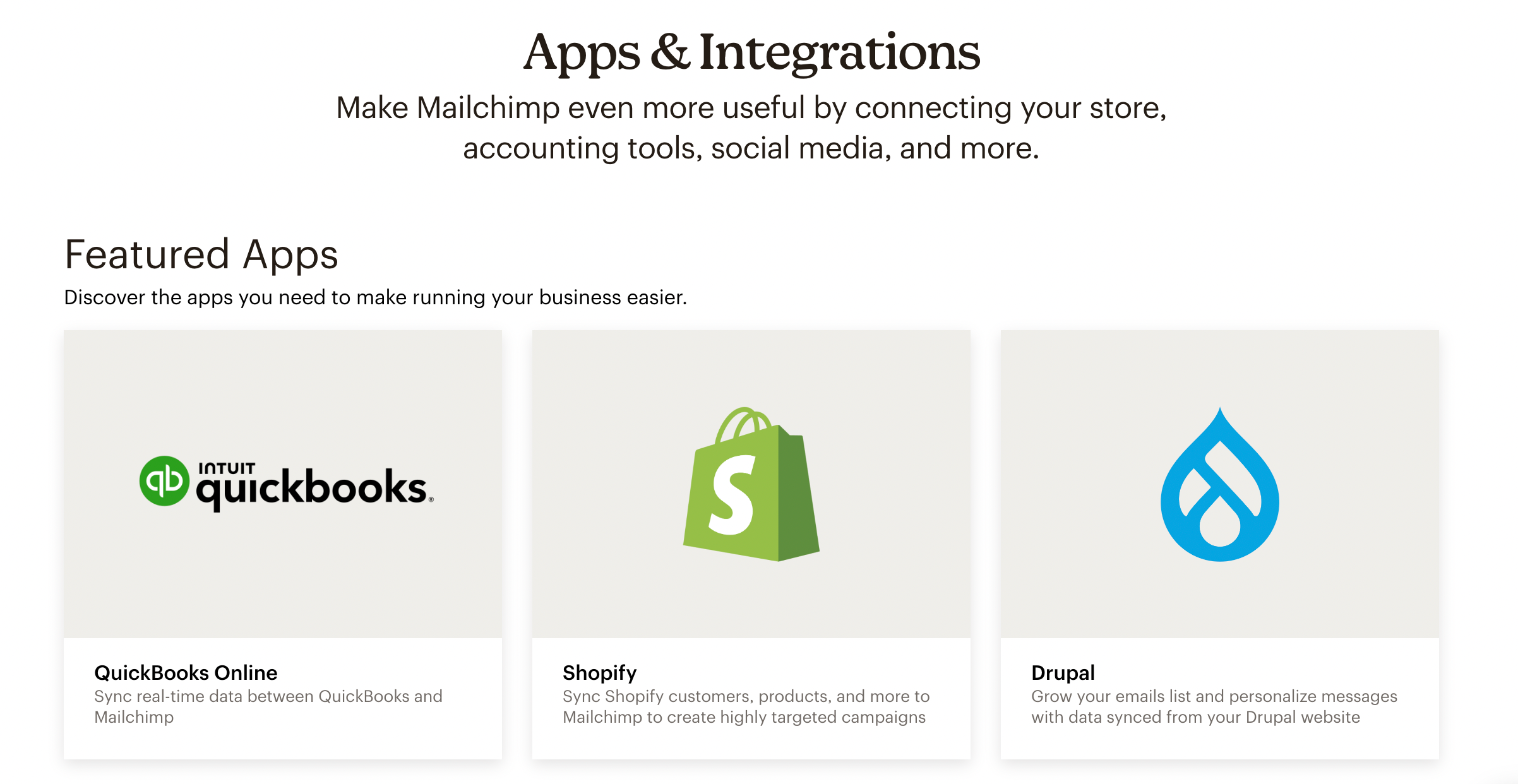 Mailchimp features a clean, intuitive interface with a straightforward sign-up process that doesn't require credit card details. Its dashboard offers clear options and prompts for easy navigation across templates, campaigns, reports, lists, and automation.
In terms of integrations, Mailchimp may have fewer total connections than AWeber. Still, it integrates well with popular e-commerce and social media platforms and even allows management of Facebook ad campaigns and Google Ads directly from the account for added convenience.
Deliverability Rates
The deliverability rates of email marketing platforms are crucial, and luckily, both AWeber and Mailchimp are rated highly in this regard.
AWeber's Email Reach
AWeber boasts high deliverability rates, confirmed by internal tracking and third-party firms. Users can independently verify these rates, ensuring transparency. AWeber often excels in deliverability and volume compared to various other email platforms.
Mailchimp's Deliverability
Mailchimp's website explains that delivery rates depend on server reputation, email content, recipients, and receiving server policies. The company maintains a good sending reputation and uses an abuse-prevention system. However, it strongly encourages users to follow content and contact collection best practices.
To give you some numbers, during the testing round in February 2020, no emails from either provider ended up in the "promotions" tab in Gmail. 31% of Mailchimp emails were marked as spam, whereas only 19% of AWeber emails suffered the same fate.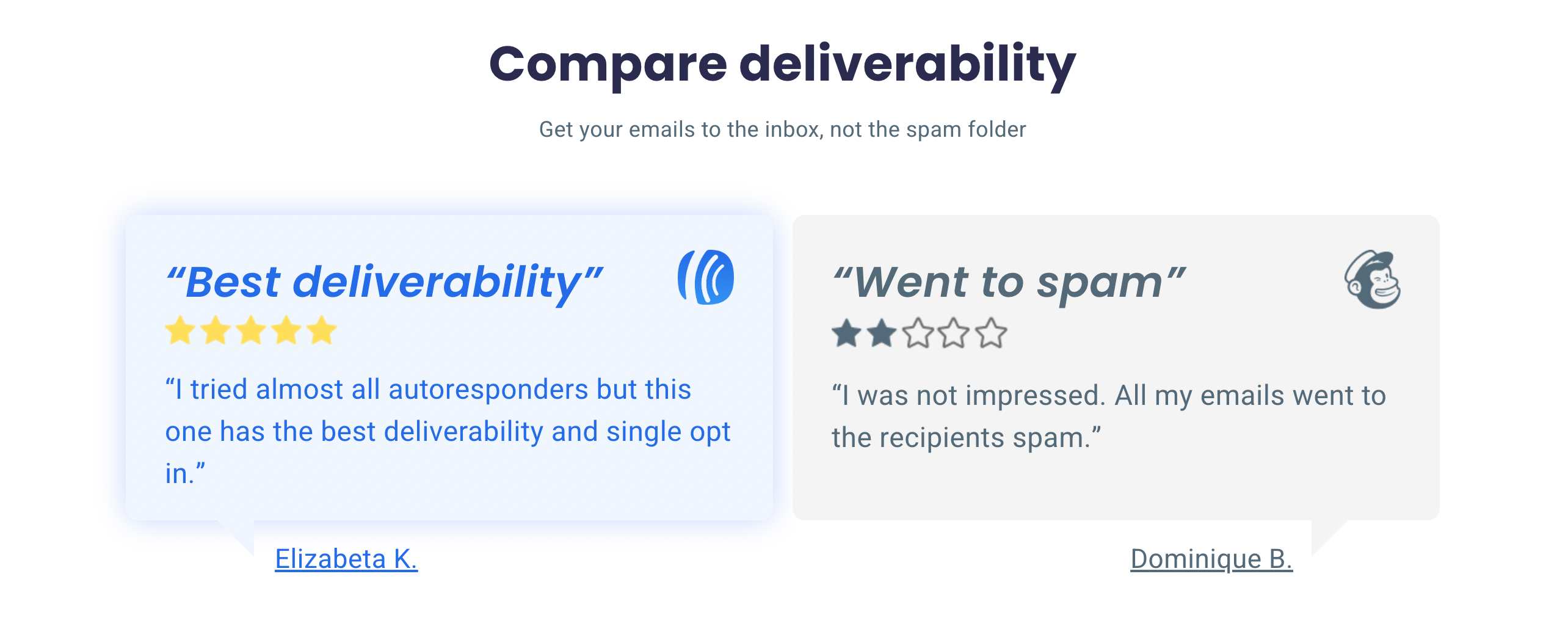 So, while AWeber and Mailchimp aim for high deliverability rates, AWeber wins regarding emails being read.
Noteworthy Alternatives to AWeber and Mailchimp
There are great email marketing platform alternatives that offer unique features for businesses of all sizes. For this AWeber vs Mailchimp article, I took a closer look at a few of the top contenders.
ConvertKit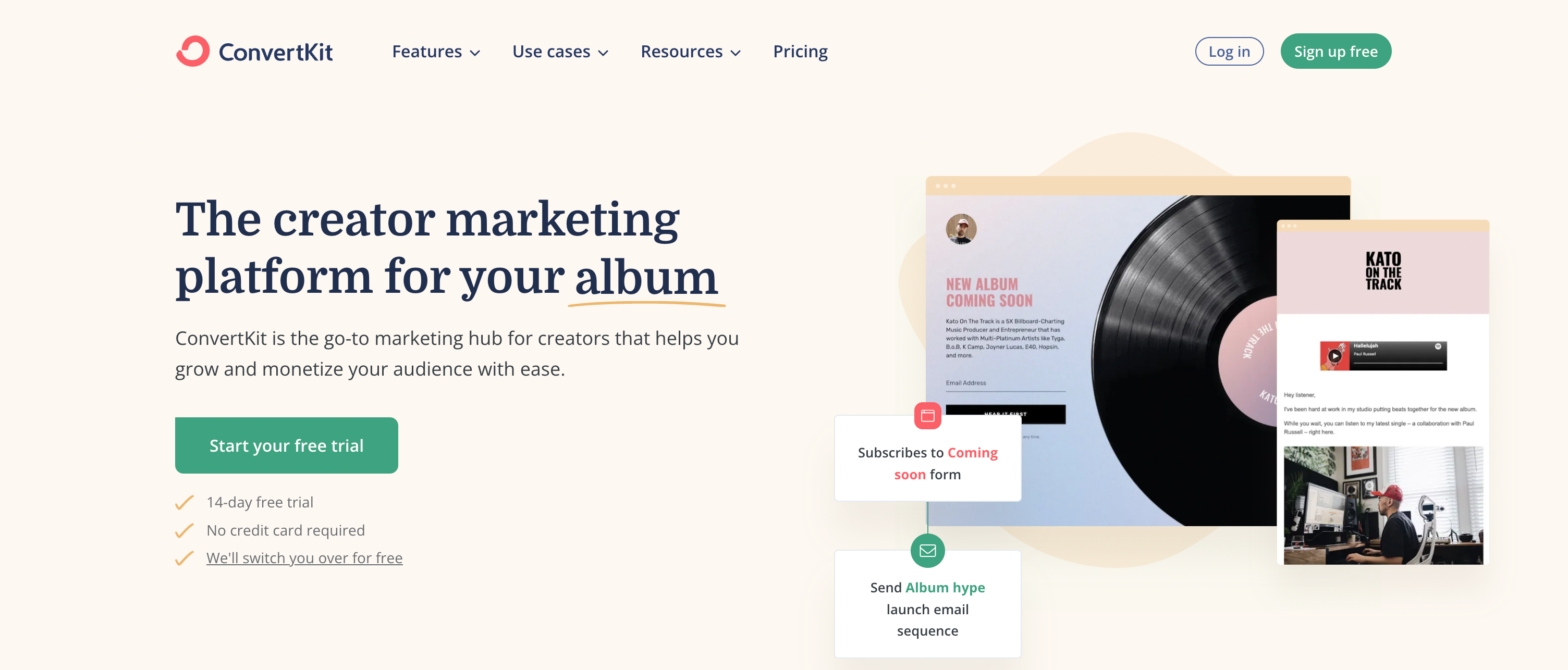 ConvertKit is a dynamic platform that offers personalized email campaigns. With integrated features supporting popular apps, it offers seamless workflows.
ConertKit offers a range of popular features, including a user-friendly interface, exceptional design, the ability to create unlimited lead magnets within a single campaign, hassle-free migration, and the option to conduct A/B testing for email broadcast headlines. To learn more, check out this ConvertKit Review.
---
ActiveCampaign

ActiveCampaign is a comprehensive marketing solution offering automation, CRM, and landing pages. With a focus on personalization, it ensures that your campaigns connect with your audience.
It provides over 870+ integrations in its app marketplace and various pricing plans for different business needs. You can learn more about ActiveCampaign vs Aweber to see how they stack against each other.
---
MailerLite

MailerLite is an intuitive, affordable solution with advanced targeting features to ensure your messages reach the right audience with a high deliverability rate.
It offers drag & drop customizable templates, a generous free plan, and two premium plans catering to businesses of all sizes. This MailerLite Review provides more info.
AWeber vs Mailchimp: Final Verdict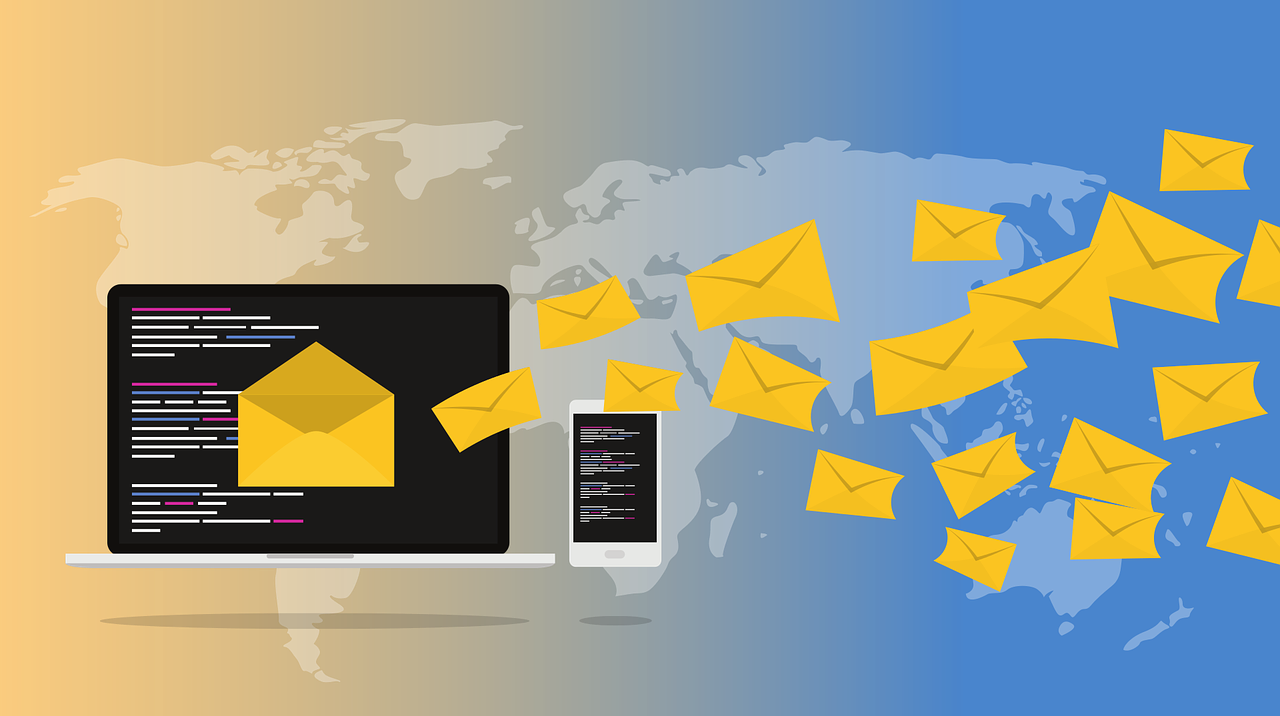 While AWeber and Mailchimp have carved out their space in the email marketing services industry, AWeber seems to edge out in certain key areas.
While Mailchimp's strengths lie in its ease of app integration, particularly with common social platforms, AWeber provides simpler and more intuitive list management, a larger selection of templates, and a more cost-effective pricing plan. Plus, with incredible customer service, AWeber has proven to be a strong contender in this comparison.
Choosing between these email marketing solutions will ultimately depend on your business needs and preferences. Both platforms have unique strengths, so look at the fine details before choosing the one that best aligns with your email marketing objectives.
Want to learn step-by-step how I built my Niche Site Empire up to a full-time income?
Yes! I Love to Learn
Learn How I Built My Niche Site Empire to a Full-time Income
How to Pick the Right Keywords at the START, and avoid the losers
How to Scale and Outsource 90% of the Work, Allowing Your Empire to GROW Without You
How to Build a Site That Gets REAL TRAFFIC FROM GOOGLE (every. single. day.)
Subscribe to the Niche Pursuits Newsletter delivered with value 3X per week