20 Easiest WordPress Themes to Set up Your Website Fast
When you buy something through one of the links on our site, we may earn an affiliate commission.
In this article, I'm sharing the Easiest WordPress Themes around.
Let me guess…
You found a theme, had a look at the demo, and loved it! You installed and activated the theme with excitement.
Only to realize your site looks nothing like the demo, and you've tried everything to get it to match.
After spending hours and getting nowhere, your search for a different theme begins.
Maybe you searched in Google for "easiest WordPress theme" and found this article?
If you're wondering if the themes on this page are in fact easy or not, rest assured, I've done the research for you.
I tested each of these themes for one thing and one thing only:
Simplicity.
So, here's a list of the 20 easiest WordPress themes you can use to get your site up and running in no time.
Twentig – Easily Make the Default WordPress Theme Look Great
Twentig is actually a WordPress plugin that you use with the Twenty Twenty-One theme.
What it does is adds more theme customization options, which you can use to adjust the way Twenty Twenty-One looks and feels.
The process is really simple because they have a setup wizard that walks you through a step-by-step process of making your WordPress site look great.
You also have the option to choose one of their starter site templates and import dummy content like posts and pages, menus, and widgets.
Importing a template and dummy content is helpful because it means you're not looking at a completely blank canvas.
Then, all you have to do is switch out the dummy content with your own and you're done.
The setup with Twentig is easy. You're guided through a setup wizard, where you can choose a template you like and import the design settings, pages, and even dummy blog posts.
The pages it creates are designed using the Gutenberg block editor and many of the templates have a professional-looking home page, about page, and others.
The extended theme customizer lets you change things like:
Site colors with support for dark mode
Site width
Fonts for the body and headings
Logo and menu layout
Footer layout and custom copyright text
Page and blog post layouts
Astra – One of the Easiest WordPress Themes Around
Astra is one of the most popular themes for WordPress. It's known for being one of the easiest WordPress themes around, packing in some powerful features.
It has a huge number of free templates to choose from that are designed using Gutenberg.
There are other templates made with page builders if you prefer to go that route.
A really cool feature is when you click on a template, it shows you all the pages it will import and you can select each page to scroll to see the full design.
Pages it creates range from home, about us, blogroll, contact, resources, services, etc, but essentially it comes down to the template you choose.
This is helpful because you won't need to install a template before you see exactly what it looks like.
Every template in Astra is very modern and professional looking and you can edit all the content inside Gutenberg.
This is better than other themes that add the content with widgets or in the WordPress customizer because the content will remain if you ever change themes.
To customize the design, first, there's a header and footer builder with drag-and-drop features to change the layout of logos, menus, social icons, buttons, and widgets.
You can also remove the Astra footer credit text and change it to whatever you like, something not available in many free themes.
Then global settings to change are typography, colors, container style and size, and button style. It's definitely one of the all-time easiest WordPress themes money can buy.
Writee – One of The Easiest WordPress 
for Writers, Lifestyle & Fashion Niches
Writee is a simple WordPress theme perfect for writers, lifestyle, or fashion bloggers who want something minimal and clutter-free.
It's best for those who want to display the blogroll on the home page as there are limited options for designing a custom home page, as you would see in a page builder.
But there are a lot of settings in the WordPress customizer for you to design your blog home page and simple posts really easily.
Some common settings like adding your logo and adding extra text to the copyright text in the footer.
You can also add your social network profiles which get added to the header bar.
There's an option to set Google fonts and a primary theme color selection.
It also has a built-in slider that displays in the hero section or your blog page with several slider options:
Display recent posts or specific category
Change the number of slides
And slide duration
You can change blog layout options such as switching to a standard layout or grid view, there are social media share buttons on the blogroll and single posts also have a custom widget to display related posts at the bottom.
Custom sidebar widgets include an 'about me' box, social media accounts, and recent posts widget.
Overall, Writee is one of the easiest WordPress themes around, and it didn't take me long to create an impressive-looking blog.
Neve – Professional Ready-Made Templates for Business Sites
Neve is another great multipurpose theme for beginners because it's so easy to install and customize.
It has several starter templates to choose from once you activate the theme.
There are template designs in Gutenberg Elementor, Brizy, Beaver Builder, Divi, and Thrive Architect.
To keep things simple, it's best to choose a template made with Gutenberg because it doesn't require you to learn how to use a page builder.
There are quite a lot of Gutenberg templates to choose from, which makes Neve a good choice if you want an easy WordPress theme that covers most niches.
Neve templates include:
Life coach
Psychologist
Pet shop
Fitness trainer
Freelancer
Yoga instructor
And plenty more.
When you choose one, all the pages, menus, widgets, etc, will be imported and set up for you. All you have to do is edit each page with your own text and images.
The entire process takes less than a minute.
Inside the WordPress customizer, you can edit things like the layout of the website, width, content, and sidebar settings.
The blog archive layout lets you change the view from a list, covers, or grid view.
You can make customizations to the single blog post settings like blog post header with the image at the top, the padding text alignment, and lots of other settings.
You also have quite a lot of control over the layout of the footer, website colors, background settings, typography, buttons, and even form fields. Overall, Neve is one of the easiest WordPress themes out there (and it's also one of the best SEO WordPress themes).
Popcorn Theme – The Easiest WordPress Theme for Affiliate Marketers & Content Creators
Popcorn theme is a premium theme developed by Alex (WPEagle), Carl Broadbent, and Phil from Spiderweb.
It is designed specifically for niche and authority sites, that are either monetized through affiliate marketing, ad revenue, or both.
They wanted to make a theme that was fast and super easy to set up so that you can have your niche site up and running in as little as 10-15 minutes.
There are some settings within the customizer that allow you to customize the font, colors, home page hero with CTA, and even add an affiliate disclosure to articles.
Overall, the settings are kept to a bare minimum to make things as simple as possible, which is what makes it one of the easiest WordPress themes around.
You really only get what you need, instead of stuff that could slow down your site.
BlogFeedly – Super Minimal Blog Feed Theme
BlogFeedly is another easy WordPress theme designed for bloggers.
It has a support wizard that guides you through adding extra plugins and making customizations to the theme.
If you are looking for a very basic WordPress theme, then BlogFeedly might be a good option.
This theme is ideally suited for bloggers, writers, or anyone who wants to display their blog content.
If you need to create a more professional-looking business website, then this might not be the best theme.
The reason being is that it doesn't come with ready-made professional-looking pages like others in this list do.
However, if you want to create a content-focused blog and get something simple set up, BlogFeedly is a good option.
BlogFeedly recommends installing some free plugins to extend the functionality of your blog.
The plugins are created by the theme developer, Superb Themes, and these additional plugins unlock social media share buttons and follow buttons, extra Gutenberg blocks, and a recent posts widget with thumbnails.
If you upgrade to the premium theme, you can customize extra settings such as changing the footer copyright, choosing Google fonts, and customizing site colors and sidebars.
Other premium features include child theme options and compatibility with the Elementor page builder.
Astrid – Simple Professional WordPress Theme
Astrid theme by aThemes is a really easy theme to set up and there are a lot of options in the customizer.
Immediately after installing, the blog page lists all my blog posts in a really nice layout.
It's very professional-looking and easy to navigate the blog posts and pages.
There's also a page header on the home page with a background image of a city landscape which can be changed.
In the theme customizer, you can add heading and subheading text to the hero section with a call to action button.
You can also use a video in the page hero instead of an image if you prefer, or you can remove the page header entirely.
Choose your style of menu layout, whether it's sticky or static, make it centered or inline with the logo.
For the blog options, you can display your blogroll as a list or a masonry grid style, with or without a sidebar.
Change the length of the blog excerpt, hide the post meta info and also hide the featured images.
There are quite a lot of options to customize fonts and accept Google font use.
You can change the site title and description size, as well as content headings h1, h2, and so on, and the size of the body font.
Other things you can do in the Astrid theme include customizing your footer, adding your business address, email address, and phone number.
Even though there are a lot of options, the default design is fairly basic.
Therefore, if you wanted to design something a bit more unique, you would need a page builder or design your pages using Gutenberg blocks.
This may be a little more advanced for some people, but the pages aren't too bad out of the box.
Hemingway – Minimal WordPress Theme for Bloggers
The Hemingway theme is a minimalist WordPress theme with only a few options in the theme customizer.
You can change usual things like adding an image, background images, adding widgets and menus, etc.
But there are few options to change the look of the footer or blog layout.
The main options you can change are the site colors and a header image that shows on all the pages.
Hemingway is a free WordPress theme with no upgrade, it's really designed for people who want to set up their WordPress site fast and leave the design as the default.
To make further design customizations, you would need to hire a developer or edit the code yourself.
Airi – Easy Starter Templates for Business Professionals and Creatives
Airi is another aThemes theme perfect for professionals and business sites.
When you first install Airi, you're presented with simple directions to set up the theme and offered a selection of pre-made starter templates.
The templates available are health business agencies, startups, lawyers, and photography.
There are also some pro templates available if you want more features.
Selecting the template you want will customize your website for you by adding the correct setting and installing some plugins.
Inside the theme customizer, you can change settings such as the font family and sizes, change the colors on the website, and change the layout of blog posts.
Airi uses the Kirki Customizer Framework, which adds over 30 custom controls to the theme's customizer.
This is how it enables you to change the design and layout from the theme's customizer.
The only downfall with the free templates is that it uses Elementor to design the pages.
This might not be ideal for some people who have never used a page builder before and would prefer to make changes using Gutenberg.
Hestia – Business Theme with Customizable Sections
Hestia is a WordPress theme by Themeisle with some powerful, yet easy-to-use features for the home page design.
To get started, you'll need to make sure you've set a static page for your home page and blog post.
Then, from the theme customizer, there are 10 home page sections for you to edit and customize to your liking.
Sections available are:
Big title section, which lets you set a background image, heading, and subheading text, and call to action button
Features section with icons and text
About your business
Your team section with images, text, and social media links
A call to action ribbon
Testimonials
Client logos bar
A subscriber CTA that you can connect to the Sendinblue service (check out our Sendinblue review here)
Blog posts to display recent articles
A contact section with your address, phone number, and contact form
And a section to display WooCommerce products if you need it
Overall, the Hestia theme is really well designed, professional, and relatively easy to customize how you want the site to look.
There are a lot more customizer options for you to experiment with to make the design as unique as you want.
The most useful ones being typography, site colors, buttons, and blog layout.
One downfalls with Hestia is that the homepage sections are added with the customizer, which means no content is added to the Gutenberg editor.
So, if you ever wanted to change your theme in the future, all the content sections would disappear.
Julia – Impressive Food & Recipe Blogging Theme
Julia is a PixelGrade theme for food bloggers or for anyone in the lifestyle or hobbies niche.
It's really quite an impressive design and it's easy to use with the setup wizard.
After you activate the Julia theme, you'll be prompted to create a PixelGrade account so you can import the starter content to match the demo.
Once you've gone through the setup process and imported the settings and content, you'll be able to switch out the posts with your own articles.
The dummy content is useful because you won't be working with a completely blank canvas.
You can also use the theme customizer to edit colors, fonts, and other options on your site.
The home page layout uses widgets to display posts and the sidebar.
There are lots of settings that you can change in the free version to make your site look unique to your brand.
Julia is one of those themes that doesn't add content to pages, but in the theme customizer instead.
This can be a problem for some people if they want to change their theme in the future.
That's not too much of an issue with this theme as the home page only displays your blog posts in a fancy way.
Just be aware of some themes that design elaborate professional home pages using widgets and the theme customizer, as the design will disappear if you change themes in the future.
A slight downfall with PixelGrade themes is having to create an account and connect to their website, which isn't required in other themes. Don't let that out you off though, it's still one of the easiest WordPress themes around.
One Page Express – Easy One Page Multipurpose Theme
One Page Express, as the name suggests, is a one-page WordPress theme, which displays all your content on the home page.
One-page themes are great for people who want to keep their site very simple, with minimal navigation.
The idea is to help your visitors find what they are looking for by scrolling on one page.
But is One Page Express easy to set up?
Yes, it is. All you have to do is install the One Page Express Companion plugin, and the theme adds content sections to the home page.
The content is added to the page itself, which can be viewed and edited inside Gutenberg.
Then, inside the theme customizer, you can easily move the sections to wherever you like.
Not only that, but the theme has a built-in drag-and-drop page builder!
This means you can edit the text, images, background colors, and buttons on the front end, just like you would with any page builder.
It's really very simple to use and quite impressive for a free WordPress theme.
There are additional sections you can add or remove ones you don't need.
The main sections available include:
Boxes with icons, text, and buttons
Heading and subheadings
Call to actions
Portfolio boxes
Testimonials
Your team
Latest posts
And a contact field (contact plugin required)
There are also pre-made header designs for you to choose from.
You can add a navigation menu in the header that links to the sections on the page, which when clicked scroll down to the section.
Zakra
Zakra theme, by ThemeGrill, has pre-made site templates which you can import with the ThemeGrill Demo Importer plugin.
There are free and paid templates, some of which use a page builder (Brizy and Elementor), or by using Gutenberg.
Really, the best designs are the ones that use a page builder, but that might make things a little complicated if you've never used one before.
The Gutenberg templates are more simple and easy to use but are more limited in design features.
Each of the free Gutenberg templates is best used for bloggers as they don't provide a professional home page layout, only a layout for the blogroll.
That being said, the templates are really attractive and very easy to set up.
Whichever template you choose can be edited using the theme customizer.
Options available are header image and video with text and a call to action, changing the layout of the logo and menu area, site colors, font size and color, and much more.
Schema – Fast & Minimal WordPress Theme for Bloggers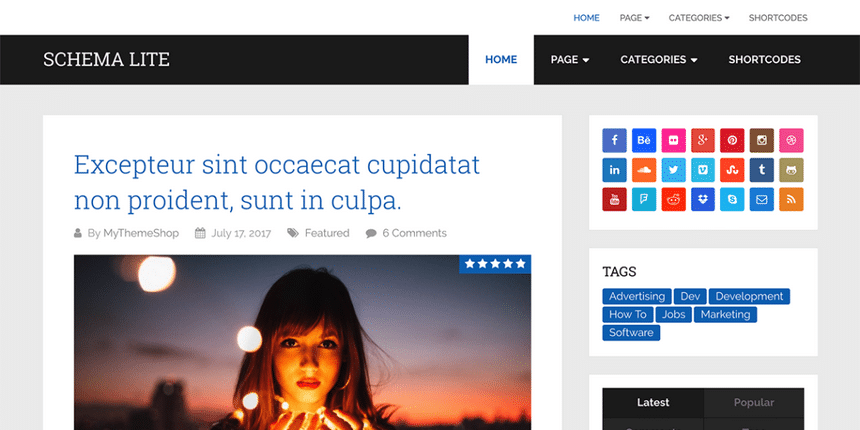 Schema by MyThemeShop is another easy-to-use WordPress theme ideal for niche site owners, writers, travel, hobby, and lifestyle bloggers, and anyone with the goal of content creation.
It's a fast and minimalist theme with options in the theme customizer for you to make some changes.
You can change the container type to boxed or full-width, sidebar position or remove altogether, site colors, pagination type, footer text, and show or hide a related posts widget and author bio box.
PixiGo – Very Minimal & Super Easy Blog Theme
PixiGo is a very minimalistic and simple WordPress theme for bloggers and content creators.
It keeps things simple in the theme customizer, but the key features you can change are primary site color, archive settings, single post layout, and showing or hiding the sidebar and featured image (and you can find out how to hide featured images in WordPress here).
It also displays a related posts widget underneath your articles and an author bio box.
Another cool feature is the performance optimizations. You can turn on lazy load and pre-fetch links.
PixiGo is a decent theme if you're looking for something very simple and quick to set up.
OnePress – Clean & Professional One Page Theme
OnePress is another one-page WordPress theme by FameThemes.
It's a clean and professional theme perfect for beginners looking to set up their WordPress website in a few minutes.
There's a setup wizard that installs a plugin to import demo content and set up the pages.
Once you've gone through the setup wizard, you get two templates to choose from, OnePress or Onify.
The entire process is complete with just a few clicks, importing the recommended plugins, categories, posts and media, widgets, etc.
Both templates are perfect for anyone offering a service like photography or freelancing.
All the content is added to one page and there's a menu that will scroll to each section on the page when clicked.
The main sections of the page are:
Hero with heading and subheading text with a call to action button
Features section
About us text
Blog posts
Services
Photo gallery
Details about your team
And contact information with a form
All the content and sections are added with the theme's customizer.
You can go into the customizer settings to change things like site colors, site layout, blog post templates, sidebars (and if you don't know already, find out how to remove the sidebar in WordPress), and footer with social icons and copyright text.
It's important to know that if you ever switch themes, all the content will go with the old one as the content isn't stored within Gutenberg blocks.
If you want to switch one day, you'll first need to save the text, images, colors, etc, so you can copy it over to a new theme.
OnePress Plus is the pro version of the OnePress theme that offers drag & drop features and advanced styling options. It's one of the easiest WordPress themes for anyone looking to create a one-page website.
StoreFront – Minimal WooCommerce Theme
StoreFront is a simple and flexible theme created by the WooCommerce team for use with WooCommerce powered sites.
It's free to use, minimal and lightweight, and great for anyone starting an eCommerce brand with a low budget.
There's a setup wizard that imports a home page and products to make it easier for you to visualize your site when you add your own products and content.
After the import, you are guided through the customizer to add your logo, customize navigation menus, choose an accent color, and change colors and text.
There's a home page hero section that can be edited from the page in Gutenberg, and you get shopping cart details in the navigation and a search box in the page's header. It's probably one of the easiest WordPress themes you can if you're using WooCoomerce.
Get StoreFront Here
OceanWP – One of The Easiest WordPress Themes with Ready-Made Templates
OceanWP is a popular theme that's been around for some time. It was also created to make it easy to design your WordPress site.
There's a setup wizard and a selection of ready-made templates to choose from.
Templates include:
Travel
Yoga
Several eCommerce stores
Lawer
Gym
Coach
And photography
Once you choose the template you want, it will prompt you to install and activate some plugins, and dummy content will be imported.
Some of the free themes look a little dated and most are designed using a page builder.
This might not suit everyone who prefers to avoid using a page builder.
The setup wizard will also let you choose your website colors before finalizing the process.
Then you can use the theme customizer to change general styling options, typography, blog layout, logo and menu area, footer settings, and copyright text.
To edit the content on the page, you'll need to use the page builder it uses.
Most pages builders are fairly easy to use once you get used to them.
Challenger – Super Simple & Minimal Blogging Theme
Challenger is a super simple WordPress theme to display your blog posts with and show a lead generation header with text and a call to action button.
You customize all the settings in the customizer.
The lead generation header can be hidden entirely or you can choose which pages it shows on, easily change the text, colors, background opacity, and CTA button.
Other options in the customizer are social icons that display in the menu area, blog except, word count, button text, image size, author avatar byline image, show or hide author box after posts, and more (and you may also want to check out these author byline examples for more ideas).
Challenger is a good theme for bloggers, writers, or anyone who wants to focus on creating content and is not too bothered by fancy home page designs.
If you go to the Challenger website, you can choose between a selection of free child themes if you want a different design.
To download a theme, you'll need to subscribe by entering your name and email. This might make things a little more complicated than just using the default theme, which would be good enough for most people.
Own Store – Attractive WooCommerce Theme Made with Elementor
Own Store is a WooCommerce theme designed using Elementor.
Although some might find a page builder a little complicated, I wanted to include this one because it's incredibly easy to set up and it looks stunning.
Elementor is also one of the most used page builder plugins and is easy to learn how to use.
To set the theme up, all that's required is to activate a few plugins that are suggested by the theme.
Then you can import the ready-made template by simply clicking a button.
All the pages, settings, and designs get imported, which only takes a few seconds.
The pages it creates are the home page, about us, a contact page with a contact form, the blogroll, and all the e-commerce pages for your visitor to browse your online store.
Design elements of the home page include:
Shopping cart with dropdown in the header
A big search box in the header
Free shipping notice with a button above the header
A hero section with heading text and CTA button
New products section with add to cart button and quick look popup
Sale and category boxes
Trending products
A nice footer with widgets for your store
And much more
All the design and layout can be changed and edited using Elementor, which uses drag-and-drop, and point-and-click, to keep things simple (check out our full Elementor review here). This makes it one of the easiest WordPress themes you can get.
The Easiest WordPress Themes Overall
The easiest WordPress themes in this list would have to go to Twentig and Astra, for professional business sites.
If you're looking for something more minimal, better suited for blogging, Popcorn, BlogFeedly, Challenger are great options.
Want to learn step-by-step how I built my Niche Site Empire up to a full-time income?
Yes! I Love to Learn
Learn How I Built My Niche Site Empire to a Full-time Income
How to Pick the Right Keywords at the START, and avoid the losers
How to Scale and Outsource 90% of the Work, Allowing Your Empire to GROW Without You
How to Build a Site That Gets REAL TRAFFIC FROM GOOGLE (every. single. day.)
Subscribe to the Niche Pursuits Newsletter delivered with value 3X per week