The Future of Podcasting: How Craig Hewitt Uses Trends and Content Marketing to Grow Castos
When you buy something through one of the links on our site, we may earn an affiliate commission.
Craig Hewitt is the founder of Castos, a popular podcasting platform.
I met Craig 4 years ago at RhodiumWeekend.com when Craig ran the podcasting editing and service-based business, Podcast Motor, before he built Castos.
Today, Podcast Motor and Castos have merged into a SaaS company for hosting and analytics for your podcast.  They also still offer a complete podcast editing and transcription service.
As we will dive into during the show, Craig also shares how he purchased the Seriously Simple Podcasting WordPress plugin before he ever started Castos with the idea that they could perhaps leverage it into a SaaS play one day. 
I've been podcasting since 2012 and didn't have any intentions of switching my processes up, but the podcasting tool is so simple that I even decided to switch to Castos at the 39:27 minute mark of the podcast.
On the podcast, we talk about the new podcasting trends, the struggles of growing Castos, and how the Castos team used the Ahrefs course to train new employees on content marketing, and how those efforts are paying off.
Craig even agreed to give all of you Niche Pursuits fans a significant discount. You can get 50% off your first three months of Castos (including the 14 day free trial) when you purchase through the Niche Pursuits landing page.
Use Coupon Code: Niche Pursuits
Watch the Entire Interview Here:
Thinking of starting a podcast?
If you haven't started a podcast yet, now's a perfect time. Not only does the software make it super simple to get started, but it's one of the best content marketing tools around.
More people tell me they find Niche Pursuits through the podcast than the blog, even though the majority of my time is spent working on growing my blog.
Craig put it great. Getting someone to listen to you for 45 minutes is difficult. With a podcast, you have your audience's undivided attention during that full podcast episode.
For someone that had devoted many years to podcasting, Craig wasn't always this confident starting a podcast was the answer.
Craig told me that he had plenty of internal doubts that podcasting was here to stay. At one point, a piece of him thought that podcasting might be a fad.
Today his mindset is entirely different. He knows podcasting is here for the long run, and there has never been a better time to start a podcast.
When you look at all the major companies making investments into podcasting recently, I tend to agree with him.
Podcasting does look a little different than it did years ago. Here are a few of the trends Craig is starting to notice in the industry.
New Podcast Trends
Private Podcasting
Instead of broadcasting your podcast on, say, iTunes for everyone to access. In a private podcast, access is restricted to either your members, employees, customers, or whomever, you choose to listen to the podcast.

Large enterprise companies like 3M use a private podcast to do weekly sales training with their sales reps.

Paid Podcasting

Similar to private podcasting, there has been a rise in paid podcasting. In a way, it sounds identical to the paid newsletter trend that has come along with substack email newsletters.

Your audience could pay for extra access to listen to specific podcast episodes or charge a fee to listen to the episodes.

Craig mentioned the built-in functionality for the paid podcasts is coming soon. Today, their team integrates with other WordPress tools such as Memberpress to handle the podcast memberships for you.

B2B Podcasts

Podcasting isn't just for consumer content marketing anymore. Craig says that a lot of companies are using podcasting as a form of networking. Allowing you to meet with potential partners, you may have never been able to connect with in the past.

Automation

Most all podcasting services use RSS feeds to deliver to episode content. Podcasting tools like Castos are now integrating with services such as Zapier.

You can now automate many of your tedious podcasting processes. For example, with Zapier and Castos, you could send a message to all your email subscribers automatically once you've released a new podcast!
Things haven't always been as automatic for Castos. In fact, Craigs original business Podcast Motor was service-based and did manual podcast editing for customers.
Moving from Service to SaaS Podcast Offerings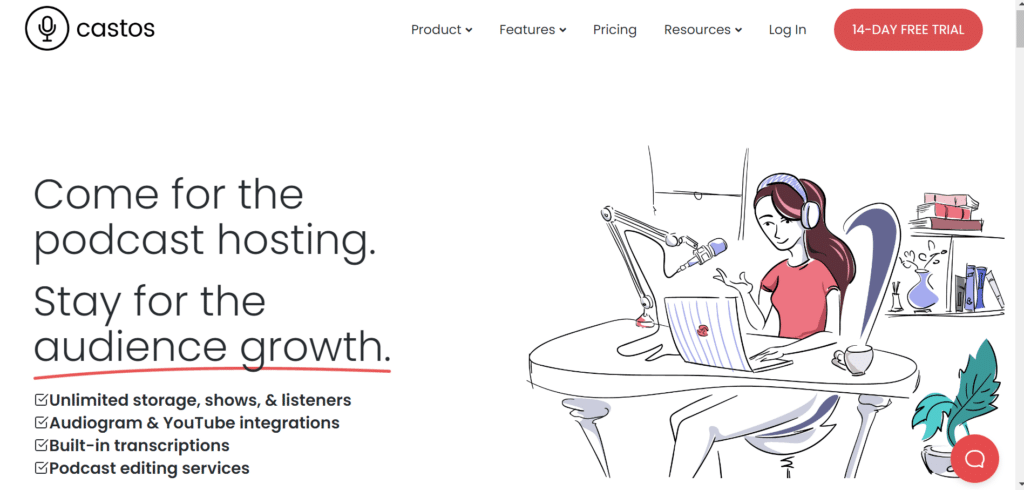 When Craig made the decision to move from a professional podcasting editing service to a podcast SaaS offering with Castos. He was excited and up for the challenge, but took far longer than he would have liked to get up and running.
Creating a SaaS company has so many benefits in that you have an infinite number of copies you can sell, and the recurring income always looks like a dream.
But when your product is only $20/month, you have to sign up many customers to eventually profit.
The hard work is paying off, though. Castos started three years ago and now has a total of 8 full-time employees. Three of which are developers.
Communication Challenges Building Castos
When asked what Castos biggest challenge was, Craig pointed to communication.
For a company that's selling a communication tool, this could sound a little odd. But what Craig pointed to was the communication barriers in project management. Particularly with developers.
Craig didn't have any experience managing a development team and learned a ton along the way. He would describe the features that he wanted to build, but the developer would inevitably build something slightly different.
I've seen the same challenges building Link Whisper. It takes a lot of work to create project scopes and plans, and communicating the vision to the development team can sometimes feel like a giant game of telephone.
Craig was able to solve this problem with a strategy to meet with the team once every six months to decide what to work on for the next six weeks.
The strategy has helped them focus and get the entire team on the same page to build the best new features and fix bugs that will make the company's most significant impact.
Building Castos Content Marketing Plan
When it comes to content marketing, Craig found the communication barrier to be more comfortable. He knew this space well and was far less to learn.
The team started out spending a lot of money on paid ads but quickly found in their niche; it wasn't a great fit. When shifting to a content marketing strategy, the efforts started to pay off.
Here are a couple of ways Castos is doing content marketing:

 Ahrefs for Content Marketing: For one of the new employees, training consisted of the new team member taking the free Ahrefs content marketing course.

They used the course as a roadmap and used the Ahrefs tools to navigate SEO. For Craig, SEO, and Content Marketing are one of the same. It doesn't matter if the content is a podcast or YouTube video. He is confident it all leads to better SEO.
Integration Marketing or Co-Promotions: As the company built out integrations with WordPress tools or software, they would leverage each other's brands for cross-promotion.

For example, when they released the Memberpress plugin, they provided excellent tutorials on how users could leverage both Castos and Memberpress making a win/win for both companies.
Link building: The team doubled down with their content marketing strategy with link building. They are reaching out to other podcasts and blog posts to post on. Just as Craig had done here with the Niche Pursuits podcast.

They also take the extra mile to use Google Analytics and the Ahrefs tools to ensure they are making the best decisions when reaching out to potential guest posts (or allowing guest posts for that matter).
So what's next for Castos?
They are continuing to help their clients leverage the power of podcasting. Craig sees more and more people will be using podcasts as addons for just about anything. He's currently seeing podcasts as addons for things like Shopify stores and thinks there will be many more of this shortly.
The podcast industry is starting to take off. If you are still on the fence on whether you should finally start your podcast check out the Castos hosting tool and see just how easy it is. You have nothing to lose with the 14 day free trial and 50% off for 3 months with the exclusive Niche Pursuit deal!
Want to learn step-by-step how I built my Niche Site Empire up to a full-time income?
Yes! I Love to Learn
Learn How I Built My Niche Site Empire to a Full-time Income
How to Pick the Right Keywords at the START, and avoid the losers
How to Scale and Outsource 90% of the Work, Allowing Your Empire to GROW Without You
How to Build a Site That Gets REAL TRAFFIC FROM GOOGLE (every. single. day.)
Subscribe to the Niche Pursuits Newsletter delivered with value 3X per week