5+ Best Monitors For Eye Strain: Your Complete Buyer's Guide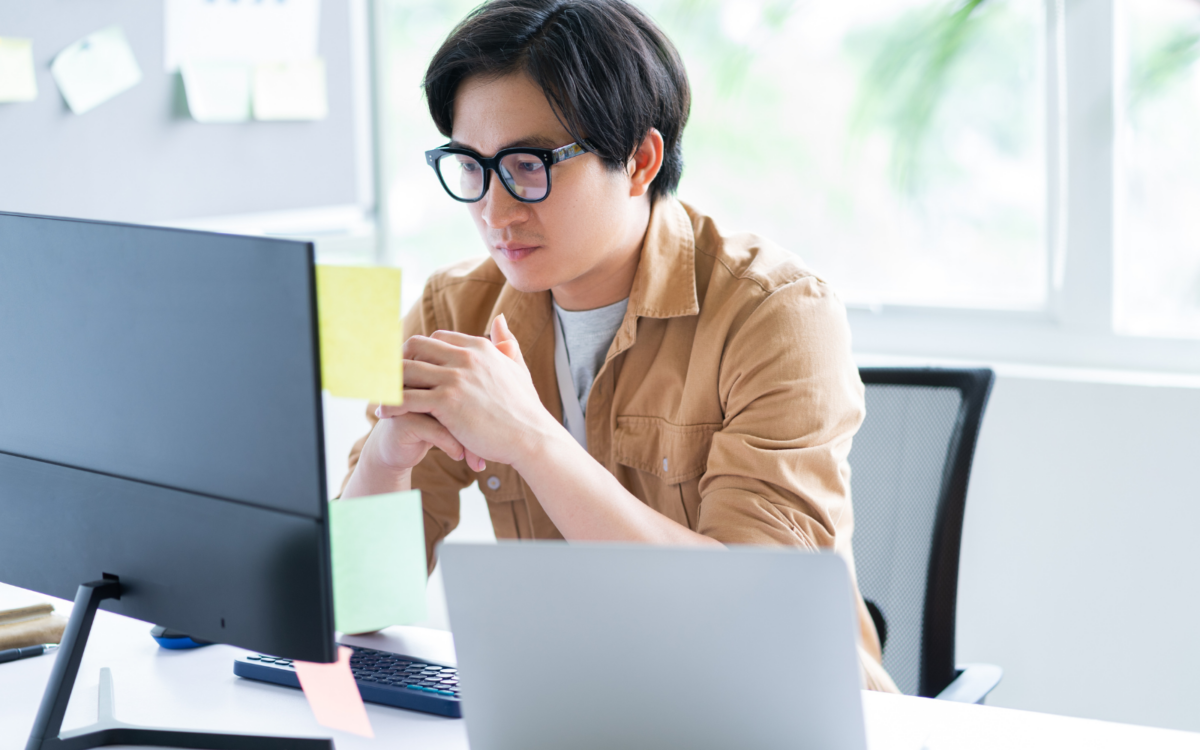 When you buy something through one of the links on our site, we may earn an affiliate commission.
Struggling to find the best monitors for eye strain?
Sitting and staring at a bright screen for 8+ hours a day can be extremely taxing on our eyes.
Over time, this routine can lead to dry eyes, headaches, blurred vision—or worse—nearsightedness.
Lucky for you, we've shortlisted 6 best monitors that are loaded with eye-safe tech to protect your vision.
Let's get into it.
Top 6 Monitors To Reduce Eye Strain
Digital eye strain is a prevalent issue in the 21st century — mostly caused by long exposure to smartphones and monitor screens every day.
Unfortunately, there are no viable alternatives to modern displays at the moment, and taking breaks for your eyes is challenging for most professionals.
Nevertheless, you can alleviate the symptoms associated with extended screen time by investing in the following monitor options.
1. BenQ EW2780Q 27-inch 2K Monitor: Best Overall
The BenQ EW2780Q has everything you need in a work/home display to protect your eyes. Starting with the panel, it has a 27-inch IPS display with a resolution of 2560x1440 pixels.
The screen is rated at 99% sRGB and will display vibrant, rich colors. HDR10 compatibility is also included with the display to enhance your movie-watching experience with deeper contrast.
But that's all technical stuff. Where this BenQ monitor really shines is in the eye-care department.
It features a built-in sensor that can detect ambient lighting and adjust your screen's brightness and color temperature to reduce eye strain.
Moreover, the monitor has an ePaper mode that uses its brightness intelligence technology to imitate the contrast of real paper, making long reading sessions easier on your vision.
This BenQ display also has two built-in 5W speakers, two HDMI 2.0 ports, an anti-glare matte coating, and 3-sided slim bezels that make it the perfect all-around monitor for eye strain and fatigue.
B.I.+ sensor auto-adjusts brightness
Built-in 5W speakers with DSP
Supports HDR10
ePaper mode for comfortable reading
Average response rate (5ms) for gaming
Lack of ports and USB-C
---
2. LG 34WQ73A-B 34-Inch QHD Monitor: Best Ultrawide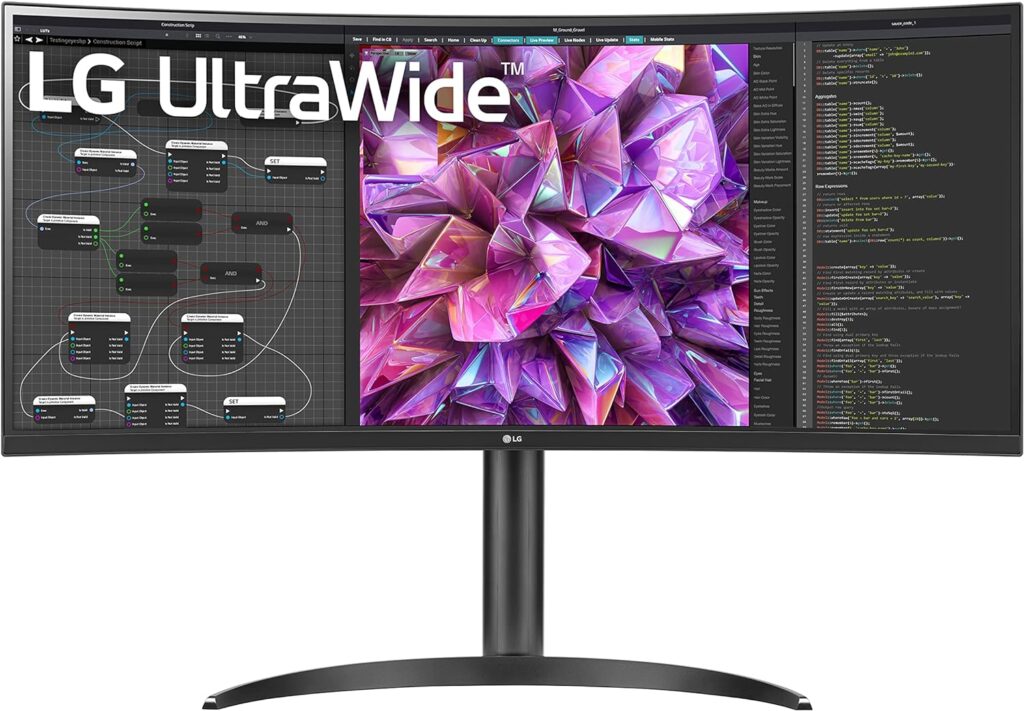 If you fancy an ultrawide and work long hours on a computer, LG 34WQ73A-B is the best monitor for you. This 34-inch IPS curved monitor perfectly fits your peripheral vision with its 3440x1440 resolution and 21:9 aspect ratio.
It's also super vibrant with 99% sRGB coverage and supports HDR10 to make graphic designing and editing more immersive and precise.
LG 34WQ73A-B also has a Reader Mode, which matches the contrast of real-life paper and enables a blue light filter for fatigue-free work sessions.
Being an IPS panel, it's also flicker-free and goes a long way in reducing eye strain. The monitor features an HDMI port, DisplayPort, and a USB-C port with 90W power delivery.
If you're looking for an all-purpose monitor for gaming and working that won't affect your eye health, the LG 34WQ73A-B is a worthy choice.
Super-sharp display with great curvature
Supports USB-C 90W power delivery
Flicker-free and reader mode
IPS panels with great viewing angles
Not suitable for small deskspaces
Slightly pricey
---
3. ASUS ProArt PA278QV 27-inch 4K Monitor: Best For Designers & Editors
Designed with professional editors and photographers in mind, the ASUS ProArt series is the best monitor for those who treasure both color accuracy and their vision.
This 27-inch WQHD display boasts a 100% sRGB and 100% Rec. 709 gamut for precise color grading. It comes color-calibrated from the factory and has various ProArt presets to freely adjust parameters according to your editing needs.
To reduce eye fatigue from long hours of editing, the ASUS ProArt series features a four-level ultra-low blue light technology. It also has a flicker-free panel that prevents headaches and dry eyes from post-midnight editing sessions.
The ASUS ProArt shines in the design department too, with a 3-sided bezel-less panel and a height-adjustable stand that can tilt, pivot, and swivel.
You also get a host of connectivity options, including a mini-DP and DP 1.2, HDMI 1.4, earphone jack, and a USB hub. If you're a professional editor who spends most of their day in front of their screen, the ASUS ProArt series is a decent investment towards your eye health.
Industry-standard color accuracy
Blue light filter and flicker-free panel
Loads of connectivity options
Ergonomic stand with tilt, swivel, & height function
Slightly outdated design
Not budget-friendly
If you're starting an affiliate blog on monitors or other tech products, learn 11 Easy Ways To Get Free Products For Review.
---
4. LG 24MP400-B 24-Inch FHD Monitor: Best Budget
When it comes to low-budget monitors, the LG 24MP400-B is an outstanding monitor that doesn't sacrifice your vision health. It's a 24-inch full HD display with a stunning borderless design that gives off a premium feel.
You get a flicker-free panel and a Reader Mode with a blue light filter to minimize eye strain during extended reading sessions.
For those who love gaming after work hours, the LG 24MP400-B comes with AMD FreeSync and Dynamic Action Sync, which greatly reduce stutter and input lag to enable smoother gameplay.
The monitor has great viewing angles thanks to an IPS panel and a respectable 75Hz refresh rate. While the display is restricted to a single HDMI port and tilt adjustment, you won't find a monitor that offers equal value to money than the LG 24MP400-B.
Modern 3-sided bezel less design
AMD FreeSync for gamers
IPS panel with great viewing angles
Reader mode and flicker-free support
Could have higher resolution
Stand only has tilt function
Lack of ports
---
5. Samsung Odyssey G7 32-inch 2K Monitor: Best For Gaming
Samsung's Odyssey lineup is highly acclaimed in the gaming sphere. But the G7 32-inch also shines in another area — eye comfort and ergonomics.
With its 1000R curvature, the WQHD monitor perfectly complements the curvature of our eyeballs, making it an ideal display for reducing vision fatigue. The G7 also has a 240Hz refresh rate and 1ms response time, allowing for a smoother gaming experience and split-second reactions.
If your eyes get tired from non-stop gaming, you can switch to Eye Saver mode and eliminate blue light emissions. The monitor also comes with flicker-free tech from the factory to prevent vision fatigue. At the back, the G7's angular design is complemented by a glowing arc called Infinity Lighting.
The screen sits on a stylish stand that allows you to swivel or tilt the monitor to your preference. It's also worth mentioning that the display features a QLED panel with 125% sRGB coverage and HDR600 support.
This means you get super-vibrant colors, deeper blacks, and brighter whites compared to regular screens. All of these features make the Samsung Odyssey G7 the best gaming monitor for both work and play.
Angular design with backlit stand
QLED panel with 1+ billion colors
1000R curvature perfect for gamers
Speedy 240Hz refresh rate and 1ms response time
Pricey for budget-conscious buyers
Not suitable for compact desks
---
6. AOC CU32V3 Curved 32-inch 4K Monitor: Best Value For Money
Few monitors are as feature-loaded as the AOC CU32V3 monitor — but what truly sets it apart is its affordability. Its breathtaking 32-inch display has a 3640x2160 (4K) resolution and 1500R curvature that perfectly mimics the human eyeball.
The monitor produces super-vibrant colors with 121% sRGB coverage and a 60Hz max refresh rate.
Beyond that, the AOC CU32V3 packs flicker-free tech that reduces eye strain and allows for a more pleasurable viewing experience. Its built-in LowBlue Mode lessens vision fatigue without affecting color accuracy.
From the front, the monitor has a bezel-less design and a sleek stand that can elevate the aesthetics of any desk setup. Coming in at just under $300, the AOC CU32V3 outshines every monitor in its price range.
Razor-sharp 4K resolution
Outstanding 121% sRGB color accuracy
Plenty of eye-safety tech
Great value for money
Requires a large desk or mounting space
Refresh rate is restricted at 60Hz
---
How To Choose Monitors For Eye Strain
Selecting a monitor that perfectly fulfills your needs yet goes easy on the eyes is tough. Luckily, most monitors these days come with built-in blue light filters at the least.
With the help of our list and some guidance below, you can buy a solid display that will last for several years and protect your vision.
1. Size & Resolution
When choosing computer monitors for eye strain, the first thing you should consider is display size. A monitor that's too large forces your eyes to constantly shift, causing eye strain.
On the other hand, a small monitor might make it difficult to read text from a distance and lead to vision fatigue.
So, what is the perfect display? According to our findings, a 24-inch or 27-inch monitor works best for most consumers and professionals. If you have ample desk space and sit afar from your screen, you can opt for a 32-inch or even a 34-inch ultrawide.
Resolution also plays a major role in preventing eye strain during work or gaming sessions. For monitors larger than 24 inches, your display should at least have 2K (2560x1440) resolution or more.
If you're going for a 32+ inch screen, make sure you're getting a minimum of 4K (3840x2160) resolution to avoid pixelation.
2. Anti-Eye Strain Tech
Monitors are probably the most commonly used gadgets in our lives — especially if you're a student, office worker, or freelancer. Having eye-care technology in monitors can go a long way in protecting your vision.
Here are some anti-eye strain tech you should look for:
Blue Light Filter Technology: Modern displays emit harmful blue light rays that can disrupt our circadian rhythm and affect sleep. Using a blue light filter can help promote a more restful sleep while preventing eye dryness during prolonged screen exposure.
Flicker-Free Technology: A typical display flickers around 60-120 times a second, which causes your pupils to expand/contract repeatedly. Over long periods of usage, this leads to eye fatigue. Using a monitor equipped with flicker-free technology can greatly reduce stress on your eyes and prevent your vision from degrading.
Auto Brightness/Temperature: Staring at a screen that's too bright/dim or warm/cool is a known cause of eye strain. Monitors like the BenQ EW2780Q come with infrared sensors that automatically detects ambient light and match your screen's brightness and temperature accordingly.
3. Connectivity & Ports
Ensuring your monitor has the right ports can greatly enhance your productivity and ease of use. HDMI and DisplayPorts are present in almost every monitor in the market, but only HDMI 1.4 supports 4K resolutions, and HDMI 2.1 can transmit 8K resolution footage.
If you use your monitor as an extended display with your laptop, having a USB-C thunderbolt port is highly recommended. It can transmit video, charge your laptop, and turn your monitor's built-in USB ports into a hub — all at the same time.
4. Color Accuracy & Panel Type
Choosing a monitor that can produce vibrant, true-to-life colors makes both work and entertainment twice as rewarding. Color accuracy is usually indicated by standards such as sRGB, AdobeRGB, or DCI-P3.
These standards, accompanied by a percentage, indicate the extent to which your monitor can reproduce these color spaces. As a rule of thumb, choose a monitor with the highest percentage to enjoy the most vivid and accurate colors.
Panel Type has a major influence on your monitor's viewing angles and contrast performance. In-Plane Switching (IPS) panels, recognized as the industry standard, ensure consistent colors from nearly all angles, making them an excellent multi-purpose option.
On the other hand, Vertical Alignment (VA) panels lack in viewing angles but offer better contrast and faster response times, making them an ideal pick for gamers.
5. Ergonomics
Positioning your monitor at eye level not only prevents vision fatigue but also minimizes the risk of neck strain and poor posture. When choosing a monitor, make sure it at least supports height and tilt adjustment.
If you prefer using your monitor in portrait mode, a swivel function can further enhance its versatility. Another option is to purchase a monitor arm with all of these adjustments, though this comes at an additional cost.
Check out our guides to the best work-from-home setup and remote working best practices for more info on other ways to improve your work environment and reduce eye strain.
Best Monitors for Eye Strain in Conclusion
That concludes our list of best monitors for eye strain. Protecting your vision isn't just limited to buying a monitor with eye-protection features — changing your daily habits is also essential for safeguarding your eye health over time.
Following the 20-20-20 rule, maintaining a screen distance of 20-24 inches and blinking frequently all contribute to preserving your vision in the long run.
If you're a professional designer and want to learn about some awesome software options, check out our list of 10 Graphic Design AI Tools That Are Changing The Industry.
Or, if you're an ambitious gaming looking forward to opening a business, explore 1,053 Gaming Company Slogans Ideas To Go From Zero To Hero.
Want to learn step-by-step how I built my Niche Site Empire up to a full-time income?
Yes! I Love to Learn
Learn How I Built My Niche Site Empire to a Full-time Income
How to Pick the Right Keywords at the START, and avoid the losers
How to Scale and Outsource 90% of the Work, Allowing Your Empire to GROW Without You
How to Build a Site That Gets REAL TRAFFIC FROM GOOGLE (every. single. day.)
Subscribe to the Niche Pursuits Newsletter delivered with value 3X per week