Graphic Design AI Tools: Top 10 Game-Changers in the Creative Industry
When you buy something through one of the links on our site, we may earn an affiliate commission.
As AI continues to evolve, creative professionals are finding new and exciting ways to incorporate graphic design AI tools into their workflow.
Graphic design is a craft rooted in the human touch. But with the advent of AI, designers can now create top-notch imagery and typography with unparalleled efficiency and precision.
From streamlining design processes to generating unique and innovative designs, AI has completely revolutionized the creative industry. And the following 10 AI graphic design tools are leading the way in this digital transformation.
Top 10 Graphic Design AI Tools
These AI tools can help save time and money, providing endless design possibilities for designers and businesses alike:
1. Canva: Best for Non-Designers
Canva's Magic Studio, the latest in AI graphic design tools, is a game-changer for both organizations and individuals. It automates laborious design tasks, saving precious time and boosting your business efficiency.
The Magic Studio graphic design software offers:
Effortless conversion of your designs into various formats like blogs, social media posts, or emails.
Over 100 languages for the ability to instantly translate your designs without leaving the page.
Canva Shield, a program that safeguards against inappropriate content creation.
It's easy to use and optimizes your multichannel campaigns from a single design. Canva offers plenty of helpful additional features for designers, such as access to stock photos, the ability to save brand color palettes, and an AI background remover.
There's plenty more to explore with this powerful program, so check out our complete Canva review for more details.
Pricing: Canva offers a free plan and an annual plan for $119.99, or $14.99 when paid monthly.
---
2. Jasper Art: Most Complete Design & Marketing Solution
Jasper.ai, a well-known pioneer in the AI space, is the perfect solution for both your design and writing needs. It's an AI graphic design tool. The Jasper Art tool generates unique, high-quality images within seconds, all based on your prompts.
Some perks of this image-generation tool include:
High-resolution 2k images: Royalty-free with no watermark
Unlimited generations: Create as many images as you need
Writing assistant: Generate content and improve your writing
You can also customize your outputs by selecting prompts in the following categories to help improve your generated images:
Mood
Medium
Inspiration
Style
Keywords
Language
Perfect for entrepreneurs juggling multiple roles, Jasper streamlines your creative process. Its machine-learning capabilities produce images faster and easier than searching for stock images or creating your own.
Plus, it also offers a writing assistant, blog generator, and marketing templates and prompts. With Jasper.ai, you get more than just a design tool; you get a comprehensive solution for your business needs.
This Jasper Art review highlights everything you need to know about this AI graphic design tool.
Pricing: The Creator Plan starts at $39 when billed annually.
---
3. Uizard: Best AI Design Tool For Website Creation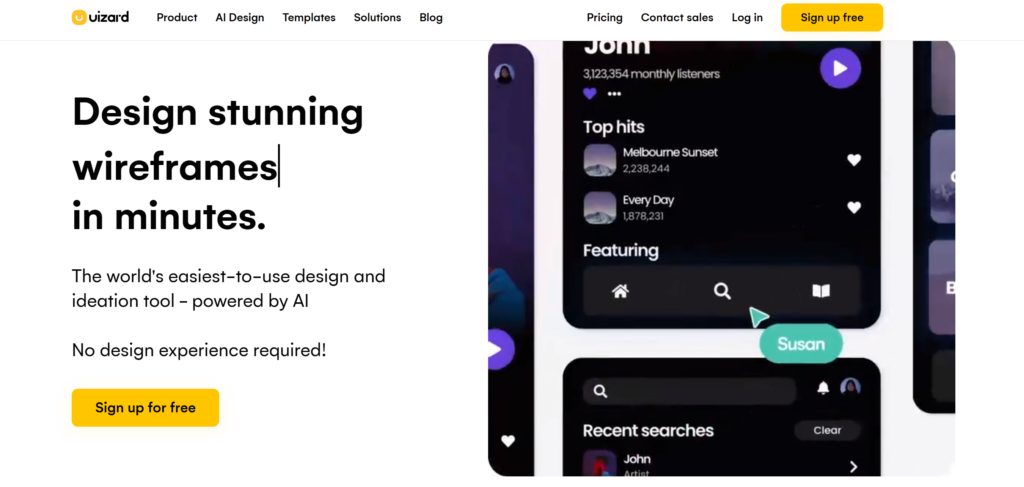 Uizard is one of the most versatile and easy-to-use AI graphic design tools. It transforms your creative process with its simple drag-and-drop interface. Ideal for designing web apps, websites, and desktop software, it's a tool every entrepreneur should have in their arsenal.
Standout features include:
Extensive template library: Choose from hundreds of designs
Wireframe scanner: Convert hand-drawn sketches or screenshots into functional wireframes
Theme generator: Create design themes based on an uploaded image or URL
Text-to-image generators: Easily create images based on your prompts
Text assistant: Generate content to accompany your AI designs
Focus predictor: An AI tool that helps you give attention to the most important parts of your design
From a humble machine learning project to an AI tool used by over 400,000 users, Uizard simplifies and accelerates your design process. Its AI-generated features, like the screenshot scanner and theme generator, are not just easy to use but also time-saving. Experience the best of AI design tools with Uizard.
Pricing: Their free plan offers 2 projects, and the pro plan offers unlimited templates and projects at $12 per month when billed yearly.
---
4. Designs.ai
Designs.ai, an AI-powered design software, is a versatile tool for creating logos, graphics, videos, and more. It's perfect for businesses seeking to streamline their design process without compromising on quality.
This AI program offers:
A massive library of over 20,000 templates and 10,000 icons you can add to your basic design
AI-generated designs: Create unique logos and templates using your brand information
Assistive tools: Including color matcher, font pairing, and team collaboration
Unlimited downloads: No restrictions on your creative assets
With its intuitive interface and generative AI tools, Designs.ai suits all design backgrounds.
Its machine-learning algorithms adjust to your personal tastes, making it easier to maintain brand consistency. Whether you're creating a logo or a video, Designs.ai enhances your creative process with its AI color tool and text-to-image generators.
Take a look at our Designs.ai review for more in-depth info about this tool.
Pricing: There is no free plan, but you can try a 7-day trial. A basic plan costs $19 a month when billed annually.
---
5. Looka Logo Maker
The Looka Logo Maker is an easy-to-use tool for small businesses and casual creatives seeking a user-friendly interface to design logos. Harnessing the power of artificial intelligence, Looka provides you with dozens of on-the-fly logo concepts. So, if you're a graphic designer who wants to be able to generate logo design projects quickly, Looka is worth checking out.
You can expect:
Customization: Choose your colors, fonts, and symbols
Wide selection: Pick from hundreds of icons
User-friendly editor: Fine-tune your logo design
After specifying your preferences, Looka generates multiple logo options. You can then use their intuitive editor to adjust the layout, color palette, fonts, and more, enhancing the visual appeal of your brand.
With just a few clicks, you can create stunning designs that resonate with your brand's image. Once your logo design is complete, you can buy your new logo with a one-time purchase and receive all the design files in high-quality PNG, JPEG, and vector formats.
Check out our full Looka review for a deeper dive.
Pricing: A basic logo package is $20 and a premium logo package is $65. Both include a single logo.
---
6. Nvidia Canvas
Nvidia Canvas, an AI-powered tool, transforms your simple sketches into photorealistic images. It's the perfect solution for digital artists or those exploring design, offering an innovative approach to creating stunning visuals.
This powerful generative fill program offers:
GAN technology: Transforms brush strokes into detailed images
Material palettes: Paint with real-world materials and watch your image transform
Export options: Send your designs to Adobe's suite or 3D applications for further editing
With Nvidia Canvas, you can change snow to grass with a click, watching the scene shift from winter to summer. Its image generator is a testament to how AI can democratize creativity. Once your masterpiece is complete, refine it further or combine it with other artwork. Explore the endless creative possibilities with Nvidia Canvas.
Pricing: Download the beta app for free.
---
7. Khroma
Khroma is an AI-powered tool designed to generate personalized color palettes based on your aesthetic preferences. Ideal for web developers and designers, it simplifies the process of finding the perfect color scheme for your design projects.
Key features include:
Customized palettes: Created based on user preferences
Color consistency: Ensures uniformity across designs
Unlimited favorites library: The more you favorite, the more options you get
By selecting colors you're attracted to, Khroma uses this data to generate infinite color combinations and design alternatives. This free AI tool takes the guesswork out of color theory, providing you with options that align with your style. Whether you're seeking inspiring color combinations or consistency, Khroma is a great tool to enhance your commercial purposes.
Pricing: This is a completely free AI tool.
---
8. Adobe Firefly
Adobe Firefly is an innovative tool for creative professionals, offering a suite of AI graphic design tools that can generate stunning text effects, transform text into images, and recolor vectors. It's ideal for web developers because of its easy integration with Adobe products for further functionality.
It allows you to create complex images and enhance your web design by:
Compatibility: Works with Illustrator and Photoshop
Generative AI: Creates unique image designs
Text prompts: Generate designs using text input
SVG Recoloring: Change colors with ease
The text effect generator is a standout feature, allowing for vast customization of style, color, tone, and composition. While currently in beta and with usage restrictions on generated images, Adobe Firefly's potential as a major player in design tools is clear. Keep an eye on this tool as it continues to evolve.
Pricing: The web version of Adobe Firefly is completely free to use. Those who subscribe to the Adobe Creative Cloud have access to additional outputs and text prompts.
---
9. AutoDraw
AutoDraw, a Google creation, is an AI-powered web-based tool that transforms your doodles into refined illustrations. Dan Motzenbecker and Kyle Phillips, from Google Creative Lab, collaborated to bring this creation to life.
Perfect for graphic design projects, it broadens the horizon for both novices and professionals alike. It's great for brainstorming your projects and is very intuitive and easy to get the hang of with a few clicks.
This AI design tool offers:
AI-based suggestion: Predicts and refines your sketches
Versatile tools: Freehand drawing, color picker, shapes, fill, text, resize, zoom, rotate
Shareable: Download art as PNG and share
With its intuitive interface and machine learning, AutoDraw takes your existing designs to a new level. From logo design to quick sketching, this AI tool can turn your ideas into polished creations.
It's one of the best AI graphic design tools that can enhance your design background and expedite your design process in a way similar to Adobe Illustrator.
Pricing: This AI tool is simple and free to use.
---
10. Remove.bg
Remove.bg is a must-have AI tool in the world of graphic design. It's designed to effortlessly remove backgrounds from images, handling even complex edges to give your photos a professional finish.
In addition to its ease of use, Remove.bg offers:
Adobe Photoshop extension: Seamless integration with Photoshop
Design templates: Create professional-looking visuals
Downloadable app: Available for Windows, Mac, Linux, and Android
Whether you're processing a few or hundreds of images, Remove.bg can enhance your workflow. Its AI design tools allow you to edit and replace backgrounds within seconds, making it one of the best AI tools for creating effective visuals on the go.
With over 28,000 users across 200 countries, this software is a top choice for improving your business efficiency.
Pricing: Users pay per credit, ranging from $0.23 per image to $0.40 per image. A free account includes 1 monthly credit.
Final Thoughts: Graphic Design AI Tools
In the ever-evolving world of design, graphic design AI tools are your secret weapon. They're not just tools, but partners in creativity, amplifying your ideas and bringing them to life in ways you never thought possible. So, dream big and let AI take your designs from vision to reality.
Want to learn step-by-step how I built my Niche Site Empire up to a full-time income?
Yes! I Love to Learn
Learn How I Built My Niche Site Empire to a Full-time Income
How to Pick the Right Keywords at the START, and avoid the losers
How to Scale and Outsource 90% of the Work, Allowing Your Empire to GROW Without You
How to Build a Site That Gets REAL TRAFFIC FROM GOOGLE (every. single. day.)
Subscribe to the Niche Pursuits Newsletter delivered with value 3X per week