11 of the Best Traveling Jobs for the Savvy Globetrotter
When you buy something through one of the links on our site, we may earn an affiliate commission.
Traveling jobs may have once been considered a pipe dream, but with the rise of remote work and digital nomadism, they are now more attainable than ever. With the ability to work from anywhere in the world, there are countless opportunities for those with wanderlust to turn their passion for travel into a career.
The good news is that you have plenty of options to choose from, even if you don't want to be a self employed freelancer or business owner. Earning side money while traveling is a popular trend, but getting the perfect job that offers travel is a better option for those seeking full-time work with benefits and consistent income.
So check out this list and see if any of these popular travel jobs are a good fit for your career skills and ambitions.
11 Fun Traveling Jobs For Seeing The World
These traveling jobs allow you to see the world while receiving a paycheck and the potential for regular benefits and paid time off.
1. Blog For Travel Companies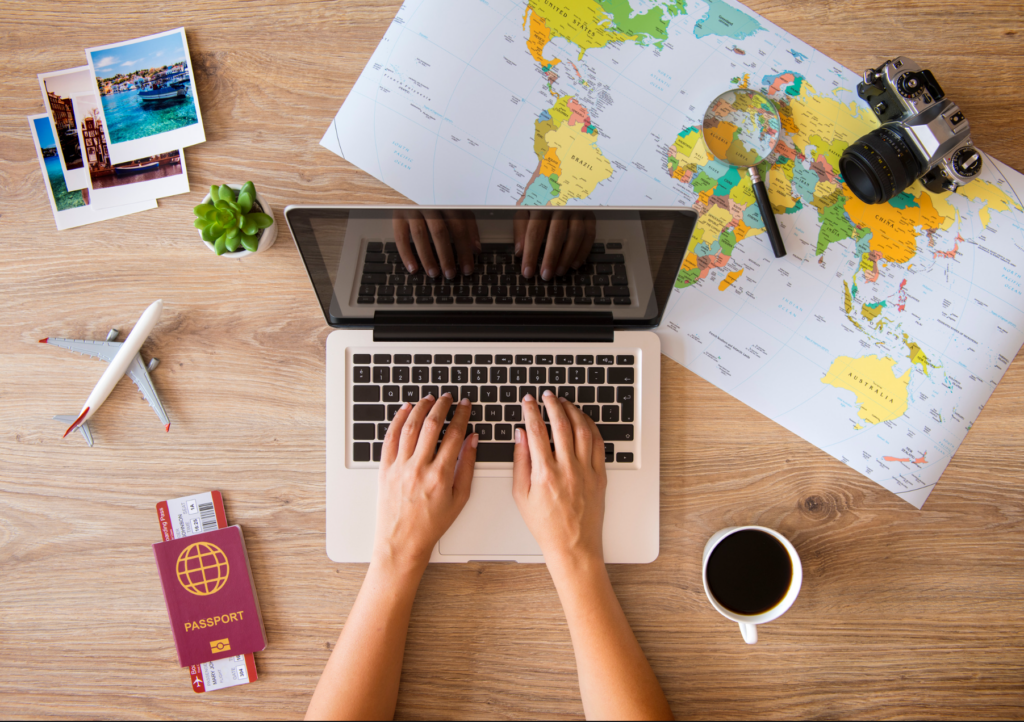 Working for travel companies as a blogger can be a great opportunity for those who love to travel and write. Travel companies often need bloggers to create engaging content to promote their brands and destinations. Responsibilities may include researching and writing blog posts, developing content marketing strategies, and promoting the company's products and services.
Travel blogging also allows you to partner with tourism boards, hotels, and other travel companies to receive free or discounted accommodations and experiences in exchange for promoting their brand on your blog.
To become a successful travel blogger, you'll need excellent writing skills, knowledge of SEO, and a strong social media presence.
Travel blogging may seem a bit intimidating if you're not a blogger yet. But with handy tools like Jasper to help you write catchy copy quickly and Surfer SEO to help your blogs rank on Google, you can use the power of AI to learn quickly and get published results that will impress readers and travel companies alike. And a cool feature is that Jasper and Surfer SEO integrate with each other to help you create rankable content fast!
And if you want to dig even deeper, these best blogs about blogging will help provide you with the necessary guidance and support that you need to start and maintain your own blog.
2. Become a Flight Attendant
The Flight Attendant profession involves ensuring the safety and comfort of passengers during a flight. Ellen Church, the world's first female flight attendant, developed the training program and job description for this position that set the precedent for the rest of the century and beyond.
Flight Attendants are primarily responsible for providing excellent customer service and maintaining safety standards on board, such as:
Checking emergency equipment
Conducting pre-flight safety briefings
Assisting passengers in the event of an emergency.
To qualify for this job, one typically needs to meet certain physical requirements, complete a training program, and have excellent communication and problem-solving skills.
This is a great opportunity if you enjoy flying, are socially adept, and are flexible with your hours and travel schedule.
The average salary for a Flight Attendant breaks down to $30.42 per hour, and additional benefits may include healthcare, retirement plans, and flexible scheduling options.
There are opportunities to increase your salary or earn bonuses by working overtime, choosing international flights, being promoted to a management position, and having seniority.
3. Work on a Cruise Ship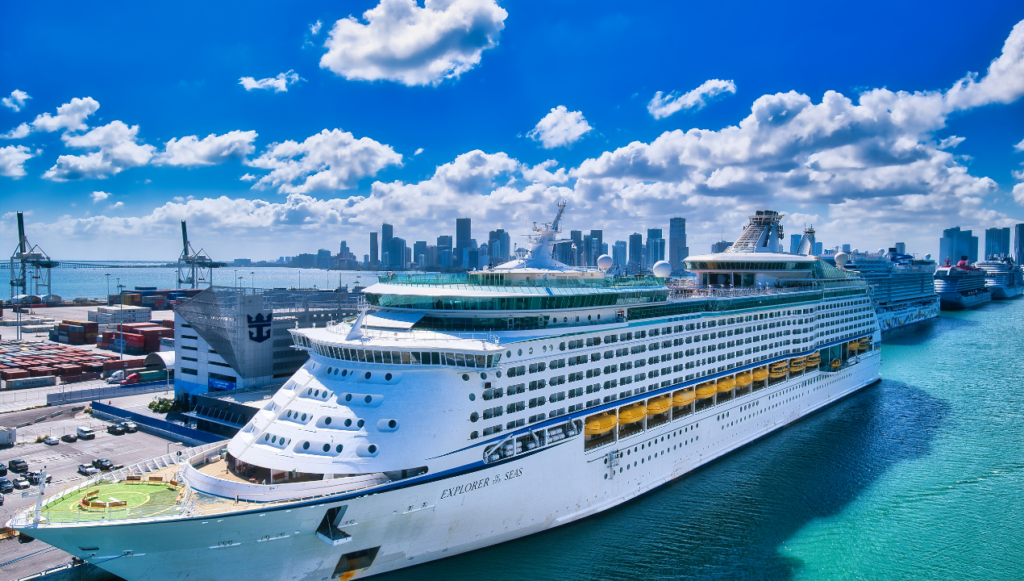 Working on a cruise ship is an excellent opportunity for travel enthusiasts. There are a variety of jobs available, including housekeeping, entertainment, restaurant service, and guest services.
An aggregate site like All Cruise Jobs makes it easy to search for open positions on all the major cruise lines.
Responsibilities include providing excellent customer service, maintaining a clean and safe environment, and ensuring guest comfort onboard. There may be other more specialized requirements depending on the position, such as a culinary background for chefs or musical talent for entertainers.
Most cruise ship jobs come with a salary, free housing while you're working on board, and food provided in addition to the opportunity to travel to multiple destinations.
The average hourly payment for a cruise ship worker is currently $24 an hour, although this will vary greatly depending on the position.
4. Become a Foreign Service Worker
Working as a Foreign Service Worker for the government is an exciting opportunity to travel while serving your country. As a Foreign Service Worker, you will represent the United States in embassies and consulates around the world.
These jobs require traveling to different countries for extended periods of time, allowing you to experience new cultures and languages.
Here are a few of the job responsibilities you can expect in this position:
Support U.S. interests abroad through diplomatic efforts
Manage embassy or consulate operations and staff
Assist U.S. citizens abroad with consular services
Promote public diplomacy and cultural exchanges
Conduct political and economic analysis for decision-making
Advocate for U.S. policies and interests in host countries.
To become a Foreign Service Worker, you must pass a rigorous selection process that includes a written exam, oral assessment, medical and security clearances, and a background investigation.
Mid-career Foreign Service Officers can expect to earn an average of $114,517 per year, with opportunities for advancement, making it a lucrative travel job.
5. Help Others as an International Aid Worker
Have you ever dreamed of seeing the world while making a positive impact on people's lives? If so, becoming an international aid worker might be the perfect career for you. You'll have the opportunity to provide support and relief to individuals and communities affected by natural disasters, wars, and other crises worldwide.
The best part of being an international aid worker is the opportunity to travel to different countries and work with people from diverse backgrounds. Your work can take you to some of the most exotic and remote parts of the world.
You could work for:
If you regularly seek out volunteer opportunities or have a degree in international development, social work, or a related field, this could be the perfect traveling job for you.
To succeed in this field, you need strong communication skills, cultural awareness, flexibility, and the ability to work under pressure.
Entry-level workers can expect to earn an average of $42,000 per year. Keep in mind that the reward for these traveling jobs lies in the fulfillment of making a positive impact in the lives of others, not just in the salary.
6. Become a Retail Buyer
As a retail buyer, you'll be responsible for selecting and purchasing merchandise for retail stores. This can involve traveling to different countries to attend trade shows and meet with vendors.
This career is ideal for those who have a strong sense of style, love to shop, and enjoy working in a fast-paced environment.
You'll also need strong analytical skills, attention to detail, and the ability to negotiate fairly.
You can expect to:
Travel to different countries to source unique and trendy products for your store
Experience new cultures and cuisines while working
Attend product or fashion events and trade shows around the world.
Retail buyer workers can expect to earn around $103,002 per year. Since this is a higher-paid position, it may require a few years of experience in the retail industry before breaking into this travel job.
7. Work as a Stagehand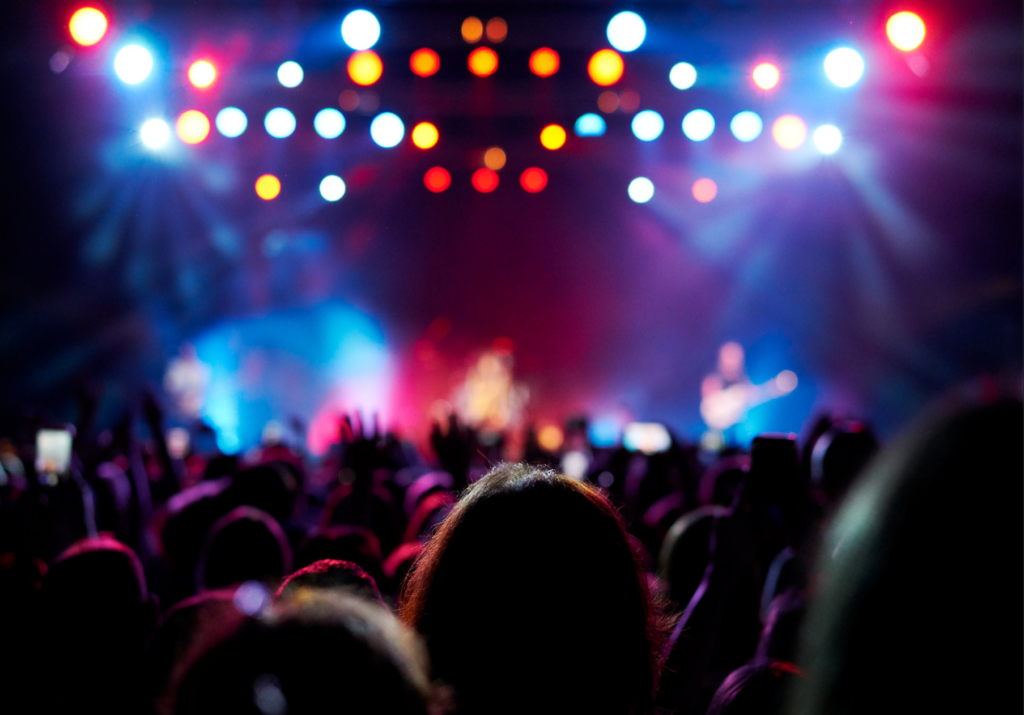 Looking for a job where you can travel and work in the entertainment industry? Consider becoming a stagehand. As a stagehand, you'll set up and break down equipment for concerts, theater productions, and other live events in various cities and venues.
It's a good travel job for those who are physically fit, enjoy working in a team environment, and have a passion for music and live performances. Experience in carpentry, electrical work, or other technical skills can be helpful in this career.
Here are the experiences you can expect as a stagehand:
Travel to different cities and venues to set up for events
Experience a wide variety of live performances and meet new people in the industry
Work with an energetic and creative team.
Expect to work long hours during the event setup and tear-down periods. But you can enjoy the shows in between.
Salaries for stagehands average to about $20.98 an hour and can go up with experience or specialization in specific equipment or skills.
8. Try Out Travel Nursing
Registered nurses with a passion for adventure, flexibility, and new experiences can thrive as travel nurses. With this traveling job, you'll work temporary assignments in healthcare facilities across the country.
As a travel nurse, you'll need to have strong nursing skills, adaptability, and a willingness to learn and work in different environments are key to success in this field.
Why it's great for nurses who want to see the world:
Explore new cities and cultures while earning a living
Work in a variety of healthcare settings, from hospitals to clinics
Enjoy flexible scheduling and the ability to choose your assignments.
Travel nurses typically work 13-week assignments, with the option to extend if desired. Your travel expenses are covered, and most assignments include housing.
The average salary for a traveling nurse is $50.49 per hour. If you specialize in an area of nursing that's in high demand, you may earn more. Plus, many staffing agencies offer bonuses and incentives.
9. See the World as a Training Specialist
If you have experience in training and development, consider becoming a training specialist. As a training specialist, you'll travel to different locations to provide training sessions for employees in various industries.
Those who enjoy teaching and public speaking, are organized, and enjoy traveling will like working as a training specialist. The best part is that you can work in several different industries, from corporate to healthcare.
Why this is a great travel job for training specialists:
Experience new cultures and work environments
Build your public speaking and training skills in various industries
Work with a diverse range of employees from different backgrounds.
Training specialists can earn an average salary of $57,571 per year. This widely varies depending on your experience level and industry.
10. Become a Field Service Technician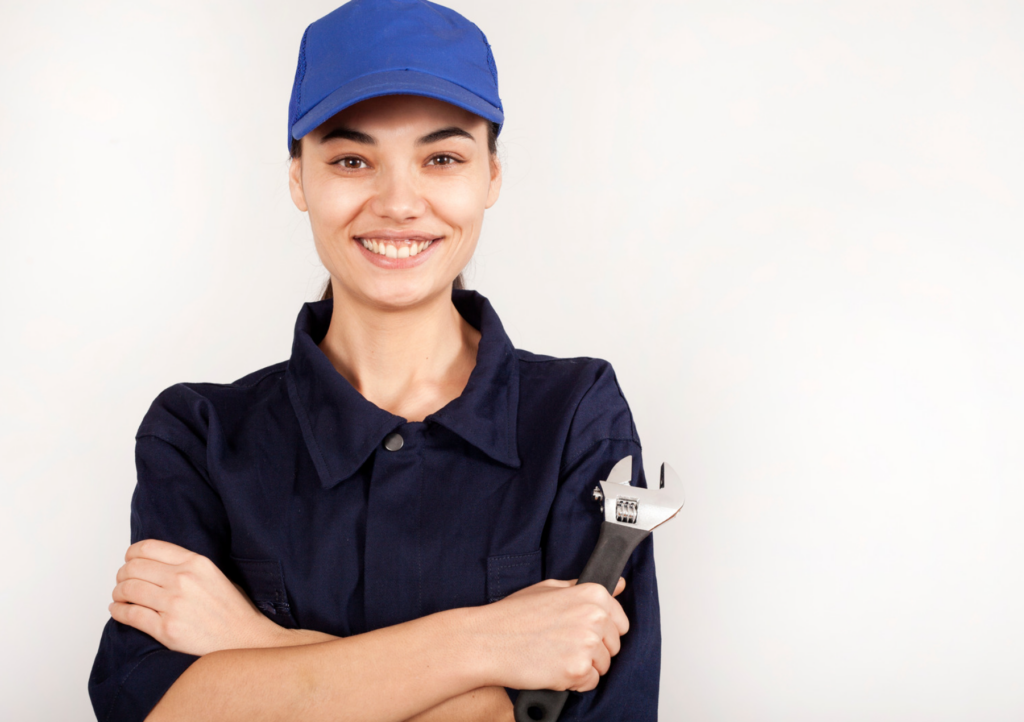 If you have a knack for fixing things and enjoy traveling, becoming a field service technician may be the perfect career for you. As a field service technician, you'll travel to different locations to install, repair, and maintain various equipment and machinery.
For technician-based traveling jobs, you'll need strong technical and mechanical skills, excellent problem-solving capabilities, and good communication skills.
As a field service technician, you'll typically work on a project basis, traveling to different locations as needed. The length of time you spend on each project can vary from a few days to several weeks or months.
Salaries for field service technicians vary depending on experience and industry, but $24.22 per hour is the current average.
So if you're mechanically inclined and enjoy working with your hands, consider pursuing a career as a field service technician.
11. Try Event Planning
Are you a natural when it comes to planning and organizing? Consider becoming an event planner. As an event planner, you'll work with clients to plan and execute events such as weddings, corporate conferences, and trade shows.
This is one of the best traveling jobs for those who are detail-oriented, creative problem solvers, and enjoy working in a fast-paced environment. From coming up with virtual event ideas to working with teams in person, there are plenty of ways to work globally with this position.
Event planning while traveling can look like this:
Planning destination weddings in exotic locations
Organizing conferences or trade shows in different cities and countries
Coordinating company retreats or team-building activities abroad.
Final Thoughts On Jobs That Require Travel
The desire to explore new places doesn't have to be at odds with building a fulfilling career. The traveling jobs listed here represent just a handful of the many opportunities that combine work and travel.
Whether you're a nurse, an event planner, a stagehand, or a training specialist, there are travel job opportunities out there for you.
So pack your bags, embrace the open road, and start on your journey to a career that satisfies your professional goals and wanderlust.
Want to learn step-by-step how I built my Niche Site Empire up to a full-time income?
Yes! I Love to Learn
Learn How I Built My Niche Site Empire to a Full-time Income
How to Pick the Right Keywords at the START, and avoid the losers
How to Scale and Outsource 90% of the Work, Allowing Your Empire to GROW Without You
How to Build a Site That Gets REAL TRAFFIC FROM GOOGLE (every. single. day.)
Subscribe to the Niche Pursuits Newsletter delivered with value 3X per week