17 Viral TikTok Challenges You Need to Try to Grow Your Following
When you buy something through one of the links on our site, we may earn an affiliate commission.
Looking for the best TikTok challenges to help you go viral?
Whether you're a solo TikToker or an eager brand looking to gain some exposure, TikTok challenges can help explode your account.
In this post, we've compiled a list of the most popular TikTok challenges from the early days to what's trending right now.
We'll also give you some tips for finding new challenges in the future so you'll never run out of ideas.
Let's dive in.
What are TikTok Challenges?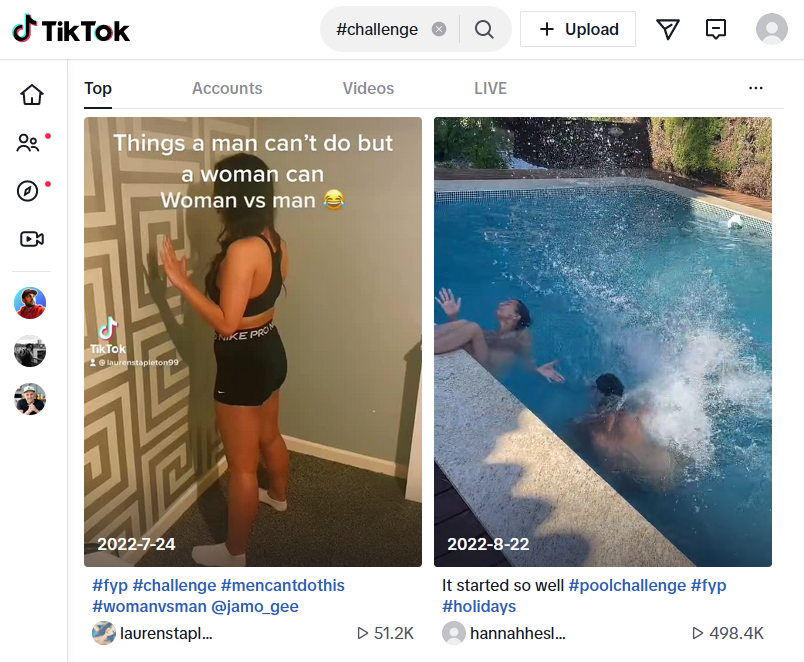 TikTok challenges are videos created by TikTok users to challenge users and other creators to make fun and engaging content.
They usually follow a trend that is popular at the moment. For example, the 'Blinding Lights Dance' blew up around the time the hit single by The Weeknd became popular.
However, TikTok challenges aren't limited to what's trending, and oftentimes, they become trends in their own right.
The majority of challenges spark creativity, camaraderie, and amusement amongst the community.
Many TikTok users jump at the opportunity to post challenges in the hopes the algorithm will bring them more exposure.
17 Most Viral and Popular TikTok Challenges (Current and Past)
In no particular order, here are the most popular TikTok challenges you'll find on the platform to date.
1. Dance Challenges
Starting off the list is what makes TikTok the platform we know it for - dance challenges.
They involve one or more people performing choreographed dance moves in time with the music.
This is what makes specific songs and challenges go viral, as the same songs are chosen for specific challenges.
There are tons of dance challenges cropping up all the time, but there are a couple of famous ones.
The #RenegadeChallenge, for example, was a sequence of moves created by 14-year-old Jalaiah Harmon in 2019, which eventually took off on TikTok.
Even to this day, the Renegade dance is still getting a lot of traction. This one has over 8 million views:
The Blinding Lights Challenge was another popular dance challenge when the song by the Weeknd was released in 2020.
It's a fairly simple set of moves and is very short, which is what makes this one of the best TikTok challenges to try.
---
2. Hip Mobility Challenge
This challenge is a seemingly straightforward exercise routine that shows personal hip mobility.
Thus, many people find it quite difficult. This is probably why it's such a popular Tiktok challenge because, if you've got the flexibility skills, then why not show them off, right?
Here's one example that has 3 million views:
And another with a staggering 14 million views:
The Hip Mobility Challenge is usually paired with the song Boom by Doja Cat.
---
3. Can He Do (The Chair) Challenge
There are quite a few Can He Do challenges where the activity carried out by the woman cannot be performed by the man.
A popular one was the #elbowchallenge, where the guy usually falls on his face.
A newer challenge that's similar involves lifting a chair whilst bent over with your head touching the wall.
Then, all you have to do is stand up. The ladies seem to be able to do this with no problem, but the guys get stuck.
Here's a good example that has over 13 million views:
---
4. The Silhouette Challenge
This challenge was inspired by a Doja Cat music video. The intro transitions into a deep red-lit screen and silhouette of the musician posing in a shop window.
The song used during the transition is "Put Your Head On My Shoulder" by Giulia Di Nicolantonio.
Tiktokers have since replicated the scene as a challenge, which usually takes place inside the frame of a door.
Here is a popular example with a nice twist:
---
5. Candle Challenge
This candle challenge performed by Dude Awesome aims for participants to blow out as many candles as possible.
They're arranged in a single line, and the contestant blows as hard as they can from one end.
The result is quite satisfying to watch each candle go out down the line.
This example had more than 25 million views:
---
6. Food Challenge
Next up is where TikTokers eat crazy amounts of food in record times.
A challenge like this could be good for restaurants or fast food brands to get more eyeballs on the food they sell.
Here's one example by a guy whose entire account centers around this challenge. This particular video has nearly 6 million views:
---
7. Cat Jumping Challenge
It's easy to agree that pretty much all cat videos will do well on most platforms.
And TikTok challenges are no exception.
They involve a cat jumping over paper cups or tape attached to a door frame.
The challenge starts easy with only a few rows of cups or pieces of tape, then gradually gets more difficult.
Still, cats do have an incredible jumping ability.
This one currently has 4.3 million views:
And the one with the tape has almost 10 million views:
---
8. Run Challenge
Here's one for couples. The Run Challenge involves two people where one holds the other around the waist whilst the other does the actions of running.
It's pretty simple and looks pretty funny.
This one has amounted over 96 million views:
---
9. Beatboxing Challenge
The Beatboxing Challenge involves someone trying to replicate a professional beatboxer.
It's impressive to hear what sounds people can make with their mouths.
A challenge like this one would be great for musicians as the relevancy could help them get picked up by the algorithm.
This example has a huge number of views at almost 33 million:
---
10. Lip Syncing Challenge
A Lip Sync Challenge is where the user speaks in time with a song or other type of vocal.
They tend to be so well synced that it's oftentimes hard to tell that the vocal is dubbed - until you watch it a second or third time around.
These challenges are fun and creative, and TikTokers try to give their own twist to them.
One of the most liked lip-sync challenge videos is by Bella Poarch, lip-syncing to Millie B's M to the B.
It currently has over 767 million views and 62.4 million likes:
A new trending song to lip-sync to is Everything Sucks by Vaultboy. This TikToker nails it:
---
11. Don't Rush Challenge
The Don't Rush Challenge is named after the song Don't Rush by Young T & Bugsey, which is played in the background.
It consists of a makeup transformation with the magic of editing.
The video starts with a dressed-down TikToker wearing no makeup and reveals the transformation at the end.
The makeup brush that covers the lens is what makes the transition possible.
Here is a compilation example that has 2.4 million views:
---
12. The Towel Challenge
The Towel Challenge is where a couple interlocks two towels they're holding, then tries to maneuver their way out without letting go.
It's one of the most interesting challenges to watch as it seems impossible.
And that's because it is! The only people who claim to succeed with this challenge are cheating.
Many users who attempt it fail miserably because they haven't realized it's a trick. Still, it is quite amusing to watch.
This example, which has almost 400 thousand likes, is possibly the fastest and most elegant. See if you can see the 'sleight of hand':
Here's another good example with over 18 million views:
---
13. Bottle Flip Challenge
The Bottle Flip is a lot of fun and amusing to watch.
It involves a couple who competes at flipping a bottle of water to make it land upright.
When they succeed, they get to start eating whatever food they've prepared.
They take it in turn to flip the bottle so they get a chance to eat before all the food runs out.
Here is a fun example with more than 200 thousand likes:
---
14 Eyes Closed Challenge
The Eyes-Closed Challenge is hilarious and a very clever way of tricking the people involved.
It requires a filter that makes it look like the user in front has their eyes closed.
Then, the people behind show several fingers for them to guess, unaware they have their eyes open the whole time.
This example is one of the longer challenges on the list, which has over 4 million views:
---
15. Guess The Drawing Challenge
Guess the Drawing shows several images of a type of food, some of which are real and one that has been drawn.
Each real one is moved off the screen, revealing the drawing last.
It's very fun (and addictive to try to guess) and shows off the artist's creative skills.
Here is one using a tangerine that has a whopping 56.4 million views:
---
16. Flip The Switch Challenge
This challenge results in a humorous switching between a couple's outfits.
Typically taken place in a bathroom, the couple pose in their usual attire until the light switch is flipped off and on.
The name of the challenge is taken from the title of the song "Flip the Switch" by Quavo featuring Drake.
Here's a great example that has garnered 27+ million views:
---
17. Journal Challenge
A not-so-popular challenge is the Journal Challenge. It shows people new and inspiring ways to add journal entries.
This one by TikTok user Menna Carey is a beautiful example of what journalling can look like.
It also has 1 million views and 133+ thousand views:
How Do I Find Trending Challenges on TikTok?
The best way to find trending TikTok challenges is by searching for the hashtag 'challenges'.
The default list of search results is the top-performing videos on the platform currently.
Another way to find challenges is by scrolling on the TikTok For You Page (FYP). These will usually be related to the type of content you watch regularly.
Why Do TikTok Challenges Go Viral?
TikTok challenges go viral for a few reasons. Here are some of those reasons that can help you improve your chances of going viral.
They're fun to replicate and easy to participate in. Many TikTok challenges make it a lot of fun to take part. This also makes them fun to watch because the creators are enjoying themselves.
Hashtags: Adding specific hashtags to your challenges can help increase visibility and their likelihood of being found.
Popularity: If popular TikTok influencers have posted a challenge, it is more likely to be seen by more people. This can help smaller creators go viral as they piggyback off the trend.
Community engagement: Challenges bring the community closer together, which can drive more engagement.
Use of music: Many challenges use music that is catchy or trending in the charts, which can help them become popular quickly.
What Are The Best Songs For TikTok Challenges?
There's no limit to which songs you can use for your TikTok challenges. But this list of songs is very popular in challenges and other videos in general:
Say So by Doja Cat
Monkeys Spinning Monkeys - Kevin
Jiggle Jiggle - Duke & Jones & Louis
Oh No - Kreepa
Tap In by Saweetie
So Hot You're Hurting My Feelings - Caroline Polachek
Talking To The Moon – SicKick (Bruno Mars Remix)
WAP by Cardi B
Laxed (Siren Beat) by Jawsh 685 and Jason Derulo
Savage and Savage Remix by Megan Thee Stallion, featuring Beyoncé
TikTok Challenges in Closing
TikTok challenges are a great way to gain a following on the platform, especially if yours goes viral.
Try posting as many challenges as you can with a mix of other TikTok content. If you run a brand, post challenges that have some relevance to your products or services.
This can help you build an audience who are more likely to convert as customers.
If you are in need of a list of other social networks for exposure, check out our post 13 Top Social Media Platforms You Can Use To Grow Your Business.
Want to learn step-by-step how I built my Niche Site Empire up to a full-time income?
Yes! I Love to Learn
Learn How I Built My Niche Site Empire to a Full-time Income
How to Pick the Right Keywords at the START, and avoid the losers
How to Scale and Outsource 90% of the Work, Allowing Your Empire to GROW Without You
How to Build a Site That Gets REAL TRAFFIC FROM GOOGLE (every. single. day.)
Subscribe to the Niche Pursuits Newsletter delivered with value 3X per week