561 Magical and Fun Ideas for Theme Park Slogans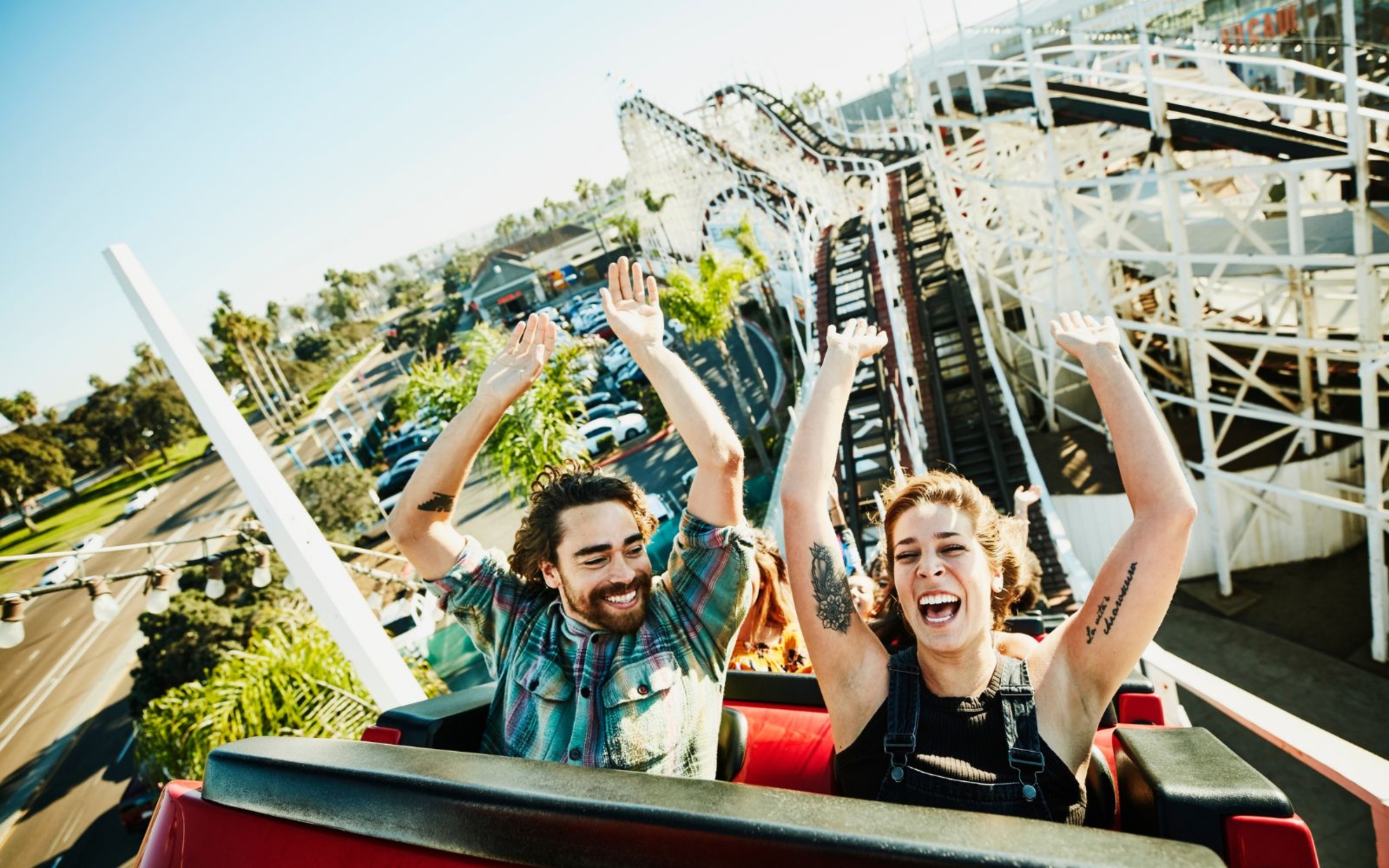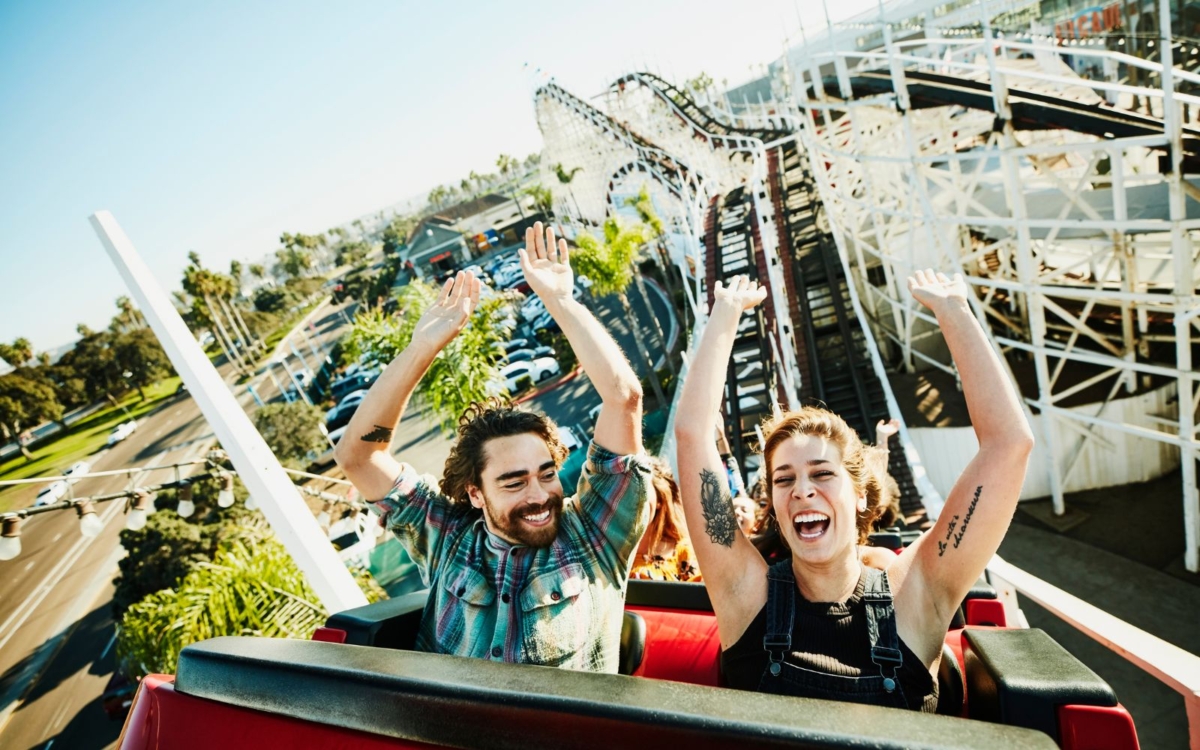 When you buy something through one of the links on our site, we may earn an affiliate commission.
Make your park unforgettable with the best theme park slogans!
Crafting the perfect tagline is like designing a thrilling ride – it must be short, sweet, and exciting. From water parks to classic amusement parks, we have memorable catchphrases for everyone.
From keeping it snappy to making visitors feel at home, we share tips that turn words into the magic that brings your park to life. Get ready to discover the secrets that make your tagline the key to a world of fun and joy!
Hold on to your cotton candy - it is time to ride!
Creative Theme Park Slogans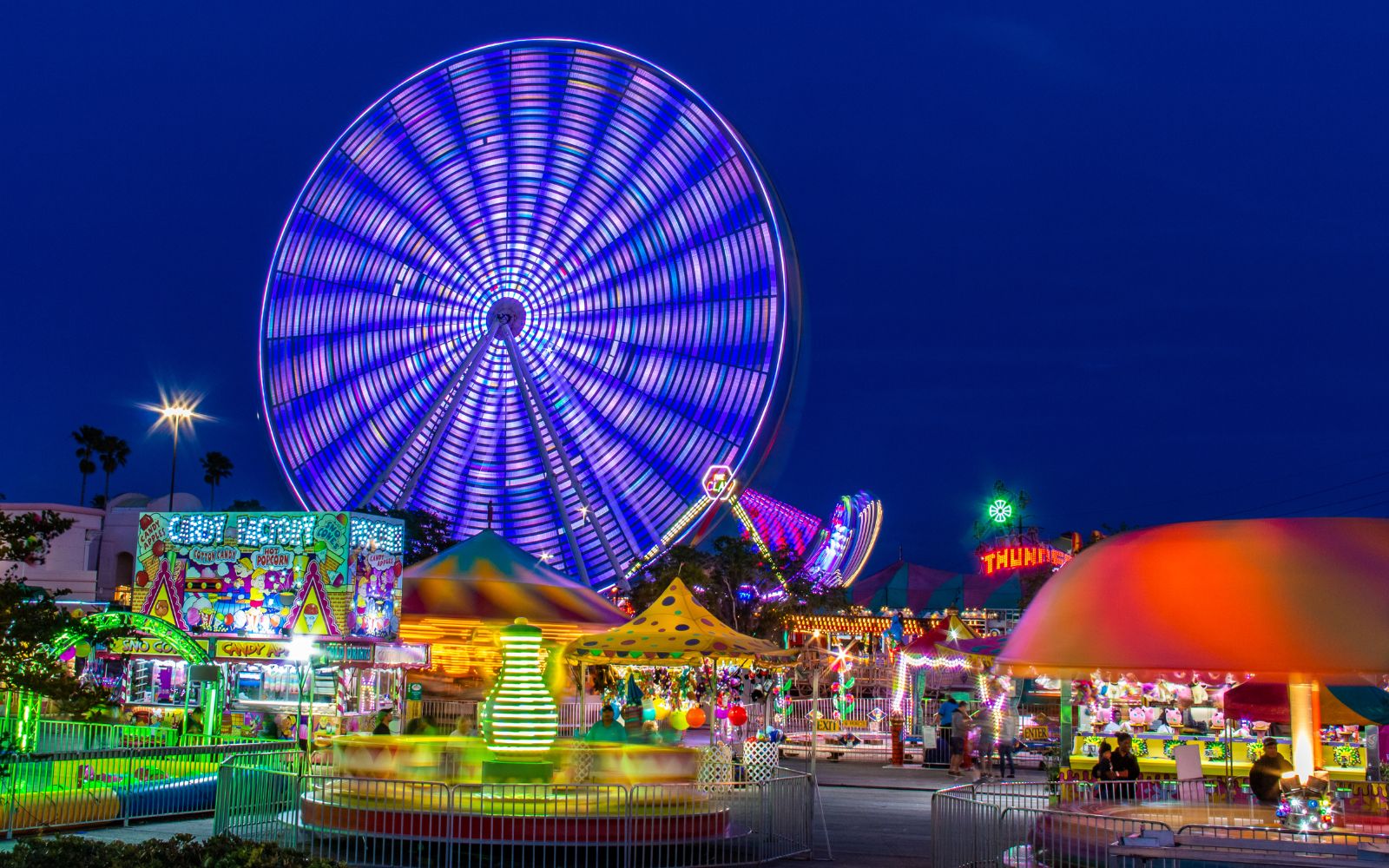 Where Every Day is a Fun Day!
Thrills, Chills, and Smiles – All in One Place!
Adventure Awaits: Your Happy Escape!
Unlock Joy: Visit Our Happy Kingdom!
Roll into Fun: Your Happiest Haven!
Experience the Extraordinary: It's Theme Park Time!
Giggle, Glide, Enjoy the Ride!
Happy Moments Start Here!
Discover Delight: Your Theme Park Delight!
Twist, Turn, and Cheers – Your Happy Frontier!
Whirlwind of Fun: Share the Joy!
Simple Pleasures, Big Smiles – Welcome to Fun!
Cheers and Laughter: Your Happy Story Unfolds!
Sparkle and Spin: Where Joyful Adventures Begin!
Fun Vibes Only: Join the Happiness Parade!
Simple Joys, Big Thrills: Join the Excitement!
Where Happy Memories Take Flight!
Glide into Glee: Your Happy Spot, You See!
Happy Smiles, Always!
Happy Vibes Only: Your Fun Zone Awaits!
Explore, Laugh, Love
Giggle and Glide: Your Joyful Ride!
Whirlwind of Fun: Dive In, Everyone!
Cheers and Laughter: It's Happy Ever After!
Simple Pleasures, Big Smiles: Welcome to Fun Files!
Joyful Journeys, Adventure Delights
Merry-Go-Round of Memories
Fun, Frolic, and a Whole Lot More: Explore the Joy!
Twirl and Whirl: Where Happy Moments Twirl!
Splash into Joy: Where Happy Vibes Live!
Happy Rides, Happy Times: A Rhyme of Good Times!
Giggles Galore: Where Happiness Soars!
Whiz into Whimsy: Your Happy Escape!
Dive into Delight: Where Simple Joys Ignite!
Joy Unveiled: Every Ride, Every Smile, Pure Delight!
Cheers and Thrills: Your Simple Happiness Fills!
Simple Joys, Big Cheers: Theme Park Smiles in Gears!
Spin into Smiles: Happy Moments That Beguile!
Glee Galore, Every Attraction!
Cheers and Whirls: Your World of Joy Awaits!
Ride Happy, Stay Snappy
Taglines for the Adventurous
Adventure Unleashed: Where Every Turn Sparks Excitement!
Dive into Dare: A Symphony of Bold Delight!
Thrill Seekers Rejoice: Your Ultimate Adventure Awaits!
Conquer the Coasters: Where Adventure Takes the Lead!
Adventure Awaits: Explore the Extraordinary!
Where Fear Fades: Adrenaline Rises, Smiles Prevail!
Boldly Go: Adventure Awaits, Your Courage Sets Sail!
Ride the Roar: Where Boldness Knows No Bounds!
Dare to Discover: Adventure Beyond Imagination!
Uncharted Joy: Navigate the Thrills, Ignite the Fun!
Adventure Calls: Answer with Smiles and Courage!
Twists of Fun: Your Happy Haven Under the Sun!
Discover Your Brave: Unleash the Adventurer in You!
Adventure Awaits: Brave Hearts, Big Smiles!
Dive into the Unknown: Where Bold Souls Find Home!
Bravery Unleashed: Every Ride a Triumph!
Whiz into Whimsy: Your Happy Escape, Simply!
Dive Deep, Soar High: Your Adventure Tale Unfolds!
Thrills by Design: For Those Who Seek the Extraordinary!
Dive into Glee: A Wonderland for You and Me!
Adventure Unveiled: Every Twist, Every Turn, Pure Delight!
Beyond Limits: Where Adrenaline and Smiles Collide!
Adventure Awaits: Brave Hearts, Big Smiles!
Adventure Meets Adrenaline: Dive Into the Joy!
Venture into Thrills: Where Courage Takes Flight!
Dare to Dream: Where Adventures Spark and Gleam!
Rollercoaster of Joy: A Thrilling Symphony!
Where the Brave Belong: Adventure Awaits, Be Strong!
Dive into Dreams: Your Bold Adventure Streams!
Roar and Soar: Your Adrenaline Encore!
Bravery in Every Twist: Adventure, Joy, and Bliss!
Thrills Unveiled: Unleash Your Inner Adventurer!
Adventure Odyssey: Where Every Twist Delights!
Unleash the Fun: Adventure, Laughter, Everyone!
Journey to Joy: Where Adrenaline Flows!
Adventure Hub: Where Every Thrill is a Win!
Dive into Delight: Adventure Beckons, Smiles Brighten!
Whiz and Twirl: Your Adventure Oasis in the World!
Beyond Boundaries: Where Adventure and Smiles Reside!
Twist and Triumph: Your Adventurous Journey Guide!
Family-Friendly Theme Park Slogans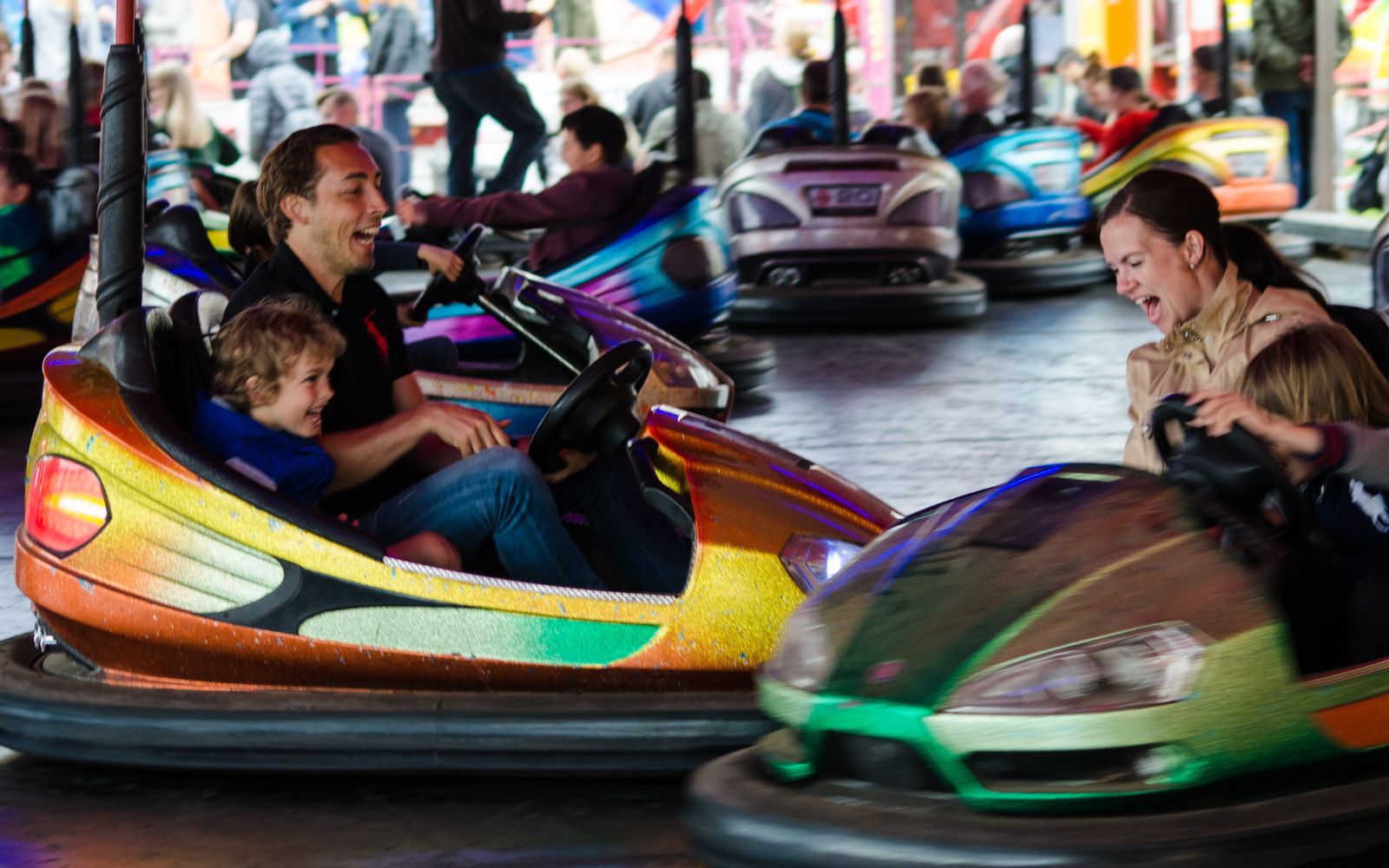 Wholesome Wonders Await!
Smiles Start Here!
Joy Unleashed, Memories Made.
Fun for All, Big and Small!
Laughter Rings Loudest!
Thrills, Chills, and Family Feels!
Carousel of Happiness!
Where Fun Knows No Bounds!
Step into the Fun Zone!
Whirlwind of Family Delight!
Happy Hearts, Happy Rides!
Cotton Candy Clouds of Cheer!
Rollercoaster of Family Fun!
Kiddie Smiles Take Center Stage!
Whizzing, Twirling, Grinning!
Giggles Galore, Every Ride!
Treats, Beats, and Family Meets!
Joyful Jamboree for Everyone!
All Aboard the Fun Express!
Magic Moments, Endless Smiles!
Swirls of Fun, Twirls of Laughter!
Family Fiesta Extravaganza!
Playful Pizzazz for All Ages!
Whisked Away in a World of Wow!
Sunshine, Smiles, and Spinning!
Sunny Days, Starry Nights, Pure Delight!
Jolly Jumps and Jubilant Jives!
Whistle While You Spin!
Fantasyland of Family Fantasia!
Bounce into Boundless Bliss!
Merry-Go-Round of Memories!
Bursts of Funfair Bliss!
Gleeful Grins Guaranteed!
Rolling Waves of Family Fun!
Dizzying Delights for Everyone!
Charm, Cheer, and Churros!
Carousel of Dreams, Realities, and Ice Creams!
Laughing Louder, Loving Longer!
Sky-High Smiles, Grounded in Family!
Ride the Magic!
Magical Mottos that Create Memories
Crafting Timeless Memories!
Where Every Moment Sparks Wonder!
Weaving Unforgettable Memories!
Crafting Everlasting Magic!
Every Experience, Pure Enchantment!
Where Memories Flourish!
Creating Magic, One Memory at a Time!
A Spellbound Affair for All Ages!
Where Magical Memories Blossom!
Your Sanctuary of Lasting Memories!
Every Twist, Every Turn, a Memory Unlocked!
Where Magic Takes Center Stage!
Your Gateway to Magical Moments!
Creating Memories, Captivating and True!
Leave with Magical Memories!
Your Chronicles of Magical Moments!
Where Every Corner Holds Enchantment!
Your Magical Memory Portal!
Every Attraction, Pure Magic!
A Realm of Magical Stories!
Where Magical Memories Flourish!
Crafting Dreams into Memorable Treasures!
Every Moment, Every Memory Clear!
Your Oasis of Magical Memories!
Creating Memories Beyond Imagination!
Every Note, Every Memory in Harmony!
Where Magic and Memories Intersect!
Ride Into Memories, Never the Same!
Where Every Memory Finds its Melody!
Crafting Memories, One Spin at a Time!
A Tapestry of Unforgettable Tales!
Where Every Turn Becomes a Memory!
Your Story of Enchanted Memories!
Creating Moments, Lasting for Miles!
Where Every Desire Leaves a Memory!
Every Experience, Every Memory Swirls!
Crafting Memories, Pure and Tender!
Every Moment a Magical Experience!
Crafting Memories, Everlasting Joy!
Every Turn, Every Memory, Pure Enchantment!
Catchy Theme Park Slogans
Where Smiles Take the Spotlight!
Your Happy Hub for Joyful Adventures!
Your Simple Happiness Oasis!
Where Every Turn Sparks Playfulness!
Your Playground of Amusement!
Where Happiness Takes Flight!
Where Simple Joys Ignite!
A Symphony of Playful Fun!
Brave Hearts, Big Smiles!
Where Every Day is Adventure Day!
Every Attraction, Pure Jubilation!
Simple Smiles, Always!
Where Happy Moments Unfold!
Where Smiles Gleam!
Where Fun Meets Fantastic!
Every Ride a Grin!
A Symphony of Smiles!
Where Every Turn is a Happy Run!
Every Turn Beguiles!
Where Enjoyment Spills!
Harmony of Enjoyment!
Wonderland Style!
Joy All Around!
A Carousel for Everyone!
Marvels in Every Turn!
Where Happiness Ventures!
Where Every Twist is a Win!
Banish All Fears!
Where Happiness Prevails!
Into Wonderland's Side!
A Wonderland Discovered!
Joyful Moments Start Here!
Crafting Bright Magic!
Where Enjoyment Plays!
Into Laughter's Embrace!
Where Creativity Sparks!
Where Laughter Resounds!
Where Fun Explodes!
Theme Park Joy Unveiled!
Beyond Imagination's Height!
Seasonal Taglines that Work Wonders
Seasonal Spectacles, Year-Round Smiles!
Holiday Thrills, Endless Chills!
Springtime Surprises, Summertime Sun!
Autumn Adventures, Winter Fun Begun!
Spooky Delights, Festive Nights!
Where Every Season Sparks Joy!
Blooms, Booms, and Rollercoaster Zooms!
Summer Sunshine, Winter Whirls!
Season's Greetings, Park's Meetings!
Frosty Frolics, Sunny Swoops!
Yearly Wonders, Monthly Blunders!
Spring Blooms, Rollercoaster Zooms!
Pumpkin Spice and Everything Nice!
Sleigh Bells Ring, Coasters Swing!
From Easter Hops to Christmas Shops!
Fall Frolics, Spring Sprinkles!
Jingle All the Way to Play!
Sun-Kissed Summers, Snowy Winters!
Seasonal Surprises, Joyful Rises!
Where Seasons Blend and Fun Ascends!
A Rollercoaster for Every Temperature!
Leaves Falling, Coasters Calling!
Winter Frost, Summer Boast!
Holiday Magic, Every Attraction!
Spring Flings, Winter Wings!
Sunny Days, Snowy Plays!
Seasonal Thrills, Year-Round Hills!
Winter Whirlwinds, Summer Grins!
Flowers Bloom, Coasters Zoom!
Autumn Eves, Summer Leaves!
Tis the Season for Theme Park Reason!
Summer Heat, Winter Treats!
Where Every Season is a Celebration!
A Merry-Go-Round for Every Month!
Holiday Cheers, Rollercoaster Tears!
Winter Frosting, Coaster Boasting!
Spring Sings, Rollercoasters Swing!
Sleigh into Summer, Slide into Spring!
Autumn Amusements, Spring Excitements!
Seasonal Sparks, Theme Park Arcs!
Catchphrases for Global Carnivals
Carnival of Cultures: Where Diversity Takes the Stage!
Global Revelry: Every Nation's Celebration!
Worldly Whirlwind: Dance, Music, and Joy Unite!
Cultures in Harmony: A Tapestry of Global Festivity!
Joyful Jamboree: From Every Corner of the Globe!
Celebrate Unity: Global Carnival Extravaganza!
Mingle and Marvel: Worldwide Fun Under One Sky!
Cultural Kaleidoscope: Where Every Nation Shines!
Whirlwind Wonders: Celebrate the Global Tapestry!
United in Joy: Where Every Culture Finds Home!
International Jubilee: A Global Fiesta of Fun!
Carnival Fusion: A Worldwide Party in Motion!
Parade of Nations: Every Step, a Global Celebration!
Joy Across Borders: Global Carnivals Unite!
Samba to Salsa: A Rhythmic Journey Around the World!
Cultural Odyssey: A Global Adventure of Festivity!
Unity in Diversity: Where Every Nation Dances!
Worldwide Merriment: Global Carnival Delights!
Dance Across Continents: Celebrating Diversity in Motion!
Festival Frenzy: A Global Extravaganza of Fun!
Carnival Chronicles: Stories of Joy from Every Latitude!
Globe-Trotting Gala: Celebrate the World, Embrace Joy!
Fusion Fiesta: Where Global Beats Resound!
Carnival Caravan: Joyful Wanderlust Across Borders!
Harmonious Revels: Global Cultures, One Celebration!
Jubilation Junction: Where Global Festivity Collides!
Worldly Whirl: A Carousel of Cultures in Motion!
Festival of Unity: Global Carnival Bliss!
Cross-Cultural Carnival: Joy Beyond Boundaries!
International Extravaganza: Joy Unleashed Worldwide!
Parade of Joy: Every Culture, Every Smile!
Festive Mosaic: A Global Patchwork of Joy!
Global Revels: Where Every Step Echoes Celebration!
Carnival Connexion: A Global Tapestry of Delight!
Multicultural Merrymaking: A Global Party Affair!
Dance Around the Globe: Where Every Culture Shines!
Joyous Journey: A Global Carnival Adventure!
Unity Parade: Nations Marching in Celebration!
Worldwide Whirlwind: Join the Global Joyride!
Carnival Commotion: A Symphony of Global Festivity!
Luxury Theme Park Slogans
Opulence Unleashed: Where Luxury Meets Leisure!
Elegance in Every Attraction: A Class Apart!
Leisure Redefined: Where Luxury Takes Center Stage!
Luxe Escapes: Where Every Experience Exudes Opulence!
Chic Thrills: Refined Adventures, Unmatched Elegance!
Lavish Playgrounds: Where Luxury and Fantasy Converge!
Aristocratic Amusements: Every Detail, Pure Extravagance!
Indulge in Grandeur: Luxury Beyond Imagination!
Opulent Adventures Await: Exquisite Leisure Awaits!
Sophisticated Thrills: A Symphony of Elegance and Excitement!
Haute Happiness: Where Every Ride Exudes Glamour!
Regal Recess: Leisure Fit for Royalty!
Supreme Sojourns: Elegant Escapes, Unparalleled Joy!
Immerse in Opulence: Every Corner, a Touch of Luxury!
Posh Playgrounds: Where Elegance Meets Amusement!
Leisure's Finest: Refined Pursuits, Unrivaled Pleasure!
Luxurious Odyssey: Every Attraction, a Royal Affair!
Grand Gala: An Extravagant Festival of Opulence!
Ritzy Rides: Where Luxury Takes the Driver's Seat!
Elegant Escapades: Indulge in Opulent Thrills!
Leisure Couture: Where Every Experience Is Tailored!
Beyond Extravagance: Unveiling the Pinnacle of Leisure!
Premium Playtime: Where Luxury and Joy Converge!
Chic Charms: Every Attraction, a Stylish Affair!
Sumptuous Soirees: Refined Celebrations, Every Day!
Opulent Overture: Luxury's Grand Symphony of Delight!
Leisure in Vogue: Where Every Moment Is Stylish!
Lavish Laughter: Opulence Infused with Joy!
Grandeur Unbound: A Tapestry of Refined Amusement!
Supreme Serenity: Where Luxury Meets Tranquility!
Platinum Pursuits: Beyond Leisure, Into Opulence!
Elegant Escapes: Where Refined Adventure Awaits!
Leisure's Embrace: Every Experience, Pure Luxury!
Regal Revels: A Celebration of Opulent Joy!
Leisure Luxe: Where Extravagance Is the Norm!
Chic Carnival: A Stylish Extravaganza of Joy!
Opulent Oasis: Leisure Elevated to Grandeur!
Royal Rides: Every Attraction, a Majestic Experience!
Luxe Laughter: Refined Joy, Every Smile!
Classy Carnivals: Indulge in Leisure's Finest!
Tech Taglines for Futuristic Funfairs
Virtual Voyages: Where Reality Meets the Future!
Cyber Carnival: Tech Thrills Beyond Imagination!
Quantum Quests: Explore Tomorrow's Amusements Today!
Hologram Heights: Where Fun Takes a Futuristic Leap!
Augmented Adventures: Reality Redefined, Joy Amplified!
Digital Delights: Where Pixels Create Playful Magic!
Futuristic Fantasia: Tech Wonders Unleashed!
Nanotech Nirvana: Where Miniature Marvels Create Joy!
AI Amusements: Where Intelligence Sparks Excitement!
Robo Revels: Where Machines and Joy Dance in Harmony!
Virtual Vista: A Tech Wonderland Awaits!
Quantum Quotient: Futuristic Thrills at Every Turn!
Cyberspace Carousel: Ride Into the Future of Fun!
Neuro Nectar: Where Brainwaves Create Joyful Echoes!
Drone Delirium: Aerial Adventures in Futuristic Fun!
Synth Symphony: Where Technology Conducts the Joy!
Futurama Fiesta: Tomorrow's Amusement, Today!
Infinity Interlude: A Tech Journey Beyond Limits!
Virtual Vortex: Where Fun Takes a Quantum Leap!
AugmentArcade: Tech-Infused Joy for All Ages!
Quantum Quasar: A Futuristic Fusion of Fun!
Cyborg Carnival: Where Man and Machine Play in Unity!
Biotech Bliss: Organic Marvels, Futuristic Delight!
Neural Nexus: Where Joy Connects with Tomorrow!
Silicon Soiree: Futuristic Fun in Every Byte!
Techtopian Thrills: Where Tomorrow's Wonders Begin!
Digital Dazzle: Pixels, Play, and Futuristic Pizzazz!
Robo Rhapsody: Where Machines Play Music of Joy!
Nanobot Nectar: Miniature Wonders, Mega Joy!
Quantum Quirk: A Futuristic Twist on Amusement!
Cyberscape Symphony: Tech Harmony in Every Note!
Futurize Fiesta: Joyous Adventures in the Digital Era!
Neural Nirvana: Brainwaves and Bliss in Perfect Sync!
AugmentArcadia: Futuristic Fables of Fun!
Quantum Quandary: Where Tech Challenges Ignite Joy!
Techtronic Trails: A Futuristic Tapestry of Thrills!
Robo Rendezvous: Where Metal and Merriment Merge!
Synth Sizzle: A Futuristic Scent of Playful Tech!
Virtual Velocity: Tomorrow's Speed, Today's Joy!
Quantum Quest: Where Futuristic Fantasies Flourish!
Rhyming Theme Park Slogans
Whirl and Twirl: Where Every Turn's a Pearl!
Carousel Charms: Round and Round in Joyful Arms!
Laughter Ever After: Where Smiles Create the Rafters!
Spinning Grin: Every Ride, a Cheerful Win!
Rollercoaster Rapture: Where Joy Takes Capture!
Merry-Go-Glee: Carousel Magic, Pure Glee!
Fun Run Under the Sun: Where Smiles Never Undone!
Rides and Slides: Where Every Laugh Resides!
Twinkle Toes on Tiptoe: Dancing Through Joy's Echo!
Jovial Journey: Every Whirl, a Merry Attorney!
Funtastic Fantastic: Where Every Whirl Is Elastic!
Whiz and Bliss: Where Every Spin's a Kiss!
Joyful Jive: Where Laughter Takes a Dive!
Glee's Grand Gleam: Where Joy's a Constant Stream!
Roundabout Revelry: Where Every Spin Feels Free!
Chuckles and Tumbles: Where Laughter Never Stumbles!
Playful Parade: Where Merriment Takes Center Stage!
Twirl and Swirl: Every Spin, a Happy Whirl!
Gleeful Galore: Every Ride, a Cheerful Encore!
Funtimes Rhyme: Where Laughter Keeps Perfect Time!
Spin and Grin: A Carousel Full of Win!
Chuckle Challenge: Where Every Laugh Is Mirthful!
Merriment Measure: Every Turn, a Joyful Pleasure!
Giggles on Riddles: Where Laughter Biddles!
Whirlwind Whimsy: Joy's Symphony in Every Spin!
Carousel Gleecicle: Frozen Moments of Pure Delight!
Merry-Go-Mirth: Laughter's Song in Every Whirl!
Whirlwind Whistle: Where Every Spin's a Thistle!
Roundabout Reverie: Joyful Dreams in Harmony!
Chuckle Carousel: Laughter's Loop, a Joyful Parcel!
Gleeful Gaze: Every Spin, a Joyful Haze!
Laughter Lift: Every Twirl, a Happy Gift!
Merry-Go-Magic: Carousel Charms, Enchanting and Tragic!
Twirl and Tingle: Where Every Spin Makes You Mingle!
Whiz and Fizz: Where Every Spin is Joy's Quiz!
Jolly Journey: Where Laughter Takes the Tourney!
Roundabout Radiance: Joyful Beams in Every Spin!
Chuckle Charm: Every Carousel, a Joyful Arm!
Spinning Serenity: Where Every Whirl Feels Free!
Merriment Mile: Where Laughter Stays Awhile!
Classic Catchphrases That Grab Attention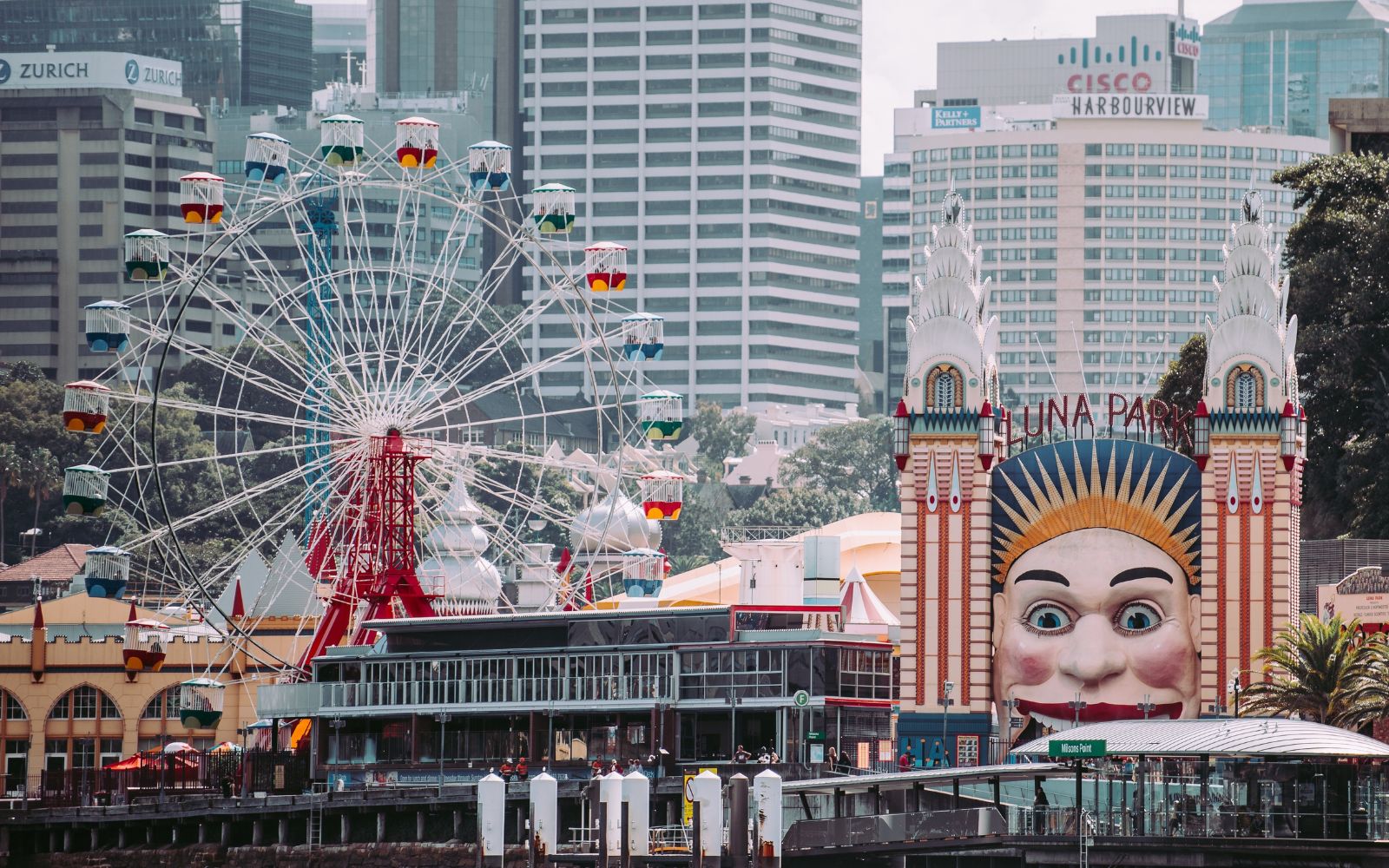 Timeless Thrills, Endless Smiles!
Where Joy Meets Tradition!
Vintage Vibes, Modern Marvels!
Classic Charms, Modern Joys!
Nostalgic Joy, Fresh Adventures!
Allure of the Ages, Joy Unleashed!
Time-Tested Fun, Always in Style!
Tradition's Tale, Today's Triumph!
Echoes of Laughter Through Eras!
Enduring Joy, Endless Fun!
Heritage of Happiness, Timeless Thrills!
Aged to Perfection: Fun for All Ages!
Classics Revived: Where Joy Persists!
Evergreen Excitement: Past, Present, Future!
Joyful Legacy, Timeless Delight!
Charm Unleashed: Where Eras Converge!
Time-Traveling Thrills, Present Joy!
Endless Laughter, Classic Style!
Nostalgia's Playground: Today's Joyland!
Vintage Verve, Contemporary Cheer!
Historic Highs, Modern Delights!
Classic Carousel, Today's Twirls!
Time-Honored Joy, Today's Smiles!
Golden Era Fun, Enduring Happiness!
Retro Rides, Future Smiles!
Classic Whirls, Timeless Twists!
Vintage Glee, Present Gaiety!
Joy's Legacy: Classic and Current!
Time-Tested Merriment, Forever Fun!
Past and Present Playfulness!
Retro Radiance, Joyful Resonance!
Classic Carousel, Timeless Grins!
Reviving Classics, Crafting Joy!
Echoes of Delight Through Decades!
Timeless Joys, Modern Marvels!
Legacy of Laughter: Past, Present, Joyful Future!
Retro Rejoice: Then, Now, Always!
Vintage Vibes, Contemporary Cheers!
Classic Charms, Today's Delights!
A Symphony of Eras: Timeless and Triumphant!
Fun Short Theme Park Slogans
Joy Unleashed, Smiles Ignited!
Thrills, Chills, Endless Grins!
Fun's Frontier, Explore Now!
Rides Roar, Laughter Soars!
Where Fun Knows No Limits!
Adventure Awaits, Excitement Calls!
Twirl, Spin, Pure Win!
Whirlwind Wonders, Pure Joy!
Blissful Beats, Joyful Treats!
Dive In, Fun Begins!
Rides Spark, Laughter Marks!
Happy Heartbeats, Joyful Feats!
Where Joy Takes Flight!
Whiz, Whirl, Wonderland!
Fun Galore, Evermore!
Thrills, Spills, Smiles Unveiled!
Joyful Jamboree, Come Play!
Twists, Turns, Endless Delights!
Roar of Fun, Echoes of Joy!
Rollercoaster Rapture, Joyful Capture!
Playful Paths, Joyful Tracks!
Dive Deep, Joy Leaps!
Carousel Charms, Timeless Joys!
Fun's Fastlane, Enjoy the Ride!
Spin, Grin, Begin!
Unleash Joy, Every Whirl!
Thrill Heights, Joyful Nights!
Carousel Joy, Twirl and Toy!
Glee's Gateway, Come Play!
Adventure Beckons, Fun Awaits!
Rollercoaster Bliss, Laughter's Kiss!
Where Twists Spark Smiles!
Dive In, Grin Win!
Joy's Echo, Everywhere You Go!
Wonderland Whirls, Infinite Swirls!
Cotton Candy Dreams Await
Rides Roar, Joy Galore!
Spinning Grin, Fun Within!
Twirl, Whirl, Happy Swirl!
Joy Unleashed, Whirlwind Engaged!
Splashy Slogans for Water Parks
Dive into Summer Bliss!
Wave Riders' Paradise.
Where Water Meets Wonder.
Liquid Adventures Unleashed.
Splash, Slide, Soar!
Aqua Excitement for Every Age.
Cool Waters, Hot Thrills.
Family Fun, Water Run!
A Symphony of Splashes.
Cascading Joy, Wave by Wave.
Dive In, Cool Off, Have Fun!
Aquatic Escape for Everyone.
Waterslides, Wonders, and Wow!
Refreshment Elevated to Fun!
Beyond the Pool, Pure Enjoyment.
Sun, Water, Repeat!
Blue Horizons, Endless Fun.
Dive Deep, Discover Delight.
Liquid Laughter, Lifelong Memories.
Aqua Oasis Awaits.
Splash Zone Extravaganza.
Waterfront Wonderland.
Where the Fun Flows Freely.
Sizzle in the Sun, Splash in the Fun.
Ocean of Amusement Beckons.
Water's Edge, Adventure's Begin.
Refreshing Adventures Await.
Splashdown in Style!
Slip, Slide, and Smile.
Aqua Thrills, Beyond the Hills.
Liquid Playground, Endless Joy.
Wave Magic, Soak It In!
Dive into Delightful Days.
Poolside Pleasures Unleashed.
Cool Waves, Warm Smiles.
Splash and Play All Day!
Where Waterslides Speak Fun.
Surf's Up for Everyone!
Dive into the Ultimate Escape.
Joyful Waves, Endless Rides!
For even more inspiration, see our list of ideas dedicated to water park slogans.
Epic Taglines for Your Fun-Loving Venture
Joyful Journeys, Unleash the Fun!
Venture into Victory: Every Smile a Conquest!
Epic Expeditions, Where Fun Awaits!
Quests of Quirk: Adventure Unveiled!
Journey of Joy: Where Every Step Sparks Glee!
Venture Vibes, Unravel the Delight!
Epic Echoes: Where Laughter Resounds!
Fun Ventures, Bold Beginnings!
Quest Quotient: Every Adventure, Pure Joy!
Triumph Trails: Unveiling Fun's Victory!
Bold Odyssey: Where Every Path Sparks Joy!
Venture Vibes: Where Excitement Thrives!
Epic Entertainments, Unleashing Cheers!
Quest Quasar: Where Joy's Light Never Fades!
Joyful Journeys, Epic Joy Unleashed!
Venture Verse: Every Ride, a Rhyme of Fun!
Epic Escapades: Where Laughter Takes the Lead!
Quest Quell: Silencing Boredom, Unleashing Joy!
Journey's Joviality: Where Every Mile Echoes Laughter!
Fun Frontiers, Venture Forth!
Venture Vista: Where Every View Sparks Delight!
Epic Echo: Every Laugh, a Resounding Triumph!
Bold Beginnings, Joyful Journeys!
Quest Quotient: Measure Your Joy!
Epic Enticements: Unleashing Joyful Invitations!
Venture Vibes, Where Laughter Thrives!
Bold Odyssey: Where Every Turn Sparks Joy!
Epic Euphoria: Where Joy Knows No Bounds!
Quest Quasar: Every Adventure, a Stellar Joy!
Triumph Trails: Unraveling Joy's Victory!
Joyful Journeys: Epic Adventures Begin!
Venture Vibes: Where Excitement Resides!
Quest Quotient: Every Challenge, Pure Joy!
Bold Beginnings: Where Laughter Commences!
Epic Echoes: Every Laugh, a Resounding Tale!
Quest Quasar: Where Fun's Light Never Fades!
Journey's Joviality: Every Mile, a Joyful Triumph!
Fun Frontiers, Venture Forth!
Epic Enticements: Unleashing Invitations to Joy!
Venture Vista: Where Every View Sparks Delight!
A Rollercoaster of Top Tagline Tips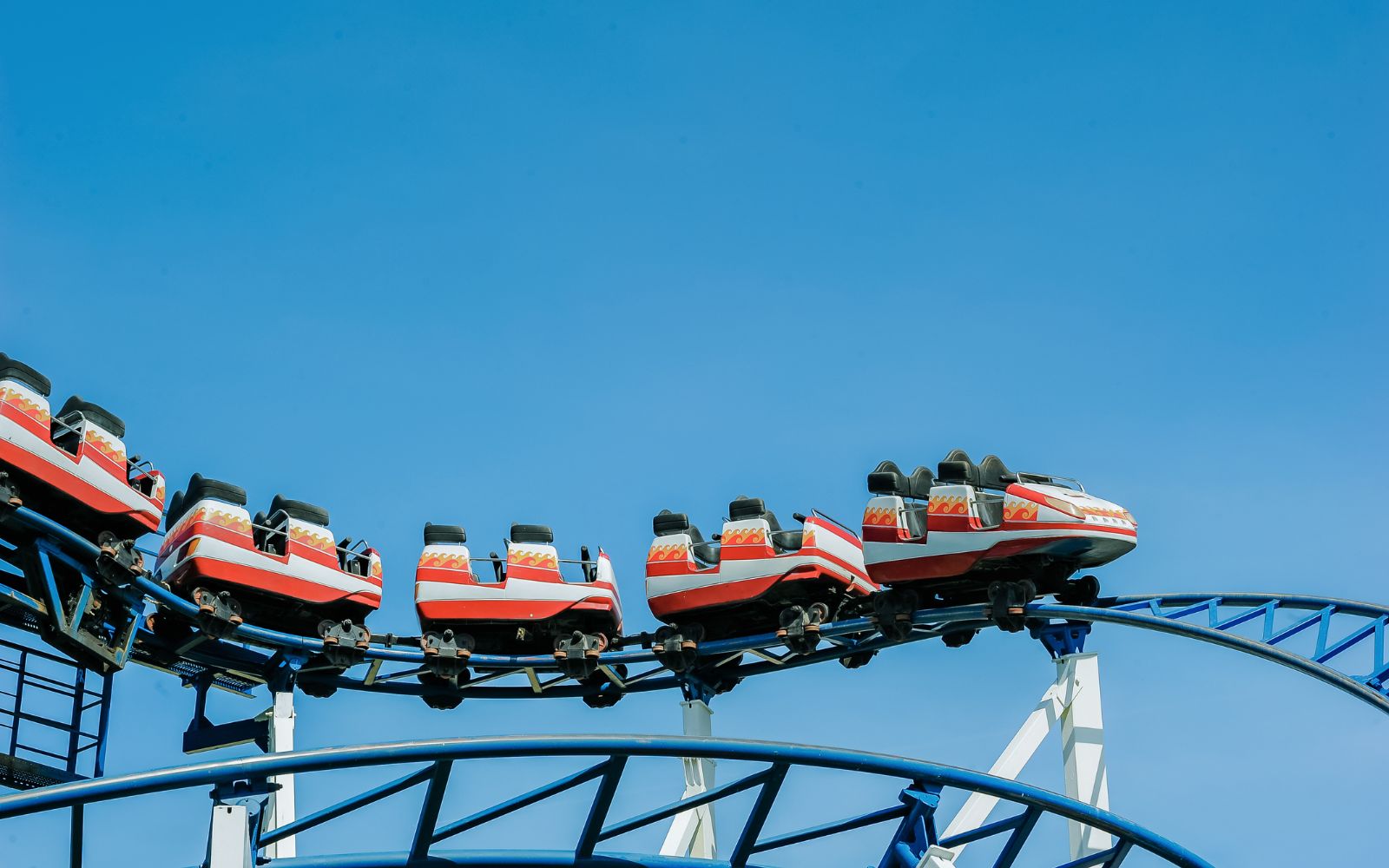 Use these handy tips to get the most out of your theme park slogans:
Capture the essence of your theme park's unique personality. Is it whimsical, futuristic, or a classic wonderland? Let that personality shine in your tagline!
Short and sweet is the name of the game. Aim for catchphrases that are easy to remember and roll off the tongue like a thrilling rollercoaster ride.
If you have star attractions, make them the heroes of your mottos. Whether it's a mind-bending coaster or a whimsical carousel, let the slogans give them the spotlight they deserve.
Your theme park is all about creating memorable experiences. Craft slogans that tug at the heartstrings or tickle the funny bone – whatever fits the mood of your business.
Are you catering to families, thrill-seekers, or everyone in between? Tailor your tagline to resonate with your target audience, making them feel your park is their ultimate playground.
Share your potential catchphrases with friends, family, or strangers. See which ones get the most positive reactions. It's like a mini preview of the joy your theme park will bring!
Aim for mottos that won't feel outdated in a few years. Timeless phrases have a way of sticking around, just like the memories you want visitors to create at your park.
Sprinkle in a bit of humor or clever wordplay. If it makes you chuckle, chances are it'll bring a smile to your visitors' faces.
Close your eyes and imagine stepping into your theme park. What sounds do you hear? What sights do you see? Use those sensory details to inspire slogans that carry readers straight into the magic.
Check if the domain name you want is available. Try Namecheap, for example.
Make your presence felt online with an appealing website. If you need some help, read our article on how to create a website for your business in ten easy steps. Then use the top social media platforms to promote your theme park.
Most importantly, let your park's personality shine through. Authenticity is the secret ingredient to creating a tagline that resonates with your audience.
If you haven't quite settled on a name for your theme park yet, check out our list of magical theme park name ideas.
Crafting catchphrases is like designing a thrilling ride – it takes creativity, a dash of daring, and a lot of fun.
Wishing you a rollercoaster of success – may the thrill never end!
Want to learn step-by-step how I built my Niche Site Empire up to a full-time income?
Yes! I Love to Learn
Learn How I Built My Niche Site Empire to a Full-time Income
How to Pick the Right Keywords at the START, and avoid the losers
How to Scale and Outsource 90% of the Work, Allowing Your Empire to GROW Without You
How to Build a Site That Gets REAL TRAFFIC FROM GOOGLE (every. single. day.)
Subscribe to the Niche Pursuits Newsletter delivered with value 3X per week