The Motion Invest Pivot: Better Pricing and Easier Access to View Sites for Sale
When you buy something through one of the links on our site, we may earn an affiliate commission.
Just over a month ago, I introduced the world to Motion Invest, a place to buy and sell smaller content sites.  
A lot of planning and strategy goes into launching a business, and you always do your best to get it "just right".  Overall, the concept and need for what we were doing was extremely well received!
However, now that we've been around for a month, we see some things that we need to change.  Today, I want to share with you how we are "pivoting" Motion Invest to better serve the target market we are trying to capture.
Why We Launched Motion Invest
As a reminder, we launched Motion Invest in order to fill a gap in the marketplace for buying and selling small content websites.  
If you are someone that is looking to buy a content site making $50 to $2,000 a month, there really isn't a great place for you to go. We are hoping to become the go-to place for buying and sellers in this space.
As a reminder, we are not a broker.  We actually buy all the sites and then sell sites from our own portfolio.  As a result, we don't charge brokerage or listing fees.
In the last month, we have purchased several sites, and we are still looking to buy more if you want to sell us your site here.
We have also sold several sites and have a few more new sites listed to sell that you can see right here.
However despite the great initial traction, we've definitely gotten some feedback that is leading us to make a slight pivot.
Original Hypothesis vs. Reality
When we first launched Motion Invest, we felt like a large portion of our buyers would be either "new" to buying sites or coming from the corporate world just looking to get their feet wet in the online industry.
As a result, we thought that additional coaching and training after the sale would be highly valuable to buyers.
So, our original business model was to package the sites themselves with a coaching.  This would give people a great site + a clear path to growth with additional training.
However, the reality is that most of our buyers either ended up being very experienced buyers that just wanted the sites or were individuals that had no desire for ongoing coaching or training for whatever reason.
We thought this additional "coaching" would be our profit maximizer, but it turns out that it was just preventing people from buying the sites because it was a perceived additional expense.
Really High Multiples…No More!
Because we packaged the site with training and charged just one price, people were comparing our multiples with a traditional broker and assuming that we were charging REALLY high multiples.
For example, let's say we had a site making $100 a month and we listed it at a 32x monthly multiple.  That would be $3,200 for the site.  However, we were also packaging a $1,000 coaching plan as a required part of the deal.  In other words, all you would see is that we were selling the site for $4,200 ($3,200 for the site + $1,000 for the coaching).
As a result, everyone just saw the $4,200 price tag and thought, "Why in the world would I pay a 42x monthly multiple!"
A 42x multiple would be really high if you were just buying the site, but we thought people understood that the training/coaching package was adding to the price tag.
We were wrong.
As a result, we are no longer packaging the training or ongoing coaching with the site. 
So, Motion Invest doesn't sell sites at extremely high multiples, we hope to clear that up.
In fact, if you go to the current sites for sale, you will see that our multiples are quite reasonable.
We Removed the Subscription Option
Another pivot we have just made is to remove the $25/month subscription fee to view all the sites.
Again, when we set our initial strategy we thought this was a really good idea…hear me out!
Pretty much every broker has a way to keep people from just automatically viewing every site listing.  That could be an in-depth NDA or a deposit to view each listing.
We thought we would keep out the freebie seekers by charging a very nominal fee of just $25/mth (cancel anytime!) to ensure that listings were kept private as needed.  And the added benefit would be an additional revenue stream for Motion Invest!
Well, we quickly learned that people aren't that interested in adding another subscription.  Don't get me wrong, we actually had tons of people sign up and start paying the fee.
However, we also heard from several people that we knew were "heavy hitters" when it comes to buying sites, and they flatly told us they wouldn't pay the fee to view the sites.
When we looked at the numbers, the amount of money we could make from monthly subscriptions was dwarfed by what we would make by selling more sites.  As a result, we wanted to get as many potential buyers in the door.
As of few days ago, it is now completely free to register on Motion Invest and view all the sites.  Since we actually own all the sites ourselves, we don't have that conflict of interest in needing to keep the listings private to keep people happy.
So, why don't you go ahead and register and view all the sites?…it's now free!
We are Looking to Purchase More Sites
As we've made these pivots away from packaging training into the purchase price and removed the subscription option, we are continuing to look for new sites to buy.
The benefit of course is that we can make a quick decision (and get you paid quick), but we also don't charge any fees.  If you go through a broker, you'll need to pay 10 to 15% of the final price.
If you have a site to sell, go ahead and get in touch with us here to see what we can offer.
Ultimate Guide to Buying and Selling Websites
I wouldn't exactly call this a pivot, but we did create a huge blog post that we think anyone interested in buying and selling websites might be interested in.
We wrote the ultimate guide to buying and selling websites right here.
Throughout that massive guide we walk through many of the typical steps for both buying and selling sites.  Here's just a quick sample of typical steps required for buying a site and then how Motion Invest is different.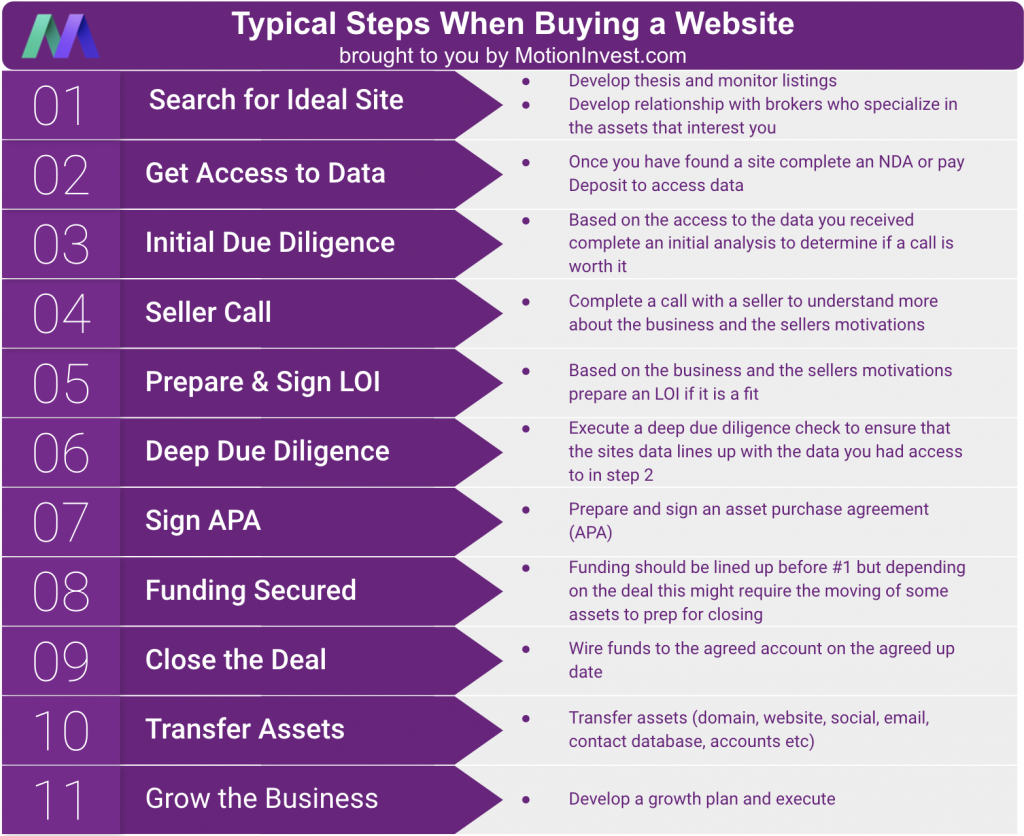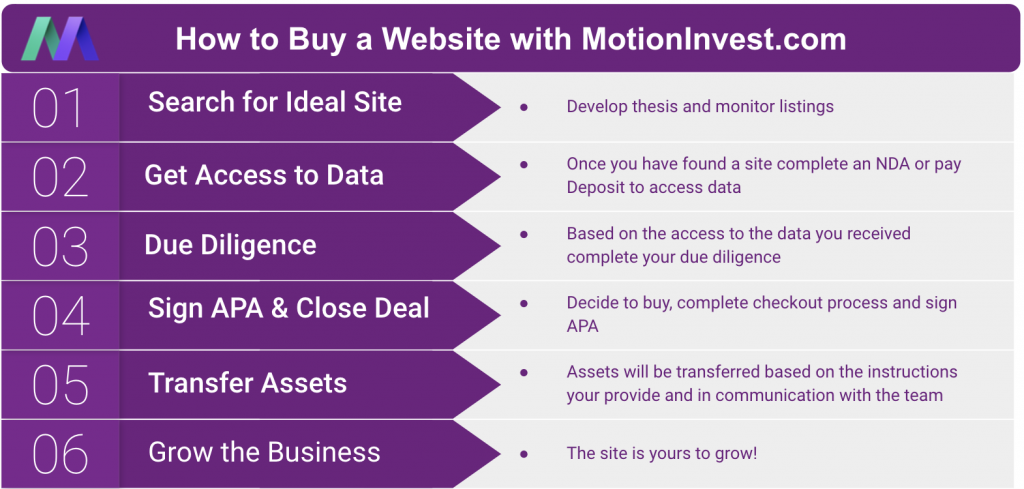 Future Pivots?
As you can see, in the first month we have made a number of pivots to refine Motion Invest.  We are highly encouraged by the feedback we've already received stating that this clearly fills a need in the marketplace.
We are glad that we can fill that gap.  However, we have obviously needed to make a couple of pivots to better serve our customers and potential customers.
So, you will no longer see the artificially high multiples (because we no longer package training with the site purchase), and you will no longer be required to pay a monthly fee to view all the sites available.
In fact, we refunded everyone that had paid a monthly fee because we felt like that was the right thing to do.
What future pivots will there be for Motion Invest?  We don't have any more planned for the immediate future, but we will certainly be paying attention to how the business does and the feedback we receive and will adjust as needed.
Have additional thoughts or comments, go ahead and leave them below.
Want to learn step-by-step how I built my Niche Site Empire up to a full-time income?
Yes! I Love to Learn
Learn How I Built My Niche Site Empire to a Full-time Income
How to Pick the Right Keywords at the START, and avoid the losers
How to Scale and Outsource 90% of the Work, Allowing Your Empire to GROW Without You
How to Build a Site That Gets REAL TRAFFIC FROM GOOGLE (every. single. day.)
Subscribe to the Niche Pursuits Newsletter delivered with value 3X per week