Stan Ventures Review: Check Out These 3 SEO Case Studies!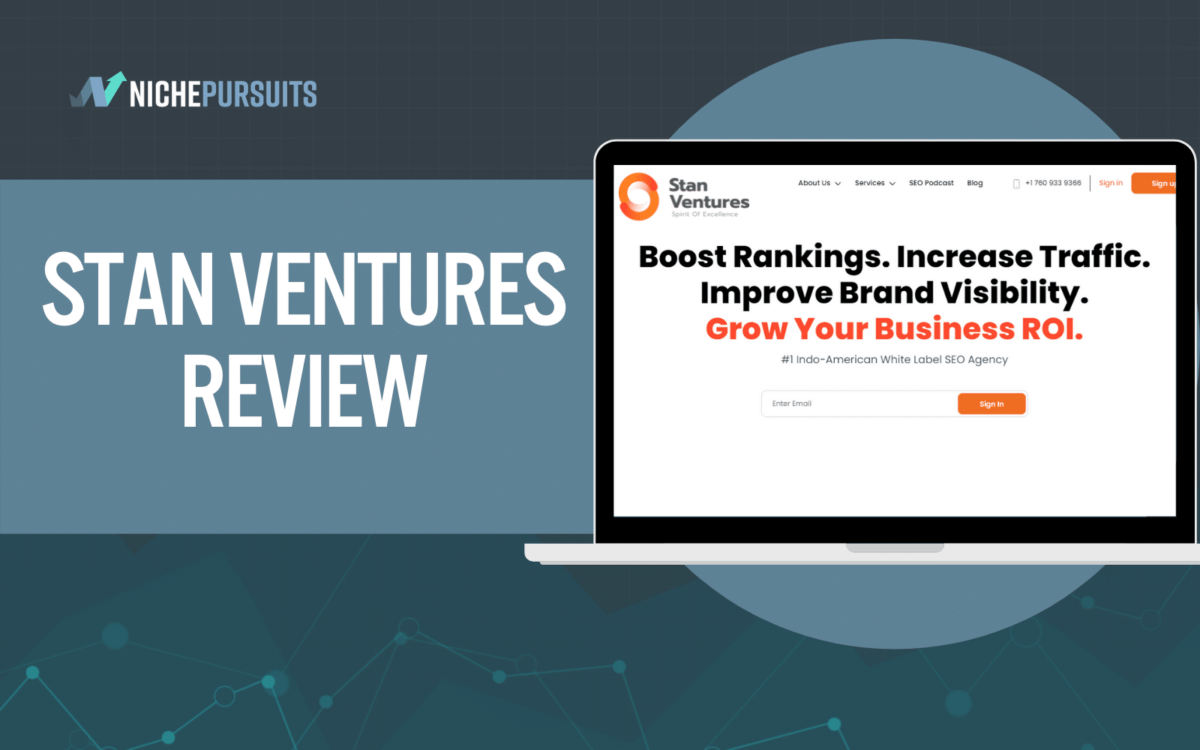 When you buy something through one of the links on our site, we may earn an affiliate commission.
Stan Ventures is a well-established Indo-American SEO Agency. They've been in the business for well over 10 years now.
They offer multiple link-building services, including blogger outreach, fully managed SEO plans, and other 'powerful link-building services.'
But what is the quality of the links? Are they going to cost you a fortune? Is link building even worth it?
You can test the service out this week with 50% OFF Stan Ventures link-building services right here, or read on to find out more!
Try Stan Ventures - 50% Off This Week
Stan Ventures is offering Niche Pursuits readers 50% off their backlink services this week only!
– Links with Relevancy, Authority, and Influence
– Tailored Outreach Strategy for Your Website
– Native Content
– Money-Back Guarantee
The Importance Of Backlinks
Link building is one of the most important tasks of a website owner. 
Backlinks are one of the primary ways Google decides where to rank your posts in search. If your site consistently receives links from relevant, authoritative sites, it is a strong signal that you are an authority and worthy to be ranked.
Unless you're lucky enough to have a site that picks up plenty of good links organically, you're either going to have to outsource the task or do it yourself.
Before we take a closer look at Stan Ventures, here's an overview of those two ways to build links.
DIY Link Building
Building links yourself is a great way to get started when there isn't the budget to outsource.
The big problem with doing it yourself is that it takes a lot of time. Depending on your strategy and method, there is a lot that goes into building links.
Before even starting, there is a lot to learn.
You need to be able to tell the difference between a bad link and a good link. You need to understand the risks of getting a link from a bad site. Every site owner or manager should be able to do this whether they outsource the task or not.
Next, you may need to create a 'linkable asset' – a post that sites will be happy to link to.
After that you'll need to:
prospect sites
find email addresses
write engaging emails that get responses
follow up on no replies
negotiate with those who do reply
create content for guest posts
The time and effort really adds up, and if it's not something you particularly enjoy or are good at, why keep it up?
From time to time, it's good to have a little help building backlinks, and outsourcing is the answer.
Outsourced Link Building
Those who don't have the time or energy to build links themselves will need to think about outsourcing, but that's not always as straightforward as it sounds.
One of the problems is that there are so many options. It's easy to get overwhelmed by choice and just put it off.
There's the thought of:
not wanting to pay too much
not wanting to pick up toxic links
wanting links that will move the needle
 But if you don't have the time or ability to build links yourself, it shouldn't just be put to the side. Stan Ventures might be the agency that can help you. Here's what jumps out about them.
Stan Ventures SEO Agency
Here are some of the immediate things that stand out about Stan Ventures.
Experience
They've been doing this for 10+ years and have a lot of experience. There have been a lot of changes to SEO over years and Stan Ventures have grown and developed through them. They've seen many algorithm updates and their links have performed well.
By this stage, they've worked with thousands of sites and have a wealth of experience.
Numbers
They have over 250 SEO experts working as part of the team. There aren't many SEO agencies with these numbers.
This potentially means the service and process are going to be more streamlined. Your job is likely to be completed faster, even if you are making a large order.
Location
The company and staff are mostly based in India where the costs are lower than in many other parts of the world. Therefore, they are able to offer their services at a price that's hard to beat.
Pricing
A quick look at the pricing reveals the cost to build links with Stan Ventures isn't going to break the bank. It's affordable, especially with a discount.
Trust
Stan Ventures has been featured on podcasts with notable SEO experts like Neil Patel, Bruce Clay, Rand Fishkin, and Barry Shwartz. It shows that they've successfully built the company to a strong level and are in it for the long haul.
Site DR
I always like to check the website DR of different link-building services. There's nothing worse than an SEO specialist with a DR7 site, right?
Stan Ventures has a very strong DR61 site that is getting plenty of organic traffic – it's a good sign!
Stan Ventures Services
Because Stan Ventures is such a large SEO agency, they have many services on offer.
There are multiple link building, content creation, and content optimization services that you can choose from. Or, just go with their fully managed SEO packages for a bit of everything.
Here is an overview of each of their services. For pricing info, please visit any of the options under the service tab on their website here and remember they are offering the Niche Pursuits audience 50% OFF link-building services this week!
Fully Managed SEO Services
Their fully managed SEO can take care of everything for you.
This includes:
On-page SEO
Content creation
Link building
There are multiple packages from 'Ignite' which is good for a new or small site, to 'Skyrocket' which is better for larger, more established sites.
The different packages come more or less links from sites of varying domain authority. All packages include keyword tracking and a monthly performance review.
Stan Ventures is happy to customize its plans and strategies to help you meet your goals.
Blogger Outreach Services
Stan Venture's blogger outreach service uses a 'proven manual outreach strategy to deliver high-quality links and brand mentions.'
For these links, they are sending out personalized emails to high-quality, niche-relevant sites. The goal is to publish a guest post with a link back to your site without having to pay for it. 
These types of links are generally the safest to get. You're more likely to win links on more relevant sites and they aren't simply going to be on link farms or PBN-like sites.
Stan Ventures sets the pricing for this service based on the website DA.
Powerful Link Building Services
The difference between this service and the previous one is that the pricing here is based on the traffic the site receives, rather than the DA.
Some people believe that a site's traffic numbers are more important than its DA or DR. If you're in that camp, then this might be the best way to order links.
These links are packaged in a 1000 word blog post where you get to choose the site and the link anchor text.
Content Marketing Services
Stan Ventures can also take care of content creation for your website.
Their experienced writers and designers can come up with content that is engaging, insightful, and tailored to your niche. Their aim is to connect with the visitors to your site leading to more subscribers, new leads, and higher sales.
They have packages starting at $449 which include:
Blog strategy
Blog posts (4000 words at the $449 tier)
Social post images
Lead magnets (infographic or other downloadable)
This service is great for small and large businesses who don't have the time to grow and maintain a blog alongside their primary work.
Blogger Writing Services
The Blogger Writing Service is similar to the previous service but is designed for niche websites.
There is a range of plans, but all include uploading the content to your website and publishing it.
Not only are they writing the content, but they are also doing the keyword research, adding a featured image, and even writing the meta title and description.
Couple this with the link building service and you'll have a fairly hands-off business!
Link Building Case Studies
Stan Ventures has put together 3 case studies to showcase the effectiveness of its link-building service.
Let's take a look at each of them to see the variety of work that the company can complete.
An Accounting Site
The first case study covers a small bookkeeping company – it's called CapForge. You can Google it and then check the backlink profile and traffic metrics yourself.
Stan Ventures helped them out with some on-page SEO issues. They also performed a content audit and went on to refresh outdated content. Once this was complete they started a link-building campaign to get some links.
From September 2020, this site got an average of 4 links from DA30+ per month over a number of months. In the following screenshot, you can see both the referring domains and organic keywords increase at this time.
Results were very positive with the site seeing significant growth in organic traffic after the first month.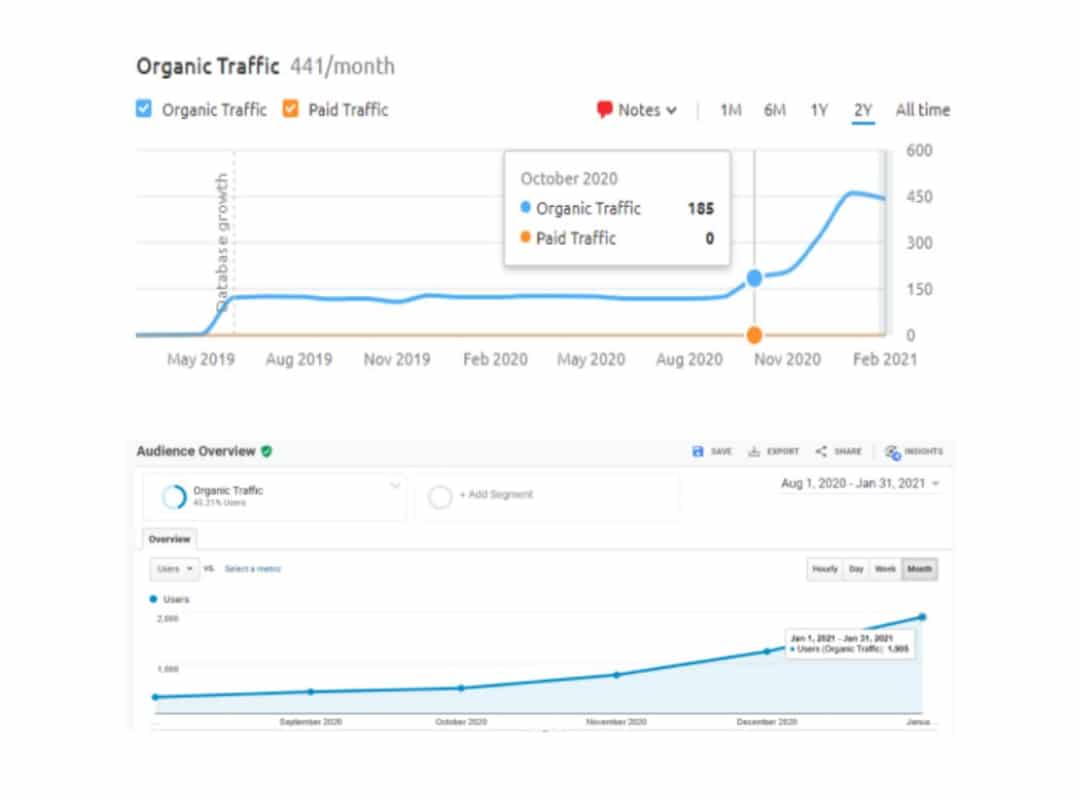 The site went from only 329 total website visitors in August 2020, to 1900 visitors in January 2021. It's a healthy increase in only 4 months.
An Insurance Site
The next case study is on an insurance website (unknown domain).
The business was 10 years old but was struggling to stay competitive in search. Insurance is a very difficult niche to rank in and link building is essential.
Stan Ventures did a complete SEO audit of the site and began fixing on-site ranking factors first.
This included:
Rewriting meta titles, descriptions, and schema
Creating author bios
Refreshing content
Filled content gaps
Detailed analysis of money pages
Once this was sorted, it was time to build links from DA40+ sites.
Within one month of implementing these changes and building links, the site began seeing 'tremendous organic growth' and 'unprecedented results.'
Four months after starting the fully managed SEO service, the site's organic traffic was 10x.
A Google Update Recovery
The last case study is on a site that was hit by the Google update in May 2020.
This site was on track to hit the 'million users per month' milestone right before it took a steep decline. Stan Ventures were hired to try and recover what was lost and get things back on track.
Here are some of the things that were implemented:
Activating AMP for mobile visitors
Optimizing web pages for speed
Ensuring posts were published under real authors
Optimizing meta titles, descriptions, and schema
A thorough content audit was also completed and many articles were refreshed.
Once this was done, it was time for the link building to begin. Stan Ventures has a list of over 50,000 domains that they can reach out to for links, and they went for the DA40+ sites for this client.
After this work was done, the site came back from the update. It saw a 20% increase in traffic and it continues to grow.
Stan Ventures Review
Stan Ventures has received many positive reviews.
Here are some examples of what people are saying after trying out their services.
Tim states that for the price, there isn't a better link-building team.
Because the team is mostly based in India, it can be more affordable compared to the European, UK, or American-based link-building companies.
This next reviewer has been happy with the customer service from the team and the quality of the backlinks. He has seen positive results from a successful campaign.
And this customer is very happy with multiple aspects of the service.
He likes the ease of service, the quality backlinks, the ability to customize what he gets, and being able to review and see the results.
Stan Ventures has such a large team that you're able to get a high level of customization depending on what your site needs. 
You will have seen from the case studies that they are able to do a lot when it comes to SEO and content optimization. It all depends on what stage your site is at and what you are wanting to achieve.
Stan Ventures is a well-established SEO agency that has worked with thousands of clients to build all-important backlinks. Visit them today, see if their packages are right for you, and if so, grab the 50% OFF deal before it expires.
Try Stan Ventures - 50% Off This Week
Stan Ventures is offering Niche Pursuits readers 50% off their backlink services this week only!
– Links with Relevancy, Authority, and Influence
– Tailored Outreach Strategy for Your Website
– Native Content
– Money-Back Guarantee
Want to learn step-by-step how I built my Niche Site Empire up to a full-time income?
Yes! I Love to Learn
Learn How I Built My Niche Site Empire to a Full-time Income
How to Pick the Right Keywords at the START, and avoid the losers
How to Scale and Outsource 90% of the Work, Allowing Your Empire to GROW Without You
How to Build a Site That Gets REAL TRAFFIC FROM GOOGLE (every. single. day.)
Subscribe to the Niche Pursuits Newsletter delivered with value 3X per week