595 Spam Trigger Words To Avoid to Prevent Your Emails from Going to Spam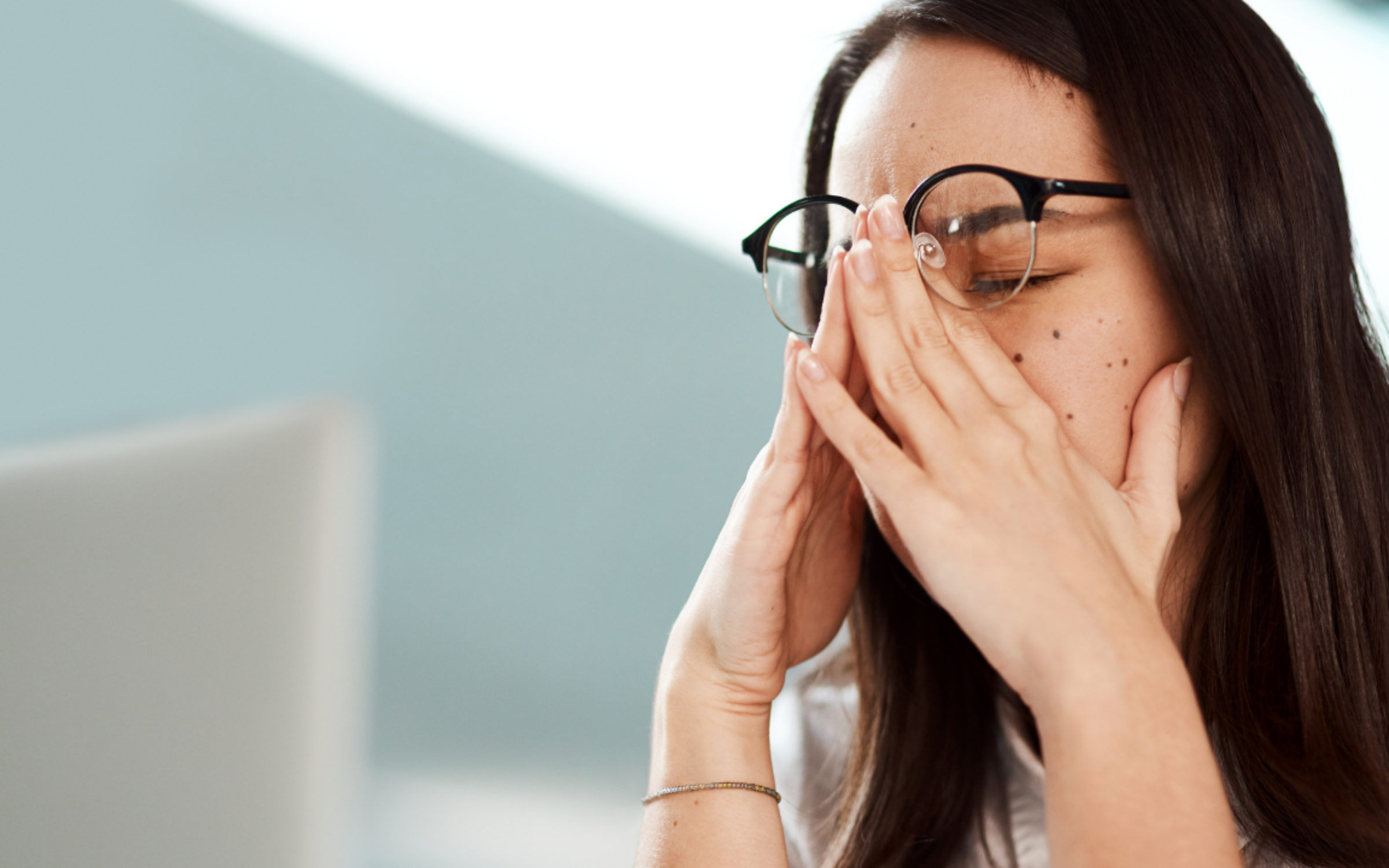 When you buy something through one of the links on our site, we may earn an affiliate commission.
When you pay per email subscriber, you want to make sure you're getting the most out of every email that you send. And when your emails land in spam, you aren't doing yourself any favors. That's why it's vital you avoid using spam trigger words that activate spam filters.
Even worse, every time your emails get marked as spam, it results in a derogatory "mark" on your IP address that can make the problem worse in the future.
In this article, we've compiled a list of 595 spam words that can trigger spam filters so you can avoid using them and make the most out of your email marketing.
In a rush?
You can set yourself up for email deliverability success simply by letting the pros at Iridium Hosting set up and manage your domain email for you.
Order an Email Audit Today
What Are Spam Trigger Words?

Spam trigger words are words and phrases that email marketing providers flag as fraudulent, malicious, or spammy. Emails containing these words and phrases will cause your emails to be sent to spam and hurt your overall email deliverability rate.
Did you know that roughly 1 in 6 emails are in the spam folder or blocked from the recipient's inbox altogether? Yikes!
Some spam trigger words aren't words or phrases that you would typically think of as spammy. However, they've been used in spammy or scammy emails in the past, so the algorithm has been trained to detect them.
In general, spam trigger words relate to a few common themes. These include overpromising or exaggerated results, scams, over-excitement, money, finances, business, urgency, pressure, or adult themes.
In some cases, using certain spam trigger words or phrases might be unavoidable. And luckily, you'll usually only trigger spam filters when you stuff your emails and subject lines with them consistently.
The whole purpose of a spam filter is to ensure that email users receive only legitimate content they want to interact with. Your subscribers hate spam, and I'm willing to bet that you do too.
These filters aren't set up to make it feel impossible or difficult to be an online business owner: it's just the opposite.
595 Email Spam Trigger Words To Avoid
These spam words to avoid in your subject line and text are sorted alphabetically for easy reading and include the numbers and symbols you should avoid, too.
Numbers and Symbols
0%
#1
100% more
99%
$$$
100% satisfied
99.9%%
0% risk
4U
100%
100% free / 100 perfect free
50% off
777
A
Accept credit cards
Ad
Amazing offer
Acceptance
Additional income
Amazing stuff
Access
Addresses on CD
Apply here
Access for free
Additional income
Apply now
Access now
Affordable
Apply online
Accordingly
Affordable deal
As seen on
Act immediately
All natural
At no cost
Act now
All new
Act now!
Amazed
Avoid
Action
Amazing
Action required
B
Bargain
Best offer
Billionaire
Be amazed
Best price
Bonus
Be surprised
Beverage
Boss
Be your own boss
Big money / Big bucks
Become a member
Bill 1618
Bulk email
Being a member
Billing
Buy
Believe me
Billing address
Buy direct
Beneficiary
Billion
Buy now
Best bargain
Billion dollars
Best deal
C
Cable converter
Cents on the dollar
Compare
Call
Certified
Compare now
Call free
Chance
Compare online
Call me
Cheap
Compare rates
Call now
Check

Compete for your business

Calling creditors
Check or money order
Confidentiality
Can't live without
Claim now

Confidentially on all orders

Can't live without
Claim your discount
Congratulations
Cancel
Claims
Consolidate debt
Cancel at any time
Claims not to be selling anything

Consolidate debt and credit

Cancel now
Claims to be in accordance with some spam law
Cancellation required
Claims to be legal
Copy accurately
Cannot be combined with any other offer
Clearance
Copy DVDs
Cards accepted
Click
Cost
Cash
Click below
Costs
Cash bonus
Click here
Credit
Cash out
Click now
Credit bureaus
Cashcashcash
Click to get
Casino
Click to remove
Cures
Celebrity
Collect
Cures baldness
Cell phone cancer scam
D
Deal
Direct marketing
Don't hesitate
Dear [email/friend/somebody]
Discount
Dormant
Dear friend
Do it now
Double your
Debt
Do it today
Double your cash
Diagnostic
Don't delete
Double your income
Diagnostics
Don't hesitate
Dig up dirt on friends
Don't delete
Direct email

Digging up dirt on friends
E
Earn
Easy terms
Expect to earn
Earn $
Eliminate bad credit
Expire
Earn extra cash
Eliminate debt
Earn from home
Email extractor
Extra
Earn money
Email harvest
Extra cash
Earn monthly
Email marketing
Extra income
Earn per month
Exclusive deal
Extract email
Earn per week
F
F r e e
Free
Free leads
Fantastic
Free access
Free Macbook
Fantastic deal
Free bonus
Fantastic offer
Free cell phone
Free money
Fast cash
Free consultation
Free offer
Fast Viagra delivery
Free DVD
Free preview
Financial freedom
Free gift
Free priority mail
Financially independent
Free grant money
Free quote
For free
Free hosting
Free sample
For instant access
Free info
Free trial
For just $ (some amount)
Free information
Free website
For just $XXX
Free installation
Freedom
For Only
Free Instant
Friend
For you
Free investment
Full refund
Form
Free iPhone
G
Get
Give it away
Guarantee
Get it now
Giveaway
Guaranteed
Get out of debt
Giving away
Get paid
Great
Get started now
Great deal
Gift certificate
Great offer
H
Have you been turned down?
Hidden fees
Hello
High score
Here
Home
Huge discount
Hidden
Home based
Hidden assets
Home based business
Hurry up
Hidden charges
I
If only it were that easy
Increase traffic
Instant earnings
Important information regarding
Increase your chances
Instant income
Important notification
Increase your sales
Insurance
In accordance with laws
Incredible deal
Internet market
Income
Info you requested
Income from home
Information you requested
Investment
Increase sales
Instant
It's effective
J
| | | |
| --- | --- | --- |
| Join millions | Join millions of Americans | Junk |
L
Laser printer
Limited offer
Leave
Limited supply
Legal
Limited time
Legal notice
Limited time offer
Lower rates
Life
Limited time only
Life insurance
Loan
Lifetime
Loans
Lowest price
Lifetime access
Long distance phone offer
Lowest rate
Lifetime deal
Lose
Luxury
Limited amount
Lose weight
Luxury car
Limited number
M
Mail in order form
Meet me
MLM
Maintained
Meet singles
Money
Make $
Meet women
Money back
Make money
Member
Money making
Marketing
Member stuff
Month trial offer
Marketing solution
Message contains
Marketing solutions
Message contains disclaimer
Mortgage
Mass email
Million
Mortgage rates
Medicine
Million dollars
Medium
Millionaire
Multi-level marketing
Meet girls
Miracle
N
Name brand
No fees
Near you
No gimmick
Never
No hidden
No selling
Never before
No hidden Costs
New customers only
No hidden fees
No-obligation
New domain extensions
No hidden сosts
Not intended
Nigerian
No interest
Not junk
No age restrictions
No interests
Not scam
No catch
No inventory
Not spam
No claim forms
No investment
Notspam
No cost
No investment required
Now
No credit check
No medical exams
Now only
No deposit required
No middleman
Number 1
No disappointment
No obligation
Number one
No experience
O
Obligation
One time mailing
Opportunity
Off shore
Online biz opportunity
Opt in
Offer
Online degree
Order
Offer expires
Online income
Order now
Offshore
Online job
Once in a lifetime
Online marketing
Order status
Once in lifetime
Online pharmacy
Order today
One hundred percent free
Only

Orders shipped by shopper

One hundred percent guaranteed
Only $
One time
Open
P
Passwords
Pre-approved
Problem
Pennies a day
Presently
Per day
Price
Profits
Per month
Price protection
Promise
Per week
Print form signature
Promise you
Performance
Print out and fax
Purchase
Phone
Priority mail
Pure profit
Please read
Prize
Pure profits
Potential earnings
Prizes
Q
R
Rates
Removal instructions
Reverses aging
Real thing
Remove
Risk free
Refinance
Removes wrinkles
Risk-free
Refinance home
Requires initial investment
Rolex
Refund
Reserves the right
Round the world
Removal
Reverses
S
S 1618
Sent in compliance
Stock alert
Safeguard notice
Serious

Stock disclaimer statement

Sale
Serious cash
Stock pick
Sales
Serious offer
Stop
Sample
Serious only
Stop calling me
Satisfaction
Shopper
Satisfaction guaranteed
Shopping spree
Stop snoring
Save $
Sign up free
Strong buy
Save big money
Sign up free today
Stuff on sale
Save money
Social security number
Subject to cash
Save now
Solution
Subject to credit
Save up to
Spam
Subject to…
Score
Special deal
Subscribe
Score with babes
Special discount
Search engine
Special for you
Subscribe now
Search engine listings
Special offer
Success
Search engines
Special promotion
Supplies
Section 301
Stainless steel
See for yourself
T
Take action
The best rates
This isn't junk
Take action now
The following form
This isn't spam
Talks about hidden charges
They keep your money — no refund!
This won't last
Talks about prizes
They're just giving it away
Thousands
Teen
This isn't junk
Time limited
Tells you it's an ad
This isn't spam
Traffic
Terms
This isn't a scam
Trial
U
Undisclosed
Unsecured credit
Unsubscribe
Undisclosed recipient
Unsecured debt
Urgent
University diplomas
Unsolicited
US dollars
Unlimited
V
Vacation
Viagra
VIP
Vacation offers
Vicodin
Visit our website
Valium
W
Wants credit card
Weight loss
Wife
Warranty
What are you waiting for?

Will not believe your eyes

Warranty expired
What's keeping you?
Win
We hate spam
While available
Winner
We honor all
While in stock
Winning
Web traffic
While supplies last
Won
Website visitors
While you sleep
Work at home
Weekend getaway
Who really wins?
Work from home
Weight
Why pay more?
X
Y
You are a winner
You have been selected
Your income
You are a winner!
You're a Winner!
Your status
You have been chosen
Your chance
Z
| | | |
| --- | --- | --- |
| Zero chance | Zero percent | Zero risk |
Other Factors That Cause Emails to Go Straight to Spam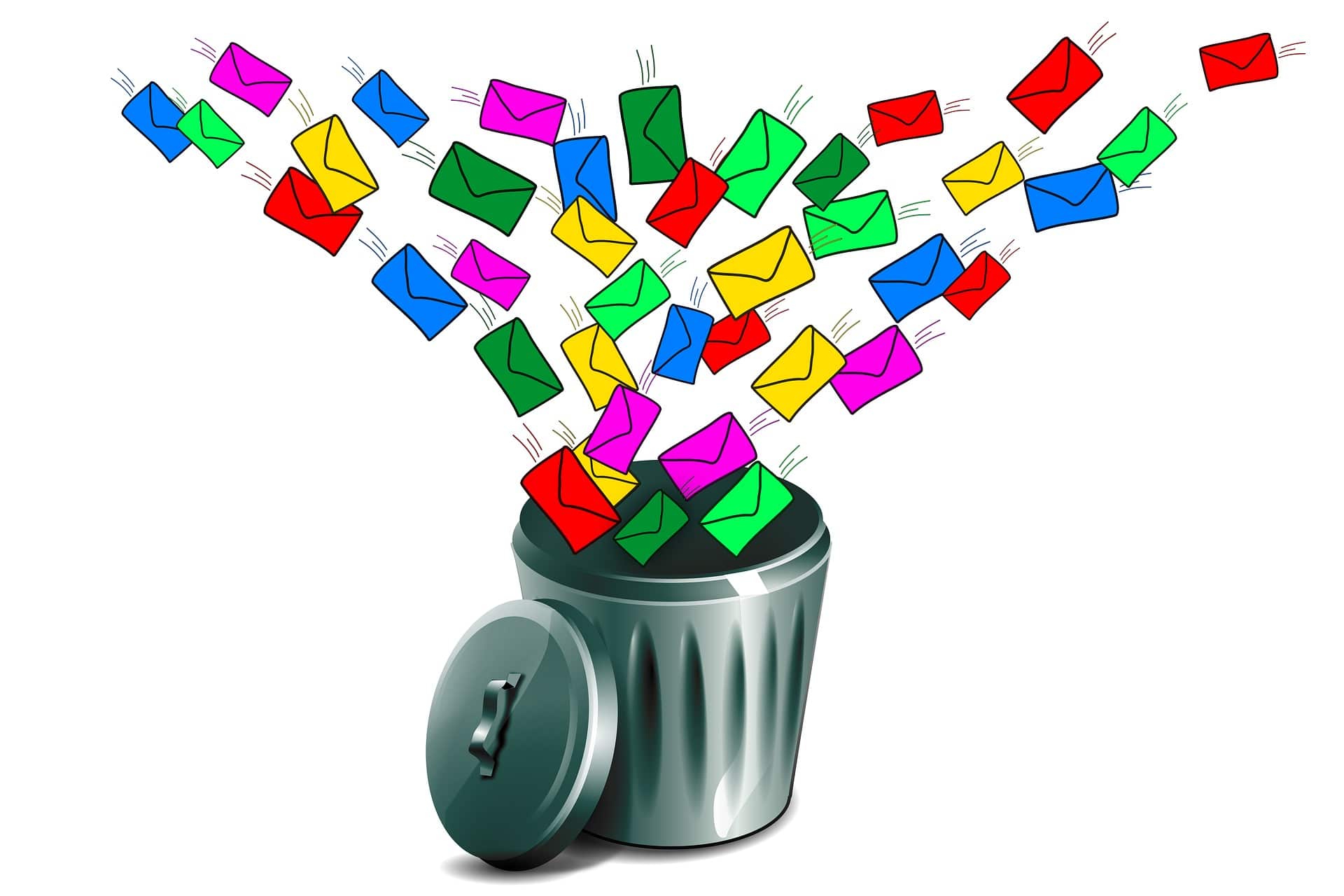 Other factors that contribute to your emails ending up in the spam folder include certain symbols, certain types of formatting, and more.
Here's a quick list of other items that hurt your email deliverability rates.
Not having an "unsubscribe" button in your emails.
Spammy links, shortened links, or links to sketchy websites.
Your subscribers mark your emails as spam because they don't remember you. (This tells the email provider to send your other emails to spam, too)
A clickbait-y or misleading subject line.
Over-use of capital letters, colored fonts, or emojis.
You don't include your physical address.
You aren't using a branded email address.
Not sending your subscribers content related to what they signed up for (they'll mark your emails as spam).
Context Matters With Spam Trigger Words
This list has over 500 spam trigger words to avoid – including symbols and phrases. And after reading it, you might panic and feel like you can never send a single email ever again — but not to worry. Context matters when it comes to email spam words.
Spam trigger words can alert the email provider spam filters of spammy content within your email.
However, if the contents of your email aren't actually spammy, you'll be okay in many cases. Spam filters get smarter and smarter by the day.
The spam words in this list trigger spam filters to monitor the content of your email, but they don't always mean your email will go directly to the spam folder.
Of course, what other people (and email provider spam filters) consider spammy might differ from what you consider spammy.
Your subscribers signed up for your email list because they want to hear from you.
However, they don't want you to spam them all day, every day!
Consider the Implied Intent of the Words You Use
They also don't want you to fool or manipulate them into buying offers they don't really want or need. And that's the purpose of most spammy trigger words.
Read this list with a grain of salt and besides using spam words, also remember to avoid doing these things in your emails to stay out of the spam folder.
Don't oversell your products. Allow your sales pages to do that, and give subscribers a gentle call to action to view your sales page.
Don't over promise or make exaggerated claims.
Avoid talking a lot about making money or money in general. Again, give subscribers a gentle nudge to head to a webpage where they can read your sales spiel, your latest blog post on making money, etc.
Don't include a lot of pressure or urgency. If you have a sale running for a limited time only, let them know. But don't overdo it.
Avoid overusing the words free, freebie, etc. If you're delivering a freebie or have a free gift for subscribers, you can tell them that and deliver it. Just don't overdo it.
Don't ask for personal information.
Use caution with medical language, terms, claims, etc.
Avoid using email spam trigger words in your email subject lines.
Tips to Improve Your Email Deliverability Rates
Using spam words aren't the only thing to be careful of. If you want to increase your email sender reputation and improve your overall email deliverability rates, here are some quick tips.
Use Your Own Branded Domain For Links and Email
Using unbranded domains for links or your return email address can hurt your email campaign's deliverability rates.
Some email service providers will trigger certain URLs, like a landing page hosted on a site like ClickFunnels, without a custom domain.
It's always better to use your own domain or include links to actual domains when sending emails to your subscribers.
Additionally, your return email address should always be from a branded domain.
Don't try to use a free email address like (name)@gmail.com – not only does this look unprofessional to your subscribers, it will also send your email directly to the spam folder.
Improve Your Overall Domain Reputation
If your IP address repeatedly gets marked as sending spammy emails, this can hurt… a lot.
If you frequently find that your emails consistently end up in the purgatory of spam folders, consider working on improving your domain reputation.
You can also get your WordPress site managed by experts at Iridium hosting. 
They offer exceptional management services that include email deliverability maintenance packages that help you sleep better at night.
Find Out How Iridium Can Help You Today
Other Tips to Stay Out of The Spam Folder
Use a double-opt-in process to make sure subscribers really want to be there.
Segment your list and send emails specific to segment interests.
Ask your subscribers what they want to hear about instead of just sending random emails.
Set expectations in your welcome sequence: i.e. "I'll be popping into your inbox once a week to share the latest tips, trends, and free and paid resources about XYZ."
Remove inactive subscribers. Deleting people who never open or interact with your emails increases your overall email engagement rates.
Final Thoughts on Spam Trigger Words
It's very important to avoid using words and phrases in your email subject line that are common in spam emails. Having your emails sent to spam can hurt you in more ways than one and hurt your overall email deliverability rates. And if you want to be your own boss, this is key.
Luckily with this list knowing spam words to avoid isn't as difficult as it might seem. A lot of these words or phrases are words that you might need to use in certain marketing emails, but they won't always activate a spam filter.
Remember that context matters when it comes to email marketing. If your email campaigns aren't actually spammy, you should be safe.
If you do have to use spam words in some of your emails, remember to use them in moderation. Email spam filters will pick up on repeated use of spam words which will damage your sender reputation over time.
Want to learn step-by-step how I built my Niche Site Empire up to a full-time income?
Yes! I Love to Learn
Learn How I Built My Niche Site Empire to a Full-time Income
How to Pick the Right Keywords at the START, and avoid the losers
How to Scale and Outsource 90% of the Work, Allowing Your Empire to GROW Without You
How to Build a Site That Gets REAL TRAFFIC FROM GOOGLE (every. single. day.)
Subscribe to the Niche Pursuits Newsletter delivered with value 3X per week