SEO for Gyms 101: Turbocharge Your Fitness Business Online
When you buy something through one of the links on our site, we may earn an affiliate commission.
Without SEO, your gym might not show up on Google, and that means fewer people will know it exists. SEO for gyms, both local and national SEO, is important.
Prospective members often search for fitness centers near them. However, leveraging national SEO can position your gym as an industry leader beyond local boundaries.
SEO for Gyms: Build Local SEO
With an effective SEO strategy, your fitness center can attract members locally. At the same time, you can build a robust national online presence.
Besides the points mentioned in the following paragraphs, make sure to:
Consistently update your details everywhere
Gather positive reviews
Incorporate local keywords in your gym website content
Set up Your Google Business Profile (Google My Business)
A GBP (Google Business Profile) listing ensures your local fitness studio is showcased in Google's Map Pack during searches.
The Map Pack is a distinct feature on Google's search results page. It helps users quickly pinpoint top businesses meeting their needs.
Featuring in the Map Pack has obvious benefits in terms of SEO for gyms. In addition, this listing lets you showcase photos, operating hours, fitness services, contact details, and customer reviews. This enriches the user experience and provides comprehensive business insights.
Here are a few more helpful links: How to Create a Google Business Profile and Guide to Google Business Profile.
List in Directories
Listing in directories is vital for gym SEO. It enhances local visibility and provides authoritative backlinks.
Directories solidify a gym's online presence. They ensure consistent name, address, and phone number (NAP) details across the web. This consistency boosts local search rankings and credibility.
Some important listings for gyms include:
Yelp
Yellow Pages
Foursquare
Also, find local fitness or fitness center directories specific to your region or niche.
Get Citations
Citations for gym SEO enhance local search visibility. They consistently mention a gym's NAP across various online platforms. This helps search engines validate its presence and credibility.
Consistent and accurate citations boost the trustworthiness of the fitness center in search engine algorithms. This leads to higher local search rankings and makes it easier for potential members to discover and contact the gym.
Establish a Strong Online Presence
As a gym owner, you absolutely must have a strong online presence (it's one of the things that makes it possible to open a gym with no money). It allows you to engage directly with your audience, share content, and build brand loyalty.
You should regularly:
Post relevant and engaging content
Respond to comments
Run targeted campaigns
Join Online Fitness Communities
Joining online fitness communities holds significant benefits for a fitness center, both from a branding and operational perspective.
Here's why:
Networking with Fitness Clubs. Being part of online communities provides a platform for gyms to connect with other fitness clubs. This opens doors to collaborative events, shared expertise, and best practices.
Increased Visibility. Every fitness business should have an online presence. Joining these communities boosts visibility, making it easier for potential members to discover and engage with the gym.
Engagement with Members. Online communities provide a direct channel for gyms to communicate with their members. Regular updates, workout tips, or responding to feedback can lead to enhanced member loyalty.
Feedback Loop. Gyms can gain insights into what members and potential customers want, leading to better service offerings.
Enhanced Credibility. Sharing expertise, success stories, or testimonials in these communities can position the gym as an authority in the fitness business. This builds trust among potential and current members.
For gyms, diving into online fitness communities is a strategic move. It can foster connections, drive growth, and ensure the fitness business remains relevant and vibrant in a competitive landscape.
Promote on Social Media Platforms
Promoting your gym on social media allows you to tap into a vast audience, fostering community engagement and brand loyalty. It offers real-time interaction with members, showcases success stories, and highlights unique facilities or classes.
You can position your gym as an industry authority by sharing fitness tips, workouts, and nutritional advice. Social media promotions, challenges, or special offers can also drive membership sign-ups.
An effective social media presence enhances visibility, attracts potential members, and fosters community. All this is crucial for retaining current members.
Build an Email List
Build an email mailing list for gym SEO because it allows you to engage with members and potential clients directly.
Regular email communication drives consistent traffic to the gym's website. And that signals its relevance and authority to search engines.
Also, shared content from emails can generate backlinks and positive social signals. It further enhances fitness SEO.
SEO for Gyms: Perform Keyword Research
Keyword research for gyms, like any industry-specific research, has its unique nuances. However, the basic approach to keyword research remains the same across various sectors.
As a gym, you should target keywords specific to:
Fitness
Equipment
Classes
Health
Local areas
Memberships
You may want to focus on local SEO terms like:
Gym near me
Yoga classes in Dallas
And niche-specific terms:
Crossfit sessions
Aerobics for seniors
Don't forget seasonal trends, like: "summer fitness."
Understand the unique demands and interests of the gym-going audience.
You can also use SEMrush, and in particular, the Keyword Magic Tool, to find and analyze keywords to target on your website.
Implement a Content Strategy
When implementing a content strategy:
Identify and understand your target audience
Ensure content relevance
Produce high-quality, engaging material
Provide a mix of content types, from articles to videos
Regularly analyze your performance and make adjustments
Maintain a consistent posting schedule
Promote content across multiple channels
Additionally, I suggest reading the following articles:

Read our SEMrush review and tutorial to see how it can help you build a successful content strategy.
You will need to produce a considerable amount of content on a regular basis. I recommend you get some help in the form of an AI assistant.
Jasper is one of the leading artificial intelligence writing tools. It will help you write blog articles (and basically anything else) at a fraction of the usual cost or time. Read our Jasper AI review to learn more about it.
Build Authority
Building authority for gyms through content involves crafting high-quality, informative, and relevant material that resonates with the target audience.
Start by researching topics gym-goers are interested in. Think of workout routines, nutrition tips, or recovery techniques.
Create engaging blog posts, videos, infographics, and e-books that provide genuine value.
Feature expert advice, testimonials, or interviews with fitness professionals to enhance credibility.
Encourage user-generated content, like success stories or transformations, to foster community engagement.
Collaborate with influential fitness personalities or bloggers for guest posts or content partnerships.
Create Sharable Content
Creating sharable content boosts your presence and attracts new members. When people share content, it acts as an endorsement, leading to organic brand growth.
Here are some ideas.
Types of Sharable Content for Gyms:
Workout Challenges. Create monthly fitness challenges and encourage members to share their progress. Offer prizes for participation to increase enthusiasm.
Instructional Videos. Share short workout tutorials focusing on correct technique. It will position your gym as a place of expertise.
Nutrition Tips & Recipes. Offering healthy recipes or diet tips can be a great way to engage members beyond workouts.
Event Announcements. Host special classes or guest trainers. Create visually appealing announcements to encourage shares and increase event attendance.
The Importance of Sharable Content for Gyms:
Brand Visibility. Members or viewers who share your content increase your gym's visibility to a broader audience. This helps to attract new members.
Building Trust. Customer, friend, or family recommendations can be more persuasive than traditional advertising.
Cost-effective Marketing. Organic shares reduce the need for paid promotions.
Sharable content is a great tool for SEO of gyms as it fosters organic growth. Leveraging real-life stories, interactive content, and expert advice can set your gym apart in the crowded fitness industry.
Market Your Team
Marketing your team for gym SEO personalizes the brand, building trust with potential members.
Highlighting trainers' expertise, qualifications, and success stories showcases the gym's value proposition.
This type of content can attract targeted traffic, increase on-site engagement, and generate authoritative backlinks. And backlinks are crucial for SEO.
Showcasing the team also differentiates the gym in a competitive marketplace. It enhances online visibility and search engine rankings.
Write Content to Attract Backlinks
Quality content that offers value, is well-researched, and is visually engaging is more likely to earn backlinks.
Here are some ideas:
Workout Tutorials. Detailed guides or videos on exercises featuring unique equipment or techniques.
Nutritional Guides. Meal plans, supplement reviews, or diet tips for different fitness goals.
Expert Interviews. Conversations with fitness trainers, nutritionists, or athletes.
Trending Fitness Research. Breakdowns of new studies or fitness trends.
Infographics. Visually appealing data on workouts, nutrition, or fitness trends.
SEO for Gyms: Optimize On-page & Technical SEO
Make sure your fitness website is fast, mobile-friendly, and optimized for on-page and technical SEO.
Use SEMrush tools to help with these tasks - this is a vast product with everything you'll need, from on-page SEO analysis to full site audits.
Read the following articles:
Create Your Own Gym App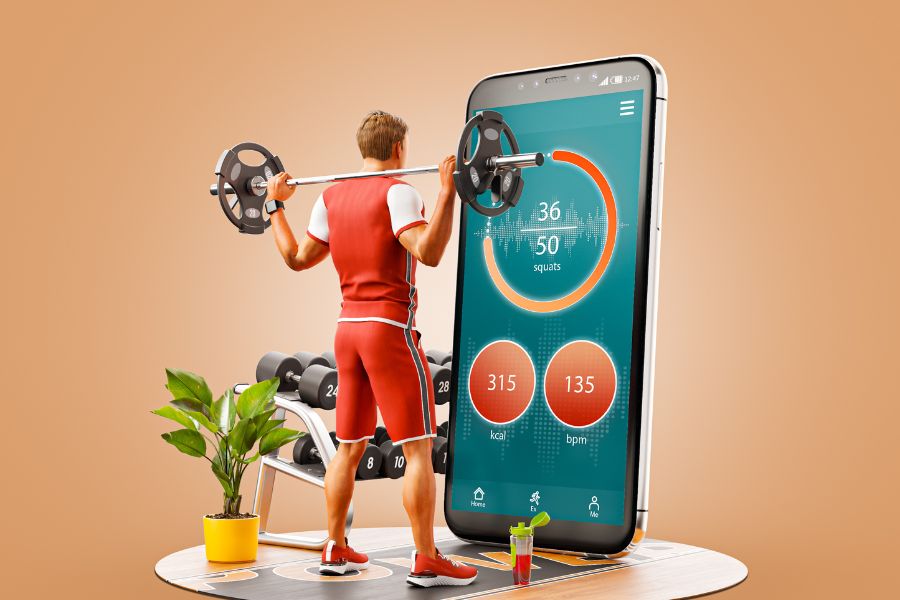 Apps, whether for mobile devices, tablets, or desktops, offer many advantages. This is especially true in sectors like the fitness industry and digital marketing.
Here are some of the primary benefits:
Accessibility. Apps can be accessed anytime, anywhere, making it convenient for users. This is very relevant to the fitness industry, where timely workout reminders or diet tips can enhance user commitment.
Push Notifications. Apps can send real-time updates and reminders to users, increasing engagement.
Offline Use. Many apps, such as those offering workout routines in the fitness industry, are available for use offline. So they can be accessed without an internet connection.
Tailored User Experience. Apps can be designed to remember user preferences and customize content accordingly.
Speed. Apps often store data locally, resulting in faster load times than web browsers.
Integration. Apps can seamlessly integrate with device features, like cameras, GPS, and contact lists. This enhances user experience.
Increased Engagement. With easy accessibility and tailored experiences, apps often see higher user engagement than mobile websites.
Branding. Apps offer businesses a direct communication channel with their customers, strengthening brand loyalty.
Safe and Secure. Apps, when properly developed, can offer a more controlled and secure environment for transactions or data storage.
User Interface. Apps can provide an optimized user interface that is more intuitive and user-friendly than web browsers.
Monetization. For businesses, apps provide diverse monetization options. These include in-app purchases, ads, and subscription models.
Data Collection. Apps can collect valuable user data (with user consent) to provide insights into user behavior and preferences.
It's worth noting that the advantages of an app depend on its quality, functionality, and the needs of its target audience.
Run PPC Campaigns
Spy on your competitors using programs like SEMrush and SpyFu.
Learn all about it here: How To Plan a Successful PPC Campaign.
In short, this is how to run the best PPC campaign for a gym:
Geo-Targeting. Narrow your ad reach to specific locations. That way, you're targeting locals who can physically access the gym.
Ad Copy. Write compelling ad copy highlighting unique offerings, promotions, or facilities. Include a clear call to action.
Landing Page Optimization. Direct clicks to a user-friendly landing page tailored to the ad's promise. Ensure quick load times, clear information about membership plans, and easy sign-up options.
Retargeting. Re-engage visitors who didn't convert initially by showing them tailored ads based on their interactions on your site.
Monitor & Adjust. Regularly analyze campaign performance using tools like Google Ads and adjust strategies for maximum ROI.
Remember, consistent testing and optimization are key to a successful PPC campaign.
Track Your Progress
Use Google Analytics to follow the progress of your search engine optimization efforts. Monitor organic website traffic, engagement metrics, and conversion rates.
Employ Google Search Console to check keyword rankings, site errors, and indexed pages.
Monitor backlink quality and quantity using SEMrush.
Track local SEO performance through your Google Business Profile, reviewing queries used to find your business and visitor actions.
Regularly audit on-page search engine optimization elements and site speed for optimization.
Comparing these metrics over time will provide insights into the effectiveness of your SEO strategies.
SEO for Gyms: Conclusion
Gyms can significantly boost their online visibility with an effective SEO strategy.
Make the most of keyword targeting, Google Business Profile listings, and content creation.
SEO elevates a gym's online presence, attracts more members, and establishes authority in the fitness industry.
A strong SEO strategy is indispensable for success in an era where online search dominates consumer behavior.
To win in this space, I strongly recommend you use SEMrush - the all-in-one SEO toolkit.
Want to learn step-by-step how I built my Niche Site Empire up to a full-time income?
Yes! I Love to Learn
Learn How I Built My Niche Site Empire to a Full-time Income
How to Pick the Right Keywords at the START, and avoid the losers
How to Scale and Outsource 90% of the Work, Allowing Your Empire to GROW Without You
How to Build a Site That Gets REAL TRAFFIC FROM GOOGLE (every. single. day.)
Subscribe to the Niche Pursuits Newsletter delivered with value 3X per week