How Screenrant Attracts Most of Its 29 Million Monthly Visitors Organically
When you buy something through one of the links on our site, we may earn an affiliate commission.
In 2003, a website called Screenrant was created with the mission of becoming the go-to source for movie news, reviews, and editorials. The site succeeded in this goal, and today it is one of the biggest entertainment websites on the internet, offering news on tv, films and video games, along with tech articles and celebrity gossip.
Screen Rant has expanded its presence to include reporting from red-carpet events in Los Angeles, New York film festivals and San Diego Comic-Con panels.
The site has over 367,000 pages and around 30 million monthly visitors. So what makes this behemoth of a site so successful? Let's find out...
---
How Screenrant Gets Its Traffic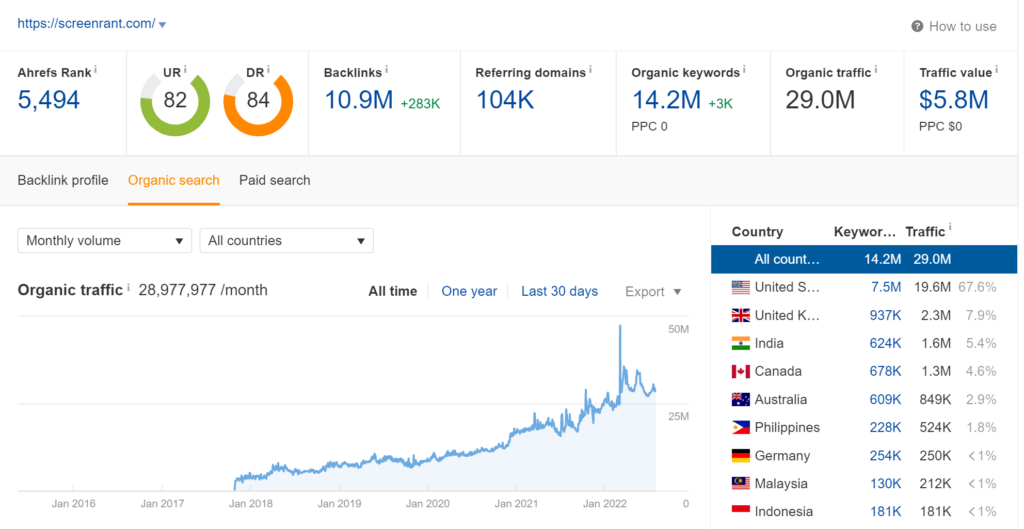 A whopping 82% of Screenrant's traffic comes from search. That's an absurdly high number, and it means that a vast majority of people who visit the site are doing so because they've typed something into Google (or another search engine) and Screenrant's articles have come up in the results.
This is an incredible feat, and it's a testament to the site's SEO strategy. But how does Screenrant rank so highly in search results?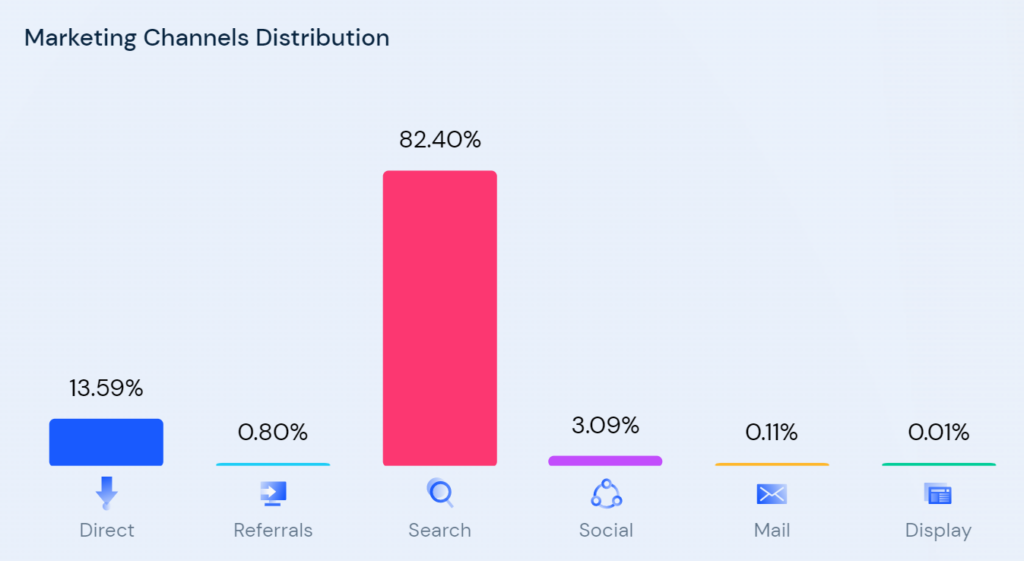 There are a few factors that go into ranking highly in search results, and Screenrant appears to be doing everything right.
Firstly, the site publishes a massive number of articles every day - on the day I researched this article, 85 posts had been published on the site. This means that there's always new content being pushed out, which is something that search engines love to see.
Secondly, the site's articles are always well-optimized for SEO. This means that they include relevant keywords, have catchy titles, and are easy to read.
Screenrant also does a great job of promoting its content across social media. Every time a new article is published, it is pushed out to the site's large social media following, which helps to drive even more traffic.
66% of their social media traffic arrives via Facebook, so it's clear that this is a key platform for them.
All of these factors come together to form a perfect storm of SEO success, and it's no wonder that Screenrant is one of the most successful entertainment websites on the internet.
What Types of Keywords Does Screenrant Target?
Their most successful article at the moment is about Obi Wan Kenobi, no doubt trading on the recently released Disney+ series of the same name and the upcoming release of the Rogue Squadron movie. It was published two days ago at the time of writing this article, so it's clear that due to their domain authority, their content ranks as soon as it's published.
As an entertainment news site, their content has to be fresh and current to be successful, which is why they publish so many articles every day to "feed the beast"!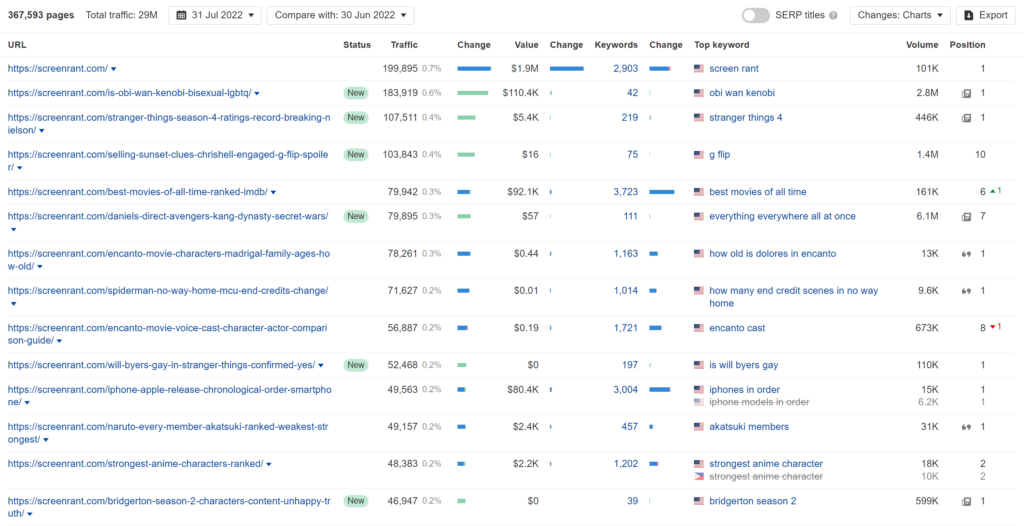 Only their 30 most popular articles bring in over 0.1% of their traffic, so it's clear that the vast majority of their traffic is spread across a huge number of articles. Although they are a news site, there are a few evergreen articles amongst the top pages, including "best movies of all time" and "iphones in order".
When we take a look at the keywords that they target in their articles, we can see that they are mostly related to current movies, tv shows, and celebrity gossip. Current trends play a massive role in their traffic, which is to be expected for an entertainment news site.
It's clear that Screenrant's content strategy is focused on publishing articles that will be of interest to their target audience, and they seem to do a great job of it. Thanks to their strong SEO game, they can rank highly for a large number of keywords and drive a huge amount of traffic to their website.
How Their Pages Look
The color scheme and branding are consistent across all of their pages, which helps to create a cohesive and professional look.
The articles themselves are well-written and easy to read, with short paragraphs and plenty of images. This makes for a much more pleasant reading experience, which is important when people are just skimming articles for the juicy bits.
All in all, Screenrant has done a great job of creating a website that is both visually appealing and easy to navigate.
What's Their Link Profile Like?
Screenrant has attracted lot of backlinks from Wikipedia, other entertainment news sites, and fan sites. This is to be expected, as their content is often used as a reference point for other articles.
Google puts a lot of emphasis on the quality of backlinks, so it's good to see that Screenrant's link profile is made up of links from high-quality websites.
What Does The Site Do Well?
Screenrant is a well-designed website that is easy to navigate and packed full of interesting articles. By publishing content at such a high velocity, they are able to maintain a constant presence on search engines and social media.
This, coupled with their strong SEO game, means that they are able to attract a huge amount of traffic to their website.
How Does Screenrant Make Its Money?
The site is monetized with ads and affiliate links.For example, on their "10 Best Educational Video Games" post, there are links to buy all the games on Amazon using their affiliate link. There are also banner ads for other products and services.
Screenrant is a great example of a site that has successfully monetized its traffic with affiliate links and ads. By producing high-quality content that is heavily optimized for SEO, they are able to attract a huge amount of traffic and generate a significant amount of revenue.
What Can We Learn From Screenrant Website?
As an entertainment news site, Screenrant knows the importance of SEO and the importance of publishing fresh and current content.
By targeting trend-related keywords, they are able to attract a huge amount of traffic to their website.
Thanks to their well-designed website and strong link profile, they are able to monetize their traffic with ads and affiliate links.
As one of the biggest entertainment websites on the internet, Screenrant is in a great position. They have a large audience, and they show no signs of slowing down. In fact, considering the rate at which they publish new content, it's likely that their traffic will only continue to grow well into the future.
Want to learn step-by-step how I built my Niche Site Empire up to a full-time income?
Yes! I Love to Learn
Learn How I Built My Niche Site Empire to a Full-time Income
How to Pick the Right Keywords at the START, and avoid the losers
How to Scale and Outsource 90% of the Work, Allowing Your Empire to GROW Without You
How to Build a Site That Gets REAL TRAFFIC FROM GOOGLE (every. single. day.)
Subscribe to the Niche Pursuits Newsletter delivered with value 3X per week