4 Unique Link Building Strategies That Jeff Oxford Uses with Email Outreach
If you've been blogging for a while you know how important links can be for SEO. You also know how much of a drag it can be when it comes to trying to build links through guest posting.
So what can you do when you want to build links, but you'd prefer to avoid the standard guest posting?
In this case Jeff Oxford has some interesting answers. Including four creative and very unique link-building ideas we dive into more in this article.
Jeff is the founder of Link Hunter, an email outreach automation tool and has been in the SEO business since 2010. He's worked for various clients and companies before creating his own SEO agency focusing on ecommerce and link building.
This isn't a one-person show. Jeff's agency has multiple employees, a large number of clients, and a proven track record with getting results via link building for clients.
Jeff had four really interesting and unique link building ideas that anyone can use.
Those ideas are:
Offering to update and improve existing content instead of writing a guest post
Creating outreach friendly listicles (including his related "book bait" strategy)
Local bait "clickbait"
Finding niche or club resource pages
Jeff is also the founder of Link Hunter. He wanted to create a software that could help smaller businesses or individuals (basically anyone with a smaller budget who couldn't afford an SEO agency) get solid results from scaling up their outreach efforts.
Link Hunter ended up as the result of those thoughts and a lot of hard developing work.
As a Niche Pursuits reader you can get a special deal on Link Hunter, if you want. Use the coupon code "NichePursuits" and Jeff has been kind enough to offer 50% off of the first month of Link Hunter.
---
Link hunter review
Ease of Use -

95

Stability -

100

Customer Service -

100

Price -

90
Pros
Really streamlines the outreach process into one place
Big time-saver (especially on the research end of things)
Ability to set up campaigns based on very specific goals
Very reasonably priced for tools offered
Cons
Limited features – definitely a specialty tool focused on doing a narrow thing very well
Results may vary based on how good you already are (or aren't) at outreach
Jeff Oxford, Founder of Link Hunter, Interview
Jeff explains both on video his story, his link building strategies, and even shares some real life examples in this interview.
You can watch the entire interview with Jeff below or listen to the audio version by clicking play on the podcast play button above. Enjoy the interview or read on to get the highlights below.
BLITZ DEAL: LinkHunter Helps You Build More Backlinks in Just 7 Days
Find 100s of relevant sites for backlinks in seconds with LinkHunter.
Guest post on relevant websites
Get your products reviewed by influencers
Find bloggers to write sponsored posts
Promote your content to influencers
Getting Creative to Build Links
Getting good links is hard. There's no two ways about it.
Once you've done the basics like optimizing on-site SEO and harnessing the power of internal links, there comes a point where getting backlinks is one of the few big factors left that can really move the needle.
Sometimes what you need is to step back and instead of running with the herd, coming up with some creative options.
Jeff was kind enough to share with Niche Pursuits readers four good, unique outreach strategies that his SEO agency has used with great success.
Offer to Update Existing Blog Content Instead of Guest Posting
The first unique link building idea is to offer to update an existing blog post instead of writing a new guest post.
There are several potential advantages to this for both parties.
For you when doing the outreach:
You stick out from the crowd offering the same old guest post
Making an already mildly successful page much better is a really solid pitch
You can more easily demonstrate value (every website owner who agrees to guest posts has received some trash before)
The link you get from an indexed and ranked page will almost certainly have much better SEO value for you
Those are some great benefits. So how does the website you're reaching out to benefit?
If you bring someone from the bottom half of page one of Google to the top half, they're going to see a massive jump in traffic
You are providing direct value to their readers
You might be adding to an article/topic they struggled to write – making your help quite welcome!
One less post they have to revise
When this is done well both sides see it as a win-win. So how do you find the right pages to pitch?
This takes a bit of research but basically, you're looking for one of two things:
A post that is ranking high in Google but isn't that great and can use obvious updating
A post that is lower first page that has lots of room for improvement to jump into the top half
Those are the pages you're looking for. You want pages where you can add content, update resources/citations, really improve it. Whether by content, pictures, or all of the above.
When you find these types of pages in the course of keyword research or outreach research, that's an opportunity to make the pitch.
Proposing to make a topic they've already written about, have benefited from, and may care about, is an easier sell than a random guest post.
You know, the type of request they get in template form potentially dozens of times a day.
They get a noticeable upgrade to a page that already exists, and are more likely to see a direct burst of traffic from your results. You get a much stronger link.
Win-win.
Create Outreach Friendly Listicles
The second unique link building idea is to use the information you gather from researching potential guest posts to make a large listicle piece of content on your own site.
This is like a "Top 100 Blogs About X" or "50 Best Underrated Blogs About Y."
You write the blog post including a mix of the best blogs in the field followed by the best sites that you would like to target for a link. Make a good looking blog post as a great resource page for your readers.
Then reach out to every blog on the list with an e-mail.
You're not asking for a link, you're simply congratulating them for making the list, thank them for the great content, and don't ask for a link back.
An example of this type of post would look like this:
Jeff shares that when making these lists it's important to make sure they are a list that looks trustworthy and legitimate.
In other words if there are 2 or 3 websites that are clearly the big players or A-List of a niche, those need to be at the top even if the likelihood of them responding to your email is nil.
You want the list to be a legitimate resource. That makes it trustworthy. It needs to make sense in Google's eyes.
These help the list show authority in Google's eyes, as well as being more trustworthy in the eyes of those blogs on the list. You will be surprised how often mid-level sites (Domain Authority 20-40) end up giving a link to your article.
Many smaller sites are thrilled to get attention.
This often means they will link to your article from their site, from a press page, and from social media.
Once again, you don't even need to ask for the link (usually). Provide the quality list and for sites who respond, thank them and keep track. These are sites you will want to consider reaching out again in the future.
You don't want a list that's too small or too big. Generally, a larger list is good but 70-80 is that sweet spot in many niches.
You generally don't want to go higher than that. It diminishes the value of the article and makes it look more like a link grab rather than an actual helpful resource.
The sites that linked to you and/or responded are people you can build a relationship with. If you build a really good relationship other traditional outreach techniques like guest posting are much more likely to work in the future, as well!
So does it work?
The screenshot below shows this can work very well. Keep in mind these are links that Ahrefs sees just to that specific post.
The Book Bait Link Building Method
This is a creative take off of the listicles link building strategy that is really intriguing.
Most people don't think of printed books when "link building strategies" comes up in discussion. But the book bait method works off of the listicle outreach in a pretty creative way.
This was a method first used for a client with what most would call an "unsexy topic." Air filters. One that would be really hard to get links for through traditional methods.
But air filters could be related to healthy homes, healthy living, and other affiliated topics.
Creating a book on one of those larger topics with widespread interest can create some linking opportunities.
The Steps:
Create a book topic based around a broad but related topic to your site
Using the list of blog and website owners who replied to you previously as a base, reach out asking for advice, tips, or expertise
Promise contributors get their picture in the book with a bio and their website/blog name
Create a good looking book using a lot of the information provided. The book must look GOOD. This should be something people are happy to see their face/name in.
Get the information, the layout, and design setup and look at a quality self-publisher like lulu.com
Have a page promoting the book on the website and make sure every contributor gets a free copy of the book
This isn't for making money off the book.
But you may attract many links and social mentions from happy contributors (this is why it's SO important that it's a good-looking, well designed book), have a book for a lead magnet, and build more good will with other bloggers and website owners.
This does cost some up front cash. But so does any paid SEO campaign.
As for the results?
See for yourself from a book bait campaign that Jeff ran for a client below: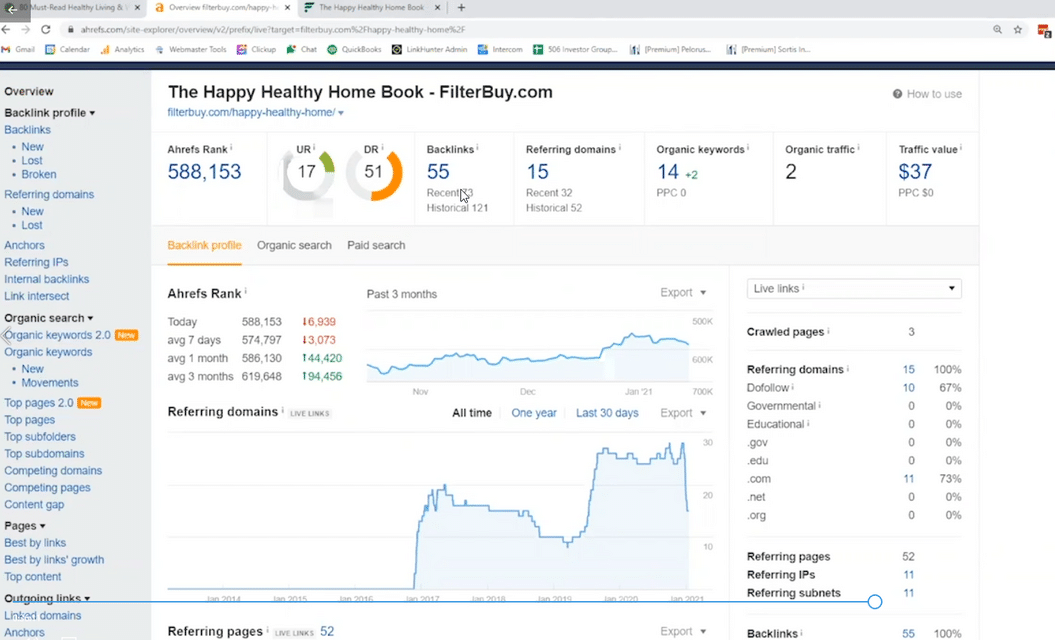 Find Niche Resource Pages
The old strategy of finding easy victories while everyone else is fighting for the same small scraps still apply.
Guest posting on blogs is ridiculously competitive. The number of requests even moderate sized blog owners get can be overwhelming.
That's even before getting into the fact the majority of blogs charge for guest posts ($30-150 and you still need to provide the content).
So while everyone is fighting over blogs, why not get links from somewhere else?
While doing research you want to look for long-standing and trusted resource pages. These aren't your everything directories, but resource pages that are set up around very specific topics.
How do you find them?
Suppose your search term was the famous blue widgets.
When searching for "blue widget blogs OR widget blogs" add the modifier Site: .gov OR .edu
You're not looking for direct links. You're looking for government and educational pages for ideas on related topics.
Maybe a club based around collectible blue widgets. Or special blue widget ceremonies.
Anything that's related. Make a list of potential topics.
Then search for: "Related topic inurl:links.html OR inurl:resource"
This will bring up link pages and resource pages for those related topics.
The sites won't be pretty. Many of them will look like they're from 1999 during the Netscape Navigator days.
But these can be extremely highly relevant resource websites looking for good links for their members or visitors.
That makes them quite responsive to inquires if you can offer a good article or blog post to link to.
Local Bait
There's so much focus on finding ways to get high quality links from big sites that many webmasters miss out on low-hanging fruit.
Don't underestimate local pride. Articles like "Best 10 small cities for…" or "7 hidden gem parks in western (state)" are a great way to get links from small local blogs.
Every small town newspaper has an online version. In many cases the online newspaper is the only one.
They love local stories and local recognition.
This is an easy way to get links from actual online newspaper and local bloggers. Those are solid trusted links from pretty responsive sources.
Try out some localized clickbait and be wiling to reach out to small online papers for attention.
Link Hunter Review: What Does Link Hunter Do?
A Link Hunter review begins with looking at why it was made. This is an SEO tool designed to allow webmasters with a modest budget to be able to massively scale up their outreach.
More outreach using the 4 strategies above means more links.
While some SEO tools try to be a Swiss Army Knife of options, this is not the case with Link Hunter.
That can be a positive or a negative depending on what you're looking for.
This software focuses on doing one specific thing very well. So how does it go about that?
Link Hunter Features
Campaign manager
Niche blog search finding sites related to yours for general outreach or with guest posting pages
Authority & Keyword ranking numbers
Website preview
Email template tool
Adjustable campaign settings
One thing that quickly became apparent in this Link Hunter review was the focus on making it simple, smooth, and streamlined.
They do a good job with keeping the interface clean and easy to work with.
As the screenshot above shows, simple, clean, to the point. When more campaigns are added, they are simply added to the list on your main dashboard page.
Don't overlook the fact this is labeled as a "Guest Blogging Campaign."
Link Hunter has multiple setups and interfaces depending on what type of site you're promoting and what type of campaign you want to run.
Hitting the new campaign brings up this screen:
And part two:
The guidance here makes it easy to make sure the campaign you setup is geared towards what you actually want to do. Being able to customize that will be useful for many users.
So does this actually speed up the process of building links?
This absolutely could help out some webmasters in the right circumstances. Just look at the link building ideas mentioned earlier and think of how this tool could work.
Want to update current content? Link Hunter will gather a list of potential websites much faster than you could hope to do manually.
With that same list you could then preview each site with the preview tool, see the ones worth visiting, and make your "Top 50" or "Top 80" blog list with websites you can reach out to.
For the niche resource page eagle-eyed readers probably already noticed that specific option in the "New Campaign" screenshot above.
By using the search function you can look for and gather URLs of small or local online newspapers for the local bait method.
There's certainly some serious potential for this to speed up some of the more tedious parts of collecting potential sites to reach out to.
As well as the actual outreach campaign.
Link Hunter Review: Inside the Campaign Dashboard
So what does the dashboard inside an actual campaign look like? Great question!
Here's an inside look:
The interface here gives plenty of information without being cluttered. Having everything in one place will also be helpful for those of us who are organizationally challenged.
The tool shows the authority and rough number of ranking keywords each potential site you can reach out to has.
It's easy to reach out, save, or delete sites from the list while a preview of each site is seen in the lower right.
You can insert a pre-written template or shoot out a custom email right from your campaign dashboard.
Warning: Don't spam terrible templated emails!
While the Link Hunter outreach automation tools can definitely make your SEO efforts more efficient, you still want to put your best foot forward. Spend at least some of the time this tool saves you writing a better outreach email. The better your email, the more positive responses you'll get, the better your SEO efforts will end up going.
The interface is simple and intuitive. For webmasters who have limited time, getting everything in one place can definitely be a positive.
Still Link Building Opportunities in SEO
One of the most encouraging things about what Jeff shared in the Niche Pursuits podcast are the creative ways he's seen results from his link building efforts.
Don't let anyone convince you there are no more opportunities when it comes to search engine optimization.
Jeff brought some really awesome ideas for building backlinks to this article and the Niche Pursuits Podcast interview.
These aren't theories, either. His agency has used them to great effect for his own websites as well as those of clients.
He designed the Link Hunter tool so it can potentially help with the link building process.
If you've decided Link Hunter sounds like a tool that could help you out with your link building efforts, don't forget to use the coupon code "Niche Pursuits" to get 50% off your first month.
You can check out Link Hunter here.
Thanks again to Jeff for sharing those awesome link-building techniques with Niche Pursuits readers!
BLITZ DEAL: LinkHunter Helps You Build More Backlinks in Just 7 Days
Find 100s of relevant sites for backlinks in seconds with LinkHunter.
Guest post on relevant websites
Get your products reviewed by influencers
Find bloggers to write sponsored posts
Promote your content to influencers
Want to learn step-by-step how I built my Niche Site Empire up to a full-time income?
Yes! I Love to Learn
Learn How I Built My Niche Site Empire to a Full-time Income
How to Pick the Right Keywords at the START, and avoid the losers
How to Scale and Outsource 90% of the Work, Allowing Your Empire to GROW Without You
How to Build a Site That Gets REAL TRAFFIC FROM GOOGLE (every. single. day.)
Subscribe to the Niche Pursuits Newsletter delivered with value 3X per week