Top 10 LearnDash Alternatives to Sell Your Online Courses
When you buy something through one of the links on our site, we may earn an affiliate commission.
Looking for a LearnDash alternative?
You're in the right place.
Because in this post, we're reviewing the best LearnDash alternatives to use for your online course.
Here's what we'll cover:
Alternative WordPress plugins to LearnDash LMS
The best hosted LMS alternatives
Course platforms with community features
And much more
By the end of this post, you'll know which Learning Management System is best for you.
Let's dive in.
10 LearnDash Alternatives to Launch Your Online Course
LearnDash is a popular Learning Management System plugin for WordPress.
However, there are many LearnDash competitors to choose from that might suit you better.
The first five LearnDash alternatives in this list are WordPress plugins. Then we'll look at five hosted options.
1. LifterLMS - Most Comparable LearnDash Alternative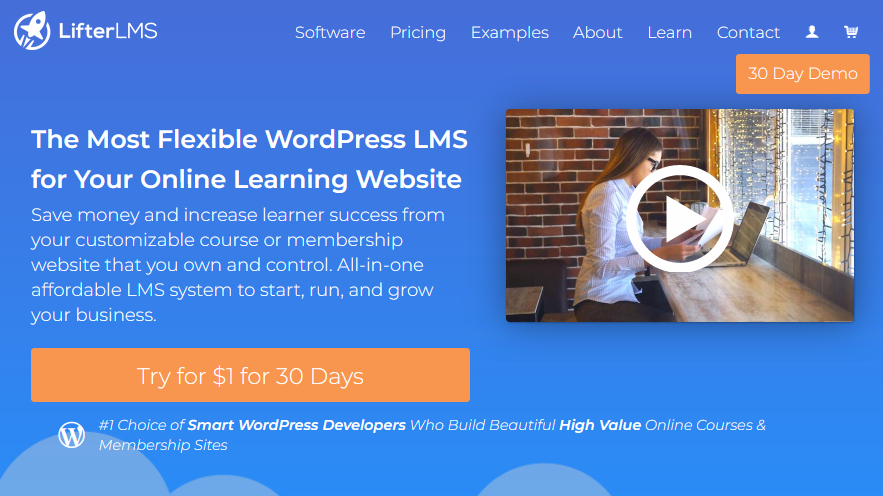 The best LearnDash alternative for WordPress is LifterLMS because it is the most comparable to LearnDash pricing and its features.
What's better is LifterLMS has a completely free version. That means you can create and host unlimited courses on your WordPress site for free.
However, to get all the features like taking payments with Stripe, you'll need to upgrade to a premium bundle.
You also have the option to purchase individual add-ons, which could save you money if you only need one or two of them.
Here are some of the best features LifterLMS has to offer:
The layout and design are very clean and work with all popular WordPress themes
Reinforce learning and test competency with dynamic multimedia quizzes
Keep learners engaged and increase recurring revenue by making lessons available over time
Build online courses easily with the intuitive multi-tier drag-and-drop course builder (and it also integrates with our favorite WordPress theme for online courses)
Control the course progression by requiring the successful completion of specific lessons or courses before unlocking new ones
Provide degree programs or certifications upon completion of a group of courses taken in any order
Help learners stay organized and track their progress with front-end student profiles.
Pricing for LifterLMS starts at $140 per year for a 1 site license. For extra add-ons and a 5-site license, their Universe bundle costs $360.
There is also a $1 trial currently available which gives you access to everything for 30 days.
2. MemberPress - Best LearnDash Alternative for Membership Sites
MemberPress is one of the best membership plugins for WordPress, and it now offers LMS features.
Originally, MemberPress was a standalone solution for building powerful membership sites.
However, their added support for selling online courses makes this a worthy LearnDash alternative.
These are just some of the features and benefits available:
Quizzes and progress tracking can keep students motivated and assess their knowledge
Student certificates add value to courses and help them showcase their new skills
The drag-and-drop customizer makes it easy and convenient to create and organize course content
Membership rules help you protect your online course content from unauthorized access
Customizable checkouts can help you increase conversions
Drip content allows you to deliver course material, helping students to stay engaged and on track
Offers WordPress affiliate plugin support
Full coupons system to help you attract new customers
MemberPress pricing starts at around $360 per year, but customers get a hefty discount in their first year.
The cheapest plan supports Stripe & PayPal integration, email automation, drip content, and much more.
3. LearnPress - Best Free LearnDash Alternative
LearnPress is another LearnDash alternative with tons of powerful features, and it has a completely free version.
You can also take payments with this LMS WordPress plugin using PayPal.
There are a lot of addons available for LearnPress, some of which are free. And even the premium addons are quite affordable.
That means you can pick and choose only the addons you need for an affordable LMS solution.
Features available in LearnPress include:
Content dripping lets you manage how your students go through course material
The frontend editor makes it super easy to create and edit courses from the front end of WordPress
Allow multiple instructors to edit and manage course content with the co-instructors addon
Assignments are a great way to provide tasks and essays for students
Offer student certificates when they complete courses
Lots of custom-made, premium themes are available and it works with most standard WordPress themes
There's an affordable mobile app for iOS and Android available to download from CodeCanyon that sync with your online courses
For full access to all the LearnPress addons, you can purchase their Pro bundle for $299 for 1 site license.
They also offer a Semi-Pro bundle with fewer addons for half the price.
For a full comparison, read our LearnPress vs LearnDash post for more details.
4. MasterStudy LMS - Most Affordable LearnDash Alternative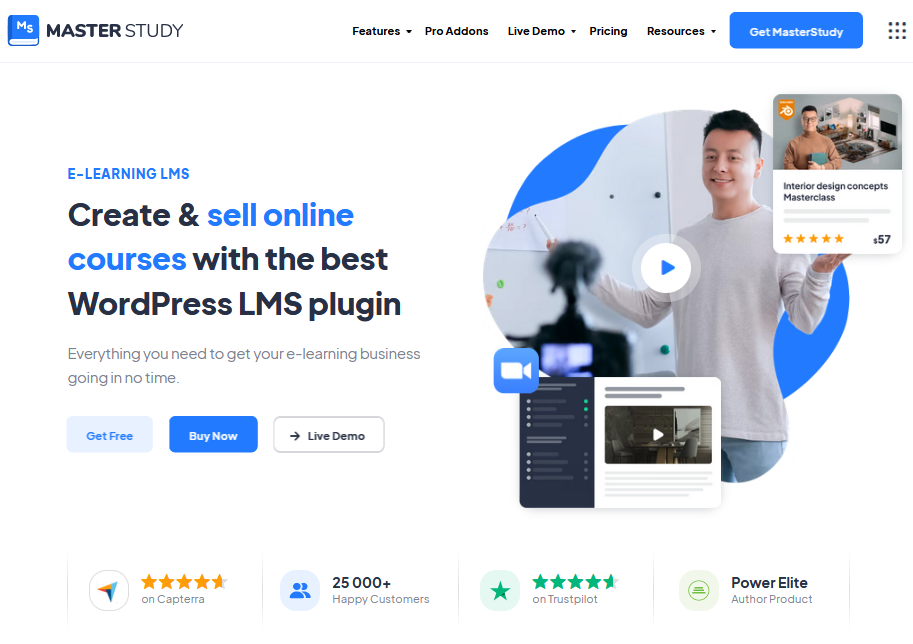 Next up on the list of LearnDash alternatives is MasterStudy LMS.
This WordPress LMS plugin is quite impressive for the price. And the free version doesn't hold back.
If you're on a budget for a premium LMS that doesn't limit on features, then this might be the best option for you.
MasterStudy LMS is designed with online coaching, start-ups, and schools in mind.
There's a well-designed WordPress theme available that makes it easy for students to navigate your site and go through course content. Best of all, it's free.
Other features available in MasterStudy LMS include:
A points-based system to motivate learners with gamification
Offer custom certificates to incentivize learning
Drip course content to keep students engage and improve completion rates
There's a built-in chat for instructors to communicate with students
A low-cost iOS and Android app is available from CodeCanyon
Monetize your courses by taking payments with PayPal and Stripe
Create advanced quizzes to assess students' progress
Drag and drop front-end editor to create your courses
MasterStudy LMS pricing starts at a low $59 per year for a 1 site license.
However, there are a lot of features available in the free version.
Moreover, MasterStudy offers lifetime deals, so you only have to pay once and you'll get updates for life.
5. Teachable - Most Trusted LearnDash Alternative
Teachable is one of the largest online course platforms in the industry.
In 2020, course creators earned $456.7 million and launched 183,744 courses.
The hosted LMS helps instructors transform their knowledge into an online course and a thriving business.
It's easy to get started, and their free plan lets you sell your online course to unlimited students.
These are just some of the features included with Teachable:
Create and host a variety of online courses, such as self-paced, cohort style, or even live coaching
An intuitive drag-and-drop builder makes it simple to build the perfect course
A sales page builder that's fully customizable
Integrate other services such as ConvertKit, MailChimp, Zapier, and Google Analytics
Create quizzes to help students see their progress
Offer course certifications to boost completion rates
Teachable pricing starts at $59 per month, or $39 per month if you pay annually.
More expensive plans have lower transaction fees, allow you to host more courses, and provide custom domains and advanced reporting.
6. Thinkific - LearnDash Alternative with Similar UI and Design
Thinkific is another leader in hosting online courses that has similar LearnDash features.
In 2021, the platform served 22,111 live websites, and it was projected that course creator revenue would exceed 1.5 billion dollars.
Unlike other platforms, Thinkific doesn't charge extra transaction fees, even for their free plan.
That means you can start selling without the steep overheads some other platforms charge.
These are some of the features you can expect from Thinkific:
Use a simple drag-and-drop builder to add course material with ease
Build a professional website to promote your online course and customize the theme to match your brand
Host live lessons and coaching to boost engagement
Provide certificates, quizzes, and assignments to motivate course progression
Communities allow instructors to post updates in a news feed to keep students engaged
Add Spaces inside communities to keep updates organized
Built-in marketing and e-commerce tools help you increase sales
Offer coupons and discounts
The cheapest Thinkific plan starts at $36 per month which allows for unlimited courses and students.
Higher plans offer live lessons, memberships, and more advanced features.
7. Podia - Most Affordable Hosted Alternative to LearnDash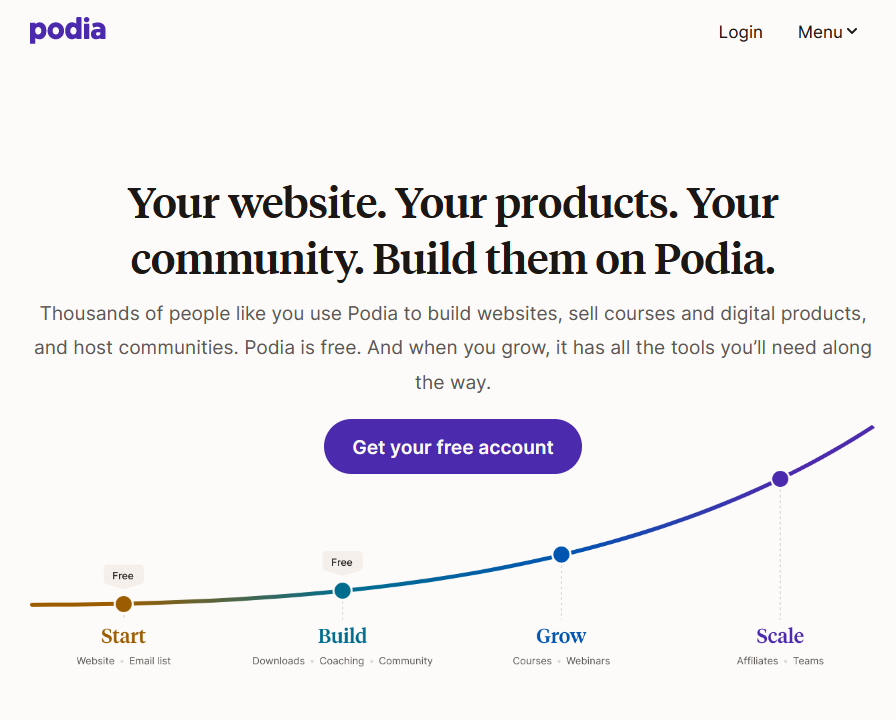 Podia is an all-in-one platform to help you build websites, sell courses, and host communities.
With its online course features and elegant design, it more than deserves a spot as a LearnDash alternative.
Moreover, because it's a fully hosted service, it's perfect for people who don't want to start from scratch with WordPress.
These are some of Podia's compelling features at an affordable cost:
Control the flow of course content with drip courses
Create payment plans or single pricing for your courses
Improve learner engagement rates with custom quizzes
Increase your average order value with upsells
Offer coupons to maximize sales
Zero transaction fees on paid plans
Combine your online course platform and community in one place
Invite members to engage with the community with news feed posts, comments, and likes
Podia has a simple pricing structure, starting at $39 per month for their Mover plan. You can provide unlimited downloads and courses to unlimited students.
If you need an affiliate program, then you'll need the Shaker plan at $89 per month.
Plans are discounted when paid annually.
8. Tutor LMS - Best LearnDash Alternative with Minimal Design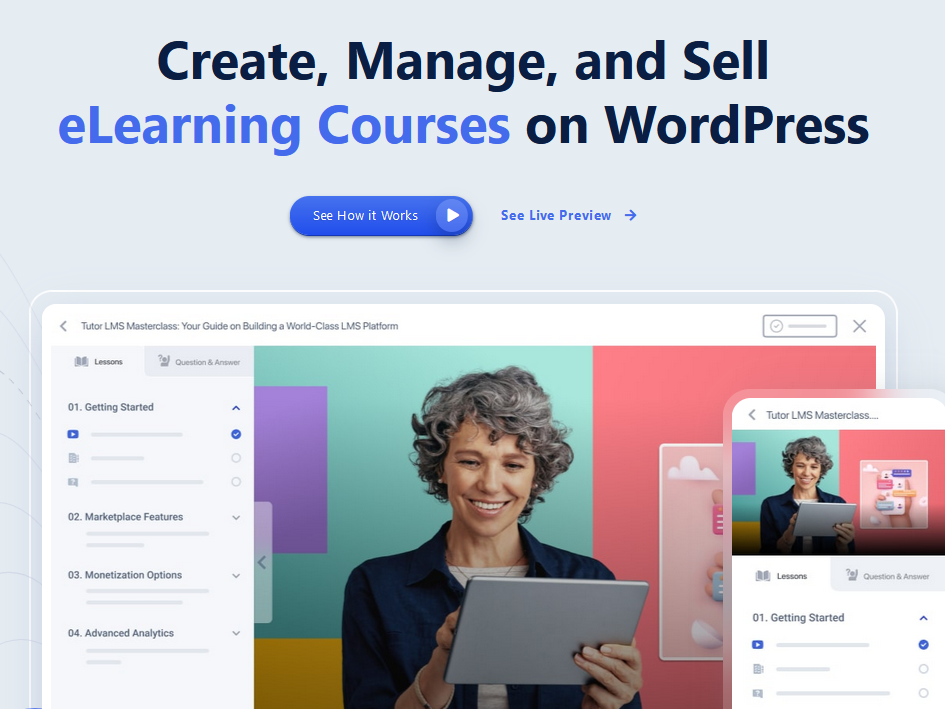 Tutor LMS is a feature-rich WordPress plugin that offers a great alternative to LearnDash.
It has a clean and minimal user interface, making it user-friendly and easy to use.
There's also a free version of the plugin that provides enough for most course creators.
However, the premium packages offer way more options for taking payments, a frontend course builder, drip content, certificates, and much more.
Here are some of the features included in Tutor LMS:
A minimal drag-and-drop frontend course builder enhances the course creation experience
Personalized user dashboard for teachers and students to keep things organized
A powerful quiz creator to help students progress through the content
An event calendar to help learners stick to assignments and stay up to date with a structured learning experience
Host live online classes through Zoom
Improve Tutor LMS functionality with tons of available addons and integrations
Premium pricing for Tutor LMS starts at $199 per year for 1 site. Premium plans also include priority support and free installation.
Tutor LMS also offers lifetime deals on all their plans, which will save you money on annual updates if you decide to use the plugin long-term.
9. Skool - LearnDash Alternative for Coaches and Consultants
Skool is a relatively new hosted platform founded by Sam Ovens, the creator of Consulting.com, an online course for coaches and consultants.
Ovens now focuses on the development of Skool to help course creators build a community and better experience for students.
Skool lets you create and host courses in the same place as your community. It's like a learning management system and a Facebook group rolled into one.
Here's what's included with a Skool subscription:
Profiles and news feeds allow you and your students to share posts, polls, and videos, and leave comments and likes for a highly engaged community
The Classroom is where you create courses for the members of your community
Schedule group events in the calendar for students to attend live streams
Gamification features like points, levels, and rewards incentivize engagement
Send email broadcasts to all members with one click
Chat, notifications, and profiles
Members can chat with other members, follow posts, and get notifications to keep everyone engaged
Has a powerful search feature to find conversations and course content
Track user engagement and growth with the built-in metrics system
Receive 40% affiliate commissions when a student creates their own Skool community
Skool has a simple pricing model of $99 per month. This gives you 1 group, all the features, unlimited courses, and unlimited members for one monthly price.
There's also a 14-day free trial for new members to try out the platform first.
10. Circle - Best LearnDash Alternative for Communities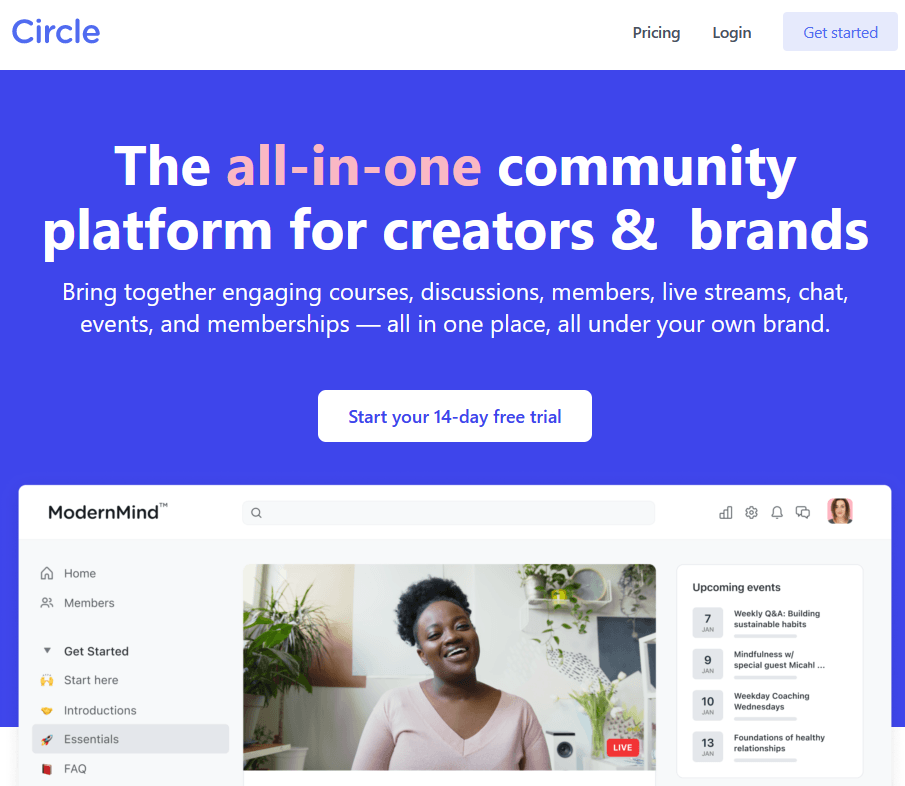 Circle is a platform for creators and brands to create and manage online courses and build a thriving community in one place.
It has everything you need to create online courses, but the platform focuses heavily on community features.
If you're looking for a place to bring your audience together, similar to a Facebook group, then Circle is a great option.
There are tons of features to help you create, engage, monetize, and manage your course platform.
Here are just some of the features:
Discussions and private chat rooms keep members engaged
Group chat rooms and live streams allow you and your students to connect with others
Private messaging lets you connect with students on a personal level
Create paid memberships and recurring subscriptions
Offer free trials and upsells to increase sales
Get advanced analytics to monitor the growth of your community
Circle starts at $49 per month, which gives you everything except courses and live streams.
You'll need the Professional plan for $99 per month to get these features.
Professional also gives you a fully white-labeled experience, advanced analytics, and custom CSS features.
Conclusion
There are many LearnDash alternatives for you to choose from, and this list reviews the best ones available.
For WordPress users who want a self-hosted LMS, the most comparible to LearnDash is LifterLMS. For a budget option without sacrificing on features, MasterStudy LMS is a worthy contender.
If you want a hosted LMS or don't use WordPress, Thinkific is similar in design and features to LearnDash.
Also, be sure to read our full LearnDash review if you're still undecided on a learning platform.
Want to learn step-by-step how I built my Niche Site Empire up to a full-time income?
Yes! I Love to Learn
Learn How I Built My Niche Site Empire to a Full-time Income
How to Pick the Right Keywords at the START, and avoid the losers
How to Scale and Outsource 90% of the Work, Allowing Your Empire to GROW Without You
How to Build a Site That Gets REAL TRAFFIC FROM GOOGLE (every. single. day.)
Subscribe to the Niche Pursuits Newsletter delivered with value 3X per week