Systeme.io Review [PLUS Interview with Founder About Growing to $3 Million a Year]
Last year, I was happy to share the success story of Systeme.io. And today I'm happy to discuss in greater detail in in my Systeme.io review and exclusive interview with founder Aurelien Amacker.
Systeme.io is an all in one platform for building landing pages, sales pages, create effective sales funnels, and even email automation software to nurture leads. Basically a multifunctional marketing software designed to help you grow your entire business.
Aurelien was able to build up the business in this competitive niche by first targeting the market in his home country of France. And we have the updated story of how Aurelien, a non-software developer, built this multi-purpose software tool into a business generating $3 million a year in revenue.
Whatever type of online business you're in, there are many tips that you will be able to take away and apply to your venture.
Systeme.io Free Account
One of the NEW features over at Systeme.io is a free account tier that includes 90% of their premium features.
That's right, 90% of the features are free. The team at Systeme.io has made it really easy to get started with a landing page and to test out the software.
LEARN MORE AND SIGN UP HERE
If you are looking for an EASY way to build landing pages with a drag and drop editor, give a boost to your email marketing, build funnels, and more, Systeme.io could be the answer you are looking for.
---
Systeme.io
Ease of Use -

95

Stability -

90

Customer Service -

95

Price -

100
Summary
Systeme.io provides you with everything you need to start and grow your business. And the crazy thing is that 90% of it is free. It's a freemium tool but even the features that you pay for (if you choose) are much cheaper than competitors!
Try Out Systeme.io for Free
Pros
Easy-to-use
Gives you an incredible number of free high-quality tools to use
Build a list of 1000 email subscribers
Send unlimited emails
Create 3 sales funnels
Unlimited file storage space
Unlimited membership site members
Systems to run your own affiliate program
24/7 email and chat support
Cons
Free version only works with 1 membership site
What is Systeme.io?
Watch the entire video review above to see how the software works and much more. You will see that Systeme really is an all-in-one online business platform.
I've used it and it is indeed a very good:
sales funnel builder
email marketing management
online course hosting/creation tool
affiliate program management
marketing automation tool
The closest thing to Systeme.io is Clickfunnels, but Clickfunnels is $297 a month! I've personally used Clickfunnels a lot and there are definitely issues with it.
Usually, you would need to buy a landing page/funnel builder, then also buy separate software for marketing/email management. I use ConvertKit currently, and 10,000 subscribers would cost $119/month.
With Systeme's free account your first 1000 contacts are free. Three funnels and unlimited emails are all in their free tier. If you want to use a few of their advanced features such as a custom domain or promoting a webinar you'll need their paid version. Which starts at $27/month for the starter tier or $47/month for the webinar package.
But is it any good?
Well, I haven't personally used all of the marketing automation features just yet, but I have built a couple of landing pages and it was very intuitive and easy to use.
Who uses Systeme.io
Really all hopeful or already successful online business owners likely need sales funnels in place for their marketing strategy to work and this is what Systeme.io helps with. Especially when it comes to informational products Systeme.io makes getting started easy.
You don't have to be a guru to get your informational products up running. In a public Facebook post Marco Girgenti tells his story about using Systeme.
"For us it was about freeing up our time completely as money comes in as we sleep. That's the beauty of this, you can decide the model and the kind of lifestyle you want."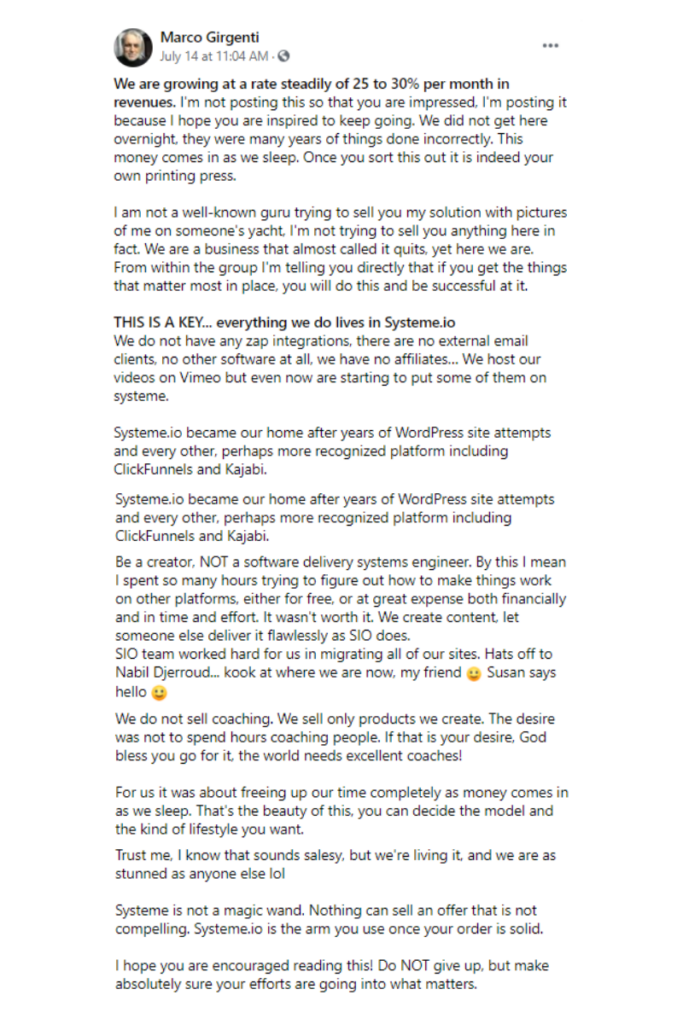 And this is not happening in a vacuum, there are many online business owners out there with good things to say about their experience using Systeme.io.
Systeme.io Review
Here are a few screenshots of what Systeme.io looks like on the inside.
This is a quick landing page I built with Systeme.io. It was super easy to use and required no design skills on my part – I just picked a template and did some editing.
Here's what the editor looks like on the inside.
It's very intuitive and requires no training in order to understand. You can change colors, font sizes, and much more so you have complete control.
You can also easily create automation rules in just a few clicks.
When someone opts into my newsletter, they will be subscribed to an autoresponder campaign and tagged with a tag of my choice. You can also do split tests, see all your stats, and much more. And their marketing automation program is pretty advanced.
Want to create a course?
With Systeme.io, it's extremely easy to create online courses. I spent less than 5 minutes and already had the course design and my logos uploaded to give it a professional look. All I need to do now is add my content.
Here's my example course that I created in Systeme.io. Don't hold your breath though, I don't plan on selling any of my own courses!
However, if I was going to sell a course, this would be a great way to get started. For $27/month, you get everything you need, including marketing automation.
The discount offer for Systeme.io runs for this week only, so be sure to check it out right here.
How Aurelien Grew Systeme.io
First, how about some success screenshots? Aurelien was kind enough to share some of his internal statistics with me. As you can see below, the company is doing extremely well.
What I love is that Aurelien actually uses Systeme.io to power the business of Systeme.io. This is his Systeme.io dashboard that shows how many people are buying his product (Systeme.io).
He wanted to clarify that the leads show a decline simply because they had a huge boost in leads in the previous quarter at the height of the pandemic.
This shows his total sales generated by affiliates (which we will discuss more below). But you can see affiliates have generated about 3 million Euros in sales since he started. Impressive!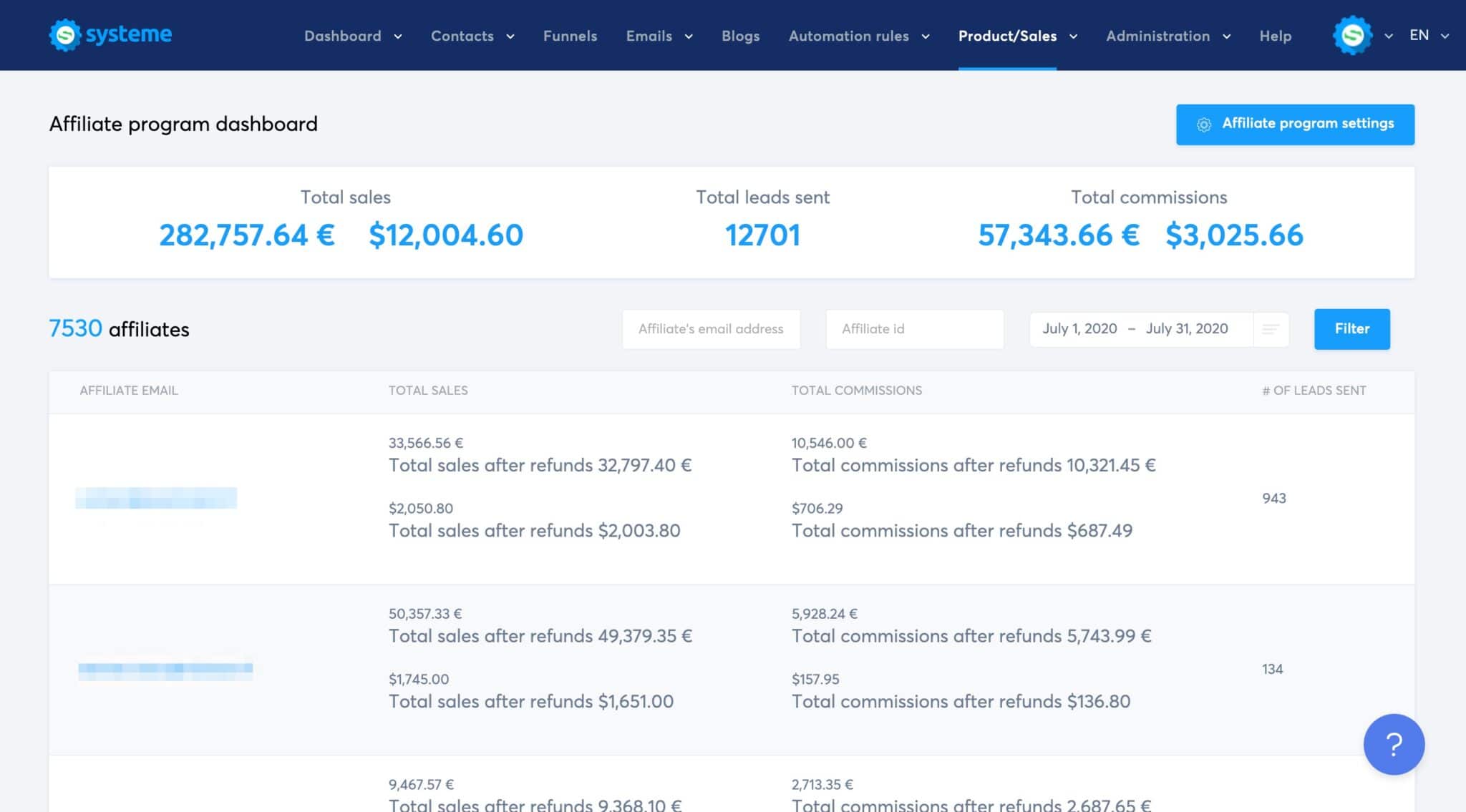 This screenshot shows total sales for the month of July.
282,000 Euros for July.
This Stripe screenshot shows some additional stats.
They also accept payments through PayPal, so this is not their entire revenue. However, this clearly shows that the business is making really good money.
This final screenshot shows the total sales of the business over the last 30 days.
Interview With The Founder Of Systeme.io
Now that you've seen these success screenshots, want to know how Aurelien built the business?
I would recommend that you listen to the entire podcast interview to hear the story in Aurelien's words. However, I've included a brief summary of how he has built Systeme.io to such a large business so quickly.
In Aurelien's own words, here's how the business was built.
How Did You Start Out As An Online Entrepreneur?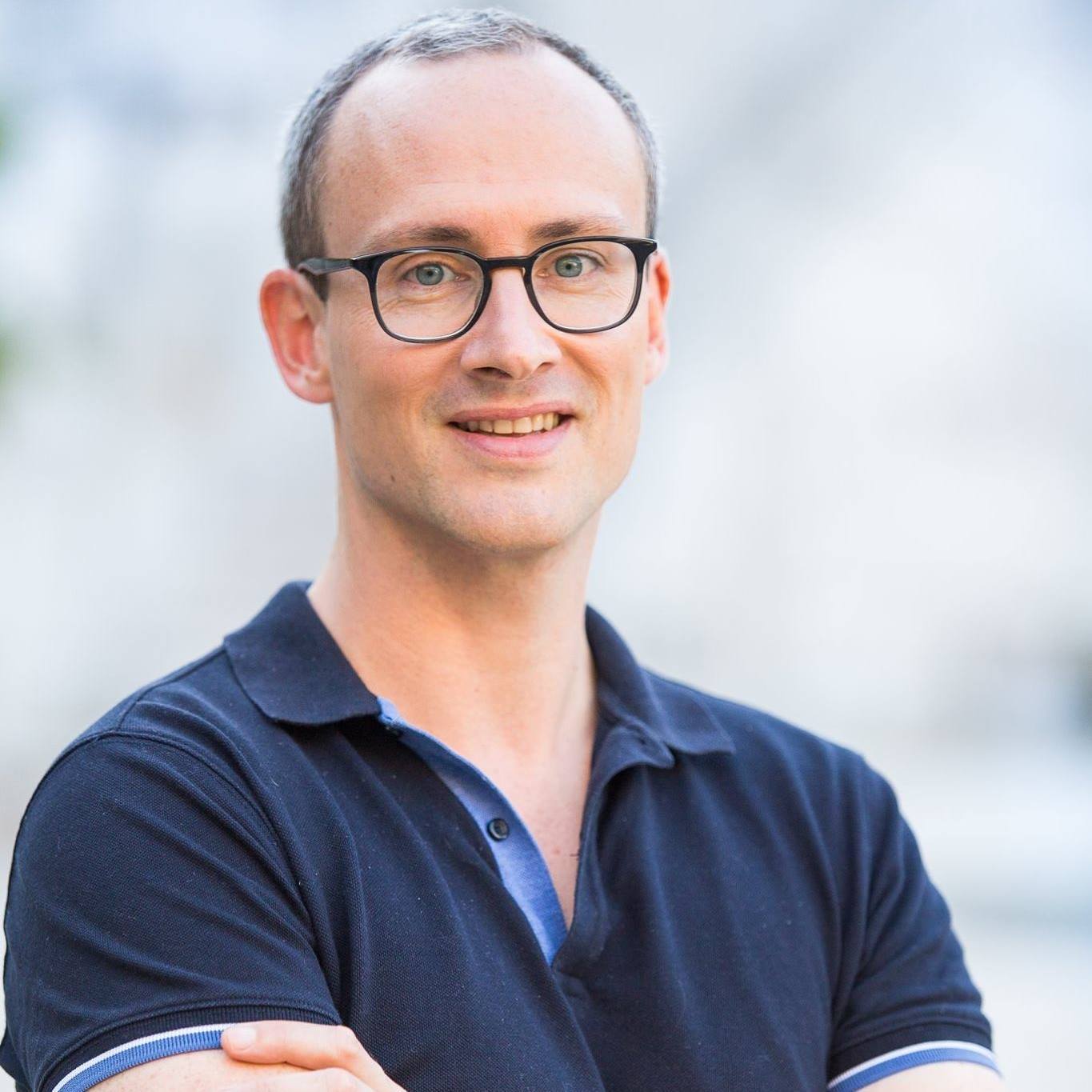 In 2010 I started making money with my blog and reached $1000 a month after 6 months.
Then I hired a marketing consultant to help me launch a course and the next year we did a launch that did $550,000 in revenue. This first course was about how to build a profitable blog. Then I launched many smaller courses on specific topics like SEO, copywriting, how to sell high tickets items, etc.
Next, I joined Jeff Walker's mastermind group for 3 years but never embraced the launch model. I left the group in 2015 and went on my own selling my courses to my list.
Then I decided to build software and started doing that in 2016. With that attempt, I failed by hiring the wrong company to work with. I hired a company in Morroco to build systeme.io and I lost $30,000 and a year of time.
In 2017 I found the right people to do it. We launched systeme.io in February of 2018.
Did you have to build Systeme.io again from scratch?
I had a developer from Bangladesh I was working with who took over the project.
He worked on it for 2 months and then when we used his code, the app stopped working. At this point, I was desperate and started looking for developers on Upwork.
I tried a few that didn't work out, and then I found this guy from Russia.
Right from the start, I saw that I could count on him. Where the other developers were always complaining and coming up with problems, he was always coming up with solutions.
He would tell me "this is gonna take 2 hours," and then 2 hours later it was done.
This is how I learned that in business you have 2 types of people:
the people who find problems or excuses
and the people who find solutions
You want to deal with the second kind!
How successful is Systeme.io today?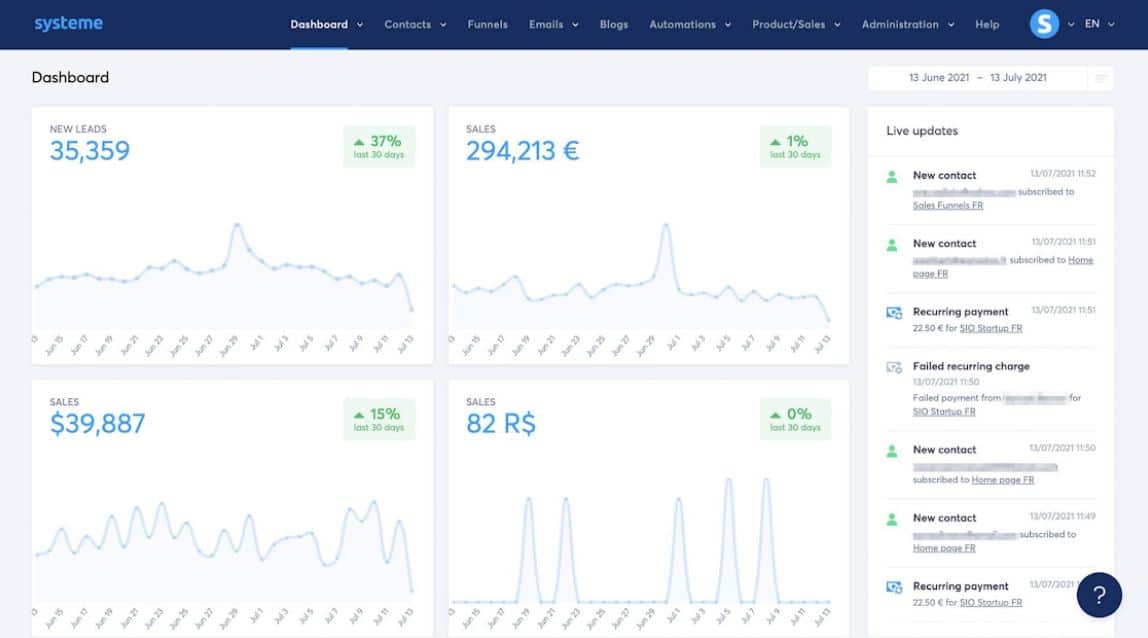 Today there are over 7,000 paying customers of systeme.io so we have a run rate of $2M.
But we sell also online courses and coaching programs so we are going to do $3M in revenue this year (last month we did almost $300k).
What business strategies have contributed to your success?
Our affiliate program has helped us a lot.
We launched it in 2017 and it's been growing and growing. Today it's bringing over $200,000 euros in revenue per month, and our affiliates earn over $65,000 in affiliate commissions per month.
It takes time to build an affiliate program. You have to show your affiliates that they can make money out of it. Then other people see that they are making affiliate commissions so they join the program too.
Most importantly, you want to make sure you are offering people a great product. No one wants to sell something that isn't any good. Affiliates are happy to promote software to their audience if it's useful, helpful, and valuable.
How do you recruit affiliates for Systeme.io?
We use systeme.io to run our affiliate program.
The great thing is that with systeme.io every person on your list has an affiliate ID and can promote your products so it reduces friction to recruit affiliates. For example, someone can join my list and I can send him a follow-up right away with his affiliate link (the same thing if someone purchases).
Also, our affiliate tracking is very strong (maybe the best in the industry actually) because our tracking uses cookies + database. In every email, we send out we add the affiliate ID of the affiliate who referred him to us. This way if the person purchases from a different device or with a different email address we will still reward the affiliate who referred him to us.
We also try to add many new sales funnels for our affiliates to promote (like a free book or a free video), so there are more ways to promote our products and it makes their job easier.
Building an affiliate program is a long-term play, like any other marketing channel it takes time and commitment to succeed.
Where do you hope to take your business in the future?
We are growing fast in the French market (about 6% per month) and in the U.S. market too (over 10% last month).
I would like to reach $10M in revenue in 3 years.
Why should people buy systeme.io?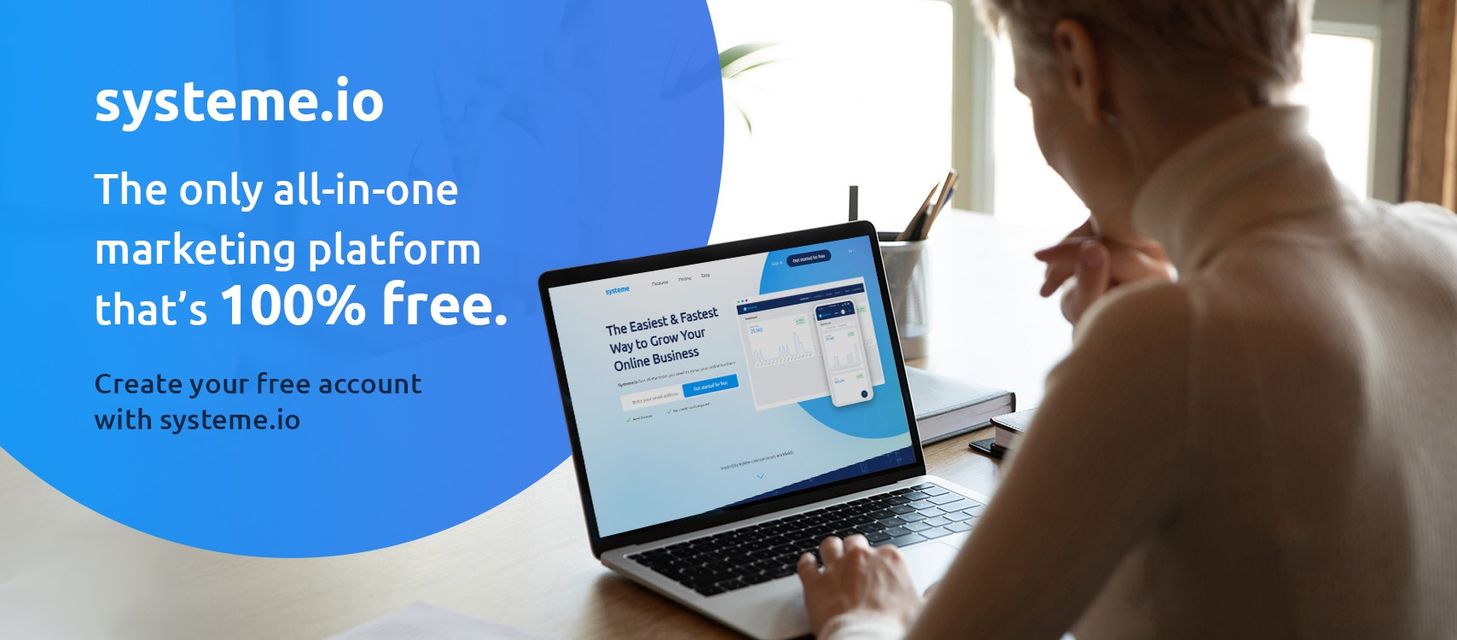 I built this tool because I wasn't happy with the existing tools. Plus, I felt there was a need for a more simple and more affordable option for people launching an online business. So I set out to create a fully functional membership website to do just that.
Our customers say it's easier to use, and it's more affordable, so for them, it's a no-brainer. You can see one recent in-depth review from a very happy customer here in our Facebook group.
Here are all the features of systeme.io:
– Sales funnels builder
– Email autoresponder
– Membership sites
– Marketing automation
– Affiliate marketing program management
SO I know that experts look at this and they think "ok but if there are all these features, it can't be that good."
And I'm like, "ok but in reality, we have 5,000 users who say the tool is super powerful and easy to use."
Remember, we use Systeme.io ourselves to power our entire online business and do over $250,000 in sales per month (sending over 4 million emails).
If you include the fact that it's up to 10 times cheaper than other automation tools, you can understand how we became so successful in the French market.
What tips do you have for those starting out in online business?
I've launched 4 different businesses in my life and I've never failed because I haven't tried to invent something revolutionary.
Each time, I just saw businesses that were making money and I launched my product with my own twist. It's the execution, not the idea, that matters.
For more info, or to sign up for a free account, visit Systeme.io or check out the Systeme.io public group on Facebook.

Everything You Need For a Sales Funnel FREE
90% of all System.io features don't cost anything. Free Account Includes:
1000 email subscribers
Unlimited emails
3 funnels
1 Membership sites
Unlimited file storage space
Unlimited membership site members
Automation
Run your own affiliate program
24/7 email and chat support
Want to learn step-by-step how I built my Niche Site Empire up to a full-time income?
Yes! I Love to Learn
Learn How I Built My Niche Site Empire to a Full-time Income
How to Pick the Right Keywords at the START, and avoid the losers
How to Scale and Outsource 90% of the Work, Allowing Your Empire to GROW Without You
How to Build a Site That Gets REAL TRAFFIC FROM GOOGLE (every. single. day.)
Subscribe to the Niche Pursuits Newsletter delivered with value 3X per week