How Jonathan Lautermilch Makes Multiple 6 Figures/Year Coaching Fitness Pros and Small Biz Owners
When you buy something through one of the links on our site, we may earn an affiliate commission.
When Jonathan Lautermilch started his side hustle in 2018, he didn't know where it would take him. The goal of his business, Smart Shark, was to work with fitness professionals and teach them how to grow their businesses.
The pandemic did little to slow him down, and his business continued to grow, so much so that he launched a second one, Fit Pro Collective, which let him support clients internationally.
His businesses have paved the way for successful books, a podcast, and a live event. Today his two businesses together are bringing in multiple 6 figures per year. And Jonathan's just getting started.
Keep reading to learn more about:
Why he created the business
How he branched out beyond the fitness industry
What services he offers to his clients
His favorite marketing strategies
His thoughts on building a "digital footprint"
His content creation strategy
The resources that have inspired him the most
The tools he uses to run his business
His company's core values
His greatest accomplishment
The biggest mistake he's made
His advice for other entrepreneurs
Meet Jonathan Lautermilch
My name is Jonathan, and I'm the CEO of Smart Shark, a highly sought-after business integration consultancy. I'm also the co-founder of Fit Pro Collective, a business mastermind for fitness professionals.
My mission in life is to help business owners turn their vision into reality.
I have 14 years of business development experience, I'm a best-selling author, and I'm also a co-host on the "Real Talk With Real Fit Pros" podcast.
I have coached thousands of coaches and business owners in starting, scaling, and growing their businesses. I'm also a loving husband and a soon-to-be father. I live in Dallas, Texas.
Why He Created Smart Shark
I started Smart Shark with my wife, Renee Lautermilch, back in 2018.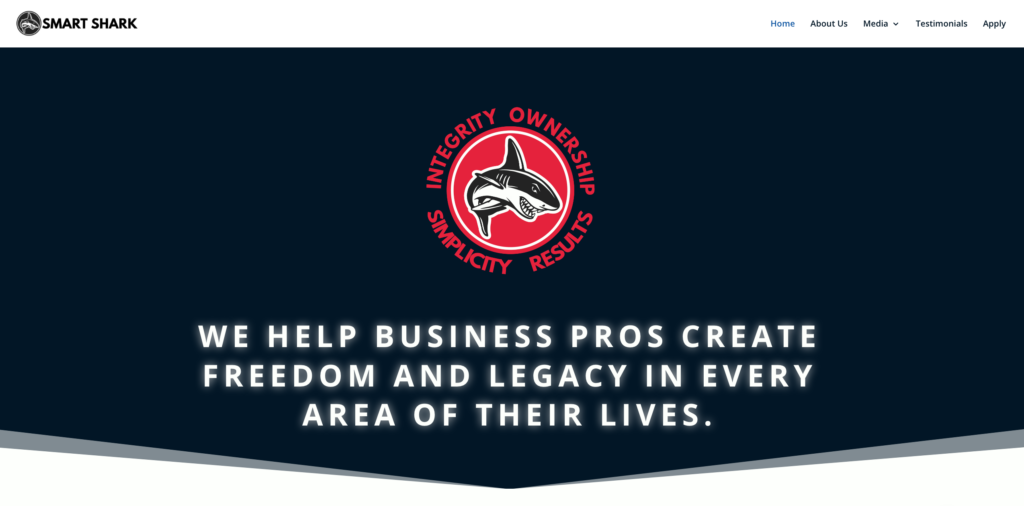 We started this company originally to help fitness professionals grow and scale their businesses online by helping them get clear on who they're looking for, create the systems and processes for their business model, teach them how to attract their ideal clients via social media, and convert them into high-ticket clients.
It began as a side hustle and very quickly became a full-time hustle.
As we began to really grow when the pandemic hit, we ended up creating a separate company called Fit Pro Collective. It continues to serve fitness professionals in more than 8 countries.
This has allowed us, for the past 2 years, to use what we've used to help those in the fitness industry to serve multiple industries with growing and scaling.
We now support those in the trade industries (contractors, plumbing, roofing) and coaches in other industries, such as financial coaches, investors, and mindset coaches.
At the end of the day, we're on a mission to help as many coaches, and small business owners as possible get what they're worth, and it's been an amazing ride so far.
We have served over 200 fitness professionals and more than 100 professionals in other sectors.
How Much Jonathan's Making
We do multiple 6 figures per year and have multiple product and service lines that make up our revenue.
We have a product/service line focused on growth (marketing, lead gen, follow-ups, and sales) and a product/service line focused on scale (core values, SOPS, hiring, training, and development).
We offer digital funnel creation, CRM, website creation, membership site creation, business model development, organic marketing coaching, sales coaching, leadership coaching, SOP development, company playbook creation, and overall business development coaching
Both companies do over 6 figures, which leads to multiple 6 figures. For reference, Smart Shark was created in 2018, and Fit Pro Collective was created in 2020.
Jonathan's Marketing Strategies
Our top strategy is organic marketing on Facebook.
We start with building their attractive character online based on what their niche is. Then we focus on attraction marketing-based content to bring in ideal clients, which leads to building a community for those ideal clients and, lastly, on how to convert them into clients.
We focus heavily on Facebook groups. We help create Facebook groups for coaches and small business owners designed to attract their ideal clients/customers.
We then help them with creating content that elicits engagement and builds trust.
Then we help them develop their USP (unique service proposition) to generate qualified leads and show them how to convert them into paying clients and customers.
The Importance of SEO
SEO helps, but it isn't the main driver.
We use social as the main driver for traffic, and we leverage other people's audiences to create more awareness around our brand and what we offer.
Link Building
We focus on building a "digital footprint," which comes in the form of link building, podcasting, speaking, being featured in the press, and becoming a best-selling author.
We do actively seek out press opportunities. We do what is called "power moves." These are moves you can do one time or require little to no time moving forward, creating an attraction effect.
Examples are writing a book (we have two best-selling books), podcasting, contributing to other publications, and speaking on stage.
Jonathan's Email List
We have over 2,000 people on our list. We email them typically once per week unless we're promoting something. We focus solely on funnels and organically on FB.
Creating Killer Content
My content creation process is based on a method I call "The 80/20 rule" That means 80% is value-based, and 20% is branding/offers. Every Sunday I create and schedule our content for the week.
We publish content 3-4x per day. We write based on what we do but also based on what our audience is interested in: mainly faith, family, finance, and fitness. I write the articles myself. We don't do any keyword research.
His Favorite Resources
I would recommend listening to the podcasts hosted by Grant Cardone, Ryan Stewman, and Gary Vee. Books that have helped me grow include Extreme Ownership, Unfuck Your Business, and Rocketfuel.
Jonathan's Top Tools
I would say My Calendar, GoHighLevel, and Facebook groups for sure.
We use GoHighLevel as our CRM, which serves as the backbone for all of our operations, including email follow-ups, text follow-ups, lead management, reputation management, and retargeting ads.
We use Facebook groups to build our audience on social media.
His Greatest Challenges
My greatest challenge has been learning the right behaviors that success requires when you become an entrepreneur and the mindset behind it.
Four of those behaviors have become our core values.
Integrity: We do what we say we are going to do when we say we are going to do it.
Ownership: We do the work despite external circumstances.
Simplicity: We break down complex ideas into simple, actionable solutions.
Results: We execute winning plays that drive results.
I know if you build these behaviors that it'll lead to success every single time.
Jonathan's Most Important Accomplishment
We were able to host a live event that brought in coaches from all across the US, which has been a dream of mine for nearly 10 years.
We hosted it in Dallas, Texas.
The purpose of this event was to expose fitness professionals to examples of those who truly understand how to win in every area of their life.
We will be doing two more of these events in 2023.
What He Wishes He Knew When He Started
I wish I knew everything would work out in the end and to start falling in love with the process vs. the result.
Jonathan's Biggest Mistake
My main mistake was hiring for where I was vs. where I wanted to go. That one mindset tweak changed everything for us.
As a business owner, hiring is often one of the scariest parts of growing a business. Most people let you down, and it's hard to know who to trust. There's also the stress of managing the responsibility of giving them a paycheck.
So, what happens is the business owner hires someone less qualified so they can pay them less vs. hiring the right person, who may require more.
Bite the bullet and get the right people in the right seats of the business.
His Advice for Other Entrepreneurs
Get clear on what you actually want. Not what your spouse wants, not what your family wants, and definitely not what society tells you to want.
Once you get clear on what it is you want, it's just as simple as building it one day at a time.
Want to learn step-by-step how I built my Niche Site Empire up to a full-time income?
Yes! I Love to Learn
Learn How I Built My Niche Site Empire to a Full-time Income
How to Pick the Right Keywords at the START, and avoid the losers
How to Scale and Outsource 90% of the Work, Allowing Your Empire to GROW Without You
How to Build a Site That Gets REAL TRAFFIC FROM GOOGLE (every. single. day.)
Subscribe to the Niche Pursuits Newsletter delivered with value 3X per week