11 Jobs That Can Make You Rich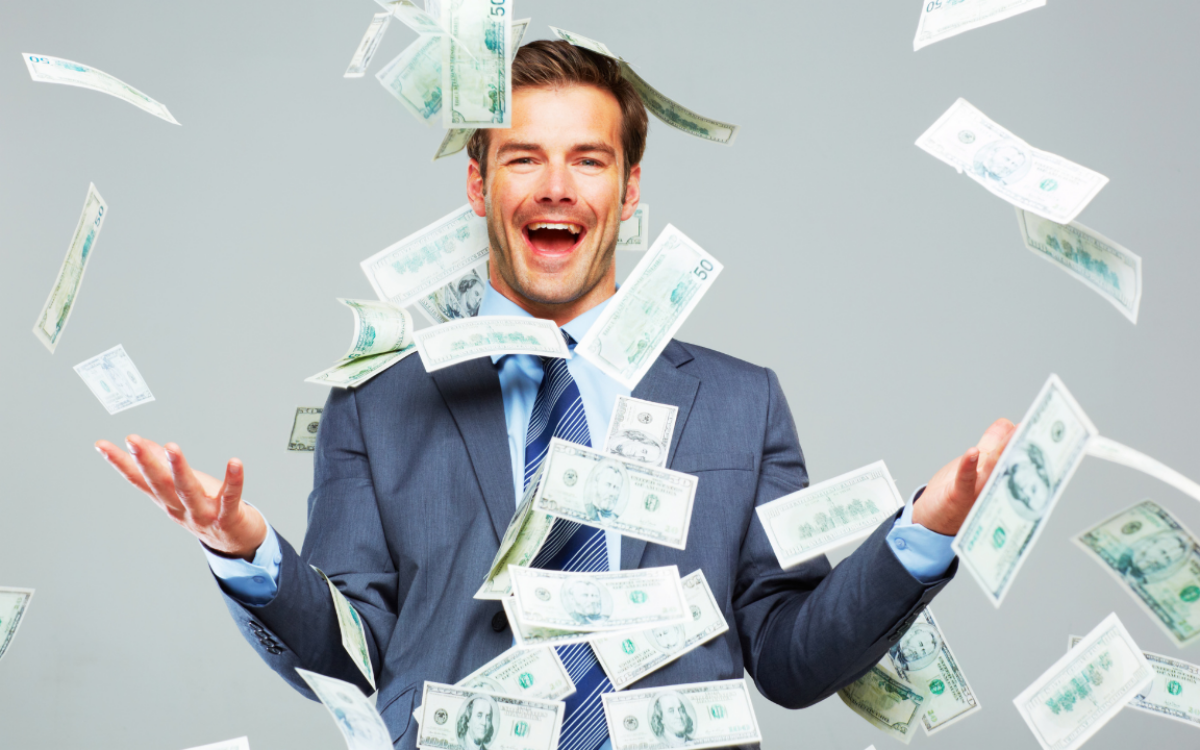 Looking for jobs that make you rich? Rest assured, you're not the only one. Many job seekers are in search of money-making jobs that can make them wealthy.
It can be challenging to learn about jobs that make you rich because there are literally millions of jobs that exist! You want to learn what each job entails, the time commitment, and how much you can earn over the long run. It's a lot of information to sift through, so that's why we've put together this list of 11 jobs that make you rich.
Read about what each job is about, and learn about the annual income and job outlook. You'll also learn about the top jobs that millionaires have!
Let's go!
11 Jobs That Make You Rich
In your search for jobs that make you rich, we've put together 11 high-paying career options because researching careers is tough and takes time. However, there are plenty of opportunities in different industries and locations that have the potential to be millionaire jobs. This high-paying job roundup can get you closer to your goal of being rich.
1. Blogger
We have to mention this high-paying job first because it's what we know best and specialize in!
A blogger is someone who creates written content on a website. Bloggers can create content around a specific niche like food, travel, or finance.
This job is for people who enjoy writing and don't mind sitting in front of a computer all day.
A college degree and experience are not required to be a blogger.
Bloggers make money through:
Affiliate marketing
Advertisements
Sponsorships
Selling products and services
Blogging is one of the best jobs that make you rich, potentially. Additionally, it's also one of the easiest jobs that pay $100k or more because a degree and experience aren't required.
As a business owner, you'll have the opportunity to experience the benefits of business owner life like:
Working a flexible schedule
Work from home
Travel
There are also drawbacks like managing taxes yourself, no benefits, and difficulty managing work-life balance. Also, you want to consider that it's difficult to work as a blogger full-time.
The success you enjoy with blogging is often left up to luck and how much time and money you're willing to invest upfront for potential success down the road. But you can learn some hopeful blogging statistics here!
The most successful bloggers can earn a full-time income from blogging alone. And it can happen quite fast. This blogger, Charlie grew his blog to $5,000/month in just a year! While Forrest Webber earns $40,000/month from his portfolio of websites.
And you must check out this amazing success story podcast interview with Shelley Marmor. She is a relatively new blogger who grew her income from $700 per month in 2021 to multiple six figures in 2022 with a $52,000 month.
2. SEO Specialist
A SEO Specialist is an SEO expert that works with companies and clients to improve their SEO strategy. SEO stands for search engine optimization. It's about optimizing content to appear in top placements in search engines. Additionally, they use their knowledge, experience, and SEO tools to help their clients improve their search rankings.
SEO is very valuable skill which is why it makes our list of high-paying jobs that make you rich.
A SEO-optimized website will brings benefits like:
Traffic generation
Increased brand exposure
Increased earnings
An SEO specialist would fall into a marketing-based career, and marketing careers are expected to grow 10% by 2031. The median salary is $133,380/year.
The great thing is that you can learn everything you need to get going with blogging, affiliate marketing, and SEO by simply following a course like The Affiliate Lab. It's created by multi-millionaire and SEO industry expert Matt Diggity and teaches you everything you need to start, grow, and profit from websites using SEO as your main growth channel.
3. Lawyer
A lawyer or attorney is someone who represents clients in civil and/or criminal proceedings. Lawyers perform a range of tasks, including drafting and preparing legal documents, conducting research, offering advice, representing clients in court, and advocating for their clients' rights and interests.
For example, if you're accused of a crime and facing prison, you would call on a lawyer to help you fight the case on your behalf. Or, if you were wronged by another party, you may get the help of a lawyer to sue the other party for damages.
There are many different types of lawyers because the law is complex. Here are some of the different types of lawyers that exist:
Divorce attorneys
Family attorneys
Criminal defense attorneys
Corporate lawyers
Lawyers are required to go to law school, obtain a law degree, and pass the Bar exam in order to practice law.
Becoming a lawyer can be difficult, with many years of education and experience required, and preparing legal documents but the rewards of helping others and the high pay can offset these drawbacks.
The demand for this career continues to rise over time, expected to grow 10% by 2031, according to the Bureau of Labor Statistics. As a six-figure earner, a lawyer is one of the top jobs that make you rich in our roundup. Lawyers average salaries of $127,990/year.
4. Doctor
A doctor or physician is a medical professional that treats people who are ill and/or injured. There are many different kinds of doctors available because the human body is complex. Doctors choose a medical specialty, and here are some examples:
Pediatrics
Podiatry
Emergency medicine
Dermatology
As with any medical professionals, working as a doctor is stressful, with long hours and many years of training and experience under your belt before you practice medicine. The high salaries and rewards of helping others can make this career worth it for many.
To become a doctor, you'll need to obtain a doctorate degree (8+ years of college).
As the healthcare industry continues to grow, so will the demand for medical professionals. It's expected that this profession will grow 3% by 2031. The median annual salary for a doctor is $200,000/year.
5. Entrepreneur
An entrepreneur is a professional who is self-employed and runs their own business (and there are lots of great self-employed jobs you can do). Many types of entrepreneurs exist in a variety of professions and industries, like:
A retail store
Restaurant
Bookkeeping service
Video editing company
Entrepreneurs can run brick-and-mortar or digital businesses, they can be a freelancer or independent contractor performing services for others, run a retail establishment, and more.
Entrepreneurs don't require experience or a degree to operate a business.
The average annual income for an entrepreneur is around $93,000/year.
6. Pro Athlete
A professional athlete is someone who plays professional sports for a living. Some examples include a professional basketball player, a pro golfer, a pro football player, etc.
Pro athletes earn from a variety of sources including a league salary, endorsements, etc.
The requirements to break into a professional athletic career are based on your talent and natural ability in the sport. The right opportunity and a bit of luck might play a role in landing a pro athlete career, too.
Less than 2% of NCAA student-athletes go on to become professional athletes. It's a very difficult career to break into.
The life of a pro athlete can be challenging, bringing you to physical and mental exhaustion, a life of heavy travel, and dealing with potential injury.
But, the salary can be very well worth it.
Pro athletes will need at least a high school diploma, depending on the sport.
According to the Bureau of Labor Statistics, athletes and sports competitors earn a median annual salary of $77,300/year, growing 36% by 2031.
7. Engineer
An engineer is a professional who plans, designs, and builds structures.
Examples include mechanical engineers, civil engineers, electrical engineers, industrial engineers, etc.
Engineers are strong problem-solvers and don't mind working long hours, which sometimes comes with the job. If you like challenging work that keeps you engaged, look into engineering.
A bachelor's degree is necessary for engineers. Although this requirement may be vague, that's because there are a wide range of engineering degrees.
Nearly every engineering specialization is experiencing growth right now, except nuclear engineering which is shrinking. By 2024, the engineering industry as a whole is expected to add around 65,000 new jobs.
Engineers earn an average salary of around $95,000/year.
8. Actuary
Actuaries use mathematics, statistics, and analytics to assess the financial risk of companies. They typically work with insurance companies, banks, investors, government agencies, hospitals, and other businesses that aim to reduce financial losses.
Actuaries in the insurance industry have work duties like:
Pricing insurance products based on risk level
Creating insurance policies and practices, and
Helping determine if potential customers can be insured
Actuarial careers are less stressful than other careers, with a fairly reliable schedule and the work-life balance. This is one of the best U.S. Careers, according to Money U.S. News.
Actuarial science is a high-income skill that's in demand, making this six-figure career join this list as one of the top jobs that make you rich.
Actuaries require a minimum of a bachelor's degree. The actuary profession is expected to grow much faster than normal, at a rate of 21%. Actuaries earn a median salary of $105,900/year.
9. Investment Banker
Investment bankers work in the finance industry. They provide guidance and advice to organizations and clients. Some of the job duties of an investment banker include:
Providing financial advice to clients
Executing financial transactions
Relationship building
You'll have a long, stressful day but, if you stick with it, your career can be long and rewarding.
Investment bankers require at least a bachelor's degree, and many employers prefer job seekers with a Master's degree in Business Administration. Another requirement for this career is typically 3+ years of experience and licensing, like a Series 7 and Series 66 license.
These careers are expected to grow 10% by 2031. Investment bankers earn a median salary of $62,910/year.
10. Teacher
Teachers are educators, teaching subjects to their students at all levels: elementary school to post-graduate school.
This can be stressful yet, rewarding work. You'll have a stable schedule with summers off and enjoy benefits and community benefits like teacher discounts.
Additionally, teachers are very well-respected members of the community, which is another perk to consider.
Public schools require teachers to have a bachelor's degree.
High school teaching jobs are expected to grow 5% by 2031. And high school teachers earn a median pay of around $61,000/year.
And if you're curious why teaching would be included on this list - just consider the extra time you're afforded. With less working time and summers off, you to get time to dive into blogging, SEO, and whatever other money-making scheme interests you.
11. Manager
Managers work in leadership roles, and their duties usually involve overseeing and leading a department or team and acting as a subject matter expert.
There are financial manager roles, human resources managers, and also positions like Chief Executive Officer, Vice President, etc., although typically, becoming a CEO usually involves obtaining a bachelor's and a master's degree in a field like business administration, along with gaining significant professional experience.
According to the Bureau of Labor Statistics, top executive managers earn a median salary of around $100,000/year.
Management jobs can be stressful and sometimes require long hours and a heavy workload. Also, managers lead teams, and they wear many hats. But, leadership roles are well respected, give you autonomy and control, and have a higher salary, so like all jobs, there are pros and cons to consider about working in management.
Managerial careers are growing by at least 5% by 2031.
What Job do Most Millionaires Have?
When examining jobs that make you rich, what job do most millionaires have?
According to this study, the top five jobs for millionaires are:
Engineer (ex. flight engineer)
Accountant (ex. forensic accountants)
Teacher (ex. college professor or elementary school teacher)
Management (ex. chief executive officer or management consultant)
Attorney (ex. divorce attorney, criminal defense attorney, etc.)
What distinguishes a millionaire from someone who isn't worth millions can boil down to several factors like investment strategy or generational wealth opportunities.
However, it is critical to understand that working in these fields does not guarantee you will become a millionaire. While high-paying careers can help you become a millionaire, it's not the sole factor.
A Final Word on Jobs That Make You Rich
What's the bottom line regarding jobs that make you rich?
High-paying jobs like these examples above can lead to wealth, but, at the end of the day, becoming rich is not guaranteed. You'll want to consider the advantages and disadvantages of high-earning careers like these and which best suit your personality before you make the time and money investment necessary to dive in.
A high salary doesn't always lead to happiness. Factors like job satisfaction, career advancement opportunities, and stress should factor into your career choice.
Becoming rich goes beyond your job. It's about being financially literate, making smart investment decisions, and choosing a career you enjoy because this can lead to long-term wealth in the future. I hope these 11 careers give you some ideas of lucrative jobs to pursue to achieve financial independence.
So ask yourself - which high-paying career will you be pursuing?
Want to learn step-by-step how I built my Niche Site Empire up to a full-time income?
Yes! I Love to Learn
Learn How I Built My Niche Site Empire to a Full-time Income
How to Pick the Right Keywords at the START, and avoid the losers
How to Scale and Outsource 90% of the Work, Allowing Your Empire to GROW Without You
How to Build a Site That Gets REAL TRAFFIC FROM GOOGLE (every. single. day.)
Subscribe to the Niche Pursuits Newsletter delivered with value 3X per week