Is Coinbase Still Legit For People Interested In Crypto?
When you buy something through one of the links on our site, we may earn an affiliate commission.
So you want to start trading in crypto and you've heard about Coinbase. But is Coinbase legit? The short answer is "yes," Coinbase is legit. But there are other factors you should consider.
The world of crypto is still relatively new, but Coinbase has already established itself as one of the top exchanges that allow you to buy and sell digital currency.
While thousands of people have already opened up accounts, thousands more are wondering if Coinbase is the right choice for them. After all, anything that you sync up your bank account to needs to be secure; otherwise, you're just asking to get scammed.
If you've been considering whether or not to jump on Coinbase and start trading cryptocurrency, this Coinbase review is for you.
What is Coinbase?
Founded in 2012 — only three years after bitcoin was invented — Coinbase is a cryptocurrency trading platform. But is Coinbase legit? Well, with nearly a hundred million active accounts and more than $200 billion in digital assets on its platform, Coinbase has become one of the most reliable exchanges on the market.
It is certainly one of the first stops for new users of cryptocurrency. Although it doesn't have every coin on the market, it has many of the most popular ones. Over 100 cryptocurrencies, such as Ethereum, Bitcoin Cash, Dogecoin, and Polkadot, are available to buy, sell, and trade.
And, of course, Bitcoin itself is available as well.
For new users, Coinbase's dashboard is remarkably intuitive and simple to use. Traders can buy, sell, and "hold" their coins over various market conditions.
Experienced users will most likely navigate to Coinbase Pro, which has advanced features and less fees. This platform is an extension of their primary service and is more geared towards leveraged trading and quick purchases that take advantage of volatile prices.
What are the Main Features of Coinbase?
In order to solidify itself as the gateway crypto exchange for many cryptocurrency investors, Coinbase has an extensive list of features. Many of these are geared towards educating users on cryptocurrencies in general, while others allow opportunities for you to increase your holdings.
Library
Almost anything you want to know about cryptocurrencies can be found on Coinbase's extensive library of resources.
Everything from information on specific cryptocurrencies to detailed breakdowns of various trading strategies is all free to consume.
Even if you never actually purchase a coin, it still opens up the window into an exciting and futuristic world.
Rewards
If you want to take your education a step forward, Coinbase actually gives you the opportunity to generate rewards - called Coinbase Earn - by learning about certain coins.
Various cryptocurrencies will have educational content with quizzes attached, which, when completed, reward you with free crypto.
Although this certainly won't make you rich anytime soon, it is fun to get a little bit of skin in the game for free.
Staking
In cryptocurrency parlance, "staking" refers to allowing others to use your tokens in exchange for a fee. This is all done automatically when you stake your coins on a platform.
Users will then collect those coins and deploy them while you generate interest.
It's a completely passive process; the only thing that's required is you walking in your coins for a period of time.
Coinbase staking rewards range anywhere from 2% to 6% per year, which is a nice return depending on how many coins you have.
Accessibility
As mentioned above, Coinbase may not have the widest selection of cryptocurrencies on the market, but it does have most of the ones people want to invest in.
Aside from that, Coinbase also has a mobile Coinbase app that is equally easy to use and allows you to control your account almost as well as you can from the desktop site.
It's a great way to manage your portfolio while on the go.
Is Coinbase Legit and is it Safe to Use?
One of the main reasons people stay away from cryptocurrencies is the inherent risk that digital coins bring with them. In fact, traders have a rule known as "not your keys, not your coins."
This phrase means that anytime you leave coins on the Coinbase exchange or one of the others listed below, you run the risk of that crypto exchange being hacked and your funds being lost.
To their credit, Coinbase has extensive security measures to prevent that from happening. With nearly a decade's worth of experience in the crypto space and unparalleled security measures in place, Coinbase has doubled down on ensuring that you never lose your coins.

Things like biometric logins, data encryption, and two-factor authentication provide numerous obstacles for hackers to overcome.
In the event that the site is hacked, Coinbase has an insurance policy that, in its own words, "endeavors to make you whole." They claim that nearly all of the coins on their platform are held in off-site storage, with only 2% used to handle the daily trading volume.
Still, there's always the chance that the site could be hacked and that you could lose your funds, but most crypto traders are aware of this risk and still decide to trade anyways.
Remember that you are generally responsible for any unauthorized access to your account. Coinbase may choose not to be held liable if your password or identity is stolen.
is It Legit Safe to Invest in Coinbase?
So is Coinbase legit and is it safe? Truthfully, if you choose not to invest in crypto and young Coinbase, it most likely stems from a mistrust of exchanges in general. That's not entirely unfounded, as stories of exchanges being hacked and millions of dollars being lost seem to pop up on the news regularly.
To prevent this, experts advocate holding your coins in a wallet. Generally, this will be what's called the noncustodial wallet, which is software-based. You could also have a hardware wallet that is plugged into your computer.
(If you prefer software, there is a Coinbase wallet that is native to the platform).
In both scenarios, you'll be responsible for remembering (or safely storing) a lengthy password. As long as hackers don't have this password, they can't touch your cryptocurrency.
Of course, this requires the individual to be responsible for their own security. That process may be intimidating to some, but there's no question that it's safer than storing your coins on an exchange.
Can You Make Money on Coinbase?
Is Coinbase legit and can you make money on it? While many people view crypto as nothing more than a "get-rich-quick scheme," there's no question that many people have made substantial amounts of money from buying and trading.
Coinbase offers you the opportunity to be a part of this in a few different ways. First, Coinbase Pro allows you to use advanced trading techniques, such as limit, market, and stop orders. Your trading limits are also higher than on their main platform, and you have more detailed technical information about individual coins and market conditions.
The Coinbase pro fees are also lower than you would find on the regular Coinbase platform.
Coinbase Pro can be a game changer for you if you are into day trading.
The other two ways are much slower but a lot less volatile. You can choose to stake your coins to a network and receive rewards or sign up for a rewards card through Coinbase. Currently, the reward rate is 4% back on crypto when you use the card for everyday purchases.
Whether your goal is to make money tomorrow or over the next decade, Coinbase can help.
What Type of Payment Methods Can You Use on Coinbase?
Many exchanges suffer from not having a reliable payment method for casual users. Not everyone wants to send a bank transfer to an exchange just to buy crypto.
Reliable payment methods are one of the areas where coinbase excels compared to its competition. While you certainly can use an ACH transfer from your bank, you can also link your credit card or debit card to have a more instantaneous transaction.
For users in Europe, local payment methods are available as well. SOFORT is available in certain countries, while iDeal is available in the Netherlands.
Depending on where you live in the world, you should check out all the various payment methods that are open to you.
For users who want to use PayPal, it's a bit of a mixed bag. You can withdraw your funds using PayPal, but you can't buy with PayPal currently. Base is always opening up more methods for their users to buy cryptocurrency, so keep your eye on their website if none of the above options appeal to you.
Does Coinbase Charge a Withdrawal Fee?
Every time you make a transaction on Coinbase or some other cryptocurrency exchange, a fee will usually apply. A typical Coinbase fee is around 1% to convert and withdraw your crypto into cash. Additional fees may apply whenever you send it to another exchange.
Not all of these fees go to Coinbase, however. Many of these are unavoidable when you move crypto around the network. Each blockchain has its own network that needs to be sustained, and some of these fees are paid to "miners" to help secure the network.
For that reason, it can be nearly impossible to predict how much of your money you pay in fees when moving crypto. Coinbase does offer you the opportunity to preview your transactions, though, so you can see what percentage is taken out and how much it costs to send your crypto.
Can You Trade With Leverage on Coinbase?
Usually reserved only for experienced users, leverage trading is the practice of using a small amount as "leverage" to purchase a much higher amount.
The amount that you're allowed to purchase varies depending on the exchange, with some platforms allowing you to buy 100 times the amount you actually have on hand.
Coinbase Pro offers people the ability to trade on leverage, but it's only available to about half the states in America at this time.
You have to meet a few conditions, such as an active account with lengthy trading history and money in your account, but once you do, it should become available.
Coinbase Alternatives
Cryptocurrency is a hot market right now, and many exchanges are trying to get in on the game. If Coinbase isn't the right fit for you, below are a few alternatives for you to try out.
Kraken
Kraken might be the only exchange on this list that is older than Coinbase (2011). It's also one of the most reliable; legions of fans hail it as being secure, easy to use, and customer-focused.
You won't find as many cryptos listed on Kraken as you do on Coinbase, but it does have different coins for you to buy. It also usually has lower fees, and more currencies are represented, which means it's more widely used than just by Americans.
One of the main draws is its extensive list of crypto rewards. Kraken actively encourages its users to store their coins off-site, but for those who want to keep them on the exchange, yearly interest rates are much higher than you would find elsewhere.
Kraken's customer support is also well respected in the crypto community. They don't have many options when it comes to technical support, such as phone service or chat boxes, but their email support is usually quick and effective.
Coinbase support is good too, but Kraken's customer service has long been heralded as one of its major selling points.
In the absence of something catastrophic, Kraken will continue to build its reputation as a reliable yet non-flashy backbone of crypto centralized exchanges.
---
crypto.com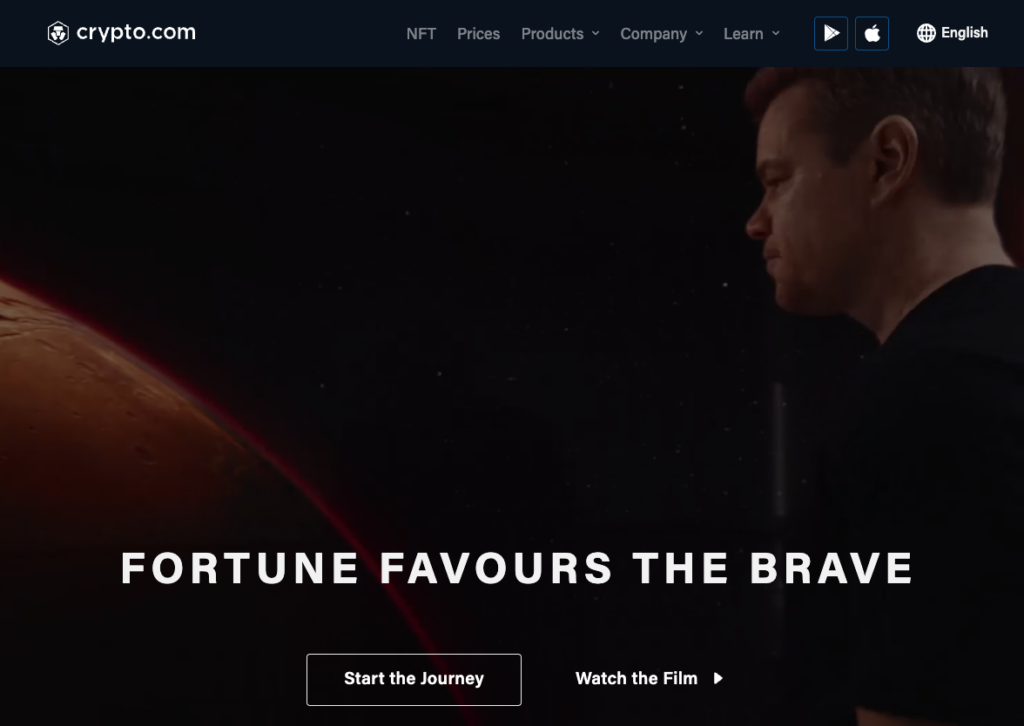 Known for its extensive and high-profile advertising, Crypto.com is one more visible platform to the public. They also have more cryptocurrencies on their network and lower fees than other platforms.
For such a user-focused exchange, it's ironic that their platform is one of the things that people like the least about crypto.com.
Upon first glance, it can be intimidating to know what you're looking at. Experienced users may have less difficulty, but several still complain that it requires a bit of a learning curve.
Crypto.com has its own digital currency called CRO that you can either buy or earn as rewards. It has not been as popular as they want it to be, but it's here to stay and will most likely serve a valuable purpose in the years to come.
---
Binance
Despite not being allowed in all 50 states, Binance is one of the most popular crypto trading platforms in the world. It has one of the widest selections of cryptocurrencies around and has even made inroads into the NFT space.
Binance offers a number of different trading types, such as futures and options, but it's been met with resistance from governments for non-compliance. Still, with low fees in several rewards programs, it's one to consider.
---
Coinbase FAQ
Does Coinbase Report to the IRS?
Yes.
The moment you buy and sell any kind of crypto and the on Coinbase, you'll have tax responsibilities to the IRS. If you gain more than $600 in a year, you'll receive a 1099 from Coinbase that you'll have to take care of when it comes to tax season.
What Happens if Coinbase Goes Bankrupt?
Any investor knows bankruptcy is an option for any company they invest in, and Coinbase is no different. It hasn't happened very often, and with more than $200 billion in customer assets, it seems unlikely to happen to Coinbase.
If it does and Coinbase files for bankruptcy, the assets it holds will be divided amongst the creditors. Once the debts are paid, customers will be able to make a claim as to their specific holdings. Whether you get any money back is circumstantial, but that's no different than any other business.
Should You Leave Your Crypto in Coinbase?
This is a decision that only you can make. Some users are comfortable leaving their entire portfolio on an exchange, while others prefer to move it off as quickly as possible.
To their credit, Coinbase has invested quite a bit into cybersecurity and safety, so the chance of a hack is relatively slim. Still, if the thought of losing your entire investment keeps you up at night, it's not a bad idea to move it into your own hardware wallet.
Can Your Bitcoin Be Stolen From Coinbase?
Aside from a hack, the only way that somebody can steal your money from Coinbase is if they have unauthorized access to your account. For that reason, it was a good idea to have a unique password for your Coinbase account, as well as two-factor authentication to secure your login credentials.
The only other way that somebody could still your crypto is by using the key to your hardware wallet. In that case, though, it's not Coinbase's responsibility, even if they were the exchange you bought the coins from.
Will Coinbase Help If I'm Scammed?
Coinbase carries insurance in the event that its site is hacked and will reimburse you as much as possible in the event of a loss. If it were just your account that was compromised, it would provide assistance, but ultimately it's your responsibility to maintain control of your credentials.
However, they plainly state on their website that "total losses may exceed insurance recoveries," which means that their policy may not be enough to cover your funds.
Since digital currency is not technically legal fiat currency, it's not insured by FDIC. Coinbase will do as much as it can, but there's no recourse if they cease to exist.
Is Coinbase Legit?
Are you still wondering "is Coinbase legit?" As far as cryptocurrency platforms go, Coinbase is as legit as it comes. You'd be hard-pressed to find a more reliable and secure platform for your trading endeavors.
Is it the best crypto exchange? That's up to your own personal financial goals and how comfortable you are with trading a digital asset online. It's not something to be taken lightly; there are always risks when it comes to managing a crypto asset.
Proponents of digital currency argue that it's the way of the future, though, and companies like Coinbase prove that it's a real possibility. Whether or not you trusted with your hard-earned money is up to you.
Want to learn step-by-step how I built my Niche Site Empire up to a full-time income?
Yes! I Love to Learn
Learn How I Built My Niche Site Empire to a Full-time Income
How to Pick the Right Keywords at the START, and avoid the losers
How to Scale and Outsource 90% of the Work, Allowing Your Empire to GROW Without You
How to Build a Site That Gets REAL TRAFFIC FROM GOOGLE (every. single. day.)
Subscribe to the Niche Pursuits Newsletter delivered with value 3X per week