How to Start an Online Tutoring Business in 11 Easy Steps
When you buy something through one of the links on our site, we may earn an affiliate commission.
If you're passionate about teaching and want to know how to start an online tutoring business, I've got you covered. In this article, I discuss private tutoring and outline 11 easy steps to help you create your own online tutoring business.
Whether you are a qualified teacher or a mentor who is passionate about sharing your knowledge about a particular subject… your virtual classroom awaits. To make it easier, I have included the essential strategies, tools, and insights you will need to become an online tutor.
Let's get on with it! It's time to turn your love for teaching into a successful online venture!
Steps to Become an Online Tutor
Being an online tutor really is one of the best flexible work-from-home jobs, but before you unlock your full potential, there are processes and steps to follow to start home tutoring. Some are legal, so pay close attention as you make your way through the steps.
1. Register a Legal Business
The first step to starting your online tutoring business is to register it as a legal entity.
Research the requirements in your jurisdiction. Then decide on the appropriate structure for your business (such as a sole proprietorship, partnership, or LLC). If you decide on an LLC, use a registered agent like Northwest. They offer an LLC formation and registered agent service in every state.
The laws and registration process for sole proprietors, partnerships, and LLCs, vary from state to state. Contacting the IRS is a good place to start.
Registering your tutoring venture as a small business will help you establish credibility. It will also protect your assets and meet legal obligations.
Check out our article on tutoring business name ideas if you haven't yet finalized a name.
2. Identify Your Niches
To market your online tutoring services, it's essential to identify your target niches.
Decide what subjects or areas you excel in and what your expertise is. Consider your educational background, certifications, and teaching experience.
Specializing in specific subjects or catering to certain age groups will help you attract the right students. When you create a clear picture of what you have to offer, you differentiate yourself from competitors.
Remember, the power is in your hands to create the perfect online tutoring conditions that best suit you. This groundwork will be the heart of you loving your job as a tutor and being brilliant at what you do!
3. Snoop On the Competition
They are out there! Thousands of tutors like you are offering online classes.
So take the time to research and analyze other online tutoring businesses in your niche. Look at their offerings, pricing, teaching methods, and customer reviews. This is the fodder you need to thrive.
Get the upper hand by doing some productive snooping on a competitor using a keyword research tool like SpyFu, but more about SpyFu later.
Snooping on the competition provides insights into what works and what doesn't. This is the best way to investigate the tutoring market.
Use your findings to differentiate yourself by offering a unique tutoring experience.
4. Work Out a Business Plan
A well-crafted business plan is essential for any successful tutoring venture.
A thorough business plan will serve as your roadmap, guiding your decisions. It will also help you stay focused on your objectives as you establish and grow your online business.
Your business plan should include information about the following:
Tutoring goals for your tutoring services
Target market for prospective clients
Marketing strategies (check out our post on how to create a one-page marketing plan)
Pricing structure
Private Tutor Insurance
Financial projections
Startup costs for your tutoring company
If you aren't confident to write a business model of your own, you can get help. The local chamber of commerce and government economic development agencies offer support and resources.
5. To Go Solo or Join an Existing Tutoring Platform
Going solo allows you complete control over your business, branding, and pricing. But, it may need more effort to establish your online presence and attract students.
Consider joining an existing tutoring platform if being responsible for all aspects of your tutoring venture is not your cup of tea.
Joining an existing tutoring platform like Care.com or Preply can provide immediate access to a larger pool of potential students. Remember, they do come with limitations and fees.
6. Invest in the Right Tools
To deliver effective online tutoring sessions, you'll need to have the right tools.
Most important, and I will repeat the importance of this point, is using reliable technology tools.
Invest in a reliable computer or laptop, a high-quality webcam, and a headset with a microphone.
Make sure you have stable internet connectivity for seamless communication. Imagine you are the one learning, and your teacher has connectivity issues. Go the extra mile to make sure that never happens for your students.
Choose a video conferencing platform that has features you will need in your virtual classroom. You will want things like screen-sharing, a virtual whiteboard, and recording functions for your online tutoring platform. The most popular platforms are Skype, LiveBoard, Lessonspace, Google Meet, and Zoom.
Consider investing in online collaboration tools, interactive educational software, and learning management systems. This will enhance the learning experience. An online tutoring guide like TutorBird is invaluable and will streamline your processes.
7. Advertise
To attract students to your online tutoring business, you will have to promote your teaching services.
Develop a marketing strategy that aligns with your target audience. Leverage social media platforms like Facebook, Instagram, and LinkedIn. Read our post on the top social media platforms to grow your business.
The more you put yourself out there, the more inclined you are to reach potential students.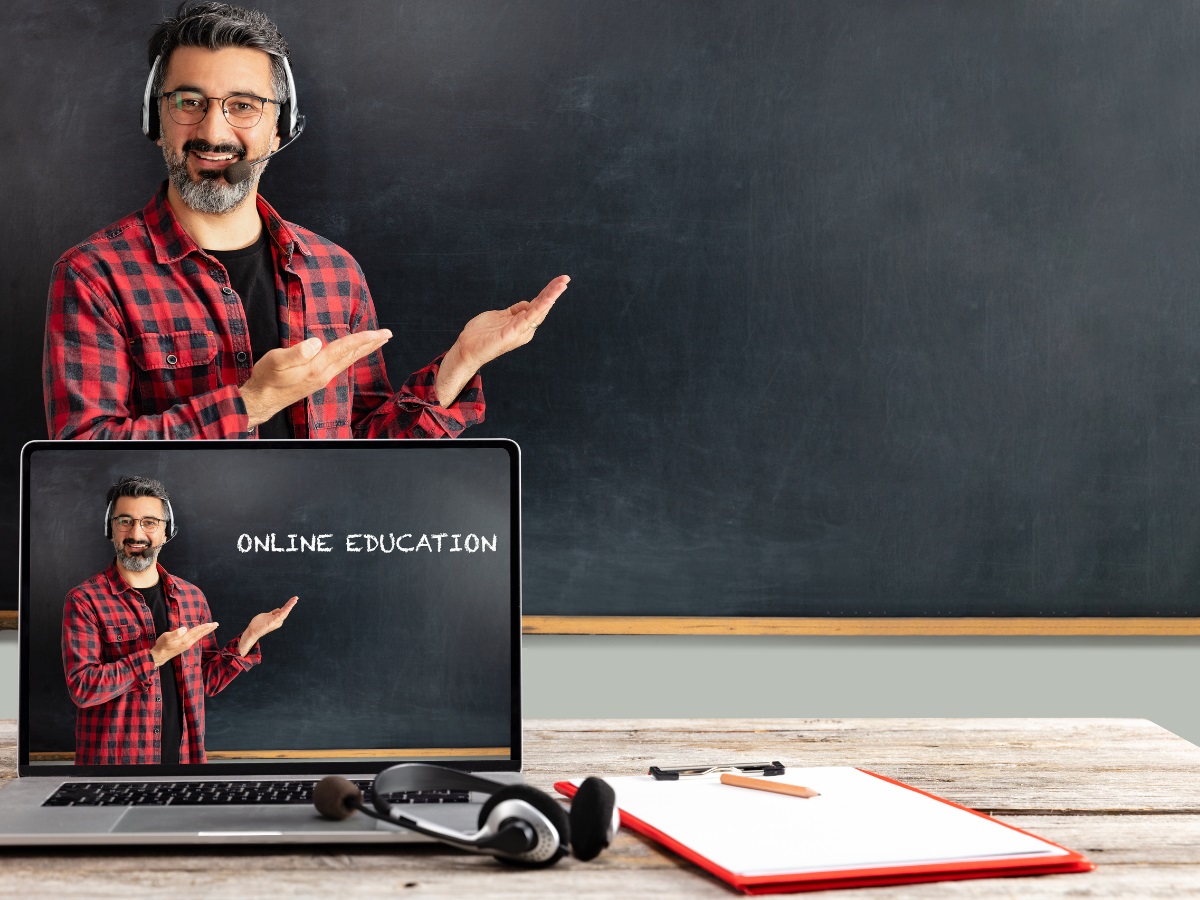 Spend time creating engaging social media content that showcases your expertise. Doing this will highlight the benefits of your tutoring services. It also forms the foundation for the availability of valuable educational resources.
Consider the following:
Run targeted ads for online teaching using the information you find on the analytics tool I mentioned before, SpyFu. SpyFu can provide valuable information about competitors, such as which keywords they are advertising for and whether their long-term investment in those ads is generating profit. This will help you decide whether to invest in advertising or focus on getting organic traffic for the same keywords.
Collaborate with influencers in your field to get practical tips and advice.
Offer a free trial tutoring session to generate interest and build your reputation.
Although online tutors don't need certification, it can improve your chance of charging higher rates. You also stand more chance of landing that dream teaching job we've all heard about. Having tutoring certification from the National Tutoring Association will assure your clients that you can do the job.
Your personal tutoring portfolio can contain all the extras that set you apart from the rest.
Check out our article on tutoring business slogan ideas for help with branding your educational venture.
8. Set Up a Workspace at Home
Creating a dedicated workspace at home is crucial. It portrays a professional environment during your tutoring sessions. My favorite tips to get started are the following:
Choose a quiet and well-lit area where you can conduct lessons without distractions.
If you share your living space, make sure your housemates are willing to keep the noise level down during classes.
Set up a comfortable chair, a clean background, and appropriate lighting.
Ensure that your workspace is free from clutter. Keep all the necessary teaching materials within reach.
Plan a little makeover so you look neat and pulled together for your students.
A professional work environment will create a positive learning atmosphere for your students. It will also help both of you stay focused during the sessions.
9. Create Study Material
Developing comprehensive and engaging study materials is key.
These can include:
Lesson plans
Worksheets
Practice exercises
Interactive resources (tailored to your student's needs)
Consider incorporating multimedia elements such as videos, quizzes, and interactive games. This stimulation makes the learning experience more interactive and enjoyable.
Update and improve your teaching material based on student feedback and evolving educational trends.
10. Forge a Good Relationship With the Parents
If you are going to be teaching children or tutoring students, building a strong relationship with your client is vital.
Be responsive to their inquiries and have open lines of communication with them. It's a good idea to arrange regular check-in meetings to provide progress updates. You can use the time to discuss areas of improvement and address any concerns either of you may have.
By gaining trust and confidence, you increase the likelihood of long-term teaching contracts. It will also get you positive referrals.
11. Track Your Finances
It's important to keep track of your income and expenses to grow long-term success.
Use spreadsheets or accounting software like QuickBooks to track your revenue expenses and calculate your profits. Set aside funds for taxes. Consider consulting with a financial advisor or accountant to optimize your management practices.
A student information system like Modern Campus makes it easy for learners to discover programs, enroll, and pay. It also simplifies the registration experience.
FAQs About How to Start an Online Tutoring Business
Let's take a look at some of the most asked questions to do with how to start an online tutoring business. These include the answers on finding your first students, what is trending in the online learning space, and what to do if teaching isn't for you but education is.
How to Find Students
There are various ways of finding new students for your online tutoring business. You could:
Leverage your personal and professional networks
Reach out to local schools or educational institutions
Advertise your services online
Additionally, consider partnering with complementary businesses, such as educational consultants or homeschooling organizations. This will help you to expand your reach as you grow a successful tutoring business as a private tutor.
What's in Demand?
Subjects that are in demand for online tutoring include English, math tutoring, science, foreign languages, and coding.
You can join the list of varsity tutors and help a college student make an entry-level grade with standardized test prep (SAT, ACT, etc.).
General homework assistance for younger learners is another popular service. Your potential client may need tutoring to help them keep up with their classmates, so having patience and a sense of humor would count in your favor if you decide on this option.
Stay informed about current educational trends and adapt your tutoring service. A great idea is to do market research and identify subjects or areas where there is a high demand but a limited supply of qualified tutors.
Similar Business Ideas to Check Out
If you want to do something that has to do with education, but online tutoring isn't for you, consider exploring other related business ideas.
Here are a few ideas to inspire you:
Start an online course platform, offering courses in different subjects using outsourced tutors.
Become an agent for fellow tutors by starting a tutoring franchise.
Offer educational consulting services. This is where you guide students and parents on educational planning and career choices.
Create educational content, such as e-books or video courses. Read this article on how to grow a 7 figure online course business.
Develop educational software or apps to support student learning.
How to Start an Online Tutoring Business: Our Conclusion
In an interconnected world where technology is revolutionizing every aspect of our lives, how we learn and teach has evolved.
Gone are the days when tutoring only happens in traditional classrooms, although online tutoring is also one of the best side hustles for teachers. Today, the realm of online tutoring, for both tutors and learners, is limitless.
Starting an online tutoring business can be a fulfilling and profitable venture. By following the steps given in this article about how to start an online tutoring business, you can establish a strong foundation for your business.
I end with a reminder to keep improving your teaching skills and to stay updated with educational trends. That way, you will always provide exceptional value to your students.
With dedication, perseverance, and a student-centric approach, your online tutoring business can thrive and be the next success story in the online tutoring market.
Wishing you all the best with your teaching venture!
Want to learn step-by-step how I built my Niche Site Empire up to a full-time income?
Yes! I Love to Learn
Learn How I Built My Niche Site Empire to a Full-time Income
How to Pick the Right Keywords at the START, and avoid the losers
How to Scale and Outsource 90% of the Work, Allowing Your Empire to GROW Without You
How to Build a Site That Gets REAL TRAFFIC FROM GOOGLE (every. single. day.)
Subscribe to the Niche Pursuits Newsletter delivered with value 3X per week