How to Start a Cleaning Business in 9 Steps That Will Actually Turn a Profit
When you buy something through one of the links on our site, we may earn an affiliate commission.
In this article, we will share everything you need to know about how to start a cleaning business.
Whether you're looking to replace your 9-5, or just want a side hustle that will bring you in a little extra money each month, a cleaning business is a great option to consider.
The low startup costs and the fact that people will always need help with household chores are both good reasons to consider starting your own cleaning business.
This article shares exactly what you need to do to get your cleaning business set up, find your first clients, and start scaling your business.
How Much Can You Earn from a Cleaning Business?
The average cleaning business can expect to earn between $30,000 and $50,000 in the first year, although this will depend on how much work you put in and the type of cleaning you will be offering.
However, much like any business you could start, the amount your business will generate each year will vary. It should be expected that in the first year, you won't earn as much as you could in the future once your business is underway.
Your first year will likely have more startup costs, such as marketing costs and setting up your website and booking system.
Like most businesses, your first 12 months will be about building your business and getting a regular client base underway.
If you intend to do all the cleaning yourself, then there will be a limit to how much you can earn. This is because there are only so many hours in the day that you can physically clean. However, if your business grows enough to have cleaners working for you, this will massively expand your earning opportunities.
It is a good idea to plan what you want your first year of business to look like and then what you want to achieve in the future. You should create targets in terms of hours of cleaning and what you would like to earn from your start-up cleaning business.
How to Start a Cleaning Business in 9 Steps
The key to any successful start-up business is to be as organized as possible. A big part of this is having a plan regarding services you want to offer, how you will offer them and what you need to be able to offer these effectively.
Here is a quick look at some steps you need to follow to get your cleaning business off the ground as efficiently as possible.
Step 1: Identify a Target Market and Determine What Services You Will Offer
A cleaning business is no different from any other business, and the target market you aim for is really important.
Do some research into what cleaning services are already offered locally and see if you can identify a gap in the market. This is also a great time to check what other companies are charging, how they are advertising, and even how busy their social media channels are.
Residential Cleaning Business
Helping people around the home with general house cleaning and household chores. Many will ask to have you visit regularly; this could be as regularly as weekly or a little less often. Speak to them about their needs and set up a list of cleaning tasks you will tackle while you are there.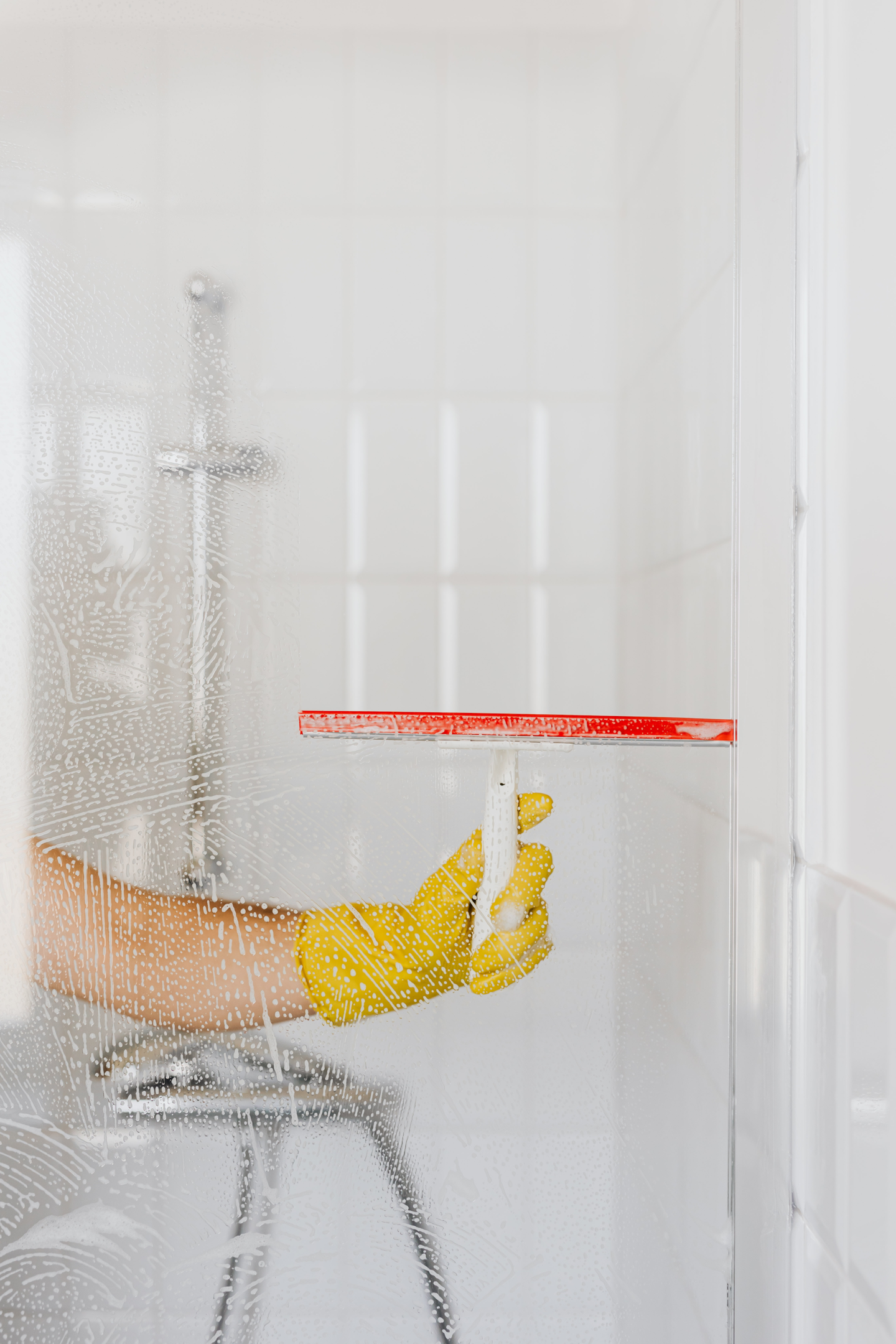 Commercial Cleaning Business
Businesses often want cleaning staff because they know the importance of a clean and hygienic workplace. Office blocks often want cleaners at the end of the day or first thing in the morning. You'll need some hefty equipment to do commercial cleaning jobs effectively, but it can be a particularly lucrative arm of your business.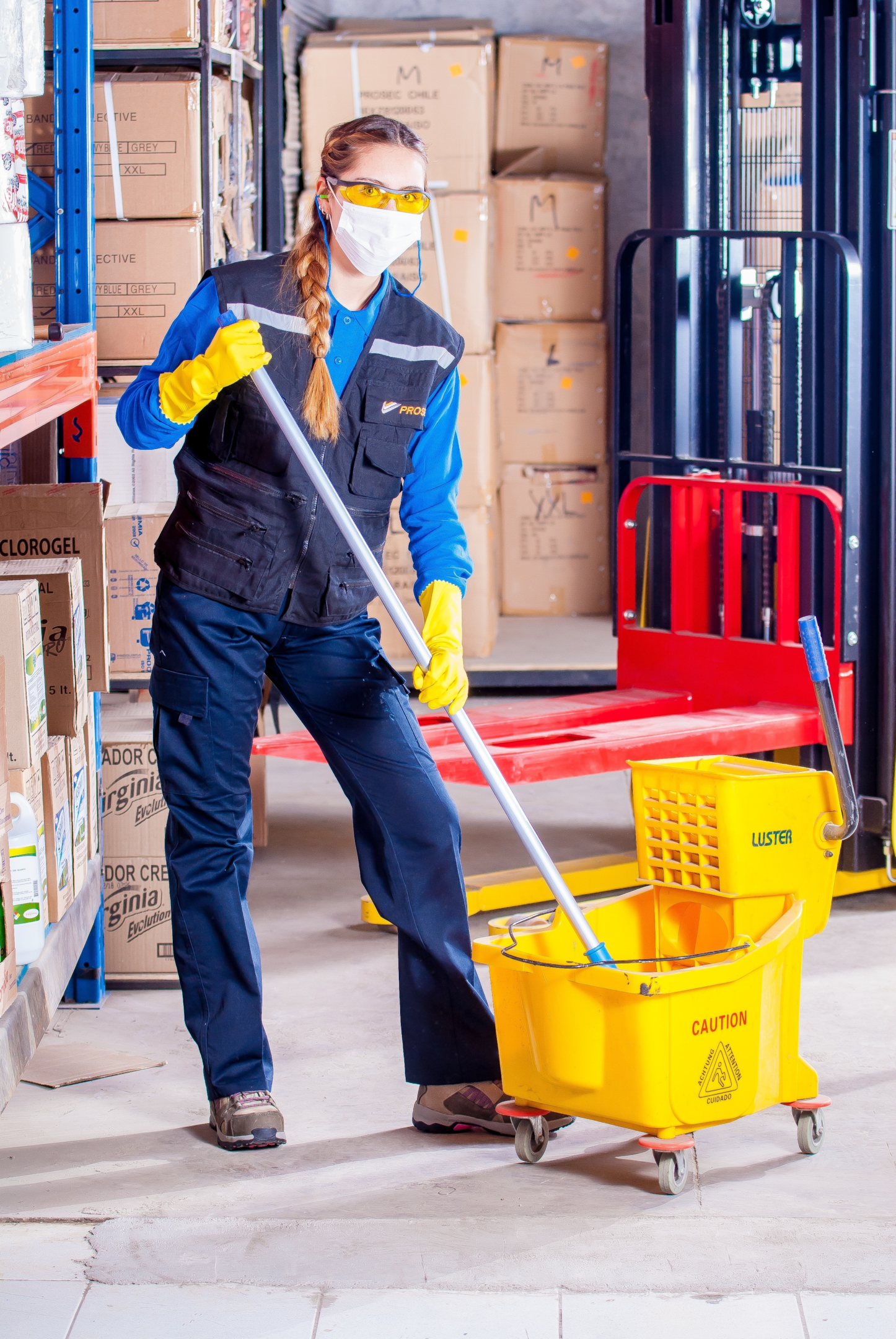 Both Residential and Commercial Cleaning Services
Of course, there is nothing wrong with offering a diverse range of services. Offering a residential cleaning service alongside commercial cleaning services gives you the best possible chance of reaching as many customers as possible.
Step 2: Develop a Business Plan
Having both short-term aims and a long-term business plan is essential if you want to start a successful cleaning business and have it grow in size as your business ages.
It is sometimes worth speaking to business and financial advisors at this stage. They can give you a realistic look at what is possible and share their knowledge and experience.
Some things you'll want to make sure you have a firm idea about are:
Goals. What do you want to achieve now? What would you like to achieve in the future?
Target Market. Who is your audience? How will you reach them, and why would they want to use your services?
Pricing. Look at local cleaning companies that offer something similar to you and perhaps do some market research with potential customers to set accurate but competitive pricing for all of your services.
Marketing. Getting the word out there about your business is essential, so considering a marketing strategy, including websites, social media, and advertising is a must.
Step 3: Obtain any Necessary Licenses and Permits
It is worth getting some advice on the type of business you want to be set up as. Different business structures have pros and cons, so as a business owner, this is something you want to get right. Choices include:
Sole Proprietorship
Partnership
Limited Liability Company (LLC)
For cleaning businesses, setting up an LLC is usually a good option. This offers a certain amount of protection and means that you are not personally liable for any debts or obligations of the business. It will also be necessary if you want to take on commercial clients.
If you decide that an LLC is the right choice for you, you can get this set up for as little as $39 with Northwest.
Other things you will need include:
Business license. Most businesses will require a range of business licenses and permits, so getting this sorted sooner rather than later is a must. Some of these will involve paying a fee, so researching this in advance can help to avoid any nasty surprises. If you are hiring staff or setting up as a franchise, then this will require extra forms too.
Tax ID number. You will likely have your own social security number and/or taxpayer identification number. However, if you don't, arranging these is the first place to start. There will be various federal and state tax ID numbers that you'll need too, such as an Employer Identification Number (EIN).
Liability insurance. As you'll be dealing with members of the public, liability insurance is a must. This protects you should anything go wrong. There are, of course, other insurance options that you can look at on top of this, which are worth investigating and considering too.
Step 4: Set up a Website and Booking System
Setting up a website and allowing people to book online is one of the best ways to encourage customers.
These days consumers tend to like easy options, including being able to book at a time that suits them with ease. A website allows potential customers to browse your services and decide whether they want to use you or not.
It's easy to set up your own website. You can do this yourself using WordPress along with a good-quality theme. By doing it this way, you can have your website up and running in a matter of hours.
First, you will need to choose a domain name. You should choose your business name for this, if possible, to make it easy for clients to find your website when they need to.
You can purchase a domain for as little as $0.99 with Namecheap.
Next, you will need to choose a hosting provider for your website. Iridium is a great option for managed WordPress hosting. If you're on a tight budget, then Bluehost is another good option.
Once you have signed up with a hosting provider, you can install WordPress and start creating your website. WordPress is easy to use, so even if you're a beginner, you shouldn't find it too difficult to get set up.
However, it is important to remember that your website showcases your business. If you don't feel as though you'll be able to do it justice, there is nothing wrong with hiring a web design company to help.
When setting up your website, you should consider the customer journey and what touchpoints they are likely to have with your website. This allows you to ensure that everything is as smooth as possible.
Anything on your website that is difficult to navigate or doesn't load as it should could encourage them to look with one of your competitors, resulting in lost business for you.
Check out our in-depth article on how to create a website for your business.
Best WordPress Theme for a Cleaning Business
Choosing the right WordPress theme is essential if you decide to build your website yourself.
Not only does a great WordPress theme show off your services to their full potential, but they usually have a much easier-to-navigate user panel too. This is great for any website changes and adaptations you might need to make in the future.
The good news is that there are some fantastic WordPress themes that are designed for businesses that offer cleaning services. Finding one that you love and suits your needs should not be too much of a struggle. Themes worth checking out include:
Astra. A multipurpose theme is perfect for anyone who wants a stylish homepage and even a separate landing page for special offers.
Clenix. With over 20 templates designed for cleaning businesses, plenty of choices are provided. This makes it easy to find one that suits your business and branding.
Avada. A theme designed specifically for cleaning companies. It includes a range of demos for you to browse through and templates for you to pick from.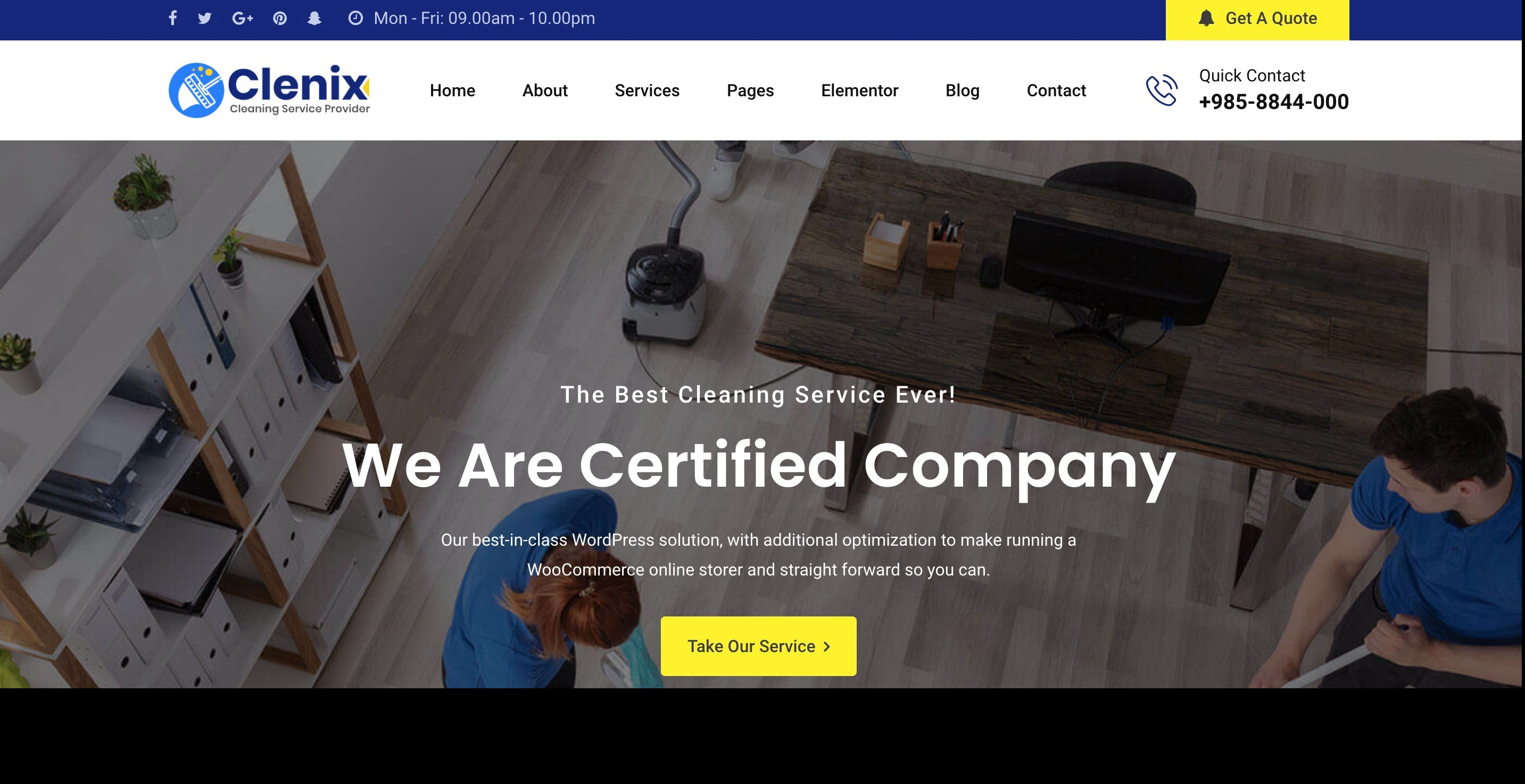 Best Online Booking Software
Taking bookings online is essential for the success of your business. However, you will also want software that is able to manage bookings that come in from elsewhere.
On top of that, as well as allowing people to book directly, it is ideal if the software helps with diary management too. That way, you can be sure if something is booked already and rely on the software to ensure that appointments can't be double booked.
Managing your diary is essential to ensuring that your business runs smoothly. The chances of you remembering everything and being able to juggle everything manually are slim!
The good news is that there are a few good options to choose from regarding booking software. This means that finding one that suits you and your business should not be too much of a struggle.
Maidily. This is a cloud-based software designed specifically for residential cleaning companies. Once set up, it can help with invoicing, quotes, booking management, and even customer management. It should take a lot of stress and admin off of your hands.
SimplyBook. SimplyBook is an online scheduling app that's perfect for cleaning businesses. It even has a free plan available to help you get started!
Jobber. Another software solution that is designed especially for cleaning companies. As well as quoting and scheduling it helps with invoices and other business admin that comes with running a cleaning business.
Best Accounting Software For a Cleaning Business
Keeping on top of money in and money out is essential for any business, and running a cleaning business is no exception. After all, you need to make sure that you have the cash flow for purchasing things like equipment and cleaning products.
Sending invoices and tracking when they have been paid is essential, and once your business is up and running, it becomes much harder to manage manually. This is why choosing the right accounting software for your business is essential.
ZipBooks. If you plan for your cleaning business to simply be a small side hustle then ZipBooks is great. It's a free piece of accounting software designed for businesses with only a small number of clients.
QuickBooks. QuickBooks is a popular software that deals with accounting for businesses of all sizes. As it is so popular, it often integrates with other software, such as your booking app, which can help to make life much easier.
Xero. This is another accounting software name that will be familiar to many. It's great for cleaning businesses looking to streamline all of their bookkeeping into one easy-to-manage place.
Step 5: Set Your Rates
Deciding what to charge your customers can be the difference between success and failure.
Obviously, in business, the goal is to make a profit. However, it's not as simple as charging a high price for your services.
Initially, when you are starting out, you need good customers to give you good references to obtain new and possibly better customers. Getting those customers should be your primary focus initially. To achieve this you need to place yourself competitively within your competitors' price range.
Carry out competitor research and ensure you are comparing a like-for-like service. You will most likely find there is a spread of cost from the lowest to the highest, with a concentration of pricing around the median point.
To take your own business running costs into account, you will need to project your fixed costs over time.
Things to bear in mind when making these projections are:
Tools and cleaning equipment
Vehicles
Cleaning products
Uniforms
Marketing
Booking and accounting software
Business insurance
Make your projections over a year, and then divide them by the number of days you intend to work or the number of days you intend your employees to work.
On top of these fixed costs, you need to apply your variable costs, things like fuel for your vehicle and any consumables likely to be used. Add this daily figure to your fixed costs. You now have a baseline cost per day.
Your baseline costs do not afford you any profit, look at the local cleaning market pricing analysis that you have previously done and work out a high and low daily figure. By removing your fixed costs, you can get an idea of where your profit will likely lie at each price point.
Step 6: Purchase Necessary Equipment and Supplies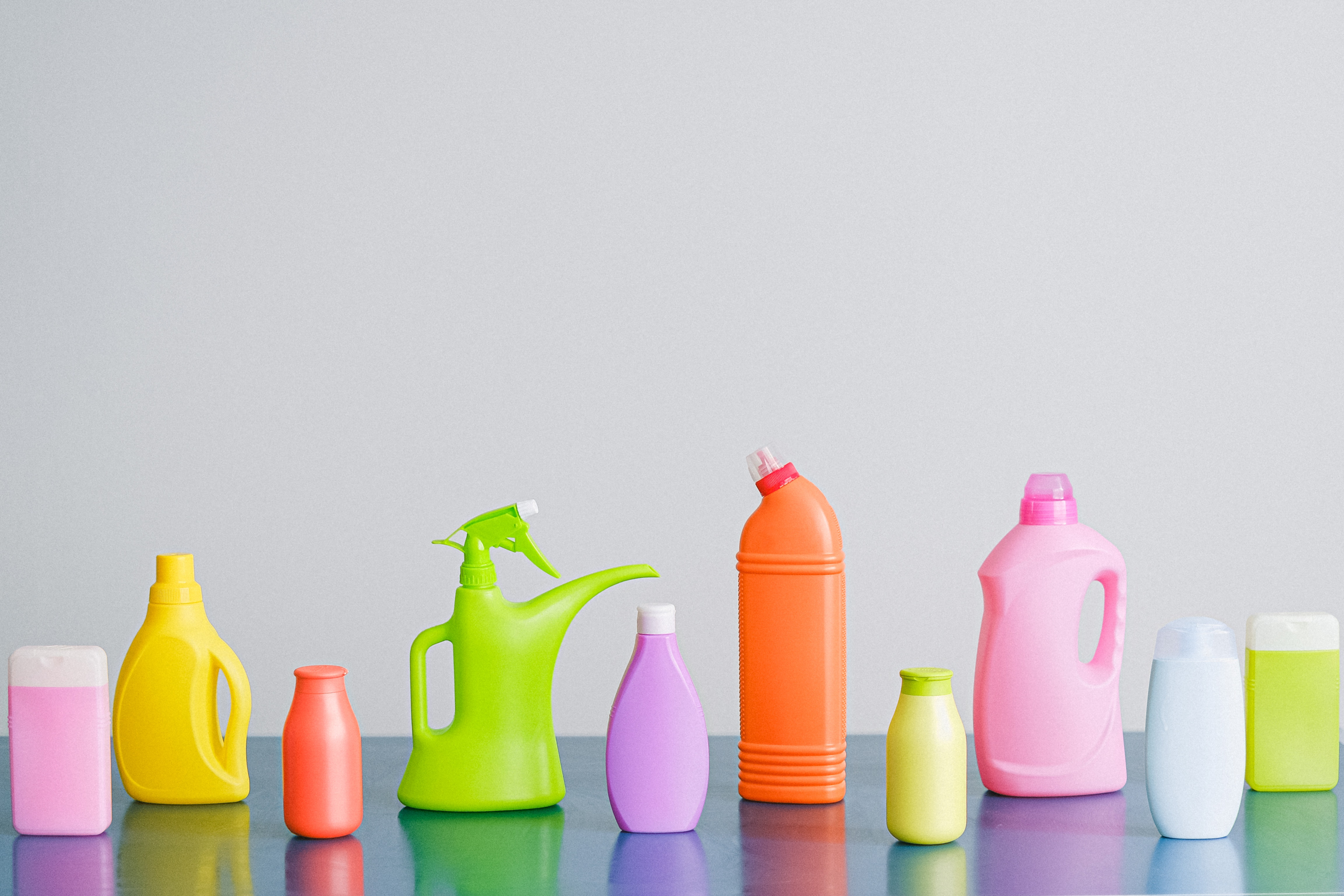 Although start-up costs for a cleaning business are low, you will need some things to get started.
Some of this will depend on whether you're offering residential or business cleaning services and the type of cleaning that you are offering.
Purchasing equipment will likely be your biggest expense. If you are on a limited budget, then looking at preowned options can be a money-saver to get you started.
Cleaning supplies and products should always be bought in bulk wherever possible. This gives you the best possible chance of buying products at the lowest cost.
Step 7: Create Marketing Materials, Such as Flyers or Business Cards
Designing flyers that can be delivered through people's doors or business cards that you can hand out when networking with the right people is essential.
Work on these being designed in line with your business branding and make sure they have all of your contact details on, and you'll be able to use this to market your business wherever necessary.
Step 8: Finding Clients
It is all well and good setting up your business, getting the necessary licenses and permits, and purchasing the equipment you need to get started. Still, without customers, your business isn't going to be very successful.
Setting yourself up in the right position to generate custom and encourage new customers from the get-go is essential. However, you also need a longer-term plan to ensure that your business continues to grow.
Advertising. Looking into local advertising opportunities is a must. Get involved in local projects, sponsor local events and look at paid advertising options so that as many local people as possible can hear about your business. Handing out flyers and delivering leaflets through doors in your local area is also a great way to generate new business.
Networking. Networking with businesses so that they are aware of your services is a great idea too. For example, make friends with local real estate agents and make them aware you're on hand to help with any last-minute cleaning needs they have.
Online. The internet and social media should be a massive part of your process of finding clients. Tackling SEO so you can be found online and navigating social media to attract the attention of potential clients is a must.
Step 9: Train Your Employees on Proper Cleaning Techniques and Safety Protocols
At some stage, when your business grows, you'll need to look at employing staff to take on some of the workload. This is an exciting time for any business, but one that you'll want to get right.
Double-check that all your business permits and licenses cover employees and that you have the relevant insurance.
Once you have picked your team members, giving them sufficient training to do a job well and be safe while doing it is essential.
It is worth developing a training booklet or document they can refer to if needed. On-the-job training and regular refresh sessions help keep everyone safe and protect your business's reputation by ensuring that everyone is happy with the work carried out by your employees.
The Pros and Cons of Starting a Cleaning Business
Low start-up costs

Most of your ongoing costs are fixed

It's easy to start up quickly

You can work alone

Pick your own hours

Not much experience is needed to get started
Low start-up cost can mean lots of competition

Tough physical work if you are doing it all on your own

Running your own business can be stressful
Is Starting a Cleaning Business Worth it?
Starting a cleaning business will be different for everyone. However, if you are looking for a viable business venture that you can start sooner rather than later, then a cleaning business is definitely worth considering.
Just check your local market competition and ensure that you do what you can to carve yourself out a space in the gap and continue to work hard, and you have every chance of launching a successful cleaning company.
Want to learn step-by-step how I built my Niche Site Empire up to a full-time income?
Yes! I Love to Learn
Learn How I Built My Niche Site Empire to a Full-time Income
How to Pick the Right Keywords at the START, and avoid the losers
How to Scale and Outsource 90% of the Work, Allowing Your Empire to GROW Without You
How to Build a Site That Gets REAL TRAFFIC FROM GOOGLE (every. single. day.)
Subscribe to the Niche Pursuits Newsletter delivered with value 3X per week