Hostinger Affiliate Program Review: Can You Make Good Money?
Encouraging your audience to sign up for their own website is one way to make major cash with your niche site. While most people have heard of the Bluehost affiliate program, Hostinger offers another option as one of the fastest-growing brands. What do you need to know about the Hostinger affiliate program before you decide on a web host to promote?
In our Hostinger affiliate program review, we will dive into some of the details including:
Quick facts about the company
Who benefits from the Hostinger affiliate program
Pros and cons of the platform
How to promote Hostinger on your site or social media
Alternatives to Hostinger
If you are ready to learn more about how you could be earning money, here is what you need to know!
Sign up for the Hostinger affiliate program here!
Hostinger Affiliate Program Application
---
Hostinger Affiliate Program Review
Ease of Use -

90

Stability -

100

Customer Service -

100

Price -

80
Pros
Great brand recognition
Free marketing tools
Excellent customer service
Cons
Short cookie duration
Mediocre commissions
No deep links
About Hostinger: Quick Facts
Founded in 2011, Hostinger provides high-quality hosting services aimed at developers and their customers. This brand is based in Lithuania, but that doesn't mean that they don't have excellent customer service for those of us who live Stateside.
Their rapid growth indicates that more people than ever are turning to Hostinger.
In fact, they were named the one of the fastest-growing hosting brands for 2020.
They have a few things that set them apart as a hosting company including management tools, faster website speeds, and 24/7 customer support.
Here are a few quick facts that should help you decide whether the Hostinger affiliate program is the right fit for you:
Despite their inexpensive web hosting services, you can see that this company provides millions of users with their service. Their overall growth is one of the main reasons you may want to get in now with their Hostinger affiliate program.
Does Hostinger Have an Affiliate Program?
If you cater to a tech-savvy crowd, you might be interested in the Hostinger affiliate program. They offer a percentage commission per sale model through several of the big names in the affiliate marketing world including Impact and CJ Affiliate.
As a Hostinger affiliate, you earn at least 60 percent from every sale that you drive back to their hosting platform. Hostinger boasts that their program is incredibly simple to join with the signup process taking just minutes.
You can access their control panel to optimize campaigns, market with their banners, and earn a tidy sum for your referrals. The best part is that it is completely free to join their affiliate program, as most of the best programs are.
Who Can Join the Hostinger Affiliate Program?
The good news is that the Hostinger affiliate program is open to just about anyone. It takes just a few minutes to get started, and the only requirements are that you must have a platform on which to share your affiliate links.
This doesn't necessarily have to be a website; they also permit YouTube channels as an avenue for earning affiliate credit.
However, it can be helpful to have a website and to have it hosted by Hostinger. It is much easier to sell your readers on the service when you have intimate knowledge of how well it works. You can get WordPress hosting for just a few dollars per month.
For those who want a website but aren't sure how to go about it, Hostinger makes that easy too. You can follow along with their tutorials to get up and running in no time.
Hostinger affiliates can also use all types of social media for additional eyes on your marketing push to earn commission. They permit Twitter, Facebook, and Instagram as well as all types of email marketing.
Hostinger Affiliate Program Quick Facts
Before you sign up with the Hostinger affiliate program, you need to know what you get for your partnership with them. This can be a lucrative way to earn money online and a Hostinger affiliate program review should give you a quick overview.
Let's take a look at the basics you need to know:
Services: Web hosting (including cloud hosting and WordPress hosting)
Commission: Single payment
Commission rate: 60%
Cookie duration: 30 days
Affiliate Platforms: Tune, Impact, CJ Affiliate
Pros
Free Marketing Materials
If you want to promote the Hostinger affiliate program but lack the creativity to come up with your own banners and marketing materials, you are in luck. Hostinger provides plenty of affiliate assets that make marketing simple. Their offerings go beyond just the basic banners and also give you access to:
Multiple versions of the logo (white background and colored background)
Screenshots
Infographics
For niche website owners whose primary audience is not in the United States, you can also access banners in 31 languages for global use.
Great Customer Support
No matter which affiliate marketing platform you intend to use to manage your Hostinger affiliate program, you get great customer support with a dedicated team. You also benefit from great tools to manage the commissions you earn such as:
Tracking commissions
Checking conversion rates
Performance reports and graphs
All of this allows you to better understand what you are doing well and where you have some room for improvement.
Brand Recognition
There is something to be said for representing a well-known brand, allowing you to score higher conversion rates because your audience trusts Hostinger.
They provide several different solutions that give your audience exactly what they need to get their website up and running in a cost-effective manner.
Whether they are looking for WordPress hosting, cloud services, domain registration, or something more technical, Hostinger is likely to have a solution that will work for them.
Cons
Short Cookie Duration
30 days may seem like a generous cookie duration for something as inexpensive as web hosting services. However, you can get much longer cookie durations with the affiliate program available through well-known competitor Bluehost. The Bluehost cookie duration is an incredibly lengthy 90 days, making it more likely that you will get the sale and earn the commission.
Lower Commission Rates
When it comes to commission, you might be missing out by promoting the Hostinger service on your website or social media. They pay just 60 percent of the sale which sounds like a lot, but the services offered tend to be relatively inexpensive.
For example, the basic WordPress hosting package costs $3.99 per month ($47.88 annually). This means that you will make roughly $28 from a single sale.
Consider the payouts for other top brands such as Bluehost ($65 per referral) and Hostgator (up to $125 per referral). Since you are receiving just a one-time payout, you want to maximize your earnings.
This may be a solid reason to look into some of the Hostinger alternatives if you want to make as much as possible with reliable web hosting.
In addition to lower commission rates, Hostinger also puts a cap on what you can earn. If you sign up through Tune, there is a $300 maximum, regardless of the service or price that your audience signed up for.
No Deep Linking
Another downside to the Hostinger affiliate program is that it does not offer deep linking. This would allow affiliate partners to get commission by linking to any page on the Hostinger site.
Without deep linking, affiliates can only send their audiences to the home page and expect them to navigate around accordingly.
This could be costing you sales if you can't direct your audience to a specific signup page.
How Do You Promote the Hostinger Affiliate Program?
The good news is that advertising the Hostinger affiliate program on your niche website is going to be relatively easy. Because they feature banners that are pre-made for their affiliates, you can display these as part of your header or sidebar so that your audience can always see that you represent the company.
Creating great content is the best way to put your affiliate link in front of people, though. You can do this through:
Targeted blog posts with keywords related to Hostinger
Tutorials to demonstrate how easy it is to develop a website on Hostinger
A review of your experience with Hostinger
Special coupon codes directly from Hostinger
The Hostinger affiliate program also allows for their affiliate to market the platform on social media. If you have a large social media following on any of the major networks, you can cash in on this to score that 60 percent commission.
Alternatives to Hostinger
While Hostinger does have some benefits, you may find that another hosting company is a better fit for your blog. They may even have higher commissions than what you can earn with Hostinger. Here are our top three alternatives to consider.
Bluehost
The Bluehost affiliate program is perhaps the most popular competitor in this space. They pay out more than $5 million annually to their affiliate partners. Unlike Hostinger that pays out based on what services your audience signs up for, Bluehost has a pretty high set commission rate of $65 per referral.
Most people have heard of Bluehost already, making it easier to get people to sign up using your link. It is high-converting, making it more likely that you will be able to rake in those commissions. They also have a much longer cookie duration at 90 days.
Keep in mind that because the platform is so popular, there will be more competition with other blogs and niche sites promoting the Bluehost brand. This is why it is often viewed as relatively slow starting compared to other brands.
HostGator
If you want a high-ticket affiliate program that offers basic web hosting, HostGator might be the right fit for you. They offer everything from basic WordPress hosting to dedicated hosting, so that there is a solution that fits just about every budget and need.
Like Bluehost, the brand recognition with HostGator is relatively high and allows for higher conversion rates.
How much do affiliates make if they can score a few sales from their dedicated audience? It really depends on how many sales you make in a given month. Take a look at how their tiered payment structure works:
1-5 sales: $65 per sale
6-10 sales: $75 per sale
11-20 sales: $100 per sale
21+ sales: $125 per sale
They also have a longer cookie duration at 60 days compared to Hostinger's 30 days.
GoDaddy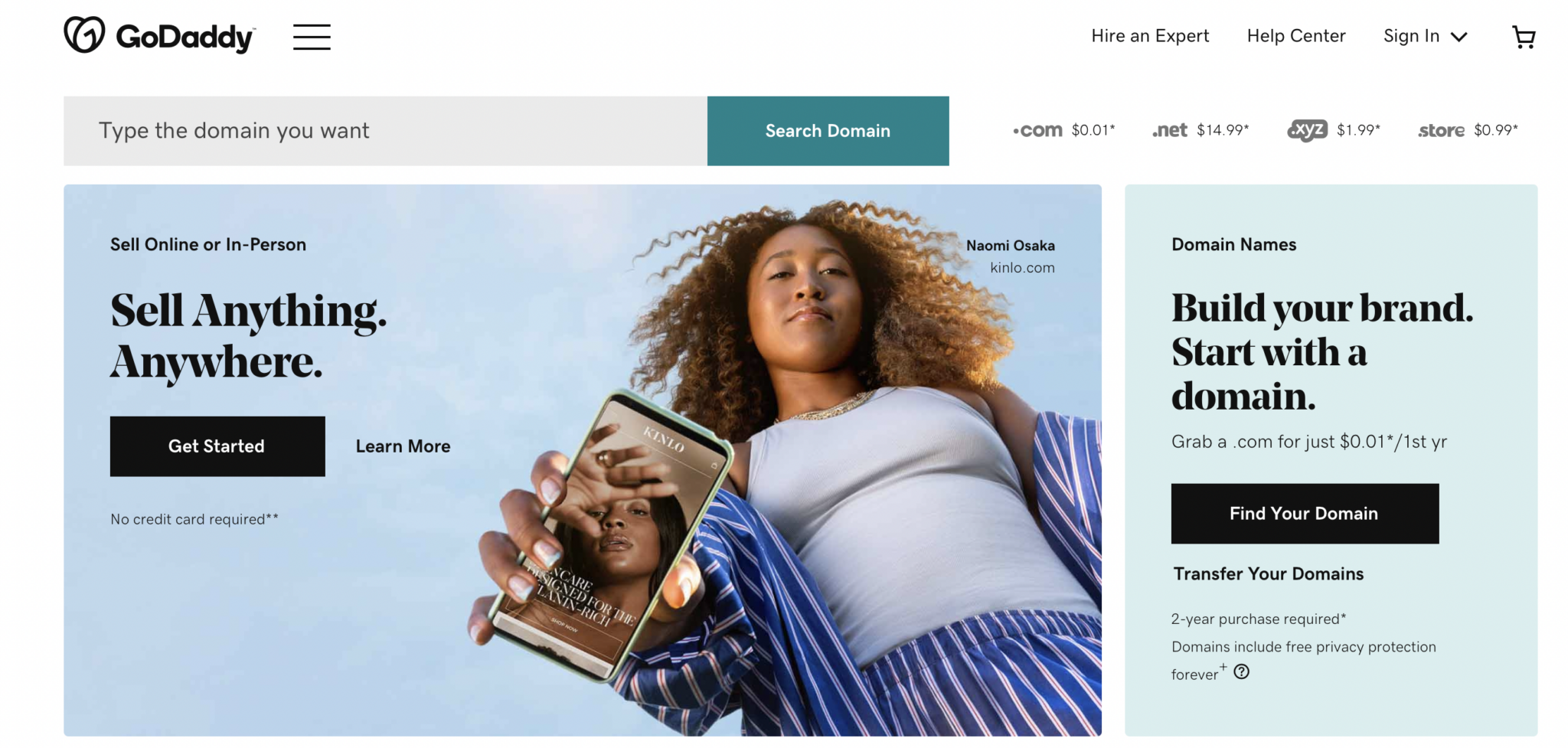 Like the Hostinger affiliate program, the GoDaddy affiliate program equips you with all of the tools needed to convert more sales. They have a wide selection of banners and images with their information that you can use to advertise for them on your site or social media.
They also have a full suite of tools for their affiliates to help convert and track sales.
Most people have heard of GoDaddy before, improving your odds of closing a sale and earning commission.
Unfortunately, GoDaddy does represent some of the lower commission rates seen among the platforms that have roughly the same hosting services. It pays just 10 percent commission, which is low even by Hostinger's standards.
However, you may be able to close more sales by relying on the GoDaddy name brand by itself. It might be worth experimenting with how many sales you can close on GoDaddy versus the fast-growing Hostinger.
As Hostinger grows in popularity, you may find that you close more sales with them and earn more commission.
Should You Sign Up as a Hostinger Affiliate?
If you want to get your feet wet with web hosting and have some experience with the Hostinger brand, then their affiliate program may be a great fit for your site.
The Hostinger affiliate program makes customer service a breeze, offers you plenty of marketing materials, and has great brand recognition as one of the fastest-growing web hosting companies.
However, they offer mediocre commission, especially when compared to other sites like Bluehost or HostGator.
Be sure to carefully consider which brand may be the more lucrative option for you. It may boil down to which platform you have personal experience with, as your own history will factor into the type of content you are able to create to advertise your affiliate links.
If you think Hostinger is right for you, sign up for their affiliate program here!
Want to learn step-by-step how I built my Niche Site Empire up to a full-time income?
Yes! I Love to Learn
Learn How I Built My Niche Site Empire to a Full-time Income
How to Pick the Right Keywords at the START, and avoid the losers
How to Scale and Outsource 90% of the Work, Allowing Your Empire to GROW Without You
How to Build a Site That Gets REAL TRAFFIC FROM GOOGLE (every. single. day.)
Subscribe to the Niche Pursuits Newsletter delivered with value 3X per week