20 Sites Offering FREE Images To Use For Blogs: The Best Commercial Use Photos
When you buy something through one of the links on our site, we may earn an affiliate commission.
I feel your pain — I was constantly looking for free photos for my blog when I started blogging. Paid sites were everywhere, but finding good free stock image sites was more complicated.
There just weren't that many royalty-free image sites available.
Sure, we had Flickr and Google images, but they were clunky, confusing, and, sometimes, illegal to use. In addition, the creative commons licenses for the stock photos were complicated; finding any in the public domain could be hard.
It was a pain — you either paid money or struggled to find free blog images.
Thankfully, things have greatly improved.
There are many free stock photo websites, and finding visual content for your blog is easy.
I have put together this list of 20 royalty-free photo sites providing millions of images with no attribution needed. You can use them for commercial use without any issues.
[toc]
20 Sites Offering Free Photos For Blogs
I'm sure you will have heard of some of these sites offering free photos for blogs, but many of them will be new and are well worth checking out.
Whether it's for your personal website or an affiliate marketing blog, you'll be able to find an image that's perfect for every occasion.
Bookmark them and you'll never struggle for copyright-free images again.
1. Pixabay
Pixabay launched in 2010 and has since become the most extensive free image website online, offering free stock photography under CC0 licenses.
They offer over two million royalty-free images for almost any category and can be used commercially, with no attribution required.
Search for the image and download. 
You don't need to register to download the images for the 640x480 size, but you do for the larger sizes and the vector images.
Pixabay is a fantastic resource and should be top of your list when looking for free images.
---
2. SplitShire
Daniel Nanescu, the founder of SplitShire, is a photographer who decided to offer his photos for free on his website in 2014. As a result, his popularity exploded.
The site offers high-resolution images in multiple categories, with new shots added regularly. The photos are free, and no attribution is needed.
You can use them on commercial projects, and the site now offers free stock videos in addition to the images.
The only downside is the number of adverts that pop up, but it's a small price to pay for free images.
---
3. New Old Stock
New Old Stock is different because it provides old vintage photos that are in the public domain. So if your blog needs images from the early 1900s, this is the site for you.
There's not a vast collection, and you have to sign up for a free account. 
When downloading, check the licenses because some of the images will need you to link back to the original Flickr post.
The images are curated on Flickr, and the 'New Old Stock' website is built with Tumblr.
---
4. Picjumbo
Victor Hanacek created Picjumbo in 2013. The Czech photographer provides hundreds of royalty-free images for you to download free of charge.
You can find photos for many topics, including business, technology, fashion, and many more.
All the Images are downloadable without registration; click on the image and the download button.
Picjumbo has a premium membership available which offers extra images sent to your email address each month. Still, for beginners, or those with smaller budgets, the free option works just fine.
---
5. Raw Pixel
Raw pixel is an interesting site because they not only donate 10% of their profits to 'Hope for Children,' they also provide hundreds of free images for commercial use.
You can find free images by selecting the free option in the menu bar.
You need to register with the site before downloading, and they offer a paid membership if you want better quality images. Still, overall, Raw Pixel is worth a look because they have an extensive selection of good quality free photos.
---
6. Gratisography
Expert photographer Ryan McGuire launched Gratisography in 2011, offering free images with no attribution required. The images are high-resolution and come with the promise of being different.
They aim to provide free images that are quirky and unique. 
You can find images in various categories from business to fashion, animals to backgrounds. They don't have a large number of photos, but what they do have is uniqueness, classiness, and, as they put it, "Images that make your audience's heart beat a little faster.'
With new photos added regularly, this site is a must-visit for any blogger.
---
7. Pexels
I love the simplicity of this site. Pexels was created in 2014 and is popular with bloggers because of the quality of the images and ease of navigation.
Categories organize the photos, and browsing the site is a walk in the park. You can select the 'Discover' button and see popular collections at the top of the page specific to the date.
For example, if you click in October, you'll see Halloween images and autumn-themed photos; if you visit in November, you'll see fireworks and thanksgiving images, and so on.
You have multiple topic options and a slick search bar.
The images are available in five different sizes, and you're welcome to use them for business without attribution, although you can donate to the site if you wish.
---
8. Burst
If you have a Shopify account, you've probably heard of Burst.
Shopify owns 'Burst' and provides free images under their specific photo license and various other CC0 licenses — it depends on the image you use.
The images require no attribution and no registration either. You select the image and click either high or low resolution, and it downloads to your computer.
You have multiple categories and can find beautiful images in almost every topic and niche market.
Burst is an excellent resource for bloggers, entrepreneurs, and those looking for quality free images.
---
9. Stocksnap.io
Stocksnap is a beautiful image site offering glossy pictures for you to impress your readers. They provide images for business, technology, work, and many more. 
You can hit the trending button to see their most popular high-resolution images or search by category or through the search bar.
To download an image, click the red download button — the download starts immediately. You will be prompted to link to the owner, although this isn't compulsory.
The standout benefit with Stocksnap, besides the images looking extra sharp, is the ability to edit the image before downloading. You can select the 'customize with the editor' option and do basic editing (similar to Instagram) before downloading.
10. Kaboom Pics
Kaboom Pics is another unique free photo resource that offers excellent images. The photos are typically part of a photo shoot, which means you can find various angles for each image.
The pictures are released under the Kaboom license, which allows commercial and non-commercial use without attribution.
They have categories for 'most downloaded 'newest' 'oldest,' and you can search using the search bar. At first glance, I thought this site was targeted towards lifestyle blogs, but after typing business into the search bar, I was provided with some excellent business images.
You can download in three different sizes or create your custom size, which is still free, and a handy added feature.
Not only that, the images come with the 'HEX' colors palette, which is convenient when editing or changing your blog color scheme.
With no registration needed, over 22000 images, and the above unique features, this free image site from Karolina Grabowska should be in your bookmarks.
---
11. Life Of Pix
Life of Pix is a lovely photo website offering free photos for blogs in a select few categories. Not as many images on this site as others on this list, but there are still some beautiful high-resolution photos that could be perfect for your blog or project.
You can search by color, topic, and photographer. 
If you find a photographer you like, you can add him to your favorite list for future use. In addition, they regularly highlight new photographers, which helps when looking for new images.
---
12. Skitter Photo
Skitter Photo was created back in 2014. The owners aimed to allow photographers to upload their best images for visitors to download for free.
All the images are in the public domain, and no link back is required, although you can make a small donation to the photographer. 
You don't have as many options regarding image sizes, and the adverts on the website are annoying, but this is a decent free image site offering photos for a wide range of topics.
---
13. Reshot
Reshot provides stock photos, vector images, and SVG icons for free.
As they put it on their website:
[quote name="" company="]No Cost, No Attribution, and No Worries.[/quote]
You can search for landscape, portrait, and square images. In addition, you can find pictures in many categories through the search bar.
The image menus could be better, and you can only download in one size, but overall, with just shy of 70000 photos, this is another good site to add your favorites.
---
14. Stock Vault
If you're looking for free photos for your blog in almost any niche, then Stock Vault is the place to go — their category base is impressive.
Animals, nature, people, and transportation are just a few to mention. In addition, you can find topics inside the categories that show lots of high-definition images for your blog. There are 4k and HD images available, and you can download them without registering.
You are encouraged to buy the photographer a coffee (Donation) after downloading the image, but this is optional.
Searching the site is easy with lots of menus and search features. To download, select the image and hit the green download button.
---
15. Morgue File
Morgue File offers images from a team of photographers who love nothing more than showing off their work. They love it that much that they allow you to download them for free.
Not only that, if you request an image in the 'Quest' section, there's a good chance that one of the photographers will create it for you.
The site could do with adding a few categories and menus, considering nearly half a million images are available — your only option is to use the search bar.
---
16. Creative Commons
You need to be careful with this site because some images come with different licenses, and you must attribute the owner. However, there are free images available if you don't mind linking back.
Creative Commons works with people uploading their images and giving them a license. The photos can then be downloaded for free to use on your blog.
You can search for creative commons images by selecting the link at the top of the website. You then filter for commercial use, category, and specific licenses.
Although this site is different from the others mentioned, you can still find some good images that you may not find elsewhere.
---
17. Pics Spree
Pics Spree offers royalty-free images, vectors, photographs, and illustrations for free on their website. You can use them for business and non-commercial use, and linking back isn't compulsory.
With 21 categories to choose from, you'll find plenty of choices when looking for photos. In addition, the images are of good quality, and you can download them instantly with no sign-up. 
They offer a premium membership where you can get hi-resolution images and a few extra perks. Still, overall, the free photos combined with the free sites mentioned in this article should be more than enough.
---
18. Freestocks.org
Freestocks doesn't have the most extensive selection of free photos available, but they do offer some decent photos in a choice of popular categories.
You can use the images without any concerns because they're all created under CCO licenses. 
To download an image, you need to search by category or through the search bar. You then select the image and press the black download button.
---
19. Pik Wizard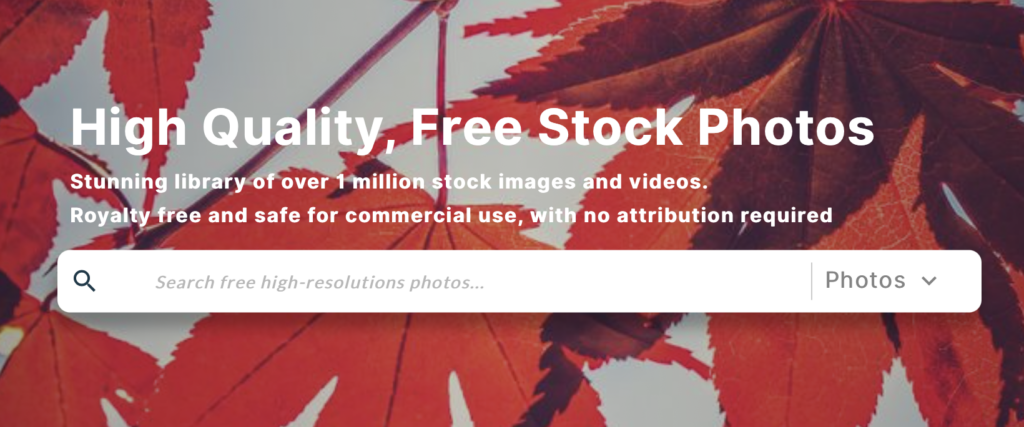 Pik Wizard offers over a million free photos for blogs, which are free for commercial use with no attribution needed. You can search by category or the search bar.
The images are sharp and available to download instantly.
There are many topics, including Autumn images, wildlife, backgrounds, wallpapers, and even a free editing tool to edit the image before downloading.
---
20. Unsplash
Unsplash is another huge image site similar to Pixabay. The former Tumblr site was launched in 2013 and has become one of the first image sites people visit when looking for free photos for their blogs.
They have over 2 million images, with new ones added every ten days. You can find images in most categories, and there's a helpful search bar to search for the photos you need.
The images come from a community of photographers, and you're free to download for commercial use without needing to link back.
You can find some high-quality visuals on Unsplash, and you don't need to register — click the image and press the green' download free' button, select the size you need (four options available), and the image will download to your device.
Unsplash is an excellent free resource.
---
Can I Use Royalty-Free Photos For Blogs?
You can use royalty-free photos on your blog if you have the photo license to do so. Don't get confused by the term 'free' as this doesn't mean the image is free to use.
When using free photos from free image sites, you will typically have a CCO license that informs you what you can do with the image — almost all of them on this list allow commercial use.
But, always read the license before using the image.
Free Photos For Blogs
That's a wrap, as they say.
You now have twenty free image sites to bookmark. Between them, you should be able to find photos for almost any topic.
The next time you ask the question, "Where can I get free photos for blogs?' Load up your bookmarks and take your pick from the list.
Pixabay and Unsplash are the big boys, but some of the others are hidden gems and will offer fantastic free photos with no link back required.
You don't need to spend money on images if you don't want to.
A final alternative if you are an Amazon Affiliate, is to use Amazon images. Check out these Amazon image plugins that can make inserting them just that little bit easier.
Want to learn step-by-step how I built my Niche Site Empire up to a full-time income?
Yes! I Love to Learn
Learn How I Built My Niche Site Empire to a Full-time Income
How to Pick the Right Keywords at the START, and avoid the losers
How to Scale and Outsource 90% of the Work, Allowing Your Empire to GROW Without You
How to Build a Site That Gets REAL TRAFFIC FROM GOOGLE (every. single. day.)
Subscribe to the Niche Pursuits Newsletter delivered with value 3X per week