11 Best Data Entry Earning Sites to Find Awesome Remote Job Opportunities
When you buy something through one of the links on our site, we may earn an affiliate commission.
If you're looking for a work-from-home job that has little barrier to entry, data entry is worth looking into. And this curated list of data entry earning sites is a good place to search for your first paid job.
Many companies need administrative support and use independent contractors' data entry clerks to help them out.
The work usually has a flexible schedule, allowing you to work the hours that suit you.
Plus, data entry jobs from home are easy, with the minimum requirements being a desktop computer or laptop, basic computer skills, experience with Google Docs and Microsoft Excel, high-speed internet access, and decent typing speed.
Read on to find out where to get the best data entry jobs online.
The Best Data Entry Earning Sites
Because data entry tasks are pretty simple and can be done by most people, one downside is that the pay for this type of work is pretty low.
It's also important to note that there are scam companies out there that try to take advantage of hopeful applicants.
Legitimate data entry jobs will not ask for registration fees or for you to pay for training or equipment. With that being said, some freelancer platforms, such as Fiverr and Upwork, will take a fee from every service transaction you make.
If you're still interested in working as a data entry operator, keep reading to learn about the best data entry companies hiring today.
FlexJobs

FlexJobs is one of the best places to find online data entry jobs, and it features hundreds of job postings a day that is researched and handpicked by humans to eliminate scams.
This is particularly helpful for those wanting to find legit data entry positions so you know the companies you apply for are above board and real.
Joining FlexJobs does come at a price of $24.95 for a monthly subscription, though, and you can also choose to pay a weekly fee of $9.95. But, if this leads to a secure, long-term data entry job, this should be seen as a price worth paying.
And another plus of joining FlexJobs is that you can take skills tests that get shown to prospective employers, such as typing speed tests, which will increase your chance of getting hired.
Want more information?
Check out this detailed FlexJobs review.
Or simply sign up and apply for data entry jobs on FlexJobs right now.
Upwork
Upwork is a freelancer platform where you can bid for legit data entry jobs.
To get started, you must create an Upwork profile highlighting your data entry skills and any other services you offer.
To increase your chances of getting hired, you can detail any data entry experience, giving prospective employers confidence you know what you're doing.
Once your profile is active, search for data entry jobs via the search bar. Some will pay per job on a contract basis, while others will specify the hours required per week and an hourly rate.
Find out more information in this Toptal Vs Upwork review.
Sign up for a free Upwork account today.
Amazon Mechanical Turk

Amazon MTurk is a crowdsourcing platform that pays people for completing simple tasks such as data entry, data analysis, website testing, information gathering, photo editing, transcribing audio files and more.
As an Amazon MTurk worker, you need to:
Search through the human intelligence tasks
Click on any jobs that interest you
Accept the job, follow the instructions, and submit your work
When your work is approved, your earnings will be released
To start accepting data entry jobs on MTurk, click ''Request a Worker Account'' and follow the sign-up process.
DataPlus+
DataPlus+ is a platform that offers a range of data entry services and data development services.
They hire administrative support, data entry operators, database programming workers, and MS Access developers.
To get hired for work, you must complete a criminal background check, have high-speed internet access and own a computer.
DionData Solutions

DionData Solutions is a data management company with in-house staff and independent contractors working from home.
They often hire data entry specialists and provide all training and software for free. Work may include updating inventories and electronic databases, entering data into spreadsheets, and processing surveys and medical claims.
To succeed with this company, you must have basic computer knowledge, be a citizen of the United States and have a typing speed of at least 60 wpm.
Axion Data Services
Axion Data Services was established in 1996 and provides data entry services and Internet research solutions for companies nationwide.
This platform is one of the tougher ones to get data entry jobs with, as they require workers to have at least two years of data entry experience and to have a typing speed of 50 wpm. Plus, you'll need to complete a criminal background check.
As an Axion independent contractor, you'll get offered 20+ hours of weekly data entry work that's paid on a piece-by-piece basis.
Payment is made bi-weekly by direct deposit into your bank account.
Clickworker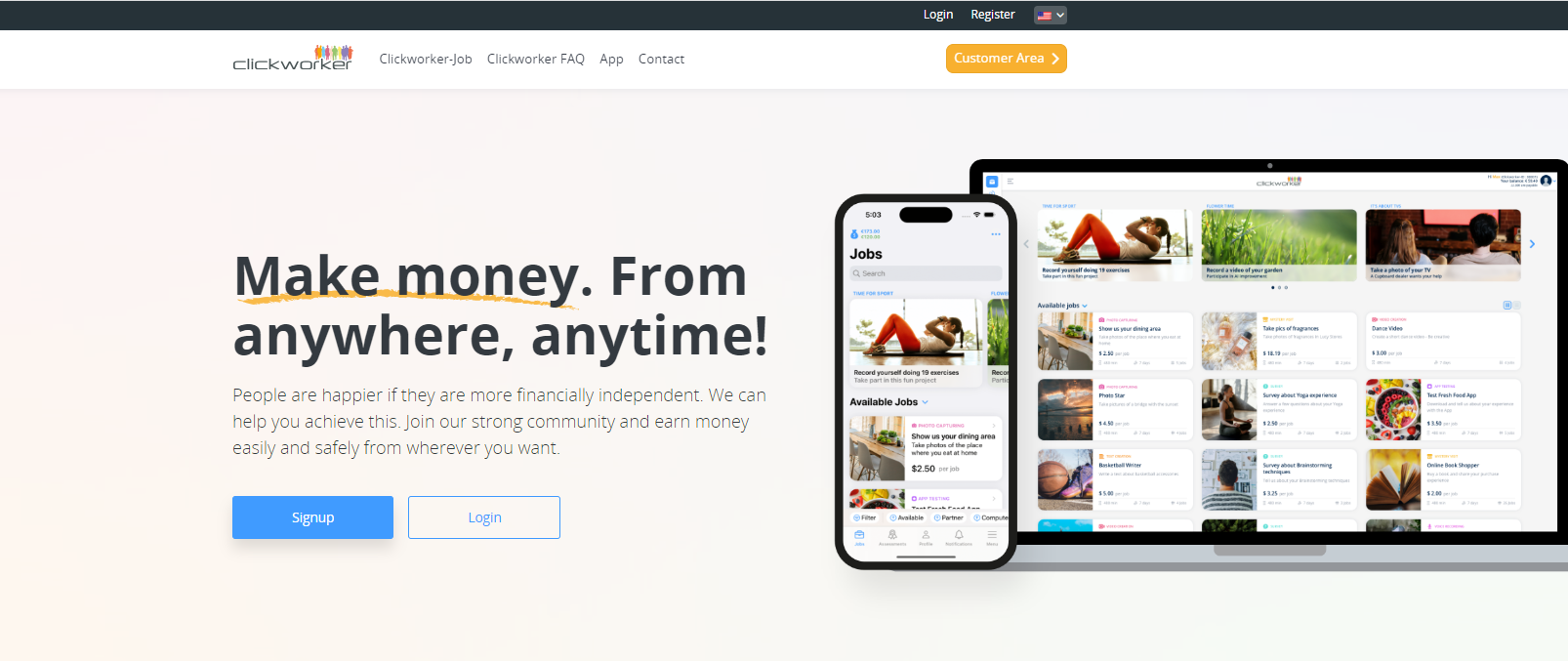 Clickworker is a microtask website that offers data entry jobs that you can work on at any time and from anywhere.
They also have a range of interesting tasks you can complete for money, including taking pictures, participating in AI training, app testing, writing, making voice recordings, and filling out surveys.
To become a Clickworker, you must:
Register
Complete an assessment
How well you score in the assessment dictates what jobs are available to you
Payment is made weekly for every task completed directly into your PayPal or Payoneer account.
MicroWorkers
Microworkers is another microtask website where you can find remote data entry positions and a range of other easy-paid tasks.
A few of the jobs you can do on this site include:
Data mining
Content moderation
Transcription
Filling out surveys
Image tagging
App testing
Translation
Payment is made after work is approved, and you can cash out once you hit a $10 minimum threshold.
Working Solutions

Working Solutions is a customer service outsourcing platform that often has remote data entry jobs available.
As one of Working Solutions' independent contractors, you can:
Be your own boss
Work from home
Set your own work hours
To be considered for jobs, you must register, pass a range of online assessments and wait to get your application approved, which can take up to two weeks.
If you don't see any data entry jobs available immediately, it's still worth signing up and joining their ''talent community,'' you'll be notified when new opportunities arise.
KeyForCash
KeyForCash is an organization that helps companies and government agencies with their business processes.
They always look for new workers to complete data entry and other small administrative tasks.
You can work on as many or as few jobs as you like, work the hours that suit you, and work from wherever you have a good internet connection.
To work for KeyForCash, you must answer a few questions about your:
Demographics
Education
Areas of expertise
Language skills
Finally, you must complete ''placement evaluations,'' and the scores from these evaluations will determine what jobs you get offered.
OWorkers
OWorkers offers clients various data entry services, including data processing and content moderation in over 25 languages.
They often work with AI, tech startups, Fortune 500 companies, and big brands such as Toyota, Tik Tok, Xerox, and J.P Morgan.
OWorkers hire data entry freelancers and content writers who work from home and can choose the hours that suit them.
To apply, head to the ''Jobs'' page and apply to any positions in your country.
Final Thoughts on the Best Data Entry Earning Sites
After reading about the best data entry earning sites, it's up to you to apply to any that fit your skills and requirements.
As you can see, while data entry workers are in demand, there is generally a lot of competition for this type of work, as it is low-skilled.
To give yourself a better chance of success, apply to multiple data entry job websites and create freelancer profiles on sites such as Fiverr and Upwork.
This way, you open yourself up to multiple data entry jobs simultaneously to earn more.
Also, consider applying for different online jobs that pay daily so you can always keep money flowing into your bank account.
Want to learn step-by-step how I built my Niche Site Empire up to a full-time income?
Yes! I Love to Learn
Learn How I Built My Niche Site Empire to a Full-time Income
How to Pick the Right Keywords at the START, and avoid the losers
How to Scale and Outsource 90% of the Work, Allowing Your Empire to GROW Without You
How to Build a Site That Gets REAL TRAFFIC FROM GOOGLE (every. single. day.)
Subscribe to the Niche Pursuits Newsletter delivered with value 3X per week