CopyPro Review: Will It Effectively Automate Your Sales Copy?
When you buy something through one of the links on our site, we may earn an affiliate commission.
Every online business has its eyes set on three things – sales, conversions, and brand recognition. Can you hit all of these majorly important factors with a copywriting tool? That's exactly what we'll look at in this CopyPro review.
With the growing 'goldfish' problem, getting your message delivered is challenging. According to Forbes, an average American is bombarded with 4,000 to 10,000 ads each day.
So, if you need more eyeballs, you need good copy!
With good copy, you can bring in a lot of $$$ for your business and create a powerful brand/persona that people remember. For instance, one great sales letter, if it clicks, can be the turning point for your business.
But here's the thing.
It takes a lot of time and commitment to master copywriting. Precious time that a lot of entrepreneurs don't have. And if you're a business owner who wants to scale, hiring a copywriter can drain your account.
That's where an AI copywriting assistant like CopyPro can really help you out.
But can it really replace a copywriter? Does it fully automate things while you sit back and relax?
These are the kind of questions I'm going to address in this CopyPro review.
No time to spare?
CopyPro can be an effective tool for short-form copy - as long as you invest the time necessary to get any benefit from the tool. But it likely won't be as effective for your overall business as another AI writing assistant like Jasper.
That's because Jasper has proven to be a great tool for short-form, long-form, email, social media copy, and many more of the various content and copy your business needs.
Don't believe us?
CopyPro Review
Ease of Use

Control

Performance

Price
Summary
With tons of proven templates at your fingertips, CopyPro can help you generate copy that converts! It gives you all the freedom in the world to tweak your copy according to your niche, market, and audience. Also, you can get copy advice from top-of-the-line digital marketers to help grow your business. When you finally get the hang of this tool, you can generate killer copy at breakneck speed – just know it'll require a sizable investment of both time and money!
Pros
Copy based on proven templates that work
Tons of options to restructure the copy
Mastermind access for less than half the price
Tutorial video available for all the different functions
Cons
Steep learning curve
Comparatively more expensive than other tools
Needs more templates
Grammar structures shown within the template can make it complicated
You still need to learn the basics of copywriting
TL; DR – CopyPro Review
CopyPro, if it's broken down to its very essence, is actually a multi-layered and nuanced swipe file that can both rewrite an existing template and give you power-word suggestions (unless you join the coaching program).
It doesn't automate your copywriting because you still need to put a ton of time and effort into market research.
But it does make it easy for you to pick and choose templates that work. And as copywriting is more about following a structure rather than relying on inspiration, these proven templates can change how you write copy.
Tons of tried-and-true templates to choose from
Can write all forms of copy
Has an easy-to-follow tutorial video for all the different functions
Gets better with new templates added by the creator
Can help you assess the quality of your copy
Has a coaching program to help you learn more about copywriting (there is a paywall, though)
Difficult to use – the grammar structures shown in the template can make structuring difficult for people with limited knowledge of English
Expensive compared to other tools
Can't write long-form blogs (only copy)
Doesn't support any other language than English
CopyPro Review – An Overview
To a digital marketer, CopyPro can seem like a dream come true. It's an AI-powered copywriting tool that can write –
Sales copy
Social media ads
Email sequence
Abandon card sequence
E-commerce descriptions
Video sales letters
And any other form of copy you can think of.
Now, it has been rebranded into Groove CopyPro, which is handled by the Groove.cm team. Even the tool is pretty much the same as it was before. The original CopyPro exists as well. I'll get into that later.
So, how does CopyPro work? Once you have a product and you know your audience, it finds the most successful templates to generate killer copy.
Then again, it's not 100% automated. And it shouldn't be.
CopyPro can emulate the writing style of a billion-dollar copywriter and create a custom copy for you. When I say emulate, I don't mean it's copy-paste stuff.
The pitch, cadence, rhythm, and emotional triggers of the copy remain the same.
But the problem, pain points, solutions, promises, lead, hook, come party from you. So, you have to interact with the tool instead of letting it go crazy.
Well, if you're in a hurry, you can let it rip. However, the results will be disappointing.
One more thing – CopyPro is just for generating copy. It's not for long-form blogs. It's not a fully-packed writing assistant like Jasper. CopyPro is for COPY only.
Long story short – CopyPro is a great tool because it brings together all the best copy at your fingertips. You can think of it as a glorified swipe file.
A swipe file is basically a library that people create of successful sales letters and ads. But creating, managing, and categorizing a swipe file is tough. So, you can save time and tinker with your swipes easily, thanks to CopyPro.
Before you grab CopyPro, you should know that it's no one-click wonder. You have to control the outcome. That's why people with zero copy knowledge can struggle to get the most out of it.
But even if your copy skills are basic, CopyPro will be of great help.
Know the Creator of CopyPro – Jon Benson
I don't talk about the people behind the software. But a CopyPro review would be incomplete without the mention of Jon Benson.
He's the reason CopyPro got some immediate recognition.
When someone's 15 years deep in a cutthroat industry and still thriving, you know they've got the moves. And Jon Benson has the moves, indeed!
A digital marketer and one of the best copywriters in the industry, he has had wild success with his copy.
In fact, he's the man behind the "ugly video sales letter." It's a form of sales letter where nothing flashy is displayed. Instead, texts show up on your screen while somebody reads them to you.
Talk about budget cuts!
Despite the shock and scoff of everyone, the ugly video sales letter worked! It continues to work to this day, although the results are not as significant as it was before.
His best-selling book One, Click, Buy has tons of email marketing secrets. Besides CopyPro, he has another tool called NOW VSL that creates a high-converting sales page. NOW VSL has also become really popular among digital marketers.
He has generated over $11bn in sales for tons of business owners. Still, he continues to mentor new copywriters and consult while most of his time is dedicated to improving CopyPro.
CopyPro Review: Features
Now, I'll talk about everything that CopyPro has to offer. I'll highlight all the features that make this copywriting software perfect for a digital marketer.
Write All Forms of Copy
CopyPro is equipped to write all different types of copy. To name a few –
Sales Page
Email Sequences
Facebook Ads
Webinar Scripts
YouTube Ads
Video Sales Letters and more
Any form of copy you can think of, CopyPro has got your back.
But the amount of work you need to put in would also depend on the type of copy you want to write.
For instance, basic sales messages are easy to prepare. On the other hand, creating an entire email funnel or sales funnel would require more time and effort.
Variety of CopyPro Templates
This is one of the best features of CopyPro. You get access to tons of successful and tested templates.
So, you can take the guesswork out of copywriting. You don't have to worry about what works and what doesn't. Each template you get from this copywriting software was once used by a successful copywriter.
You might think that using a template is unethical. But it isn't.
The best copywriters study what offers work. And they try to replicate or create a better offer/copy.
Every copywriter worth their salt has a good swipe file. They use it for inspiration, ideas, angles, and to increase sales conversions.
So, these CopyPro templates can give you the same competitive advantage. You don't have to waste years collecting all the best sales pages or VSLs. It's all at your fingertips.
Coaching System (CopyPro Academy)
CopyPro has its own mastermind that you can get access to if you get CopyPro Plus. It's almost double the price of the writing tool itself. But it's well worth it.
You get access to CopyPro's Facebook groups, where all the users hang out. There are bi-weekly group calls where experienced copywriters walk you through the different steps of copywriting.
It doesn't end there. Using CopyPro can be difficult because it has a ton of functions that you need to get used to. This mastermind can definitely smoothen out the steep learning curve.
And if you compare this to the cost of a regular mastermind, you'll see that it's a complete steal.
A standard mastermind costs around $15k-$25k a year. Hiring a professional copywriter as a coach is also really expensive.
With CopyPro, you get a mastermind-like coaching program for $1007 only. But if you get into Groove CopyPro's program, it's a bit more expensive because they have an onboarding program.
This coaching program sets this writing software apart from other copywriting generators.
AI-Powered Rewriting
I told you about CopyPro's collection of templates. But you don't have to use them as is. Once you take a template, you can use their artificial intelligence to rewrite it with a few clicks.
So you are not forced to use only the templates provided. You can use CopyPro's rewriting tool to create completely new email sequences and webinar scripts with just one click.
But the rewriter can sometimes get it wrong. It's not CopyPro's strongest suit. So, you need to check the grammar and sentence flow after rewriting templated content.
Control & Organization
The control you get from CopyPro is simply on another level. That's the best feature for me. I love when I get to train and tinker the tools according to my taste. And CopyPro gives you that freedom.
Even when you choose a template, you'll see specific questions. They'll ask for your customer's pain points, long-term existing beliefs, industry misconceptions, and more.
In short, CopyPro will ask you all the questions necessary. All you have to do is fill in the blanks.
One more thing, this copywriting software also gives you the proper grammar structure plus a list of power words to sift.
The more you work with CopyPro, the more you'll realize how deep the rabbit hole goes. It might seem complicated when you start off, but it's extremely rewarding once you master it.
CopyPro Signature Impact Score
Another thing that CopyPro does – although it's not mind-blowing – is that it evaluates your copy. The AI tries to understand the copy and gives you an Impact Score.
It takes your copy and runs it against 1 million data points before giving feedback.
Now, it evaluates all parts of the copy, hook, lead, body, and the whole nine yards. So you can check each segment and make any corrections if need be.
There's one problem, though. Impact Score is still operated by artificial intelligence. So, the score might not always be on point. You should take it more as a gentle suggestion, not as an unwavering commandment.
CopyPro ai vs. Conversion.ai/Jasper Ai (Head-to-Head)
In the AI writing industry, Jasper AI is way ahead of other writing tools. But what about copywriting? That's what I'll explore in this part of the CopyPro review.
We all know that copywriting is not the same as content writing. A blog's purpose is to instruct and educate, while a copy primarily tries to sell a product.
So, can Jasper Ai stand against CopyPro AI when it comes to copywriting? Let's find out.
Performance
There's no doubt that Jasper Ai's blog writing skills are simply astonishing. It can write different sections of a blog with very little instruction. And you get natural-sounding content seven out of ten times. However, you need to check the facts to make sure it's on point.
On the other hand, CopyPro AI doesn't have a long-form blog generator. While you can write an informative post about your niche, it's not exactly a blog. The informative post works better as an email.
But if I talk strictly about copywriting, CopyPro has the upper hand.
Jasper AI gives you a lot of ways to write different types of copy. But CopyPro AI uses proven templates. It comes from the best copywriters around the world.
So, CopyPro AI is better at copywriting, provided you can use the writing tool at its full capacity. But Jasper offers way more functionality and use-cases.
Pricing
Jasper AI takes the cake on this one big time.
Jasper's starter plan only costs $24/month for 20k words
And Jasper's Boss Mode is $49/month for 50k words
This is a discounted price if you pay annually. For monthly pricing, you'd have to pay $29/month for the starter plan and $59/month for Boss Mode.
So, how much does CopyPro cost? In comparison, CopyPro AI is expensive.
If you pay annually, you'd have to shell out:
$83/month for standard CopyPro
And CopyPro Plus (which has the mastermind + bonuses) costs $167/month
If you switch to a monthly payment mode, the software only is $97/month, and CopyPro Plus would cost $197/month.
So, Jasper AI is way cheaper than CopyPro ai. But the former has a word limit, while you get unlimited access with the latter.
Usability
Again, I'd have to go with Jasper AI on this one. With Jasper Ai, you can get into action immediately. If you can sit through only 30 minutes of tutorial, you'll be all set.
Also, Jasper's Boss Mode is even faster and easier. You can command the tool as you go while you watch it craft compelling copy.
But CopyPro AI is a bit more complicated to understand and use. It has a ton of useful functions. The thing is that you need time to get used to the nuanced features of this writing tool.
CopyPro AI has a steep learning curve. That's why there's an added coaching program to help you get started.
Features
Jasper AI features include (both Starter and Boss Mode):
50+ AI templates
Surfer SEO + Grammarly integration
Quick customer support
Compose and Command
Can make complicated texts easy
Supports 26 languages
CopyPro AI features include (both standard and Plus):
Tested and proven templates
Ai-powered rewriter
Proprietary Impact Score
CopyPro coaching academy
Create an entire funnel/project
Extensive control over everything
Overall it'll really depend on your needs. But it's safe to say that you'll get way more bang for your buck with Jasper.
How Can You Use CopyPro for Your Business
Now that we're more than halfway through this CopyPro review, I'll talk about whether or not it can help you.
CopyPro can be just what you need to get your business off the ground. If you can pair it up with some best copywriting software, even better. So, what can CopyPro do for your business?
Generate Leads
Do you have a good lead magnet but not sure how to reel the customer in? If that's the case, CopyPro can take care of it.
You can use CopyPro to create an engaging lead to make more people subscribe to your email list or newsletter. As you have a lot of options proven to generate leads, you won't have a problem.
Improve Conversion Rates
Businesses that are struggling with conversions can reap the benefits of CopyPro. You can use the tried-and-true templates to bump your conversions in the right direction.
Besides, you can do some A/B split testing to gather more data and come up with the best possible hooks, promises, and solutions.
This AI assistant gives you a ton of options to use certain emotional triggers to perfection. But you need to understand the target market and their pain points to pull on these emotional levers. Again, CopyPro shows you the way. But you have to do your own research.
Build Your Brand
Words don't only sell.
Words build -
Connection.
Reputation
Brand!
All the popular brands you see right now were once nobodies. With the right words, marketing campaign, and exposure, they're now industry leaders. You can do that too. And CopyPro AI can give you the words you need to get there.
Note: CopyPro can definitely help your business reach new heights. However, you must know the marketing principles to put it to good use. It'll give you all the words necessary to succeed. But you have to guide the tool. If you're completely new to this, I'd suggest reading some the best copywriting books to get your foot in the door.
CopyPro Pricing
CopyPro has two different pricing models. One's the classic pricing, and the other is for Groove CopyPro.
If you want to get the classic CopyPro, you'd have to:
Pay $97/month
Pay $83/month (if you pay annually)
And for CopyPro Plus, the price is:
$197/month
$167/month (if you pay annually)
Groove CopyPro AI only has one package:
Pay $2497 for 90 days
Afterward, $247 per month
It might seem like CopyPro classic is a better deal. But Groove CopyPro has some amazing perks that justify the increased price.
As I said, copywriting is tough and time-consuming. Unless you have spent some time learning the basics, you'll struggle even with CopyPro by your side. I've already covered it in the CopyPro review overview.
What Groove CopyPro does differently is that it has an onboarding program. You get a one-on-one call with a professional copywriter. The expert will understand your business needs and set the software up for success.
This slashes the learning curve in half. And you can ask them different questions as well. You also get to join coaching calls once a week for 12 weeks. That's why Groove CopyPro costs more.
CopyPro Alternatives
If you don't think CopyPro is your cup of tea, there are other fish in the sea. And it's time I show you the alternatives now in this CopyPro review.
Jasper AI
I've already talked about what Jasper AI brings to the table. Whether you need –
Long-form blogs
Product descriptions
Sales letter
Social media posts
Jasper AI is at your service.
The best part of this tool is that it's easy to use. You don't need hours of prep work to get started.
---
Copysmith
Copysmith is also similar to CopyPro in a lot of different respects. For instance, Copysmith also is weaker when it comes to long-form writing, but it's better with short ad copy.
Copysmith has a really low price point, which makes it the perfect writing tool for beginners. You can test the waters and learn your way around AI writing assistants without breaking the bank.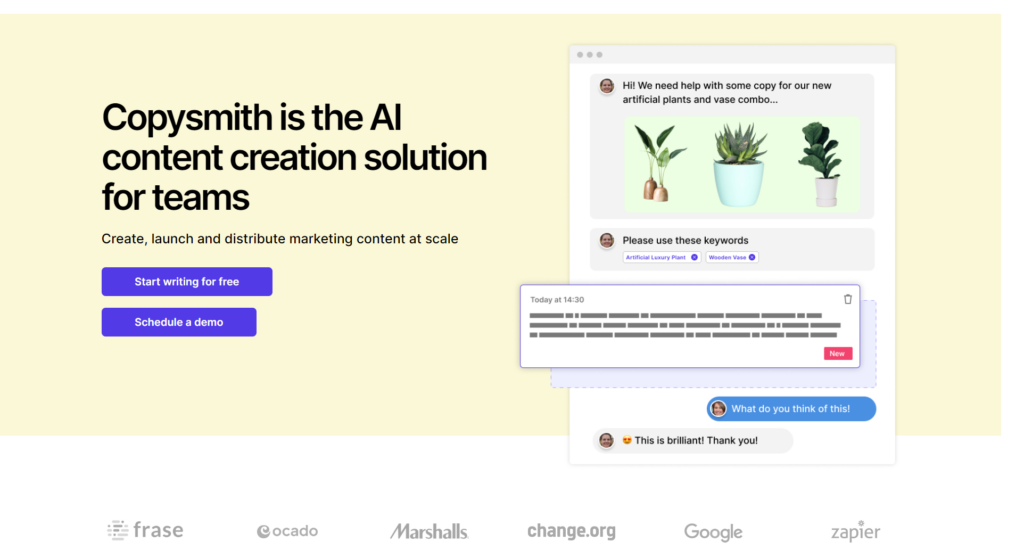 ---
Writesonic
Writesonic is the new kid on the block. Although they're new, their popularity is rising fast because of a helpful community and great customer support.
You can write all types of content and copy with Writesonic. The only problem is that the credit-based pricing model is a bit confusing. So, you should know more about their pricing system, or you might end up using a lot of credits without much result.
---
ClosersCopy
If you love training the AI to get precise results, you'll definitely enjoy using ClosersCopy. This tool has a system in place where you can customize everything to tinker it to your needs.
And once you have your own "customized template" ready, it's go time. Also, ClosersCopy has a lifetime deal with unlimited word count. You can create blog articles and ad copy more quickly and efficiently.
---
CopyPro Review: Verdict
I don't look at CopyPro as just another AI writing assistant. It's much more. It's an ecosystem.
You have:
CopyPro coaching academy
Groove CopyPro onboarding program
If you look at these, you'll see that it just doesn't leave you high and dry. You get help from professional copywriters.
So, once you get into the rhythm of using CopyPro, you can let go of all your copy-related stress. But it doesn't really automate the process.
You still need to learn the basics of a good copy. You have to understand the marketing structures of your niche, the target audience, and their pain points. So, in reality, you have to do a lot of stuff that the best copywriters do.
But what CopyPro does is that it simplifies the writing process. When you're done with research, you can use the data to get great copy in a very short time.
One more thing – it's expensive. Whether you look at CopyPro classic or Groove CopyPro, both can take a swipe at your savings. So, you need to have a decent budget.
And the learning curve is steep. The elaborate system can throw you off without the guidance of a coach.
Overall, if you've got the money, CopyPro is a good investment. But you still need to learn marketing. And remember, it's not for long-form blogs. It stays true to its name – it's for copy.
I hope this CopyPro review gave you some valuable insights. Cheers!
Want to learn step-by-step how I built my Niche Site Empire up to a full-time income?
Yes! I Love to Learn
Learn How I Built My Niche Site Empire to a Full-time Income
How to Pick the Right Keywords at the START, and avoid the losers
How to Scale and Outsource 90% of the Work, Allowing Your Empire to GROW Without You
How to Build a Site That Gets REAL TRAFFIC FROM GOOGLE (every. single. day.)
Subscribe to the Niche Pursuits Newsletter delivered with value 3X per week