12 Best Laptops for YouTubers: Our Top Picks For Vloggers
When you buy something through one of the links on our site, we may earn an affiliate commission.
Looking for the best laptop for YouTubers? You've come to the right place!
Getting a superb laptop for editing YouTube videos or general video editing can be the best decision you've taken in a long while. It'll give you a competitive edge, helping you stay one step ahead of other vloggers in your niche.
In this post, we review the best video editing laptop for YouTubers. And share some other great laptops with good processors, plenty of storage, and large screens.
So let's get started.
What's The Best Laptop for YouTubers? Ranked
These laptops are unique, capable of handling video editing tasks, and most are quite affordable.
But let's begin with our top choice - the Apple MacBook Pro M1.
1. Apple MacBook Pro M1
Processor: Apple M1 Max 10-core
RAM: 16GB (expandable up to 64GB)
Storage: 512 GB (Expandable Up to 8TB)
Screen size: 14.2 or 16.2 inches
Graphics: Integrated 32-core GPU
Battery Life: Up to 20 hrs
Apple has always lived up to its promise of offering high-end devices with each release of its MacBook. You can summarize the general performance of the latest MacBook Pro 16-inch in one word: excellent.
This laptop is powered by the M1 Max 10-core chip, which can effectively handle all your 4K – 8K YouTube videos without experiencing a single glitch. There's also an M1 Pro chip which is a tad cheaper.
The Apple MacBook Pro puts user experience first and supports most, if not all, your video creation and editing needs. With solid speakers, this laptop produces a rich sound. And regarding graphics, you can create crystal clear YouTube videos, courtesy of the MacBook Pro's Liquid Retina XDR MiniLED Display.
The MacBook Pro is well-built, gorgeous, and powerful. Your friends will love it because of its performance and sleek appearance, so you may have more hands wanting to use it. The 14-inch version is super portable, and there's also a 16-inch model if you need a broader view.
As mentioned earlier, the Macbook Pro features the top-of-the-line M1-Max chip. This powerful processor makes it a perfect choice for intensive video creation and editing without fear of overheating.
The battery life is also impressive. It has a staggering 20-hour life, removing your worries about the battery dying while editing your videos. Apart from being a pricey unit, you can't upgrade the laptop's components if you want to.
Storage-wise, you'll get as much as 1TB standard, but with configuration options, you can bump it up to 4TB or 8TB.
Just remember that these configuration options will increase the laptop's final price, which isn't a huge dealbreaker for a YouTuber that earns decent $$$ and wants a great laptop for editing.
Stunning Liquid Retina XDR MiniLED display.
Superb battery life for your day-to-day activities.
Exceptional bottom-screen productivity bar.
Comfy XL-size touchpad.
Not enough room for upgrades.
All options are pricey.
2. Apple MacBook Air M2
Processor: Apple M2 8-core chip
RAM: 8GB (expandable to 24GB)
Storage: 256GB ( Upgradable to 2TB)
Screen Size: 13.6-in screen
Graphics: Integrated 10-core GPU
Battery Life: up to 15 hrs
The MacBook Air M2 is incredibly light and packs powerful features and specs to support your video editing needs. It's often regarded as one of the thinnest laptops available, yet it's decked with many outstanding features. Its pricing makes it even more appealing to people who can't afford the MacBook Pro.
There's no doubt you'll likely consider it for your video creation needs on the go. But does it fit the role?
Yes, it does.
The base model has 8GB RAM and a 256GB SSD. To hold more videos, you should upgrade the RAM and storage to 24GB and 2TB, respectively.
It's not a typical workhorse like the MacBook Pro M1, and it may struggle to handle the task of video editing in 4K. This struggle will bump the unit's temperature while it's under load.
The Air M2 runs on an 8-core CPU with quad performance and efficiency cores. However, if this isn't enough, you can upgrade to a slightly better 8-core CPU and its accompanying 10-core GPU variant.
Regarding screen size, you'll find the 13.6-inch screen enough for a lot of tasks, even though editing large videos may be cumbersome. But you can always hook it up to an external display if the need arises.
While hooking up to external monitors is easy-peasy, the one thing you should keep in mind is the limited ports. You can hook up a hub to compensate for the missing ports. The battery is impressive as it delivers enough power to keep the laptop running for about 15 hours of mixed usage.
Much has been written about the inconvenience of the display notch, but this can be overcome by using MacRumours instructions on how to hide it.
We can rank Apple's MacBook Air as a reliable option for beginners and intermediate YouTubers.
Brilliant 2560 X 1664 resolution retina display.
Elegant look and great battery life
Great sound quality compared to other MacBook laptops.
Lightweight and compact design.
The display notch on the laptop isn't ideal.
It lacks connectivity ports.
3. Microsoft Surface Pro 9
Processor: 12th Gen Intel Core i5-1245U
RAM: 8GB (Expandable up to 32GB)
Storage: 256GB (Expandable up to 1TB)
Screen size: 14& 16.2 inches with Liquid Retina XDR display
Graphics: Intel Iris Xe
Battery Life: Up to 15 hrs
The Microsoft Surface Pro 9 is a sleek machine with a unique design and impressive battery life. While it lacks a dedicated graphics chipset for high-end users, the integrated Intel Iris Xe graphics will easily handle your basic video editing tasks.
Microsoft offers the Surface Pro 9 in two variants - the main Pro 9 and the Pro 9 5G. Both laptops have similar features, but the Pro 9 5G raises the bar higher in some areas, such as the battery, which boasts a 19-hour battery life against the 15 hours of the Pro 9 model.
However, the Pro 9 is, in all ramifications, faster than the Pro 9 5G.
The spec sheet shows that the Surface Pro 9 base model comes with 8GB LPDDR5 RAM, upgradeable up to 32GB. Its SSD storage options start at 128GB, and you can upgrade it to 1TB.
Display-wise, you'll love the compact-sized 13-inch display with Microsoft's PixelSense technology. The screen resolution is 2880 x 1920, allowing for a 10-point touch. For protection, Microsoft threw Corning Gorilla Glass 5 into the equation.
You'll get up to 450 nits of maximum brightness on this device, making it suitable outdoors on bright days. And the Dynamic refresh rate adds a good amount of clarity too.
You should be able to get a lot of video editing done on this device, but you'll most likely struggle with the 4K videos and with running graphics-intensive apps. This is due to the absence of a dedicated graphics card. That notwithstanding, the Intel Iris Xe chip lives up to expectations.
The Surface Pro 9 is a good laptop for above-average video editing on the go, even though it's pricey and has a limited number of ports. Yeah, port-wise, you're restricted to only 2 USB-C, 1 Surface Connect and 1 Surface Type port, and there's no headphone jack!
Excellent 13-inch screen with 120Hz refresh rate.
Impressive battery life that gives you up to 15 hours of usage.
Stylus and keyboard connectivity is a breeze.
Corning Gorilla Glass 5 protection for the 10-point touch screen.
It's lacking ports – even a headphones jack is absent.
4. Lenovo Yoga 9i
Processor: 12th Gen Intel Core i7
RAM: 16GB
Storage capacity: 512GB SSD
Screen size: 14.2 inches, 3840 X 2160 OLED display
Graphics: Intel Iris Xe
Battery Life: Up to 23 hrs
Lenovo Yoga 9i is next on this list of the best laptops for editing YouTube videos. It's somewhat expensive and lacks features that'd have made it a viable option for many shoppers, including a dedicated graphics card.
The Lenovo Yoga 9i is buttery-smooth in operation, thanks to the 12th Gen Intel Core i7 processor it comes with. Lenovo fitted the 16GB LPDDR5 RAM into this unit along with a 512GB SSD.
Unfortunately, the RAM is maxed out at 16GB, while you can upgrade the SSD to 1TB.
While it may lack a dedicated GPU, the integrated Intel Iris Xe graphics can comfortably handle lightweight video editing tasks. 4K videos are doable, but be sure to expect lags.
The Yoga 9i weighs only 3.02 pounds and will effortlessly fit most of your backpacks, so you can keep editing on the go. Screen-wise, it features a 14-inch 3840 X 2160 4K IPS display with good color output and viewing angles.
You can opt for the lesser screen resolution if you don't need the 4K screen, but you'd be missing out on the 500 nits brightness. If you downgrade to the 1920 x 1080p screen resolution, you'll get 400 nits brightness, which is fairly good.
Battery life for the Yoga 9i hovers around 13 hours. You can fast-charge it in two and a half hours, by the way.
The Lenovo Yoga 9i is reliable, affordable, and versatile, making video editing fun. However, it is unsuitable for intensive video editing tasks and gaming because the Intel Iris Xe graphic is not powerful enough. And it's also missing your regular ports.
Excellent build quality and compact design.
A fantastic 14-inch 4K screen with excellent viewing angles.
Superb 13 hours battery life for mixed usage.
Excellent audio from the Dolby Atmos speakers.
A tad more expensive than competitors.
Limited port selection.
5. Dell XPS 9510 Core i9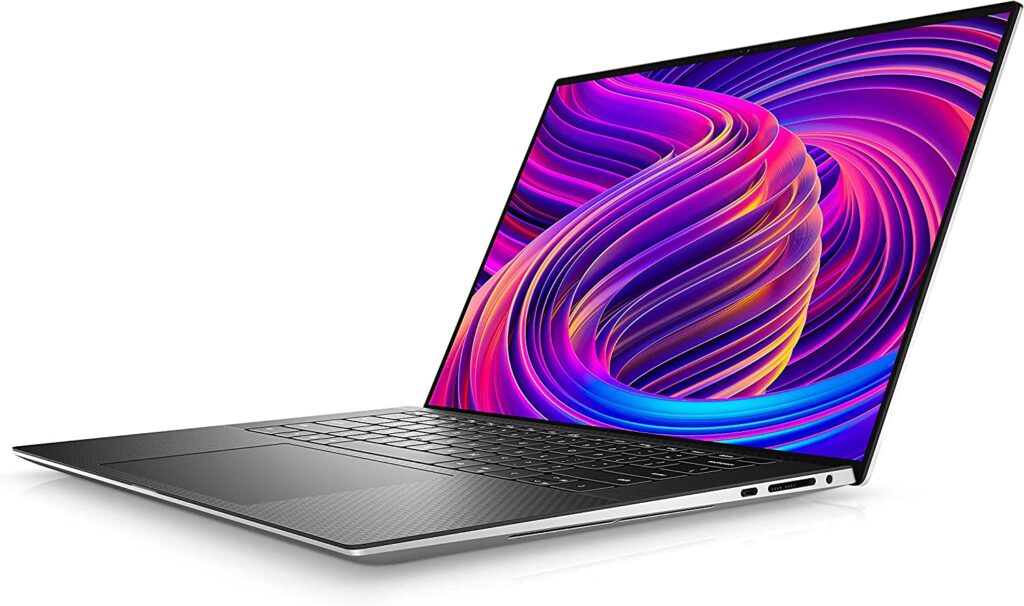 Processor: 12th Gen Intel Core i9
RAM: 16GB DDR5
Storage: 1TB
Screen size: 15.6-in 4K OLED Display
Graphics: NVIDIA GeForce RTX 3050 Ti
Battery Life: Up to 13 hrs
If you want one of the most comfortable laptops with a strong processor at a competitive price, you should consider the Dell XPS 15.6-inch laptop. The XPS 9510 is fully packed for on-the-go video editing, yet it's easy to carry around.
For many, it fits the description of an ultrabook workstation, while others may see it as a gaming PC, thanks to its dedicated graphics card.
Right off the bat, you'll appreciate the platinum silver color of the XPS 9510. While it's not the most fanciful color, it does draw your attention to the laptop. Upon opening it, you're greeted by an inviting 15.6-in 4K OLED display with a 3456 x 2160 resolution.
The colors are vivid, and the brightness, up to 400 nits, is apt for the 16:10 screen aspect ratio. It's clear enough to use even under the sun.
Regarding the memory and storage configurations, you get a 16GB DDR5 RAM mated with a 1TB PCle NVMe SSD. Both are upgradeable, with the RAM maxing out at 64GB and the SSD at 8TB, respectively.
The Dell XPS 15 9510 features the 12th-gen Intel Core i9 processor with a lightning-fast processor speed of 5.0GHz on turbo. It sports a 24 MB cache and has 14 cores. Practically speaking, your video editing tasks will be easy-peasy.
Combining these processor and RAM features with its powerful NVIDIA GeForce RTX 3050 Ti graphics card, you're bound to get a fantastic user experience.
Battery life is good, as you'll get up to 13 hours of usage - depending on what you're doing. However, this doesn't make up for the absence of relevant ports like HDMI and USB 3.0, which are still relevant today.
Crystal-clear 15.6-inch InfinityEdge 4K OLED display.
Enough battery life to last a day of constant usage.
Upgradeable 1TB SSD and 16GB RAM.
A dedicated graphics card ensures you'll not deal with lags while editing your videos.
A 1080p webcam would have been ideal.
Missing an HDMI port.
6. Acer Nitro 5
Processor: 12th Generation Intel Core i5-12500H
RAM: 16GB
Storage: 512GB SSD
Screen size: 15.6-inch 1920×1080
Graphics: NVIDIA GeForce RTX 3050Ti
Battery Life: Up to 7 hrs
The latest Acer Nitro 5 offers great features to anyone interested in a budget laptop for YouTube video editing. It features an Intel Core i5-12500H processor, a 512GB SSD, 16GB RAM, and the NVIDIA GeForce RTX 3050Ti graphics.
Is it powerful enough to handle video editing tasks? Yes, and for under a grand.
Acer tried something new with their design on this laptop, making it easier for users to feel comfortable using it anywhere. It doesn't scream "gaming laptop" at first glance like the previous models.
As mentioned earlier, the Nitro 5 sports a Core i5-12500H Intel processor - for this review unit, as there are tons of configurations to choose from. This current configuration is ideal for anyone looking for a top-quality but cheap laptop for editing YouTube videos.
With its 16GB RAM and 512GB SSD, you should be able to blaze through most of your editing tasks. Some will argue that the storage space is limited, but you can always use an external storage drive to back up your productions.
The 15.6-inch IPS display is fantastic, and the colors are as expected. The Nitro 5 has a 1920 x 1080 resolution and a 144Hz refresh rate, ensuring smooth gaming. If you're unsatisfied with the 15.6-inch screen, you can opt for the 17-inch model, but know that you're not getting a bump in resolution.
The Nvidia GeForce RTX 3050Ti GPU with its 4GB of dedicated memory is ample enough to handle your video editing tasks with no lags whatsoever. Hook it up to a secondary display, and you'll breeze through your YouTube video editing projects with the utmost ease.
Ports-wise, Acer was generous and offered lots of it, including an HDMI port, an Ethernet port, USB 3.2 Type A, and USB Type-C ports.
There's only one negligible downside to owning this laptop - its battery life - about 7 hours of constant usage.
Capable GPU for lag-free video editing tasks.
It offers lots of connectivity ports all over its body.
Crisp-clear 15.6-inch IPS display with 144Hz refresh rate.
Simple design that makes it feel like a regular office laptop.
The screen may feel dimly lit.
7. Acer Predator Triton 300 SE
Processor: 12th Gen Intel Core i7
RAM: 16GB
Storage capacity: 512GB SSD
Screen size: 16 inches 2560 X 1600
Graphics: NVIDIA GeForce RTX 3060
Battery Life: Up to 8 hrs
Acer is known for releasing high-end laptops at favorable prices. The Acer Predator Triton 300 SE offers impressive features to help you create and edit awesome videos. Powered by a 2.3GHz 12th generation Intel Core i7, this laptop offers you great specs at a fair price.
With it, you can smoothly stream, multitask, record, and edit videos for your YouTube channel.
The Triton 300 has 16GB LPDDR5 RAM and a 512 GB SSD. The RAM is upgradeable to 32GB, so you'll have no issues running your editing software on the PC.
It also shines in the graphics department with its NVIDIA GeForce RTX 3060 GPU. The GPU boasts up to 6GB of dedicated GDDR6 video memory. It's enough to handle your video editing tasks and a couple of games if you choose to play some popular titles with it.
The Triton 300 SE's display doesn't disappoint either. It features a 14-inch LCD screen with a 165Hz refresh rate and a 1920 x 1200 resolution. The screen is decently bright, and you can easily use it in direct sunlight.
Acer adorned the Triton 300 SE with enough ports to ensure you'll not need an adapter. And that's not all - the 4-cell battery allows you to use the laptop for up to eight hours.
There are a few drawbacks to using this Acer Predator Triton 300 SE laptop - the port placement feels awkward, and the keyboard is somewhat cramped. That notwithstanding, it's an excellent video editing and gaming laptop.
Its 6GB, NVIDIA GeForce RTX 3060 graphics chip, ensures you'll have no lags.
The 14-inch display is bright enough to be used even outdoors.
A 4-cell battery provides up to 8 hours of battery juice.
It sports multiple connectivity ports.
The touchpad and keyboard can be improved.
8. Lenovo IdeaPad Gaming 3
Processor: AMD Ryzen 5
RAM: 16GB DDR4 RAM ( upgradable)
Storage: 256GB SSD (upgradable)
Screen size: 15.6-inch 1920 x 1080
Graphics: NVIDIA GeForce GTX 1650
Battery Life: Up to 4 hrs
The Lenovo IdeaPad gaming 3 is a budget laptop with decent abilities that make it a good choice for a beginner YouTube video editor on a budget. This 15.6-inch laptop features a sturdy chassis, comfortable keyboard, and full HD display.
The Ideapad Gaming 3 boasts an AMD Ryzen 5 3.3GHz processor, which can handle some of your video editing tasks without stuttering, except if you're editing 4K or 6K videos.
RAM-wise, you get 16GB DDR4 RAM paired with a 256GB SSD. The SSD is upgradeable, but it'd have been better if it had up to 512GB on the base model.
The Ideapad Gaming 3 comes with Lenovo's Vantage app, which allows you to control various settings on the laptop. You can even boost fan speed when running intensive video editing tasks.
There are a generous amount of ports on both sides of the laptop. Concerning ports, Lenovo fitted the Ideapad Gaming 3 with a 720p webcam with a privacy shutter. The camera image and video quality are average and will be enough to get you through those video calls.
Also, you will get great video production and editing performance thanks to this laptop's NVIDIA GeForce GTX 1650 graphics card. It's nowhere near laptops with the 3060 GPU, but it can edit your footage, even up to 4K.
One of the few drawbacks of this laptop is the 1080p screen which leaves a lot to be desired. Its display quality isn't as crisp as we've seen on similarly priced video editing laptops. Nonetheless, you can always add an external monitor if the need arises.
Regarding the battery life, you'll get just a little over 4 hours, depending on the tasks you're running on the laptop. It's not the best, but throw the charger into your bag, and you're good to go.
An efficient AMD Ryzen 5 processor ensures the laptop runs smoothly.
NVIDIA GeForce 1650 GPU ensures you have a good video editing experience.
Comfortable keyboard and well-vented allows for extended usage.
Lenovo's Vantage app gives you vast control over the system.
9. Razer Blade 17
Processor: 12th Gen Intel Core i7
RAM: 16GB (expandable to 64GB)
Storage capacity: 1TB SSD
Screen: 17.3-inch, 4K
Graphics: NVIDIA GeForce RTX 3060
Battery Life: Up to 3 hrs
While Razer laptops may not have the appeal of Apple laptops or the prestige of Dell Alienware, you should not underestimate its abilities. The Razer Blade 17 laptop has super powerful graphics for anyone searching for a powerful laptop for gaming and video editing.
The Blade 17's base model comes with a 12 Gen Intel Core i7 processor with 1.8GHz base frequency, which you can turbo boost to 4.8Ghz. There's also a Core i9 processor version for even better performance.
This review model features 16GB DDR5 RAM, which is expandable up to 64 GB. It makes a huge difference compared to using a laptop with just 8GBs or RAM.
Concerning the storage, you get the 1TB NVMe PCIe SSD right out of the box. It's enough to meet your everyday storage needs, but you should consider upgrading to 2TB or getting an external SSD in the near future.
You'll undeniably love the NVIDIA GeForce RTX 3060 with its 6GB of VRAM and the fact that it's VR-ready. Honestly, it would be best to buy this laptop for video editing and gaming purposes.
The 17.3-inch QHD screen with a 2560 x 1440 resolution and a 165Hz refresh rate make the items on the screen look crisp-clear. Even though it has a maximum brightness of 300nits (which isn't perfect for outdoor usage), it's still clear enough and has good viewing angles.
There's a vast selection of ports on the Razer 17, including 3 USB Type-A ports, an HDMI port, 2 Thunderbolt ports, and an SD card slot.
Overall, the Razer Blade 17 will effortlessly meet your video editing needs, but it has one drawback - battery life. The battery life isn't the best - you'll get about three hours of usage.
The NVIDIA GeForce RTX 3060 and an efficient Core i7 processor ensure excellent video editing and gaming performance.
Top-quality touchpad and keyboard make everyday usage easy.
Crisp-clear pictures on the QHD screen with a 165Hz refresh rate.
Unimpressive battery life.
10. ASUS ZenBook Pro Duo 15
Processor: 12th Gen Intel Core i9
RAM: 32GB
Storage capacity: 1TB SSD
Screen size: 15.6", 4K UHD
Graphics: NVIDIA GeForce RTX 3070 Ti
Battery Life: Up to 4.5 hrs
The ASUS ZenBook Pro Duo 15 is a uniquely designed dual-screen laptop featuring a 15-inch screen and a smaller OLED screen just above the keyboard. It's undeniably a premium laptop with a hefty price tag, thanks to its features.
For this review, we'll examine the Core i9 model, which has all the bells and whistles. The ZenBook Pro Duo 15 sports an eight-core Intel Core i9-10980HK processor with 2.4 GHz processor speed, which maxes out at 5.3 GHz if boosted.
It comes with 32GB DDR4 RAM and a sizeable 1TB NVMe SSD, which should be enough to hold several hours of videos. The RAM ensures the laptop is swift with each click and keystroke, so you should expect lightning-fast performance.
The ZenBook Pro Duo 15 also has a novel dual-display setup. The main screen is an OLED 15.6-inch 4K with a 3840 x 2160 resolution. The additional screen is a 14-inch 4K IPS display.
Both screens produce fantastic crisp-clear images, and the second screen will come in handy for keeping tabs on your video footage.
The second screen is also incredibly useful as you can use it for various purposes, including emails, toolbars, and chatting with clients when multitasking. You might find certain texts hard to read at first, but you'll get used to them with time.
Concerning graphics, ASUS blessed the ZenBook Pro Duo 15 with an 8GB NVIDIA GeForce RTX 3070 Ti GPU. You also get the Intel UHD integrated chipset when you don't need all the GeForce power.
This laptop will blaze through every video editing task you throw at it, including 8K videos. With all the niceties it comes with, we expected a heavy price tag. And sure enough, it's expensive. But, honestly, it's worth every penny.
Battery life is one area where this ZenBook falls short of expectations, as the 92WHrs battery delivers about four and a half hours of constant use. Another area is the cramped keyboard.
Exceptional design makes it aesthetically appealing.
The 32GB RAM and 1TB SSD powered by an Intel Core-i9 processor ensures you'll not have any lags.
Dual 4K screens with superb color accuracy and crisp-clear images.
Up to 8GB VRAM via the NVIDIA GeForce RTX 3070 Ti GPU.
The battery life could have been better.
It lacks an SD card reader and ethernet port.
11. Asus ZenBook Flip 15
Processor: 11th Gen Intel Core i7
RAM: 16GB
Storage capacity: 1TB SSD
Screen size: 15.6-inch
Graphics: NVIDIA GeForce GTX 1650
Battery Life: Up to 21 hrs
The Asus ZenBook Flip 15 is another ASUS laptop that offers versatility and elegance and has decent specs that make it suitable for your video editing needs. It may not have the bells and whistles of the ZenBook Pro Duo 15, but it does get the job done.
Starting with its design, you'll be pleased with its compact size. Under its brushed metallic body, you'll find a decent 11th gen Intel Core i7 processor with 2.8 GHz processor speed that can be turbo-boosted to 4.7GHz.
Aiding the processor is the 16GB DDR4 RAM, which, unfortunately, is the maximum RAM for the Flip 15. While it'll allow you to run your apps and software without lags, we think having extra room for upgrades would have been better.
You get a 1TB NVMe SSD for your storage needs, which should be enough to store a handful of videos.
The laptop's slim-bezel 15.6-inch Nano Edge touchscreen has great color accuracy. Although it has a 1920 x 1080 resolution, the colors are fantastic and crisp-clear. ASUS also precision-engineered this laptop to have the 360-degree ErgoLift hinge.
Don't be confused - the ErgoLift hinge system lifts the laptop's base off the table when it's opened. This allows the laptop to have enough ventilation for its vents and keeps it from getting unnecessarily warm when it's in use.
You get the NVIDIA GeForce GTX 1650 Max Q GPU for your graphics needs. There's the option to get the Max Q Ti GPU, but the tradeoff is minimal. We suggest getting laptops with the RTX 3060 GPU if you want more power.
The keyboard and mouse feel good to use. The keyboard is backlit, has decent key travel, and doesn't have any clunkiness to it. We also appreciate the availability of ports on the ZenBook Flip 15.
Battery life is excellent on this laptop, and depending on your usage, you'll get up to 15 hours or more with your video editing tasks. For basic web surfing, you'll most likely get up to 21 hours of battery life.
The ASUS ZenBook Flip 15 is a fantastic laptop for YouTube content creators looking for a decent video editing laptop with exceptional battery life.
Crisp, clear 15.6-inch 1080p Nano Edge touchscreen with good viewing angles.
A simple design yet packs many features under its metallic body.
Decent NVIDIA GeForce 1650 Max Q GPU cater's to your graphics needs.
Superb battery life ensures you'll get almost full-day usage with it.
The RAM isn't upgradeable.
12. HP ENVY 15-ep 4K
Processor: 12th Generation Intel Core i7
RAM: 16GB
Storage capacity: 1TB NVMe SSD
Screen size: 15.6-inch 4K OLED display.
Graphics: NVIDIA GeForce RTX 3060
Battery Life: Up to 5 hrs
The HP Envy 15 laptop is a powerful, sleek machine for its price. Judging from its design, you'll tell it's tailored toward professionals who need a powerful laptop but not one that comes across as a gaming laptop.
You'll love the laptop's sleek design that easily fits into any backpack to edit your videos on the go. The spec sheet shows that HP decked the Envy 15 with a 12th gen Intel Core i7 processor with a clock speed of up to 4.6GHz.
16 GB DDR4 RAM backs the processor to ensure swiftness in day-to-day usage. And for your storage needs, you also get a 1TB NVMe SSD which offers industry-standard read and write speeds.
Screen-wise, the Envy 15 boasts a decent 15.6-inch OLED 4K display with a resolution of 3840 x 2400. It has fantastic colors and great viewing angles. You'll undeniably enjoy every bit of video editing work you do on this screen.
The NVIDIA GeForce RTX 3060 on this laptop will blaze through any task you assign, whether gaming or editing 4K and 6K videos. You can run multiple programs without overwhelming the laptop.
It does get warm under load, but it's nothing to worry about. The keyboard and trackpad are good and provide swift responses. There's also a good number of ports available on the laptop, so you'll not need a hub to start using it.
The battery life isn't all that impressive - you'll get about 5 hours on this laptop. However, it supports fast charging, which gets it up to 50% in about 45 minutes. Concerning weight, we think the laptop is noticeably hefty.
The Envy 15-EP laptop is great for anyone looking for a laptop that bridges the gap between business and gaming laptops.
It features a powerful GeForce RTX 3060 graphics card.
A crisp-clear, and sumptuous 4K OLED touchscreen.
Fast charging technology juices up the battery to 50% in less than an hour.
Ample RAM and storage space ensures fast response.
A tad heavier than some laptops in its category.
How to Choose the Best Laptop for YouTubers
Choosing the right laptop is an important decision because it'll save you from a lot of frustration when you're working. It indirectly defines how fast you can create and edit your videos.
So, what should one look out for when selecting a laptop for creating and editing videos for your YouTube channel? Check out these considerations:
RAM
We recommend a minimum RAM of 8GB for smooth video editing for anyone doing basic video editing on their laptops. Therefore, choosing a laptop with higher RAM (12GB, 20GB, 16GB, 32GB, or 64GB) can lead to a better video editing experience.
If you're on a tight budget and settle for a laptop with 8GB RAM, ensure its design allows for RAM upgrades. This will help you bump the RAM up and improve your user experience as you progress.
Storage Space
Videos consume a significant amount of space. 10-minute 2K videos can be as large as 7GB without forgetting the space consumed by your video editing software.
Considering this, you should focus on laptops with a minimum of 512GB storage capacity. 256 is manageable, but you should expect it to get filled up after editing a few videos. You can always expand your storage by purchasing an external SSD.
Opt for laptops with SSDs. They tend to cost a little more than their HDD counterparts but are faster.
Input Ports
Thinking ahead about the external devices you'll need when creating and editing your videos is crucial. A Thunderbolt port would be helpful when transferring large video files, but it's not a dealbreaker. If your laptop lacks ports, you can get an external hub.
Graphics
Many people think they can't create videos with laptops with an integrated GPU. But that's not true. You can create videos with laptops with an integrated GPU, but the lags and video production times can be annoying.
That's why you should get a laptop with a dedicated graphics card to deal with the load effortlessly. Gaming laptops are the go-to choice for some YouTube video editors, but getting a gaming laptop is unnecessary.
Screen Resolution
In all you do, avoid laptops with low screen resolutions. They're not worth the stress they'll give you when you're editing and watching videos on them. The most common screen resolutions are:
4K: 3840 x 2160.
Apple Retina: 2880 x 1800
HD or High Definition: 1920 x 1080.
Durability & Warranty
The last thing you want is your laptop failing even before it earns you any returns on investment. It would help if you had a durable laptop that could withstand highly intensive daily tasks. Go for laptops with at least a 2-year warranty. The longer the warranty, the better. If it breaks down within the warranty period, you can get it fixed or replaced if it's a manufacturer defect.
Portability / Weight
If you intend to take your laptop with you on your trips, you should consider getting something lightweight and less bulky. Ideally, the laptop should fit into your standard backpack effortlessly. If the laptop is overly heavy, you'll be uncomfortable and probably pay more for the luggage. Thankfully, most laptops have decent weights, so finding a portable unit may not be a problem.
Frequently Asked Questions About What's The Best Laptop for YouTubers
Here are some answers to questions you might have about video editing laptops.
Do I Need a Dedicated Graphics Card for Video Editing?
No, you don't require a dedicated graphics card to do video editing. But, if you're a professional or looking to become a professional video editor, you'll need a dedicated graphics card.
What Software do I Need for Video Editing?
Many video editing software exists - both free and subscription-based. The following are some common software you'll need as a video editor:
Adobe Premiere Pro
Final Cut
CyberLink PowerDirector 365
Adobe Premiere Elements
Pinnacle Studio.
What Hardware do I Need for Creating YouTube Videos?
You need various hardware components to create high-quality YouTube videos with your laptop, including:
Powerful graphics card.
At least 8GB RAM (depends on the software you're using
Your laptop must have a good processor and processor speed.
More than enough ports for you.
Connectivity cables for your cameras, etc.
Are Laptops for Video Editing Expensive?
Video editing is among the most intensive tasks you can do with your computer. These laptops are generally affordable in the base model versions, but when you upgrade the laptop to the maximum specs available, it can become very expensive.
Should I buy a MacBook or Windows Laptop for Video Editing?
It depends on various factors, personal preference being chief of them all. The MacBook is a powerful laptop (depending on specs), but its lack of ports and compatibility issues with some software make the Windows laptops a strong contender.
On the other hand, Windows laptops provide more flexibility and typically allow for upgrades. Also, you can install most video editing apps with ease. And there are lots of Windows-powered laptops with an ample number of ports.
What Processor is Best for Video Editing?
Video editing is best done by high-performance processors, such as:
Intel Core i5, i7, i9 , and above.
AMD Ryzen 5 processors
AMD Threadripper processors.
Can a Laptop Handle 4K Video Editing?
Yes, most of the powerful laptops on the market can handle 4K video editing tasks. Even laptops with a good 2K screen will handle some 4k videos if fully loaded.
How Much RAM is Needed for Video Editing?
A minimum of 8GB RAM is required for video editing. For editing 4K videos, at least 16GBs of RAM is required. Some video editing software will flag your RAM as inadequate when it's not up to the requirements.
Our Vote for the Best Laptop for YouTubers
After a spec-filled contest, the Apple MacBook Pro M1 wins the crown. While it may be arguably one of the most expensive laptops for video editing, it does merit the top spot on our list. If that's a bit of a stretch right now and you need to up your YouTube game to afford it, check out our article about how long does it take to make money on YouTube.
If you're looking for a budget video editing laptop for your YouTube videos, you should consider the Acer Nitro 5 or the Asus ZenBook Flip 15.
For ways to get ahead with YouTube SEO to earn more from your content, take a look at TubeBuddy.
It will help you boost your chances of success and make it easier to rank higher on the algorithm. You can find keywords that work best for your content, use templates to save time and energy optimizing videos, then test them out to maximize results.
Want to learn step-by-step how I built my Niche Site Empire up to a full-time income?
Yes! I Love to Learn
Learn How I Built My Niche Site Empire to a Full-time Income
How to Pick the Right Keywords at the START, and avoid the losers
How to Scale and Outsource 90% of the Work, Allowing Your Empire to GROW Without You
How to Build a Site That Gets REAL TRAFFIC FROM GOOGLE (every. single. day.)