15 Best Google Analytics Blogs You Need to Follow
When you buy something through one of the links on our site, we may earn an affiliate commission.
If you want to make the most out of your traffic, you need to know how to measure it. And you can learn a lot from the best Google Analytics blogs.
Google Analytics still remains the best free option.
With the launch of Google Analytics 4 and soon-to-be deprecated Universal Analytics, it's essential to stay informed about upcoming changes.
That's why we have gathered a big list of the best Google Analytics blogs. These blogs will help you learn how to use the platform and grow your online business effectively.
Let's dive in.
AnalyticsMania
Analytics Mania is one of the best Google Analytics blogs because the articles are so easy to follow and have been written for non-coders.
The founder, Julius Fedorovicius, had years of experience using Google Analytics during his time at an email marketing company.
He launched his blog, Analytics Mania, in 2016 to share in-depth tutorials to help people track the performance of their websites.
The main topics covered are Google Analytics 4 and Google Tag Manager and each article is explained clearly with lots of screenshots.
Analytics Mania currently has around 260 articles, and there's also an Analytics Mania YouTube channel.
---
Data Driven
Data Driven is a Google Analytics blog by Jeff Sauer, formerly known as Jeffalytics, and has been around since 2012.
Jeff is one of the biggest names in data analytics and publishes a ton of content on Google Analytics, Tag Manager, Facebook, and Google Ads.
Additionally, he offers a huge library of online courses covering advanced training on GA, Tag Manager, business growth, and advertising.
You'll find well-documented tutorials on the blog covering all areas of GA4 and Tag Manager to help you keep track of your site traffic and conversions.
Last, Data Driven posts content on their YouTube channel for those of you who want to keep up to date with GA and marketing insights.
---
SimoAhava
Simo Ahava is a Google Developers expert for Google Analytics and Google Tag Manager. He started his blog in 2014.
The blog gets a staggering amount of traffic, reaching over 1.3 million sessions in 2021. It's clear that Simo knows a thing or two about digital marketing, as well as the topics he shares in Google Analytics.
Most of the content published focuses on Google Analytics and Tag Manager, which accounts for more than 340 posts. The tips and guides are more on the advanced level and suitable for experienced Analytics users.
Simo has also developed several free tools, including a tool for managing Google Tag Manager containers and a Google Sheets Custom Dimension Manager for GA.
---
LovesData
Loves Data wants to help its readers how to understand their data and get the most out of their online campaigns.
Benjamin Mangold is the face behind the blog and YouTube channel and aims to make learning Google Analytics as simple as possible.
The blog covers topics like how to measure bounce rate in GA4, as well as creating custom events for tracking conversions.
Loves Data guides are super easy to follow and make a somewhat complex tool easier to navigate.
You'll be able to understand how to better read analytics data to know how your website is performing and make better decisions.
In addition to the blog, the LovesData YouTube channel hosts over 260 videos covering all the essential topics surrounding GA4, Tag Manager, Data Studio, and more.
---
Niche Pursuits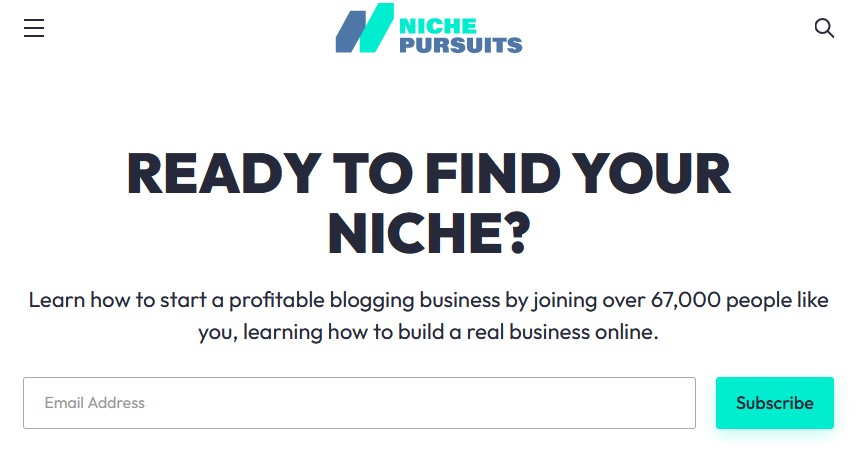 Niche Pursuits is the best Google Analytics blog for niche sites and affiliate marketing blogs in my humble opinion.
If you want to know how to use google analytics for blogs and learn how to be successful at blogging, then you're already in the right place.
A search for "Google Analytics" on Niche Pursuits offers an impressive 340 results.
From the best Google Analytics WordPress plugins to knowing which kinds of hits Google Analytics tracks, there are many valuable resources here.
And our YouTube channel is a popular source of tips for online business enthusiasts!
---
MeasureSchool
Measure School helps you learn the essentials of data analytics, so you can make better decisions and grow your business.
There are currently around 170 posts covering topics on Google Analytics, Tag Manager, Google Data Studio, Meta Pixel, and more.
The content ranges from the basics of GA4 to more advanced guides, such as using JavaScript for Google Tag Manager.
According to SimilarWeb, the site gets over 130,000 visits per month (but you should also check with SimilarWeb alternatives).
And if that's not impressive enough, the Measure School YouTube channel has 500+ published videos and has grown the channel to more than 160k subscribers.
It's clear to see that Measure School knows how to use Google Analytics to track performance and grow across multiple channels.
Check out one of their videos below to discover 4 Fundamental Changes Happening with Google Analytics 4.
---
Carloseo
Carlos Escalera is an analytics consultant and founder of the blog Carloseo.
Formerly known as Ohow, Carloseo is one of the most trusted names in the Google Analytics industry.
Each post outlines clear instructions to help you learn how to use Google Analytics like a pro.
There's even a difficulty meter to let you know how advanced the tutorials are.
Topics covered include Google Analytics, SEO, and UX, all to help you grow and monitor your traffic, and improve conversions.
---
OptimizeSmart
Optimize Smart is another excellent resource for Google Analytics guides and tutorials.
Founded in 2011 by Himanshu Sharma, the blog is still going strong, with tons of up-to-date content covering Google Analytics 4, Google Tag Manager, conversion optimization, and more.
Each article provides step-by-step instructions and plenty of screenshots to make things clear and simple.
Moreover, Optimize Smart offers an advanced 8-week online training for people who want to increase website sales and ROI. You'll learn everything from GA, Data Studio, and BigQuery to Data, Math, and Statistics.
Himanshu is also the author of several books available on Amazon on topics such as GA, email marketing analytics, and Attribution Modeling.
---
CXL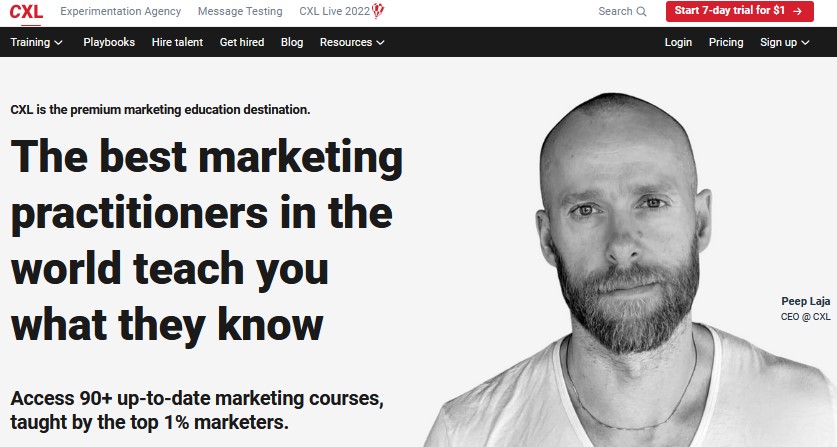 CXL promises to be your shortcut to greatness. They publish insanely in-depth content on their blog, which covers many topics around marketing, analytics, and optimization.
Founded by Peep Laja (pronounced 'Pep Laya') in 2011. They develop world-class training with the best marketing practitioners in the world.
The blog is home to a staggering 1000+ articles on Conversion Rate Optimization (CRO), Google Analytics, Copywriting, Social Media, and much more.
Each guide is highly educational, easy to follow, and visually appealing, using plenty of screenshots.
If you want a deep dive into Google Analytics and building businesses, then you'll appreciate this blog.
They also have a fantastic YouTube channel sharing videos on marketing automation, CRO, Google Analytics, and much more.
Watch this quick video on the importance of website speed.
---
MeasureMinds
The MeasureMinds blog offers some excellent guides and tutorials on Google Analytics, Tag Manager, SEO, Conversion Rate Optimization, and more.
Each article is highly engaging and easy to follow. They provide detailed insights from an expert team of data analysts and developers.
The company is based in the UK and offers digital marketing services to established businesses looking to grow using digital analytics and AI.
In addition to their blog, MeasureMinds publish in-depth videos on their YouTube channel.
---
BlastAnalytics
BlastAnalytics is a global Analytics consultancy company and has been named one of Inc. Magazine's top 5000 fastest-growing private companies.
Their blog is packed with insightful Google Analytics content. They also cover topics on Google Optimize, Data Management, and Digital Experience.
Additionally, their content helps you understand and optimize your data from Google's toolset and embrace the change to GA4.
---
Annieliytics
Annie Cushing is the founder of Annielytics, a blog where she attempts to make data sexy - and succeeds!
In her own words, "I will give you practical strategies to help you put your data in stilettos and make it work the pole."
Most of the content on the blog was posted before 2021; however, older posts still provide valuable insights - and a lot of humor!
Annie is also the author of the book Making Data Sexy, which teaches you how to create compelling, aesthetically pleasing charts in Excel.
Last, Annielytics has a YouTube channel with several more up-to-date videos on Google Analytics and Search Console.
---
Analytics Canvas
If you want to know how to back up Google Analytics data for migration to GA4 or what "other" is in your GA4 reports, then Analytics Canvas has you covered.
This blog has been around since 2011 and has over 100 articles on everything you need to know about Google Analytics, Automation, Data Studio, and more.
Analytics Canvas content ranges from beginner to advance guides, helping you learn and understand how to gather and use your website data in a smart way.
Each post shares clear instructions and lots of screenshots to make sense of everything.
Additionally, they offer a Google Analytics integration tool for GA users who want a better way to visualize their data.
---
Analytics Ninja
The Analytics Ninja blog shares content on Advanced Segmentation, Google Analytics, and much more.
Their core message is to help you silently surpass your competition. The team is made up of five senior, experienced analytics practitioners who love to problem-solve.
Founded in 2010, the company offers its clients services in Google Analytics Audits and Implementations, Tag Manager Implementations, Data Analysis, and Reporting.
---
Merkle Cardinal Path
This blog shares news and reviews essential features, tools, and capabilities available with Google's suite of products.
Articles are generally shorter than other blogs in this list yet offer useful insights into leveraging Google Analytics effectively.
Merkle Cardinal Path works with the biggest brands in the world to differentiate customer experiences and unlock their full potential.
Their mission is to empower brands to harness their data in the pursuit of their business goals and achieve success.
---
Conclusion: Best Google Analytics Blogs
These are the best google analytics blogs for you to follow this year and beyond. With all the changes happening with Google Analytics 4, it's important to stay up to date.
Whether you just want to monitor the basic metrics of your blog's traffic or you want to gather advanced data to improve conversions and ROI, these blogs have you covered.
Need to track traffic on your website? Check out our post on the 13 best Google Analytics plugin for WordPress.
Want to learn step-by-step how I built my Niche Site Empire up to a full-time income?
Yes! I Love to Learn
Learn How I Built My Niche Site Empire to a Full-time Income
How to Pick the Right Keywords at the START, and avoid the losers
How to Scale and Outsource 90% of the Work, Allowing Your Empire to GROW Without You
How to Build a Site That Gets REAL TRAFFIC FROM GOOGLE (every. single. day.)
Subscribe to the Niche Pursuits Newsletter delivered with value 3X per week