Best Fonts for Blogs: 20 Fonts That Grab Readers' Attention
When you buy something through one of the links on our site, we may earn an affiliate commission.
Discovering the best fonts for blogs is an excellent idea.
A picture might be worth a thousand words and a video even more so, but the written (or printed) content is still one of the most powerful tools today.
Whether you're a part of a large organization, running a small business, or finding out ways to make money from your website, you need to write in a way that catches the attention of your target audience.
That's where fonts come in handy.
Quality content is crucial, but so is how you present it.
The appearance is almost as important as what you're saying, and the best fonts for blogs are essential for making your words easy and enjoyable to read.
Choosing the perfect font will give you a step-up in attracting and retaining followers and readers for your blog.
There are several font options out there, and we'll check them out in a minute, but first…
Why Should You Care About Choosing the Best Fonts for Blogs?
Why should it even matter what kind of font we choose for a blog?
After all, if we have something important to say, people will probably read it anyway.
Well no, not really.
Your content could be out of this world, but if the font you choose is wacky or hard to read, people won't read it; reading on a screen is already hard on the eyes, so nobody wants to see ridiculous fonts.
We already have a vast amount of content available to us online, and many of us don't have the time to read content that's hard to read.
So always remember — fonts can look fancy and appealing, but readability is the most important thing when choosing the font. The right font can make all the difference in how well content is received.
The rise of skim reading
Fonts matter. With skim-reading becoming so common, it's even more important to present an attractive yet simple font for your audience.
Even if you check out the significant publications worldwide (The New York Times, The Guardian, and USA Today), it's evident that the font design is structured towards a more effortless reading experience.
Conveying your personality
Different fonts can represent different things. Serif fonts, for instance, usually stand for reliability, traditions, and similar concepts. If you are going for a serious vibe, such as a legal site, stick with these.
San serif fonts, though, can convey objectivity and stability. The same goes for most script fonts. Wedding photography, literature, creative writing, and any blog with a similar theme should choose serif fonts.
There's a high chance that visitors to a website will leave it almost immediately if they feel that the typography is too out there.
They might not be able to explain their distaste, but the fact remains that font choices are of great importance. They can enhance your business, increase the chances of achieving your blog's goals, and help pick up more ad revenue.
How to Choose the Right Typography for Your Blog
Typography refers to the process of adding formats, styles, and other combinations for the words you see on a page.
The right choice here will enhance your blog's visibility along with a host of other benefits.
Here are some tips:
Decide the personality of your blog
Before deciding on any font design, think about the voice you are looking for in your blog. Is the content serious, funny, entertaining, informative, or something else?
The next question should be whether a particular font supports the brand.
These tips and examples of blog personalities can come in handy!
Consider the channel or medium
If your font is for social media posts, the main focus should be creating a responsive design for a mobile device. If the writing is for an ebook or report, choose a font that's easy on the eyes.
No decorative fonts for long posts
Decorative fonts should only be for headings/titles, and perhaps, sub-headings. Utilize them in a relevant setting; for instance, selecting a chalky font for education-based articles is a good idea.
Neutral fonts are great for any content. If you want to highlight some information but not use a different font, you can always change the styles. Writing some words in a narrow, bold, condensed, or extended font might be an option in some cases.
Some fonts go well together. Have some on hand that will look good with your design of choice. You can make this practice easier by checking out all the fonts by one designer.
You may want to stick with one font and tweak it for headings or emphasis. There's nothing wrong with having multiple fonts in one website, blog, or even a single post. However, it's generally agreed that a maximum of three fonts for blogs is enough before you pollute your layout.
It's always wise to look at some successful bloggers, observe their font style, and take insights from there.
20 Best Fonts for Blogs
Without further ado, let's get to some of the best fonts for blogs.
1. Roboto
This sans serif font is the Google search font and a popular one for blogging. The design has easy curves and geometric leanings that allow for a smooth reading rhythm. Since Roboto is already so familiar to internet users, it's a logical choice for your blog.
If you want to use other fonts alongside Roboto, go for Roboto Slab, Oswald, Open Sans, Montserrat, etc.
---
2. Lobster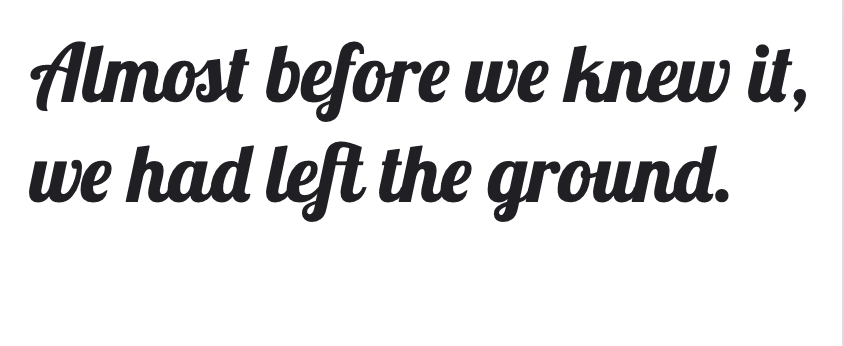 Lobster is an excellent choice if your blog needs some graphic design. As with many script fonts it's a bit hard to read, so the reader must focus on some important words. This means that you ideally won't be using it for the whole body of a blog post.
For now, Lobster comes in just one style and is a good combination with Josefin Slab and Raleway.
---
3. Open Sans

The original purpose of Open Sans was for use in print, mobile, and the web. Since it works across devices, this makes it one of the best choices for bloggers everywhere.
The legibility is on point, and you'll probably see it on several design-focused blogs. It's even a standard font for sites that use black backgrounds.
Open Sans also works best when you pair it with PT Sans or Montserrat.
---
4. Oxygen

The KDE project for Linux was the first intended use for this font. It's one of the most popular sans serif fonts for good reason, as it has a lovely yet straightforward appearance and is suitable for use on any mobile device and computer screen.
There are three body weights for this font, so one can use it for the sidebar along with the main body of a post. It can help you create that professional look on your website with longer and thinner letters than usual.
This font pairs well with Oswald and Open Sans.
---
5. Lato

Lato will look fantastic alongside fonts such as Cardo, Fira Sans, Yellowtails, and Merriweather. However, keep in mind that three fonts should be your maximum in a single blog post.
This sans serif font is another popular choice with many websites over the past few years. The letters are semi-rounded, which can convey a warm, homey feeling, which a lot of modern fonts lack.
However, the solid structure also conveys stability, seriousness, and professionalism.
---
6. Playfair Display

This font is more transitional for blogs. The focus is on delicate hairlines and high contrast. If you write in a specific language, such as German, then headlines in this font will be especially nice with the contrast design on the capitalized words.
On a stylistic level, Georgia might be one of the best options for accompanying Playfair. A literature or art-based blog will undoubtedly benefit from this combination.
---
7. Allerta Stencil

This fancy font was originally for posters, signage, and similar uses. This means that it is easy to read even from a distance.
Every letter is separate, and it's an excellent font for headings, titles, etc.
The theme is best for prints and graphics designing but not so much for the body of your content. Pair it up with Special Elite typeface for maximum effect.
---
8. Oswald

Oswald goes well with fonts like Quicksand, Arial, Roboto, and Manus. Its inspiration came from the Alternate Gothic sans serif fonts.
The creation of Oswald was mainly to use freely on mobile devices, desktops, and other web browser mediums.
This font has also seen several improvements. Glyph refinements, enhancements in spacing, and the Bold and Light options all give rise to a useful blogging font.
---
9. Teko

This open-source typeface is suitable for headlines and any other text you want to display more boldly. It has a visually simple structure, low stroke contrast, and regular square proportions.
There are several variants to this font. So, you can use it for all sorts of headlines or highlight a couple of words.
All the font size options work fine on both printing and screen.
The Teko font supports both Latin and Devanagari scripts, making it suitable for advertising, news tickers, etc.
---
10. Montserrat

The inspiration for Montserrat came from the posters and signs around a traditional Buenos Aires neighborhood. The font is named after the place and stays true to its culture, with its urban apparel.
Montserrat works well on its own but even better if you do font pairing with some of the best fonts for blogs, including Georgia, Open Sans, PT Serif, Lato, Lora, and a few others.
---
11. Exo 2
The Exo font went under a redrawing, which resulted in Exo 2. The first version was quite versatile, with nine weights and true italics.
However, Exo 2 might be the best choice for a blog due to its organic appearance compared to other sans-serif fonts. The font will be suitable for long texts as well as small text sizes.
---
12. Maven Pro
The round edges are great for blog viewing on a desktop or any printouts of your work. You can use it for both the body of your posts and the sidebars.
There are four basic body weights here:
Black
Bold
Medium
Regular
You can use Maven Pro in conjunction with other sans-serif fonts such as Roboto or something fancier such as Playfair Display.
---
13. Raleway
The ever-popular Orbitron inspired this particular font. It's sharp, practical, and similar in appearance to fonts with a grotesque style.
While it started as just a single weight, Raleway is now a sizeable 9-weight font, and you can use it for headings or titles.
Another interesting finding is that content in a larger font size has a more significant impact on memory. Therefore, a larger typeface holds a strong significance.
For the most effective results, you can pair Raleway with Open Sans, Avenir, Calibri, or Playfair Display fonts for your blog.
---
14. PT Sans
Pair this font with Crimson, Poppins, Open Sans, and many other options to create the best effect. PT Sans is useful for multilingual typefaces and many scripts.
This sans serif typeface also boasts eight styles, four basic styles, two narrow styles, and two small-sized caption styles.
---
15. Merriweather
This is a somewhat fancy font that's still relatively easy to read. As a blogger, you sometimes want certain words to leap off the screen, and this serif font could help you get there.
You can pick from 8 styles to utilize for titles and headings.
While it could be a body font, this choice can result in some eye strain when reading long posts.
---
16. Source Sans Pro
This font is versatile; it smoothly combines with other fonts that are considered the best fonts for blogs.
This sans-serif option boasts around ten different styles and is usable on any part of a website.
---
17. Vollkorn
This versatile yet straightforward font is a suitable choice for both the headings and body of a blog post. Pair it with either Roboto or Lato and choose from eight styles to get the best results.
The best part is that even a smaller font won't hurt the eyes, whether it's on print or screen.
---
18. Arvo
This typeface has a professional design that suits any screen. It has curves and wide areas, making it perfect for somewhat fancy headlines.
Lato and Oswald will both make a polished combo with Arvo.
---
19. Ubuntu
This font was initially for the Ubuntu Operating System. The cool edges make it great for blogs or sites featuring tech-based content.
There are eight weights for this sans serif font, making it great for the body and graphic designing.
Get the most elegant results by pairing with Oswald or Open Sans fonts for your blog.
---
20. Bitter
As serif fonts go, Bitter is excellent for a relaxing reading experience, whether one is on a smartphone or home computer. With only three styles, this one is best for sidebars and website headings.
Use Source Sans Pro and Open Sans alongside it.
---
Verdict: The Best Font Ever for a Blogger
If we had to choose just one font for a blog, it has to be Open Sans. This sans serif typeface is legible and gets the point across without much straining.
As a blogger, one must be very conscious about how their content shows up on smartphones, computer screens, and various other mediums. The right font choices are critical to creating a successful blog.
Since the creation of Open Sans was mainly for this purpose, it's hard to choose any other font.
How to Add Google Fonts to WordPress
So, you've selected some of the best fonts for blogs.
How can you add these Google font choices to your WordPress blog?
If the Google Font option is not already in your WordPress theme, follow these steps:
Log in to WordPress and go to the Dashboard
Access Plugins and select the "Add New" option
Type "Easy Google Fonts" in the Search option
Go to "Easy Google Fonts" by Titanium Themes
Click "Install Now" and then "Activate."
Select "Settings" and then "Google Fonts."
Select "New Font Control" > "Themes" > "Customize" > "Typography"
Manage the fonts according to their respective objects
The Takeaway
It's no surprise that the range of fonts available is an overwhelming one and it's tempting to just ignore it all and just go with the default font. However, this is all the more reason to roll up your sleeves and start checking the right fonts with the correct font size for your blog!
Along with this, make sure to keep updating your new, unique content to make your work stand out.
For more ideas for your blog, check out our list of the best WordPress fonts. And as you grow your business, make sure to use the best font for your email signature, it can help you stand out when you do outreach!
Want to learn step-by-step how I built my Niche Site Empire up to a full-time income?
Yes! I Love to Learn
Learn How I Built My Niche Site Empire to a Full-time Income
How to Pick the Right Keywords at the START, and avoid the losers
How to Scale and Outsource 90% of the Work, Allowing Your Empire to GROW Without You
How to Build a Site That Gets REAL TRAFFIC FROM GOOGLE (every. single. day.)
Subscribe to the Niche Pursuits Newsletter delivered with value 3X per week