How All That's Interesting Attracts 5.3M Visitors Per Month By Staying True to Their Name
When you buy something through one of the links on our site, we may earn an affiliate commission.
All That's Interesting was founded in 2010 by Alexander Baldwin and Kit Westneat. Their goal was to create a website dedicated to publishing high-quality, original content that was... well, interesting! They describe the site as a "Brooklyn-based digital publisher that seeks out the stories to illuminate the past, present, and future."
To do this, they assembled a team of talented writers and editors who are experts at finding the most interesting stories from around the world to share with their readers.
Since its launch, All That's Interesting has published over eleven thousand stories on topics ranging from true crime to history and science to pop culture and current events.
The website continues to operate independently, with a commitment to finding and sharing the most fascinating stories from around the globe, giving accurate facts without bias.
---
How All That's Interesting Gets Its Traffic
All That's Interesting has become one of the most popular sites on the internet, attracting nearly 5.3 million page views per month.
Over 68% of their traffic comes via search, with direct traffic and social making up around 14% each.
Their most popular social media channel is Facebook, which accounts for nearly 67% of all their social media traffic.
ATI may post on Facebook every few hours, but that doesn't mean they're spamming their followers' newsfeeds.
In fact, ATI's social media team does a great job of providing interesting, engaging content that hooks readers in with catchy headlines and photos.
It is estimated a page's Facebook posts are shown to only 6-13% of followers, so for ATI to attract so many website visitors from this source is a great achievement.
And it really shows that their content is well thought out and engaging. Keep up the good work, ATI!
ATI is a prime example of how search engine optimization and social media can be used to drive traffic to a website.
By creating well-optimized content and maintaining an active presence on social media, they have attracted a large audience and become one of the most successful sites on the web.
What Types of Keywords Does All That's Interesting Target?
Looking at the keywords bringing in the most traffic, the top 10 are littered with names linked to true crimes, such as Sherry Shriner, Carole Ann Booth, and Abby Hernandez.
Morbid curiosity definitely seems to be a theme!
These are all people who have been involved in some form of criminal activity or conspiracy, which likely accounts for the high traffic volume.
People searching for information on these individuals could be looking for updates on their cases, or these searches could have been triggered by new documentaries being released about historic true crimes.
Some other popular keywords include "World map", "Why were chainsaws invented?" and "Skinwalker" which indicates that people are searching for a mix of content that includes more evergreen topics as well as current news stories.
How Their Pages Look
Their pages are clean and uncluttered, focusing on the stories themselves.
The headlines are catchy, use rich keywords to attract readers, and the photos are eye-catching and relevant to the stories.
The use of short paragraphs makes the content easy to scan and digest, which is perfect for the attention spans of today's internet users.
All That's Interesting has done an excellent job of creating a website that is both visually appealing and easy to navigate.
What's Their Link Profile Like?
ATI has attracted links from some high-quality fact-checking and information sites, such as Wikipedia and Snopes, as well as other news sites. This shows ATI is being recognized as an authority on a variety of topics.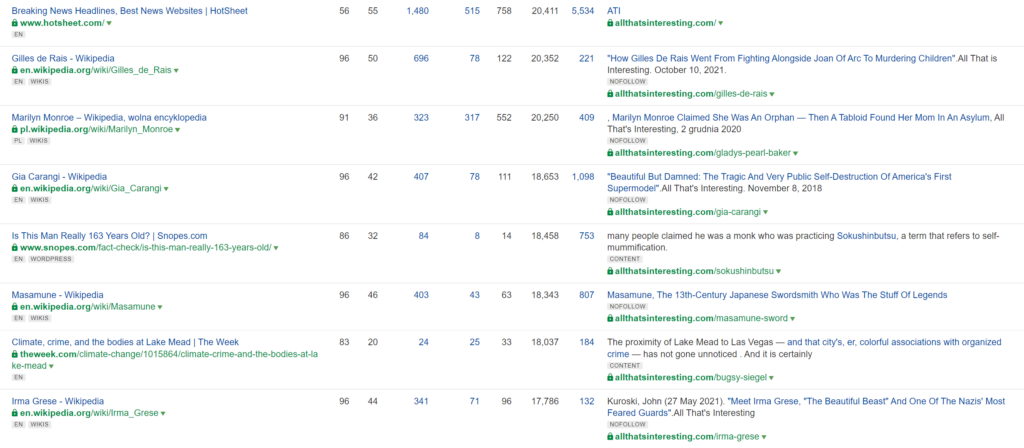 ATI are a trusted source and indeed, their "About" page states that their mission is to provide accurate and unbiased information.
"At All That's Interesting, we make sure to bake first-rate fact-checking into our processes at every level..."
What Does The Site Do Well?
All That's Interesting is a great website for anyone who wants to kill some time and learn something new.
The site is full of fascinating articles about history, science, true crime, and pop culture.
Unlike other sites that purport to be "interesting," All That's Interesting lives up to its name.
The articles are well researched and objective, providing readers with a depth of knowledge that is often lacking on the internet.
In addition, the site is very active on social media, always sharing the latest and greatest stories with their large audience. ATI is certainly useful for anyone looking to procrastinate in an interesting way!
And, of course, people can't get enough of stories about animals doing weird things, such as their post about the rescue of a bear cub in Turkey that got high on hallucinogenic honey! (Go on, admit it - you're going to search for that one now, aren't you?!!)
How Does All That's Interesting Make Its Money?
ATI earns its revenue in a variety of ways. Unsurprisingly, there are ads on their pages, but they also offer a monthly or annual membership program that offers an ad-free experience, book giveaways, and an exclusive newsletter.
They also leverage their impressive traffic count to generate further revenue by promoting posts for other websites.
What Can We Learn From All That's Interesting Website?
The importance of SEO and social media in driving traffic to a website
The value of creating quality content that is accurate and engaging
The benefits of being active on social media
The various ways in which a website can generate revenue, such as ads, memberships and promoted posts.
All That's Interesting is a website that has successfully tapped into what people want to read about. Their content is engaging, accurate, and reflective of the founders' interests.
They make great use of SEO and social media to attract visitors, and generate revenue through ads and memberships. Their success can be attributed to their commitment to publishing accurate content.
What can you learn from their example? Commitment to quality content is key for any website looking to attract an audience and generate revenue.
Want to learn step-by-step how I built my Niche Site Empire up to a full-time income?
Yes! I Love to Learn
Learn How I Built My Niche Site Empire to a Full-time Income
How to Pick the Right Keywords at the START, and avoid the losers
How to Scale and Outsource 90% of the Work, Allowing Your Empire to GROW Without You
How to Build a Site That Gets REAL TRAFFIC FROM GOOGLE (every. single. day.)
Subscribe to the Niche Pursuits Newsletter delivered with value 3X per week